While waiting on the slowest line at the grocery store a few weeks ago, I found myself reading the ingredients of everything in my cart. I knew there were preservatives in my packaged muffins and jellies, but I was shocked when I saw how much processed junk was in my dog's food. The thought of Audrey eating so many chemicals I couldn't pronounce along with dyes, sugar, and something called "meat and bone meal" for nearly every meal upset me. Those are once-in-a-while ingredients, not fit for a twice-a-day-diet.
I did some research, and that's when I found a brand making dog food that's designed to be healthy for my sweet pug's individual needs. Ollie is a subscription dog food that delivers the ideal blend of human-grade meat and nutrients for your dog right to your door every month Ollie uses a quiz to customize the perfect meals, so your dog is getting just what they need to live a happy and fulfilling life. Audrey was a couch potato pup, but with her new vet-formulated plan that's made with varied produce, vitamins, and human-grade meat, she's been a bit more of an adventurer, huffing and puffing less on walks. Plus her coat is super shiny!
Here's exactly what the quiz looks like, so you know how Ollie finds the right food for your dog.
To design your dog's meal, you first type in your dog's name.
Update: Normally Ollie offers 20% Off for new users, BUT be sure to use the links from this article to get 50% OFF your first purchase, an exclusive offer for Liberty Readers.
Then, Ollie gets into your puppy's specifics. You input your dog's breed if you know it, along with his or her sex, age, and whether they're spayed or neutered. A labrador puppy who hasn't been neutered yet is going to have completely different nutritional needs than a fixed, matured Great Dane.
Next, Ollie got me in the emotions with the weight questions. They forced me to admit that Audrey probably could lose a pound or two to perk her up a bit. Luckily her Ollie meals come with a portion-perfect scoop so I'm never worried about overfeeding.
Finally, Ollie asks about your dog's current eating habits and if they have any allergies. When you answer those questions, the little dog on the side of your screen is completed and you're ready to view your recipes!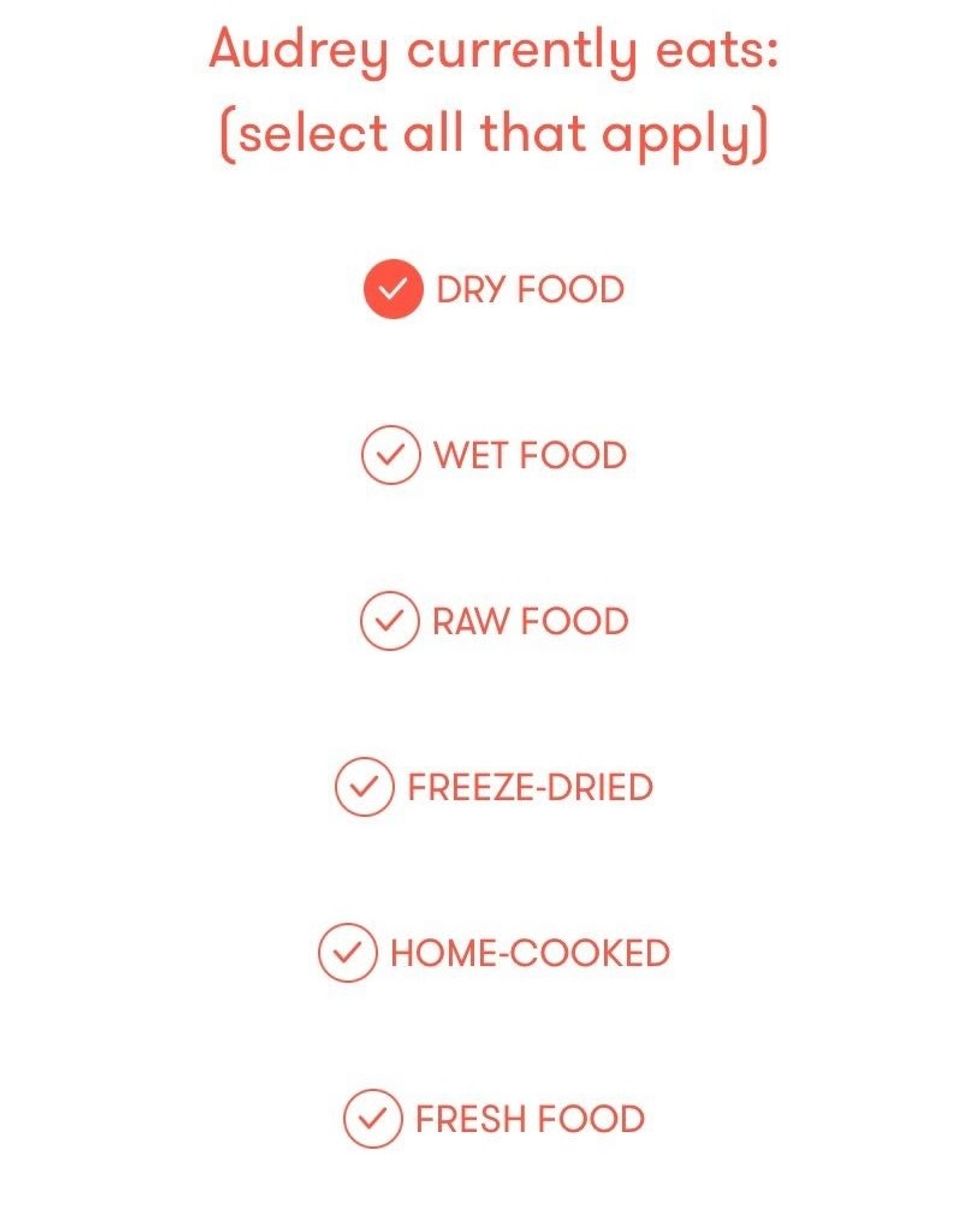 Audrey loves beef and isn't allergic to anything, so her top recommendations were the Hearty Beef Eats, as well as Chicken Goodness, Healthy Turkey Feast, and Tasty Lamb Fare. Ollie offers two weekly subscription options priced based on your dog's size and needs; for just $26.70 a week, my pug could live on a 100% Ollie diet. For $15.25 a week, I could use Ollie's recipes for part of Audrey's diet, either for one perfectly healthy meal a day, or to add nutrition with her old dry food. You can always add another dog to your plan, too, which makes dinner time easy for multiple pup households.
Ollie is free of toxins and GMOs, so it's way better than store-bought brands, but since it's tailored exactly to your dog's needs, it goes above and beyond to have the most balanced blend of vitamins and nutrients for your best friend. Ollie gave Audrey some of her puppy energy back, and the subscription saved me the hassle of endless trips to the pet store by sending Audrey's meals to my home. So it's a win-win!