Dall-E Mini, the AI-powered text-to-image generator has taken over the internet. With its ability to render nearly anything your meme-loving heart desires, anyone can make their dreams come true.
DALL-E 2, a portmanteau of Salvador Dali, the surrealist and Wall-E, the Pixar robot, was created by OpenAI and is not widely available; it creates far cleaner imagery and was recently used to launch Cosmpolitan's first AI-generated cover. The art world has been one of the first industries to truly embrace AI.
The open-sourced miniature version is what's responsible for the memes. Programmer Boris Dayma wants to make AI more accessible; he built the Dall-E Mini program as part of a competition held by Google and an AI community called Hugging Face.
And with great technology, comes great memes. Typing a short phrase into Dall-E Mini will manifest 9 different amalgamations, theoretically shaping into reality the strange images you've conjured. Its popularity leads to too much traffic, often resulting in an error that can be fixed by refreshing the page or trying again later.
If you want to be a part of the creation of AI-powered engines, it all starts with code. CodeAcademy explains that Dall-E Mini is a seq2seq model, "typically used in natural language processing (NLP) for things like translation and conversational modeling." CodeAcademy's Text Generation course will teach you how to utilize seq2seq, but they also offer opportunities to learn 14+ coding languages at your own pace.
You can choose the Machine Learning Specialist career path if you want to become a Data Scientist who develops these types of programs, but you can also choose courses by language, subject (what is cybersecurity?) or even skill - build a website with HTML, CSS, and more.
CodeAcademy offers many classes for free as well as a free trial; it's an invaluable resource for giving people of all experience levels the fundamentals they need to build the world they want to see.
As for Dall-E Mini, while some have opted to create beauty, most have opted for memes. Here are some of the internet's favorites:
There's no looking back now, not once you've seen Pugachu; artificial intelligence is here to stay.
ENVIRONMENT
Here's Why You Should Ditch Single-Use Plastic Straws
Future of the Ocean
Help save the planet and switch to reusuable straws!
Raise your hand if you order an iced coffee almost every day, maybe even twice a day, single-use plastic straw in tow. Those iced coffees, cocktails, soft drinks, smoothies, even those oh-so-good for you green juices are filling the oceans up with enough single-use plastic to form a new continent. A pile of garbage four times the size of California now sits in the middle of the Pacific Ocean.
By 2050 there may be more plastic in the ocean than fish. Single-use plastic straws are largely to blame, as they can't really be recycled. Even the disposable straws that claim to be recyclable are failing to live up to their promise. The truth is that plastic straws are too light weight to make it through mechanical recycling sorters. If they manage to make it to the recycling plant at all. Plastic straws are so light weight they're often blown out of recycling bins and ending up in the trash instead. The next stop is a landfill or the ocean.
500 million single-use plastic straws are used by Americans alone every single day! It's estimated that a truck full of plastic is dumped into the Pacific Ocean every minute. It isn't just the oceans that are in danger either. That to-go drink that took you 10 minutes to gulp down can potentially linger in the environment for over 2,000 years. Most plastic isn't biodegradable. It continues to break down until it's a microscopic size. Alarming amounts of marine life are confusing the microplastic for food. 71% of seabirds and 30% of turtles are found with plastic in their stomachs. Once plastic is ingested the oceans wildlife has a 50% mortality rate.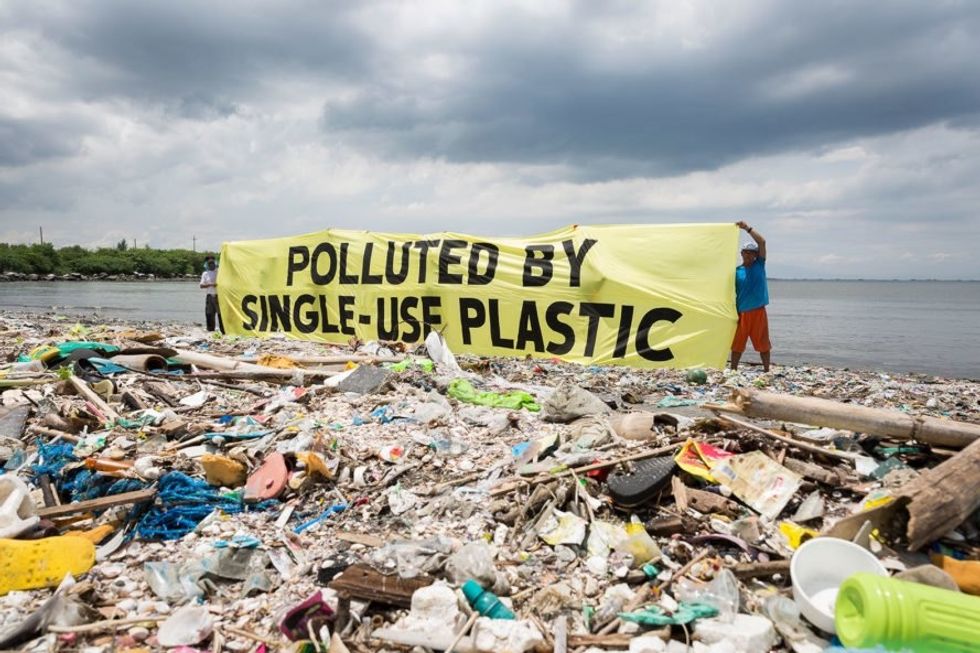 Pollution caused by single-use plastic Green Peace
In the midst of all this bad news, the good news is that it's easy for you to make a difference. Next time you order your favorite drink, just say no to a plastic straw! While you might think that you alone can't save the planet, you can probably save a few sea turtles. By ditching plastic straws, you can help lower the amount of plastic building up in the oceans. The average American throws away 185 pounds of plastic every year. 50% of it was only used once.
Facing recent public pressure, major companies have also decided to ditch plastic straws. Last month Starbucks announced it would eliminate single-use plastic straws globally by 2020. What will your favorite iced drink be using instead? Strawless lids and alternative-material straws. McDonalds and Evian have even announced plans to make a dent in their plastic consumption by 2025.
If you're ready to replace your single-use plastic straws for a more eco-conscious alternative here's a great option. Keep one in your purse, a few at home, gift them to all your coworkers! Spread the word. Every effort counts.
Reusable Straws: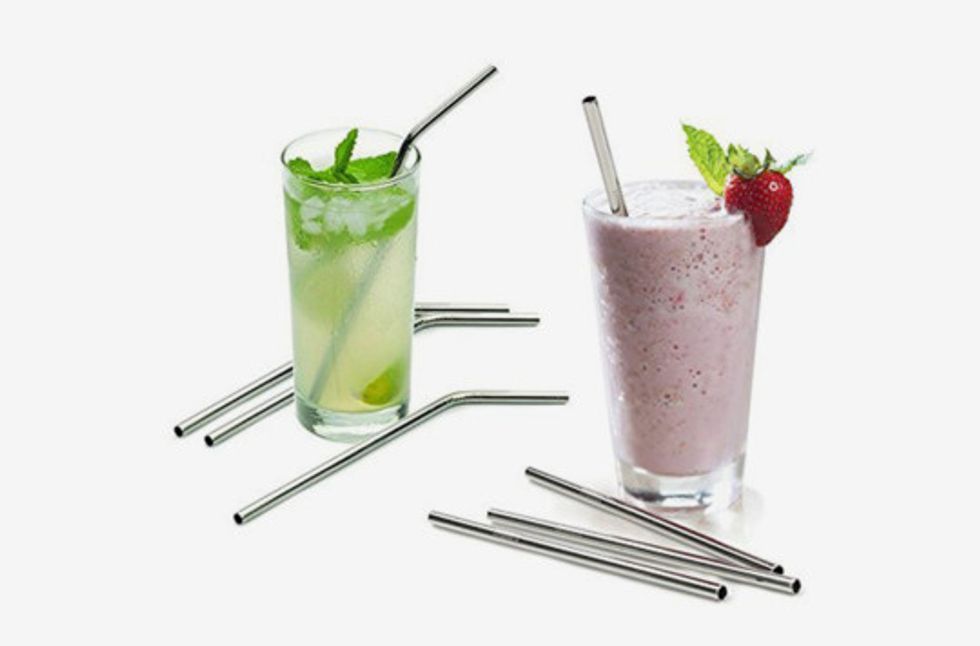 Metal reusable strawsAoocan
Aoocan Extra Long 10.5" Drinking Metal Straws: $8
According to numerousheadlines this is likely to be the year that single-use plastic straws get kicked to the curb. Tom Brady has even jumped in on the eco conscious efforts. Aside from Starbucks and McDonalds, Seaworld, Royal Carribean, and Ikea are all removing plastic straws from their parks. Alaska Airlines is getting rid of both plastic straws and stirrers on their flights. To help spread the word you can join the #stopsucking campaign on Instagram by tagging a picture of yourself using your reusable straw.