Meg Hanson
Meg Hanson is a Brooklyn-based writer, teacher, and jaywalker. Find Meg at her website and on Twitter @megsoyung.
Trump continues to alienate the U.S. from the global community by panning diplomacy for his own agendas.
Donald Trump singled out the United States before the entire international community at the G20 summit over the weekend. He was the only leader in attendance to refuse to sign a joint statement pledging a non-binding commitment to continue combating climate change.
After a strenuous, all-night negotiation in Buenos Aires, the world leaders issued a communiqué re-affirming that the Paris climate agreement "is irreversible" and vowing "full implementation" of its policies to "continue to tackle climate change, while promoting sustainable development and economic growth."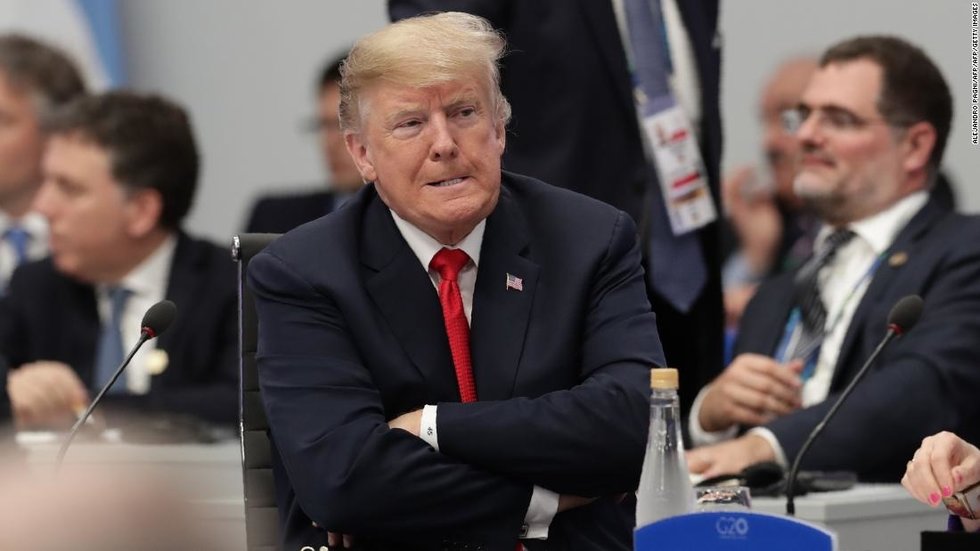 CNN
However, the summit was fraught with tensions over various countries' objections and demands, including Trump's refusal to budge on climate change or trade agreements. As such, world leaders struggled to pen a separate clause to account for Trump's "America First" stance. The communiqué reads: "The United States reiterates its decision to withdraw from the Paris Agreement, and affirms its strong commitment to economic growth and energy access and security, utilizing all energy sources and technologies, while protecting the environment."

In another compromise forced by Trump's intransigence, this year's G20 statement also shirked its usual promises to fight protectionism and uphold multilateral trading rules. The summit weakly acknowledged the "contribution" of the "multilateral trading system," despite the fact that it's "falling short" of its goals in trade growth and job creation. One European official present at the weekend's negotiations told NBC News, "There were moments when we thought all was lost."
At last year's summit, Trump shocked world leaders with his first refusal to join the consensus on climate and trade issues. He continued to alienate the U.S. from the international community over the summer. In June, the president refused to sign a joint statement on global economic policies from the G7 summit, even taking to Twitter to deride Canadian Prime Minister Justin Trudeau over the policies.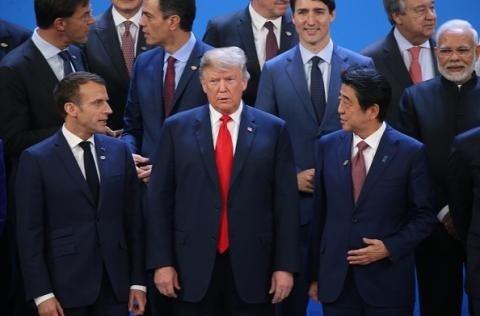 Newsweek - Getty Images
As a final act of belligerence, Trump stormed off the stage as the rest of the world leaders gathered for a photo to commemorate the end of a two-day effort in global solidarity. After shaking hands with Argentine President Mauricio Macri, Trump left Macri visibly confused on stage as he hastily left. Trump was audibly recorded telling an aide, "Get me out of here."

Reluctantly, he returned to the stage moments later to pose for group photos.
Hilarious moment Trump caught saying "get me out of here" at G20 Summit www.youtube.com
Meg Hanson is a Brooklyn-based writer, teacher, and jaywalker. Find Meg at her website and on Twitter @megsoyung.

A third swell of protests over hikes in gas prices erupts in violent riots and public outcry over France's social inequality.
In the heart of Paris, the Champs-Elysées and the Arc de Triomphe were scaled by protesters and graffitied on Saturday. Police fired tear gas, stun grenades, and water cannons at masked citizens donning bright yellow vests as they (the citizens) set fire to buildings and hurled crude projectiles in the streets.
Recent hikes in gas prices under President Emmanuel Macron have driven people to form a leaderless movement on social media and take to the streets.The most recent announcement of another tax increase set to begin on News Years Day initiated the first wave of demonstrations in mid-November. The price hike will add to an existing 23% rise in diesel costs that's occurred during Macron's first year as president.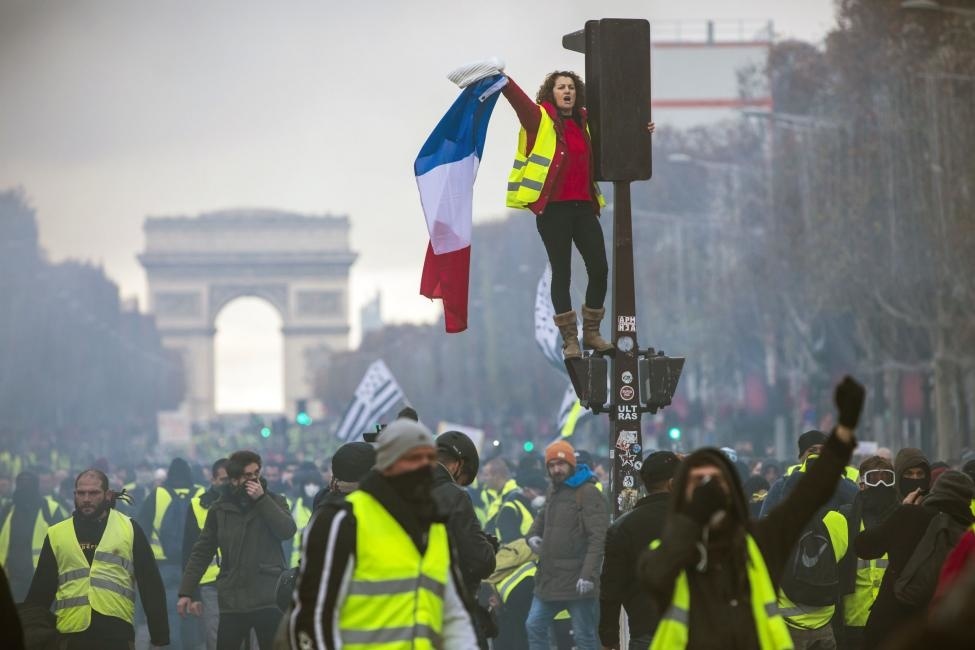 UPI
In France, all drivers must keep reflective yellow vests in their vehicles under a 2008 policy; the "gilet jaunes" or "Yellow Vest" movement represents motorists' protest of the added tax burden on fuel and government officials' blindness to civilian struggles.

The 36,000 demonstrators created the most violent display of civil disobedience to take place in the capital in more than a decade. The protests left 3 dead, 100 injured (including members of the French police), and nearly 400 arrests. The third wave of protests in as many weeks turned into "urban warfare" and "the worst riots in a generation," according to witnesses of flaming cars, vandalized buildings, and clashes between the French police and a faction of criminals who are said to have joined the protest solely to wreak havoc.
While prices of oil have risen worldwide over the past year, the French government has added its own taxes to the burden as part of their environmental policies. Macron's administration defends the new taxes as efforts to lower carbon emissions and encourage people to purchase more energy efficient cars–but the expectation that French citizens can alter their lifestyles and modes of transportation at the government's behest is out of touch with reality. Furthermore, increasing fuel prices places an unbalanced burden on working people who can't afford to reside in major cities and who rely on their cars to commute from and around rural and suburban areas.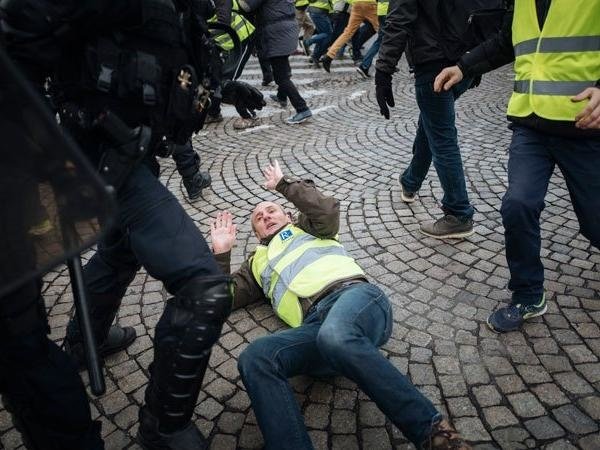 Times Now
But in many ways, the tax hike is only a capstone of social inequality that has frustrated citizens for too long. Florence, a 55-year-old demonstrator who works for a freight company outside Paris, expressed his motivations to The Guardian:

"We are here to protest against the government because of the rise in taxes [in general], not just petrol taxes, which is the straw that broke the camel's back. We've had enough. We have low salaries and pay too much tax and the combination is creating more and more poverty."
In response to public dissent, President Macron called an emergency security meeting on Sunday. His official statements have condemned the use of violence and defacement of national monuments. He said, "No cause justifies that authorities are attacked, that businesses are plundered, that passers-by or journalists are threatened or that the Arc du Triomphe is defiled." He also praised the emergency responders and French police, whom are seen below firing tear gas and water cannons at protesters, saying they've "showed unrelenting bravery throughout the day and evening."
French police fire teargas at 'gilets jaunes' protesters in Paris youtu.be
Outside of France, Parisians' actions against inequality seem to have inspired copycat riots in Belgium. Famke Krumbmuller, head of a Paris-based political consultancy, noted the protests touched a familiar chord and sent reverberations throughout Western Europe. She told CNBC, "I guess what's specific to this movement is that it is relatively apolitical, so they (the protesters) are not from just one party on the left or right. They're white, middle-class people that are squeezed by the welfare state. They pay a lot of taxes but they don't get a lot of benefits in return."

Looking ahead, President Macron's asked Prime Minister Edouard Philippe to hold a meeting with leaders of France's political parties and representatives from the "Yellow Vest" movement in order to negotiate a return to peace. However, according to the French paper Le Télégramme, some members of the "collective" oppose a meeting, claiming, "The government is only looking for a communication plan and we do not want to be a puppet." Another representative of the group, Christophe Chalençon, actually looks forward to the meeting, where he plans on asking the Prime Minister to resign.
Meg Hanson is a Brooklyn-based writer, teacher, and jaywalker. Find Meg at her website and on Twitter @megsoyung.
Countless vets were underpaid after a software glitch in the Department of Veteran Affairs.
On Wednesday the Department of Veteran Affairs told congressional staffers that it will not compensate veterans who were underpaid in their recent GI Bill benefits, despite the error in the department's own computer system.
For weeks, student veterans have reported missing or incorrect payments, either in excessive or diminished amounts, due to a problem in the department's software. The glitch stems from system changes under the new Forever GI Act, designed to afford veterans more financial stability to pursue their education. VA spokesman Terrence Hayes stated that "severe critical errors" occurred when they implemented new standards for calculating stipends owed to veterans.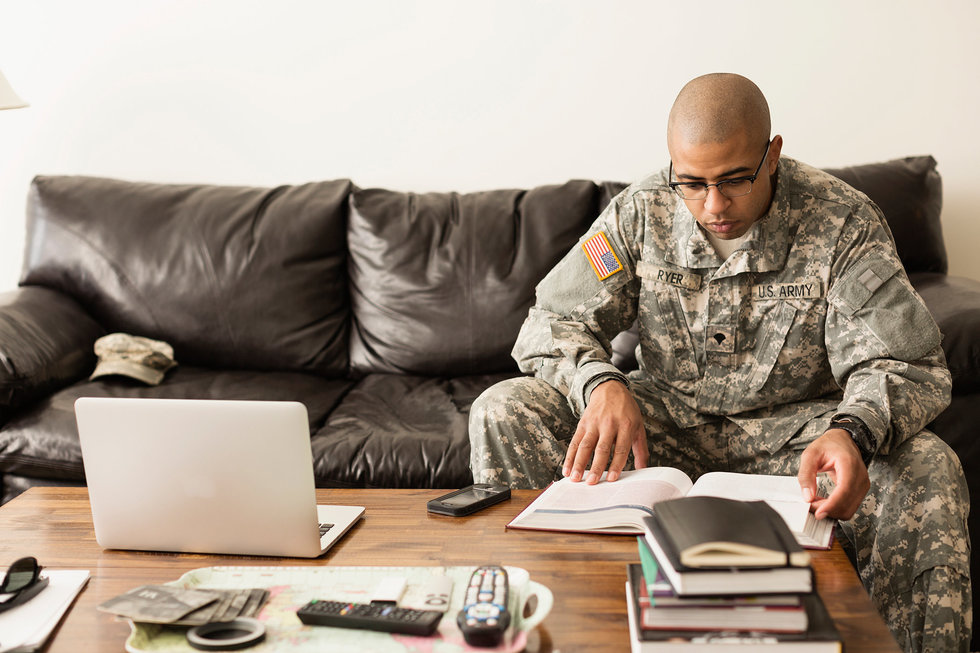 Time
In response to these errors, the VA postponed using the new system until December 2019. Until then, they're deferring to the rates used in 2017, denying veterans a 1% increase in payments included in the Forever GI Act. In addition to delaying benefits, the VA also miscalculated housing allowances.

To those who were underpaid, the VA initially promised that they would issue retroactive payments. However, on Wednesday, officials told anonymous congressional staffers that they have no plans on issuing payments because doing so would require an all-encompassing audit of every education claim prior to December 2019, as many as 2 million claims, according to an aide.
Another aide told NBC News, "They are essentially going to ignore the law and say that that change only goes forward from December 2019."
Amidst the VA's refusal to comment and spokespersons' vague responses on the matter, it is unclear how many students have been underpaid or how much money is owed, but hundreds of thousands of veterans are thought to be affected. The department defends its actions with the claim that the audit required to reissue payments would only delay processing future claims, causing more veterans to suffer.
One of those veterans already feeling severe strain is Jane Wiley, 31, a former Marine who now serves as a reservist in the Air Force. Her husband is also a former marine, and they support two children while she attends Texas A&M; San Antonio. In October, she told NBC News that they had yet to receive their housing allowance through the GI Bill, despite filing all necessary paperwork. They were facing food and housing insecurity as a direct result.
Wiley lamented, "People are homeless and starving because they can't rely on getting their benefits. If it means making [VA] employees stay all night, then get it done because it's better than putting families in crisis." She added, "You can count on us to serve, but we can't count on the VA to make a deadline."

Under Secretary for Benefits Paul Lawrence is due to testify before the House Committee on Veterans' Affairs. Another key witness slated to appear resigned from the VA after news of underpaid veterans broke.
On Thursday, the VA denounced NBC News' original report as "misleading." Press Secretary Curt Cashour stated in an email sent to student veterans, "By the end of 2018, VA will install the current year uncapped DoD [basic allowance for housing] rates, and subsequently [monthly housing allowance] payments will follow this rate. For many students, this rate will be equal or higher than their current payments. Shortly after this update, VA will issue an additional payment to students who were underpaid for applicable terms."
How they'll define "applicable terms" in the new year is unclear, as it remains unspecified how long payments have been backed up or incorrect for how many veterans.
.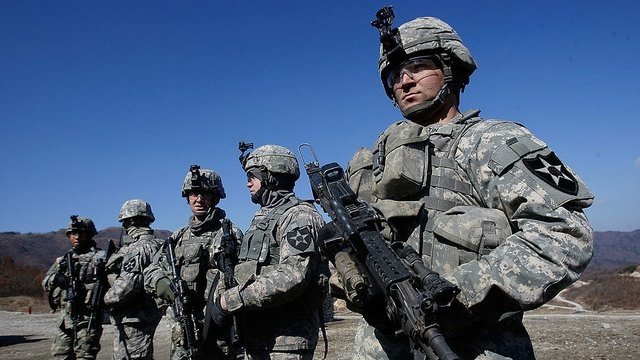 The Hill
Meg Hanson is a Brooklyn-based writer, teacher, and jaywalker. Find Meg at her website and on Twitter @megsoyung.

In a closed vote House Democrats spotlit Pelosi with overwhelming support, 203-32.
Nancy Pelosi secured the Democratic nomination on Wednesday, regaining her position as Speaker of the House. Pelosi, 78, ran unopposed on a secret ballot when the House Democrats cast a 203-32 vote in a closed door meeting.
Still, Pelosi was opposed by a small faction who charge that the Californian lawmaker is too divisive a figure to represent the party. Rep. Brian Higgins (D-N.Y.) was an initial detractor, but he turned to voice his endorsement of Pelosi last week.
Higgins told reporters, "Democracy is a sloppy mess. ... There are a lot of differing views, even within the Democratic Caucus. The ability to pull that together is not clean and efficient all the time, and everyone has laid on the table what they are looking for." He added, "Everyone here, 435 members in the House, has one legislative tool and that is their vote."
The House of Representatives will elect a new speaker on January 3. Even with Democrats holding a majority of the 435 seats, it's still possible for Pelosi to lose the final vote; those 32 opposers are enough to tip the scales if Republicans unanimously reject her. Pelosi has until the new year to win over more representatives like Higgins.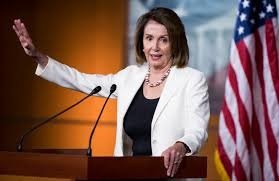 Time Magazine
Meg Hanson is a Brooklyn-based writer, teacher, and jaywalker. Find Meg at her website and on Twitter @megsoyung.

The conservative Republican made history when she won a seat in Congress, despite backlash over recent racially-charged comments.
In the last Senate race to be called, Mississippi has elected its first female Senator. Cindy Hyde-Smith will hold one of the Republicans' 53 seats to Democrats' 47 seats, setting a new record of 24 women in the Senate next year. However, the victory as a mark of social progress is tainted due to Hyde-Smith's history of racially-charged comments and sheltered background.
Leading up to the election, Hyde-Smith received backlash over a video of her joking with a supporter that if she were invited to a "public hanging," she'd be in "the front row." Following public outcry, she released an apology, stating, "For anyone who was offended by my comment, I certainly apologize."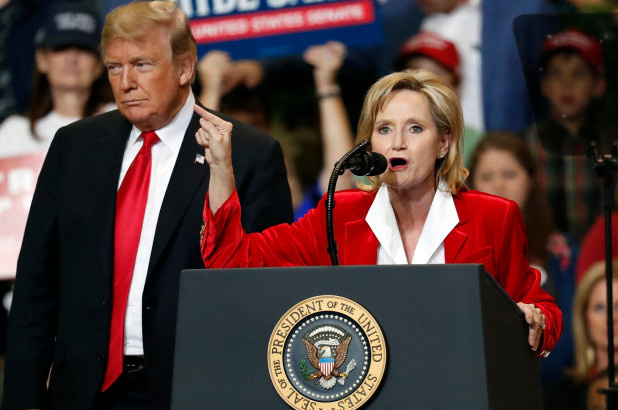 New York Post
At the same time, however, she dismissed the criticism as "ridiculous." Claiming that she possessed no ill intentions, she framed the comment as nothing more than banter with a supporter, stating, "In referencing the one who invited me, I used an exaggerated expression of regard, and any attempt to turn this into a negative connotation is ridiculous."

The conservative Senator has the public divided over whether Mississippi is heading towards a more inclusive future or embracing a troubled past. Hyde-Smith's "public hanging" comments evoke the state's ignominious history of mob lynchings, Jim Crow, and legally-enforced segregation. On Friday, the Jackson Free-Press uncovered that the 59-year-old graduated from a southern private school established in the '70s to eschew desegregation orders after the ruling of Brown v. Board of Education.
Mississippi has been criticized for allowing segregated private schools as recently as 2017. Hyde-Smith's alma mater, Lawrence County Academy, hosted a mascot dressed as a Confederate general and displayed a Confederate flag. The Senator elected to send her daughter to a similar "segregation academy."
CNN also looked into Hyde-Smith's past and reported that she's advocated a revisionist view of the Civil War and backed a measure to honor a Confederate soldier's efforts to "defend his homeland." Additionally, the Senator's Facebook page displays pictures from 2014 in which she's posing with Confederate artifacts during a visit to Beauvoir, the hometown of Confederate President Jefferson Davis. The photo's caption reads, "Mississippi history at its best!"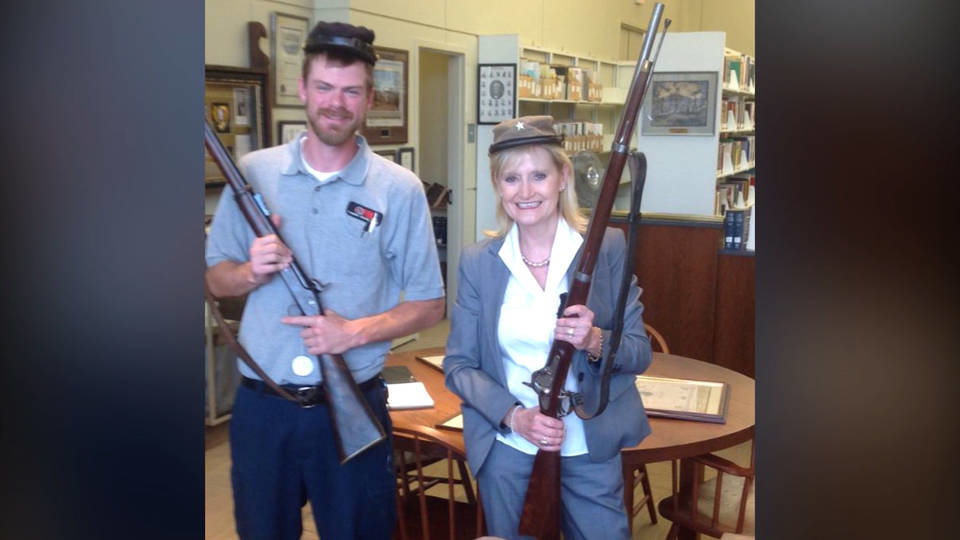 Democracy Now!
On Tuesday, Hyde-Smith credited her win to the state's dedication to "conservative values." In her victory speech, she said, "The reason we won is because Mississippians know me and they know my heart. This win tonight, this victory, it's about our conservative values, it's about the things that mean the most to all of us Mississippians: our faith, our family."

Hyde-Smith received her strongest support from Mississippi's rural and predominantly white counties, according to The New York Times. CNN also attributed the win to Donald Trump's last-minute trips to the state. During a Monday night rally in Biloxi, Trump told the crowd, "She is respected by all. Some long-term senators, they've been down there, they told me, this is a woman that gets it. She's smart, she's tough, and she loves you." He went on, "She produces like few produce. This is a very, very special person."
After a race that was closer than anticipated, Democrat Mike Espy conceded to Hyde-Smith on Tuesday. He offered hopeful regards to the new Senator, stating, "[She] has my prayers as she goes to Washington to unite a very divided Mississippi."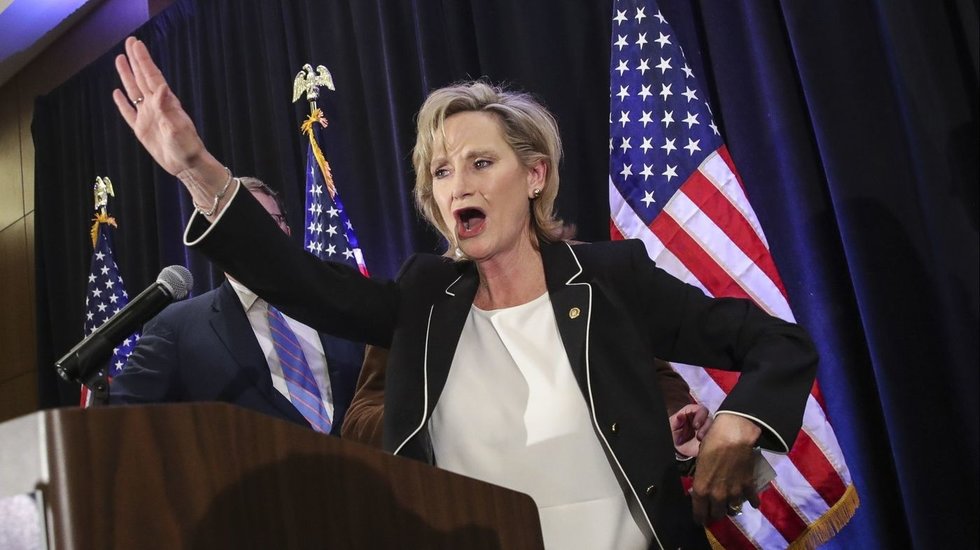 Los Angeles Times
Meg Hanson is a Brooklyn-based writer, teacher, and jaywalker. Find Meg at her website and on Twitter @megsoyung.

Trump's demands for $5 billion to build a border wall stymies Congress' ability to fund government in 2019.
Just nine days ahead of the December 7 deadline, Congress has made no progress towards passing the seven appropriations bills needed to avoid government shutdown. At the center of the deadlock are President Trump's demands for $5 billion to fund his border wall. In an Oval Office interview with Politico on Tuesday, Trump affirmed he'd "totally be willing" to shut down the government if Congress doesn't allocate the funds.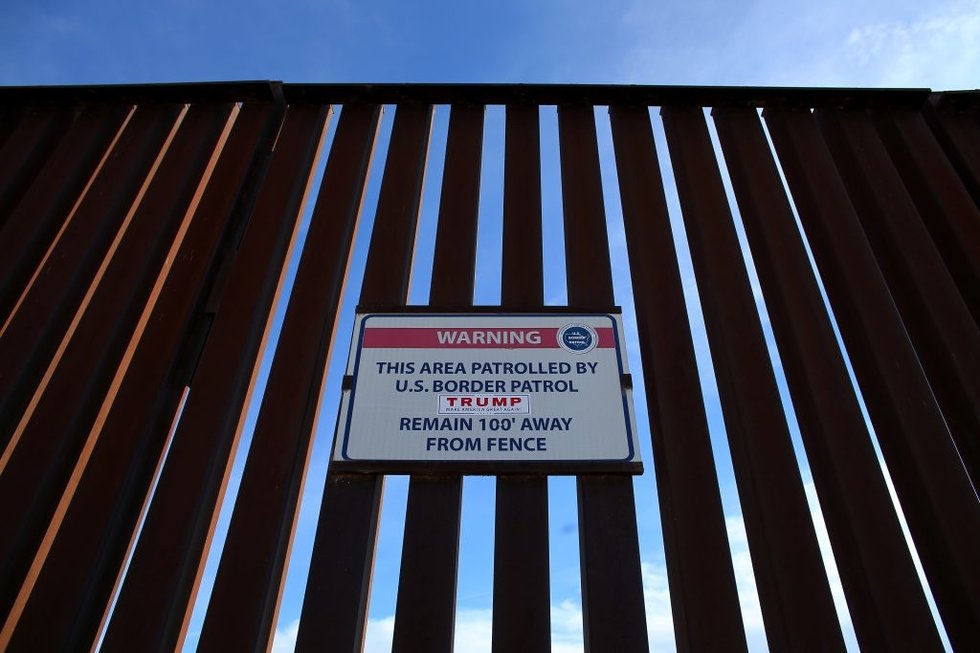 PBS
In September Democrats and Republicans agreed on a long-term funding package for the departments of Defense, Labor, Health and Human Services, and Education for 2019. However, they only reached short-term compromises for the remaining agencies, including the Department of Homeland Security, Justice Department, and the State Department. Even then, Trump was threatening to shut down the federal government if he didn't receive multi-billion dollar funding for his wall, but Republican leaders expressed doubt over his conviction.

Now, with those short-term deals expiring next Friday, Congress is more wary than ever of losing government function. Senator Joni Ernst (R-Iowa) spoke against the prospect in an interview on Sunday, "I hope that we can avoid shutting down the government. We have a lot of departments that do a lot of good for our citizens, so we need to make sure that we're funding them properly through Congress."
That's not to say Trump doesn't have Republican support, with House Majority Whip Steve Scalise (R-Louisiana) stating from the White House on Tuesday, "I'm glad that President Trump is following through on his commitment to keep this country safe. He needs $5 billion to make sure he can follow through on that promise and we need to be there for him and see that this gets done."
Resistance from Democrats is the main obstacle to appeasing Trump, with Scalise even posing the deadlock as a failure of the party's values. He asked if Democrats are "going to shut down the government because they don't want to keep America safe?"
The closest piece of compromise is the Democrats' concession of $1.6 billion in funding for border security. They've showed no sign of budging towards Trump's demands for triple that figure. Senate Democratic leader Chuck Schumer spoke for the party on Tuesday, affirming, "If there is any shutdown, it's on President Trump's back. Stick to the $1.6 billion."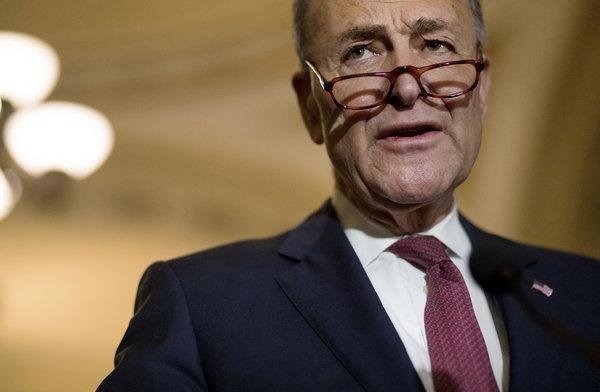 The New York Times
As for Trump, he told Politico he "was in no mood" to compromise on using federal funds to construct a border wall (despite initial and unfeasible claims it was to be funded by Mexico). He told Politico, "I will tell you, politically speaking, that issue is a total winner. People look at the border, they look at the rush to the police, they look at the rock throwers and really hurting three people, three very brave border patrol folks – I think that it's a tremendous issue, but much more importantly, is really needed. So we have to have border security."

Trump was referring to a confrontation at the border on Sunday in which he claimed three border patrol agents were "very badly hurt." While multiple migrants were harmed by tear-gas unleashed by border officials on Sunday, Trump's claim remains unsubstantiated.
Negotiations between Democrats and Republicans continue to take place this week, as a possible funding package is still in nascent planning stages. The odds of avoiding government shutdown are grim, with only nine days to draft a deal, gain sign off from House and Senate leadership, and win over a president who is "in no mood" to compromise his own agenda.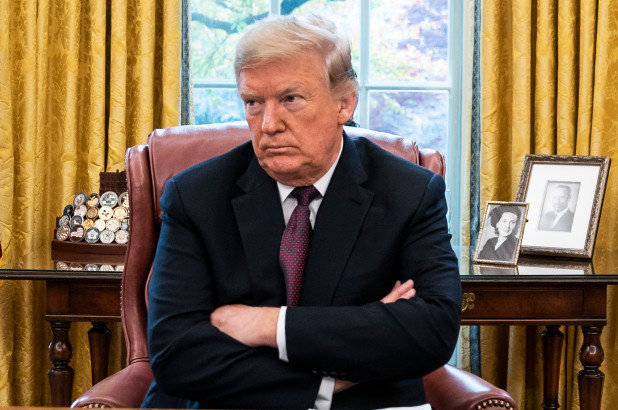 Getty Images - New York Post
Meg Hanson is a Brooklyn-based writer, teacher, and jaywalker. Find Meg at her website and on Twitter @megsoyung.

Russian ships fired on Ukrainian sailors and illegally detained whole crews over the weekend, escalating Russia-Ukraine tensions.
Ukraine began the week by declaring martial law after six navy sailors were injured when the Russian coast guard open fired on them. Concerningly, three Ukrainian artillery ships were also seized, with their 24 crew members forcibly detained by Russian authorities.
U.S. Ambassador Nikki Haley urged Russia to "immediately cease its unlawful conduct" in the Black Sea off the coast of Crimea, which was illegally annexed by Russia in 2014. "In the name of international peace and security, Russia must immediately cease its unlawful conduct and respect the navigational rights and freedoms of all states," Haley announced at an emergency meeting of the U.N. Security Council late Monday morning.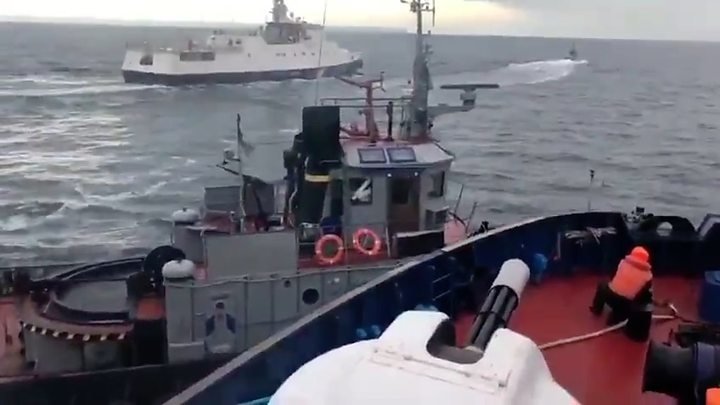 Russian vessel rams Ukrainian shipBBC
In response to the maritime incident, Ukraine's parliament overwhelmingly voted to impose martial law in the 10 regions bordering Russia. Ukrainian President Petro Poroshenko announced that martial law will last for 30 days, concluding in December, at which time he will assess the need for further action.
Poroshenko openly condemned Russia's actions, stating, "We consider it as an act of aggression against our state and a very serious threat," the president said. "Unfortunately, there are no 'red lines' for the Russian Federation." The international community has joined Ukraine in condemning Russia's actions, with NATO Secretary General Jens Stoltenberg pledging "full support for Ukraine's territorial integrity" and stating that Russia had "no justification" for the seizure of Ukraine's ships.
Russian officials dispute the details of the altercation, as the Federal Security Service contends that the skirmish was a justified response to the Ukrainian ships illegally entering territorial waters. Russia's Border Service released a statement over the weekend, stating, "The vessels are carrying out dangerous maneuvers and are disobeying the Russian authorities' demands." Ukraine denies allegations of wrongdoing, citing a 2003 treaty dictating maritime rights and protocol over the Kerch Strait where their ships were detained.
Ultimately, both governments are interpreting the incident as a fabricated aggression in order to discredit the other. Amidst an international backlash over the conflict, an arbitration court in Paris reportedly ruled that Russia owed Ukraine $1.3 billion in damages for the property seized in the annexation of Crimea. Though Russia did not comment on the ruling, they've accused the Ukrainian president of using the situation as a "dangerous provocation" that justifies the imposition of martial law, which grants him the power to manipulate Ukraine's next presidential election, scheduled for March.
It's true that President Poroshenko is currently far behind his political rival in the polls. Oksana Syroid, a deputy speaker in Ukraine's parliament, agreed, "Martial law in Ukraine would present a wonderful chance to manipulate the presidential elections." Aside from increasing the president's power, martial law would ostensibly allow the government to strengthen air defense and prepare a partial mobilization in the event of a Russian incursion. However, it could also restrict Ukrainians' civil liberties. For instance, objectors cite parliament's ambiguous wording in its plans for "strengthening" anti-terrorism measures and "information security." Three former Ukrainian presidents have already publicly opposed martial law, penning a letter that warns that it could be a "threat to democracy" in a country that found its democratic feet less than 30 years ago.
Martial law is set to begin on Wednesday, November 28. Alleged footage of the maritime clash has been leaked across news outlets and Youtube, found below.

Russian vessels fire at and seize Ukrainian ships youtu.be
Meg Hanson is a Brooklyn-based writer, teacher, and jaywalker. Find Meg at her website and on Twitter @megsoyung
The WHCA will not invite a comedian to speak at the 2019 dinner due to "unusual moment" in history when Trump's threats to freedom of the press aren't funny.
According to The White House Correspondents' Association, tensions between the press and the Trump Administration are nothing to joke about. This year's annual fundraising dinner, which traditionally invites a comedian to roast the president and the press corps, will instead feature Ron Chernow, noted biographer of Alexander Hamilton, as its speaker.
Oliver Knox, the association's president, announced Chernow's selection on Monday, stating, "As we celebrate the importance of a free and independent news media to the health of the republic, I look forward to hearing Ron place this unusual moment in the context of American history."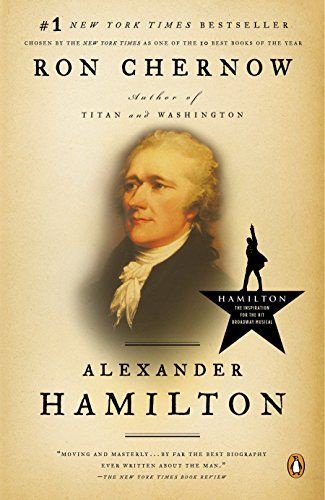 Town & Country Magazine
Ironically, it's Trump's expected absence from the event that worries the association. Another facet of the annual tradition is for the seated president to speak first, jest with the press corps and perhaps poke fun at himself, and then the comedian parries back in their own speech. However, Trump has declined to attend the last two years, giving no indication that he plans to appear at the April 27th event with Chernow. Knox has noted that the president's absence can skew the tone of the room into feeling antagonistic toward the current administration, rather than a good-humored acknowledgement of differences.

In fact, last year's event (sans Trump) featured Michelle Wolf, who incurred the president's wrath and general backlash for her remarks. For instance, Wolf singled out White House reporters for empowering Trump, stating, "You helped create this monster, and now you're profiting off of him." Later Trump took to Twitter to denounce Wolf as a "filthy 'comedian'."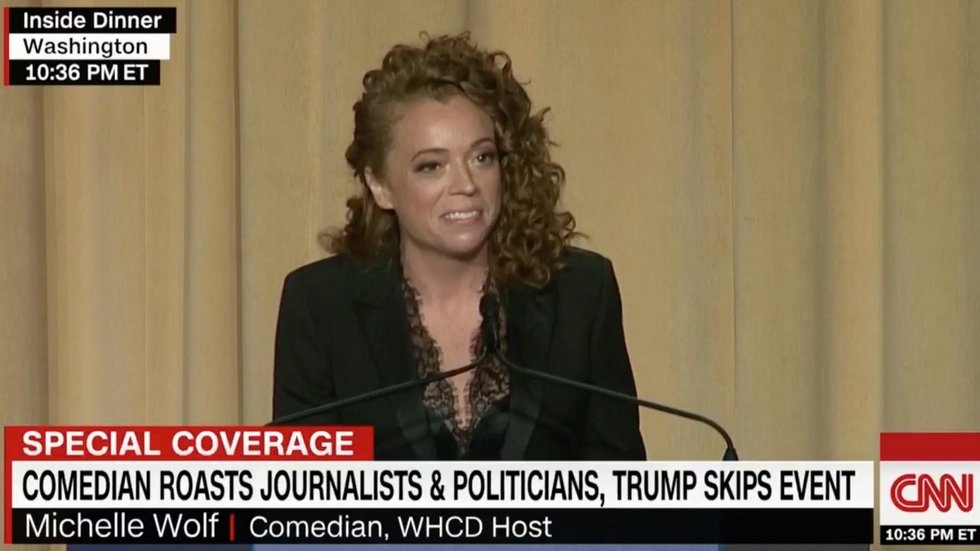 CNN - The Blaze
This year, Chernow is clarifying that "he's never been mistaken for a stand-up comedian," but he's aware of the "unusual moment" Knox speaks of, in terms of the fraught relationship between the Trump administration and the press. High points of tension include the widely publicized legal battle between CNN and the White House after CNN correspondent Jim Acosta's press pass was revoked and then reinstated by a judge after his network took the matter to court.

Stuck in the middle, Chernow released a statement, "The White House Correspondents' Association has asked me to make the case for the First Amendment and I am happy to oblige. Freedom of the press is always a timely subject and this seems like the perfect moment to go back to basics. My major worry these days is that we Americans will forget who we are as a people and historians should serve as our chief custodians in preserving that rich storehouse of memory."
Meg Hanson is a Brooklyn-based writer, teacher, and jaywalker. Find Meg at her website and on Twitter @megsoyung

At least 10 vocal activists have been "kidnapped" after stirring unrest about labor reform in the Communist Party.
Authorities in China have intensified their suppression of human rights, with their latest government crackdown targeting student activists at Peking University.
Last Friday, an alumnus of China's prestigious—and idiosyncratically liberal—University was reportedly "kidnapped" on campus property for drawing attention to labor reform. Zhang Shengye was forced into a car by a small group of unidentified men wearing black jackets. An anonymous witness noted, "They hit him hard and quickly got Zhang under control."
University officials had to spin the widely publicized arrest in a series of memos sent to students, claiming to have discovered an "illegal organization" within the university's own Marxist Society. The messages alleged that individuals had infiltrated the campus in order to subvert the government and sow dissent against the Communist Party. One memo warned that students would "bear consequences" if they became associated with the organization or the activism it encouraged.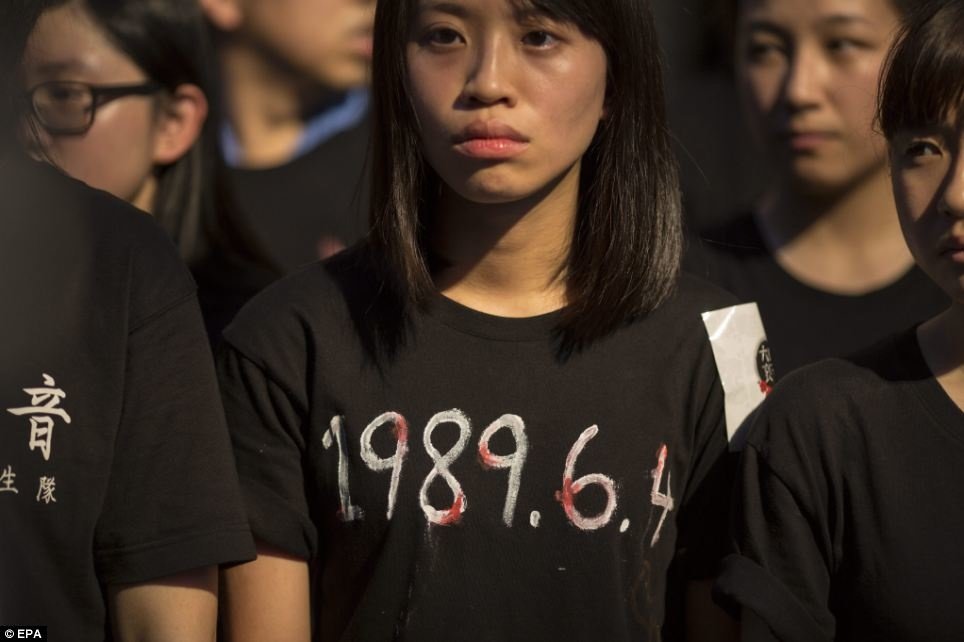 Student protesters commemorate Tiananmen Square anniversary Daily Mail
Several vocal activists, including other graduates from Peking University, have disappeared recently. According to CNN, at least nine other labor protesters are known to have been detained in five other cities. Despite touting Marxist ideologies, the Communist Party has long outlawed labor unions and opposed workers' rights. The government has been amplifying efforts to suppress activism since the summer, when the government denied a group of workers' demand to establish a trade union in southern China's Shenzhen's Jasic Technology company, stirring public dissent over labor laws.

"It's ironic to see how the students who have been studying and believing in Marxism are rounded up by the Chinese authorities for supporting workers, the fundamental value of Marxism," said Patrick Poon, a researcher at Amnesty International in Hong Kong. "The students are simply exercising their freedom of expression and showing their solidarity to the workers. They should be immediately released."
While students at Peking University are urged to study the tenets of Marxism and the power of the proletariat, China's Communist Party now has to suppress the empowered students who have not only noticed but resisted the government's hypocritical denigration of the working class. Cornell professor Eli Friedman notes, "Now that they've taken it to heart, the government is cracking down quite significantly. In some ways, this is the government's own making.
In response, Peking University's committee within the ruling Communist Party announced the implementation of an office focused on "internal control and management" of campus life, including inspections and patrol of campus grounds. Another new addition to campus is Qiu Suiping, the new Communist Party chief stationed at the university after serving as the top state security official in Beijing from 2013 to 2014.
Qiu's appointment and the rise of student activism both speak to the growing unrest in China for fairer and more humanitarian living conditions for workers. The average work schedule for a young professional in China is commonly referred to as "
996
": work from 9 AM to 9 PM, six days a week. For factory
laborers
, schedules can extend to grueling 16- or even 18-hour-day
Meg Hanson is a Brooklyn-based writer, teacher, and jaywalker. Find Meg at her websiteand on Twitter @megsoyung.
Many wealthy clients pay more for private firefighters in 6 months than civil servant firefighters earn in a year.
With the Woolsey fire having scorched almost 100,000 acres and claimed 59 lives as of Thursday, some homes are safer than others. Private firefighters in the employ of select insurance companies protect homes of those who can afford the fee.
Take Kim Kardashian and Kanye West's $50-60 million home, for instance. When the fires approached the closed community of Hidden Hills, California where the Wests and other high profile figures reside, private firefighters were able to save the community from ashen ruin.
Kardashian West shared her fears and gratitude on Twitter last week, posting, "I heard the flames have hit our property at our home in Hidden Hills but now are more contained and have stopped at the moment...God is good. I'm just praying everyone is safe."
While no one begrudges the preservation of home and personal safety, the elite community's usage of private firefighters sounds alarms of celebrity privilege out of control, capitalist evaluation of human life, and class differences demarcating who survives natural disasters. Insurance companies are already built on predatory privatization, but some like AIG and Chubb offer private Wildfire Defense Systems. In California, Chubb runs 53 engines to protect around 1,000 fee-payers' homes.

Yet privatized firefighting is far from novel. In fact, the practice invokes a shameful history of privatized life-saving services that dates back to 18th century London. In the U.S. before governments became centralized to fund public services like fire departments, those jobs were seen as a civic duty. Volunteer "fire clubs" were respected pillars in society wherein men were proud to defend their local communities.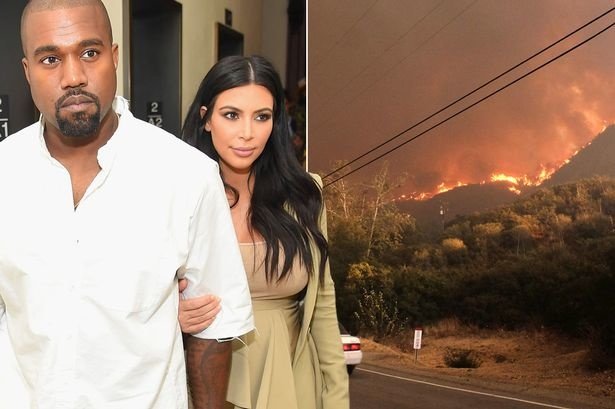 Mirror
However, reviving private contractors to specialize public-goods services speaks to concerns about quality and accessibility–not to mention elitism. Author and historian Amy Greenberg surveyed the legacy of fire departments in her book Cause for Alarm: The Volunteer Fire Department in the Nineteenth-Century City. In an email to The Atlantic, she finds the notion of celebrities' firefighters alarming.

Greenberg stated, "This isn't a story of the kooky Kardashians doing things in the most publicity-friendly manner possible. It's a story of the ramifications of economic disparity in this country. Frankly, I'm flabbergasted." She continued, "Firefighters are consistently ranked the most beloved public servants, not just because they look good on calendars but because they treat everyone equally. Rich people don't get their own 'better' firefighters, or at least they aren't supposed to."
Are private firefighters better? AIG's firefighters are certified through state or local authorities. According to AIG's website, "The Wildfire Protection Unit is not a private fire department; it's a loss mitigation service designed to pre-empt damage well before a wildfire even ignites." Policyholders qualify for private services by paying premiums of at least $10,000 to protect homes valued at $1 million minimum. In return, approximately 256 private firefighting companies offer services such as "complimentary" at-home consultations, ongoing monitoring from 24/7 "specialists" who track fire conditions, and treatments of their property with flame retardants, in addition to dispatched "wildfire mitigation specialists" in the event of fire emergencies.
NBC reports that 42% of Forbes' list of the 400 richest Americans are enrolled in AIG protection.
After Hidden Hills was spared from fire damage, Kardashian West followed up with a tweet commending and thanking California firefighters, urging those who can to support and donate the California Fire Foundation, which is a non-profit organization that supports state-employed firefighters, their families, and communities.
While the message is universally agreeable, the messenger would be laughable if it weren't so egregious. The firefighters who saved the Kardashian-West neighborhood were private employees for clients who can pay at least $10,000 per month for their protection. While no less courageous, they were not civil servants. According to Business Insider, the approximate 13,000 California state firefighters laboring to contain loss of life and property earn an average yearly salary of $58,000, or $33 an hour.

Meg Hanson is a Brooklyn-based writer, teacher, and jaywalker. Find Meg at her website and on Twitter @megsoyung.