Brooke Ivey Johnson
Brooke Ivey Johnson is a Brooklyn based writer, playwright, and human woman. To read more of her work visit her blog or follow her twitter @BrookeIJohnson.
Trump threatens to close the border completely, despite having no authority to do so.
On Sunday, a group of Mexican migrants reportedly rushed the San Ysidro border crossing near San Diego, drawing tear gas from Border Patrollers. Consequently, the crossing was closed for several hours. Homeland Security Secretary Kirstjen Nielsen later said the closing of the border was "to ensure public safety in response to large numbers of migrants seeking to enter the U.S. illegally." According to the Washington Post, "At least two dozen tear gas canisters could be seen on the Mexican side of the border after the migrants eventually turned back."
Images from the incident, shot by Reuters photographer Kim Kyung-Hoon and showing young children fleeing the tear gas in obvious distress, have elicited outrage across the country. The photos also appear to contradict Republican propaganda claiming the migrant caravan was full of criminals.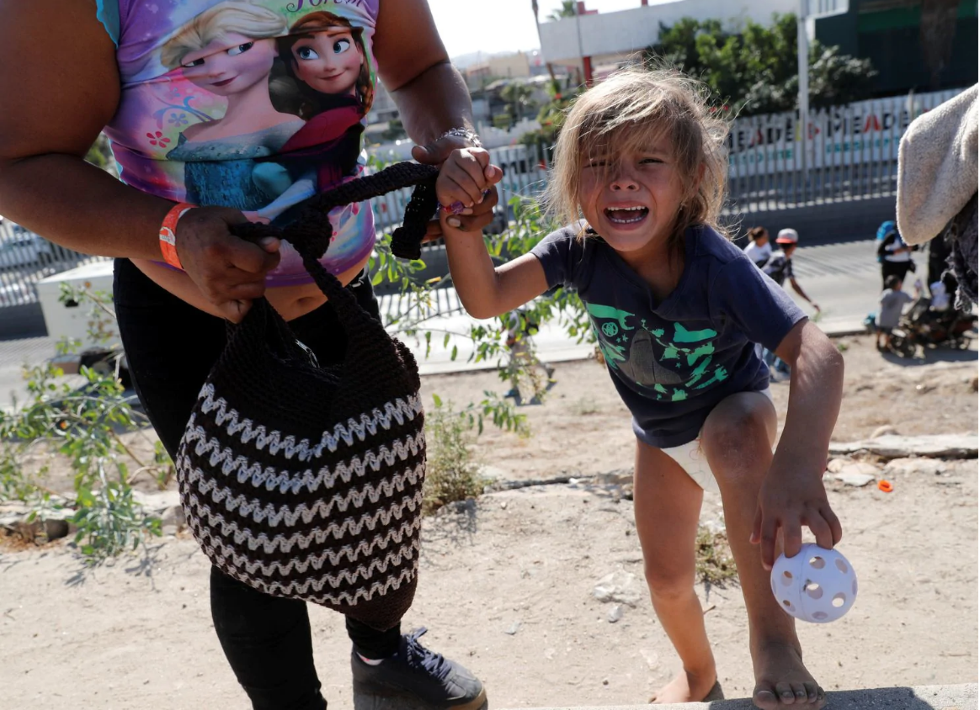 Kim Kyung-Hoon/Reuters
Senator Brian Schatz, D-Hawaii, condemned the extreme measures taken by border patrol, tweeting:

Gavin Newsom, the Democratic governor-elect from California, echoed this sentiment, saying:
On Monday, President Trump addressed the border closing by threatening to close the border permanently and calling for the deportation of the tear gassed migrants.
Despite this inflammatory claim, there are no legal provisions that would allow Trump to close the border in its entirety. Additionally, by law, asylum seekers must be allowed to present their case to a U.S. judge if they're able to cross the border. This means that the migrants who were tear-gassed on Sunday were not there illegally at all, and U.S. officials are required by law to consider their claim before deporting them back to Mexico. Yale Law School's Harold Hongju Koh, former legal adviser to the State Department, said that what Trump does not understand "is that everyone crossing our Southern border is not illegally present. Those with valid asylum claims have a legal right to assert those claims and remain."

But as the number of migrants waiting at the border grows and as Trump's anti-immigration policies and rhetoric cause longer and longer delays in the hearing of these cases, illegal immigration actually becomes more likely, not less. Wayne Cornelius, professor at the University of California, San Diego and expert on the border, told the New York Times, "The longer the caravaners stay in Tijuana, the more likely they are to succumb to the temptation to cross illegally into the U.S." So the Trump administration's anti-immigration stance is not only perpetuating a false impression that immigrants at the border are breaking the law, but also making the illegal immigration they're supposedly so opposed to more likely than ever.
Now, Trump is reportedly working with the Mexican government to add further peril and hardship to the journeys of these migrants. Trump tweeted on Saturday:
This provision, which the new Mexican government is reportedly agreeable to, would further violate asylum laws, which state that the United States must ensure that individuals waiting for asylum are safe not only from a hostile government, but from gangs and other threats. It would be nearly impossible for America to ensure asylum seekers this kind of protection while they're still in Mexico, and it would undoubtedly require a massive allocation of resources to do so. The American Civil Liberties Union immigration attorney Lee Gelernt told the Washington Post on Sunday night, "We believe it would be impossible for the U.S." to ensure asylum seekers safety while still in Mexico.
The truth of the matter is that these migrants are not the villains Trump has made them out to be, as they're merely seeking a better life for themselves and their families. Andrés Medina, 22, who left Honduras to escape gang recruitment and was a part of the group that rushed the crossing, said, "We've got to try one more time, we don't even have weapons." He added, "We just wanted to cross."
Brooke Ivey Johnson is a Brooklyn based writer, playwright, and human woman. To read more of her work visit her blog or follow her twitter @BrookeIJohnson.
Many British politicians are calling for vote of no confidence.
Yesterday, Prime Minister Theresa May announced that her administration has come up with a 585-page draft agreement that will form the basis for the UK's exit from the EU. She is now facing backlash in response to the draft. Among the objections are concerns over the apparent lack of clear guidelines as to whether UK citizens will be able to work and live in the EU, the state of the Irish border under the new deal, and that the UK will pay at least £39bn to the EU to cover all its financial obligations once the deal is agreed upon. May has critics on both sides of the aisle, and those who think the UK needs to make a hard Brexit fear "an agreement on the EU-UK land border will tie the country to the EU's customs union and parts of the single trade market."
In response to the deal, big name ministers have resigned from the cabinet, including Brexit Secretary Dominic Raab, who says he quit over "fatal flaws" in the agreement. Work and Pensions Secretary Esther McVey has also resigned, saying the Brexit deal "does not honor" the result of the referendum where a majority of Brits voted to leave the EU. Junior ministers Suella Braverman and Shailesh Vara quit the cabinet in protestation as well.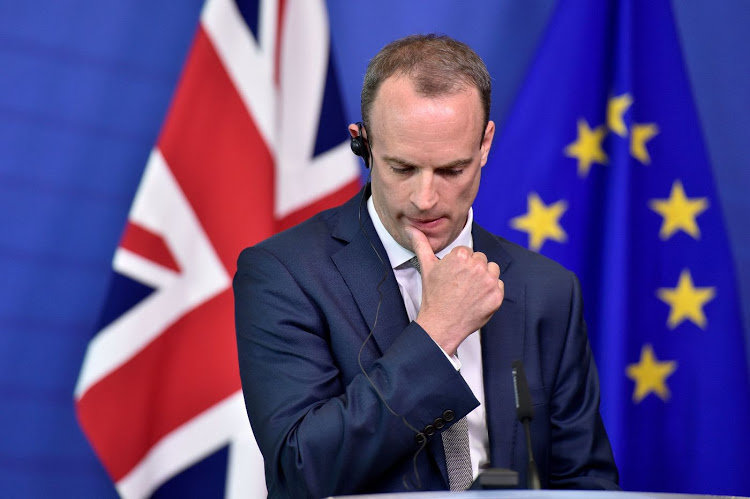 Dominic RaabBusiness Day
Now, May might face a vote of no confidence from the House of Commons, a measure that, if successful, would remove her from power. For the motion to proceed, 48 Conservative MPs—that's 15% of May's own party—must write letters of no confidence. May would then be replaced by someone of her party's choosing. However, if a new MP is not chosen within a period of 14 days after the vote, parliament would be dissolved and a General Election is triggered.

The leader of the labor party, Jeremy Corbyn, is also hoping for a vote of no confidence. In a party-wide email, he wrote, "After two years of bungled negotiations, the government has produced a botched deal that breaches the prime minister's own red lines, does not meet our six tests, and will leave the country in an indefinite halfway house without a real say." He went on to say, "If parliament votes down this shambolic Tory deal—as seems likely—this will represent a loss of confidence in the government. In those circumstances, the best outcome for the country is an immediate general election that can sweep the Tories from power and deliver the Labour government this country desperately needs."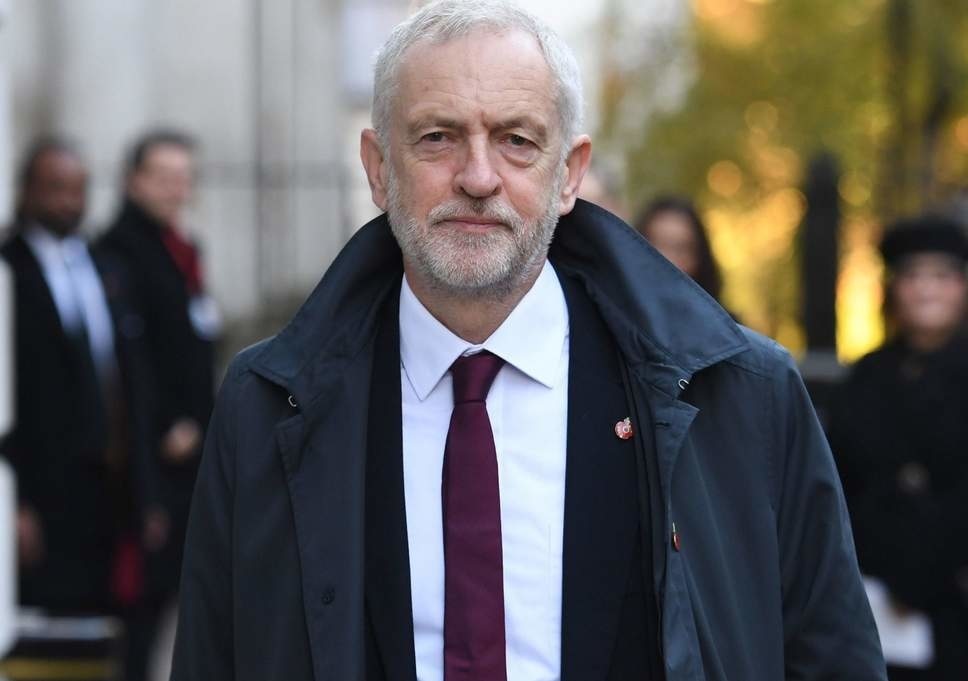 Jeremy CorbynThe Independent
At a press conference on Thursday, May stood by the deal, saying she "believes with every fiber of my being" that the Brexit deal is the right choice. She went on to say that, "Leadership is about taking the right decisions, not the easy ones. As Prime Minister, my job is to bring back a deal that delivers on the vote of the British people. Do I believe this is a deal which does deliver that, which is in the national interest and am I going to see this through? Yes."

The Senator tweeted an awkward sports analogy about the Florida election recounts.
Like a dorky but enthusiastic Dad trying to connect with a teenage son he doesn't understand, Marco Rubio made an epicly bad sports analogy in a tweet about the vote recount in Florida.
He was consequently mocked by twitter users for calling a field goal "a three point kick," earning a number of responses that questioned the Senator's sports knowledge and the logic of the intended metaphor.

In response, Rubio whined about the ridicule, somehow managing to go even further into the hole of lameness he dug for himself, essentially saying, "Haha no guys seriously I know about sport I love sport let's toss the ole pigskin haha go Dolphins!"

Of course, this is not the first time Rubio has embarrassed himself in the realm of sports. How can any of us forget the iconic moment in his 2016 presidential campaign when he nailed a child in the face with a football?

Maybe if you stop trying so hard be athletic, Marco, you won't need to be so disciplined about hydration.
Marco Rubio Pauses Speech for Water Break www.youtube.com
Brooke Ivey Johnson is a Brooklyn based writer, playwright, and human woman. To read more of her work visit her blog or follow her twitter @BrookeIJohnson.
Rick Scott and President Trump baselessly claim a conspiracy by Hillary Clinton's lawyers.
Tensions are rising in Florida as Sen. Bill Nelson's re-election bid is likely headed for a hand recount. The incumbent Democrat now trails Florida Gov. Rick Scott by just 17,000 votes, easily within the .25% margin required for a hand recount. On November 6th, it looked as though Scott had won a narrow victory over Nelson, but untallied ballots have since trickled in from traditionally blue Broward and Palm Beach counties and called the election results into question.
Of course, Republicans have found a way to blame this new development on Hillary Clinton, claiming that her lawyers are involved in a far reaching conspiracy to claim Florida's senate seat for the Democrats. Rick Scott held a news conference Thursday evening calling for the Florida Department of Law Enforcement to investigate the validity of the ballots in Broward and Palm Beach counties, and claimed he filed a lawsuit against top election officials in each county.
"I will not sit idly by while unethical liberals try to steal this election from the great people of Florida," Scott said. "Their goal is to keep mysteriously finding votes until the election turns out the way they want... left-wing activists have been coming up with more and more ballots out of nowhere."
Despite this strong rhetoric, Scott presented no evidence that anything unlawful actually occurred. Characteristically, President Trump soon weighed in with a tweet:

Then, Trump's personal attorney, Rudy Giulliani contributed his thoughts on the matter:
On Friday, Trump told reporters during a news conference that Fusion GPS plotted to steal the election in Florida. "Then you see the people, and they were involved with that fraud of the fake dossier, the phony dossier, and I guess I hear they were somehow involved or worked with the GPS Fusion [sic] people, who have committed — I mean you look at what they done, you look at the dishonesty," Trump went on to say, "Look, look — there's bad things have gone on in Broward County, really bad things ... I say this — [Scott] easily won, but every hour it seems to be going down. I think people have to look at it very very cautiously."

A member of Bill Nelson's team, Dan McLaughlin, said in an official statement that "the goal here is to see that all the votes in Florida are counted and counted accurately," going on to say that Scott's call for a criminal investigation "appears to be politically motivated and borne out of desperation."
Indeed, there's no valid legal claim that votes cast in a county that counts votes more slowly shouldn't be counted, and no evidence whatsoever that the issues with vote tabulation in Broward and Palm Beach counties are in any way due to Democrat interference.
Brooke Ivey Johnson is a Brooklyn based writer, playwright, and human woman. To read more of her work visit her blog or follow her twitter @BrookeIJohnson.
The 85-year-old Supreme Court Justice fell in her office on Wednesday night.
According to a statement from the Supreme Court, Justice Ruth Bader Ginsburg fell in her office Wednesday night and fractured three ribs. Initially, the Justice thought all was well following the fall and went home. After experiencing pain throughout Wednesday night, however, she was admitted to George Washington University Hospital Thursday morning.
Her stay at the hospital meant that Ginsburg was not present for Thursday's investiture of Trump-appointed Justice Brett Kavanaugh, an event that reportedly drew crowds in protest.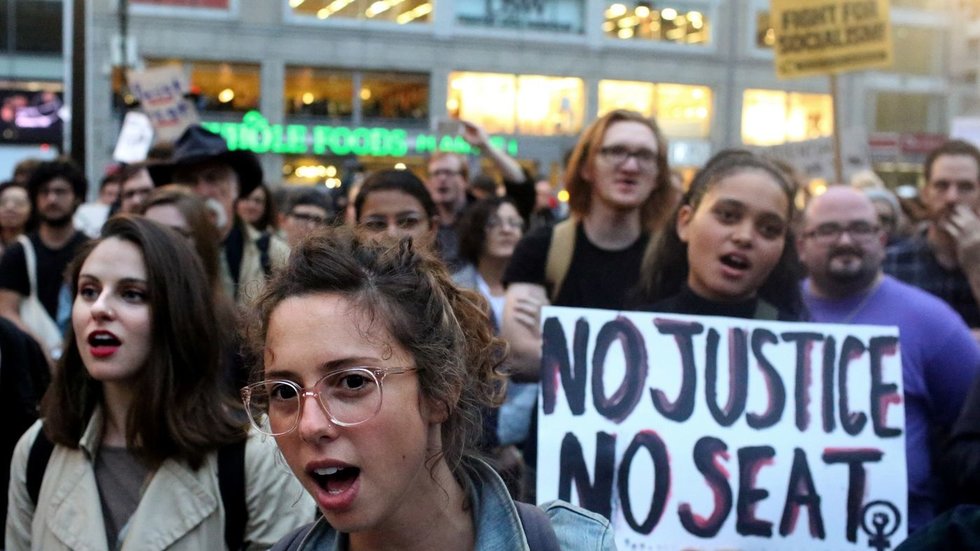 LA Times
Since her appointment to the court in 1993, Ginsburg has become a pop culture icon, praised by progressives for her liberal influence. In particular, Ginsburg is seen as an opponent of President Trump, whom she called "a faker" in 2016. Since the replacement of Justice Anthony M. Kennedy by conservative Justice Brett Kavanaugh, progressives have been particularly concerned as to the state of Ginsburg's health, fearing that her age may force her to retire before Trump's tenure ends, allowing him to put another conservative Justice on the bench.
The next sitting of the Supreme Court begins Nov. 26, and given Justice Ginsburg's history of attending work despite health issues, her fractured ribs are unlikely to hinder her participation. She broke two ribs in 2012 and returned to work the next day. In November 2014, she underwent a heart procedure; in 2009, she was treated for early stages of pancreatic cancer and returned to work three weeks later.
In July, the Justice stated that she hopes to stay on the bench for the duration of Trump's term. "I'm now 85," Ginsburg said. "My senior colleague, Justice John Paul Stevens, he stepped down when he was 90, so think I have about at least five more years."

Brooke Ivey Johnson is a Brooklyn based writer, playwright, and human woman. To read more of her work visit her
blog
or follow her twitter
@BrookeIJohnson
.
It was an election night of firsts.
While the midterm elections didn't bring the overwhelming blue wave Democrats had hoped for, they managed to win an important moral victory, electing several representatives from demographics that had never before been represented in Congress.
In the 2018 midterms, the U.S. elected its first Muslim congresswomen, Ilhan Omar of Minnesota and Rashida Tlaib of Michigan, both Democrats. Kansas and New Mexico elected the nation's first Native American women to join congress, Democrats Deb Haaland (KS) and Sharice Davids (NM). South Dakota and Maine elected their first female governors, Tennessee and Arizona sent women to the Senate for the first time, and Massachusetts and Connecticut elected their first-ever black women to the House. These milestones are joined by America's first lesbian mom in congress (Angie Craig, Minnesota), the first openly gay man elected as a state's governor (Jared Polis, Colorado), and the youngest woman ever elected to Congress, twenty-nine-year-old Democrat Alexandria Ocasio-Cortez (NY).
As NPR reports, "record numbers of Native Americans, Muslim Americans and women, including many women of color, ran for office in 2018. A 'rainbow wave' of LGBTQ candidates also sought office. And after the ballots were cast, all those groups notched notable firsts."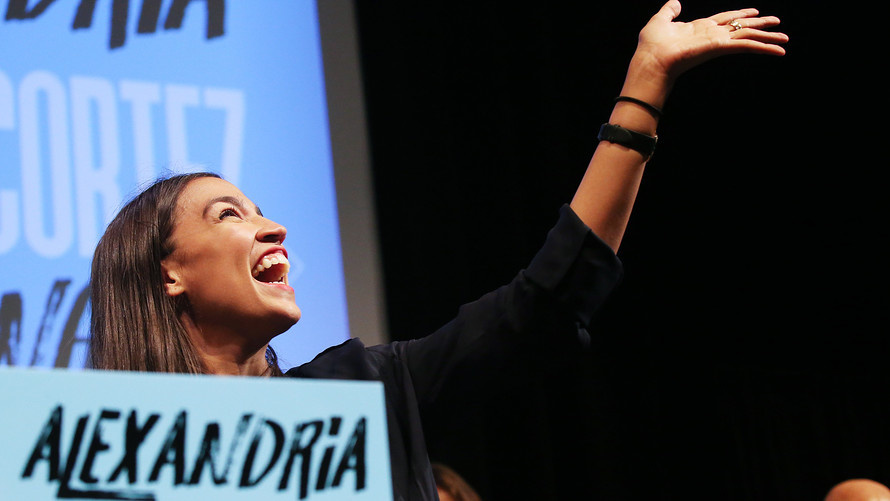 Alexandria Ocasio-CortezMarketWatch
These candidates can likely thank a record turnout by women and young people for their victories. The polls found that voters under 30 favored Democrats by a 35-point margin over Republicans, compared with an 11-point margin in 2014, and women chose the Democratic Party by 19 points — the largest margin in the history of US midterms — compared with their margin of four points in 2014, according to network exit surveys from CNN.
Despite these Democratic victories, Trump can take comfort in the fact that Republicans managed to retain control of the Senate, exposing an America deeply divided. As CNN points out, the midterm results "underscored a political and cultural gulf among diverse and affluent liberals living in big cities and their suburbs and the mostly, white, working class and rural conservative bloc of voters for whom Trump remains an iconic figure." The midterm elections proved that the extreme polarization of political leanings, to which many attribute Trump's 2016 election, are still alive and well in America.
But even with consistent support from his base, this new influx of progressives to Washington spells bad news for the Trump administration, as Democrats are prepared to closely scrutinize Trump's policies on immigration, education, and healthcare. But progressive leaders have also made it clear that they don't plan to immediately pursue impeachment, as former House Majority leader Nancy Pelosi said that a call for impeachment "would have to be bipartisan, and the evidence would have to be so conclusive."
Despite this, Trump has already begun threatening Democrats with retaliation if they move to investigate him, tweeting:
If the Democrats think they are going to waste Taxpayer Money investigating us at the House level, then we will likewise be forced to consider investigating them for all of the leaks of Classified Information, and much else, at the Senate level. Two can play that game!
— Donald J. Trump (@realDonaldTrump) November 7, 2018
Senate Majority Leader Mitch McConnell (R-Ky.) has also picked up this defensive tune, telling reporters Wednesday morning that he cautioned Democrats against engaging in "presidential harassment."

In response, Democratic Rep. Jerrold Nadler, the likely leader of the House Judiciary Committee, cautioned Republicans that the election was about accountability for Trump. "He's going to learn that he's not above the law," Nadler said.
Brooke Ivey Johnson is a Brooklyn based writer, playwright, and human woman. To read more of her work visit her blog or follow her twitter @BrookeIJohnson.
Transgender rights are human rights.
While the media is focused on which party will serve as the majority in the House and Senate after the midterm elections, voters in 37 states also have the opportunity to vote on more than 150 statewide measures. Important issues like marijuana, voting rights, fracking, abortion rights, and trans rights, are all on the table this election.
One of the most vital midterms measures is Massachusetts' question 3, a measure that could repeal the state's landmark 2016 transgender rights law. The law was an important milestone in the battle for much-needed protections for the transgender community, ensuring individuals could use public restrooms and locker rooms according to their gender identity, and generally exist in public spaces without fear of discrimination. It was passed with almost 90% support in the state senate and over 75% support in the Massachusetts House of Representatives, signed into law by Republican Gov. Charlie Baker, and widely celebrated by a large range of LGBTQ+ business and civil rights groups, as well as New England's five major sports teams.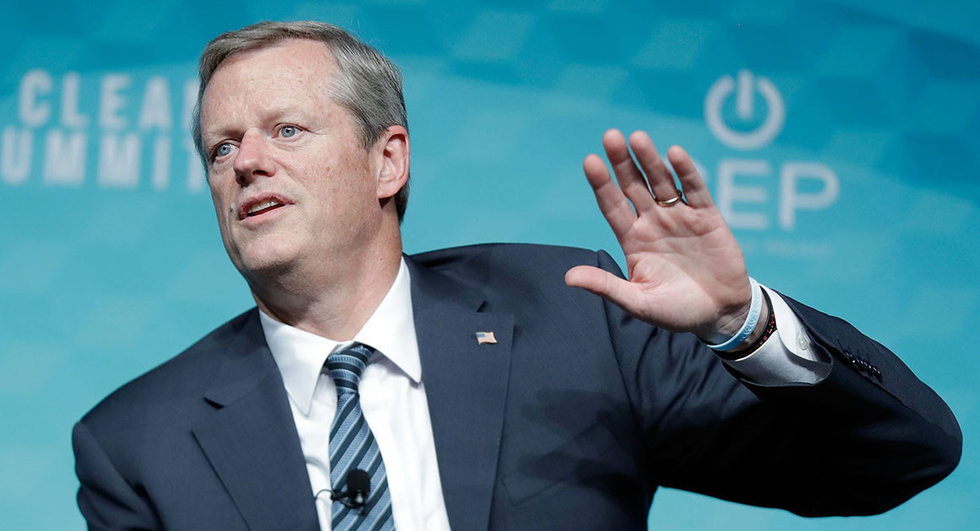 Governor Charlie BakerPolitico
The initiative to repeal this law is not the result of a movement by the people of MA, but rather the consequence of concerted efforts by a small, right-wing, Christian organization called the Massachusetts Family Institute and their allied organization Keep MA Safe. These critics say the law is "ripe for abuse," and could be taken advantage of by sex offenders entering women's bathrooms and dressing rooms with the aim of assaulting and harassing women and children. Debby Dugan, the chairwoman of Keep MA Safe, wrote in a Boston Globe piece last month that, "The way this law is written, an attempt to block someone who self-identifies as belonging in a women's locker room, dressing room, or bathroom — including convicted sex offenders — could result in penalties of up to a year in prison, and fines of up to $50,000 for multiple offenses."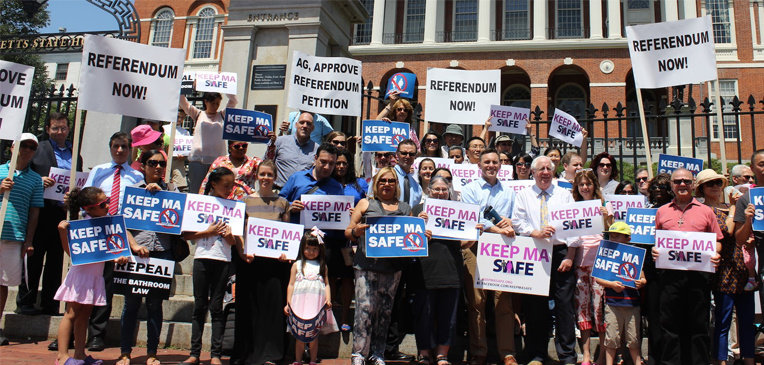 Nation Builder
The law was written with the expectation of this argument from the opposition, and includes a provision by directing Attorney General Maura Healey, who wrote that if, "an employee of a public accommodation has reasonable grounds to believe that a person, regardless of gender identity, is engaged in improper or unlawful conduct, they should do whatever they would normally do to address the situation, including asking the patron to leave or calling security or law enforcement." This means a person will not be legally liable for discrimination if they intervene in a suspected sexual assault, as long as they had reasonable cause to believe intervention was necessary.
Despite this, critics tend to frame the conversation as though the law protects offenders from legal consequences. But as Justice Healey wrote, "This new law does not provide any protections for someone who engages in improper or unlawful conduct, whether in a sex-segregated facility or elsewhere, nor does it provide a defense to criminal charges brought against someone engaged in unlawful conduct." Also, as many supporters of the law have pointed out, if someone had the intention of doing something unlawful in a public restroom, it is unlikely they would be deterred by gendered bathrooms in the first place.
It's difficult to believe that the people behind Keep MA Safe are actually concerned about the safety of Americans, given the lack of evidence that there is any correlation between assaults and trans rights laws, and the ample evidence that the trans community is constantly at risk of violence and harassment. The sex offender centered argument is a thinly veiled excuse for bigotry, as assault and harassment, regardless of the spaces they occur in, are illegal in the state of Massachusetts, and this law does nothing to change that. Additionally, the anti-discrimination law has been endorsed by the Massachusetts Chiefs of Police Association and the Massachusetts Coalition Against Sexual Assault and Domestic Violence.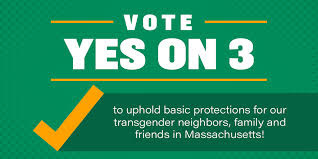 Healey's office noted that in the 18 other states with transgender anti-discrimination laws, reports of "improper assertion[s] of gender identity have been exceedingly rare." In June, Rep. Joe Kennedy III told Boston.com that there is "not one single incident that they can point to of any sort of assault or danger that's taken place as a result [of the law]". Researchers at the Williams Institute — a think tank at the UCLA School of Law that focuses on sexual orientation and gender identity law — backed up Kennedy's assertions, announcing that they found no correlation between the passage of the 2016 law in Massachusetts and any change in the "number or frequency of criminal incidents in restrooms, locker rooms or changing rooms."
According to Logan Nelson, a transgender Massachusetts resident, the assertion that sex offenders may pretend to be transgender is absurd. "All I want to do is f*cking pee. The claim that sex offenders will pretend to be transgender is just wildly offensive and inaccurate. You can't 'pretend' to be transgender. Wearing different clothing doesn't make you transgender. The whole thing is essentially just an attack and there has been no aggression from the trans community that warrants this. All it is, is a hate infused attack. And of course, trans women of color already have the highest mortality rate in the trans community, so this is forcing them even further into extinction."
While it is clear that the law does not offer any protection for sexual assailants or others who would seek to act unlawfully, it does offer vital protections for Transgender individuals. The National Center for Transgender Equality reports that "more than one in four trans people has faced a bias-driven assault, and rates are higher for trans women and trans people of color." Additionally, the Human Rights Campaign has reported 22 deaths due to fatal violence against transgender people in 2018 so far, most recently the death of Ciara Minaj Carter Frazier on Oct. 3. Despite these harrowing statistics, the Trump administration has made discrimination against the transgender community a part of their agenda, aiming to define gender based on anatomy at birth and exclude non-cisgender individuals from legal protections.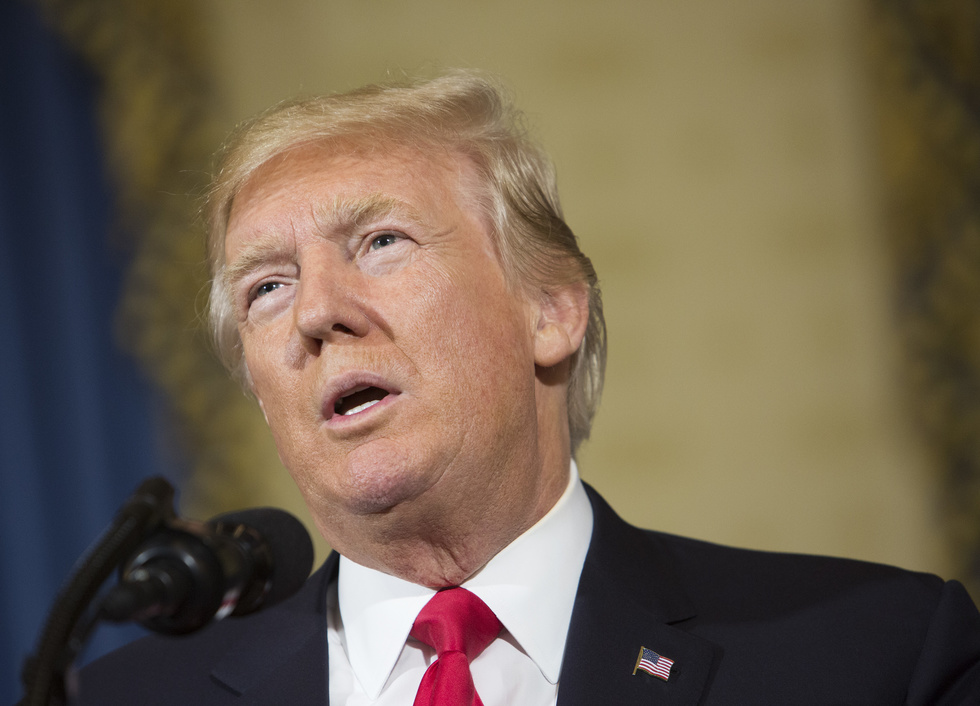 Fortune
In part because of Trump's harmful rhetoric, even if Massachusetts voters vote to keep the law, there is much work to be done in terms of providing transgender individuals with the rights and protection they deserve. As Mr. Nelson went on to say, "I'm not gonna stop using the bathroom. You know, cause I'm a human being who has to shit sometimes. And even without question 3, I still feel unsafe in bathrooms. I always have. Part of the trans experience is not having your rights respected or heard until they're in question. I have always felt unsafe and I will continue to. All this Question 3 stuff does is highlight the fact that Americans don't want transgender people to exist, that there are so few of us that the 'majority' (cisgender women and girls, men) matter more, and that there is zero education and cultural competency training in regard to gender in politics, the education system, and in popular culture."
While there is alway more work to be done in protecting trans Americans from systemic discrimination and violence, the outcome of Massachusetts vote on question 3 will have heavy implications for the rest of the country. If the referendum is successful in repealing the law — an unprecedented outcome in measures of this nature — supporters say a dangerous precedent could be set for other, less-liberal states where laws against discrimination on the basis of gender identity have been passed. In an America where division is actively encouraged by the President, it is important now more than ever to safeguard the legal protections of at risk communities. While we urge Massachusetts voters to vote "yes" on question 3, it's equally important for all Americans to continue to work to be better allies to the entire LBGTQ+ community.
Brooke Ivey Johnson is a Brooklyn based writer, playwright, and human woman. To read more of her work visit her blog or follow her twitter @BrookeIJohnson.
New Jersey voters face a difficult choice.
It's a tough pill for progressives to swallow that in the age of the Trump GOP, one of our most flagrantly corrupt politicians is a Democratic senator. It's difficult to say when exactly the scandals surrounding New Jersey Senator Bob Menendez began, but it may have been as early as 2006, when "federal prosecutors suspected that the New Jersey senator had steered federal funds to a nonprofit group that was paying him rent." Or in 2014, when Menendez allegedly helped free two accused Ecuadorian criminals in exchange for campaign donations. There have even been rumors that just before Menendez's 2012 election, he was involved with underage prostitutes in the Dominican Republic, though the FBI ultimately found no evidence to support these allegations.
At this point, Menendez has escaped all of these scandals relatively unscathed. The most he has faced in the way of repercussions was the Senate Ethics Committee "severely admonishing" him for accepting over a million dollars in gifts from an affluent Florida eye doctor. But whether Menendez's behavior has been explicitly unlawful or not, there is no question that the Democratic senator has a questionable moral compass unbecoming of a lawmaker, as well as a knack for getting out of trouble. And now, thanks to the virulently anti-Trump attitude of New Jersey, Menendez may just avoid negative consequences once again.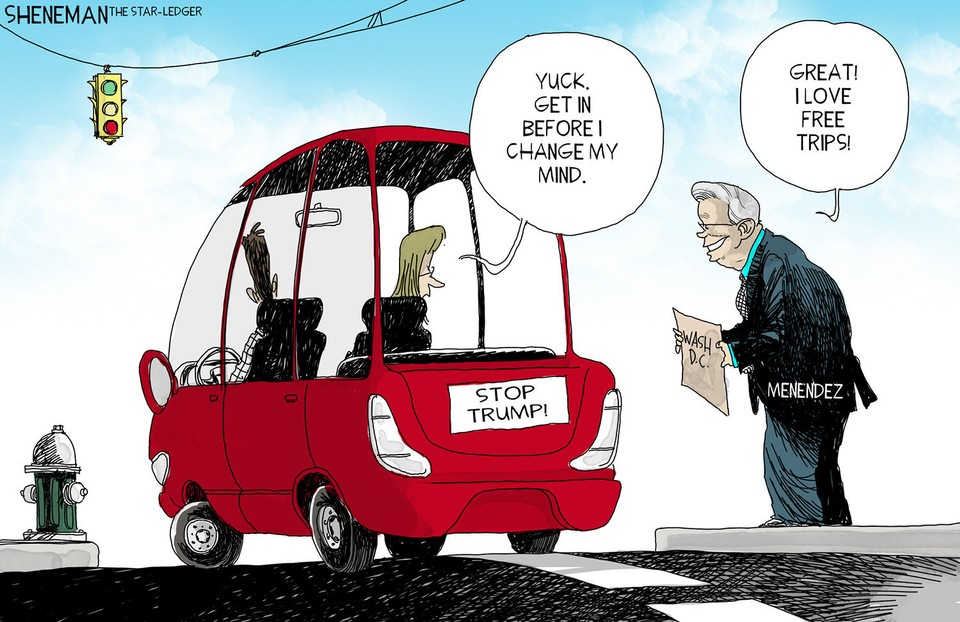 The Star Ledger
In an average year, New Jersey voters would likely settle for a republican Senator instead of appearing to condone Menendez and the corruption he has come to represent. Indeed, in the latest poll conducted by Rutgers University's Eagleton Institute of Politics, only 28 percent of New Jersey voters view Menendez favorably. But, it appears he may just win reelection anyway, as he currently leads Republican Bob Hugin by a narrow margin ahead of Tuesdays midterm election. While Menendez is, in a word, slimy, the historically blue state appears to be willing to grit their teeth and bear him in order to avoid electing a Senator with clear Trump affiliations. Menendez's opponent, Bob Hugin, is a pharmaceutical mogul who raised money for Trump's campaign in 2016, donated $200,000 to Trump, and served as a convention delegate for Trump. As a result, New Jerseyans are facing what many editorials call "the most depressing choice for New Jersey voters in a generation."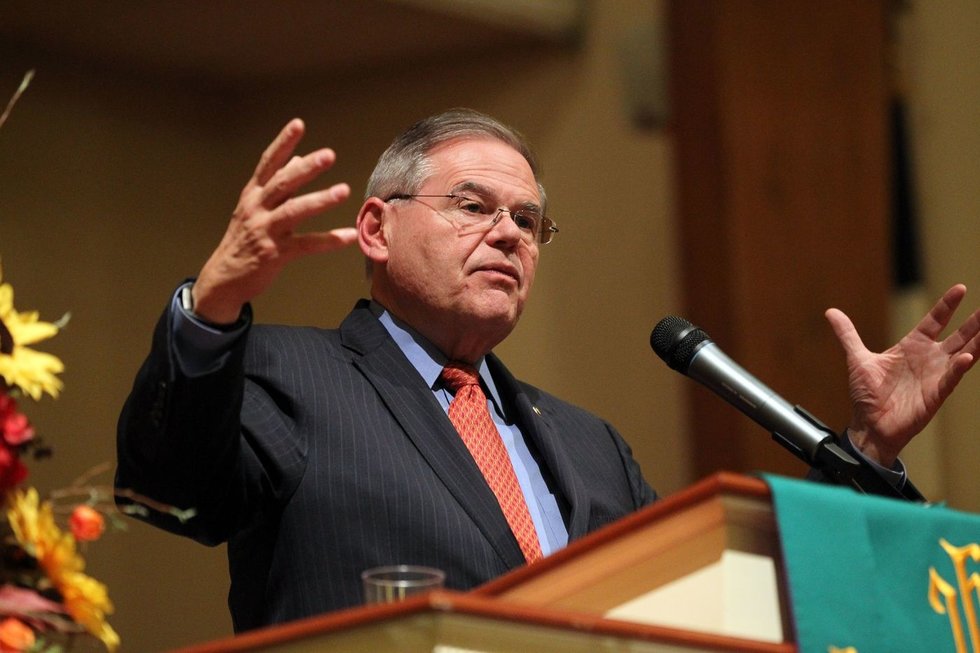 Philly.com
The fact is that this is not a normal midterm election, and progressive voters are willing to put up with a lot to take back congress. The extremist rhetoric and erratic behavior that has become characteristic of Trump's presidency is driving people to the polls in record numbers already, and that is expected to remain true during regular voting on Tuesday. Trump's presidency has forced many previously moderate Americans to cling, unquestioningly, to the Democratic Party, because for all of the democrats' flaws, at least they aren't tainted by the White House's toxic run-off. If Menendez does manage to win reelection, he can thank this Trump-fueled reticence towards conservative candidates. As Drew Sheneman writes for the New Jersey paper The Star Ledger, by voting for Menendez, "Are you rewarding a man who in no way deserves a reward? Certainly. Should you do it anyway? Certainly."

Brooke Ivey Johnson is a Brooklyn based writer, playwright, and human woman. To read more of her work visit her
blog
or follow her twitter
@BrookeIJohnson
.
The President vilifies immigrants as the midterms approach.
On Thursday Nov. 1st, President Trump released a political ad that accused Democrats of plotting to help murderers and criminals invade the country.
The ad is a flagrantly manipulative and fear mongering move, a new low in Trump's inflammatory closing argument of the GOP's midterm campaign.
The video — produced by Trump's campaign — features Luis Bracamontes, a Mexican immigrant who returned to the United States after being deported, and was then convicted of killing two California deputies. Bracamontes is shown with a chilling smile, saying, "I'm going to kill more cops soon," meanwhile, a caption flashes across the screen that reads "Democrats let him into our country. Democrats let him stay." The video then goes on to show footage of people crossing the border as menacing music plays. The screen then reads, "Who else would Democrats let in?" The spot is not only a clear attempt at sowing fear, but also rife with misinformation, as Bracamontes was actually originally deported by a democrat, Bill Clinton, and let back in by a Republican, George W. Bush.

After posting the video, Trump told reporters he would deploy 15,000 troops to the southern border to repel a caravan of central American immigrants, which is still hundreds of miles away. He also suggested that these troops could fire on the migrant caravan if rocks or stones were thrown, a claim that contradicts Official Department of Defense regulations, which state, "deadly force is justified only when there is a reasonable belief that the subject of such force poses an imminent threat of death or serious bodily harm to a person." Additionally, Trump repeatedly implied to reporters that there are Middle Eastern individuals hiding amongst the caravan, but later said, "There's no proof of anything. There's no proof of anything. But there could very well be."
In the wake of all of this troubling rhetoric surrounding immigration, Trump claimed Thursday that he would sign an executive order "next week" aimed at limiting immigrants ability to seek asylum in the United States. These developments come on the heels of Trump's recent assertion that he aims to repeal the 14th amendment, which automatically grants citizenship to children born in the United States.

This recent rise in anti-immigration rhetoric is yet another example of the President's willingness to exploit racial divides to falsely inflate his power and the cause of the Republican midterm campaign. It's clear that the Trump administration has chosen to scapegoat and villify central American immigrants in an attempt to counteract
rising enthusiasm
about democratic candidates in the midterm elections. The question is, will voters succumb to Trump's scare tactics, or see it as the manipulative and divisive rhetoric that it is?
Keep reading...
Show less
Jair Bolsonaro ran on a far-right, pro-torture, pro-militarization platform.
Over the last 30 years, Brazil has transitioned from dictatorship to shaky democracy, raising hopes that the country would soon be able to economically compete with other developed countries on the world stage. With the presidential election of Jair Bolsonaro on Sunday, the progress of the world's 4th largest democracy seems to have stalled. Bolsonaro is a far-right, pro-gun, pro-torture politician who gained 55.1% of votes after a deeply divisive election cycle.

The new Brazilian president is a 63-year-old former military paratrooper who promised Brazilians he would crush corruption, crime, and a supposed communist threat if elected to the presidency. Bolsonaro was an extremely polarizing candidate who has spoken against women, gay people, Brazilians of color, and even democracy — the New York Times reports that he once said, "Let's go straight to the dictatorship," while serving as a congressman. Given the fascistic nature of his views, he struggled to find a running mate until early August.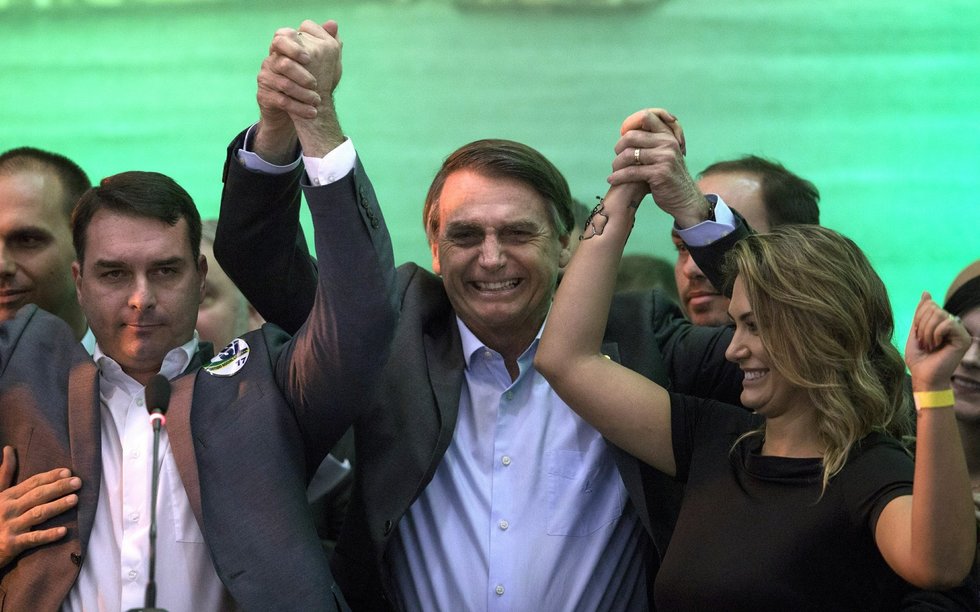 AP News
But despite early obstacles, Bolsonaro convinced much of Brazil that his extremist views hold merit. After the election results came out, Bolsonaro continued to refer to the democracy of Brazil as a communist state, saying, "We cannot continue flirting with communism … We are going to change the destiny of Brazil."

Bolsonaro's leftist opponent, Fernando Haddad, who gained 44.8% of the vote, urged Brazilians not to give up hope. "We will continue with our heads held high, with determination and with courage," he said. "We have a lifelong commitment to this country and we will not allow this country to go backwards."
But Bolsonaro has international support, as well. The White House confirmed that President Trump called Bolsonaro to congratulate him, and Trump later tweeted, saying,
Many fear that Bolsonaro's election is a symptom of the same world-wide swing to the political right that resulted in Trump's election in the United States, as well as other shifts towards extreme conservative values like those seen in the UK during the Brexit decision. Bolsonaro's election coincides with the former progressive president's failure to stymie an uptick in Brazilian street violence over the last couple of years.
Consequently and effectively, Bolsonaro's campaign strategy was to promise militaristic strength, something that apparently spoke to a frightened Brazil. It becomes difficult not to see the similarities between the events in Brazil and America's 2016 election, wherein voters chose contextless nostalgia and fascist rhetoric over progress. The Brazilian election serves as yet another lesson for champions of democracy and progressivism: fear is a powerful tool that allows politics to default to the mob. If people don't feel safe, all thoughts of equal rights and social justice become second priority.
Brooke Ivey Johnson is a Brooklyn based writer, playwright, and human woman. To read more of her work visit her blog or follow her twitter @BrookeIJohnson.