Dall-E Mini, the AI-powered text-to-image generator has taken over the internet. With its ability to render nearly anything your meme-loving heart desires, anyone can make their dreams come true.
DALL-E 2, a portmanteau of Salvador Dali, the surrealist and Wall-E, the Pixar robot, was created by OpenAI and is not widely available; it creates far cleaner imagery and was recently used to launch Cosmpolitan's first AI-generated cover. The art world has been one of the first industries to truly embrace AI.
The open-sourced miniature version is what's responsible for the memes. Programmer Boris Dayma wants to make AI more accessible; he built the Dall-E Mini program as part of a competition held by Google and an AI community called Hugging Face.
And with great technology, comes great memes. Typing a short phrase into Dall-E Mini will manifest 9 different amalgamations, theoretically shaping into reality the strange images you've conjured. Its popularity leads to too much traffic, often resulting in an error that can be fixed by refreshing the page or trying again later.
If you want to be a part of the creation of AI-powered engines, it all starts with code. CodeAcademy explains that Dall-E Mini is a seq2seq model, "typically used in natural language processing (NLP) for things like translation and conversational modeling." CodeAcademy's Text Generation course will teach you how to utilize seq2seq, but they also offer opportunities to learn 14+ coding languages at your own pace.
You can choose the Machine Learning Specialist career path if you want to become a Data Scientist who develops these types of programs, but you can also choose courses by language, subject (what is cybersecurity?) or even skill - build a website with HTML, CSS, and more.
CodeAcademy offers many classes for free as well as a free trial; it's an invaluable resource for giving people of all experience levels the fundamentals they need to build the world they want to see.
As for Dall-E Mini, while some have opted to create beauty, most have opted for memes. Here are some of the internet's favorites:
There's no looking back now, not once you've seen Pugachu; artificial intelligence is here to stay.
A foundation of democracy and social justice, public libraries are one of the last completely free social spaces in the US—but with heavy funding cuts and shutdowns, they risk closing indefinitely.
Did you know that there are more public libraries in the United States than there are Starbucks cafes?
Public libraries have long been the pillar of communities. A foundation of democracy and social justice, libraries provide endless amounts of information to the masses.
Despite popular beliefs through the last decade, the public library is not a dying establishment. Instead, they are adapting and evolving to meet community needs. Public libraries across the US offer over 391 million ebooks at an expansion rate of 30% a year. They have also seen vast increases in program offerings. And in light of the need to adapt to a new world amidst the upsets of 2020, libraries are constantly formulating important new ways to meet people's needs.
Yet studies show that the number of people visiting public libraries has slowly but surely decreased over the past few years. Maybe this is because of large cuts in funding to public libraries—or maybe this is how governments are justifying such heavy cuts in funding.
Either way, among shutdowns and widespread economic turmoil, public libraries remain a vital part of society, and here's why:
1. Libraries create a sense of community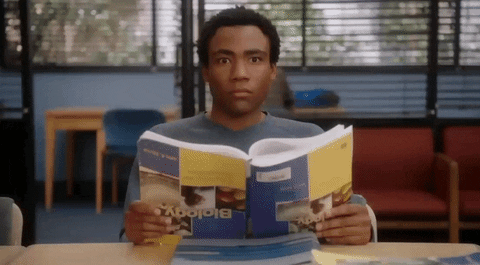 Giphy
Research shows that people engaged with their local libraries tend to feel more connected to their community as a whole. Libraries have long been considered safe havens—free and resourceful meeting places for all community members.

2. Libraries can save you money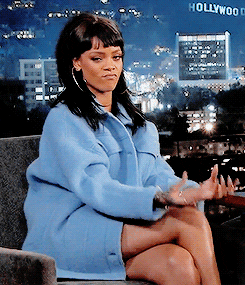 Giphy
Did you know that many college textbooks can be rented out and renewed throughout college courses? Not only can you save money on renting books, but libraries also can save you money on movies, magazines, and newspapers. Many libraries are adapting other free rentals such as tools and musical instruments, and others offer free classes ranging from toddler and child activities to personal development classes.
Most libraries offer free accounting services as well. During tax season, check to see if your library offers free tax filing with an accountant. In addition, libraries in urban settings often offer reduced admission prices to local museums.
Still curious about how much you can save by using library services? This unique tool was created to help you estimate how much money you could save annually by using services from a public library.
3. Libraries benefit children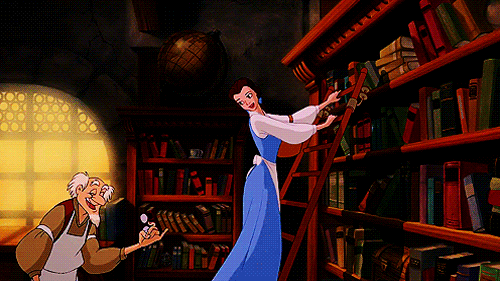 beauty and the beast book GIF Giphy
Toddler storytime is a great first class to introduce little ones to the library and foster a lifelong love for reading. Early childhood literacy is important, and the earlier a child has access to public libraries, the more efficient and life long the access will be, according to the International Federation of Library Association.

Makerspaces, found in most libraries, engage children in the process of building and creating things with real tools and objects. Classes offer opportunities to learn in a wide array of subjects, including popular STEM topics. Libraries also provide a safe environment for kids to play, learn, and socialize after school.
Threats to Public Libraries
COVID-19
The Public Library Association (PLA) has implemented an extensive response plan to aid in public libraries' recoveries amidst the pandemic. Libraries are expanding online resources available to the public through online courses and materials available to electronically rent.
The Library Stabilization Fund Act, proposed in Congress this past July, would establish $2 billion in funding for public libraries. These funds would help to save over 370,000 library jobs, bolster high-speed internet access, provide resources for remote learning in education, and much more.
Funding Cuts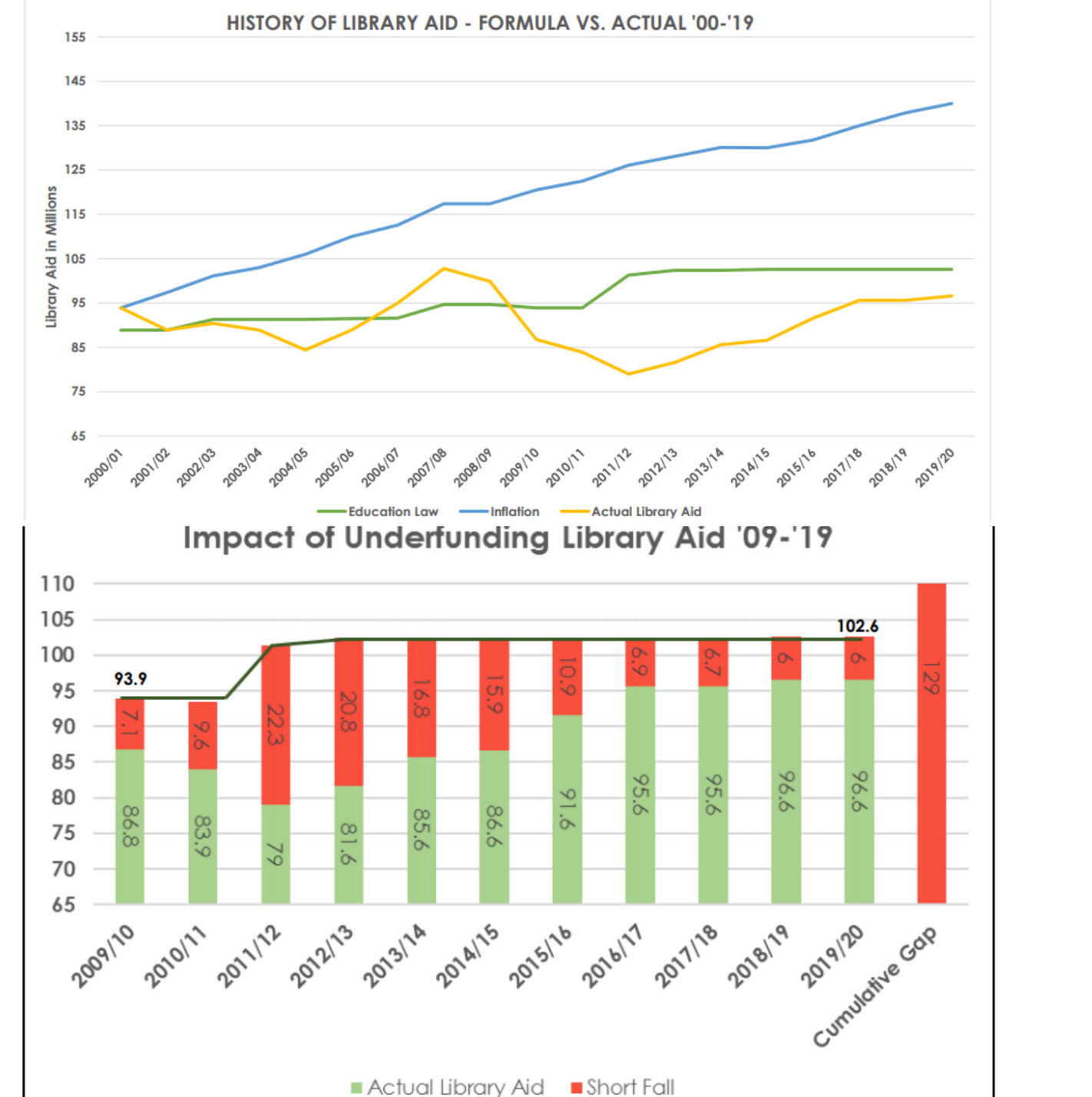 For the fourth consecutive year, the ALA reports that the White House has eliminated the Institute of Museum and Library Services (IMLS) from the FY21 federal budget. Likewise, public library funding is being cut at the state level. In New York State, funding is at the same levels as two decades ago. My own city's public library has faced talks of closure and has seen huge cuts, which in turn caused New York State to remove the library's status as an NYS central library.

How You Can Help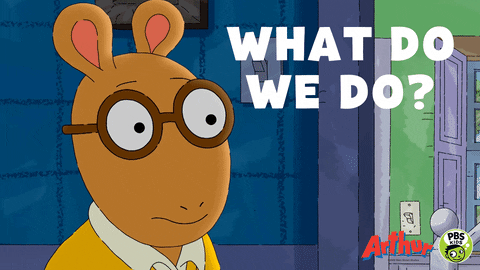 Giphy
Check for your state library association here and find specifics on what you can do in your state, including information and templates you can use to contact elected officials.
Use this ALA form to send a message to urge congress to support current funding bills.

Join the Libraries Transform campaign for great marketing resources you can share.
While this year's virtual National Library Legislative Day has already passed, you can check if your state has a special date for library advocacy, as many do.
For these children in under-served communities, "A library could be anything" or everything.
In sixth grade, Katherine Karmen Trujillo competed in an academic decathlon with her school. With fourteen of her classmates, one coach, and photocopied pages from prep manuals their school couldn't afford, one of their team members placed in fourth. Though the performance was not very good, "we were so proud," she told me. "Meanwhile, in other schools, everyone placed first or second." But it wasn't because those students were necessarily smarter or harder-working than the students on Trujillo's team. They came from schools that could afford to have one coach per student and endless prep resources. "You could just feel the difference," she said.

That was the first time Trujillo saw the long-term outcomes of inequality. Having been born to immigrant parents in a poor community in South Central Los Angeles, her Honduran refugee mother and Mexican father never wanted their daughter to work menial jobs or struggle constantly like they did. Fortunately, Trujillo's parochial school allowed her parents to pay a small fee per month for her tuition, which afforded them the freedom to give her a great education. They would sacrifice everything to make sure that their daughter could reach her potential.
Social injustices were not just happening in South Central Los Angeles, but all over the world.
But academic excellence also required social consciousness. Early on, Trujillo had a bent for social justice and was involved in a variety of efforts promoted by her school. Her parents and neighbors helped organize an effort to bring the first grocery store to her neighborhood, which piqued her interest in community organizing. From there, it was a clear path to a life of advocacy.
Social injustices were not just happening in South Central Los Angeles, but all over the world. While in college considering a career in public health, Trujillo applied for a fellowship in Denmark, her first-ever trip outside of the United States, where she joined a cohort of Americans and Danes to examine human and civil rights issues. Considering her background, the only immigration discourse that Trujillo had been exposed to was anti-Mexican rhetoric that blamed immigrants for taking jobs and threatening the safety of the United States. Expecting the supposedly progressive country of Denmark to be completely different, she was surprised when she talked to second and third generation Danes of Turkish origin: "Our grandparents suffered and we continue to not be considered Danish citizens; our nationality and our loyalty to Denmark is constantly questioned," they said. The trip taught her that immigration was a universal issue, and one that could have devastating, inter-generational consequences.
Trujillo returned from Denmark completely changed and "fascinated in studying world cultures through a sociological lens." She created her own major, graduated from college, and moved to Washington D.C. to work for regional advocacy agencies like the Latin America Working Group. She landed opportunities that focused on financial literacy and mentoring, then became entrenched in early childhood education at the National Head Start Association. But her connections from her fellowship are what drove her to her next stage in life.
After communities are distributed basic needs like food, water, and shelter, the next question is, "what now"?
Allister Chang, the son of Taiwanese immigrants and the first in his family to attend college, was sent to France as part of the same fellowship that Trujillo attended. His interest in global education inspired by his personal struggles led him to head Libraries Without Borders, a nonprofit organization that brings mobile libraries and educational resources to under-served communities. Knowing her strong work ethic and tireless commitment, Chang brought Trujillo on as Director of Communications and Advocacy, where together they help lead initiatives merging technology and education to provide for the people that need them the most.
Trujillo was inspired by the versatility of the organization's mission, which echoed her interdisciplinary interests in college. "Libraries Without Borders appealed to me because they were creating opportunities in situations where people had no other recourse," she told me. "Or if they had another recourse, it wasn't physically, intellectually, or psychologically accessible."
Libraries Without Borders is the United States organization that formed as an expansion of the international Bibliothèques Sans Frontières, which was founded in 2007 by French historian Patrick Weil. The mission of BSF is to provide under-resourced communities with access to education in the form of physical and digital, academic and creative resources. They work largely in refugee camps and in areas that have been hit by disaster. After communities are distributed basic needs like food, water, and shelter, the next question is, "what now"?
That's where BSF comes in. Many camps do not have access to schools, community spaces, or other methods of cultural and creative stimulation. This means that refugees or disaster victims are not only physically disadvantaged or displaced, but they're also bored, scared, and unoccupied. BSF provides innovative and intellectual resources like the Ideas Box, a mobile unit that covers 330 square feet, contains a satellite internet connection with a server, a generator, 25 tablets and laptops, 6 HD cameras, a large HD screen, board games, arts and crafts, and a performance stage that can all be assembled in 20 minutes. It's not only fun, but a space that encourages academic and moral growth. Adolescent soon-to-be mothers (who are oftentimes rape victims) can have the opportunity to learn how to care for their babies. Young kids can stretch their imaginations by creating written stories, films, and plays. According to one study of students in the Burundese refugee camp of Bwagiriza, those who met in the Ideas Box for 12 weeks experienced a 23% increase in academic performance compared to their counterparts in a traditional classroom.
Other tools include their KoomBook, a revolutionary digital library that creates a Wi-Fi hotspot and is able to connect to devices and project thousands of learning resources. They even have free digital learning platforms like Khan Academy and BSFCampus. Libraries Without Borders has worked throughout Africa, Asia, the Americas, Europe and the Middle East to spread the beauty, value, and healing capacities of knowledge.
A library could be anything.
In the United States, two areas of focus for Libraries Without Borders are Detroit and the Morris Heights region of the Bronx, the nation's poorest congressional district. While these areas do have educational organizations, poor school achievement and economic and social inequalities keep communities away, as they are unable to recognize these spaces as "their own." This feeling of unwelcomeness in libraries is something that Trujillo refers to as a "psychological barrier." But what if this conception of a traditional library was turned on its head?
"I was really drawn to the fact that Libraries Without Borders re-imagines what a library space is," Trujillo said. "It doesn't have to have four walls, a roof, or anything. A library could be anything."
Libraries have always been a place where Trujillo feels comfortable. Because her brother was so passionate about books, trips to the library became a common household activity, unlike in other households in her neighborhood: "I realized that a lot of the kids I grew up with never stepped foot in a library; when they did it was because they were forced to." Libraries Without Borders could be that sanctuary all over the world, for people of any circumstance.
Initiatives like the Ideas Box can be powerful as points of cultural exchange, even in intense periods of conflict. "In one of the places where we were operating, there was a big outburst, a riot of sorts, and the camp itself was destroyed," she said. "But the Ideas Box was untouched."
For some of these kids, this is going to be the only book they have in the house.
In 2015, in collaboration with the New York Public Library, Bronx Pro, DreamYard, and the Alexander Soros Foundation, Libraries Without Borders ran an Ideas Box through the summer in the Bronx, which was open five afternoons a week to children and parents. All hands were on deck to curate content, facilitate workshops, and integrate feedback to create a place for academic encouragement and exploration, providing that welcoming environment that lacked among traditional organizations.
As one half of a two-person team based in Washington, D.C., Trujillo's daily responsibilities include meeting with organizations and schools to identify community needs. One of those needs is to provide books to students that have nothing. An exciting new partnership initiated by Libraries Without Borders is with a Detroit librarian, an upstanding community member determined to fill the gaps of failing Detroit schools and libraries. The partnership involves the support of the United Way of Southeast Michigan, Detroit Public Library, and the Mayor's Office of the City of Detroit. Trujillo proposed an idea to provide free magazines and a full-year subscription to magazines from Cricket Media: "When I told her about the year-long subscription, she said, 'This is going to be so wonderful, because for some of these kids, this is going to be the only book they have in the house.' I wanted to cry, even thinking about it now."
Despite Trujillo's modest upbringing, her house was always filled with books. The reality facing Detroit schoolchildren was something she couldn't imagine. "It really compelled me to work harder," she said. "It made me sad and frustrated, but it also drove me."
It drove Trujillo to devote her passion to helping to execute new projects with Libraries Without Borders. One such project in the works is a mentorship program that would pair Detroit children with professionals in the corporate world: "These kids are going to hear about what it means to be a Social Media Strategist or a Director of XYZ," she said. "Then the folks at the companies we're working with are going to learn what it's like to be a five-year-old in Detroit." This cultural exchange is just one of the ways Libraries Without Borders aims to reach a new audience of not just book-lovers, but advocates of applied literacy.
It is literacy, Trujillo says, that is among the most valuable aspects of a functioning and thriving society. Literacy "helps people be independent; it promotes agency and self-reliance. But it also promotes civic engagement. We are living in a time where we're not satisfied with things as they are. But what are we doing to change them?"
If that's the cost of a more self-sufficient, culturally-informed, and empathetic society, what are we waiting for?
In order to run for office, to protest, or to get involved in a smaller way, Trujillo believes it is essential to know how to access educational resources for self-empowerment. And solutions don't have to come at a high price. The initiatives of Libraries Without Borders are a low-cost, high-impact intervention, especially since a KoomBook can be created from a 3D printer for about twenty dollars. If that's the cost of a more self-sufficient, culturally-informed, and empathetic society, what are we waiting for?
The next steps for Libraries Without Borders in the United States include a laundromat library that will bring educational resources to laundromats, focusing on early learning and literacy in Detroit and professional development in the Bronx. Also, in response to recent legislations on immigration, the organization is adding a third staff member to gear up for their "E-Legal" library program launch, which will utilize digital libraries to provide legal resources for immigrants and mixed-status families.
"It's hard to imagine a reality beyond what you see day to day when you don't have an escape," Trujillo told me. For her, that escape is literature, education, and advocacy. And she has more than given back to her community; the same community in which her parents sacrificed for her pursuit of social change. Libraries Without Borders is true to its name, offering a source of comfort and agency to people of all backgrounds, ethnicities, and experiences, in uncertain and often frightening times. Education is a tool that encourages more than just curiosity, but it breeds generations of engaged citizens that never run out of questions. Fortunately, Libraries Without Borders can provide some answers.
To find out more about Libraries Without Borders, get involved, or donate, click here.
Keep reading...
Show less