We've all been there. You were gifted a dumb present that you'll never in a million-zillion years ever use and you're too polite to tell anyone any differently. It sits at the bottom of your drawer for months, then years. And when you finally feel like enough time has passed, you can throw it out in good conscience.
A return is almost always out of the question. Plus, gift givers don't often include a return receipt, and we all know we wouldn't dare ask for one. I'd rather admit to a crime than confess I don't like a gift - how insulting to the gifter's sense of aesthetics.
And-hey, I have limited drawer space. Who can keep these unwanted gifts for six months when there isn't any space for them? I hate clutter, and unwanted gifts are just that.
This year, I am making an effort to swiftly remove any unwanted gifts from my house without hurting anyone's feelings…and potentially benefiting others. As the old saying goes, one man's trash is another man's treasure. And thank goodness for that.
From the The Guardian:
"According to research published this week by the consumer body, one in four people (24%) received an unwanted or unsuitable gift for the Christmas of 2021. Meanwhile, a separate study by the personal finance comparison site Finder said £1.2bn was wasted on unwanted Christmas gifts each year."
Come to terms with the fact that you will never use that gift and follow these quick tips to offload those unwanted gifts:
Donate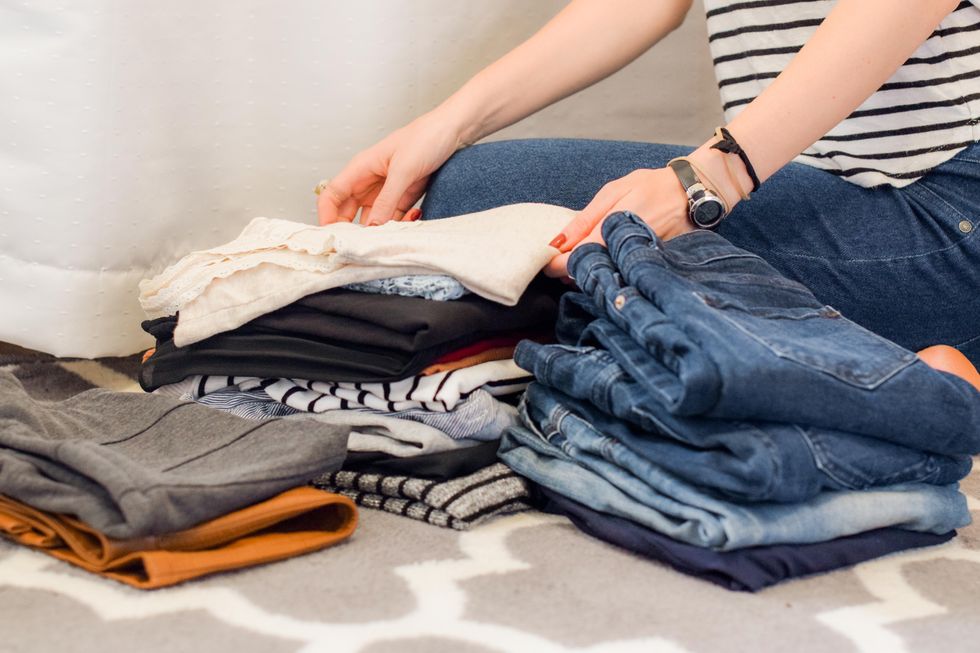 Sarah Brown via Unsplash
The most obvious choice for those unwanted pairs of mud-green sweat socks and that same fluffy robe you get every year from your Aunt Judy is to donate them. Just round up everything you don't want and Google the donation center closest to you.
This is also a fantastic excuse to purge your closet of that pile of stuff you've been meaning to get rid of. A few bags of give-away-clothes will get your spring cleaning out of the way early.
Sell Them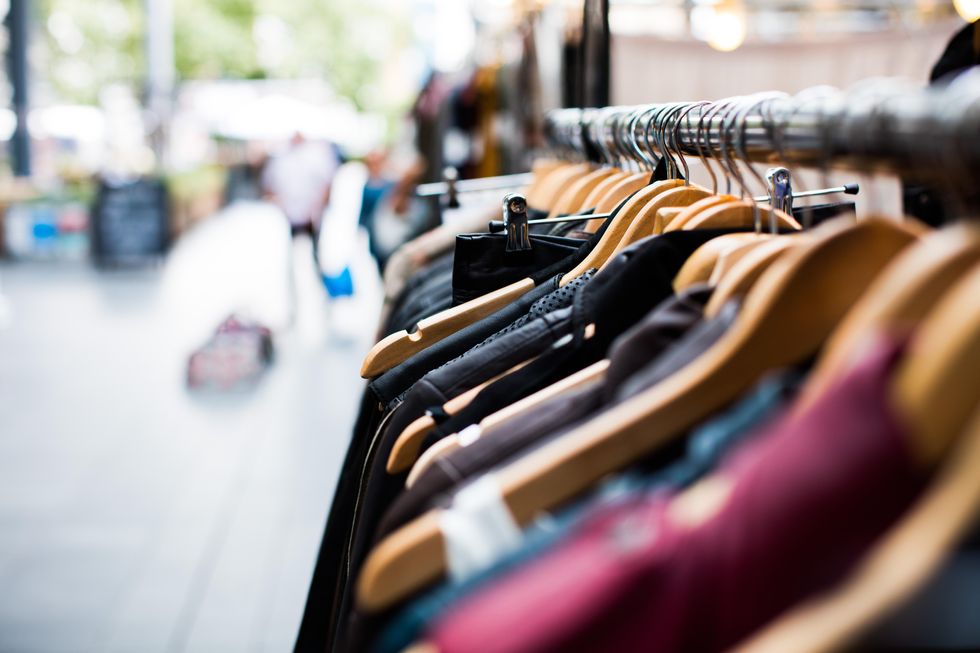 Artificial Photography via Unsplash
Resale websites are all the rage right now. If you got a pair of pants that don't fit or a sweater that isn't your style, resell them on a website dedicated to just that. Sites like Poshmark, Mercari, and DePop are known for selling those trendy pieces of clothing you barely used.
Thrifting has never been hotter. Hop on the trend while people are constantly perusing sites for the hottest deal. Then reward yourself for being so virtuous, by dropping the cash on some fabulous things you'll actually wear!
Re-Gift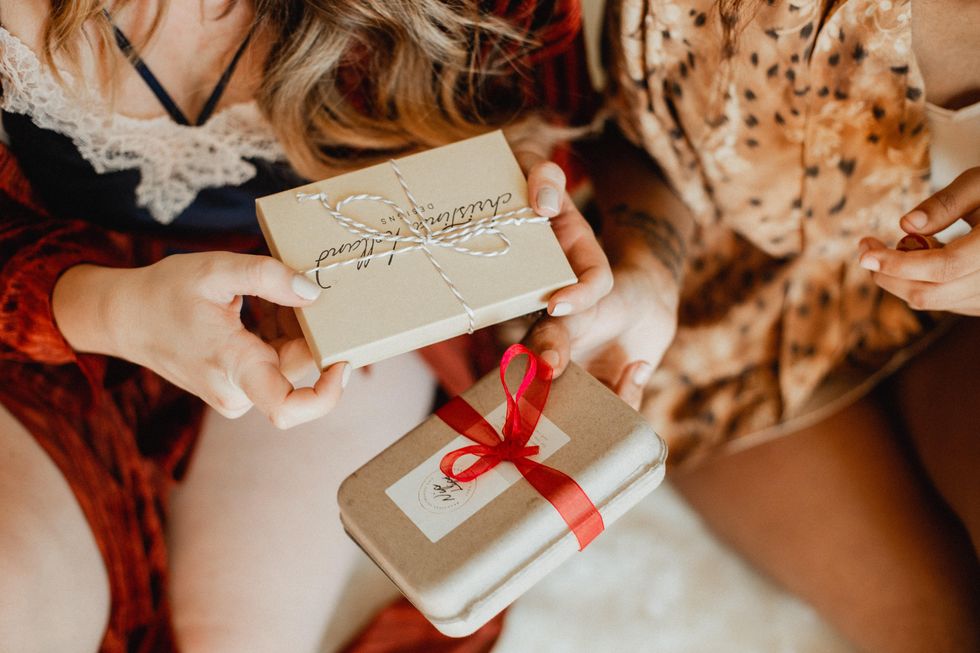 Jackie S via Unsplash
If you got something that you think one of your friends or family can benefit from, why not give it to them? There's no shame in revealing that it was a gift and you don't want it anymore…as long as you aren't re-gifting to the person who gave it to you!
Or, keep the gifts to re-gift at a later date. You never know when you're going to need a last minute gift. You'll thank yourself later.
Attempt a Return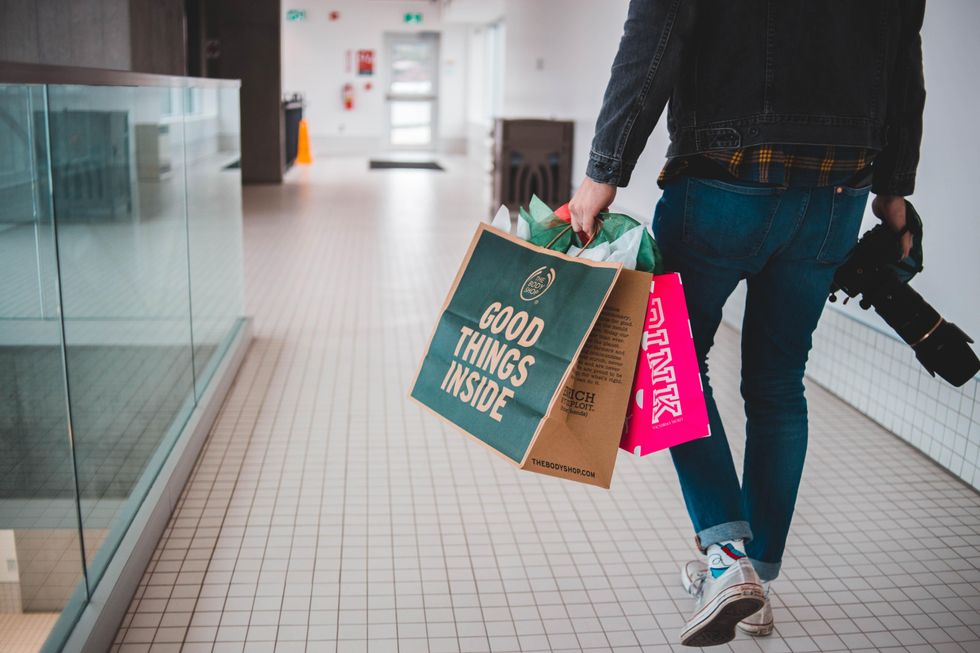 Erik McLean via Unsplash
If your item still has a tag, you can make a valiant effort to return to the store. If you can make your case, many stores won't want to fight you on it. They may be forgiving and grant you store credit at the very least.
Cancel culture and feigned outrage need to face the facts...
SPONSORED / PAID FOR BY DTC (DEFEND THE COMICS) 
SPECIES: HOMO SAPIEN
TAXONOMY: a.1.43.Luke.19.1971.OT.
TYPE: 1ST PERSON EXPERIENTIAL
INDICATIONS AND MEDICAL DISCLOSURE: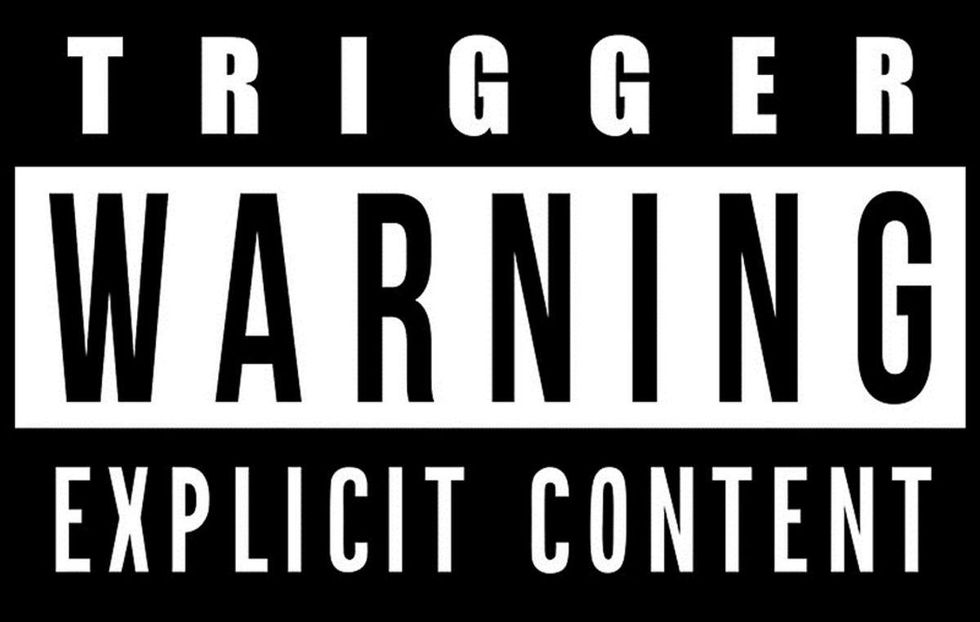 ZEITFRO® (alkaline antifreeze [ALF]) [dosage/instructions: taken after scone and artisanal Cappucino--read below-- 2x per day or otherwise directed by a medical doctor; limit: three doses per day]
INDICATIONS AND DOSAGE: ONE READING HAS BEEN CLINICALLY PROVEN TO SHOW SIGNS OF HELPING TO HELP, OR POTENTIALLY TRYING TO HELP BUT FAILING OR RECEIVING A PARTICIPATION BADGE FOR TRYING, ANTISOCIAL BEHAVIOR INCLUDING HATING AS DISPLACEMENT OF SELF-LOATHING OR SELF-LOVE (AKA SCHADENFREUDE), SYMPTOMS CAUSED BY EXCESSIVE NARCISSISM, ENNUI, ANGER MANAGEMENT DISORDER, AND NTDWYTFOCS [also known as ATW (ACUTE TIME WASTING) SYNDROME, OFTEN LINKED TO CHILDHOOD CRUELTY TO SMALL ANIMALS AND LIFE-LONG PATTERNS OF SOCIOPATHIC BEHAVIOR].
PARENTAL WARNING: UNCENSORED THOUGHTS CONTAINED BELOW, SOME OF WHICH MIGHT CAUSE SEIZURES, 'HOT DOG' FINGERS, ACUTE RESPIRATORY FAILURE INCLUDING POPCORN LUNGS, PINPRICK MACROECONOMIC BUBBLE BURSTING, THE ABANDONMENT OF ALLIES OF CONVENIENCE AKA 'MILD GENOCIDAL SYNDROME' (MGS and gluten-free), CARDIAC EPISODES, PANIC ATTACKS AND HALLUCINATIONS FEATURING CAMEOS BY BILL COSBY, RON HOWARD, GLORIA ESTEFAN, KEVIN SPACEY, HEART (the WHOLE band), R. KELLY AND ALL THE CATHOLIC PRIESTS OF YOUR YOUTH. ANYONE WHO HAS DIABETES OR ERECTILE DYSFUNCTION SHOULD CONSULT A DOCTOR BEFORE READING THIS ARTICLE. THOSE WITH GENDER APHASIA OR WHO WANT TO CHANGE GENDER ARE ALSO ADVISED TO WEAR 3-D GLASSES BEFORE READING BELOW THIS LINE OF TEXT. FURTHERMORE, FWIW FOR ALL WHO HAVE THE FOBLO VARIANT OF COVID. DO NOT TRY THIS AT HOME WITHOUT A 'SPOTTER.'
How about this comment from my mom's friend sitting next to me, a half-Jewish woman who I worried about offending by clicking "play" on Netflix on the now-infamous Chappelle special?
"I don't understand what the controversy is about..."
Well, yeah - that was the best outcome I could've hoped for when I pressured two aging hippies, activists who pushed for the Gloria Steinem / Helen Ready phase of feminism. But they also participated in the stuff that led MLK and Rosa Parks to fight hard for their place at the front of the bus. Full disclosure - one is my mother. The other is a woman I'll just call Bob (challenge parenthetical: use Hitchhiker's Guide to grok the Bob reference) so that nobody cancels this blue-haired beauty. Bob danced with Mama Cass and performed with the Rockettes. She is half-Jewish.
Archie Bunker is top of my mind as I write these words, and I know that Norman Lear knew what he was doing with that comedy. But he's a Space Jew (jk… duh).
What did Bob say to me when Chappelle's confessional comedy canon-fire finished with a punchline about sucking dick?
"I don't understand what the controversy is about..." -- Bob
Who'll be the hero of the inevitable swing of the pendulum towards some kind of true north -- fucking David Chappelle. I won't use that N-word here, because I'm not allowed. I don't want to be aborted before the fetus becomes human, and I'm not brown like Chappelle. Actually, I will use it - he's a Bad-ass N - as in Nostradamus. A hard one who tells the truth. And we can all learn from his truth.
All this is to say - Chappelle is a good lad, for real. He's not just a comedic genius. He's a man who fought against all odds, a scrapper (like my mom and her friend) looking to break the chain of privileged control of wealth and do his mfg thing. He knows his people and his history - and not just the black part of it all. And he is funny as fuck.
Here's the thing about it: I personally believe that America is *UN - FUCKING - AMERICAN*right now, and Chappelle fired a giant warning flare into the sky, an S.O.S. We need to talk, laugh, discuss things. We should not look for "gotcha" moments and reasons for hating one another.
We don't all need to be homogenous robots praying at the altar of some sort of C culture of silliness. Why work if you can whine? Nah. People want to work. We need to be human. Humans are tribal and we will have bias. And then there's this -- stereotypes contain both truth and danger. Not forever-truth but truth that comes from history, from epigenetic behavior that crosses culture and art and charisma and bloodlines stretching back to Africa. That's why I want to say this: Chappelle is our Nostradamus. If we look back years from now and identify a cultural inflection point, we will need a person in charge of that moment. That's kind of the way we catalog history.

Excerpt from new Rasmussen poll rasmussenreports.com
If you can't beat them, join 'em. Check out this newly published poll. These polls are super corrupt, I know. Just do the math. I mean - who wants jury duty or has time for this b.s.? Well-and-so, Facebook including Instagram - might be the altar to pray at for popular opinion. But… err… why is everyone on Facebook talking about what they had for breakfast and trolling for self-confidence from busted-up spaghetti code companies run by self-loathing geeks? I mean, who died and made Zuckerberg the foremost expert on how to be social? Sheesh - he comes across as the kind of dude who not only got shoved in the locker at high school but actually deserved it.
On a serious (not 'suck my dick'... tsk-tsk) note, I will also say this about Mr. Chappelle: he's worthy of comparison to the great comics who came before - everyone from Groucho to Gleeson to Lenny Bruce, Pryor, Robin Williams, Eddie Murphy, Rock, Tina Fey, and we cannot forget Carlin. But here's the thing that might be more important - he really feels. He's not out to judge, but to connect with everyone from trans people to the waiter at the fancy places he frequents. He's an empath - and not in some kind of bullshit X-Files way.
He's someone who keeps score according to a personal moral code that he cannot ignore and which informs his craft. That makes him a full-blown creator of literature and art who will be remembered for a long time to come. He's a storyteller and social commentator on par with some of the world's greatest - Oscar Wilde, James Baldwin, Dick Gregory, Lou Reed, Michael Lewis, Malcolm Gladwell, David Sedaris, Jay-Z, Regina King, Kendrick Lamar - writers and thinkers.
His (he / him / his) comedy is part of the new literature we need to consume because by doing so, we learn.
Thanks, Chappelle, for the S.O.S. We've got to save this fucking ship.
GOAT. Rising.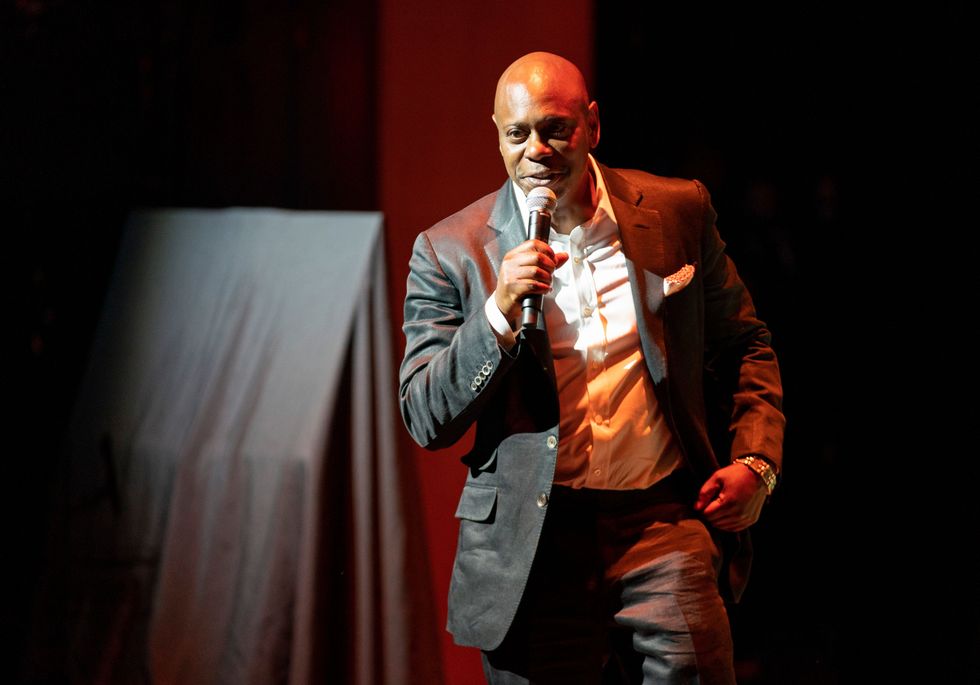 Dave Chappelle Photo by By Gemunu Amarasinghe (AP/Shutterstock)
Some songs as a p.s. [warning: internet connection and decent speakers required]:
True to Myself - Ziggy Marley
What a Wonderful World - Louis Armstrong
Thousands are Sailing - The Pogues
Same Love - Macklemore
Street Fighting Man - Rolling Stones
Daydream Believer - The Monkees
Why Are You On Facebook - Van Morrison
Dirty Boulevard - Lou Reed
Girls - Beastie Boys
Je T'aime, Serge Gainsbourg/Charlotte Gainsbourg
Democracy - Lumineers
Rain Street - Pogues
Angel of Harlem - U2
Black Boys on Mopeds - Sinead O'Connor
Lonely Teardrops - Jackie Wilson
River - Leon Bridges