Dall-E Mini, the AI-powered text-to-image generator has taken over the internet. With its ability to render nearly anything your meme-loving heart desires, anyone can make their dreams come true.
DALL-E 2, a portmanteau of Salvador Dali, the surrealist and Wall-E, the Pixar robot, was created by OpenAI and is not widely available; it creates far cleaner imagery and was recently used to launch Cosmpolitan's first AI-generated cover. The art world has been one of the first industries to truly embrace AI.
The open-sourced miniature version is what's responsible for the memes. Programmer Boris Dayma wants to make AI more accessible; he built the Dall-E Mini program as part of a competition held by Google and an AI community called Hugging Face.
And with great technology, comes great memes. Typing a short phrase into Dall-E Mini will manifest 9 different amalgamations, theoretically shaping into reality the strange images you've conjured. Its popularity leads to too much traffic, often resulting in an error that can be fixed by refreshing the page or trying again later.
If you want to be a part of the creation of AI-powered engines, it all starts with code. CodeAcademy explains that Dall-E Mini is a seq2seq model, "typically used in natural language processing (NLP) for things like translation and conversational modeling." CodeAcademy's Text Generation course will teach you how to utilize seq2seq, but they also offer opportunities to learn 14+ coding languages at your own pace.
You can choose the Machine Learning Specialist career path if you want to become a Data Scientist who develops these types of programs, but you can also choose courses by language, subject (what is cybersecurity?) or even skill - build a website with HTML, CSS, and more.
CodeAcademy offers many classes for free as well as a free trial; it's an invaluable resource for giving people of all experience levels the fundamentals they need to build the world they want to see.
As for Dall-E Mini, while some have opted to create beauty, most have opted for memes. Here are some of the internet's favorites:
There's no looking back now, not once you've seen Pugachu; artificial intelligence is here to stay.
2021 has already brought good news: A Barbara Walters impression can still team up with tequila shots to turn Anderson Cooper into a beautiful, hysterical mess.
"Saturday Night Live" alum Cheri Oteri joins @AndersonCooper and @Andy Cohen for New Year's Eve and revives her ico… https://t.co/TguEYQE8XO

— CNN (@CNN) 1609466811.0
In honor of national treasure Anderson Cooper, we joyfully bring you this flashback from one year ago, when our collective attention was once again on his eye crinkles of hope. Remember our innocence then? Neither do we, but at least we still have Anderson Cooper's giggles.
Originally published on Jan 1, 2020
No doubt the coming year will offer plenty of apocalyptic weather events and political drama that will have us all pulling our hair out — election day here we come! But the good news is that the new year has already produced one of those rare, shining moments of pure joy that make it possible to crawl out of bed and face the ugliness of the world each morning.
'SNL' alum revives Barbara Walters character, Anderson Cooper loses it www.youtube.com
It's all thanks to an unlikely petition on Change.org, recalling an iconic TV slogan from 15 years past. Barbara Walters, who hosted the ABC program 20/20 until 2004, would always open the show with the phrase, "I'm Barbara Walters, and this is 20/20."
The petition to have her host the annual ball drop and ring in the New Year with that phrase was started in January of 2019, and by the end of December it had only managed to collect around 7,000 signatures. It wasn't enough to make that vision a reality, but it was enough to get a shout out in CNN's New Year's Eve coverage. And with the help of a former SNL cast member and several scorching shots of tequila, that shout out turned into something truly spectacular.
This is 2020 www.youtube.com
It's maybe not that surprising that CNN was unable to get the real, 90-year-old Barbara Walters to brave the crowds and the cold of Times Square for the midnight announcement.
Fortunately, Cheri Oteri was on hand to provide the next best thing. Reprising the impression of Walters that she perfected in her days on SNL, Oteri brushed off a suggestion that she could return to The View, and instead pitched a reality show following Walters' jet-setting lifestyle, populated by a cast of geriatric former celebrities and some imaginary senior-specific dating apps, such as "Loose Skin."
The material itself is worth a laugh, and if you're old enough to have a memory of Barbara Walters on 20/20, then you probably know how good Oteri's impression is, but what makes the moment truly special is Anderson Cooper's hysterical, buckled-over laughter.

As it turns out, the shots of tequila that co-host Andy Cohen kept giving to Cooper as the night wore on really did their job, leaving Cooper loose and goofy by the time Oteri started turning to the camera to deliver, "This is 2020." The pure joy he unleashes as a result is impossible to resist.

What makes it even better is going back to see footage of Cohen and Cooper throwing back those tequila shots and Cooper taking each one like a mouthful of pure fire. After each one goes down, Anderson Cooper's cool and collected demeanor devolves into paroxysms of shrieking, gasping disgust that finally prompt Cohen to ask, "Are you kidding?!" to which Cooper can only say, "I don't drink!"
Anderson Cooper trying to drink tequila on television www.youtube.com
Clearly his lack of tolerance is a testament to that. But why don't you drink, Anderson? You're so fun when you drink!
This is not intended as an endorsement of any unhealthy habits — the best medical advice dictates that drinking should be reserved for special occasions and restricted to moderate portions — but have you ever considered getting hammered during all of your broadcasts, Anderson? It might not align with professional journalistic standards, but I'm sure that a lot more people would tune into Anderson Cooper 360 if every episode involved you attacking your throat with liquor and collapsing in a fit of giggles.
Now, thankfully, in 2021 we have another one of these joyful little gems to help us survive a world that feels like it's burning.
Keep reading...
Show less
A month-by-month review of the best and worst (mostly worst) of 2020.
2020 was a year when time lost all meaning and traditional markers of change — graduations, seasons, parties, holidays — blurred into an indistinguishable slideshow of Zoom calls.
Each month, it seemed, another unavoidable news story exploded onto the headlines, dominating attention, commanding every facet of our collective attention.
This year, each month seemed to have its own color, its own unique tune of horror that required both countless headlines and its own array of memes. As E. Alex Jung writes for Vulture, "Nothing made sense this year — unless you were on the Internet." Each catastrophic event, with its mind-blowing amounts of human suffering and its cataclysmic historical implications, took on new meaning when refracted through the mirror of social media.
So far in 2020 we have: - World War III meme - Australia's fires - Trump impeachment - Prince Harry steps down - K… https://t.co/ZqMmUj9sWB

— Nick Hinton (@Nick Hinton) 1595305835.0
In some ways, this year brought us closer together; in other ways, it tore open the last semblances of any illusion that we're all in the same struggle, instead revealing the brutal inequalities that define our society. When all faced with the same roster of calamities, it became clear that some people could suffer through while losing little save for the opportunity to go bar-hopping on Saturday nights, while others were pushed off the brink into the precipice of disaster (that is, if they hadn't already been swimming through the fetid ruins of the capitalist dream).

So, this list is not meant to be a universal summary of the way 2020 was horrifying. No list could ever summarize what 2020 or what a history of inequality and human greed has done to individuals around the world this year.
Instead, it's my reflections on the ways certain events seemed to dominate our collective consciousness in ways few events ever have before, let alone in such rapid succession.
January
In January, many people I knew seemed buoyed by a strange sort of optimism. The majority of New Years' Resolutions I saw involved some variant of: "In 2020 I'm putting myself first." People were set on growth, and everybody seemed convinced that 2020 would be their year. It would be the era of "2020 vision," the dawn of our own roaring '20s.
Meanwhile, China recorded its first coronavirus death on January 11th. Reports of the coronavirus were crossing the globe in whispers; a text message, a headline here and there about the strange new disease that had erupted in Wuhan.
Donald Trump was first briefed on the virus on January 18th but seemed distracted, apparently stopping the briefing to ask about a ban on vaping products.
Being 2020, the year came in hot with its own special form of chaos. Australia wildfires continued burning, ravaging over 47 million acres of land. On Jan. 3, a U.S. drone strike hit Baghdad's International Airport, killing Iranian general Qasem Soleimani and sparking rumors (and eventually, a flurry of memes) about an impending World War III.
My TikTok feed is entirely World War III memes https://t.co/zyKt9ZdwDs

— Blake Montgomery (@Blake Montgomery) 1578113712.0
Later that month, we tragically lost Kobe Bryant and his daughter. Considering this calamitous beginning, the idea that 2020 was going to be the year of our personal self-growth, a year where we'd prioritize ourselves and evolve into our final forms, feels achingly misguided. None of us knew what was coming next.

February
In February, life was churning full speed ahead. On February 5th, Donald Trump was impeached. Parasite swept the Oscars. JLo and Shakira performed at the Super Bowl.
Shakira & J. Lo's FULL Pepsi Super Bowl LIV Halftime Show www.youtube.com
Yet all around the world, things were falling apart. Coronavirus was spreading around the world at this point; Europe counted its first death, and Africa saw its first case.
Georgia senator Kelly Loeffler and other members of the 1% began selling millions of dollars worth of stocks after becoming aware of COVID-19, a theme that would continue as billionaires would get progressively richer throughout the pandemic. In yet another blitz of foreshadowing, the Iowa caucuses were a complete disaster after a faulty app led to months-long recounts.
March
All of 2020 was surreal, but March may have been the most surreal month of all. Italy saw its "darkest hour" and imposed the world's first lockdown. France prepared for what its prime minister described as an impending "war."
In March, it felt like the ground was dropping out from under our feet. On March 9, the Dow Jones suffered its worst single-day drop ever. By mid-March, the whole world had shut down; citizens were ordered to stay home everywhere from India to Australia. Offices closed. Broadway shut down.
On March 20, Tiger King dropped on Netflix and immediately went incandescently viral. Dua Lipa dropped her album Future Nostalgia. In New York, people started buying beans and hoarding toilet paper. Everyone started baking bread.
Pandemic fads: Tiger King memes, peloton, getting a dog, picnicing, political activism, sourdough bread, tik tok da… https://t.co/3Bj2lc908k

— Ian (@Ian) 1607482964.0
April

By April, it became universally clear that coronavirus was not going anywhere anytime soon. The world went into lockdown and global cases passed 1 million.
April was a blur; we were all in shock. That same month, Quibi dropped and the Pentagon released footage of UFOs, both to almost no reaction.
May
In May, things seemed to reach a brief impasse, and 2020 stood on the precipice of a (somehow even more dramatic) part II.
A plane fell in Pakistan, killing 97. Costa Rica became the first Central American nation to legalize gay marriage. Nasa-SpaceX's shuttle took to the skies. Armed protestors stormed Michigan's state capital demanding haircuts in May. Grimes gave birth to Elon Musk's cyborgian baby.
One story dominated all: At the end of May, the brutal murder of George Floyd at the hands of a police officer took place, sparking immediate protests.
June
In June, America was overcome by racial justice protests in response to George Floyd's murder. The Black Lives Matter movement in the U.S. became the nation's largest movement in its history. Protests spread around the globe, and statues of racists fell.
Meanwhile, coronavirus surged; an oil spill sparked a state of emergency in Russia; temperatures in the Arctic reached their highest points ever; locusts invaded India.
The apocalypse was in full-swing, as were dreams of a much better, radically different world.
Remember that black square you posted on Instagram? They're still killing us, so what's next?

— Natasha Rothwell (@Natasha Rothwell) 1607644189.0
July
The heat, the intensity, the wildness of July is something I'll never forget as long as I live. Brooklyn was rocked by constant fireworks that rang out all night long, sparking conspiracy theories about government plots.
At this point, QAnon was also going mainstream on social media. Protests continued in the streets, with police routinely attacking protestors in the US.
At least there were some good things; namely, Beyonce dropped her feature film Black Is King.
August
August saw another wave of BLM protests after Jacob Blake was shot in Kenosha, Wisconsin and paralyzed from the waist down.
It was also a month of terrible tragedy. We lost Chadwick Boseman. Wildfires exploded across California, turning the sky an apocalyptic orange. A cataclysmic explosion racked Beirut.
That same month, Biden announced that Kamala Harris was his running mate. And Megan Thee Stallion and Cardi B dropped their sexy hit song "WAP," the perfect distraction from it all.
Cardi B - WAP feat. Megan Thee Stallion [Official Music Video] www.youtube.com
September
September, of course, offered no relief. We lost Ruth Bader Ginsburg on September 18th, a devastating loss for Democrats. Then, all of America cringed watching Biden and Trump try to bridge the parallel universes they both existed in at their first debate.
October
In October, all eyes were on yet another world-changing event — the 2020 election. Of course, the road was not smooth. Trump announced he had COVID-19 on October 2nd. Early voting started in mid-October, with record numbers of people turning out to the polls.
Unrest continued, with anti-lockdown protests in Brooklyn and BLM protests continuing across the US. Amy Coney Barrett was announced as Trump's supreme court nominee, a radical departure from RBG's legacy of equality.
November
In November, we held our breath and fixed our attention on Georgia, Nevada, Pennsylvania and other states that seemed to be counting ballots in slow-motion. On the 7th, finally, CNN called Biden's victory. New Yorkers and people around the world erupted into cheers.
But we barely had a moment to catch our breath. Cases began to surge in the US, which started reporting 130,000 cases per day, reaching 200,000 by the end of the month. Much of Europe locked down again. Many suffered from pandemic fatigue.
In November, Pfizer and Moderna announced, in quick succession, that their vaccines were ready for global dissemination (with a little help from Dolly Parton). Weird monoliths began popping up in odd locations. Amidst the terror, there were flashes of hope.
CNN's Van Jones brought to tears as Joe Biden wins US election www.youtube.com
December
Now it's December. Trump continues to contest his loss, and The Proud Boys rally in the streets. In India, 250 million are on strike, forming a labor movement epic in scale.
On December 14th, the Electoral College voted and Joe Biden was officially confirmed (for the millionth time, it seems) as 46th president of the United States.
It's been an unbelievably chaotic year, full of ups and downs. We saw darkness and terror and our fellow citizens and family members in lights we never imagined.
We saw people pushed to the brink. We also saw people gathering together to take care of each other as the government and systems meant to keep us safe collapsed around us. And we saw, sometimes, hints of a new world among the raging fires.
Taylor Swift - Love Story 2020 (Snippet) - Ryan Reynolds Commercial for "Match" www.youtube.com
Let's hope that 2021 is better, that there's a renaissance in art and a resurgence of social programs after this catastrophe. But if 2020 has taught us anything, it's that we can't predict anything — and things can always get worse — but it's always better if we take it on together.

Here's to a happy and safe New Year and a much better 2021.
Let us know what we left out on this list on Twitter @Popdust.
Keep reading...
Show less
And it could mean one of the candidates ends up in jail.
Important Editor's Note:

What follows is an interview with a person who purports to "see" what others cannot - the paranormal truth that crosses the divide between mind and matter, between past and present and future things. We will call this person "L." She asked that we keep her identity secret, since she is actively working on multiple criminal investigations in the heartland of our country, many of which are "cold cases" that were abandoned as "unsolvable" before her involvement.
We at Trueself did our homework, and it's worth noting that L checks out - she is a trusted ally to our nation's most sophisticated forensic crime fighters. She doesn't earn a living from her so-called 'gift' (she has a real-life job) but instead tries to 'utilize her gift for good.' For clarity: We disclaim any comments of L that appear in this interview, but we do assert that the 'visions' described within this interview with L are true.
That said, we believe that her track record for helping our nation's top law enforcement officials solve cold cases means that this transcribed interview about her empath visions as recounted in this transcribed interview are worthy of publication.

Trueself: We understand that you watched the Trump-Biden debate tonight and felt compelled to reach out to a senior member of our editorial staff about a "vision" you had about Trump. Is that right?

L: Well, yes. I watched the debate, but I could not focus on the TV noise because I felt something coming through me.
Trueself: What do you mean - 'coming through [you]'?
L: [laughs nervously] Well, this is where it gets weird. And I just want to say that I am not only not political. I am anti-political. I don't consume news and have no love or hate for any politician. That stuff breaks my brain. The lies and posturing, the narcissism and lack of spirituality led me to ditch media and all things political at a very young age.
Trueself: I'm confused. If you shun media and politics, how did you get this 'vision' of yours?
L: That's the funny thing. My friend - the person on your staff who connected me with you - roped me into a Covid lockdown soire to watch last night's debate. I did so reluctantly, knowing that the mindless banter would make me drink too much to quiet my head. But, sure enough, the voices came. I needed to listen.
Trueself: At what point during the debate did that happen?
L: This is tough for me to say... [PAUSES, EMOTIONAL] ....I don't want to talk badly about anyone. And I don't have a real opinion on anything political. But the quickening happened. I couldn't help it while I watched the debate. It might have been the first time Chris Wallace challenged Trump and got run over by his interruptions... or the first time Biden looked like he might not remember the names of his grandkids. I just started seeing things... lol. I got worried and afraid, even. I worried about what might happen to us.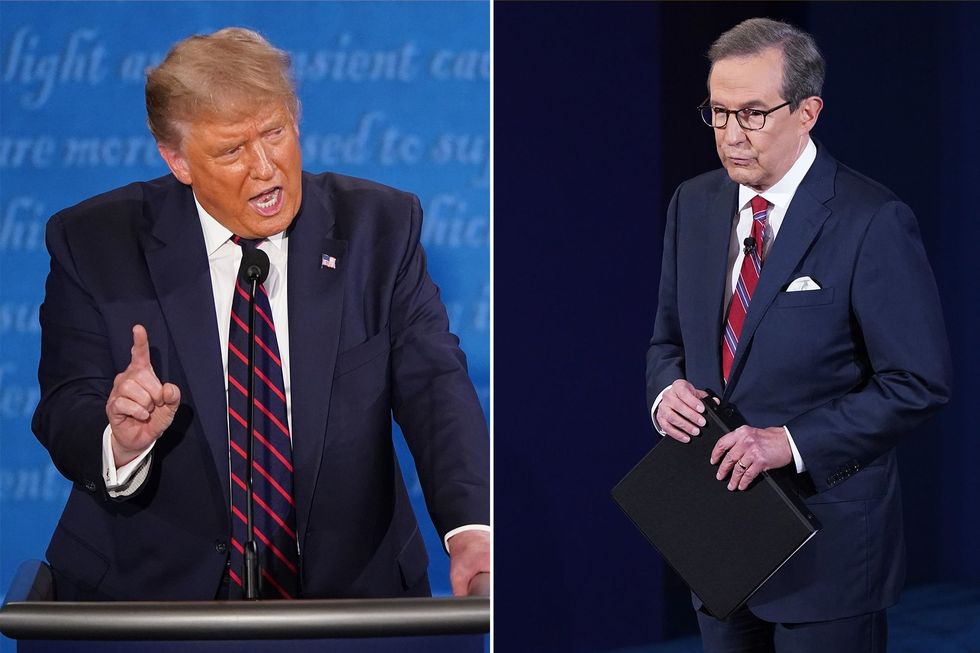 Trueself: Hang on... Seeing things? What do you mean?
L: I saw a collage of our national history strobe through my brain. I saw Lincoln and Kennedy and John Wilkes Booth and Lee Harvey Oswald. I saw Malcolm X and Martin Luther King. I saw James Baldwin and Bob Marley. I saw Frederick Douglas and Toni Morrison and James Joyce. Then... I saw President Trump in an orange jumpsuit. I saw him being taken away in shackles. Could have been a signal of something different, but I do know that it's true. Something true that will happen related to what I saw.
Trueself: Wait. I need to ask - you're saying the President of the United States will be carted off to jail?
L: Yes, that will happen.
Trueself: You really believe that is possible or you KNOW that it WILL happen?
L: It will happen, I believe.
Trueself: Err... okay. How does that make you feel?
L: Well... it makes me feel at peace, I guess. It will make us better. It will make America great again... [laughs]
Over the course of the evening, it became apparent the two frontrunners, Joe Biden and Bernie Sanders, aren't old dogs with new tricks.
Last night, the second round of Democratic debates came and went. Ten out of the twenty candidates who qualified for the debates were chosen at random to participate in the second half of NBC's nationally televised event. Of course, the goal for the Democratic Party is to take the Oval Office and hopefully the Senate.
Over the course of the evening, it became apparent the two frontrunners, Joe Biden and Bernie Sanders, are old dogs without any new tricks. Honestly, it'd be difficult to tell the difference between a clip of Senator Sanders debating in 2016 and 2019—maybe this time around, he's a little more tired. Joe Biden was alarming on the stage: He was ill-prepared, stumbled over his words, and leaned heavily on his smile. It's not that Biden had a terrible night' it's that he only had an okay night— which, for a frontrunner, is not a good sign. There were only three people anyone should be excited to hear from: Kamala Harris, Pete Buttigieg, and Marianne Williamson.
#LetYangSpeak
Between the two debates, candidate Andrew Yang spoke the least by a two-minute margin. During the three minutes he did speak, Yang introduced his Freedom Dividend policy. The Freedom Dividend Policy is a Universal Basic Income plan. All people over the age of eighteen would be eligible to obtain a basic income of a thousand dollars a month. Yang's policy is one of the few proposed that addresses an imminent threat: technology. If corporations like Amazon were heavily taxed, that'd free a lot more money for workers who are displaced due to automated jobs accomplished by AI.
If you look into Yang, he's a contender thanks to his reasonably successful grassroots campaign. Last night, Yang turned his campaign into the trending hashtag #LetYangSpeak. According to the candidate, his mic had been turned off multiple times throughout the evening. The only evidence available is footage of Yang attempting to get a word in but to no avail.
#LetYangSpeak Here's proof that @AndrewYang was attempting to speak, but his mic was cut off. Coincidences don't ex… https://t.co/cRhdujENfD

— AVWilhite20 (@AVWilhite20) 1561733609.0
In the video, he's speaking, loud enough for Joe Biden to hear him. Beyond that clip, there is no other evidence. If that were, in fact, true, then NBC would have a lot to answer for ah regarding their meddling in a primary debate.

Marianne Williamson, Be Still My Heart
Marianne Williamson sure made a name for herself last night. Her dramatic and chaotic delivery was a delight for many. Yet, she did not come to play games; she came to bring up points of contention and big ideas we need to tackle. According to her, "It's really nice if we've got all these plans, but if you think we're going to beat Donald Trump by just having all these plans, you've got another thing coming. He didn't win by saying he had a plan. He won by simply saying 'Make America Great Again.'" She's right, like she was right about a lot of things: Williamson thoughtfully addressed the need for reparations, slammed ageist rhetoric, and exclaimed of love over hate.
Although her delivery was off-kilter to many, Williamson should not be underestimated for her flowery language; she explained:
"I have had a career not making the political plans, but I have had a career harnessing the inspiration and the motivation and the excitement of people. Masses of people. When we know that when we say we are going to turn from a dirty economy to a clean economy, we're going to have a Green New Deal, we're going to create millions of jobs, we're going to do this within the next 12 years, because I'm not interested in just winning the next election, we are interested in our grandchildren. Then it will happen."
Many Americans never imagined Donald Trump would be our president, but here we are. Williamson's bold statements and captivating delivery about her hopes and dreams for this country have the potential to capture the American imagination. Sure, she may give off the spiritual energy of a wine mom who likes crystals, but why does that discredit her abilities? Remember, the hippies of our nation began revolutions.
Marianne Williamson: I Will 'Harness Love' To Defeat President Donald Trump | NBC News www.youtube.com
Yes, We Just Witnessed a Murder

Kamala Harris came prepared last night. Over all the ruckus, Harris reprimanded her fellow candidates with her rehearsed one-liner: "America does not want to witness a food fight; they want to know how we're going to put food on their table."
She continued to command the evening by confronting Joe Biden on his record. Harris challenged the former VP, asserting:
"I'm going to now direct this at Vice President Biden, I do not believe you are a racist, and I agree with you when you commit yourself to the importance of finding common ground. But I also believe, and it's personal— and I was actually very—it was hurtful to hear you talk about the reputations of two United States senators who built their reputations and career on the segregation of race in this country. And it was not only that, but you also worked with them to oppose busing.
"And, you know, there was a little girl in California who was part of the second class to integrate her public schools, and she was bused to school every day. And that little girl was me."
Kamala Harris Confronts Joe Biden On Race | TIME www.youtube.com
Biden, who was once a spirited debater, floundered in his response. He clarified that he supported busing, but on the state level. Harris clapped back, recounting how in her hometown of Berkeley, California, busing was not enforced. She utilized the anecdote to explain why The Civil Rights Act of 1964 and the Voting Rights Act of 1965 were crucial to this country, which is why we need to ratify the Equal Rights Amendment.

Biden was given thirty seconds to respond. He vouched for his record, reasserting that he always supported Civil Rights, before cutting himself off, saying, "— anyway, my time is up. I'm sorry." Biden caused the most damage to himself, as he failed to successfully defend himself.
Sometimes, You Just Can't Get it Done
Pete Buttigieg was another candidate with a breakout performance. The South Bend, Indiana Mayor may be young, but he's had skin in the game for seventeen years. Buttigieg is a veteran, a politician, a polyglot, and a gifted orator. He also made history last night as the first openly gay candidate to participate in a primary debate.
On the topic of immigration, he broke down the hypocrisy of the Christian-aligning Republican Party. Buttigieg did not hold back, proclaiming:
"The Republican Party likes to cloak itself in the language of religion. We should call hypocrisy, and for a party that associates with Christianity to say it is okay to suggest that God would smile on the division of families at the hands of federal agents, that God would condone putting children in cages has lost all claim to ever use religion language again."
The South Bend native also candidly addressed his failure to diversify his city's police force, noting, "I couldn't get it done." He went on to explain the pain his city is experiencing due to the devastating death of a local black man, Eric Logan. Logan was shot and killed by a white police officer. The officer did not have his body camera on at the time of the incident. Buttigieg unpacked how he could not take a position on the matter until the investigation is complete.
The mayor's transparency was received favorably and for a good reason. We need a president who doesn't spread fake news.
Stop Name Dropping
Joe Biden name-dropped Obama almost as frequently as he did Trump. Biden's attempts to piggy-back off the former President's accomplishments highlighted the reason Biden why was only able to make it into the Oval Office as a running mate instead of president: He is not our future. While Biden is a respected Washington staple, his vision for our country is dated and boring. It doesn't capture the America we live in today. After Harris' takedown, it's apparent that Biden cannot justify his unfavorable past.
Maybe California Senator Eric Swalwell was right when he told Biden to finally "pass the torch" to the next generation. Biden slyly smiled and said, "Not yet." However, if last night proved anything, it's that he should've let go of it a long time ago.