In 2019, the global haircare market value was averaged at $90.2 billion dollars, and is expected to grow to 102 billion dollars by 2024.* As consumers keep buying and buying products thanks to the hundreds of options and fantastical claims, science has taken a backseat to other benefits like fresh scents and pretty packaging.
In reality, science is everything when it comes to hair care. Repairing the damage and breakage adults face every day requires potent formulas backed by innovative tech.
Most hair care products boast the same "healing" verbiage on bottles and keep it as simple as 'healing at the root', but K18, a haircare brand that's backed by biotechnology and loved by professional stylists, offers something new. Through years and years of hard work, the K18 Peptide and their unique biomimetic science have reintroduced effective science and technology in the haircare space.
The Leave-in Molecular Repair Hair Mask from K18 proves how critical science is to any hair product by healing hair from the inside out. In under four minutes, the peptide gets to work, traveling into the inner-most layers of hair and reconnecting broken polypeptide chains from damage. The result of this reconnection is stronger, softer, smoother hair.
Biomimetics is the process of using or mimicking nature to get to the underlying root and mechanisms of an issue that needs solving. K18's peptide, mimicking the natural structure of the amino acid sequence missing from broken keratin chains, is able to seamlessly fit into damaged sites.
K18's patented peptide travels to the molecular level of hair to rebuild each strand. The amino acids fit perfectly into your hair structure which give hair the renewed strength and elasticity we had before years of damage.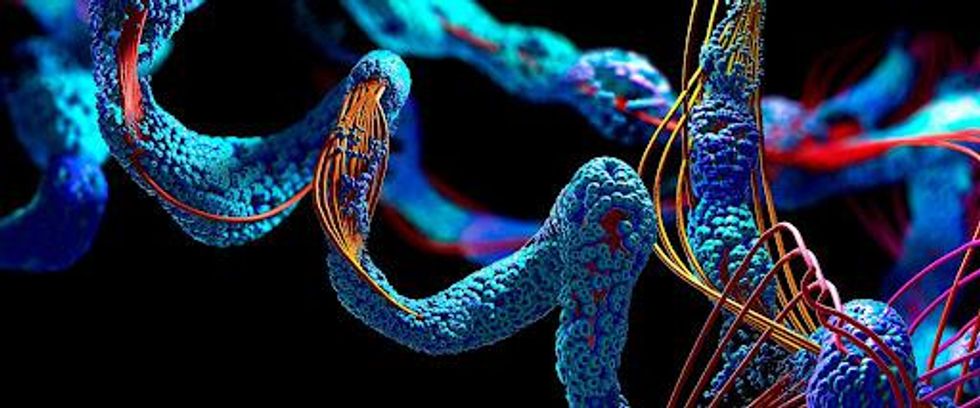 While other hair repair formulas are made for explicit types of hair like curly or fine, the K18 peptide works for any texture. The K18 formula is universal because of where the peptide is able to penetrate. Everyone's hair on the molecular level is the same, because K18 penetrates at the molecular level ( reconnecting the polypeptide chains) K18 works to renew hair from damage across all hair types.
The K18 peptide does all of this, clinically repairing hair in 4 minutes, restoring strength, softness, and bounce. It also doesn't wash away with shampoo, and heals damage left from heat, chemical services, and bleach. All you do is apply it out of the shower after an initial shampoo (skip the conditioner!), wait four minutes, and then style as usual.
Since the peptide works to recreate your hair's natural environment, it manages all healing and restoration while remaining vegan. That means no Keratin, which other brands often hang their hat on.
The founder of K18 describes their formula like this: "You have to solve the puzzle, then take the puzzle apart to find that one perfect piece and recreate it. For K18 it wasn't about finding that magic ingredient. It was about the painstaking biosciences work to recreate that whole puzzle (the way our hair genome expresses keratin), that whole hair environment, to find that one piece that fits."
Between the heat, the bleach, and the chemicals hair goes through every day, repair is a much-needed part of the process. In a billion-dollar industry oversaturated with products claiming to beat breakage, the only real solution is effective, efficient, and innovative scientific formulas.
K18's Leave-In Molecular Repair Hair Mask is backed by science, loved by stylists, and highly recommended by us.
JUST FOR YOU: Our friends at K18 are giving readers 10% off + FREE shipping to new customers! Follow this link to shop!
*https://www.statista.com/topics/4552/hair-care-product-market-in-the-us/#dossierKeyfigures