Back in the day, the options for nutritious baby food were pretty limited. Progressive parents fed their little ones organic baby food they got from the local health food store.
This past summer we welcomed our adorable 1st grandson - Logan - into the world. And he is the light of our lives.
Now that Logan's starting on solid baby foods and his palate is expanding, my eldest daughter - Marnie - has been feeding him a hybrid of store-bought organic baby food and root vegetables and apples from her neighborhood farmer's market. She spends entire days mashing and blending and mixing. If you ask me, that's far too much work.
At a family holiday party I noticed that Marnie was quite on edge. I knew she was running herself ragged trying to be the perfect mom. I wanted to help alleviate the pressure she felt, and I decided to focus on finding an alternative baby food that's convenient and - most of all - can be trusted.
Then I found Yumi - a mom-friendly baby food subscription service that's all organic and freshly made. I was shocked to discover during my research that a number of commercial baby foods - Beech-Nut, Hain, and Gerber - have been found to have traces of heavy metals like arsenic, lead, cadmium, and even mercury.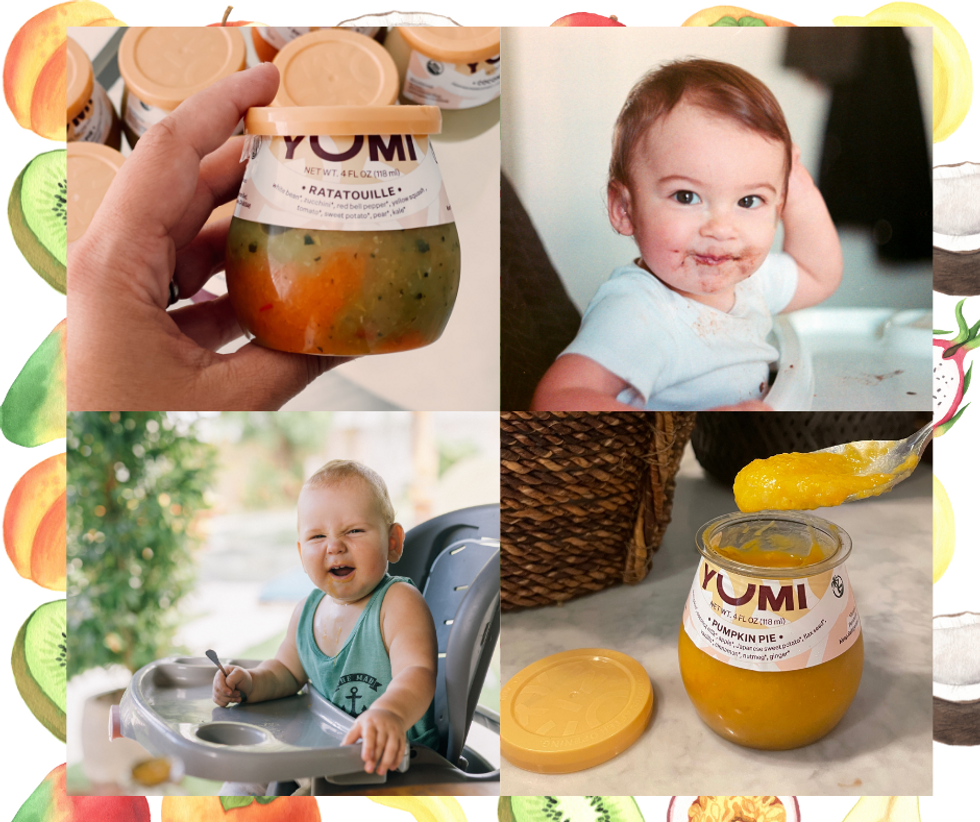 Yumi is the first baby food company to sign the Baby Food Safety Act. They only work with trusted sources and even examine soil quality to find the best, most trusted farms for their products.
It seems obvious to me that Yumi really cares about the safety and the quality of Logan's food. They've received the Clean Label Project Purity Award for their efforts. So, I called Marnie about my idea for an early holiday present.
She was hesitant at first and a bit worried that Logan wouldn't actually like the recipes. We both went on the site and read through a few customer reviews. (The snapshots of smushy-faced kids are so cute!) "So many fun flavors for my baby." "Delivery is always on time and carefully packaged on ice." "Yumi's convenient, super tasty, and I love the quality of the ingredients. I know my little one is getting needed nutrition and I don't have to spend a ton of time in the kitchen."
That's what convinced us: taste, high-quality, safety, nutrition. That, and convenience – Marnie can pause or opt out of her plan at any time. She signed up with my card, chose her weekly plan, and placed Logan's order.
Yumi
Winner of the Clean Label Project Purity Award
Regularly Tests Ingredients & Finished Products for Heavy Metals
Get 50% OFF Now
I couldn't wait to hear how Logan liked his first Yumi meals. When Marnie posted pics of him on Instagram, I screamed with joy. There was Logan in his striped bib, with a huge smile - and Purple Sweet Potato all over his sweet little face! Yummy. I hear he's also crazy for the Butternut Squash, Broccoli & Pear, and Adzuki Bean.
Yumi releases new recipes each quarter and even has a Unique Chef Series. Their menu is sensibly divided into 7 stages to help guide babies on their journey to solid food. At 6 months you start with single-ingredient blends and then progress to nutrient-dense bites. Their blends don't contain preservatives, added sugars, or GMOs, and they're all free of the Big 9 Allergens.
As Logan develops his likes and dislikes, Yumi will be there at each step of his infancy. I'm so happy that I can help Marnie get some time back for herself.
I bet any number of her friends with kids are going to find Yumi subscriptions under the tree this year. And why not? Yumi's fresh, ready-to-eat baby food is a serious stress reducer and the perfect practical gift – for parents and their little ones alike.
Believe me, the gift of Yumi is sure to be a huge hit!