After another stressful week trapped inside my home, staring at either my phone, laptop, or TV screen all day every day, I started to dream.
How lovely would it be to go on vacation, somewhere quiet and peaceful, without the daily deluge of emails or Zoom calendar reminders every hour. Time to truly unwind, relax my mind and body, and think about absolutely nothing.
Seeing me deep in thought, my fiancé, Paul, interrupts to show me his phone. " Ready To Getaway?" was the first thing I read as I pulled his phone closer. What could this be?
The most perfect cabins tucked away in the most beautiful nature scenes all to yourself. The Getaway website made my dream feel like it could be a reality. "They had availability for the next weekend, and 5 minutes later we were all booked.
Here's how our trip went:
Friday, 1PM
The car was all packed, the playlist was on and we were off. 90 mins later we arrived at the Chicago Getaway Barber Creek in Grand Junction, MI, just outside the town of South Haven along the shores of Lake Michigan.
Friday, 3PM
The quietness was bliss from the minute we stepped out of the car. Check-in is completely contactless and all the cabins are well spaced out through the site, I'd say a good 100-150 ft between each one. We easily found our cabin and I was surprised that it looked even more picturesque than it did on their website.
The first thing that caught my eye was the huge view-framing window set behind our queen-sized bed with white linens and down pillows. As we brought in our bags and started to settle in we realized this cozy cabin packs a punch. There's a kitchenette with plenty of counter space, a two-burner stove, mini-fridge, utensils, dishes, cups, mugs, plus a pot and pan. There's a small table for eating and writing, a Bluetooth speaker and an AC/heater. The bathroom is separate with a hot water shower. They really did mean everything you need comes with the cabin!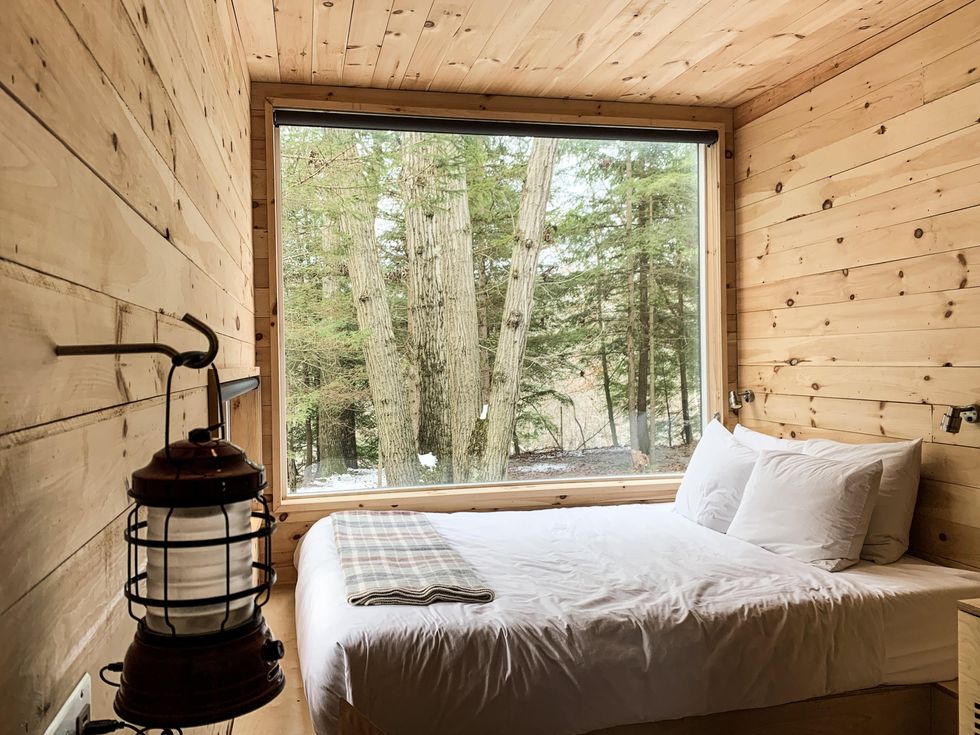 Saturday, 10AM

Waking up to no irritating alarm should be the only way to wake up. In fact, waking up to the most gorgeous sunrise is the only way to wake up, as the rays burst through the cabin window. Neither of us wanted to get up, it was the best sleep we had in a long time.
Saturday, 1PM
After some toast with eggs and bacon for brunch, we got ready for a day of light exploring. The cabin came with a leaflet detailing all the activities available to us close to the cabin. Paul got to pick today's activity so of course, we went hiking. With so many tracks and trails nearby, we opted for the Reeds Lake Trail. Once I got out there I actually enjoyed myself. The views were beautiful and it felt good to breathe in so much fresh, crisp air.
Saturday, 7PM
We were exhausted after our day(but, the good kind of tired, not Zoom tired!) so we whipped up our quick one-pot spicy pasta dish with the ingredients we picked up in the South Haven Farmer's Market, a few minutes up the road. I laughed so hard when Paul pulled out a deck of cards. I forgot how fun rummy could be and how easy I could forget all about my phone.
The best part about the cabins; no Wi-Fi. The only way to truly escape.
Sunday, 12PM
After a much-needed lie-in, we made our way to Chomp Gourmet Hot Dogs, I spotted it on the leaflet and needed to try everything on their menu. On the way back we picked up a salted caramel latte and a hazelnut coffee from Biggby Coffee which we enjoyed as we took a walk about the grounds of the outpost.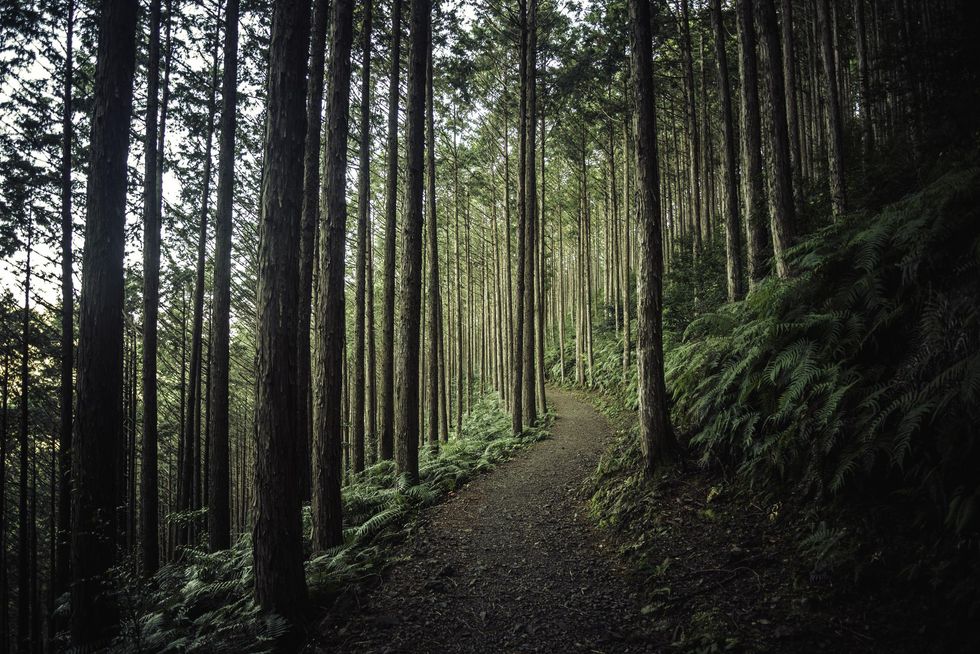 Sunday, 5PM

After the most chill afternoon of reading, eating all our snacks, and doing absolutely nothing I felt so zen. Nothing to think or worry about, except for how to get the firepit going outside our cabin. Luckily the cabin comes with a bin full of firewood and fire starter kits.
Our last night consisted of S'mores, a glass or two of wine, and a night of gazing up at the stars. We were so relaxed in the Adirondack chairs beside the fire that we could have stayed there all night just chatting.
Monday, 11AM
We both felt a little sad packing up the car. We didn't want to leave our little cabin but it was time to go back. We waved goodbye and I almost thanked the cabin as we drove away. Thankful for the peace it had restored in me. A weekend in nature away from the crazy world to reset my mind and body was exactly what we both needed.
Life was simple again, even if it was just for three days. We had found our own little sanctuary in that cabin. Getaway we will be back, and it might be even sooner than you think!