Nowadays, dinner's all about convenience. But why is it that the healthiest meals are always the most inconvenient to make? So many of us have tried to eat more plant-based, healthy meals, but end up going straight back to our old ways again.
This is why meal delivery services are popping up in every corner. Our editors did some digging and discovered that Splendid Spoon, Purple Carrot, and Daily Harvest are some of the most popular vegetarian meal delivery services on the market right now.
We compared all three to see which is the best meal delivery service.
Here's what we found:
Key Similarities:
All offer plant-based meals
All provide subscription services
All deliver to your doorstep
Key Differences:
Splendid Spoon & MamaSezz meals involve zero prep, ready to eat or heat and eat
Daily Harvest's smoothies have to be blended
Purple Carrot meals take about 30 minutes to cook and prepare
MamaSezz has a focus on protein-rich meals
Splendid Spoon focuses on superfood-rich meals
Splendid Spoon Overview
Splendid Spoon is a prepared plant-based meal delivery service, meaning their smoothies arrive ready to drink, and their soups, grain bowls, and noodle bowls only need to be heated in the microwave for a few minutes.
We were pleasantly surprised by how substantial our Splendid Spoonmeals are - they keep us full for a long time. The bowls are 12 oz, and smoothies are 16 oz and feature impressive superfoods such as acai (strengthens immunity and boosts energy), spirulina (jumpstarts endurance), and baobab (great for your skin!).
Splendid Spoon also offers something called "The Reset" - 5 light soups designed to restore your digestive system. Their Wellness Shots contain a hit of immune-boosting ingredients like ginger and lemon - toss one in your bag in the morning and they'll carry you through your busy day!.
All of our Splendid Spoon meals were delicious, we particularly love their Kabocha Congee and their Mexican Tomato Bowl.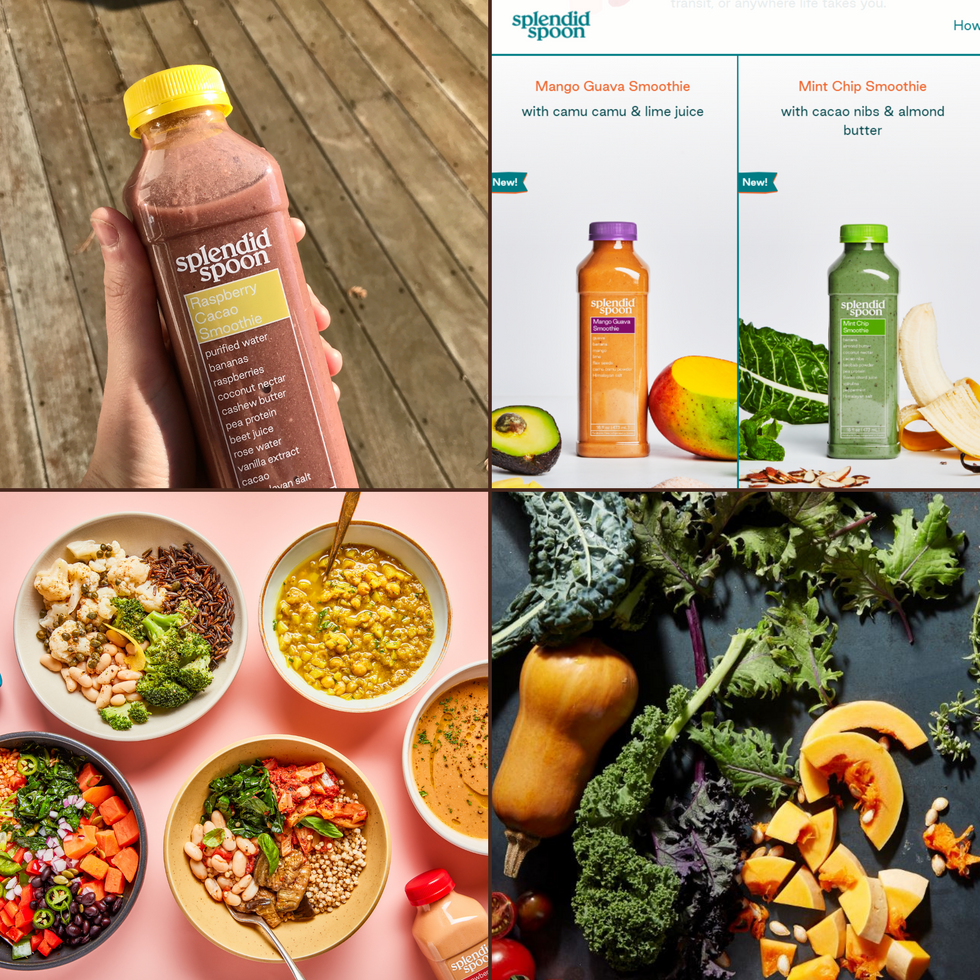 Daily Harvest Overview
Although Daily Harvest offers grain bowls and flatbreads that entail some prep - for instance, their smoothies require blending.
Daily Harvest's impressive variety of recipes feature dishes like the Kale + Kalamata Harvest Bowl and Green Chickpea + Turmeric Soup, and their meals are tasty.
With portions between 8.5-11.5 oz each, we were not always fully satisfied after our Daily Harvest meals.
Purple Carrot Overview
Purple Carrot is a plant-based meal delivery service. When you sign up, you choose your meals from their weekly menu, and they'll send out all the ingredients along with recipes for you to follow.
Their menu consists of 6 dinner meals, such as Beet & Coconut Bacon Flatbreads, and Spicy Almond Butter Noodles. Their menu includes 2 breakfast and 2 lunch options.
However, with Purple Carrot, you prep and cook the meal yourself. Depending on the recipe, prep can take anywhere from 15-45 minutes. Plans start at $9.99 per meal, which is a bit steep compared to the other services especially due to the lack of convenience.
Final Thoughts
When it comes to eating healthy plant-based meals, we need convenience, but we also need the meals to be substantial and enjoyable. Splendid Spoon ticks every box.
You can tell by looking at the ingredients in every Splendid Spoon meal that it's extremely healthy. We always felt energized after our Splendid Spoon meals.
Although Purple Carrot and Daily Harvest have some great food on their menus, their meals require more preparation (some up to 45 minutes) which isn't what we're looking for.
Splendid Spoon's meals really won us over because they're noticeably fresher and more flavorful than the others we tried. Not to mention, Splendid Spoon has 50 meals to choose from so you'll never get bored, compared to Purple Carrot which only had 10 meals on their menu.
If you're looking for a way to introduce more wholesome, plant-based meals to your diet, we'd recommend Splendid Spoon. It's the best meal delivery service out there.