"A tree is best measured when it is down," the poet Carl Sandburg once observed, "and so it is with people." The recent death of Harry Belafonte at the age of 96 has prompted many assessments of what this pioneering singer-actor-activist accomplished in a long and fruitful life.
Belafonte's career as a ground-breaking entertainer brought him substantial wealth and fame; according to Playbill magazine, "By 1959, he was the highest paid Black entertainer in the industry, appearing in raucously successful engagements in Las Vegas, New York, and Los Angeles." He scored on Broadway, winning a 1954 Tony for Best Featured Actor in a Musical – John Murray Anderson's Almanac. Belafonte was the first Black person to win the prestigious award. A 1960 television special, "Tonight with Belafonte," brought him an Emmy for Outstanding Performance in a Variety or Musical Program or Series, making him the first Black person to win that award. He found equal success in the recording studio, bringing Calypso music to the masses via such hits as "Day-O (The Banana Boat Song)" and "Jamaica Farewell."
Harry Belafonte - Day-O (The Banana Boat Song) (Live)www.youtube.com
Belafonte's blockbuster stardom is all the more remarkable for happening in a world plagued by virulent systemic racism. Though he never stopped performing, by the early 1960s he'd shifted his energies to the nascent Civil Right movement. He was a friend and adviser to the Reverend Doctor Martin Luther King, Jr. and, as the New York Times stated, Belafonte "put up much of the seed money to help start the Student Nonviolent Coordinating Committee and was one of the principal fund-raisers for that organization and Dr. King's Southern Christian Leadership Conference."
The Southern Poverty Law Center notes that "he helped launch one of Mississippi's first voter registration drives and provided funding for the Freedom Riders. His activism extended beyond the U.S. as he fought against apartheid alongside Nelson Mandela and Miriam Makeba, campaigned for Mandela's release from prison, and advocated for famine relief in Africa." And in 1987, he received an appointment to UNICEF as a goodwill ambassador.
Over a career spanning more than seventy years, Belafonte brought joy to millions of people. He also did something that is, perhaps, even greater: he fostered the hope that a better world for all could be created. And, by his example, demonstrated how we might go about bringing that world into existence.
The Brooklyn Liberation March, a protest for Black Trans Lives, was truer to the original spirit and point of Pride than any corporatized Pride march.
This year's truest Pride event so far had no corporate floats and no rainbow flag logos.
It came together in a spirit of rage and defiance. It was the Brooklyn Liberation March, which began at the Brooklyn Museum and wound its way through Brooklyn for hours.
15,000 people, most clad in white, walked in the hot sunshine on June 12th. The march, organized by several Black trans-led organizations, was first conceptualized by a drag queen named West Dakota, who saw hypocrisy in the George Floyd protests erupting around the world that Sumer.
"Black transgender people are disproportionately the victims of police violence, but attending demonstrations against police brutality can often put them in further danger," Dakota told The New York Times.
The march bloomed from her idea. Organizers like the Okra Project and the Marsha P. Johnson Institute joined in, and soon the march became a movement in itself. In spirit and practice, the march—a celebration of queer Black life and an outcry against death—resembled Pride's radical roots much more than the majority of Pride celebrations in NYC and around the world.
Pride Was a Riot: The Radical Roots of Pride
Outside the Stonewall Inn today, there is a sign that reads, "Pride was a riot."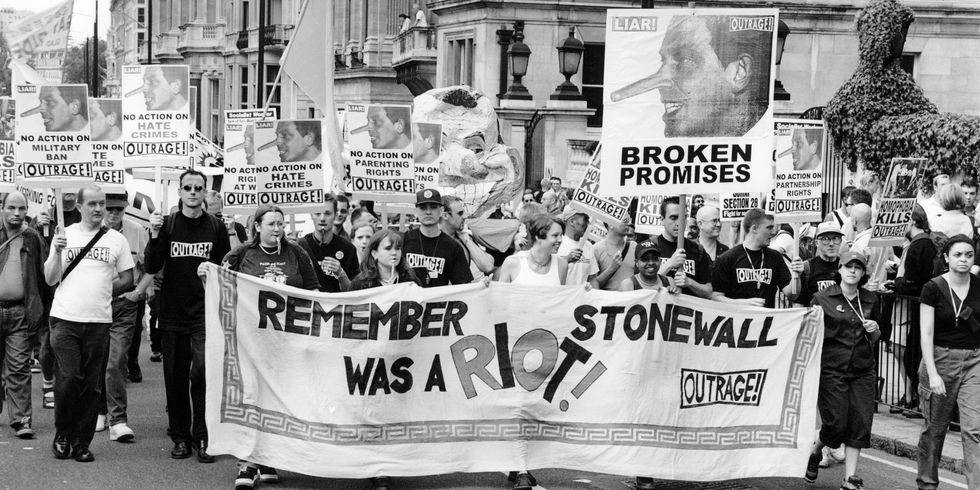 Gay Pride London 1999 UKUIG via Getty Images
Over the past few years, this phrase has served a kind of rallying cry to remind people of Pride Month's radical roots.
Queer and trans people have been celebrating their existence since the beginning of time. Underground queer networks existed in the 19th century, and LGBTQ+ organizing was happening in America in the 1920s. Still, Pride and the modern era of LGBTQ+ rights as we know it began, arguably, when legendary Black trans activist Marsha P. Johnson threw a shot glass at a mirror when police raided the Stonewall Inn.
It was June 28, 1969 when New York City's Public Moral Division (a branch of the police department) took it upon themselves to criminalize and hospitalize gay people. They barged into the bar and began trying to kick people out of the facility.
After Johnson shouted "I got my civil rights!" and threw the glass, patrons began rioting and hundreds of people resisted arrest and set cars on fire. The protests caught wind, and the riots lasted for a total of six days, bringing worldwide attention to the LGBTQ+ rights movement.
A year after Stonewall, people gathered in cities across the nation to hold "Gay Freedom Marches" which worked as both celebrations and protests. They were meant to honor the LGBTQ+ identity while calling for political changes and gay rights. These were the origin points of Pride as we know it.
But gradually, Pride was co-opted by less radical organizers and became more of a whitewashed celebration, as it is today.
Black Lives Matter Marches
This year, Pride marches were officially canceled due to coronavirus concerns. But with the Black Lives Matter movement in full swing, protestors are planning on taking the streets to march in protests of police violence against Black people and the deadly systemic and individual racism and white supremacy that pervades our nation and world.
Pride this year will not be a parade: It will be a revolution.
This weekend, which marks the 51st anniversary of Pride, dozens of Black LGBTQ+-led marches are scheduled all around the world.
In London, the activist group Gay Liberation Front will celebrate their 50th year with a Black Lives Matter march on June 28th. "We are reclaiming Pride with political demands for LGBT+ human rights," said Peter Tatchell, a LGBTQ+ activist who organized Britain's first Pride march in 1972.
And also on the 28th, New York City will see its own Queer Liberation March.
Challenges to NYC's corporate Pride events have been ongoing. In 2017, the Resistance Contingent—a group of radical activist organizations—launched a disruptive protest at Pride. The group Gays Against Guns staged a die-in, and Hoods4Justice blocked the NYPD marching band from joining the Parade, holding banners reading, "There are no queer friendly cops" and "Decolonize pride."

Last year, the Reclaim Pride Coalition—a new iteration of the Resistance Contingent—hosted its own anti-Pride, a march that put trans people at the front and proclaimed a clear anti-police and anticapitalist sentiment. The original Pride march was a riot against police, after all, so these activists' rage against the cops makes sense in the context of Pride Month's origins.
This year's Queer Liberation March has gone through many iterations. It was scheduled to be an online livestream for weeks, but in light of the Black Lives Matter protests, things changed. "There was unanimity that we needed to have a march," an organizer named Jay W. Walker said. "And we needed to have it centered on the movement for black lives."
The march will begin at 1PM on Sunday at Foley Square. "We have voted on a start time, 1 p.m., so for the queers that utterly took umbrage at our 9:30 start time last year, I'm sure they'll be relieved," said organizer Natalie James.
Organized in a DIY, explicitly anti-police and anti-corporate fashion, the Queer Liberation March promises to be much closer to Pride's actual roots and much closer to the movement's original demands, which are needed today as sorely as they've ever been.
"Radical organizing, influenced by and in concert with the antiracist and antiwar movement, followed [Stonewall]," says archivist Caitlin McCarthy. "The protests, sit-ins and direct actions conducted and participated in by early gay liberation groups such as Gay Liberation Front, Street Transvestite Action Revolutionaries, Dyketactics and Combahee River Collective demanded radical structural change in the face of continued oppression." Activists didn't only want LGBTQ+ rights: They wanted true justice for all.
The Importance of Anti-Corporate, POC and Trans-Led Pride Marches
Pride was never supposed to only be about marriage equality for white middle-class queers, and the fact that mainstream Pride coverage has focused on this for so long is just indicative of the way that Pride's original message has been damaged by capitalism, whiteness, and other factors.
Despite all the gains that LGBTQ+ people have made over the years, trans people of color—who were responsible for kickstarting Pride—are still facing tremendous oppression and danger.
At the Brooklyn Liberation March speakers included Melania Brown, sister of Layleen Polanco, a transgender woman found dead in 2019 in her cell at Rikers Island. In the days before the rally, two Black transgender women—Dominique Rem'mie Fells and Riah Milton—were murdered. Last year, the American Medical Association said that violence against Black trans women amounts to an "epidemic."
Whitewashing of Pride at the expense of the lives of trans people of color has always been a disturbing trend in queer circles. Sylvia Rivera, a trans activist and one of the original founders of Pride, was booed offstage during a speech she gave in Washington Square Park in 1973 because she was advocating for trans rights.
L020A Sylvia Rivera, "Y'all Better Quiet Down" Original Authorized Video, 1973 Gay Pride Rally NYCwww.youtube.com
Sylvia dedicated her life to helping homeless queer and trans youth. With Marsha P. Johnson, she co-founded the Street Transvestite Revolutionaries (STAR), and spent her life fighting against homophobia, classism, and harassment in the queer community.

Rivera and Johnson's activism—which was incredibly foundational in the Pride movement—was always intersectional, focusing on interlocking webs of race, class, and other interconnected issues. Pride was a movement built on intersectionality, by the idea that only by liberating everyone could anyone become free.
Rivera and Johnson were only two of the many queer trans activists of color who are responsible for the Pride movement. Black trans and queer people like Bayard Rustin, Audre Lorde, Ernestine Eckstein, Barbara Jordan, Angela Davis, and James Baldwin are just a few of the names who were foundational in the entangled Black liberation and queer liberation movements.
Ultimately, the queer-led Black Lives Matter marches this month, which address the interlocking forces of racism, transphobia, and homophobia, are true returns to the Pride movement's radical roots. And the changes they're bringing to our world prove that all movements will fail unless they embrace an understanding of their fundamental interconnectedness.
Social media is full of resources for protestors, and many are linked below. Stay safe out there.
The Black Lives Matter movement is bringing many people into the world of active protest for the first time. It's also putting people in the face of dangers they may not be prepared for.
The police are using pepper spray, tear gas, and—most of all—fear to intimidate and corral protestors, but the revolution will not be deterred. It's important to prepare as best you can before heading out, so here are a bunch of resources and guides to read before hitting the streets, many of which come from this helpful drive on protestor safety. Read them, memorize them, write the numbers on your arms—and then join the fight.
1. What to Bring
You should bring a bag/backpack, water, a face mask and hand sanitizer, snacks, signs, walking shoes, your ID, and proper clothing to protests. If you think you might be tear gassed, bring an extra pair of clothes in a sealed bag. Consider also bringing earplugs, a pen and paper, and a sharpie to write down important numbers. If you plan on getting arrested, bring a sealed bag with any medication you need. Bring cash and quarters. Make sure your phone is locked with a passcode and that locations and notifications are turned off.
2. What to Wear
Wear clothing that you can run in. Be aware that it may be cold or hot, and you may be stuck in a freezing jail cell or in the hot sun. Layer if possible. Wear comfortable shoes. For women, avoid tampons. Avoid wearing contacts, which tear gas can irritate. Be sure to write numbers of local emergency contacts and lawyers in sharpie on your arm.
3. Don't Go Alone
Choose a partner strategically. Groups should defer to the needs of the most vulnerable members. Be aware of your partners' health conditions beforehand, and have a plan. White people should be prepared to put their bodies on the line between Black and brown allies and the cops.
Respect other protestors' privacy and don't share photos of others' faces.
4. If You Are Pepper Sprayed
Don't panic, and don't rub your face. Leave the area, find some fresh air and pour some water over the affected area.
5. If You Are Tear Gassed
If you are teargassed, the CDC recommends that you remove any clothing with the gas on it. Use soap and water to wash it off your skin.
Some sources recommend bringing a bandana soaked in water, lemon juice or vinegar, which you can hold over your mouth if you are tear gassed.
How to Stay Safe During a Tear Gas Attack - From a US Marinewww.youtube.com
READ, DOWNLOAD, AND SHARE this zine on chemical weapons: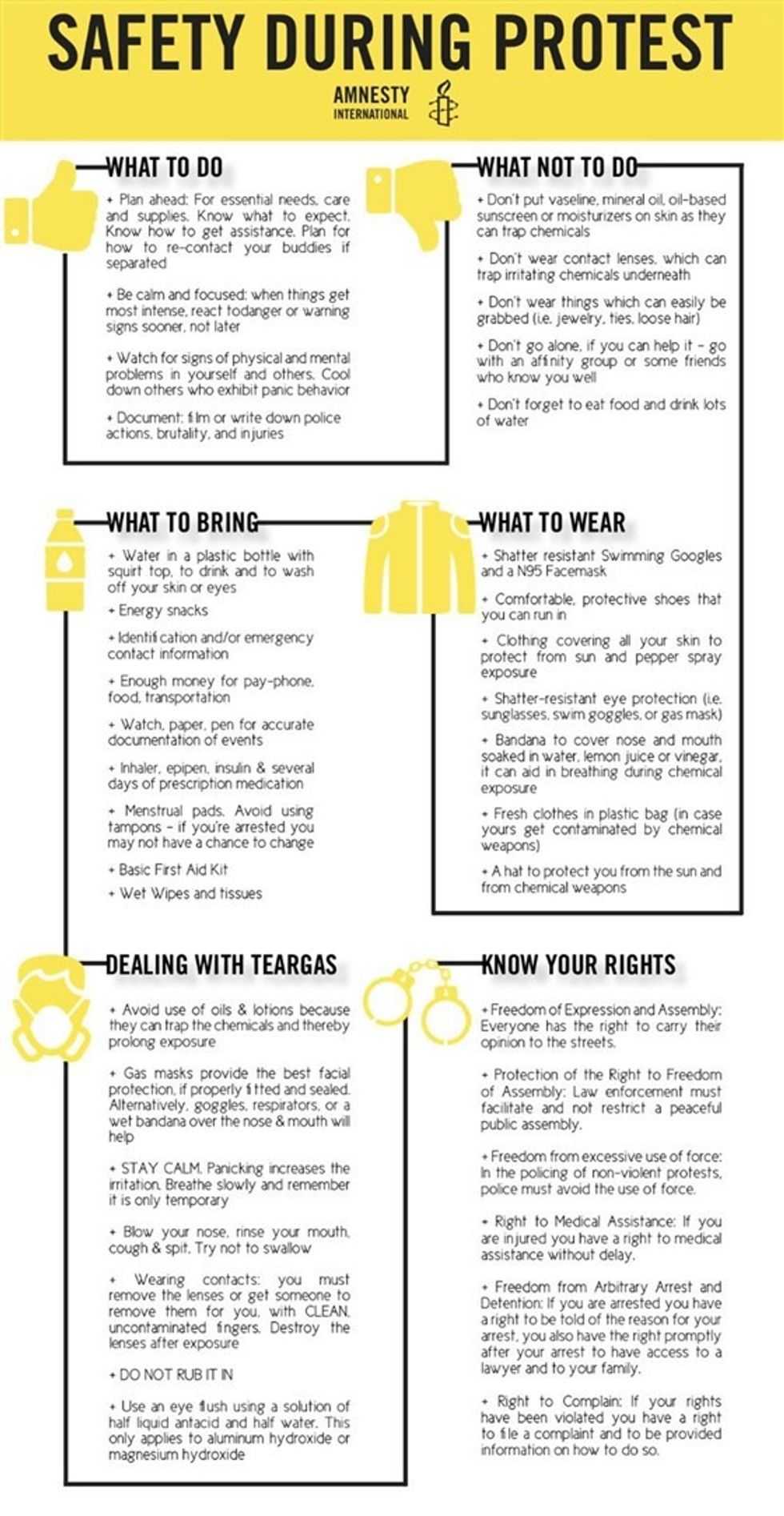 via Amnesty International
6. Know Your Rights
The ACLU offers detailed information on protestors' rights. Remember, you have the right to protest and assemble. You have the right to film police officers' actions. You have the right to medical assistance.
7. For White Allies at Protests
White allies at protests should be deferring to Black organizers. Avoid starting chants, instigating violence, or engaging with police. Continue doing research and supporting the cause outside of protests.
Read SURJ Sacramento's guide to protest etiquette for white people:
8. If You Are Arrested

If you are arrested, don't resist. Ask for a lawyer right away and demand your right to remain silent. Protect others.
9. For COVID-19 Protection
Carry hand sanitizer and always wear a mask. Try to stay distanced as best you can. Stay home if you have symptoms. Quarantine and get tested after marching if possible.
10. Take care of others
If you have medical training, your expertise is much needed. Here are some definitely-not-comprehensive guides.
10. For aftercare
Protests can be traumatic. Here are some resources on debriefing and healing after actions:
Here are some more comprehensive resources: