Dall-E Mini, the AI-powered text-to-image generator has taken over the internet. With its ability to render nearly anything your meme-loving heart desires, anyone can make their dreams come true.
DALL-E 2, a portmanteau of Salvador Dali, the surrealist and Wall-E, the Pixar robot, was created by OpenAI and is not widely available; it creates far cleaner imagery and was recently used to launch Cosmpolitan's first AI-generated cover. The art world has been one of the first industries to truly embrace AI.
The open-sourced miniature version is what's responsible for the memes. Programmer Boris Dayma wants to make AI more accessible; he built the Dall-E Mini program as part of a competition held by Google and an AI community called Hugging Face.
And with great technology, comes great memes. Typing a short phrase into Dall-E Mini will manifest 9 different amalgamations, theoretically shaping into reality the strange images you've conjured. Its popularity leads to too much traffic, often resulting in an error that can be fixed by refreshing the page or trying again later.
If you want to be a part of the creation of AI-powered engines, it all starts with code. CodeAcademy explains that Dall-E Mini is a seq2seq model, "typically used in natural language processing (NLP) for things like translation and conversational modeling." CodeAcademy's Text Generation course will teach you how to utilize seq2seq, but they also offer opportunities to learn 14+ coding languages at your own pace.
You can choose the Machine Learning Specialist career path if you want to become a Data Scientist who develops these types of programs, but you can also choose courses by language, subject (what is cybersecurity?) or even skill - build a website with HTML, CSS, and more.
CodeAcademy offers many classes for free as well as a free trial; it's an invaluable resource for giving people of all experience levels the fundamentals they need to build the world they want to see.
As for Dall-E Mini, while some have opted to create beauty, most have opted for memes. Here are some of the internet's favorites:
There's no looking back now, not once you've seen Pugachu; artificial intelligence is here to stay.
POLITICS
Trump Jr. Was Channeling Kendall Roy on "The View" This Morning
The view was actually...interesting?
Donald Trump Jr. appeared on this morning's episode of The View with his partner Kimberly Guilfoyle as part of the promotional tour for Trump Jr.'s new book, Triggered: How the Left Thrives on Hate and Wants to Silence Us.

Meghan McCain Confronts Donald Trump Jr. on His Father's 'Character' | The Viewwww.youtube.com
If the purpose of the interview was to provoke as much drama and incoherent cross-talk as possible, it was a wild success. The insanity opened with Meghan McCain at her passive-aggressive best, insisting that people "miss the soul" of America, and asking if Trump Jr. felt good about his father insulting the gold star Khan family. From there things devolved into defensive accusations of blackface and rape-minimizing, rehashing of the Trump-McCain feud, and Whoopi Goldberg loudly pleading for an unspecified someone to apologize. Meanwhile, whoever runs Trump Jr.'s Twitter account was already on the offensive, digging up the video of Joy Behar discussing her "beautiful African woman" costume from 50 years ago.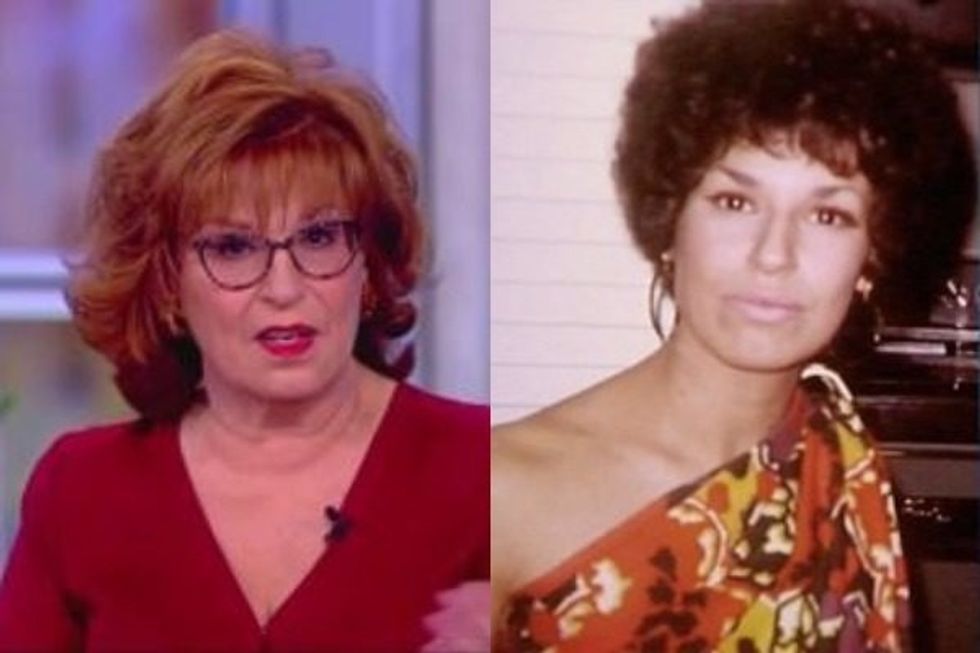 How is it not blackface?
As the interview continued, Trump Jr. deflected questions about Ukraine—and his tweet containing the name of an alleged whistle-blower—by calling out ABC and CBS for cooperating in the reported firing of an employee who recently leaked footage of anchor Amy Robach. The footage in question exposed an apparent top-down effort to bury the Jeffrey Epstein story. Jeffrey Epstein, of course, was the wealthy financier at the center of an elite pedophile ring who didn't kill himself in his cell in the Metropolitan Correctional Center in August.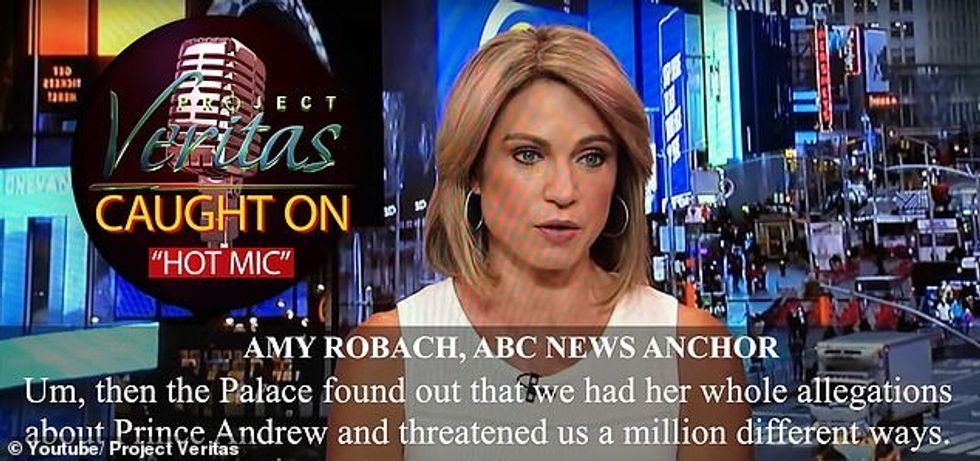 Try to ignore the fact that this was leaked by Project Veritas...
Apart from this public service, the whole interview was a mess. It should have been obvious to anyone watching that it was not going to go well. Along with the extensive history of vitriol passing between the Trump family and the hosts of The View, Trump Jr.'s appearance was a dead giveaway. He looked gaunt and waxen, his forehead slick with a sheen of cold sweat, eyes wild, red, and swollen with exhaustion. It was hard not to be reminded of Kendall Roy in the season two premiere of Succession. The haggard interview where his sister says he's "like a sweaty corpse," and his brother-in-law compares him to "an unshaven candle."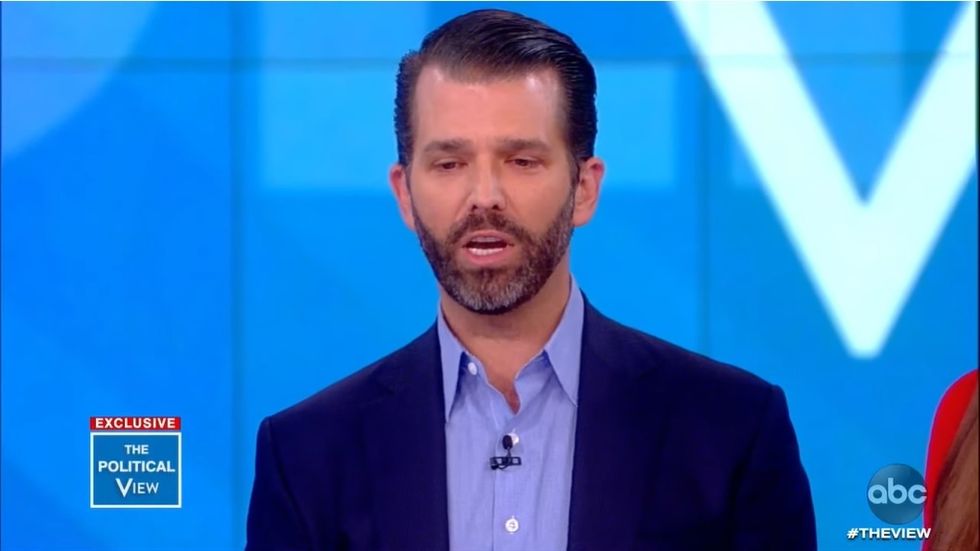 Of course Kendall Roy's rough appearance in that interview is tied closely to his cocaine addiction. While it would be inappropriate to suggest that Donald Trump Jr. has any relationship with stimulants, it would explain his frenzied cadence as he declared that "it is worth it, when I go around the country, and I see people who are affected by these policies, who are getting to live their American dream again," his words tripping over each other in the race to slip past his bleached-white teeth.
Triggered was published on Tuesday and has received rave reviews for containing delightful stories, like the time Donald Trump let Trump Jr. play video games with Michael Jackson and how that means he's not racist. It's available now, wherever awful ghostwritten books are sold.