"A tree is best measured when it is down," the poet Carl Sandburg once observed, "and so it is with people." The recent death of Harry Belafonte at the age of 96 has prompted many assessments of what this pioneering singer-actor-activist accomplished in a long and fruitful life.
Belafonte's career as a ground-breaking entertainer brought him substantial wealth and fame; according to Playbill magazine, "By 1959, he was the highest paid Black entertainer in the industry, appearing in raucously successful engagements in Las Vegas, New York, and Los Angeles." He scored on Broadway, winning a 1954 Tony for Best Featured Actor in a Musical – John Murray Anderson's Almanac. Belafonte was the first Black person to win the prestigious award. A 1960 television special, "Tonight with Belafonte," brought him an Emmy for Outstanding Performance in a Variety or Musical Program or Series, making him the first Black person to win that award. He found equal success in the recording studio, bringing Calypso music to the masses via such hits as "Day-O (The Banana Boat Song)" and "Jamaica Farewell."
Harry Belafonte - Day-O (The Banana Boat Song) (Live)www.youtube.com
Belafonte's blockbuster stardom is all the more remarkable for happening in a world plagued by virulent systemic racism. Though he never stopped performing, by the early 1960s he'd shifted his energies to the nascent Civil Right movement. He was a friend and adviser to the Reverend Doctor Martin Luther King, Jr. and, as the New York Times stated, Belafonte "put up much of the seed money to help start the Student Nonviolent Coordinating Committee and was one of the principal fund-raisers for that organization and Dr. King's Southern Christian Leadership Conference."
The Southern Poverty Law Center notes that "he helped launch one of Mississippi's first voter registration drives and provided funding for the Freedom Riders. His activism extended beyond the U.S. as he fought against apartheid alongside Nelson Mandela and Miriam Makeba, campaigned for Mandela's release from prison, and advocated for famine relief in Africa." And in 1987, he received an appointment to UNICEF as a goodwill ambassador.
Over a career spanning more than seventy years, Belafonte brought joy to millions of people. He also did something that is, perhaps, even greater: he fostered the hope that a better world for all could be created. And, by his example, demonstrated how we might go about bringing that world into existence.
Over the course of the evening, it became apparent the two frontrunners, Joe Biden and Bernie Sanders, aren't old dogs with new tricks.
Last night, the second round of Democratic debates came and went. Ten out of the twenty candidates who qualified for the debates were chosen at random to participate in the second half of NBC's nationally televised event. Of course, the goal for the Democratic Party is to take the Oval Office and hopefully the Senate.
Over the course of the evening, it became apparent the two frontrunners, Joe Biden and Bernie Sanders, are old dogs without any new tricks. Honestly, it'd be difficult to tell the difference between a clip of Senator Sanders debating in 2016 and 2019—maybe this time around, he's a little more tired. Joe Biden was alarming on the stage: He was ill-prepared, stumbled over his words, and leaned heavily on his smile. It's not that Biden had a terrible night' it's that he only had an okay night— which, for a frontrunner, is not a good sign. There were only three people anyone should be excited to hear from: Kamala Harris, Pete Buttigieg, and Marianne Williamson.
#LetYangSpeak
Between the two debates, candidate Andrew Yang spoke the least by a two-minute margin. During the three minutes he did speak, Yang introduced his Freedom Dividend policy. The Freedom Dividend Policy is a Universal Basic Income plan. All people over the age of eighteen would be eligible to obtain a basic income of a thousand dollars a month. Yang's policy is one of the few proposed that addresses an imminent threat: technology. If corporations like Amazon were heavily taxed, that'd free a lot more money for workers who are displaced due to automated jobs accomplished by AI.
If you look into Yang, he's a contender thanks to his reasonably successful grassroots campaign. Last night, Yang turned his campaign into the trending hashtag #LetYangSpeak. According to the candidate, his mic had been turned off multiple times throughout the evening. The only evidence available is footage of Yang attempting to get a word in but to no avail.
#LetYangSpeak Here's proof that @AndrewYang was attempting to speak, but his mic was cut off. Coincidences don't ex… https://t.co/cRhdujENfD

— AVWilhite20 (@AVWilhite20) 1561733609.0
In the video, he's speaking, loud enough for Joe Biden to hear him. Beyond that clip, there is no other evidence. If that were, in fact, true, then NBC would have a lot to answer for ah regarding their meddling in a primary debate.

Marianne Williamson, Be Still My Heart
Marianne Williamson sure made a name for herself last night. Her dramatic and chaotic delivery was a delight for many. Yet, she did not come to play games; she came to bring up points of contention and big ideas we need to tackle. According to her, "It's really nice if we've got all these plans, but if you think we're going to beat Donald Trump by just having all these plans, you've got another thing coming. He didn't win by saying he had a plan. He won by simply saying 'Make America Great Again.'" She's right, like she was right about a lot of things: Williamson thoughtfully addressed the need for reparations, slammed ageist rhetoric, and exclaimed of love over hate.
Although her delivery was off-kilter to many, Williamson should not be underestimated for her flowery language; she explained:
"I have had a career not making the political plans, but I have had a career harnessing the inspiration and the motivation and the excitement of people. Masses of people. When we know that when we say we are going to turn from a dirty economy to a clean economy, we're going to have a Green New Deal, we're going to create millions of jobs, we're going to do this within the next 12 years, because I'm not interested in just winning the next election, we are interested in our grandchildren. Then it will happen."
Many Americans never imagined Donald Trump would be our president, but here we are. Williamson's bold statements and captivating delivery about her hopes and dreams for this country have the potential to capture the American imagination. Sure, she may give off the spiritual energy of a wine mom who likes crystals, but why does that discredit her abilities? Remember, the hippies of our nation began revolutions.
Marianne Williamson: I Will 'Harness Love' To Defeat President Donald Trump | NBC Newswww.youtube.com
Yes, We Just Witnessed a Murder

Kamala Harris came prepared last night. Over all the ruckus, Harris reprimanded her fellow candidates with her rehearsed one-liner: "America does not want to witness a food fight; they want to know how we're going to put food on their table."
She continued to command the evening by confronting Joe Biden on his record. Harris challenged the former VP, asserting:
"I'm going to now direct this at Vice President Biden, I do not believe you are a racist, and I agree with you when you commit yourself to the importance of finding common ground. But I also believe, and it's personal— and I was actually very—it was hurtful to hear you talk about the reputations of two United States senators who built their reputations and career on the segregation of race in this country. And it was not only that, but you also worked with them to oppose busing.
"And, you know, there was a little girl in California who was part of the second class to integrate her public schools, and she was bused to school every day. And that little girl was me."
Kamala Harris Confronts Joe Biden On Race | TIMEwww.youtube.com
Biden, who was once a spirited debater, floundered in his response. He clarified that he supported busing, but on the state level. Harris clapped back, recounting how in her hometown of Berkeley, California, busing was not enforced. She utilized the anecdote to explain why The Civil Rights Act of 1964 and the Voting Rights Act of 1965 were crucial to this country, which is why we need to ratify the Equal Rights Amendment.

Biden was given thirty seconds to respond. He vouched for his record, reasserting that he always supported Civil Rights, before cutting himself off, saying, "— anyway, my time is up. I'm sorry." Biden caused the most damage to himself, as he failed to successfully defend himself.
Sometimes, You Just Can't Get it Done
Pete Buttigieg was another candidate with a breakout performance. The South Bend, Indiana Mayor may be young, but he's had skin in the game for seventeen years. Buttigieg is a veteran, a politician, a polyglot, and a gifted orator. He also made history last night as the first openly gay candidate to participate in a primary debate.
On the topic of immigration, he broke down the hypocrisy of the Christian-aligning Republican Party. Buttigieg did not hold back, proclaiming:
"The Republican Party likes to cloak itself in the language of religion. We should call hypocrisy, and for a party that associates with Christianity to say it is okay to suggest that God would smile on the division of families at the hands of federal agents, that God would condone putting children in cages has lost all claim to ever use religion language again."
The South Bend native also candidly addressed his failure to diversify his city's police force, noting, "I couldn't get it done." He went on to explain the pain his city is experiencing due to the devastating death of a local black man, Eric Logan. Logan was shot and killed by a white police officer. The officer did not have his body camera on at the time of the incident. Buttigieg unpacked how he could not take a position on the matter until the investigation is complete.
The mayor's transparency was received favorably and for a good reason. We need a president who doesn't spread fake news.
Stop Name Dropping
Joe Biden name-dropped Obama almost as frequently as he did Trump. Biden's attempts to piggy-back off the former President's accomplishments highlighted the reason Biden why was only able to make it into the Oval Office as a running mate instead of president: He is not our future. While Biden is a respected Washington staple, his vision for our country is dated and boring. It doesn't capture the America we live in today. After Harris' takedown, it's apparent that Biden cannot justify his unfavorable past.
Maybe California Senator Eric Swalwell was right when he told Biden to finally "pass the torch" to the next generation. Biden slyly smiled and said, "Not yet." However, if last night proved anything, it's that he should've let go of it a long time ago.
Russian ships fired on Ukrainian sailors and illegally detained whole crews over the weekend, escalating Russia-Ukraine tensions.
Ukraine began the week by declaring martial law after six navy sailors were injured when the Russian coast guard open fired on them. Concerningly, three Ukrainian artillery ships were also seized, with their 24 crew members forcibly detained by Russian authorities.
U.S. Ambassador Nikki Haley urged Russia to "immediately cease its unlawful conduct" in the Black Sea off the coast of Crimea, which was illegally annexed by Russia in 2014. "In the name of international peace and security, Russia must immediately cease its unlawful conduct and respect the navigational rights and freedoms of all states," Haley announced at an emergency meeting of the U.N. Security Council late Monday morning.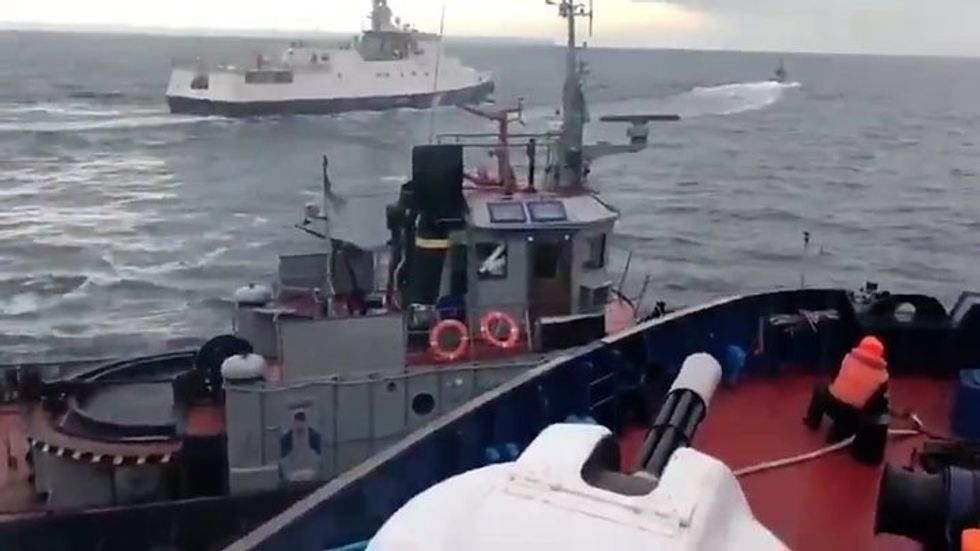 Russian vessel rams Ukrainian shipBBC
In response to the maritime incident, Ukraine's parliament overwhelmingly voted to impose martial law in the 10 regions bordering Russia. Ukrainian President Petro Poroshenko announced that martial law will last for 30 days, concluding in December, at which time he will assess the need for further action.
Poroshenko openly condemned Russia's actions, stating, "We consider it as an act of aggression against our state and a very serious threat," the president said. "Unfortunately, there are no 'red lines' for the Russian Federation." The international community has joined Ukraine in condemning Russia's actions, with NATO Secretary General Jens Stoltenberg pledging "full support for Ukraine's territorial integrity" and stating that Russia had "no justification" for the seizure of Ukraine's ships.
Russian officials dispute the details of the altercation, as the Federal Security Service contends that the skirmish was a justified response to the Ukrainian ships illegally entering territorial waters. Russia's Border Service released a statement over the weekend, stating, "The vessels are carrying out dangerous maneuvers and are disobeying the Russian authorities' demands." Ukraine denies allegations of wrongdoing, citing a 2003 treaty dictating maritime rights and protocol over the Kerch Strait where their ships were detained.
Ultimately, both governments are interpreting the incident as a fabricated aggression in order to discredit the other. Amidst an international backlash over the conflict, an arbitration court in Paris reportedly ruled that Russia owed Ukraine $1.3 billion in damages for the property seized in the annexation of Crimea. Though Russia did not comment on the ruling, they've accused the Ukrainian president of using the situation as a "dangerous provocation" that justifies the imposition of martial law, which grants him the power to manipulate Ukraine's next presidential election, scheduled for March.
It's true that President Poroshenko is currently far behind his political rival in the polls. Oksana Syroid, a deputy speaker in Ukraine's parliament, agreed, "Martial law in Ukraine would present a wonderful chance to manipulate the presidential elections." Aside from increasing the president's power, martial law would ostensibly allow the government to strengthen air defense and prepare a partial mobilization in the event of a Russian incursion. However, it could also restrict Ukrainians' civil liberties. For instance, objectors cite parliament's ambiguous wording in its plans for "strengthening" anti-terrorism measures and "information security." Three former Ukrainian presidents have already publicly opposed martial law, penning a letter that warns that it could be a "threat to democracy" in a country that found its democratic feet less than 30 years ago.
Martial law is set to begin on Wednesday, November 28. Alleged footage of the maritime clash has been leaked across news outlets and Youtube, found below.

Russian vessels fire at and seize Ukrainian shipsyoutu.be
Meg Hanson is a Brooklyn-based writer, teacher, and jaywalker. Find Meg at her website and on Twitter @megsoyung
Jair Bolsonaro ran on a far-right, pro-torture, pro-militarization platform.
Over the last 30 years, Brazil has transitioned from dictatorship to shaky democracy, raising hopes that the country would soon be able to economically compete with other developed countries on the world stage. With the presidential election of Jair Bolsonaro on Sunday, the progress of the world's 4th largest democracy seems to have stalled. Bolsonaro is a far-right, pro-gun, pro-torture politician who gained 55.1% of votes after a deeply divisive election cycle.

The new Brazilian president is a 63-year-old former military paratrooper who promised Brazilians he would crush corruption, crime, and a supposed communist threat if elected to the presidency. Bolsonaro was an extremely polarizing candidate who has spoken against women, gay people, Brazilians of color, and even democracy — the New York Times reports that he once said, "Let's go straight to the dictatorship," while serving as a congressman. Given the fascistic nature of his views, he struggled to find a running mate until early August.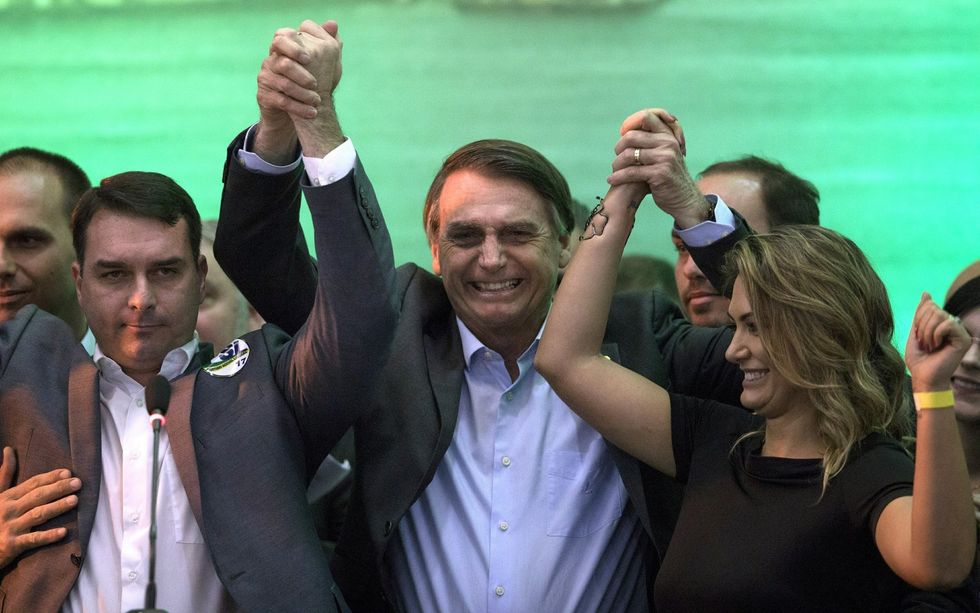 AP News
But despite early obstacles, Bolsonaro convinced much of Brazil that his extremist views hold merit. After the election results came out, Bolsonaro continued to refer to the democracy of Brazil as a communist state, saying, "We cannot continue flirting with communism … We are going to change the destiny of Brazil."

Bolsonaro's leftist opponent, Fernando Haddad, who gained 44.8% of the vote, urged Brazilians not to give up hope. "We will continue with our heads held high, with determination and with courage," he said. "We have a lifelong commitment to this country and we will not allow this country to go backwards."
But Bolsonaro has international support, as well. The White House confirmed that President Trump called Bolsonaro to congratulate him, and Trump later tweeted, saying,
Had a very good conversation with the newly elected President of Brazil, Jair Bolsonaro, who won his race by a subs… https://t.co/zq4N2zvF65

— Donald J. Trump (@Donald J. Trump) 1540816088.0
Many fear that Bolsonaro's election is a symptom of the same world-wide swing to the political right that resulted in Trump's election in the United States, as well as other shifts towards extreme conservative values like those seen in the UK during the Brexit decision. Bolsonaro's election coincides with the former progressive president's failure to stymie an uptick in Brazilian street violence over the last couple of years.
Consequently and effectively, Bolsonaro's campaign strategy was to promise militaristic strength, something that apparently spoke to a frightened Brazil. It becomes difficult not to see the similarities between the events in Brazil and America's 2016 election, wherein voters chose contextless nostalgia and fascist rhetoric over progress. The Brazilian election serves as yet another lesson for champions of democracy and progressivism: fear is a powerful tool that allows politics to default to the mob. If people don't feel safe, all thoughts of equal rights and social justice become second priority.
Brooke Ivey Johnson is a Brooklyn based writer, playwright, and human woman. To read more of her work visit her blog or follow her twitter @BrookeIJohnson.