Dall-E Mini, the AI-powered text-to-image generator has taken over the internet. With its ability to render nearly anything your meme-loving heart desires, anyone can make their dreams come true.
DALL-E 2, a portmanteau of Salvador Dali, the surrealist and Wall-E, the Pixar robot, was created by OpenAI and is not widely available; it creates far cleaner imagery and was recently used to launch Cosmpolitan's first AI-generated cover. The art world has been one of the first industries to truly embrace AI.
The open-sourced miniature version is what's responsible for the memes. Programmer Boris Dayma wants to make AI more accessible; he built the Dall-E Mini program as part of a competition held by Google and an AI community called Hugging Face.
And with great technology, comes great memes. Typing a short phrase into Dall-E Mini will manifest 9 different amalgamations, theoretically shaping into reality the strange images you've conjured. Its popularity leads to too much traffic, often resulting in an error that can be fixed by refreshing the page or trying again later.
If you want to be a part of the creation of AI-powered engines, it all starts with code. CodeAcademy explains that Dall-E Mini is a seq2seq model, "typically used in natural language processing (NLP) for things like translation and conversational modeling." CodeAcademy's Text Generation course will teach you how to utilize seq2seq, but they also offer opportunities to learn 14+ coding languages at your own pace.
You can choose the Machine Learning Specialist career path if you want to become a Data Scientist who develops these types of programs, but you can also choose courses by language, subject (what is cybersecurity?) or even skill - build a website with HTML, CSS, and more.
CodeAcademy offers many classes for free as well as a free trial; it's an invaluable resource for giving people of all experience levels the fundamentals they need to build the world they want to see.
As for Dall-E Mini, while some have opted to create beauty, most have opted for memes. Here are some of the internet's favorites:
There's no looking back now, not once you've seen Pugachu; artificial intelligence is here to stay.
The quarterback said "I will never agree with anybody disrespecting the flag of the United States of America or our country." And then he tried to apologize. And only made it worse.
Drew Brees, a man who makes literally millions of dollars for throwing a ball, has come under fire for insensitive comments he made about NFL players kneeling during the National Anthem to protest police brutality.
"I will never agree with anybody disrespecting the flag of the United States of America or our country," Brees said in the interview with Yahoo Finance. He clarified that this was in part because he envisioned his grandfathers, who fought in World War II, during the National Anthem. He continued, saying, "And is everything right with our country right now? No. It's not. We still have a long way to go. But I think what you do by standing there and showing respect to the flag with your hand over your heart, is it shows unity. It shows that we are all in this together. We can all do better. And that we are all part of the solution."
This isn't the first time Brees made it clear that he cares more for the idea of a make-believe unified America than he does for actual human lives. In 2016, he criticized Colin Kaepernick for kneeling during the anthem, saying it was "disrespectful to the American flag" and "an oxymoron" because the flag gave critics the right to speak out in the first place.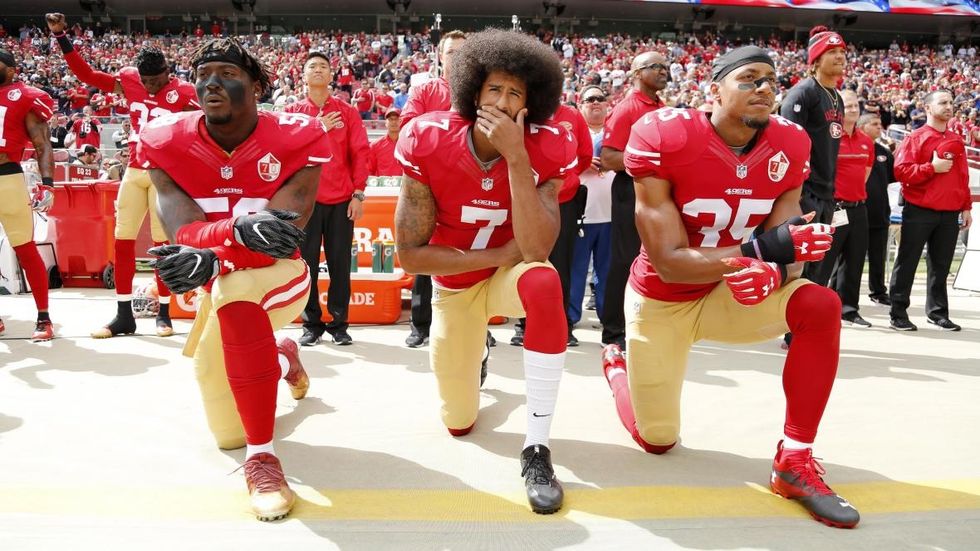 Colin Kaepernick kneeling in protest of racist police brutality
Of course, the flag's alleged ideals have been proven to only be applicable to wealthy, white men—men like Brees. Sure, his grandfathers did a noble thing when they fought under the US flag during WWII, and no one, including Kaepernick, has ever said that sacrifice isn't worth respecting. Thanks to the sacrifices of many people (including the enslaved Black backs upon which this country was built, including the scores of routinely abused Black soldiers who fought for American lives), America has offered opportunity and peace for many, many people. In particular, Ole' Glory has been very kind to men like Brees: rich, white men who still control the majority of the power and the wealth in the United States.
But what about the rest of us, Drew? What about George Floyd whose neck was crushed by a police officer who kneeled on him so casually that he didn't even take his hand out of his pocket? What about Ahmaud Arbery, who was shot for the crime of being Black and going for a jog? What about Breonna Taylor, a black woman who was murdered by police in her home in the middle of the night for a crime that had nothing to do with her? What about Tony McDade, Drew–have you heard his name? Have you heard about the 38-year-old Black trans man who was gunned down in Florida last week? Do you understand why these people's family's may harbor just a bit of disrespect for your precious flag?
Is it possible for you to realize, Drew, that your wish for "unity" is not a wish for progress, but a wish to maintain the status quo? When you call for unity under the American flag, you're talking about your flag, the flag that represents a long, sordid history of racial oppression and violence. There is no unity where there is no justice. When you say that "we are all in this together," what you're saying is that we all have roles to play in the version of society that has served you so well. For your part, you'll be a rich, white man, and for Black people's part, they'll continue to be victims of state-sanctioned murders– but hopefully more quietly, hopefully in a manner that doesn't make you uncomfortable?
When you say, "We can all do better. And that we are all part of the solution," what you mean to say is that POC and their allies are at fault. Sure, you probably agree that Derek Chauvin took it a bit too far, and you probably feel a little self-conscious that he's brought all this "Black rights" stuff up again. But when you say "all," you place blame on the victims who are dying under a broken system. And what, exactly, do you expect POC to do differently, Drew? Ahmaud Arbery was just out jogging, and still he died. George Floyd was just trying to pay a cashier, and still he died. POC and their allies try to peacefully protest by marching in the streets or taking a knee at a football game, and still white people condemn and criticize. Still the police shoot.
After much criticism, Brees did attempt an apology on Instagram, where he posted a hilariously corny stock photo of a Black and white hand clasped together. His caption, though possibly well-intentioned, made it even clearer that his understanding of the movement for Black lives is thoroughly lacking.
Highlights of the "apology" include his immediate attempt to exonerate himself from culpability, claiming that his words were misconstrued, saying of his previous statement: "Those words have become divisive and hurtful and have misled people into believing that somehow I am an enemy. This could not be further from the truth, and is not an accurate reflection of my heart or my character." Unfortunately, Drew, white people like you are the "enemy," as you put it, because by default you are at the very least part of the problem. No one is accusing you of being an overt racist, Drew; no one thinks you actively and consciously detest Black people. But your lack of empathy, your apathy, and your unwillingness to unlearn your own biases are precisely what has persisted in the hearts and minds of well-meaning white Americans for centuries.
Next, you say, "I recognize that I am part of the solution and can be a leader for the Black community in this movement." No, Drew. Just no. Black people don't need white people's savior complexes to interfere in their organizing; what they need is for us to shut up and listen. What they need is for us to get our knees off of their necks.
Finally, you say, "I have ALWAYS been an ally, never an enemy." This, Drew, is suspiciously similar to saying, "But I'm one of the good whites!" The fact of the matter is that feeling the need to prove your allyship is not about helping a movement; it's about feeding your own ego. Not only that, but your emphasis on "ALWAYS" does a pretty good job of making it clear that you don't think you have a racist bone in your body and that you have taken great offense at any accusations to the contrary. I have some news for you, Drew: Every white person is racist. Sure, the levels vary, and while you may not be actively and consciously discriminating against POC, you have been brought up in a racist system, and your implicit biases are as strong as any other white person's. Your job now is to unlearn those biases and confront those subtle prejudices in yourself and in other white people. Maybe the first step in doing so is just shutting your f*cking mouth about kneeling at football games. Maybe you should even consider taking a knee yourself.
For other non-BIPOC trying to be better allies, check out one of these 68+ anti-racism resources.
"In a racist society it is not enough to be non racist. We must be anti-racist." - Angela Davis
Yesterday, Tony McDade was shot in cold blood by a white cop.
On Wednesday, George Floyd was murdered by a policeman.

Last week we lost Breonna Taylor and Ahmaud Arbery to police violence.
These racist killings of innocent people—reminiscent of lynchings, indicative of the systems of oppression of people of color and particularly Black people that have only morphed and grown more insidious over the years—have many people feeling motivated to join the ongoing fight against police brutality and racism in America, while others are feeling the call to deepen their involvement and join in protests.
Wherever you are, the best place to start is always with education, and the Internet is full of resources carefully compiled by people trained in anti-oppression, people who are sharing free resources in the hopes that they might help mobilize movements in the fight for justice.
Here are just ten social media accounts to start with. These are only jumping-off points—places to start the journey. White people in particular need to be careful and thoughtful while beginning this work. Please don't steal these activists' work or message them asking for help—the Internet has more than enough resources that you can digest on your own without asking for more labor from people of color.
Don't let this be the end of your advocacy. Don't let injustice continue to fester while you remain silent. Donate, read, protest if you're able, and get ready to stand in solidarity for the long haul.
1. Rachel Cargle
Rachel Cargle is an incredible writer and activist whose platform offers a selection of invaluable resources. Her Patreon course, "The Great Unlearn," is dedicated to sharing information, helping people unlearn systemic racism, and sparking action. Her personal accounts are also full of valuable, carefully crafted guides and actionable steps.
Part memes and TikToks, part information and political education, @urdoinggreat has a reel full of highlights on Instagram that are worth scrolling through as well as a Patreon full of useful content. Whether you're looking to understand why riots work or wanting to learn more about the radical Black history of mutual aid, Gem's account is full of enlightening and easily digestible tools for anyone looking to join the revolution.
3. We Are Malikah
Malikah is a "global grassroots movement, a network of active and engaged women leaders."
4. The Equal Justice Initiative
The Equal Justice Initiative works to end racial inequality and mass incarceration. Their Twitter feed is full of informative articles about the history of race and racism and the way it manifests in modern acts of racist violence.
4. Black Visions Collective
Black Visions Collective "believes in a future where all Black people have autonomy, safety is community-led, and we are in right relationship within our ecosystems." Focusing on systemic transformation through collective power, it's a Minnesota-based campaign with a global vision for racial justice and for a world where Black lives matter.
5. The Conscious Kid
This account is meant to help parents raise anti-racist children, but let's face it: We could all use a brush up on the basic facts, because we were all raised in education systems that prioritized whiteness.
6. @ckyourprivilege
Founded by Myisha T. Hill, @ckyourprivilege offers many resources for anyone interested in dismantling white supremacy and unlearning their complicity in these systems.
7. Austin Channing
The author of "I'm Still Here: Black Dignity in a World Made for Whiteness" has an incredibly comprehensive social media and online presence, full of resources and books and web series and based in collaborative learning and collective action.
8. Showing Up For Racial Justice (SURJ)
SURJ fights for collective liberation. With chapters across the country and an established theory of change, and with an emphasis on creating accountability for white folks, they are a great place to donate to or join.
9. Layla F. Saad
Layla F. Saad is a writer who frequently shares events and observations about allyship and racial justice. The author of White Supremacy and Me and the co-host of the Good Ancestor podcast, her account and work is a no-nonsense direct challenge to white supremacy.
10. Matt McGorry and We Inspire Justice
Actor Matt McGorry's account is a treasure trove of anti-racist resources (as well as ani fat-phobia, intersectional feminism and more). He's also the co-founder of We Inspire Justice alongside JLove Calderón, and all are worth following and paying close attention to.
This is by no means a comprehensive list. It's just a starting point, a place to gather bearings and to develop an understanding of basic rules before plunging into the work of fighting for justice and for human rights, which is really just doing the bare minimum to prevent cold-blooded racist violence. While posting and reading on social media is more important, it's much more valuable to protest, to donate, and to join movements with pre-established visions and commitments to deep work. It's up to each of us to fight this f*cked up racist policing system.
Keep reading...
Show less
COVID-19 should not be a partisan issue.
Candace Owens, a right wing activist well-known for speaking out against anything any democrat does, took to Twitter today to share that she is actively spreading COVID-19.
Owens' tirade was triggered by an experience in Whole Foods in which her and her husband were asked to put on medical masks or otherwise cover their mouths. Apparently, Owens was unaware of D.C. Mayor Muriel Bowser's April 8 mandate requiring customers to "wear a mask or mouth covering" when shopping. According to Owens, this polite request to do her part in stopping the spread of a deadly virus is an indication that the country is "spiraling into tyranny."
Police enforcement @wholefoods? #coronavirus is spiraling into tyranny. https://t.co/EXA56c7ynJ

— Candace Owens (@Candace Owens) 1586893774.0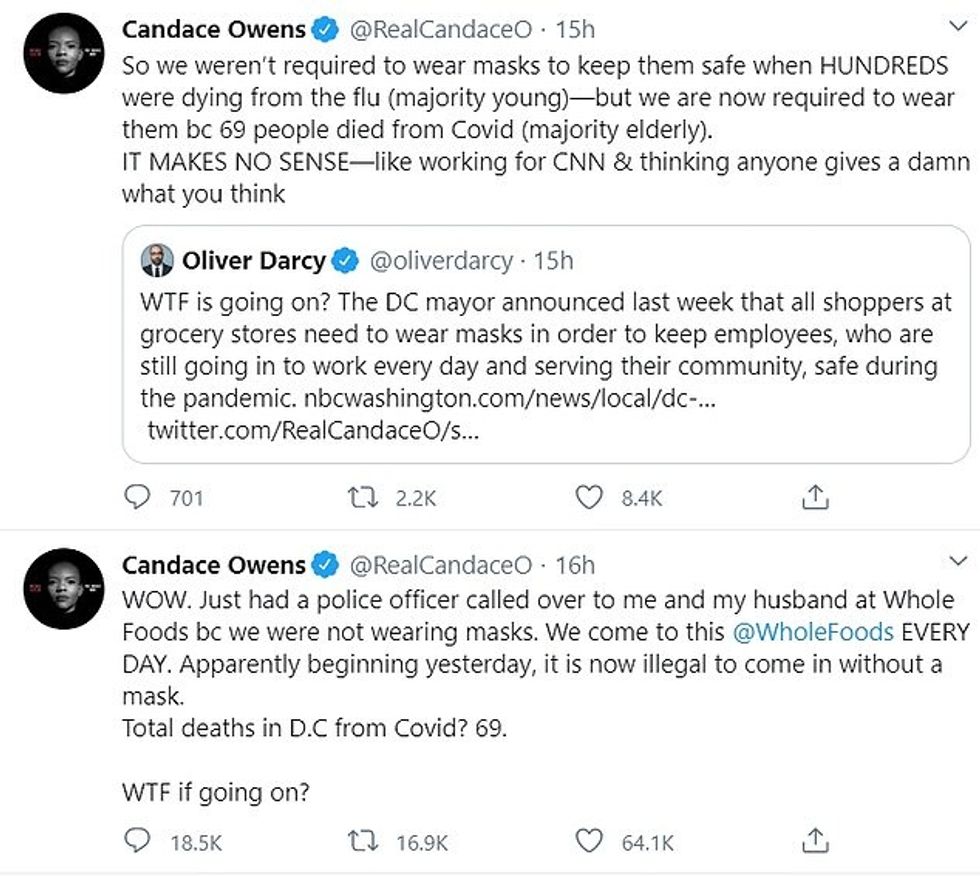 Owens said that she responded to the police officer by saying, "I don't have a mask. I haven't bought one."
She continued in the video, "I didn't race to buy toilet paper, I'm not a part of the corona crazies. I'm not a part of the tin foil hat, bunkering in my basement. I'm just living my life." The conservative activist went on to describe her and her husband being asked to hold their clothing up to their faces while shopping.
Owens' then went on to bemoan the coronavirus measures imposed in Washington DC, claiming there is "no empirical evidence to support the wearing of masks."

All of this would just be a matter of opinion (though one that seems rather insensitive to share at this time), if Owens didn't soon make it clear that mask-wearing isn't the only social distancing rule she is disobeying. She then began to tweet about the many times she had left the house recently for unnecessary reasons, each time risking spreading or contracting the deadly virus.
And to really clear my conscience, I'd like to also to confess that we stopped at the gas station to pick up propan… https://t.co/FmVvU7HqXQ

— Candace Owens (@Candace Owens) 1586966175.0
While Owens is correct that lockdown and social distancing is a nuisance, the selfishness of railing against restrictions put in place to save lives is truly astounding. Everyone agrees that it's a scary time in the United States, and we all know that it would be better if we could live our lives normally and run multiple unnecessary errands a day. Unfortunately, the reality is that we all have to work together to stay home and slow the spread of a deadly virus.
Of course, Owens isn't the first republican to treat social distancing as a nuisance or even as a democratic hoax. President Trump has implied that the Democrats are to blame for the flagging economy and even for the virus itself, all while threatening to reopen businesses well before experts advise. The fact that republicans have made COVID-19 a partisan issue only further points to the core ideology at the heart of the current administration: Selfishness.
Unfortunately, this is not some petty political issue we're talking about. If people like Owens continue to shirk social distancing rules, the cost will be measured in lives lost.
Keep reading...
Show less
In a country where everyone has freedom of speech, where do we draw the line?
The structures of heteronormativity, patriarchy, and white supremacy are now made fun of, overshadowed, and cast aside by many.
Consequently, some straight, white, and/or male people, used to a society built for their needs, feel irrelevant and unheard. Anytime a minority or oppressed group is celebrated, privileged people try and insert themselves in the conversation. There's a reason why every year people ask, "Why isn't there a White History Month?" during Black History Month. When white men start getting passed up for promotions in favor of more diverse hires, it causes them to feel a fraction of what POC and women have experienced for decades. They view these setbacks as oppression and their erasure from representation as an attack. In turn, they acknowledge they're beginning to lack dominant authority. Groups like Meninists and All Lives Matter exist to belittle the root causes of systemic issues in our country. The relationship between the main systemic sources of violence in America resonate beyond Straight Pride: They remind us how those power dynamics are at play even within marginalized communities.
John Hugo, the President of Super Happy Fun America and head organizer of Boston's controversial Straight Pride Parade, describes himself "living openly as a straight man." Hugo is one of three white men advocating for heterosexual representation within the LBGTQ+ community. Super Happy Fun America is a perfect example of the phenomenon in which the privileged see equality as oppression. SHFA even has their own gay ambassador, Chris Bartely. His tokenism and bio illuminates that although he is a gay man, that does not mean he has the right to speak for the entire LGBTQ+ community:
As gay ambassador, Chris uses his status in the LGBTQ community to challenge heterophobia wherever it exists. He became involved in the straight pride movement after being ostracized from established advocacy groups for merely suggesting that straight people be afforded equal rights.
What Bartley gets wrong is that straight people are discriminated against. Although, not all people within straight relationships are afforded rights like maternity and paternity leave or an abortion, but that's due to issues unrelated to sexual orientation. SHFA utilizes right-wing Trumpism to prick at the current frustration white, straight men entertain. Meanwhile, the definition of "great" is up for debate across the nation. In retaliation, liberals are readdressing America's history and the narratives ignored in textbooks, thus increasing the discourse of who truly makes America great.
The SHFA convinced themselves they have good intentions, but in reality they're misinterpreting the purpose of the LGBTQ+ community. The organizers fail to understand that the community is more than an umbrella term for sexual orientation: It's comprised of identities that could endanger lives and livelihoods because of outside discrimination. Those identities go beyond sexual orientation. They include a spectrum of gender identities which already foster inner conflict within the community due to transphobia and misogyny. By viewing LGBTQ+ solely as a flag of sexual identities is to entirely miss the point of why the community itself exists.
However, pride is a touchy subject when it comes to who is welcome at the celebrations and who it's about. Specifically, it spawns conflict within the community from gay men who exhibit misogynistic rhetoric about female allies and bisexuals. Some within the community push binaries of homosexual relationships (gay men and lesbian women) as the standard. In such instances, systems of patriarchy and white supremacy affect transgender people and queer POC at an alarming rate compared to other peers. Straight pride is a reminder that pride incites complicated matters of identity politics and how the community can be exclusionary by gate-keeping.
Meanwhile, the leaders of Super Happy Fun America are challenging said gate-keeping by arguing in favor of an S in LGBTQIA. Their Vice President, Mark Sahady, has come forward to announce the event is moving forward since they have a permit from the city. If Boston were to take that permit away, Sahady would sue on grounds of discrimination. Their argument is a slap in the face to Pride's history.
With the 50th Anniversary of Stonewall, members of the community are reflecting on the horrors of their history, specifically police brutality. Today, police presence stirs debate about how parades can exist within governmental bounds. After all, every parade needs a permit, and the police are brought to enforce the safety of its participants. But when there's a history of police brutality with an oppressed community, it's difficult to trust their intentions. Yet, the men of Super Happy Fun America use their permit from Boston to their benefit (and yet, also as a legal threat). Due to their privilege, they don't see police presence as an issue, because the enforcers have never endangered them: Police protect white men.
The LGBTQ+ community and their allies are rightfully disappointed that anyone would want a straight pride parade, since they know what it truly stands for: These heterosexuals want to overshadow a marginalized community that is beginning to thrive. American society is not at a point yet where we can see or accept each other for who we are and our diverse perspectives. By breaking down other viewpoints' origins, we can get to the root of such ignorance. Straight Pride is a reminder that prejudice is often wielded in reaction to "others" and increases our divisions. To reflect on the roles of sexism, racism, and homophobia is to better ourselves and our communities, dismantling systems of oppression that keep us at odds and with each other as Americans.