"A tree is best measured when it is down," the poet Carl Sandburg once observed, "and so it is with people." The recent death of Harry Belafonte at the age of 96 has prompted many assessments of what this pioneering singer-actor-activist accomplished in a long and fruitful life.
Belafonte's career as a ground-breaking entertainer brought him substantial wealth and fame; according to Playbill magazine, "By 1959, he was the highest paid Black entertainer in the industry, appearing in raucously successful engagements in Las Vegas, New York, and Los Angeles." He scored on Broadway, winning a 1954 Tony for Best Featured Actor in a Musical – John Murray Anderson's Almanac. Belafonte was the first Black person to win the prestigious award. A 1960 television special, "Tonight with Belafonte," brought him an Emmy for Outstanding Performance in a Variety or Musical Program or Series, making him the first Black person to win that award. He found equal success in the recording studio, bringing Calypso music to the masses via such hits as "Day-O (The Banana Boat Song)" and "Jamaica Farewell."
Harry Belafonte - Day-O (The Banana Boat Song) (Live)www.youtube.com
Belafonte's blockbuster stardom is all the more remarkable for happening in a world plagued by virulent systemic racism. Though he never stopped performing, by the early 1960s he'd shifted his energies to the nascent Civil Right movement. He was a friend and adviser to the Reverend Doctor Martin Luther King, Jr. and, as the New York Times stated, Belafonte "put up much of the seed money to help start the Student Nonviolent Coordinating Committee and was one of the principal fund-raisers for that organization and Dr. King's Southern Christian Leadership Conference."
The Southern Poverty Law Center notes that "he helped launch one of Mississippi's first voter registration drives and provided funding for the Freedom Riders. His activism extended beyond the U.S. as he fought against apartheid alongside Nelson Mandela and Miriam Makeba, campaigned for Mandela's release from prison, and advocated for famine relief in Africa." And in 1987, he received an appointment to UNICEF as a goodwill ambassador.
Over a career spanning more than seventy years, Belafonte brought joy to millions of people. He also did something that is, perhaps, even greater: he fostered the hope that a better world for all could be created. And, by his example, demonstrated how we might go about bringing that world into existence.
The Nobel Prize committee has the chance to signal a better future for a prize with a fraught past.
I have almost reached the regrettable conclusion that the Negro's great stumbling block in his stride toward freedom is not the White Citizen's Counciler or the Ku Klux Klanner, but the white moderate, who is more devoted to "order" than to justice; who prefers a negative peace which is the absence of tension to a positive peace which is the presence of justice — Dr. Marin Luther King Jr. "Letter From Birmingham Jail" 1963
Nominations have been announced for the 2021 Nobel Peace Prize.
Among notable nominees are Ivanka Trump's husband Jared Kushner, politician and voting rights activist Stacey Abrams, and the Black Lives Matter movement. Depending on your political biases, you likely find at least one of those nominations offensive, though it should be noted that the list of nominees is long, and anyone can be nominated.
In this case, Black Lives Matter was nominated by Petter Eide, a member of Norway's parliament. As for Jared Kushner, he was nominated along with former Special Representative for International Negotiations Avi Berkowitz — the famed Harvard law professor, Trump sycophant, and defense attorney for O.J. Simpson and Jeffrey Epstein. Kushner and Berkowitz played central roles in brokering the Abraham Accords declaring, "Peace, Cooperation, and Constructive Diplomatic and Friendly Relations" between the US, Israel, Bahrain, and the UAE.
The Abraham Accords: The PR of the 'peace deals' | The Listening Postwww.youtube.com
At face value many Americans would no doubt see the negotiation of a peace deal as more legitimate grounds for nomination than a protest movement that sparked violent confrontation with police and counter protesters around the country in 2020. And, if we look at the history of the Peace Prize, there is a sense in which they would be right — the prize has often been awarded for superficial diplomatic theater rather than the real and often messy work of addressing injustice.

The Fraught History of the Nobel Peace Prize
In 1928, Secretary of State Frank Kellogg received the prize for getting all the world's major powers to officially, meaninglessly renounce war...shortly before Hitler took power in Germany. Another Secretary of State, Henry Kissinger, was selected by the Nobel Committee for negotiating a cease fire with Vietnam in 1973 — the same year it was revealed that he had masterminded a secret carpet bombing campaign in Cambodia, which is credited with giving rise to the genocidal Khmer Rouge.
More recently, in 2009, Barack Obama was given the Peace Prize just for being elected president — in a move Obama acknowledged as premature. And in 2020, Donald Trump's son-in-law and his buddy Avi were nominated for the award for arranging "peace" between nations that were never at war — with a substantial arms deal thrown in for good measure.
To put it bluntly, it would make nearly as much sense for Jared Kushner to win the Nobel Peace Prize as it did for a number of other recipients with dubious claims to peace work. By contrast, in 1948 the Nobel committee chose not to award anyone — rather than acknowledge Mohandas Gandhi's work in pushing for Indian independence from Britain.
Historically the committee has often erred on the side of the powerful — rewarding hollow and hypocritical displays of diplomacy over the controversy that tends to arise around grassroots struggles. So while it may be unlikely that Kushner and Berkowitz will receive the peace prize, neither would it really be surprising.
But with Black History Month kicking off, it's worth articulating not just why their diplomacy is underwhelming, but why the Black Lives Matter movement deserves recognition for advancing the global fight against injustice.
No Justice, No Peace
While extensive efforts have been made to paint the Black Lives Matter movement as violent, anti-White, and at the political fringes, in reality it is the largest and most racially diverse protest movement in American history. And considering the thousands of demonstrations that have taken place, involving many millions of individuals, the relative lack of violence from the protesters is much more worthy of note than a handful of dramatic scenes.
Compared to the January 6th Trump rally, where a crowd of around 30,000 spawned a violent insurrection — which was handled with kid gloves by the police and led to five deaths — the 15 million plus who participated in BLM marches in 2020 were remarkably peaceful. The same cannot be said for far too many of police who patrolled those marches and gave proof to the brutality that inspired them.
A compilation of videos that captures how police officers incite violence. How are they responding to protests ag… https://t.co/7rBOh3OHMP

— Simran Jeet Singh (@Simran Jeet Singh) 1590893613
And though regrettable incidents of arson and violence have undeniably taken place in connection with BLM demonstrations, the alternative was not "peace."

What is often overlooked in discussions of peace is the reality of social and political injustice as among the most prevalent forms of violence on Earth. When millions of people, targeted through no fault of their own, are systemically dehumanized — their lives and their contributions devalued and their opportunities for life, liberty and pursuit of happiness both deliberately and incidentally truncated for centuries — that is violence that destroys lives on another scale altogether.
For Black Americans that obviously means slavery and its aftermath, as well as segregation and the continued legacies of practices like redlining. But it also means a so-called "war on drugs" that treats addiction as a crime rather than an illness and disproportionately targets and locks up Black Americans, depriving too many children of their parents.
It means racist police procedures like Stop and Frisk, as well as the implicit (and often explicit) racial biases of the officers themselves. It means making it nearly impossible for people convicted of felonies within this unjust, racist system to live within the bounds of the law, depriving them — as well as millions of Black Americans who haven't been convicted of anything — of the right to participate in democracy and change the system that treats them so cruelly.
And none of this even covers the immense wealth inequality that makes life harder for almost all Americans — though, again, the harm is leveled disproportionately against Black Americans. All of these ordinary and unacceptable aspects of American life are violence — "the negative peace which is the absence of tension."
They destabilize communities, families, and individual lives. And that violence came to a head in June, following the horrific killing of George Floyd by a Minneapolis police officer over a suspected counterfeit $20 bill.
While far from the only evidence of systemic racism in America, the murder of unarmed Black men, women, and children by police and by racist vigilantes who — more often than not — are allowed to walk free, is perhaps its most blatant and disgusting expression.
And the names of the slain — Ahmaud Arbery, Breonna Taylor, Tamir Rice, Trayvon Martin, Freddie Gray, Philando Castille, too many more to mention — have become rallying cries.
With all the domestic resistance the protests met from people who insist on spitting "all lives matter!" (as if fighting for the value of Black lives implied otherwise) and "blue lives matter!" (as if the safety of police officers depends on their ability to shoot unarmed Black men, women, and children without consequence), it would be easy to lose sight of how much support the movement has received overseas. While the movement was started in America, the impact has been global.

"Injustice Anywhere Is a Threat to Justice Everywhere"
The reality of living as a dehumanized minority in a bigoted society is sadly all too common in the world. And while not everywhere is as bad in this respect as America, the recognition sparked protests of solidarity and of common cause around the world.
Like the civil rights movement of the 1960s, Black Lives Matter has continued the fight for America to live up to its promise. Because right now "the land of the free" is home to a carceral state where more people are imprisoned than anywhere else on Earth, and citizens are killed by police at a higher rate than in any comparable nation.
Because the systems that were deliberately set up to keep newly freed Black citizens oppressed following the Civil War were never truly purged — have been covertly bolstered and supplemented ever since.
That is not peace. Only a stable form of violence.
A cartoon from the 1960s My father wasn't beloved by America. In 'Letter From Birmingham Jail,' he responded to 8… https://t.co/ygwaqnWoO9

— Be A King (@Be A King) 1611017549
In 1964 the Nobel committee opted not to side with power. It was the same year the FBI sent a harassing letter to Dr. Martin Luther King Jr., urging him to commit suicide.

He was considered by FBI director J. Edgar Hoover — and many others in positions of power within the American government — to be an enemy of the state. There is even reason to believe that these forces were directly involved in his 1968 assassination.
His protest movement was disruptive to the normal order of American life that most white Americans were content to maintain. Many balked at the idea that it could be called peaceful. But the Nobel committee selected him for the honor of the Nobel Peace Prize. It was a serious signal that the world was watching how America handled peaceful dissent.
Did that make a difference in passing the voting rights act of 1965? Who can say? But the Nobel committee has a similar opportunity this year.
What Black Lives Matter has been fighting for in recent months is the "positive peace" King spoke of as "the presence of justice." With that in mind — and with some uncertainty remaining as to how a decentralized, leaderless movement of millions can receive an award — the Nobel committee should take seriously the option of selecting Black Lives Matter.
Martin Luther King Jr. Nobel Peace Prize Acceptance Speechwww.youtube.com
There are no doubt many nominees whom the committee could select for the Peace Prize — including Jared Kushner. And some who would even be worthy — including Stacey Abrams.

But the significance of acknowledging a grassroots fight for justice that was centuries in the making (in a nation which — for all its flaws — continues to shape culture around the world) is too powerful to deny.
We're here, and we're growing in numbers.
Everybody knows that young people have the lowest voting turnout rates of any demographic. It's a statistic that's often used against us to support allegations that we're lazy, self-involved, and too apathetic to care about the future of politics. For some of us, that's true. But within that 18-29 year-old demographic, there's a community that's too often overlooked.
A recent estimate from Pew Research Center finds that naturalized citizens will comprise about 10% of the eligible voters in the 2020 election–that's about 23 million people, a 93% increase since 2000. That's right: We're here, and we're growing.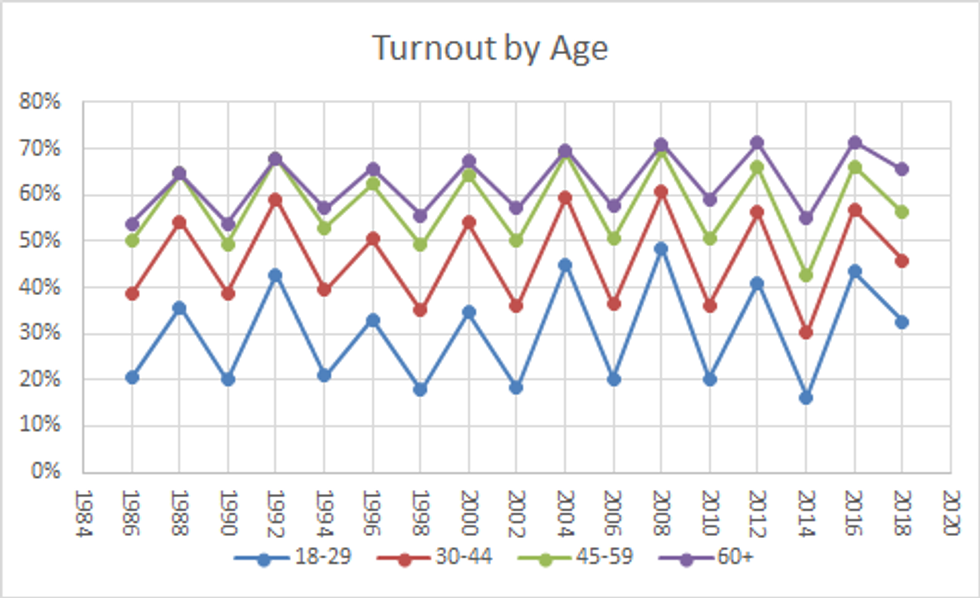 ElectProject
The power of naturalized citizen voters shouldn't be underestimated. Generally speaking, voting turnout rates of naturalized citizens are higher than natural citizens. According to Pew, 34% of naturalized citizen voters are Latinx and 31% identify as Asian; in each of those communities, more foreign-born immigrants show up to vote than non-immigrants. Where are these voters located? 56% of U.S. immigrants reside in the country's four most populated states. Of course, these are also the states with the most members of the electoral college: California (55), New York (29), Texas (38), and Florida (29).

It's no wonder why naturalized voter turnout would be high. Even as a naturalized citizen since I was one and a half years old, I can't take my right to vote for granted. Not even my jaded attitude as an academic or an irony-poisoned millennial can make me forget that 55 years ago, people like me were barely allowed into this country, thanks to immigration quotas and plain discrimination. The Immigration and Nationality Act of 1965 eliminated the quota system, and while the new immigration policy still favored northern and western Europeans, the law allowed increased flow of immigrants from Asia, Africa, and Latin America.
Amidst today's immigration crisis under the Trump administration, a growing number of voters are immigrants or the children of immigrants and shouldn't be ignored or dismissed. Even if immigration trends stay the same (rather than increase, as they are more likely to), then today's 10% of voters who are naturalized citizens will become at least 20% by 2040, with immigrants predicted to be the driving force of population growth in the U.S. in coming years.
These numbers impact the turnout of young voters like me and young people's investment in the policies and overall political system, which has turned away people who looked like me and which may turn away those people in the future if policies aren't changed. I'm a naturalized citizen, so I vote.
In the fourth installment of the Visionaries Project, we speak to activist and community organizer Ebony Ava Harper.
The Visionaries Project is a new subsection of The Liberty Project dedicated to highlighting the lives, passions, and work of radical activists currently working towards social justice and liberation from oppression. We aim to uplift the perspectives of diverse voices working in media and activism today—and not just the faces who make headlines, but the real people on the ground every day, working towards their visions of a better world.
Ebony Ava Harper is an activist, philanthropist, writer, creator, life and world-changer, advocate for marginalized communities, and a tremendous inspiration to many. As an openly Black and trans woman and an advocate for environmental justice, prison reform, and so much more, she has done incredible work to fight for her communities, forging a path to a better world in the process. She is currently head of California TransCends, a statewide organization that works to promote the health and wellness of transgender people in California, and she's the recipient of the 2019 Stonewall Four Freedoms Award and the among other achievements (none of which could come close to adequately recognizing all of her marvelous work). We spoke about resilience, environmental justice, community organizing, and more.
1. Can you tell me a little bit about your background? Where are you from, and what were and are you passionate about?

I was born in Prince Georges County, Maryland, to a family of Jamaican immigrants. I believe I'm the first American born in my family. My parents migrated from Maryland to Los Angeles, CA when I was just a baby, so all I know is growing up in Los Angeles. I spent the first 27 years of my life mostly in Los Angeles, and then I moved to Sacramento. I've been in Sacramento for some time now, and I consider this my home city.
I'm passionate about dismantling systems of oppression and dismantling my own oppressive behaviors. I'm passionate about loving the unlovable. Flipping that negative into a positive and improving not only my quality of life but the quality of life of all living beings (plants and trees included).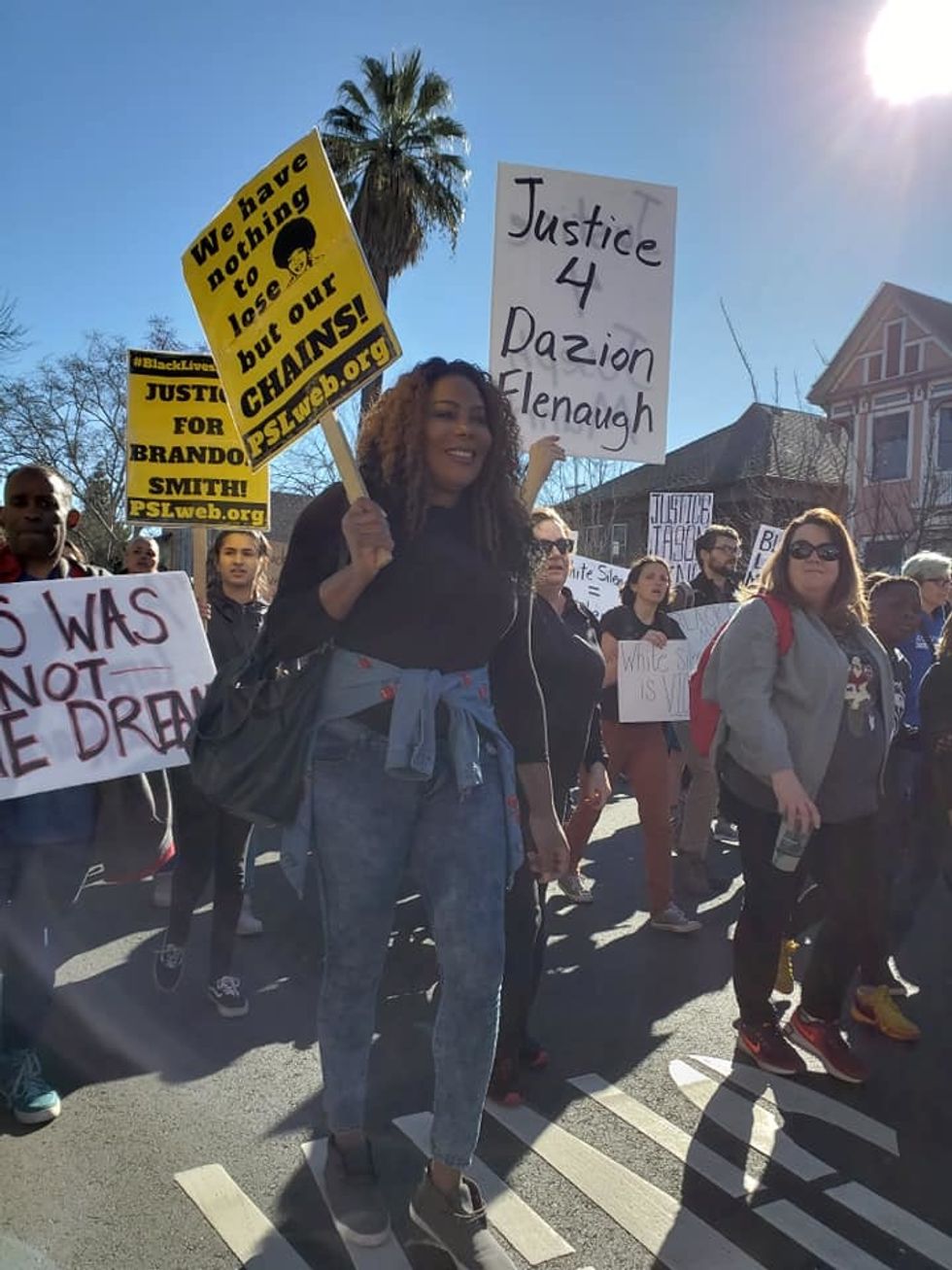 2. How did you first get started with activism, and what movements are you most involved in now?
I'm a Black trans woman that came out early in life, so I always say I came out fighting for survival from the gate (from the start). I was born an activist. I had to fight and speak up for myself to simply be... I'm a decedent of Jamaica, and if you listen to our music, you'll hear a lot about love, peace, "getting up, standing up, fighting for your rights." I would say I hit the ground fighting with all these intersections I embody. I also hit the ground loving and having empathy for others. My inner indignation against injustice and my tender Jamaican roots inform who I am today and my activism. My activism has transitioned along with me. I feel like we're all transitioning in some way. I have transitioned away from just relegating myself to being a trans activist, I'm a human rights activist. I fight for all oppressed peoples. Social oppression is even showing up through this current climate crisis.
I'm involved in Gender Justice, Climate Justice, Disability Justice, and Race Equity!! They all interconnect in my life.
3. A lot of your writing seems to focus on internal and community-wide restorative efforts and resilience, whether in terms of health, the environment, or the spirit. What does human resilience mean to you, and for you?
I love this question! It's a big question. I came from some harsh beginnings: All I know is resilience. I'm an introspective person, so as I have aged, I think about resilience on a much larger scale than the marginalized groups that produced me or my sole experience. I think about all the times life itself was on the brink of total catastrophe, and boom.... It rebounds. Resilience means to rebound from something that could've taken you out. It means hope for the future, it means another chance, another road, another shot. I'm a descendant of slaves and a descendant of those that have walked this trans path: All I know is resilience. I wish to share my struggle with others in hopes that they may be inspired not to give up. You know, "If that big ole queen can make it, so can I." That's the seed I want to plant when I'm sharing on any platform.
4. You wrote an amazing piece for Forbes in which you discuss feminism's failure to address "inequities of human injustices caused by colonial, capitalist, and social oppression." You also addressed this in your Sacramento News and Review piece in which you wrote, "Trans people, particularly our black women and femmes, were on the front lines of the Stonewall Rebellion, yet we're on the back lines of the gay and lesbian liberation." Feminism and many, or really most, social movements suffer from such a lack of intersectional and trans recognition. Where do you see that need for change manifesting itself?
I think social justice movements don't always think in terms of intersections, or they fight for things that will serve them in that particular moment, never really seeing how all this suffering intersects. They'll have all the language right, but their actions will be about that one topic. We need to remove the berries and realize an injustice to a Black trans woman is the same as an injustice to a cis woman. An injustice to a Black trans woman is an injustice to the Black community as a whole. There's no separation; Black trans issues are multidimensional and are relatable to any social justice issue today. You have to be radical and intentional about inclusivity to Black trans women.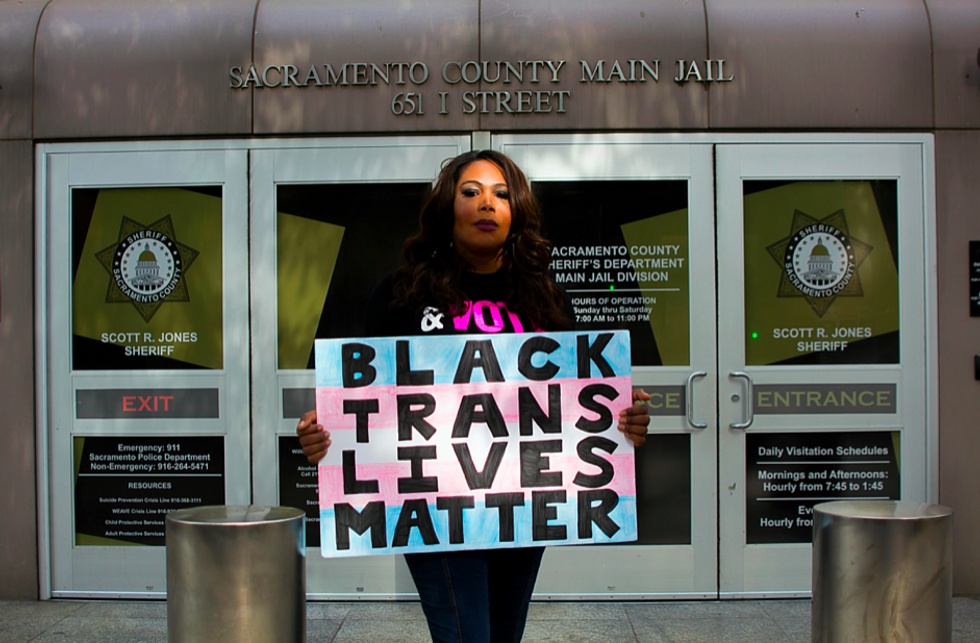 5. Are there any trans leaders, writers, or figures you're particularly inspired by at the moment?
Too many to name here, but I'll name just a few. Valerie Spencer inspired me as a young trans kid. We have Black trans philosophers, and I would say she's one of our great philosophers. Aria Sa'id is a young Black trans woman that has contributed so much to our movement at such a young age. She's Executive Director of the first Trans Cultural District in the nation, and she's smart as hell... Daroneshia Duncan-Boyd, from Alabam leading the charge for trans health equity throughout the South. Elle Hearns, one of the founding members of Black Lives Matter that just so happens to be a Black trans woman. Omega West, a Black trans man who, like me, came from some rough stuff and is out here fighting for our rights daily. Last but not least, my translatina sister, Bamby Salcedo, who's a national treasure in our community fighting for our freedoms every day.
6. You're vocal online about a lot of environmental issues. Do you see the environment as intertwined with queer, trans, and Black and Brown community issues? What does environmental justice mean to you?
It's absolutely intertwined! The factories in impoverished neighborhoods, access to clean food, clean water, information around health all are linked to poverty. Extreme poverty is linked to these marginalized groups that live on the fringe of the fringes of society. No resources, so capitalism exploits them. We have to look at what's affecting those at the bottom and work from there, while fighting these big corporations that are siphoning the life out of the planet.
7. What changes (spiritual or societal or both) would you like to see most in the near future? What does your vision of a better future look like?
Green renewable energy. No more wars. The end of capitalism! Love abounding on the earth like never before. Total freedom to just be without judgment.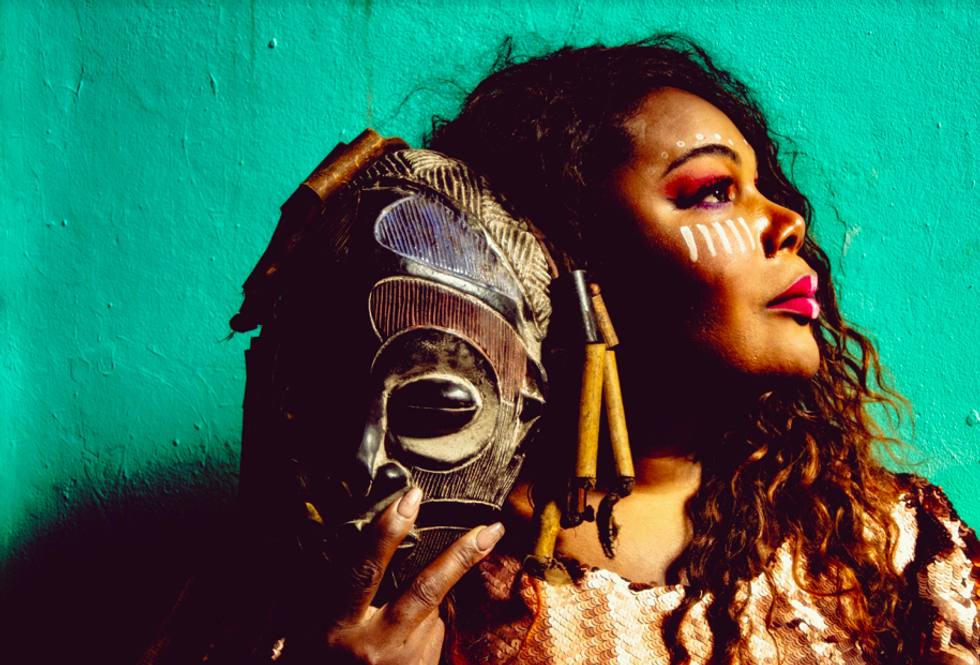 8. Are there any organizations or initiatives you'd like to promote?

I'm the leader of the new statewide initiative, California TransCends, in partnership with the California Endowment and California Public Health Advocates. California TransCends promotes the health and wellness of transgender people throughout the state of California. I'll be doing a statewide assessment of the needs of trans people living in rural communities, trans people of color, and our trans elders. We'll be working with local policymakers to see what we can do to make trans lives a bit more bearable. We're engaging other trans organizations that are leading statewide work to form a statewide and national coalition that will work in one accord on issues that need our rapid response. Lastly, we'll have micro-grants available for coalition-building conferences for trans people of color. I'm also one of the directors for the newly formed Employment Equality.
9. You're doing so much amazing work—how do you balance it all? What do you do for self-care and for fun?
I take a couple of days a week off and recharge. I have a small circle but good friends I can call when I'm going through a tough time. I have a spiritual community, The Center for Spiritual Awareness, that loves and supports me. This is my combination for staying afloat.
10. Do you have any advice for activists, or any lessons or mantras that you follow?
Don't become the same evil you're fighting! It's easy to fall into the trap of anger and vengeance. When fighting injustice, you have to make sure your approaches are balanced, or you'll perpetuate the same injustices you're fighting.