Dall-E Mini, the AI-powered text-to-image generator has taken over the internet. With its ability to render nearly anything your meme-loving heart desires, anyone can make their dreams come true.
DALL-E 2, a portmanteau of Salvador Dali, the surrealist and Wall-E, the Pixar robot, was created by OpenAI and is not widely available; it creates far cleaner imagery and was recently used to launch Cosmpolitan's first AI-generated cover. The art world has been one of the first industries to truly embrace AI.
The open-sourced miniature version is what's responsible for the memes. Programmer Boris Dayma wants to make AI more accessible; he built the Dall-E Mini program as part of a competition held by Google and an AI community called Hugging Face.
And with great technology, comes great memes. Typing a short phrase into Dall-E Mini will manifest 9 different amalgamations, theoretically shaping into reality the strange images you've conjured. Its popularity leads to too much traffic, often resulting in an error that can be fixed by refreshing the page or trying again later.
If you want to be a part of the creation of AI-powered engines, it all starts with code. CodeAcademy explains that Dall-E Mini is a seq2seq model, "typically used in natural language processing (NLP) for things like translation and conversational modeling." CodeAcademy's Text Generation course will teach you how to utilize seq2seq, but they also offer opportunities to learn 14+ coding languages at your own pace.
You can choose the Machine Learning Specialist career path if you want to become a Data Scientist who develops these types of programs, but you can also choose courses by language, subject (what is cybersecurity?) or even skill - build a website with HTML, CSS, and more.
CodeAcademy offers many classes for free as well as a free trial; it's an invaluable resource for giving people of all experience levels the fundamentals they need to build the world they want to see.
As for Dall-E Mini, while some have opted to create beauty, most have opted for memes. Here are some of the internet's favorites:
There's no looking back now, not once you've seen Pugachu; artificial intelligence is here to stay.
The Colonial Pipeline is up and running again, but the madness isn't over...
From May 7th through the evening of May 12th, America's largest supply network for gasoline, diesel, heating oil, and jet fuel was shut down.
As of Thursday morning it is back online, though it will take a while for the typical rate of delivery to resume.
Under normal circumstances, the Colonial gas pipeline network is responsible for moving more than 100 million gallons of fuel every day, transporting it from refineries in Texas all the way up to New York, with offshoots all along the eastern seaboard. That's around 45% of the fuel supply for the east coast.
But last week that network was shut down thanks to a ransomware attack from a group known as DarkSide. And, as a result, gas prices have been spiking, with the national average topping $3 a gallon for the first time in years.
Colonial Pipeline restarts operations, gas prices spike | WNT www.youtube.com
Predictably, a sense of panic has gripped the populace, particularly in some Southern states, where long lines have been forming for the pumps. More than a thousand gas stations were fully tapped, and many others started placing limits on how much their customers could buy.

If the hackers' purpose was to cause as much chaos as possible, this would all be a rousing success. But was that really their motivation, or are they after something else entirely?
Who Is DarkSide?
The more you look into them, the less they sound like a criminal gang. Rather, the data thieves at DarkSide give off the vibes of a tech startup, with promotional materials that talk about clients, affiliates, tech support, financial evaluations, and their sterling (criminal) reputation.
The organization is based somewhere in Eastern Europe, with roots in a Russian-language hacker forum, but early rumors that they have ties to Vladimir Putin and the Kremlin seem to be baseless. They claim to be independent of political ties, and that certainly matches their tactics.
According to their public statements, they always assess their target companies carefully — making sure they'll be able to afford a steep ransom payment — before striking. They also claim to have a principled stance against targeting companies in the fields of medicine, funeral services, or education, as well as non-profits and government entities.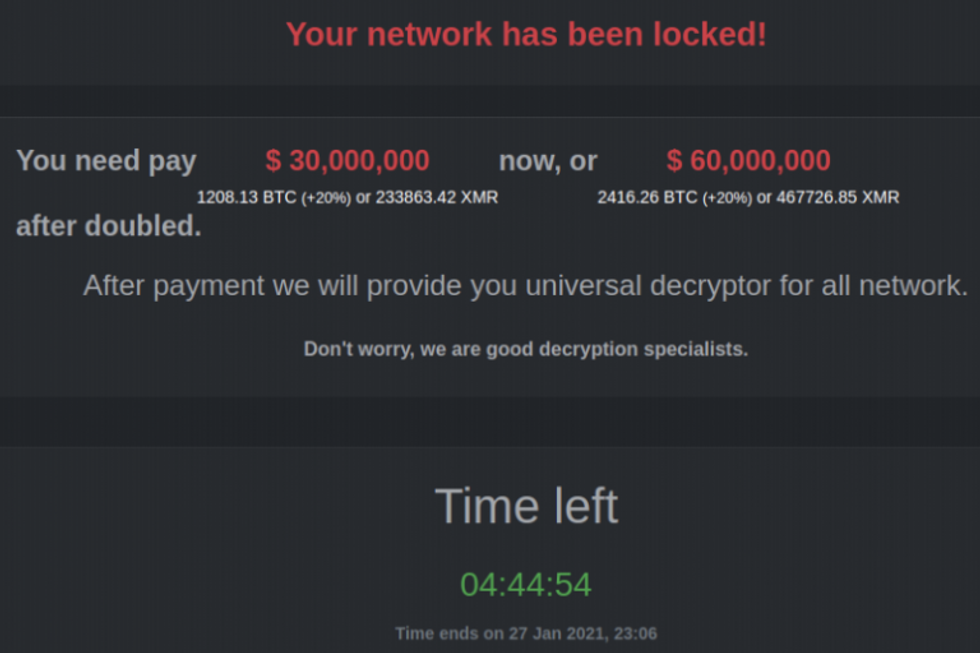 https://krebsonsecurity.com/2021/05/a-closer-look-at-the-darkside-ransomware-gang/
Whether this ethics code is truly based on a sense of morality, or if it's just a matter of avoiding the added scrutiny and bad press that would come with attacking a hospital is unclear, but it all comes across as very professional and corporate. They even "guarantee" the reliability of their service.

Since launching in August of 2020, they have advertised their services to other hackers and have grown quickly thanks to the systematized efficiency they provide. The only real difference between DarkSide and any rapidly emerging "disruptor" in the tech world is the specific service they provide.
Namely, once an "affiliate" (hacker) gains access to a company's data, DarkSide steals it, locks the company out with high-level encryption, and holds that information hostage until the company pays out. If their target is unwilling to pay a steep ransom, DarkSide starts leaking their data to a dedicated website, with notifications sent to the media, business partners, and customers.
It's a very businesslike approach that reflects a very businesslike set of priorities. As DarkSide themselves recently put it, "Our goal is to make money and not creating [sic] problems for society." They even promise to provide their target companies with information about how they were compromised, so they can patch holes in their security.
But if they're only after money, why did they target such an essential piece of America's energy infrastructure? If they don't want to create problems for society, uh...why did they?
Unforeseen Consequences
The short answer is that it was a mistake. For all the care they claim to put into their work, they overlooked certain details this time around and have caused bigger problems and invited more negative attention than they ever intended.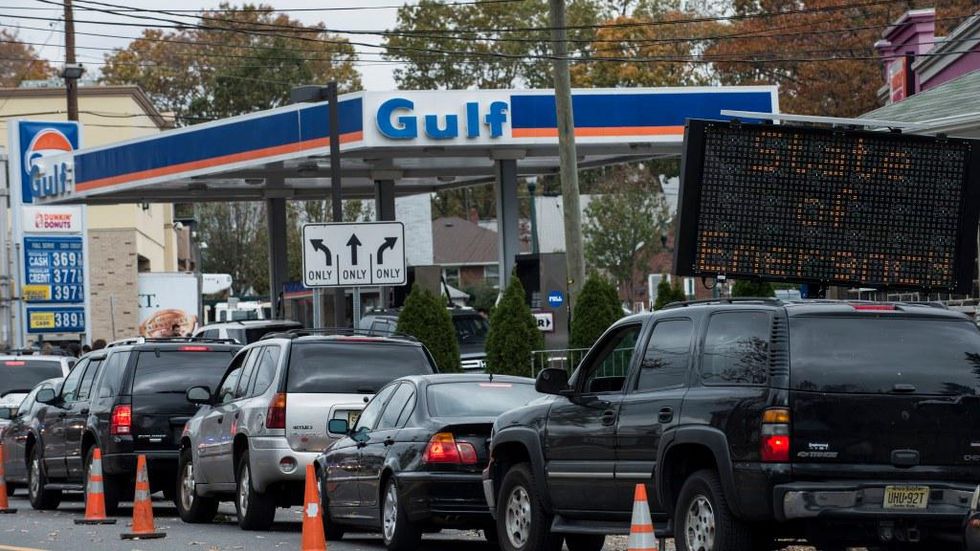 As any good corporation would in these circumstances, they have promised to do better in the future. They insist that, going forward, they will "introduce moderation, and check each company that our partners want to encrypt to avoid social consequences."

The longer answer is that America's energy infrastructure is particularly vulnerable. If DarkSide was only looking at Colonial Pipeline Company's financial bona fides, they may have missed how crucial that pipeline has become and how hacking one company's data — without even interfering with the pipeline directly — could cause so much chaos.
That wasn't always the case. Once upon a time the northeast did a lot of its own refining of oil shipped in from overseas, but the decades-long push to make America "energy-independent" has shifted consumption to local supplies of oil, and more than half of the northeast's refining capacity has been shut down.
As a result, we've been facing gas shortages just like those in the 1970s under Jimmy Carter...if you don't care to look past the surface. Even The New York Times has been throwing around "crisis in confidence" callbacks; but in truth, the similarities are practically non-existent.

Unlike the 1970s, when OPEC was deliberately strangling the oil supply, there really is no shortage of oil or even of gasoline. Oil is still being slurped up and refined into gasoline. Even the mechanics of the pipeline hadn't been affected directly by DarkSide's attack.
The only problem interfering with the pipeline — until it was resolved on Wednesday night — was that Colonial Pipeline Company's billing system had been knocked out. They couldn't get paid, so they stopped delivering to their customers.
It could still be delivered by truck, and the Biden administration even declared a state of emergency in order to relax regulations around that method of transport. And even if tanker trucks hadn't been an option — admittedly, there weren't enough drivers to meet demand — this was always understood to be a temporary situation.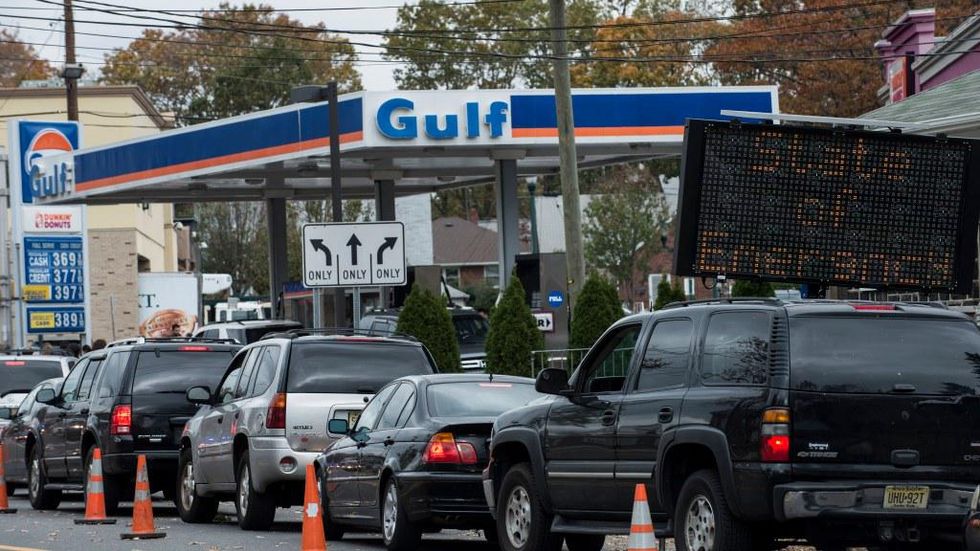 Because of the professionalism of the criminals involved, there was never a question of getting the pipeline — or the company's accounting system — up and running. It was just a question of whether it would take a few days or something in excess of a week.

It turned out that it took about five days to get the system back online, and it's expected to take several more to get it back up to 100%. In other words, a full tank of gas would probably have lasted most people through this "gas crisis" without sending gas prices skyrocketing. So what happened?
The Viral Gas Hoarders
People freaked out. Like the toilet paper debacle of 2020, what should have been a minor issue of supply chains adjusting to a new normal became a serious problem thanks to the selfish overreactions of the worst among us.
As soon as the news hit that there could be some minor shortages and a temporary price increase, the panic started. Images and videos of people filling car trunks and truck beds with plastic gas cans were outdone by the people filling plastic buckets, storage bins, and massive tote tanks.

Never mind the fact that many plastics will warp or dissolve in the presence of gasoline. These people weren't going to let a temporary shortage pass them by without panic-buying.
While perhaps the most iconic example — a video of a woman filling plastic bags with gasoline — turned out to actually be from 2019, the panic was real. And it was viral in more ways than one.
Let's say one person decides to fill an extra 20 gallons of standard gasoline containers at the pump. They take about twice as long as they usually would, and a small line of cars starts to form. Someone driving by sees that line and decides that this gas crisis thing must be real, and figures — even though they have more than half a tank — they should fill up now, before things get worse.

Next thing you know, that line of cars is spilling into the street, the gas station is starting to run low, and people are calling and texting friends and loved ones, sharing images of the gridlock on social media, encouraging others to take this "gas shortage" seriously and fill up any vehicles and containers they have. And so the virus of gas panic spreads…
A Long-Term Solution?

But now that there's light at the end of the tunnel for this temporary panic, how do we ensure that this kind of thing doesn't happen again? After all, if DarkSide had approached this with more malicious intent, it could likely have been much worse.
So how do we secure our critical energy infrastructure to prevent this kind of issue in the future? If we take it for granted that we probably can't change human nature enough to stop people from panicking and hoarding at the first sign of an issue, there are still a number of options.
For a start, we could mandate comprehensive cybersecurity for companies that provide critical services, preventing this kind of ransomware attack from happening in the first place. Or we could even nationalize pipelines so a profit motive and disrupted billing don't get in the way of delivering what people need.
But there will always be vulnerabilities in a system that relies on centralized infrastructure like pipelines. The most important solution is to wean ourselves off of fossil fuels altogether. If electric vehicles charged by decentralized power sources — e.g. home solar panels — were the norm in the U.S., a gas shortage would be nearly meaningless, and there would be no central energy hub vulnerable to attack.
Renewables should be at the center of any push for energy security. Even the issues with the Texas power grid during February's freezing weather — though falsely attributed to wind power by many on the Right — were mostly due to issues with fossil fuels and private greed. Widespread adoption of small-scale solar power could actually have buffered the grid against the worst outcomes.

This would also be a great way to avoid the environmental and societal damage of pipeline leaks and spills, like the 2020 instance of more than a million gallons of gasoline spilling out of the Colonial Pipeline in a North Carolina town. While that's perhaps the worst pipeline incident in America's history, there's no shortage of competition, with significant damage to natural habitats and crucial water supplies.
And, as long as we're on the topic of pollution, it's worth pointing out that, if we don't make a dramatic shift off of fossil fuels, climate change is going to get so much worse. They are the single greatest source pumping greenhouse gases into the atmosphere, adding energy to complex weather systems, and making freak incidents like February's polar vortex far more common and devastating.
So if you hate gas crises almost as much as you hate the gradual collapse of civilization as a shifting climate brings on natural disasters, disrupting food production and displacing communities around the world, then the obvious way forward is to treat fossil fuels as the evil that they are and to shift away from them as quickly as we possibly can.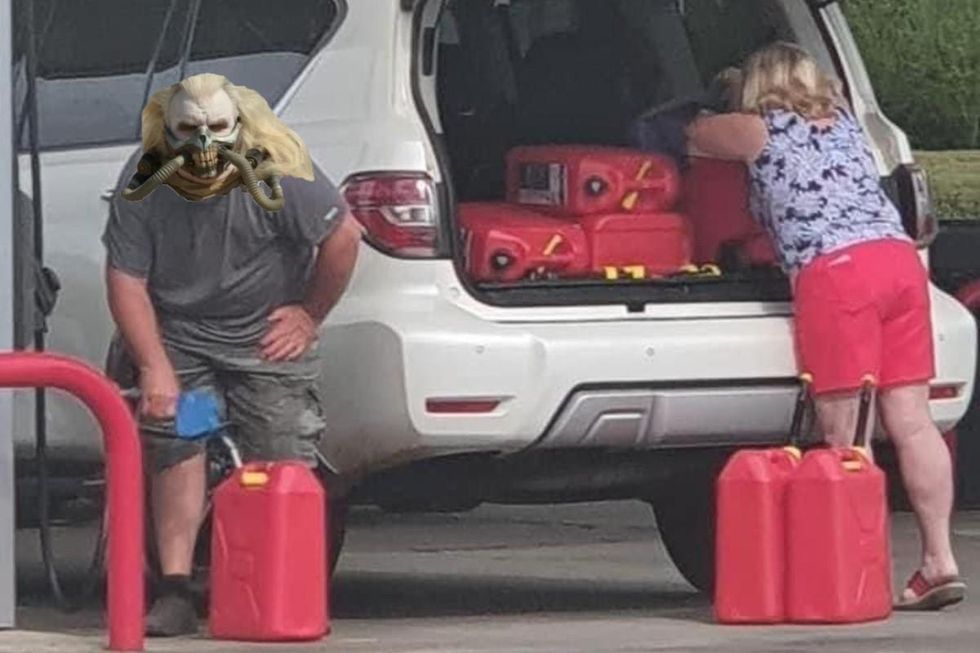 Or we can embrace our Mad Max future, let the hoarding virus take us, and start lining up to fill our buckets with guzzoline...

Keep reading...
Show less
A profile of America's greatest conman.
Despite this apparent obstacle, Trump has managed to win over an overwhelming majority of America's thriving racist community by surrounding himself with white supremacists, refusing to condemn hate groups, dog whistling so loudly Old Yeller can hear it, and putting young children in concentration camps for months while prosecuting their parents for committing a misdemeanor.
How Trump's Family Separation Traumatized Children www.youtube.com
Career

Known for his catchphrases, "You're fired!" and "When you're a star, they let you do it," Trump first captured the attention of federal investigators in 1973 for systemic discrimination against Black prospective tenants at one of his housing developments. Under noted bleeding-heart liberal Richard Nixon, the Justice Department sued Trump and his father for refusing to rent to Black Tenants.
Since that early highlight, Donald Trump has gone on to have an impressive career as the target of numerous federal investigations for everything from tax evasion to insurance fraud to running a sham "university" and (possibly) colluding with a foreign power to undermine American "democracy."
Having inherited a huge portion of his wealth from his real estate mogul father—a sum dramatically increased by dodging estate taxes—the money Donald Trump has "earned" has been based mostly on his reputation as a famous rich guy.
It's that reputation as a brash "billionaire" who can turn s**t to gold that has allowed him to repeatedly turn gold to s**t, accruing numerous bankruptcies, endless scandals, and unfathomable levels of debt, all while building lifelong ties to organized crime, global oligarchs, and the shadiest figures in American politics—from Roy Cohn to Roger Stone.
But, perhaps most importantly, that reputation earned Trump opportunities for media attention, which he craves above all else. That's how he ended up with a place in the WWE hall of fame, a cameo appearance in Home Alone 2: Lost in New York, and a starring role as Biff Tannen in Back to the Future Part II [citation needed].
Was Donald Trump in Back to the Future? www.youtube.com
It's how Donald Trump ended up with his own reality show, where editors worked tirelessly to add an air of business competence to his rich assh**e mystique. And it's why in 2011—amid calls for the government to be "run like a business"—anyone cared to listen to "businessman" Donald Trump's baseless, racist suggestion that Barack Obama wasn't really born in Hawaii.

And it was that birther ordeal that led inevitably to Trump's ascension as a political figure, to the Trump presidency, and to the apocalypse circling overhead as America's pathetic, depleted husk crawls further into the lifeless expanse of the future.
Among Trump's most notable life achievements, apart from becoming the most powerful manchild on Earth, are his failed casino ventures—including the spectacular financial collapse of Trump Taj Mahal—and his charity foundation that was shut down for illegal misuse of funds.
He also has some real estate ventures that involve plastering his name on buildings...until the actual owners decide it's too embarrassing.
Early Life
Trump was raised by his father, Fred Trump, to believe that there were two kinds of people in the world: killers and losers. Despite a lifetime of losing business ventures, disappointing children (with the exception of Ivanka, whom he repeatedly "jokes" about wanting to sleep with), and failed tabloid marriages, Donald Trump finally secured his position as a killer in his 70s by spreading confusion and misinformation about the deadly novel coronavirus pandemic while failing to take necessary precautions, thus contributing to the deaths of tens of thousands of Americans.
As a child, Donald Trump was instructed in "Christianity" by pastor Norman Vincent Peale, who preached that wealth and success are signs of God's love, and both can be achieved through positive thinking. Donald Trump has held onto this idea by banishing negative thoughts like, "You are unqualified," "You don't know what you're talking about," and, "You're not the only person in the world who matters."
Personal Life
As an adult, Donald Trump extended this absence of doubt and self-criticism to his romantic life by not allowing himself to be constrained by vows of commitment, a lack of consent, or basic human decency. In the case of his first wife, Ivana, Donald Trump deliberately spread tabloid stories about his affair with a younger woman (future ex-wife Marla Maples), and—according to Ivana Trump's own court testimony—once raped her as an act of vengeance after an unpleasant experience with a scalp surgery intended to conceal his baldness.
Ex-Playboy model Karen McDougal speaks about alleged affair with Trump www.youtube.com
In addition to dozens of other accusations of sexual misconduct—from unwanted kissing to further allegations of rape—Donald Trump reportedly had affairs with adult film star Stormy Daniels while his third wife, Melania Trump, was pregnant with their son, Barron Trump, and with Playboy model Karen McDougal shortly after Melania gave birth. Donald Trump is also the preferred candidate of Christian, "family values" voters.

International Relations
In late 2013, Donald Trump visited Moscow in connection with the Miss Universe pageant, which he owned at the time. An offer was reportedly made to send five sex workers to Donald Trump's hotel room, but Keith Schiller—Trump's personal bodyguard at the time—claims that he rejected the offer before going to bed with no knowledge about whether anyone entered Donald Trump's hotel room.
The evidence is inconclusive as to whether Donald Trump did in fact have multiple women in his hotel room that night—and instructed them to pee on a mattress that the Obamas slept on during a state visit.
It is also unclear whether Donald Trump—who was actively assisted in 2016 by a Russian disinformation effort and who openly asked Russia to perform a cyberattack against Hillary Clinton's presidential campaign—is actually subject to the whims of his good friend Vladimir Putin, with whom Trump loves to have private meetings.
We may never know if the Russian government is using compromising materials—possibly including a tape of sex workers peeing on a mattress at Trump's behest—to gain leverage over Trump in order to receive a startling series of foreign policy wins.
By contrast, there's a ton of damning evidence that Trump and his associates are tied up in international money laundering schemes involving oligarchs from Russia and elsewhere.
In September of 2020 it was revealed that Donald Trump paid just $750 in income tax in both 2016 and 2017, while claiming jaw-dropping deductions such as $70,000 for hair styling. But as Donald Trump put it in a 2016 debate, when Hillary Clinton confronted him about his tax evasion, "That makes me smart." Less indicative of intelligence are the loans that have him on the hook for over a billion dollars to various international banks who therefore have substantial power to influence the American government.
COVID-19 Diagnosis
In October of 2020 Donald Trump was diagnosed with COVID-19 in an event that was lauded by Popdust.com as "maybe the purest example of karma ever."
Many predicted that Donald Trump was at particular risk from the disease—and was placed on supplemental oxygen as well as an aggressive regime of experimental medicines, suggesting a severe case. However, he soon addressed his supporters—claiming that he was feeling "better than I did 20 years ago," and was not contagious—and said of the virus, "Don't let it dominate your life."
Mad Max Fury Road Immortan Joe Speech www.youtube.com
Reports vary as to whether Trump then added, "Do not, my friends, become addicted to Oxygen. It will take hold of you, and you will resent its absence!"

2020 Reelection Campaign
Donald Trump is running for reelection against Democratic candidate Joe Biden, and considering the resources available to cheat and suppress the vote—and the likelihood that he will face prosecution if he loses—it remains a distinct possibility that he will defy the polls and win.
If he succeeds, opportunities to avert climate disaster or revive any semblance of democracy in America are likely to never return.
Keep reading...
Show less