We've all been there. You were gifted a dumb present that you'll never in a million-zillion years ever use and you're too polite to tell anyone any differently. It sits at the bottom of your drawer for months, then years. And when you finally feel like enough time has passed, you can throw it out in good conscience.
A return is almost always out of the question. Plus, gift givers don't often include a return receipt, and we all know we wouldn't dare ask for one. I'd rather admit to a crime than confess I don't like a gift - how insulting to the gifter's sense of aesthetics.
And-hey, I have limited drawer space. Who can keep these unwanted gifts for six months when there isn't any space for them? I hate clutter, and unwanted gifts are just that.
This year, I am making an effort to swiftly remove any unwanted gifts from my house without hurting anyone's feelings…and potentially benefiting others. As the old saying goes, one man's trash is another man's treasure. And thank goodness for that.
From the The Guardian:
"According to research published this week by the consumer body, one in four people (24%) received an unwanted or unsuitable gift for the Christmas of 2021. Meanwhile, a separate study by the personal finance comparison site Finder said £1.2bn was wasted on unwanted Christmas gifts each year."
Come to terms with the fact that you will never use that gift and follow these quick tips to offload those unwanted gifts:
Donate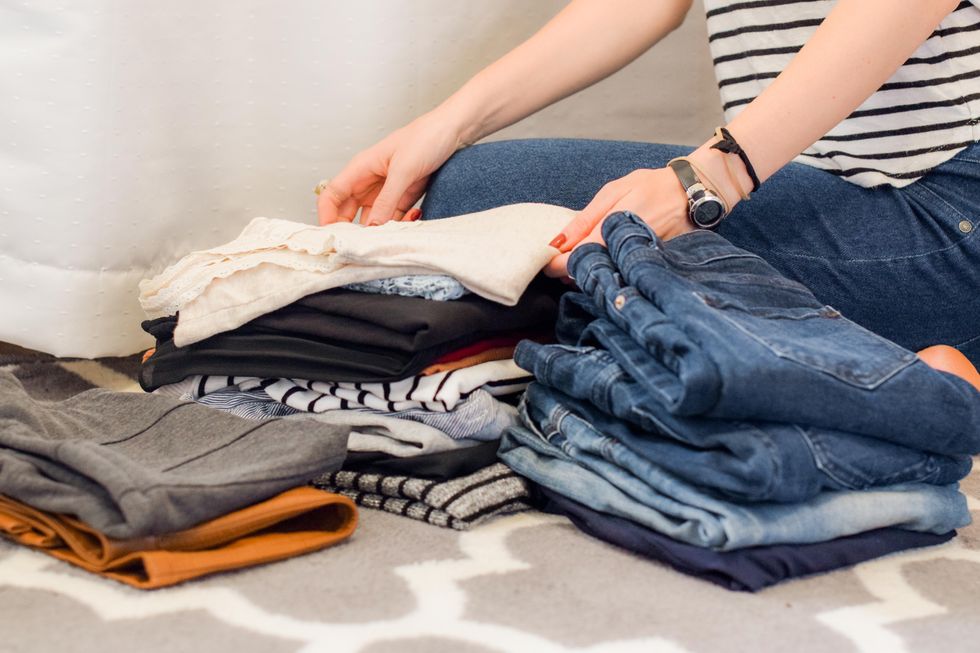 Sarah Brown via Unsplash
The most obvious choice for those unwanted pairs of mud-green sweat socks and that same fluffy robe you get every year from your Aunt Judy is to donate them. Just round up everything you don't want and Google the donation center closest to you.
This is also a fantastic excuse to purge your closet of that pile of stuff you've been meaning to get rid of. A few bags of give-away-clothes will get your spring cleaning out of the way early.
Sell Them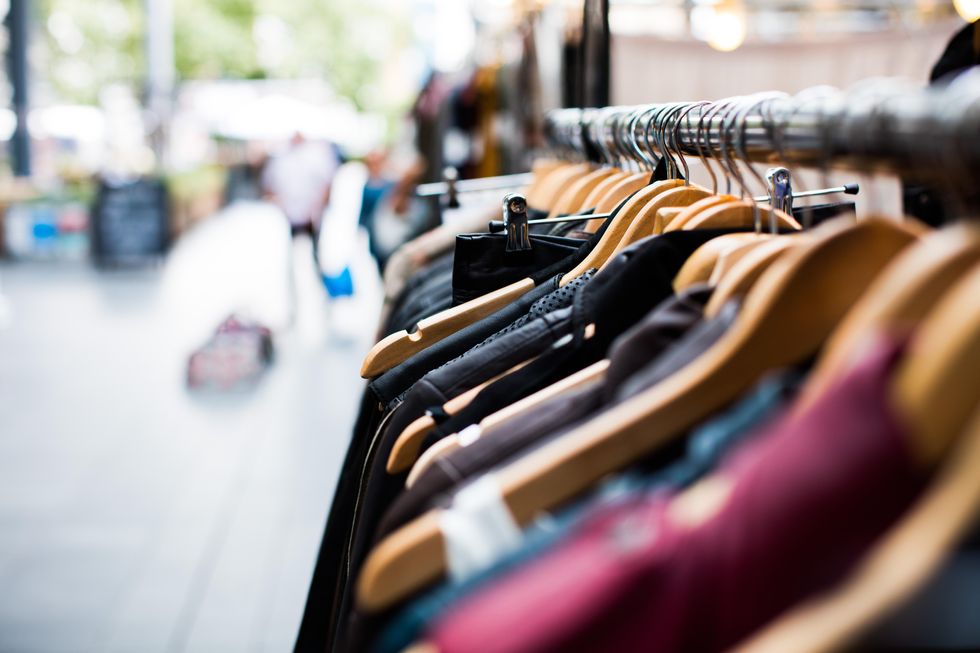 Artificial Photography via Unsplash
Resale websites are all the rage right now. If you got a pair of pants that don't fit or a sweater that isn't your style, resell them on a website dedicated to just that. Sites like Poshmark, Mercari, and DePop are known for selling those trendy pieces of clothing you barely used.
Thrifting has never been hotter. Hop on the trend while people are constantly perusing sites for the hottest deal. Then reward yourself for being so virtuous, by dropping the cash on some fabulous things you'll actually wear!
Re-Gift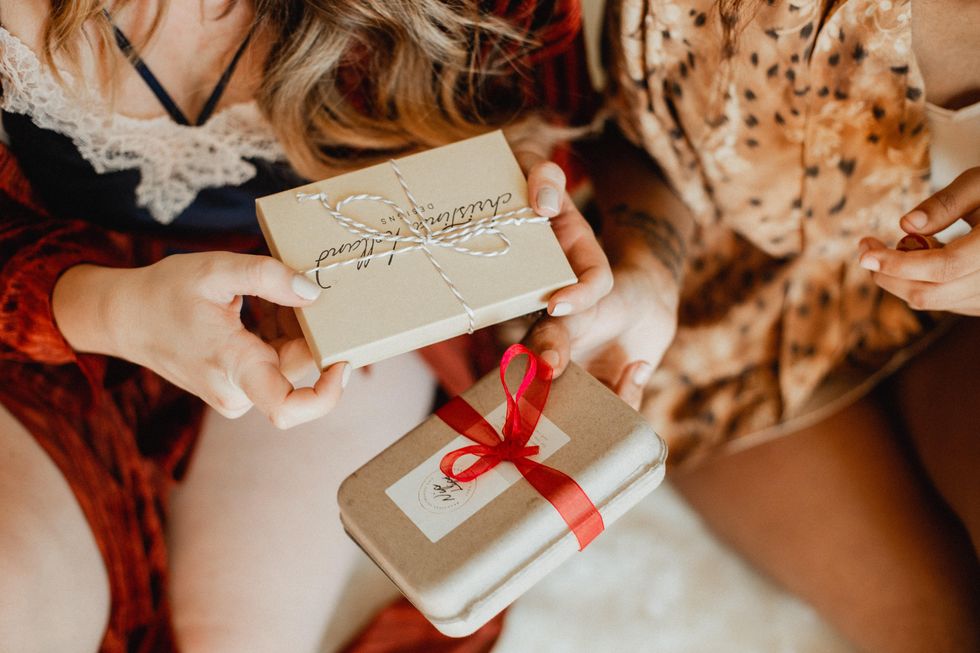 Jackie S via Unsplash
If you got something that you think one of your friends or family can benefit from, why not give it to them? There's no shame in revealing that it was a gift and you don't want it anymore…as long as you aren't re-gifting to the person who gave it to you!
Or, keep the gifts to re-gift at a later date. You never know when you're going to need a last minute gift. You'll thank yourself later.
Attempt a Return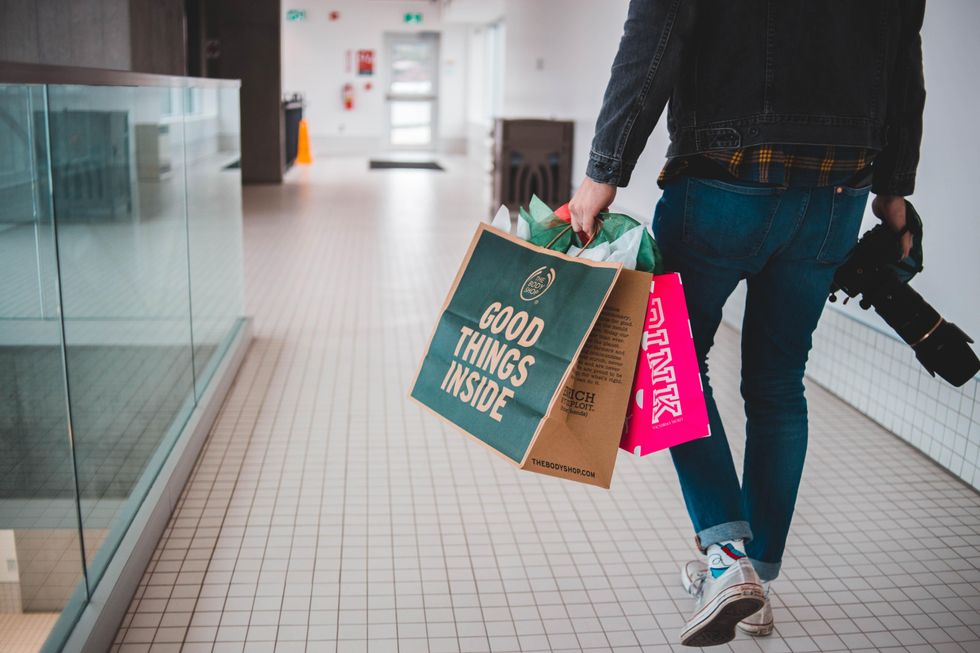 Erik McLean via Unsplash
If your item still has a tag, you can make a valiant effort to return to the store. If you can make your case, many stores won't want to fight you on it. They may be forgiving and grant you store credit at the very least.
In the last year, we've fallen head over heels for Thrive Causemetics. This vegan, cruelty-free beauty brand has not only transformed our day-to-day looks but also where we decide to spend our money.
Thrive Causemetics stands out not just for its long-lasting, game-changing products but also for its Bigger Than Beauty™Giving mission. When you purchase from Thrive Causemetics, they donate products and cash to organizations that help women thrive. In the past, sizable donations have also been made to support those impacted by COVID-19 and the California Wildfires.
With June's arrival Thrive Causemetics is gearing up for another big donation on June 19th.
Juneteenth commemorates June 19, 1865, when the news of emancipation and the end of the Civil War finally reached Texas, more than two years after Lincoln's Emancipation Proclamation. Thrive Causemetics will be donating 100% of profits (up to $500,000) that day to nonprofit organizations across the US that are dedicated to racial and social justice and are advancing African-American and Black Communities.
Thrive Causemetics
Makeup & Skincare
100% Vegan + Cruelty-Free
Shop Now
While we love Thrive Causemetics for their makeup and skincare, we love their commitment to social justice even more. With that in mind if you're already a fan of this brand then June 19th is definitely the day to stock up and know that your money is going to an important cause.
New to Thrive Causemetics? Their products are free of parabens, sulfates, phthalates, and synthetic fragrances while being packed with high-quality formulas and technology. Plus, they even have an amazing subscription option so you'll never run out of your essentials and you get free shipping.
This affordable, award-winning brand has so much to offer from cosmetics to skincare and all made with an inclusive range of shades that work for every skin tone and skin type. Start your journey with Thrive Causemetics on Juneteenth and help others thrive.
Here's what we recommend filling your Thrive Causemetics cart with on June 19th (their best sellers of course):
Liquid Lash Extensions Mascara™
The best-selling mascara that won't flake, smudge, or clump.
A cream-to-powder highlighter that you can use for an instant eye lift or smokey eye.
Buildable Blur CC Cream™ Broad Spectrum SPF 35
Foundation, sunscreen, and moisturizer in one - available in 18 shades.
Defying Gravity Eye Lifting Cream™
Instantly lift, tighten, and brighten the look of skin around your eyes (and hydrate!).
Buildable Blur™ HD Creaseless Concealer
Ultra-lightweight, buildable, waterproof + crease-proof formula - available in 24 shades.
Concerned by beauty industry scandals lately? We got you.
Whether it's big beauty brands still including harmful ingredients, or overpromising and under-delivering, we're tired of trying to cut through the noise.
We've finally found a brand we're throwing our support behind 100%: Thrive Causemetics. They're an inclusive makeup and skincare brand that strives to create the highest quality beauty products, and use their status as a reputable brand to give back!
Founded in 2015, they've already manufactured an award-winning mascara and given millions of products and dollars to different communities who could use the support.
Here's everything you need to know.
What is Thrive Causemetics?
They're a company that delivers iconic, high-performance products that are 100% vegan, cruelty-free and don't include any harmful ingredients, like parabens or sulfates
What products do they sell?
You can find anything for your beauty and skincare needs!
If you need a new mascara, get the Liquid Lash Extensions Mascara™ immediately. It lifts, lengthens, and provides incredible volume, thanks to a blend of castor seed oil, shea butter, Orchid Stem Cell Complex™, and Youth B5 Complex™ that help build healthy lashes over time. It's also so good, it looks like you're wearing falsies, and it never clumps or flakes (but still comes off with just warm water and a washcloth). Not to mention, it comes in a unique Brown Black shade which we love, as well as Rich Black.
There's the Brilliant Eye Brightener™ that instantly brightens your eye area with a universally flattering glow. It's easy to use, hydrating, waterproof and is the perfect accessory for any Zoom call.
We also love the Buildable Blur CC Cream™ with SPF 35 in 18 shades, the Infinity Waterproof Eyeliner™ in 7 colors, and their Liquid Light Therapy All-in-One Face Serum™ that mimics red and blue light therapy for a glowing complexion.
How much do they cost?
Prices are super affordable considering the high-quality and clinically-proven ingredients used. The Mascara is $24, and the whole line ranges from $16 to $62. The key here is incredible quality and efficacy at an affordable cost (for the beauty world).
How does the subscription work?
It's always optional, but if you want to guarantee free shipping, you can opt in to get certain products delivered every 1, 2, 3, or 4 months, so you never run out.
How do they choose ingredients?
First off, they're always 100% vegan and cruelty-free. They also work to source ingredients that replenish your skin, your lashes, your face, so they won't dry you out or cause harm.
What are people saying?
Not only has the brand grabbed an Allure Beauty award, but their products are beloved, with the Liquid Lash Extensions Mascara™ and theBrilliant Eye Brightener™ ascending to cult must-have status. Their colors are approachable and inclusive, they serve a wide range of skin tones, and the products have silky non-flaky textures.
How is Thrive Causemetics different from other organizations that give back?
They're extremely transparent about where your money is going, so you know it's going to actual causes. For every product purchased, they donate to help a woman thrive; they've already given $500,000 worth of Thrive Causemetics products to frontline workers battling Covid-19.
In 2020, they spread their donations across multiple organizations that support first responders, women experiencing homelessness, women fighting cancer, families facing food insecurity, racial justice advocacy, grocery + restaurant workers, women surviving domestic abuse, underserved marginalized youth, healthcare professionals, LGBTQ+ advocacy organizations, and women veterans.
Also, 100% of the profits of their Moisture-Enriched Hand Sanitizer is donated to the Black Women's Health Imperative, "the first nonprofit organization created by Black women to help protect and advance the health and wellness of Black women and girls."
We're tired of two shade offerings from brands that don't seem to care about what ingredients they use. Thrive Causemetics is the real deal when it comes to amazing products and using your brand as more than just a brand, but a way to support communities of women.
JUST FOR YOU: Our friends at Thrive Causemetics are giving readers FREE shipping on all orders $35+ and a FREE makeup bag with each purchase! Follow this link to shop!