Dall-E Mini, the AI-powered text-to-image generator has taken over the internet. With its ability to render nearly anything your meme-loving heart desires, anyone can make their dreams come true.
DALL-E 2, a portmanteau of Salvador Dali, the surrealist and Wall-E, the Pixar robot, was created by OpenAI and is not widely available; it creates far cleaner imagery and was recently used to launch Cosmpolitan's first AI-generated cover. The art world has been one of the first industries to truly embrace AI.
The open-sourced miniature version is what's responsible for the memes. Programmer Boris Dayma wants to make AI more accessible; he built the Dall-E Mini program as part of a competition held by Google and an AI community called Hugging Face.
And with great technology, comes great memes. Typing a short phrase into Dall-E Mini will manifest 9 different amalgamations, theoretically shaping into reality the strange images you've conjured. Its popularity leads to too much traffic, often resulting in an error that can be fixed by refreshing the page or trying again later.
If you want to be a part of the creation of AI-powered engines, it all starts with code. CodeAcademy explains that Dall-E Mini is a seq2seq model, "typically used in natural language processing (NLP) for things like translation and conversational modeling." CodeAcademy's Text Generation course will teach you how to utilize seq2seq, but they also offer opportunities to learn 14+ coding languages at your own pace.
You can choose the Machine Learning Specialist career path if you want to become a Data Scientist who develops these types of programs, but you can also choose courses by language, subject (what is cybersecurity?) or even skill - build a website with HTML, CSS, and more.
CodeAcademy offers many classes for free as well as a free trial; it's an invaluable resource for giving people of all experience levels the fundamentals they need to build the world they want to see.
As for Dall-E Mini, while some have opted to create beauty, most have opted for memes. Here are some of the internet's favorites:
There's no looking back now, not once you've seen Pugachu; artificial intelligence is here to stay.
2021 has already brought good news: A Barbara Walters impression can still team up with tequila shots to turn Anderson Cooper into a beautiful, hysterical mess.
"Saturday Night Live" alum Cheri Oteri joins @AndersonCooper and @Andy Cohen for New Year's Eve and revives her ico… https://t.co/TguEYQE8XO

— CNN (@CNN) 1609466811.0
In honor of national treasure Anderson Cooper, we joyfully bring you this flashback from one year ago, when our collective attention was once again on his eye crinkles of hope. Remember our innocence then? Neither do we, but at least we still have Anderson Cooper's giggles.
Originally published on Jan 1, 2020
No doubt the coming year will offer plenty of apocalyptic weather events and political drama that will have us all pulling our hair out — election day here we come! But the good news is that the new year has already produced one of those rare, shining moments of pure joy that make it possible to crawl out of bed and face the ugliness of the world each morning.
'SNL' alum revives Barbara Walters character, Anderson Cooper loses it www.youtube.com
It's all thanks to an unlikely petition on Change.org, recalling an iconic TV slogan from 15 years past. Barbara Walters, who hosted the ABC program 20/20 until 2004, would always open the show with the phrase, "I'm Barbara Walters, and this is 20/20."
The petition to have her host the annual ball drop and ring in the New Year with that phrase was started in January of 2019, and by the end of December it had only managed to collect around 7,000 signatures. It wasn't enough to make that vision a reality, but it was enough to get a shout out in CNN's New Year's Eve coverage. And with the help of a former SNL cast member and several scorching shots of tequila, that shout out turned into something truly spectacular.
This is 2020 www.youtube.com
It's maybe not that surprising that CNN was unable to get the real, 90-year-old Barbara Walters to brave the crowds and the cold of Times Square for the midnight announcement.
Fortunately, Cheri Oteri was on hand to provide the next best thing. Reprising the impression of Walters that she perfected in her days on SNL, Oteri brushed off a suggestion that she could return to The View, and instead pitched a reality show following Walters' jet-setting lifestyle, populated by a cast of geriatric former celebrities and some imaginary senior-specific dating apps, such as "Loose Skin."
The material itself is worth a laugh, and if you're old enough to have a memory of Barbara Walters on 20/20, then you probably know how good Oteri's impression is, but what makes the moment truly special is Anderson Cooper's hysterical, buckled-over laughter.

As it turns out, the shots of tequila that co-host Andy Cohen kept giving to Cooper as the night wore on really did their job, leaving Cooper loose and goofy by the time Oteri started turning to the camera to deliver, "This is 2020." The pure joy he unleashes as a result is impossible to resist.

What makes it even better is going back to see footage of Cohen and Cooper throwing back those tequila shots and Cooper taking each one like a mouthful of pure fire. After each one goes down, Anderson Cooper's cool and collected demeanor devolves into paroxysms of shrieking, gasping disgust that finally prompt Cohen to ask, "Are you kidding?!" to which Cooper can only say, "I don't drink!"
Anderson Cooper trying to drink tequila on television www.youtube.com
Clearly his lack of tolerance is a testament to that. But why don't you drink, Anderson? You're so fun when you drink!
This is not intended as an endorsement of any unhealthy habits — the best medical advice dictates that drinking should be reserved for special occasions and restricted to moderate portions — but have you ever considered getting hammered during all of your broadcasts, Anderson? It might not align with professional journalistic standards, but I'm sure that a lot more people would tune into Anderson Cooper 360 if every episode involved you attacking your throat with liquor and collapsing in a fit of giggles.
Now, thankfully, in 2021 we have another one of these joyful little gems to help us survive a world that feels like it's burning.
Keep reading...
Show less
Howard Kurtz is equally tired of Republicans trying to stage a coup and of Democrats getting mad about it.
On Wednesday morning, Fox News host Howard Kurtz took to Twitter to let the world know that both sides are bad in the most hilarious attempt at false equivalency in modern memory.

Host of the Fox News show Media Buzz, Kurtz recognizes the dangerous game the Trump administration is playing. By blocking President-Elect Joe Biden and his team from transitional access to the workings of the federal government, they are threatening the stability of America's institutions.
A smooth transition of power is essential. And people like Secretary of State Mike Pompeo and General Services Administrator Emily W. Murphy are flouting that important process.

Sec. of State Mike Pompeo: 'There will be a smooth transition to a second Trump administration' www.youtube.com
In order to prop up Donald Trump's continued denial of the fact that he lost the election, they are refusing access to Biden's team. Pompeo even mocked a reporter's question on the issue in a press conference on Tuesday, remarking that there would be "a smooth transition to a second Trump administration."
In case there is any uncertainty, it should be noted that Joe Biden unequivocally won the election, and the only way to achieve a "second Trump administration" would be through a coup.

Read: Joe Biden Has Officially Won the 2020 Presidential Election—Now How Do We Get Rid of Donald Trump?
But Kurtz knows that this issue—like every issue in American politics—cannot possibly be one-sided. That's why he identified the major culprit on the other side of the aisle: Sister Act star Whoopi Goldberg.
One of the hosts of ABC's daytime talk show The View, Goldberg had a message on Monday for any of Donald Trump's supporters who are still in denial about the election's clear outcome. Addressing the camera directly, the comedian and actor told them to "suck it up."
"Hillary Clinton didn't say, 'Hey, wait a minute, this doesn't feel right, stop the count.' She didn't say, 'This doesn't feel right, I'm not going for it.' She didn't say any of that. So all of you, suck it up. Suck it up like we sucked it up."
From Trump's GSA barring Biden transition officials from federal buildings to Whoopi Goldberg telling his voters to… https://t.co/musEsjBXz1

— HowardKurtz (@HowardKurtz) 1605097229.0
Of course many Trump supporters would no doubt take issue with the idea that a three-year investigation into electoral misconduct—resulting in dozens of indictments and guilty pleas, including several figures from within the Trump campaign—was "sucking it up."

But Whoopi left room for them to pursue the same approach with Biden, saying, "If the law says it's something to look at, look at it." It's just that first they have to acknowledge the reality of the election results.
They have to stop clinging to phony claims of fraud and stories about election observers being excluded. They have to accept the election results and admit that Joe Biden and Kamala Harris won.
Still, Howard Kurtz felt that Goldberg—the woman who allowed Patrick Swayze to possess her so he could dance with Demi Moore in Ghost—had overstepped the bounds of her sacred duty. Pushing voters to accept the outcome of a democratic election is apparently out of line.
And who has a responsibility to remain politically impartial more so than the star of 1995's classic Theodore Rex—a movie about a dinosaur who is also a cop?
It was Howard Kurtz's own tweet promoting a column he wrote on "both sides" of the election dispute that highlighted the supposed parallel between Whoopi Goldberg and top Trump administration officials. But when "Whoopi Goldberg" became a trending topic on Twitter—with users mocking his comparison—Kurtz pushed back, saying in another tweet, "Gee, I'd really prefer people react to the whole column about anger and payback on both sides."
ah yes, the famous two sides, "the president of the United States" and "Whoopi Goldberg" https://t.co/DiQoOoz6OW

— Albert Burneko (@Albert Burneko) 1605106033.0
Leaving aside the fact that he chose those ridiculous examples to put in his original tweet, reading the full column doesn't make it much better.

Kurtz draws absurdly stretched comparisons throughout. He likens comments from a former Obama and DNC spokesperson to the actions of two sitting senators.
The former spokesperson, Hari Sevugan, recently called for Trump staffers to be held accountable for assisting in an attempted coup—for employers to shun them. On the other side, the two sitting senators from Georgia have called for the resignation of Georgia's secretary of state just for acknowledging that Joe Biden won the state through legal votes.
Never mind the strangeness of placing a man who no longer speaks for any political institution on the level of two of the nation's top legislators. While it's worth noting that they're obviously in different leagues, the reality is that they aren't even playing the same game.

Because Senators Perdue and Loeffler—who both face contentious run-off elections in January—weren't weren't criticizing the other side. They were attacking a fellow Republican simply for not supporting the president's delusional belief that he somehow won an election he clearly lost.
Kurtz's only other example of a Left-wing attack is a political commentator who hasn't been on MSNBC since 2015. Touré wished ill on Trump supporters for voting "against America and for a cult leader who has no redeeming or admirable qualities."
As for the Right-wing, Kurtz points to Attorney General Bill Barr, who has taken the unprecedented step of involving the Justice Department in what is technically an ongoing election. Before a winner is officially certified, Barr has approved investigators to pursue claims of election fraud.
There is, of course, no reason not to be vigilant in these matters. Investigators should pursue any legitimate allegation in an unbiased manner.
But at the moment there are no legitimate allegations—just a series of flimsy excuses. And Barr has spent his entire tenure as AG making it clear that his Justice Department is anything but unbiased. He works directly for Donald Trump. Which is presumably why Barr's latest move prompted the department's election crimes chief to resign this week.
With Bill Barr's newly issued 'Election Interference' memo, apparent we have a second Barr policy to add to the OLC… https://t.co/7ZcqQqsPBH

— Glenn Kirschner (@Glenn Kirschner) 1605044639.0
So, no, there is no "both sides" in the election dispute. Joe Biden won the election, and Donald Trump is using his power and his supplicating cronies in an effort to undermine the democratic result.

On the Left, media figures of varying stature are being rude and pushing Trump supporters to accept reality. On the Right, people with real power are supporting an attempted coup that strikes at the heart of American democracy–and attacking those who don't as apostates.
As is so often the case with efforts to find blame on "both sides," Kurtz is trying to provide cover for Republicans' blatant misconduct by dredging up petty gripes with the Democrats.
The reality is: Democrats and Republicans are not equivalent. In terms of corruption, deceptive rhetoric, and blind party loyalty, the Democrats are horribly outmatched. Kurtz's pathetic attempt to make it seem otherwise only serves to make that more clear.
Keep reading...
Show less
The view was actually...interesting?
Donald Trump Jr. appeared on this morning's episode of The View with his partner Kimberly Guilfoyle as part of the promotional tour for Trump Jr.'s new book, Triggered: How the Left Thrives on Hate and Wants to Silence Us.

Meghan McCain Confronts Donald Trump Jr. on His Father's 'Character' | The View www.youtube.com
If the purpose of the interview was to provoke as much drama and incoherent cross-talk as possible, it was a wild success. The insanity opened with Meghan McCain at her passive-aggressive best, insisting that people "miss the soul" of America, and asking if Trump Jr. felt good about his father insulting the gold star Khan family. From there things devolved into defensive accusations of blackface and rape-minimizing, rehashing of the Trump-McCain feud, and Whoopi Goldberg loudly pleading for an unspecified someone to apologize. Meanwhile, whoever runs Trump Jr.'s Twitter account was already on the offensive, digging up the video of Joy Behar discussing her "beautiful African woman" costume from 50 years ago.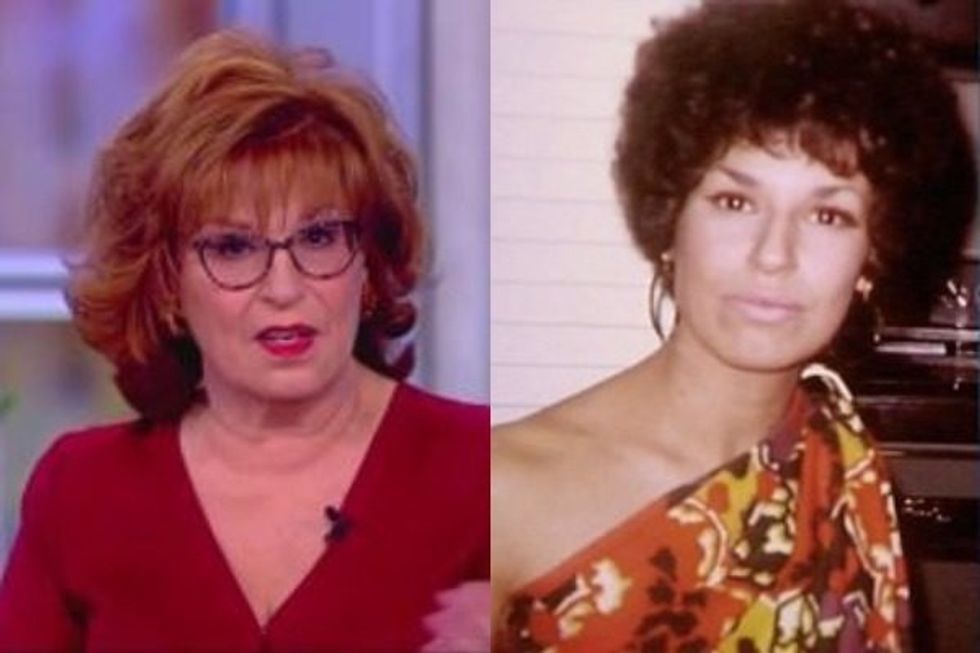 How is it not blackface?
As the interview continued, Trump Jr. deflected questions about Ukraine—and his tweet containing the name of an alleged whistle-blower—by calling out ABC and CBS for cooperating in the reported firing of an employee who recently leaked footage of anchor Amy Robach. The footage in question exposed an apparent top-down effort to bury the Jeffrey Epstein story. Jeffrey Epstein, of course, was the wealthy financier at the center of an elite pedophile ring who didn't kill himself in his cell in the Metropolitan Correctional Center in August.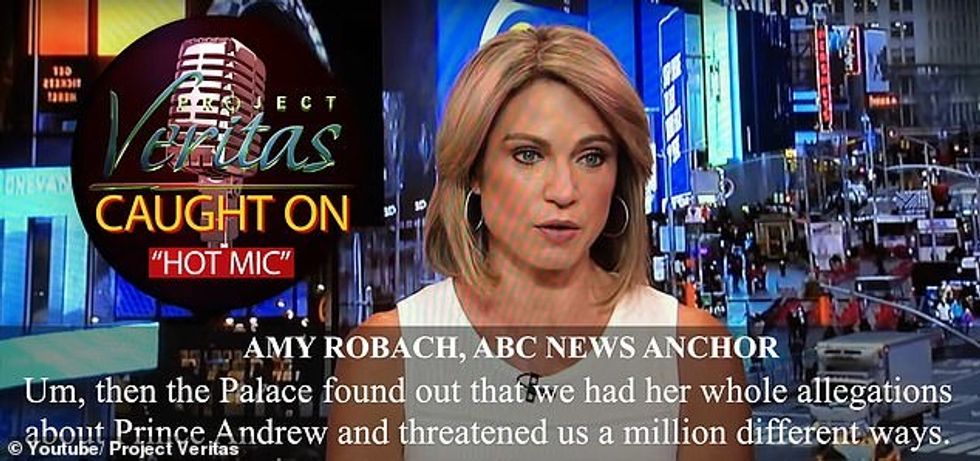 Try to ignore the fact that this was leaked by Project Veritas...
Apart from this public service, the whole interview was a mess. It should have been obvious to anyone watching that it was not going to go well. Along with the extensive history of vitriol passing between the Trump family and the hosts of The View, Trump Jr.'s appearance was a dead giveaway. He looked gaunt and waxen, his forehead slick with a sheen of cold sweat, eyes wild, red, and swollen with exhaustion. It was hard not to be reminded of Kendall Roy in the season two premiere of Succession. The haggard interview where his sister says he's "like a sweaty corpse," and his brother-in-law compares him to "an unshaven candle."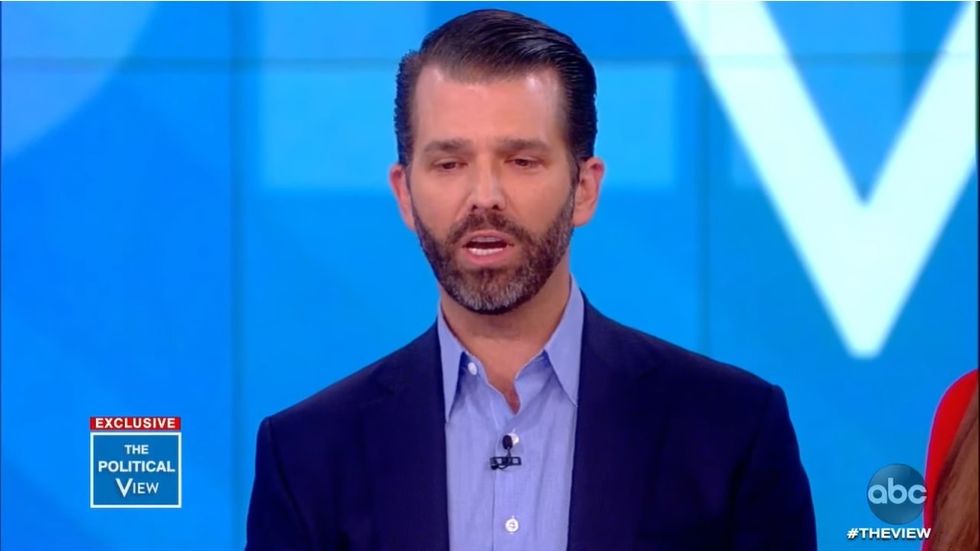 Of course Kendall Roy's rough appearance in that interview is tied closely to his cocaine addiction. While it would be inappropriate to suggest that Donald Trump Jr. has any relationship with stimulants, it would explain his frenzied cadence as he declared that "it is worth it, when I go around the country, and I see people who are affected by these policies, who are getting to live their American dream again," his words tripping over each other in the race to slip past his bleached-white teeth.
Triggered was published on Tuesday and has received rave reviews for containing delightful stories, like the time Donald Trump let Trump Jr. play video games with Michael Jackson and how that means he's not racist. It's available now, wherever awful ghostwritten books are sold.