Dall-E Mini, the AI-powered text-to-image generator has taken over the internet. With its ability to render nearly anything your meme-loving heart desires, anyone can make their dreams come true.
DALL-E 2, a portmanteau of Salvador Dali, the surrealist and Wall-E, the Pixar robot, was created by OpenAI and is not widely available; it creates far cleaner imagery and was recently used to launch Cosmpolitan's first AI-generated cover. The art world has been one of the first industries to truly embrace AI.
The open-sourced miniature version is what's responsible for the memes. Programmer Boris Dayma wants to make AI more accessible; he built the Dall-E Mini program as part of a competition held by Google and an AI community called Hugging Face.
And with great technology, comes great memes. Typing a short phrase into Dall-E Mini will manifest 9 different amalgamations, theoretically shaping into reality the strange images you've conjured. Its popularity leads to too much traffic, often resulting in an error that can be fixed by refreshing the page or trying again later.
If you want to be a part of the creation of AI-powered engines, it all starts with code. CodeAcademy explains that Dall-E Mini is a seq2seq model, "typically used in natural language processing (NLP) for things like translation and conversational modeling." CodeAcademy's Text Generation course will teach you how to utilize seq2seq, but they also offer opportunities to learn 14+ coding languages at your own pace.
You can choose the Machine Learning Specialist career path if you want to become a Data Scientist who develops these types of programs, but you can also choose courses by language, subject (what is cybersecurity?) or even skill - build a website with HTML, CSS, and more.
CodeAcademy offers many classes for free as well as a free trial; it's an invaluable resource for giving people of all experience levels the fundamentals they need to build the world they want to see.
As for Dall-E Mini, while some have opted to create beauty, most have opted for memes. Here are some of the internet's favorites:
There's no looking back now, not once you've seen Pugachu; artificial intelligence is here to stay.
For most people, Biden's plan is great news.
With the election of Joe Biden to the Presidency, you're probably here seeking to understand how much your taxes are going to go up.
The answer: most people will see no tax increases.
The tax plan that Joe Biden has rolled out is targeted at individuals making more than $400,000 a year, less than 1% of the population of the US. If you (like me) are not one of these lucky individuals, then it's very-likely that nothing in this article is going to apply to you.
But, for argument's sake, let's hop in the Model S, drive over to the penthouse, and analyze what Biden's tax code plans mean for you.
If you make over $400,000 a year
First, Biden is going to impose a 12.4% tax on incomes over $400,000 to fund Social Security, split evenly between employers and employees. This is a new tax, because Social Security taxes in the past have been capped on income at or below $137,700.
People who made over $137,700 had a tax break where they didn't have to pay into Social Security for all of their income. Biden's tax plan still allows people making over $137,700 to not pay the Social Security payroll tax for income above that amount as long as they make under $400,000.
When your income exceeds $400,000, you then have to start paying the tax again. This creates an interesting tax structure where people's income at the very bottom and the very top of their income is being taxed for Social Security, but income in the middle is not.
Second, while Biden is likely to keep many of changes from the Tax Cuts and Jobs Act, he has stated that he is going to revert the marginal tax rate for individual incomes above $400,000 from 37% back to the previous 39.6%. As with the Social Security tax, this does not kick in unless your income goes above $400,000.
Individuals making above $400,000 will also have their incomes above $400,000 see itemized deductions capped at 28%. That means if your income is over $400,000 and your tax rate is over 28%, you have less options for itemizing your deductions to get a lower tax rate.
Some business owners have benefitted from deducting up to 20% of their business income as well as 20% of the dividends from qualifying Real Estate Investment Trusts (REITs) on their taxes. Biden is proposing phasing that out for incomes above – drumroll - $400,000.
But what if you're not just making $400,000 a year? What if you are making even more than $400,000 a year? What if you earn over $1 million a year? That's when Biden's really going to hit you where it hurts – your investments.
Most people pay taxes on what's called "earned income," referring to things like your salary at your job. The tax rates for that range from 10% to 37%, depending on how much you make. If you make money from investments instead, that's a whole different story.
If you buy an investment and sell it for a profit within one year of purchase, you would pay your normal income tax on any profit you make. But if you hold the investment for longer than a year, you pay a reduced tax rate between 0% and 20%, depending on your income.
If you make over $200,000 ($250,000 for married couples), you would also pay a 3.8% tax on net investment income. What Biden is proposing is taxing any income over $1 million the same regardless of it comes from your salary or your long-term investments.
The wealthiest people in the US have seen a large amount of their income come from investments, and this measure would keep the wealthiest Americans from paying less in taxes than average working people just because the money comes from holding stocks or real estate instead of a traditional job.
If you make under $400,000 a year
Let's say that you, like more than 99% of Americans, do not make $400,000 a year. Does this mean Biden's tax plan will not affect you at all? There's actually a decent chance you might see some changes to your taxes.
Biden is proposing bringing back the First-Time Homebuyers' Tax Credit, originally created to help the housing market during the Great Recession, and provide up to $15,000 for first-time homebuyers. With interest rates at historic lows, this may be another incentive for you to consider dipping your toes into the real estate game and becoming a homeowner.
Biden is also proposing expanding the Child and Dependent Care Tax Credit from $3,000 up to $8,000 for one dependent and $16,000 if you have multiple dependents. The maximum reimbursement rate would also adjust from 35% to 50%. If you have kids or other dependents, this may reduce how much you pay in taxes by giving you a child tax credit the money you spend to support your family.
Biden also has a few very targeted tax cuts and tax benefits that will apply to a much smaller group of people. One is expanding the Earned Income Tax Credit (a tax credit for low-income people who are very close to the poverty line) and allowing people over the age of 65 to also claim the credit even if they do not have dependent children.
He would also provide a refundable low-income renter's credit, reinstate tax credits for the purchase of electric vehicles and improvements to your home to make them more energy-efficient, as well as exempt forgiven student loans from taxable income. These may not apply to as wide a group of people, but if you're older, a renter, looking to live a more green lifestyle, or seeking forgiveness for student loans, Biden's tax proposals can have you looking at a smaller tax bill.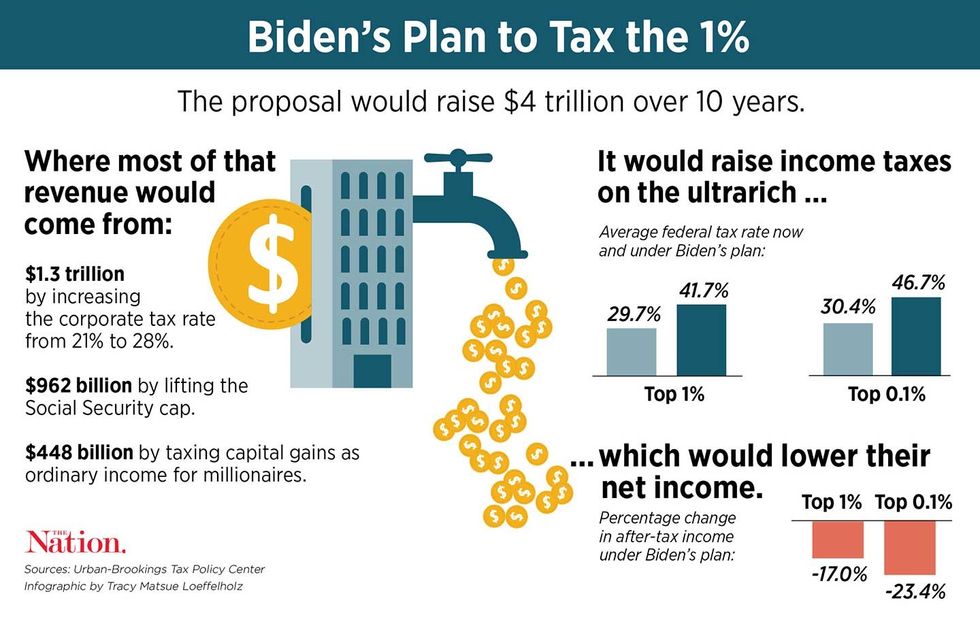 Biden's plans for inheritances
At first glance, it looks like everyone making more than $400,000 a year will pay higher taxes and everyone else will pay less taxes than they currently do. However, there is a part of Biden's tax plan that may have an impact on you even if you are lower income – if you have a rich family.
The Tax Cuts and Jobs Act raised the threshold at which estate taxes are paid and lowered how much they have to pay in taxes. If you stand to inherit an estate worth $11.6 million dollars today ($23 million if you are a married couple), right now you don't pay taxes on it.
If you inherit more than that, you would pay a top rate of 40% tax. Biden is proposing lowering the threshold where the tax would kick in back down to $3.5 million ($7 million for married couples) and raising the tax rate back to 45%. This will affect roughly 0.3% of estates. If you are in the 99.7%, you do not need to worry about the Biden inheritance policy.
Now, the next part is closing an inheritance loophole called the "stepped-up basis" loophole. Right now, when an heir inherits an asset, they only pay taxes on the gain in value of the asset from the time that they inherited it.
Let's say your parents bought $100 worth of stocks decades ago and today those stocks are worth $10,000. If your parents passed away and left you the stocks, you would be allowed to sell them immediately and not pay any taxes.
If you held the stock and the price rose to $12,000, you would only pay taxes on the $2,000 in value the stocks gained since you inherited it. This because the initial value of the stocks would be "stepped-up" to the value at the time you inherited it rather than the value at the time your parents bought it.
This loophole has allowed the very wealthy to leave very valuable assets to their children without needing to pay taxes and allowed generations to pass large fortunes to their children. Biden has proposed closing this loophole and not stepping-up the value of an asset when it is inherited; taxes will instead be paid on the value of the asset from when it was first purchased.
This part of the plan has yet to be fully fleshed-out by Biden, but it appears to be modelled after a proposal from the Obama administration. That plan allowed an exclusion of $100,000 per person (rising with inflation) and excluding $250,000 for primary residences ($500,000 for couples). It also allowed a 15-year payment period and tax deferrals for family-owned small businesses. Biden may roll out similar provisions once he rolls his tax plan out before congress.
Does any of the Biden tax policy outlines even matter?
Maybe?
Biden has presented something of a wish list for his tax plan, but that doesn't mean he can wave a magic wand on January 20th and put it into place. This plan will require significant negotiations in Congress, and if Republicans retain a Senate majority, they may refuse to even allow a bill to have a hearing. Ultimately, Biden's tax proposals may change significantly as they work their way through Congress and if they are not able to garner enough support, they may never come into effect.
Keep reading...
Show less
Maybe tomorrow you'll wake up with $1,200 in your bank account–or maybe you don't qualify.
The IRS has officially started rolling out coronavirus stimulus checks to millions of Americans.
Between 50 and 70 million people are due to receive the stimulus checks, which are part of the government's $2.2 trillion economic recovery package and intended to stimulate the stalled economy during the coronavirus pandemic and subsequent shut downs of most aspects of civil life. Residents who've filed taxes in the past two years and submitted their direct deposit information began receiving the deposits on Friday of last week and are expected to receive them by Wednesday, April 15. Anyone who qualifies but has not submitted their direct deposit banking information is expected to receive a paper check at a later date. However, anyone who has not filed or made their banking information available may input their information in the IRS' new portal here.
Qualifying citizens are those who have reported an adjusted gross income of $75,000 or less. Filers of joint tax returns will receive a one-time payment of $2,400 and those will dependents will receive an additional $500 for each qualifying child. All others will receive the standard one-time payment of $1,200.
Meanwhile, Canada is providing its citizens who have lost their jobs due to the pandemic with up to four months of $2,000 CAD monthly payments. Australian citizens who have been furloughed from their jobs receive $1,500 AUD every two weeks. Newsweek reports that "Britain's government is issuing grants covering 80 percent of unemployed workers' salaries up to a total of £2,500 ($3,084) a month. The package also reportedly contains statutory sick pay for employees that have been told to self-isolate...Denmark has pledged to pay from 75 to 90 percent of employees' salaries up to a monthly amount of 26,000 Danish kroner ($3,288 USD)...France will pay 70 percent of an employee's gross salary to a monthly maximum of €6,927 ($7,575 USD)...Germany will pay 67 percent of net wages up to a maximum of €6,700 per month ($7,326.78 USD)....Ireland will give 70 percent of employee salaries up to a maximum of €410 per week ($448.36 USD)."
But sit tight and keep refreshing your bank account for that life-changing, crisis-averting one-time payment of $1,200...unless you're a U.S. college student who's still claimed as a dependent or a retiree who receives Social Security. Forget you guys.
A third swell of protests over hikes in gas prices erupts in violent riots and public outcry over France's social inequality.
In the heart of Paris, the Champs-Elysées and the Arc de Triomphe were scaled by protesters and graffitied on Saturday. Police fired tear gas, stun grenades, and water cannons at masked citizens donning bright yellow vests as they (the citizens) set fire to buildings and hurled crude projectiles in the streets.
Recent hikes in gas prices under President Emmanuel Macron have driven people to form a leaderless movement on social media and take to the streets.The most recent announcement of another tax increase set to begin on News Years Day initiated the first wave of demonstrations in mid-November. The price hike will add to an existing 23% rise in diesel costs that's occurred during Macron's first year as president.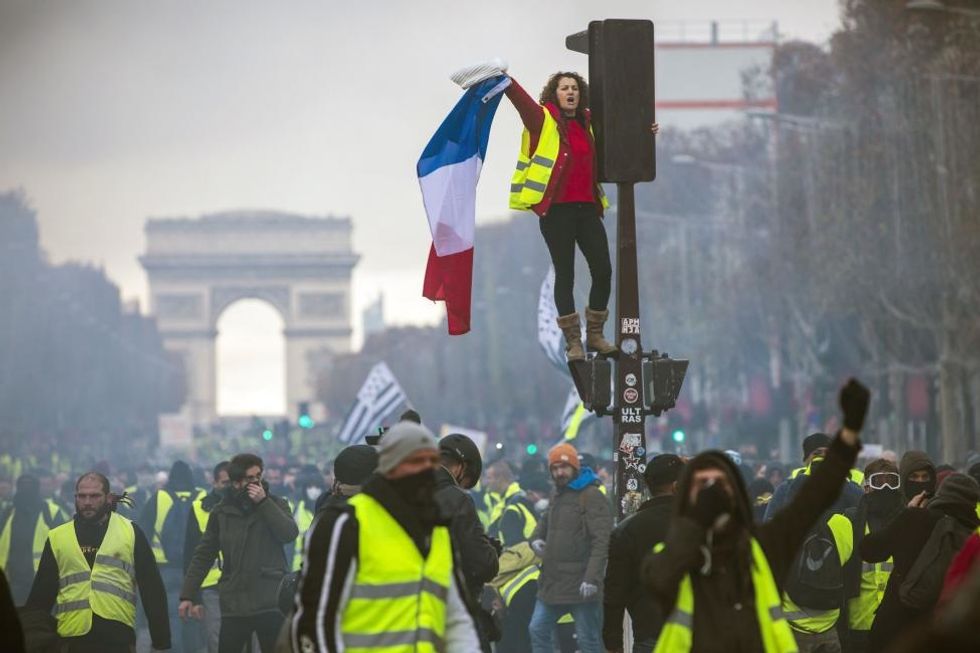 UPI
In France, all drivers must keep reflective yellow vests in their vehicles under a 2008 policy; the "gilet jaunes" or "Yellow Vest" movement represents motorists' protest of the added tax burden on fuel and government officials' blindness to civilian struggles.

The 36,000 demonstrators created the most violent display of civil disobedience to take place in the capital in more than a decade. The protests left 3 dead, 100 injured (including members of the French police), and nearly 400 arrests. The third wave of protests in as many weeks turned into "urban warfare" and "the worst riots in a generation," according to witnesses of flaming cars, vandalized buildings, and clashes between the French police and a faction of criminals who are said to have joined the protest solely to wreak havoc.
While prices of oil have risen worldwide over the past year, the French government has added its own taxes to the burden as part of their environmental policies. Macron's administration defends the new taxes as efforts to lower carbon emissions and encourage people to purchase more energy efficient cars–but the expectation that French citizens can alter their lifestyles and modes of transportation at the government's behest is out of touch with reality. Furthermore, increasing fuel prices places an unbalanced burden on working people who can't afford to reside in major cities and who rely on their cars to commute from and around rural and suburban areas.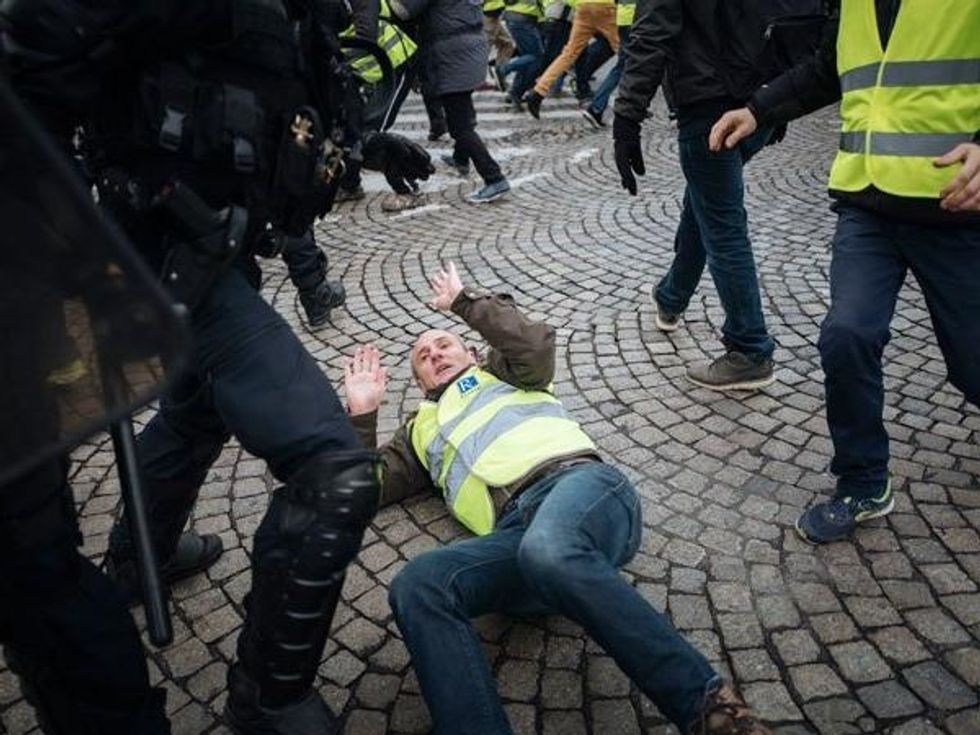 Times Now
But in many ways, the tax hike is only a capstone of social inequality that has frustrated citizens for too long. Florence, a 55-year-old demonstrator who works for a freight company outside Paris, expressed his motivations to The Guardian:

"We are here to protest against the government because of the rise in taxes [in general], not just petrol taxes, which is the straw that broke the camel's back. We've had enough. We have low salaries and pay too much tax and the combination is creating more and more poverty."
In response to public dissent, President Macron called an emergency security meeting on Sunday. His official statements have condemned the use of violence and defacement of national monuments. He said, "No cause justifies that authorities are attacked, that businesses are plundered, that passers-by or journalists are threatened or that the Arc du Triomphe is defiled." He also praised the emergency responders and French police, whom are seen below firing tear gas and water cannons at protesters, saying they've "showed unrelenting bravery throughout the day and evening."
French police fire teargas at 'gilets jaunes' protesters in Paris youtu.be
Outside of France, Parisians' actions against inequality seem to have inspired copycat riots in Belgium. Famke Krumbmuller, head of a Paris-based political consultancy, noted the protests touched a familiar chord and sent reverberations throughout Western Europe. She told CNBC, "I guess what's specific to this movement is that it is relatively apolitical, so they (the protesters) are not from just one party on the left or right. They're white, middle-class people that are squeezed by the welfare state. They pay a lot of taxes but they don't get a lot of benefits in return."

Looking ahead, President Macron's asked Prime Minister Edouard Philippe to hold a meeting with leaders of France's political parties and representatives from the "Yellow Vest" movement in order to negotiate a return to peace. However, according to the French paper Le Télégramme, some members of the "collective" oppose a meeting, claiming, "The government is only looking for a communication plan and we do not want to be a puppet." Another representative of the group, Christophe Chalençon, actually looks forward to the meeting, where he plans on asking the Prime Minister to resign.
Meg Hanson is a Brooklyn-based writer, teacher, and jaywalker. Find Meg at her website and on Twitter @megsoyung.