Dall-E Mini, the AI-powered text-to-image generator has taken over the internet. With its ability to render nearly anything your meme-loving heart desires, anyone can make their dreams come true.
DALL-E 2, a portmanteau of Salvador Dali, the surrealist and Wall-E, the Pixar robot, was created by OpenAI and is not widely available; it creates far cleaner imagery and was recently used to launch Cosmpolitan's first AI-generated cover. The art world has been one of the first industries to truly embrace AI.
The open-sourced miniature version is what's responsible for the memes. Programmer Boris Dayma wants to make AI more accessible; he built the Dall-E Mini program as part of a competition held by Google and an AI community called Hugging Face.
And with great technology, comes great memes. Typing a short phrase into Dall-E Mini will manifest 9 different amalgamations, theoretically shaping into reality the strange images you've conjured. Its popularity leads to too much traffic, often resulting in an error that can be fixed by refreshing the page or trying again later.
If you want to be a part of the creation of AI-powered engines, it all starts with code. CodeAcademy explains that Dall-E Mini is a seq2seq model, "typically used in natural language processing (NLP) for things like translation and conversational modeling." CodeAcademy's Text Generation course will teach you how to utilize seq2seq, but they also offer opportunities to learn 14+ coding languages at your own pace.
You can choose the Machine Learning Specialist career path if you want to become a Data Scientist who develops these types of programs, but you can also choose courses by language, subject (what is cybersecurity?) or even skill - build a website with HTML, CSS, and more.
CodeAcademy offers many classes for free as well as a free trial; it's an invaluable resource for giving people of all experience levels the fundamentals they need to build the world they want to see.
As for Dall-E Mini, while some have opted to create beauty, most have opted for memes. Here are some of the internet's favorites:
There's no looking back now, not once you've seen Pugachu; artificial intelligence is here to stay.
The economic impact of reopening is unclear, but the goal to keep government "small" is unwavering even in a crisis
In the coming weeks many US states will begin the process of loosening COVID-19 lockdown restrictions and "reopening" their economies.
Other states have already done so.
While the argument for reopening has been unequivocal—it's supposedly what we need to save our flagging economy from a full-blown depression—it's not clear that it will serve that function at all. Recent polling has shown that the vast majority of Americans support social-distancing and stay-at-home measures and are not enthusiastic about the prospect of going back to restaurants and crowded stores while the coronavirus pandemic is ongoing. Which means that the number of customers who return as states drop their restrictions may not be enough to keep small businesses afloat.
Unfortunately that majority opinion has not received as much attention as many of the loudest advocates for reopening—who have argued that a death toll that is likely to more than double current figures is worth it, or that the whole pandemic is just a hoax. Of course it makes sense for small business owners and people who are struggling to make ends meet right now to want to get back to work, but what good will it do?
If cases spike, overwhelming local hospital systems and causing deaths and tremendous medical debt in the process, then restrictions will need to be reinstated, and the economic problems we're currently dealing with will only be prolonged. Right now we lack the widespread testing and the sufficiently improving conditions to support reopening without a vaccine. There are measures we could take at the federal level to improve the situation without such startling risks, but we are ignoring those options—treating reopening like it's the only solution available—for one simple reason: Americans hate "big government."
Last Monday, cases hit their lowest daily total since March. Today, the case number is up a couple thousand cases… https://t.co/NJoLmhZwMZ

— The COVID Tracking Project (@The COVID Tracking Project) 1589839717.0
Since at least the 1980s our society has been flooded with anti-government propaganda. We recite mantras about government mismanagement, waste, incompetence, while ignoring successful programs at home and abroad. One of our two major parties has devoted much of its political willpower to actively sabotaging federal programs and agencies like the US Postal Service to prove their point and push for further privatization (that they, along with their donors and friends, stand to personally profit from). In this context, the kind of aggressive federal spending we would need to keep small businesses and struggling families afloat in current conditions is virtually unthinkable.

Even America's relatively compassionate party is only pushing fairly moderate measures that are likely to be whittled down and paired with massive business subsidies in the Senate—just like what happened with the Cares Act in March. In its current form the Heroes Act includes $175 billion in housing assistance, a second round of $1200 stimulus payments (with children receiving as much as adults this time), $200 billion in hazard pay for essential workers, $1 trillion in funding for states to pay their vital workers, and a six month extension of the $600 unemployment expansion.
Undoubtedly these measures will help a lot—though not as much as more generous proposals—but they ignore some major issues. The biggest problem (apart from the fact that the senate isn't going to let the bill pass as is) is that states are straining to make the basic unemployment payments that the $600 expansion is meant to supplement. As a result, many of the tens of millions of people trying to file for unemployment have been stymied by bureaucratic foot-dragging and red tape, and now states are using reopening as a way to push workers off of unemployment and protect state budgets from possible bankruptcy—an outcome which Senate Majority Leader Mitch McConnell has no interest in preventing. In some states there are even systems being implemented to report workers who refuse to go back to work, regardless of their circumstances or legitimate fears.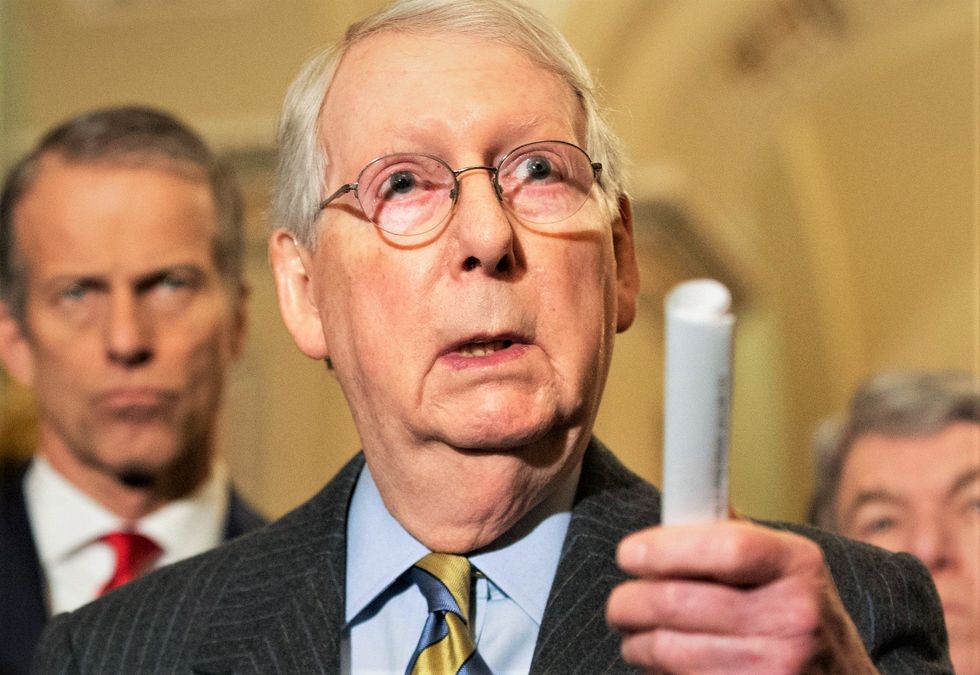 Whether any of this will improve the national economy in the long run remains to be seen. What is clear is that state governments are being understandably cautious with their budgets, and the Republican party is playing their usual political games with lives, health, and livelihoods on the line. The result is that states are reopening, and millions of workers are about to be pushed off unemployment. The next stop is cutting retirement benefits, and fully dissolving any remnant of a social safety net this country has.

As we enter what is likely to be another global depression, it's worth keeping in mind that these programs are among the measures that helped us get through the last one under FDR and that countries that chose a different path were pushed toward a scarier form of politics that has lately been threatening resurgence: outright fascism. Let's try not to repeat the mistakes of the 1930s.
The Trump Administration's solution to aid the 16 million Americans who are out of a job thanks to coronavirus? One big, shiny, $1,200 check.
As MarketWatch explains, "The Internal Revenue Service will send $1,200 payments to individuals with adjusted gross income below $75,000 and $2,400 to married couples filing taxes jointly who earn under $150,000. The government will also pay $500 per qualifying child." That plan is a little skewed—$1,200, after all, isn't even enough for one month's rent for a studio in NYC's outer boroughs. And for everyone who's receiving the check, there's someone else who, fortunately, is able to work from home and hasn't faced a huge setback due to COVID-19.
If you're one of the lucky ones, or if you're just feeling generous, here are just a few good causes that deserve your donations to help those in need.
WeCount!'s Immigrant Worker COVID-19 Fund: Florida nonprofit WeCount! is on a mission to address the gap in medical support for undocumented immigrants, emphasized by COVID-19.
Immigrant Worker Safety Net Fund: National Day Laborer Organizing Network allocates cash donations to worker leaders, organizers, and volunteers who have already contracted the COVID-19, as well as undocumented laborers who are especially vulnerable to the virus, such as those over 60 or with preexisting health concerns.
National Bailout: Prisons, jails, and detention centers have raised big health concerns in the coronavirus's wake. National Bailout is galvanizing funds to get people out, in an effort to slow the spread. The organization also already hosts an annual #FreeBlackMamas campaign to specifically help incarcerated black mothers each Mother's Day, but donations are welcome and encouraged year-round.
Restaurant Workers' Community Foundation: With restaurants limited to takeout only, many folks in the service industry are taking a major hit. RWCF's emergency relief fund collected $2.8M since its launch in late-March. Of that, half goes directly to individual restaurant workers, 25 percent to non-profits serving restaurant workers, and another 25 percent for zero-interest loans to keep restaurants running.
Coalition for the Homeless: Homeless people are predisposed to major risks year-round, but the pandemic has brought additional attention to their health care. In New York City, the Coalition for the Homeless is providing temporary safe housing to the community thanks to donations.
Maybe tomorrow you'll wake up with $1,200 in your bank account–or maybe you don't qualify.
The IRS has officially started rolling out coronavirus stimulus checks to millions of Americans.
Between 50 and 70 million people are due to receive the stimulus checks, which are part of the government's $2.2 trillion economic recovery package and intended to stimulate the stalled economy during the coronavirus pandemic and subsequent shut downs of most aspects of civil life. Residents who've filed taxes in the past two years and submitted their direct deposit information began receiving the deposits on Friday of last week and are expected to receive them by Wednesday, April 15. Anyone who qualifies but has not submitted their direct deposit banking information is expected to receive a paper check at a later date. However, anyone who has not filed or made their banking information available may input their information in the IRS' new portal here.
Qualifying citizens are those who have reported an adjusted gross income of $75,000 or less. Filers of joint tax returns will receive a one-time payment of $2,400 and those will dependents will receive an additional $500 for each qualifying child. All others will receive the standard one-time payment of $1,200.
Meanwhile, Canada is providing its citizens who have lost their jobs due to the pandemic with up to four months of $2,000 CAD monthly payments. Australian citizens who have been furloughed from their jobs receive $1,500 AUD every two weeks. Newsweek reports that "Britain's government is issuing grants covering 80 percent of unemployed workers' salaries up to a total of £2,500 ($3,084) a month. The package also reportedly contains statutory sick pay for employees that have been told to self-isolate...Denmark has pledged to pay from 75 to 90 percent of employees' salaries up to a monthly amount of 26,000 Danish kroner ($3,288 USD)...France will pay 70 percent of an employee's gross salary to a monthly maximum of €6,927 ($7,575 USD)...Germany will pay 67 percent of net wages up to a maximum of €6,700 per month ($7,326.78 USD)....Ireland will give 70 percent of employee salaries up to a maximum of €410 per week ($448.36 USD)."
But sit tight and keep refreshing your bank account for that life-changing, crisis-averting one-time payment of $1,200...unless you're a U.S. college student who's still claimed as a dependent or a retiree who receives Social Security. Forget you guys.