"A tree is best measured when it is down," the poet Carl Sandburg once observed, "and so it is with people." The recent death of Harry Belafonte at the age of 96 has prompted many assessments of what this pioneering singer-actor-activist accomplished in a long and fruitful life.
Belafonte's career as a ground-breaking entertainer brought him substantial wealth and fame; according to Playbill magazine, "By 1959, he was the highest paid Black entertainer in the industry, appearing in raucously successful engagements in Las Vegas, New York, and Los Angeles." He scored on Broadway, winning a 1954 Tony for Best Featured Actor in a Musical – John Murray Anderson's Almanac. Belafonte was the first Black person to win the prestigious award. A 1960 television special, "Tonight with Belafonte," brought him an Emmy for Outstanding Performance in a Variety or Musical Program or Series, making him the first Black person to win that award. He found equal success in the recording studio, bringing Calypso music to the masses via such hits as "Day-O (The Banana Boat Song)" and "Jamaica Farewell."
Harry Belafonte - Day-O (The Banana Boat Song) (Live)www.youtube.com
Belafonte's blockbuster stardom is all the more remarkable for happening in a world plagued by virulent systemic racism. Though he never stopped performing, by the early 1960s he'd shifted his energies to the nascent Civil Right movement. He was a friend and adviser to the Reverend Doctor Martin Luther King, Jr. and, as the New York Times stated, Belafonte "put up much of the seed money to help start the Student Nonviolent Coordinating Committee and was one of the principal fund-raisers for that organization and Dr. King's Southern Christian Leadership Conference."
The Southern Poverty Law Center notes that "he helped launch one of Mississippi's first voter registration drives and provided funding for the Freedom Riders. His activism extended beyond the U.S. as he fought against apartheid alongside Nelson Mandela and Miriam Makeba, campaigned for Mandela's release from prison, and advocated for famine relief in Africa." And in 1987, he received an appointment to UNICEF as a goodwill ambassador.
Over a career spanning more than seventy years, Belafonte brought joy to millions of people. He also did something that is, perhaps, even greater: he fostered the hope that a better world for all could be created. And, by his example, demonstrated how we might go about bringing that world into existence.
This year's flu virus is still slated to be a bigger threat.
It's believed that Chinese officials have not exactly been forthcoming about the true extent and severity of the coronavirus, a respiratory illness whose death toll in mainland China has now exceeded that of S.A.R.S. The Chinese foreign ministry has criticized the U.S.'s response of temporarily banning foreign individuals who had traveled in China from entering the country. Chinese officials initially said that U.S. health officials "inappropriately overreacted" and spread unnecessary fear. However, on Monday (February 3) China's elite Politburo Standing Committee admitted that there were "shortcomings and difficulties in the response to the epidemic," according to China's Xinhua news agency. The government said it "urgently" needed medical supplies, such as protective suits and masks.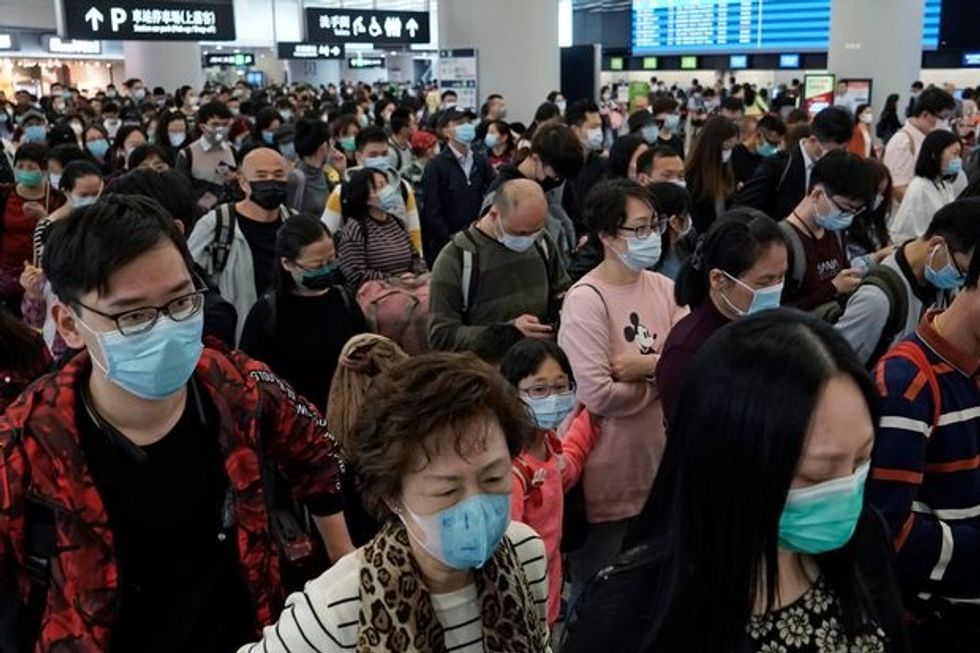 When the World Health Organization (W.H.O) declared the virus a "public health emergency of international concern," they said its organization "continues to have confidence in China's capacity to control the outbreak." They stated that their concern is about the virus' potential to reach countries with poor health care. In such an environment, the disease could spread rapidly, "infecting millions of people and killing thousands," according to The New York Times.
With over 20,000 cases reported in China and 170 more reported in over 25 other countries, the Centers for Disease Control and Prevention (C.D.C.) has been rapidly updating their findings on the respiratory disease. 11 cases have been confirmed in the U.S. (including 3 in California, 2 in Illinois, 1 in Arizona, 1 in Massachusetts, and 1 in Washington). More cases are currently under review. As of this writing, three New York cases have been sent to the Center for Disease Control and Prevention Laboratory in Atlanta, which is currently the only facility that can confirm a case of coronavirus. The New York City health commissioner has called the virus's presence in the city "inevitable."
But what does that really mean?
The coronavirus is distinct in a few ways, originating in animals in Wuhan, China but demonstrating the ability to spread from person to person once someone is infected. Symptoms present as common flu symptoms, including fever, dry cough, shortness of breath, aching muscles, and fatigue. There have been indications to suggest that individuals infected with the coronavirus are contagious before they show symptoms, but that has not been widely confirmed.
Out of over 20,000 confirmed cases spread across more than two dozen countries, there have been fewer than 500 deaths, with two deaths occurring outside of China so far. Most people infected have been elderly or those with compromised immune systems, and there have been full recoveries from the virus.
In fact, the first American patient confirmed to have the coronavirus has been released from the hospital and is staying in isolation in his home. "I am at home and continuing to get better," the nameless man said in a statement, "I ask that the media please respect my privacy and my desire not to be in the public eye. I would like to thank the doctors, nurses, and entire team at Providence who cared for me. I appreciate all of the concern expressed by members of the public, and I look forward to returning to my normal life."
The flu is more dangerous.
Meanwhile, public health officials underline that the coronavirus presents a low health risk to Americans. More dangerous is influenza B, or the common flu. The C.D.C. reports that 68 children have died of the flu this year, along with an estimated 10,000 adults! Todd Ellerin, the director of infectious diseases at South Shore Health in Massachusetts, told Mother Jones that the flu is "massively outstripping" the spread of the coronavirus in the U.S. He added in a a blog post for Harvard Medical School, "In the US, the average person is at extremely low risk of catching this novel coronavirus. This winter, in fact, we are much more likely to get influenza B—the flu—than any other virus: one in 10 people have influenza each flu season."
Those already in the U.S. required to marry by end of year or leave the country
The Trump administration began enforcing a new policy on Monday that denies visas to same-sex domestic partners of foreign diplomats.
The restrictions affect staff of U.S.-based international organizations such as the United Nations, the World Bank, and the International Monetary Fund, requiring those currently residing in the country to get married by December 31st or leave within 30 days. Announced earlier this year, the policy is framed by the administration as an effort to equalize visa requirements between straight and gay diplomats.
Officials say they are building off of rules implemented in 2009 by the Obama administration that asks other countries to treat same-sex partners of U.S. Foreign Service employees on a "reciprocal basis" to receive diplomatic visas.
In an August follow-up email to the Washington Blade, a State Department official explained, "This is based on changes to U.S. law recognizing same-sex marriages. Therefore, the Department will likewise require that, as a general matter, officials from other governments and international organizations be married to enjoy the rights and benefits of spouses for purposes of visa issuance and privileges and immunities."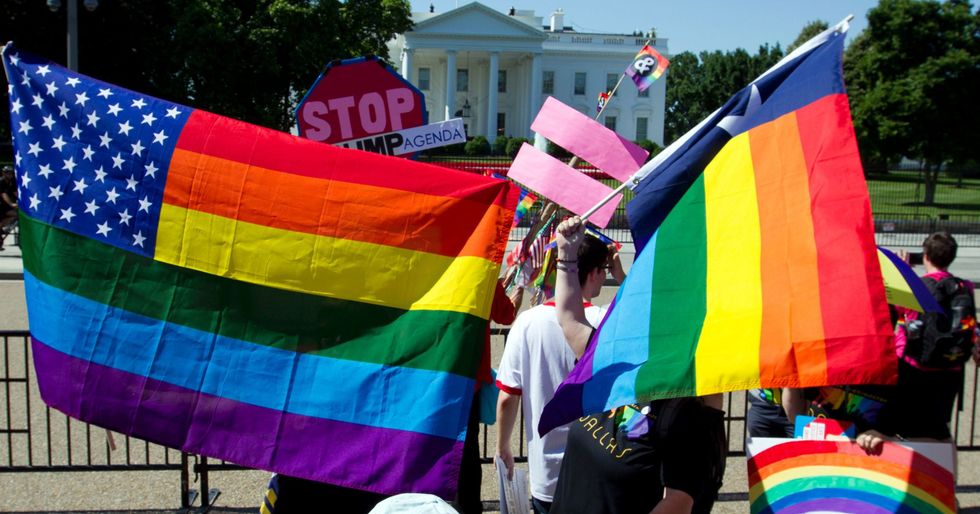 Jose Luis Magana, AFP/Getty Images
LGBT advocates are quick to point out that same-sex marriage is illegal in most countries, and cannot be compared to the rights given to heterosexual couples. Gay people face the death penalty in eight countries including U.N. members Saudi Arabia and Nigeria. Critics say the administration's rules will force LGBT diplomats to choose between breaking up their relationship for a career, or facing potentially life-threatening repercussions at home for entering into an illegal marriage.

Former U.S. Ambassador to the United Nations Samantha Power described the policy as "needlessly cruel & bigoted," tweeting that "only 12% of U.N. member states allow same-sex marriage."
Needlessly cruel & bigoted: State Dept. will no longer let same-sex domestic partners of UN employees get visas unless they are married. But only 12% of UN member states allow same-sex marriage. https://t.co/MjZpRVLYcf
— Samantha Power (@SamanthaJPower) September 28, 2018
Alfonso Nam, president of UN-GLOBE, an organization that advocates for LGBT staff in the U.N. system, told the Blade, "A policy that prioritizes marriages over all other forms of legal unions will have a chilling effect on all couples in the United States under a U.N.-sponsored visa who are in legal unions other than marriage."
"Whether it is an opposite-sex couple who did not get married for philosophical reasons, or a same-sex couple who did not get married because marriage was not a choice available to them, they would all now have to find a way to get married in order to remain in the United States," added Nam.
Currently, there are 10 U.N. employees in the United States who would need to marry by the New Year to have their partners' visas extended.
Joshua Smalley
is a New York-based writer, editor, and playwright. Find Josh at his
website
and on Twitter:
@smalleywrites