"A tree is best measured when it is down," the poet Carl Sandburg once observed, "and so it is with people." The recent death of Harry Belafonte at the age of 96 has prompted many assessments of what this pioneering singer-actor-activist accomplished in a long and fruitful life.
Belafonte's career as a ground-breaking entertainer brought him substantial wealth and fame; according to Playbill magazine, "By 1959, he was the highest paid Black entertainer in the industry, appearing in raucously successful engagements in Las Vegas, New York, and Los Angeles." He scored on Broadway, winning a 1954 Tony for Best Featured Actor in a Musical – John Murray Anderson's Almanac. Belafonte was the first Black person to win the prestigious award. A 1960 television special, "Tonight with Belafonte," brought him an Emmy for Outstanding Performance in a Variety or Musical Program or Series, making him the first Black person to win that award. He found equal success in the recording studio, bringing Calypso music to the masses via such hits as "Day-O (The Banana Boat Song)" and "Jamaica Farewell."
Harry Belafonte - Day-O (The Banana Boat Song) (Live)www.youtube.com
Belafonte's blockbuster stardom is all the more remarkable for happening in a world plagued by virulent systemic racism. Though he never stopped performing, by the early 1960s he'd shifted his energies to the nascent Civil Right movement. He was a friend and adviser to the Reverend Doctor Martin Luther King, Jr. and, as the New York Times stated, Belafonte "put up much of the seed money to help start the Student Nonviolent Coordinating Committee and was one of the principal fund-raisers for that organization and Dr. King's Southern Christian Leadership Conference."
The Southern Poverty Law Center notes that "he helped launch one of Mississippi's first voter registration drives and provided funding for the Freedom Riders. His activism extended beyond the U.S. as he fought against apartheid alongside Nelson Mandela and Miriam Makeba, campaigned for Mandela's release from prison, and advocated for famine relief in Africa." And in 1987, he received an appointment to UNICEF as a goodwill ambassador.
Over a career spanning more than seventy years, Belafonte brought joy to millions of people. He also did something that is, perhaps, even greater: he fostered the hope that a better world for all could be created. And, by his example, demonstrated how we might go about bringing that world into existence.
In A Time Of Climate Anxiety, Dr. Ayana Elizabeth Johnson Is Paving A Hopeful Path Forward
With disasters like metal-melting, marine life-boiling heat waves across the Pacific Northwest, flash floods turning streets into rivers and subway stations into toxic lakes, wildfires in Oregon so intense they filled the New York skyline with a smoky haze. Then there's the ocean surface burning due to oil spills while companies are still trying to force oil pipelines through Indigenous lands. It's been especially difficult these days to feel hope for the future.

In a 2017 study by the American Psychological Association, researchers used the term "eco-anxiety" to describe the mental health impacts of climate change and its social and ecological consequences. Think: fatalism, chronic stress, fear, exhaustion, anger, depressive episodes, even violence. Honestly, how can you not feel that way when you doom-scroll through social media and watch the 24-hour news cycle of climate emergencies happening around the world?
Greta Thunberg, one of the youth movement's biggest voices, has talked about struggling with depression in the early years of her activism. This was brought on by her frustrations with the continued inaction of adults in positions of power. It's no surprise that the doomsday prep and emergency management industry is expected to grow by billions of dollars by 2025.
As much as we'd like to disconnect or look away, climate change and its many intersecting consequences — and the planet-damaging systems that got us into this situation — aren't going away any time soon. How, then, can we move through this collective anxiety we share about the future? How can we come together locally and globally to lessen the blows of environmental change, especially for our most vulnerable communities?
Dr. Ayana Elizabeth Johnson's tireless work as a marine biologist and climate policy advocate should be an example to us all of how to build a path forward together through education and collective action. Maybe you've heard of her, or at least heard of her work: She's written about racism as one of the biggest obstacles to stopping climate change, coastal and ocean conservation efforts across New York City (she's also a board member of the Billion Oyster Project), and how environmental justice is essential to the Black Lives Matter movement.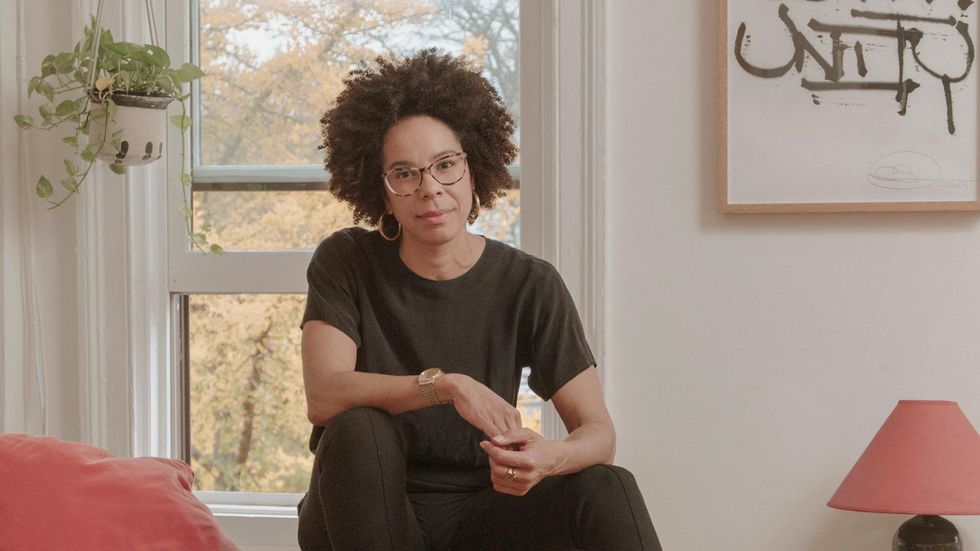 A co-founder of the coastal cities policy think tank Urban Ocean Lab, Dr. Johnson co-authored the Blue New Deal. This plan was released during Senator Elizabeth Warren's 2020 presidential campaign and would prioritize restoring America's ocean habitats and rebuilding coastal economies and communities impacted by warming oceans, pollution, and overfishing. Dr. Johnson's even discussed being a climate justice advocate with Billie Eilish.
But it's her current role as the co-host of Gimlet Media's podcast How To Save A Planet where Ayana's passion for climate change education and collective empowerment really shines. Episode subjects range from agriculture's greenhouse gas emissions to the history of wildfires and land management. Listeners' questions often take center stage. Think: Is the carbon footprint a helpful tool for measuring our individual action against climate change? Are electric cars really that much better for the environment? Does recycling actually make a difference? No environmental justice-shaped stone is left unturned.
Dr. Johnson, with the help of great guests including farmers, activists, and researchers, reframes these ongoing debates in a way that's refreshingly accessible. Listeners not only learn about topics left out of their science textbooks, but they gain a better understanding of how climate science terms and theories manifest in our day-to-day lives. She also covers what we may experience at our local level to big-picture changes in our regional and global ecologies as well as our economic and political systems.
Through Dr. Johnson's solutions-focused approach, the scary unknowns that tend to paralyze our discussions around climate change—and make us feel like none of our actions even matter—feel a little less scary. Dr. Johnson's intention, throughout this show and through all of her work, really, is not to shame people for not doing enough or fear-monger without offering a course of action. Instead, she engages with everyone, regardless of how much they know and their proximity to the climate movement, to build a better foundation of our environmental understanding, to challenge misinformation, and to inspire us to make change together.
The stories collected in the anthology All We Can Save: Truth, Courage, and Solutions For The Climate Crisis, which Dr. Johnson co-edited alongside Dr. Katharine Wilkinson, are urgent reading. Especially in this perpetual era of environmental calamity wherever we look. Poems about the Anthropocene share pages with stories of climate migration, Indigenous resistance, stories of communities of color fighting against systems of environmental racism, and motherhood during the climate crisis.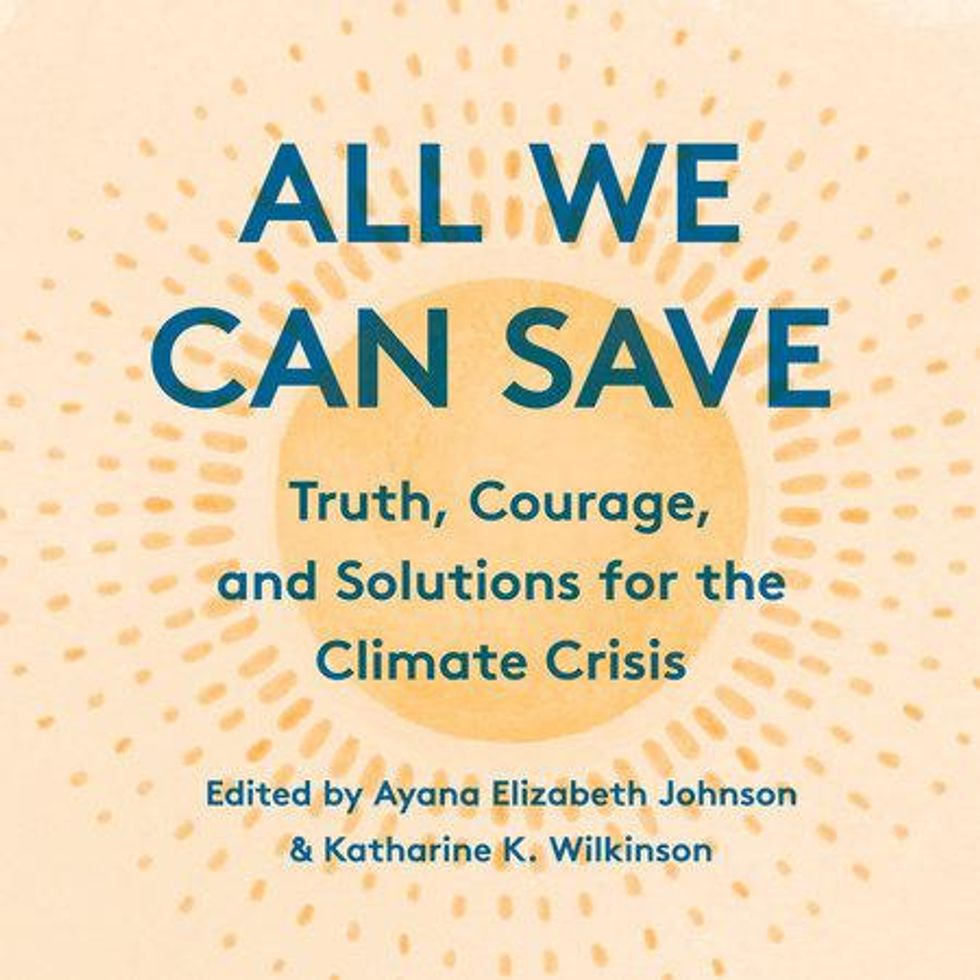 The collection uplifts just as much as it educates. Flip through each chapter and you'll find terms defined, statistics and insights marked for your attention, offering accessible entry points into looming threats and ongoing struggles that oftentimes feel beyond our comprehension.
In her chapter on mental health and the climate crisis, climate adaptation researcher Susanne C. Moser notes how "climate grief" has sprung up in many of us. Scholars define this as an attempt to process the traumatic effects of living on a changing planet marred by overwhelming impacts of natural disasters, and forced migration and displacement. But both Moser and Johnson call for resilience as opposed to giving into the fear. As Moser writes, "Burnt-out people are less effective people. Burnt-out people can become sick people...Burnt-out people aren't equipped to serve a burning planet."
We cannot predict the future. Already, climate change has defied our modeling and our expectations, impacting communities across the world in disproportionate ways. It's understandable to avoid thinking about it until the climate crisis ends up at your front door.
Those in power who strive to continually get away with the damage we've done want us to focus on everything that's gone wrong and want us to give up. But now, more than ever, we must educate ourselves, unite, build political power, help enact community-based change, close the gaps and mend the harmful systems that have impacted frontline communities for so long.
Dr. Ayana Elizabeth Johnson's ongoing climate advocacy is a reminder that all hope is not lost. Her work suggests that taking care of our bodies and minds is critical now more than ever.
So take a step back and breathe. Remember to celebrate victories and good news and treat yourself and each other with compassion. Listen to the marginalized communities who have been and continue to be most victimized by this climate emergency. Look to them for guidance and support their fight with the resources and tools you already have. As Dr. Johnson writes, together with Dr. Katherine Wilkinson: "Roll up your sleeves. Everyone has a role to play."
*
Eleonor Botoman is a critic and poet based in Brooklyn, New York, whose work has appeared in C Magazine, Artforum, Sunlight Press, Interiors Journal, BUST Magazine,The Mantle, and Dream Pop Journal. A former sketchbook librarian, she now studies in NYU's Experimental Humanities program. When she's not reading science fiction or visiting museums, she's working on her newsletter, Screenshot Reliquary.
Amidst ongoing violence, many Palestinians and their allies believe their social media posts are being censored and deleted.
Some have described what's happening as a "digital apartheid." Over the past few weeks, many activist groups and people posting pro-Palestinian content have accused social media of censoring their posts and of going so far as to delete them in some cases.
For some quick background on the situation at hand, an 11-day conflict between Israel and Palestine recently resulted in a ceasefire. It would take a full length book to summarize the history and nature of the conflict between these two groups, but here's a quick summary of what's happened this month.
After days of fighting between Palestinian protestors and Israeli police, Hamas fired long range rockets toward Jerusalem. The initial fighting happened because of an attempt by Israeli settlers to evict dozens of Palestinians from their homes. In retaliation to the rocket firing, Israel conducted hundreds of airstrikes, killing at least 230 Palestinians and wounding over 1,000 more.
As many have done with their causes in the past, those supporting Palestine in and outside of the area, including in the United States, have taken to social media to get the word out.
Social media has been one of the only places for us to get first-hand accounts from Palestinians about the occupati… https://t.co/ILb9LnGjwp

— Congresswoman Rashida Tlaib (@Congresswoman Rashida Tlaib) 1621976550.0
This has been seen in the past in the Middle East during previous conflicts and movements, such as the Arab Spring in 2011. A study done by the University of Washington found that social media played a "central role" in shaping the political debates around the Arab Spring.

"Conversations about revolution often preceded major events, and social media has carried inspiring stories of protest across international borders," an article from the University of Washington about the study wrote. "Online activists created a virtual ecology of civil society, debating contentious issues that could not be discussed in public."
The article also noted that efforts to quell social media posts about the protests may have actually resulted in more public activism, because after people were isolated due to Internet shutdowns, they may have gone to the streets instead.
Efforts to quell social media protests can again be seen in the latest movement to promote the human rights of Palestinians. Many, like Salma Shawa, founder of Anat International, a Palestianian clothing brand, have said they had pro-Palestine content removed or censored.
Shawa runs her business out of Gaza, where she grew up before moving to the United States for college. Anat International specializes in unisex hand embroidered garments, which are imported to the United States before being shipped worldwide.
When this recent wave of conflict began, her business's account started gaining more followers. She noted that she wasn't censored right away, but soon noticed that her story views were going down, from around 1,500 to only 250-300. This was in spite of the fact that she was still getting direct messages and engagement on posts.
"It was very weird because I had gained like five or six thousand new followers in a week, so you would assume that my views on story would also go up," Shawa said.
Shawa spoke with other creators who were facing similar issues and saw infographics circulating that detailed how to get around the algorithm and what many considered to be a shadow ban. A shadow ban is when a platform blocks a user's content without them knowing, by doing something such as making comments no longer available for others to view.
"I started following those tips of just taking a small break on story where I post my face or some random thing that you can trick Instagram," she said. "I'm not so sure that it was working. I did it anyways; I still do it every now and then."
Her initial posts that she feels were being censored were using words like "Palestine," "Israel," "attacks" and "colonialism." Now she and others have taken to replacing certain letters in a word with exclamation marks or different symbols as another way to trick the algorithm.
"On top of having to deal with what was going on in Palestine and having to deal with educating the world and raising awareness and covering everything that was happening on the ground, we also had to grapple with another form of digital apartheid," Shawa said.
For one of her posts where she featured pictures from a protest that had signs and flags, multiple followers messaged her to say that the picture was showing up on their feed with a warning that it had sensitive or graphic content.
"It seems to be a pattern of how social media is created. On top of people running these platforms being just so powerful, it also feels like the algorithms are discriminatory," Shawa said. "Even though they're not human, they were programmed by humans that are complicit."
This happened to my sister right now and a few others who posted about Palestine on their stories. Is this somethin… https://t.co/2GhtLDsSc6

— Fariha Iqbal (@Fariha Iqbal) 1622998717.0
When Instagram was called out on this issue, the company said it had to do with a glitch due to their automated systems launching an update to help detect whether reshared media in someone's story was actually still available or not.

"Unfortunately, the update resulted in our systems treating all reshared media posted before midnight as missing," the company shared on their Twitter. "Part of the reason that it took us such a long time to figure out what was taking place was because this had been an automated deployment, and we had to comb through every possibility."
Shawa said she experienced similar issues with her TikTok account. According to her, the previous few videos she posted before the conflict began were getting 10,000+ views, comments, and engagement, despite the fact that she didn't have that many followers.
Once the conflict began, her viewership went down to around 300 views, and TikTok stopped her from posting an explainer video more than once, telling her that the video, which had text that included the word "Palestine," violated their community guidelines.
Other activists tell a different story than what the social media companies are saying. On May 21, 7amleh, The Arab Center for the Development of Social Media, issued a report entitled "The Attacks on Palestinian Digital Rights." The organization documented more than 500 reports of Palestinian digital rights violations, of which 50% were connected to Instagram. 45% of these incidents were deleted stories.
Join 7amleh's webinar "Palestinian Narrative: Censorship and Creativity in Times of Crisis" which will focus on how… https://t.co/mVhxjiBH8o

— 7amleh حملة (@7amleh حملة) 1623175889.0
"The reasons presented to users included hate speech, violation of community standards, requesting proof of identity among others," 7amleh wrote in their report. "After 7amleh's submission of the reports to social media companies, companies recovered and restored some of these accounts and censored content. However, several reports are still under review."

7amleh also noted that Instagram's explanation focused on technical issues but didn't explain the high rate of censorship documented by human rights advocates. The organization goes so far as to make a connection between Israel and some of these tech companies, noting that the Israeli Ministry of Strategic Affairs promoted a video on YouTube entitled "Israel will Protect its Citizens Against Hamas' Terror."
We also saw this kind of censorship during the 2020 uprisings that happened nationwide following George Floyd's murder at the hands of a police officer. In late June, TikTok users reported their posts with the Black Lives Matter hashtag were being affected, making it appear that the videos had zero views. At the time, TikTok released a statement blaming it on a bug.
"We acknowledge and apologize to our Black creators and community who have felt unsafe, unsupported, or suppressed," the company wrote. "We don't ever want anyone to feel that way. We welcome the voices of the Black community wholeheartedly."
TikTok user Jailyn Feliz (@jailynisfeliz) spoke to Refinery29 last summer, expressing that they were receiving low amounts of views despite having over 30,000 followers.
"I posted three TikToks that day. I also spent the day liking, commenting on, and sharing the content of Black creators and following them," Feliz told the outlet. "I was proud of the movement and seeing more Black creators on my For You Page was my motivation for participating."
That being said, one needn't look far for evidence of the bias of algorithms. The book Algorithms of Oppression: How Search Engines Reinforce Racism by Safiya Umoja Noble discusses this issue further, highlighting the relationship between search engines and discriminatory biases. "Algorithmic oppression is not just a glitch in the system but, rather, is fundamental to the operating system of the web," she writes.
Despite all of the bias and censorship, Palestinian supporters continue to post their content, hoping that it will reach audiences around the world who can lend an ear.
Three months later with no justice in sight, Beyoncé calls out the Kentucky authorities for their lack of action.
On Sunday, Beyoncé posted an open letter to Kentucky's Attorney General Daniel Cameron imploring him to press criminal charges against three police officers involved in the fatal shooting of 26-year-old EMT Breonna Taylor in Louisville.
In the three months since Taylor's death, no actions have been taken. "LMPD's investigations have created more questions than answers," the singer writes. She demands that Cameron create more transparency in the investigation of the incident and prosecute the officers' misconduct, as well as the police force's "pervasive practices that result in the repeated deaths of unarmed Black citizens."
"Don't let this case fall into the pattern of no action after a terrible tragedy," she writes. "With every death of a Black person at the hands of the police there are two real tragedies: the death itself and the inaction and delays that follow it. This is your chance to end that pattern. Take swift and decisive action in charging the officers. The next months can not look like the last three."
Breonna Taylor was sleeping in her bed on March 13 when three armed police officers used a battering ram to enter her apartment to execute a "no-knock" warrant as part of a drug investigation. Taylor was shot at least eight times. The details of the event are hotly disputed, with claims that the officers did not identify themselves and executed the raid despite already having the main suspect of their investigation in custody. Taylor's family filed a wrongful-death lawsuit but continues to await justice.

The family publicly thanked Beyoncé in a statement issued by their attorney. "It has been more than three months since Breonna was murdered. Her killers are still in uniform. Meanwhile, Atlanta's mayor yesterday called for immediate termination of the officer who shot Rayshard Brooks, and criminal charges have been filed against police in Minnesota and Georgia. Here, we cannot even see an investigative file," they wrote.
Meanwhile, the Kentucky Attorney General's office has merely acknowledged the letter and refused to comment. In a Sunday night statement, they told CNN, "We are aware of the letter. As the letter makes requests related to the ongoing investigation involving the death of Ms. Breonna Taylor, we have no further comment."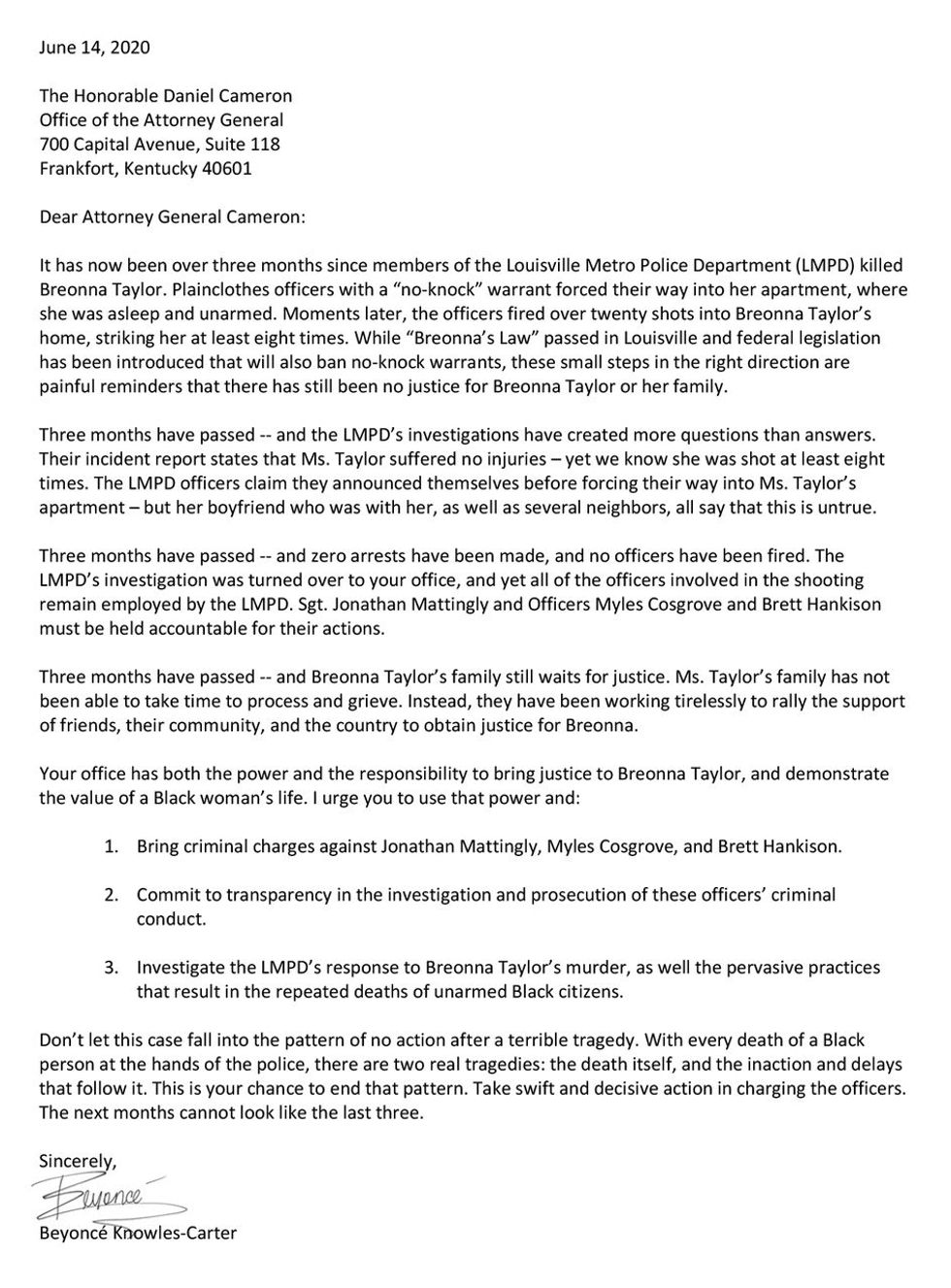 Beyonce.com
Climate change activism has a whiteness problem and a class problem.
Climate change is inextricably linked to other systems of oppression, like neoliberal capitalism and colonization. But mainstream environmental movements have historically failed to recognize the roots of the climate crisis; and partly because of this, climate change activism has a whiteness problem and a class problem.

The movement's hypocrisy has grown harder to ignore as the climate crisis has intensified. Environmental racism has left poorer communities on the frontlines of unclean air and dangerous pipelines, while largely shutting their voices out of the decision and policy-making aspects of change.
The problem is rooted in the way environmental activism has traditionally been defined. Early environmental efforts (at least the ones that received the most funding) often focused on preservation and conservation of untouched land. These efforts existed in silos, painting the Earth as a childlike entity—as if the planet was separate and somehow lower than humans. This Earth was treated like an entity that required saving, and the saving was to be done by corporate firms and guilty consumers.
Even during these early times, many groups were actively fighting systemic oppression in conjunction with environmental activism, from Latino farmworkers protesting pesticides to Black students in Harlem fighting to oppose city garbage dumps in their communities. Still, over the next several decades, the mainstream environmental movement failed to realize that the climate crisis was not merely a matter of spoiled rivers and suffering polar bears. The climate crisis was seen as something separate from human life and separate from other social issues. Large "big green" corporations focused on promoting small changes that people could make on individual scales, as if "going green" could save us. We could all take shorter showers, take the bus instead of driving, purchase expensive organic products, and shut up—nevermind that the super wealthy have always used up far more resources and energy than their fair share.
A Crisis of Understanding
"Our economic system and our planetary system are now at war," writes Naomi Klein in This Changes Everything: Capitalism Vs. the Climate. "Or, more accurately, our economy is at war with many forms of life on earth, including human life. What the climate needs to avoid collapse is a contraction in humanity's use of resources; what our economic model demands to avoid collapse is unfettered expansion. Only one of these sets of rules can be changed, and it's not the laws of nature."
The climate movement will absolutely fail if it does not recognize the importance of its relationships with other social movements. The climate movement must stand in solidarity with organizations fighting for racial and class equity, for an end to the prison industrial complex and for reparations. It must stand in solidarity with people of color and particularly with Indigenous people, who have always been leading in the fight, and all climate movements must defer to leaders who are living on the front lines of the crisis.
If the climate movement continues to prioritize "an end to the climate crisis" over an end to capitalism, if the movement continues to languish in apocalyptic fears rather than paying attention to how climate actually affects people's lives, if the movement remains disconnected from actual life and the way that the climate crisis is already here for so many people around the globe, it will fail.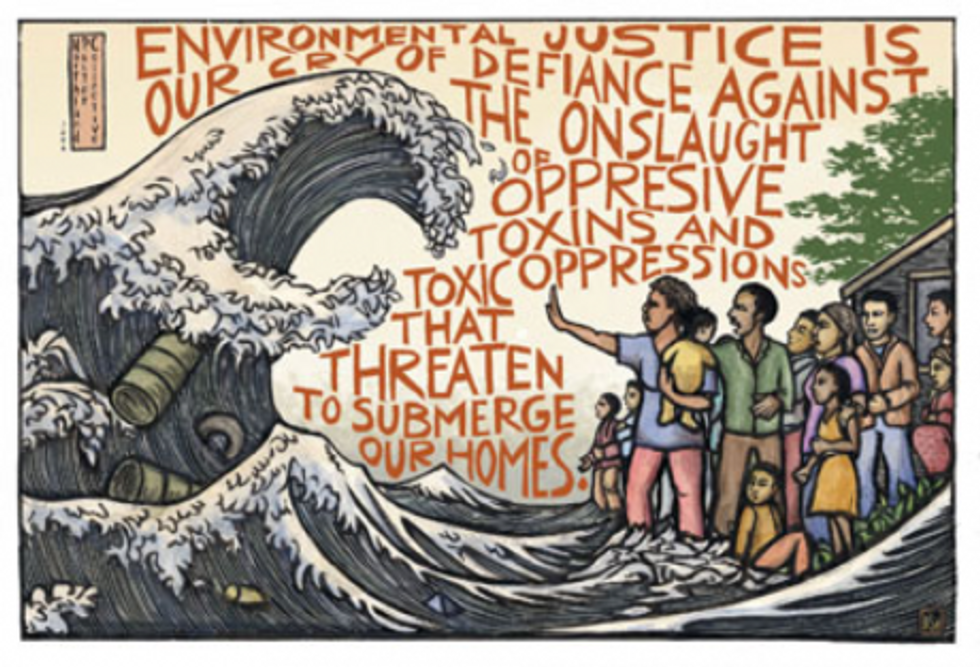 socialism.ca
Just as we humans cannot survive if we view ourselves as separate from the earth, we can't view the climate crisis as unrelated to other issues of inequality and systemic violence. We need to understand that, just as everything in nature relies on everything else—rivers flow into oceans, tree roots create an underlying network of communication that stretches through an entire forest—the movement to stop climate change is the movement to end relentless capitalism, which is also the movement to actually address the monetary inequalities that still exist because of America's legacy of colonization, slavery, and other violences.

The Future of Environmental Justice
Activist groups are waking up to this, at least theoretically. Groups like the youth organization Sunrise Movement have rallied around Alexandria Ocasio-Cortez's Green New Deal, a movement that aims to combine a massive reduction in carbon emissions with reforms that will make safe housing, affordable food, and health care available to everyone.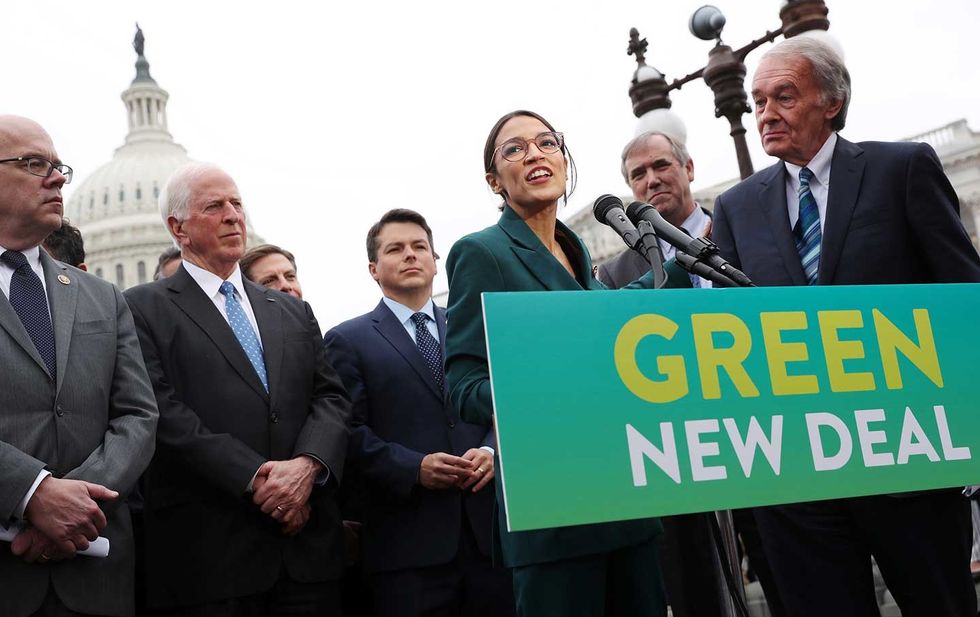 thenation
In some ways, Sunrise still suffers from the problems that have always plagued environmental groups: a pervasive level of whiteness and classism. But the movement has been discussing how to change this, initiating a hub restructure program and encouraging the development of smaller, more local groups that will facilitate local outreach. The next step is to put the voices of people who are already fighting for justice into power, people like the Indigenous climate activists who have been protecting the earth for centuries, often at great personal risk.

These are complex tasks that require deep thought and challenging conversations, but they are of the utmost importance. The environmental movement will fail unless it embraces its interconnectedness with all things–Embracing interconnectedness will only ever make us all stronger.
Climate change will inevitably result in tremendous change. If we somehow succeed in pulling the world back from the brink of climate disaster but fail to address other systems of oppression—if we merely keep the world as it is, favoring only the super-rich, allowing suffering on a massive scale despite the fact that we have the resources to address it—would the movement be a victory for anyone except those who were already winning?
In our second Visionaries Project installment, we talk to sex workers' rights activist and writer Elsie B.
The Visionaries Project is a new subsection of The Liberty Project dedicated to highlighting the lives, passions, and work of radical activists currently working towards social justice and liberation from oppression. We aim to uplift the perspectives of diverse voices working in media and activism today—and not just the faces who make headlines, but the real people on the ground every day, working towards their visions of a better world.
For our second installment of the Visionaries Project, we're featuring Elsie B., a writer and activist who can be found on Twitter at @NotSuperIntoIt. Elsie is an out and proud member of the bisexual community and an active participant in the fight for sex workers' rights.
Sex workers, as Elsie informs us, often face unique legal constraints and social stigma that can prevent them from accessing adequate healthcare and opportunities. As sex workers' rights have been threatened in the United States and across the world by new laws that constrain their ability to work and share online under legal protections, the need for information and action has grown.
As Amnesty International implies, criminalization of sex workers' rights almost always puts them at a disadvantage. "We have chosen to advocate for the decriminalization of all aspects of consensual adult sex - sex work that does not involve coercion, exploitation or abuse," reads the organization's statement on the matter. "This is based on evidence and the real-life experience of sex workers themselves that criminalization makes them less safe."
Or as Elsie writes, "It's long past time to demand fair and equal treatment for sex workers, and the consequences of delayed action by civilians and lawmakers will be lethal."
We spoke to Elsie about how she became involved in the fight for sex workers' and LGBTQ+ rights, what kind of activism work she does, and how she unwinds after a long day of fighting oppression and injustice.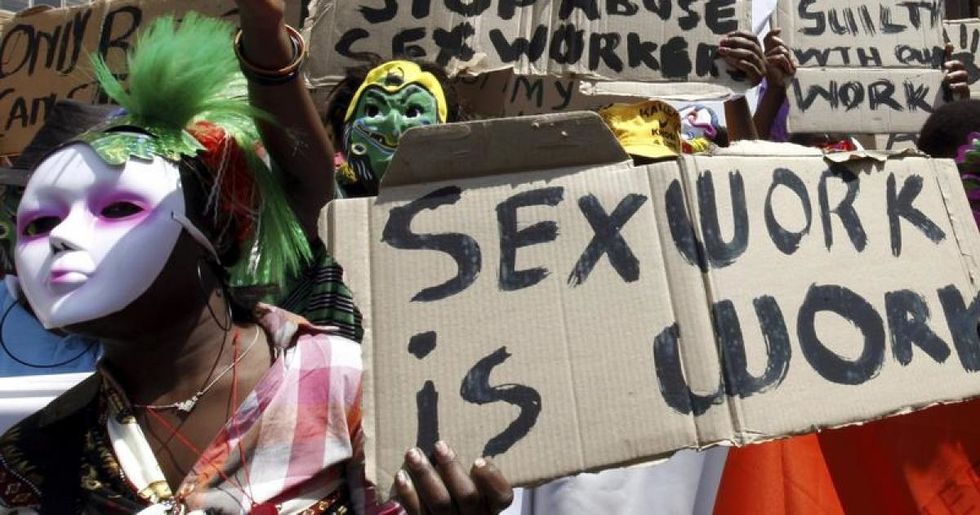 Human Rights Watch
LIBERTY PROJECT: Can you tell me a bit about your background? How did you get interested in activism?
ELSIE B: I'm fortunate to have grown up in a family that values social justice. I was raised as an ethical vegetarian and attended circus protests as a child. In middle school, I printed animal rights literature and ordered a pack of stickers from Peta2 that said "cut class, not frogs," which I slapped on every table in the science room when the dissection unit began approaching. As I got older, my dad and I would attend political rallies for Democratic candidates. During college, my politics became more radical than those I was raised with, thanks to some incredible professors. I was involved in social justice clubs, including the campus LGBTQ+ outreach program and an animal rights group of which I became VP.
In graduate school, I met a group of activists who shared my radical political beliefs and were doing meaningful, grassroots work for social justice and to end animal suffering. As I befriended these folks, I began to widen my interests in regard to my activism. I met my friend Emily during this time who is a stripper. Her influence changed my understanding of feminism and women's rights.
After graduate school, I started a small organization that helped connect feminist women and worked for the Sanders 2016 campaign.
How did you first start getting interested in sex workers' and LGBTQ+ rights?
A: From the time I realized LGBTQ+ folks were treated differently, I've been interested in the rights of non-hetero folks. I grew up with gay and lesbian culture as a constant in my life. And, at about the age of eight, I realized I myself am interested in more than only the opposite sex.
My official foray into LGBTQ+ activism started in college, but I saw myself as an ally at that time. However, after the Pulse shooting, I began to see my role in the LGBTQ+ community not as an ally but as a member of the community. I had quietly come out as bisexual many years before but had never felt comfortable identifying as someone in the LGBTQ+ community. However, after the gut-wrenching experience of watching what I realized was my community face such horrific violence, I decided it was my responsibility as an out bisexual to fight for destigmatization, especially of bisexuals who are at the highest risk for suicidal ideation and attempts.
Around the same time, sex workers started to experience attacks on their primary methods of advertisements, especially on Backpage. As so many of my friends are sex workers, I saw the panic these workers experienced. This is when I began to incorporate sex workers' rights into my activism platform. Then, in 2018, FOSTA/SESTA was introduced and passed. During this time, I dedicated all of my activism to fighting FOSTA/SESTA. During that year, I marched, helped plan harm reduction meetings, petitioned, and contacted government officials. The energy during 2018 was one of terror and excitement as sex workers rallied to fight against these new laws. It was electrifying to be a part of the first International Wh*re's March, but that euphoric buzz of being with other activists was quelled as the reality of a changing internet landscape for sex workers sunk in.
Sex workers are being locked out of their accounts en masse. This is terrifying for sex workers who have already be… https://t.co/8d7TYSFL7A

— Elsie (@Elsie) 1568936565.0
From 2018 to present, most of my activism has been based online, since sex workers work mostly in isolation. Through online communities, I have been able to continue my work in harm reduction, petitioning, and community organizing. I've also written under various pseudonyms (since even working as an activist carries stigma). I've had viral writing, which has given me some hope that sex workers' rights are beginning to creep into the consciousness of civilians, the term for non-sex workers.
Are there any challenges you've faced in activism work? Any particular successes, favorite moments, or pieces you've written?
A: Activism is draining, but there is no better feeling to me than having someone reach out to let me know how I've helped them. This has been especially true of my work as an activist for bisexual individuals. The number of messages I've received from people telling me I gave them the courage to come out or that reaching out to me is the first time they've admitted their attraction to more than one gender has been simultaneously heartbreaking and the most rewarding feeling.
Working as an activist for sex workers has unique challenges in that even associating with sex work as a topic comes with stigma. I usually work under pseudonyms, as I don't want my work in sex work to affect my other activism (I've worked in activism for education orgs which serve younger students).
Activism as a bisexual cis-woman has also been challenging, as biphobia and stigma are often just as hostile, if not more, in the community. Bisexuals have a unique fight, in that they are shunned from straight and gay communities for not being straight or gay enough. It can be painful to watch people choose to repress their complex sexual orientation in order to feel accepted by one group.
Coming out very publicly was one of the best feelings as an activist. It was such a personal act, and the number of friends and acquaintances who reached out to me during that time to tell me their stories was so touching.
Seattle Police shockingly claim sex workers need to be arrested "to disrupt the cycle of violence and abuse". Thi… https://t.co/WocSniI500

— Kshama Sawant (@Kshama Sawant) 1570115501.0
What would you suggest people do if they want to start to get involved in the fight for LGBTQ+ and sex workers' rights?

A: For most people, the most effective activism they can do is within their own communities. Talking about sex workers and LGBTQ+ rights with family and friends may seem menial, but it is some of the most important work we can all do.
To talk to folks in your circles though, you need to be armed with correct information about those you are hoping to help. It is important to avoid savior complexes. Listen to people in the communities you want to fight for. Trusted sources are SWOP chapters, the ACLU, the LGBT Center in Los Angeles (or local chapters to you), and actual LGBTQ+ folks and sex workers.
Of course, you can volunteer and leaflet with local chapters and organizations, but it is also important to support community members directly. You can do this by supporting a business owned by LGTBQ+ folks and sex workers or by tipping them directly!
You do a lot of challenging work. What do you do to take care of yourself and have fun?
A: What's been so great about my current work is the wonderful people I have met. I have never had more fun with a group of people than my sex worker comrades. We take trips, drink wine in the backyard, and gas each other up constantly.
Personally, I go to the gym almost every day and try to spend some time there with my phone off. Turning your phone off is very important for activists (and all workers at this point). In 2019 we can be constantly reached, and it's hard not to engage when you are so passionate about your work helping others.
I also got a fully functional TV for the first time in my adult life this year and now understand the benefits of winding down watching TV (even if I mostly watch The Office).
Activists continue to fight for justice for Eric Garner.
Today marks the five-year anniversary of NYPD officer Daniel Pantaleo murdering Eric Garner for selling single cigarettes outside of a store.
While being arrested for––again––selling single cigarettes, Pantaleo and other officers knocked Garner to the ground as Pantaleo choked him. Garner gasped, "I can't breathe." Pantaleo continued choking Garner. Garner died.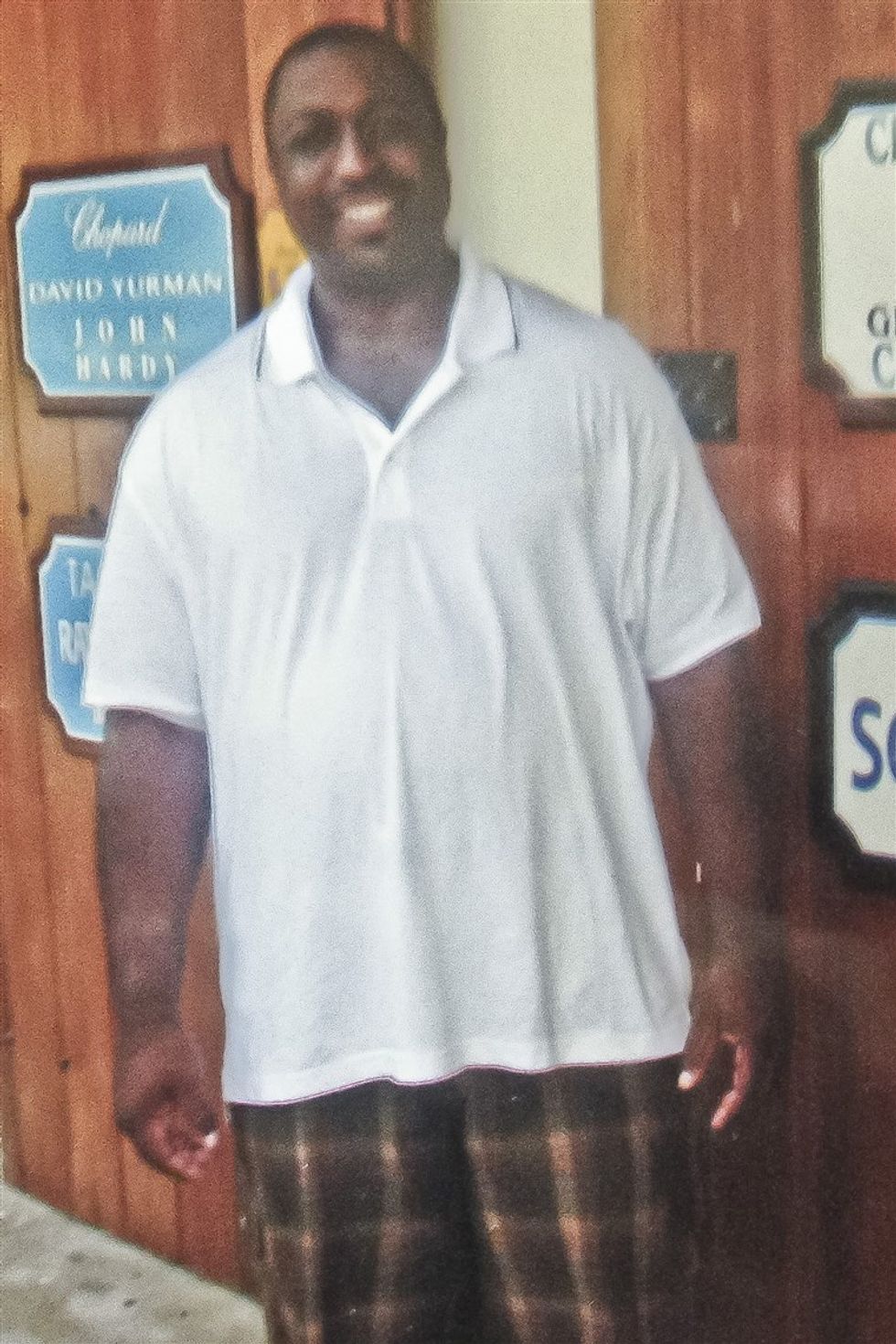 For Eric Garner, selling single cigarettes as a 43-year-old black man was a death sentence. NYPD officer Daniel Pantaleo was his state-sanctioned executioner.

Yesterday, after years of contentious debate over what charges should be levied against Pantaleo, the U.S. Department of Justice decided not to file any charges at all.
Luckily for Daniel Pantaleo, when a police officer murders someone, they're held to a far lower standard than the general populace.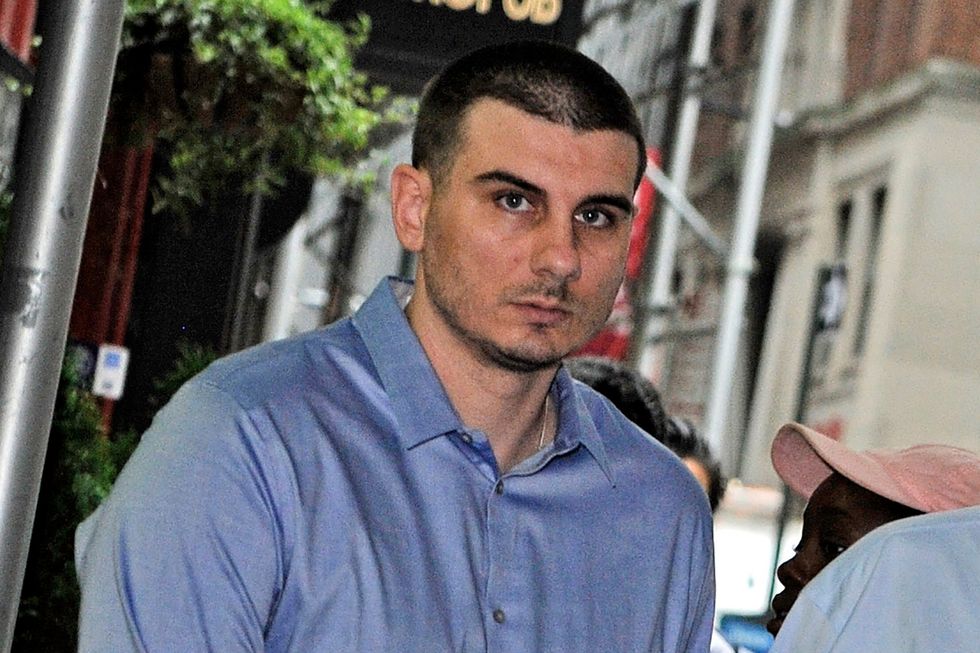 "We prosecute people for what they do on purpose. We would have to prove that in that struggle, a dynamic situation, that the officer decided he was then going to apply that hold, that it was wasn't just a mistake," said a DOJ official.

Despite the government's decision that Pantaleo's murder of Eric Garner was A-OK, tens of thousands of activists, along with Garner's family, continue to fight for justice.
Protesters plan to hold multiple protests across New York today, including a rally and march in Foley Square and a demonstration outside the Staten Island Ferry. Further protests are planned for the following 11 days.
Daniel Pantaleo is still employed by the NYPD, receiving full pay and pension benefits.