Let's take a trip down memory lane – minus the bloating and bellyaches
Oh, processed foods of yesteryear, we hardly knew ye. As kids, many of us took for granted that one day, some of our favorite goodies would be long gone. As we sipped and snacked on stuff that was no good for us in the first place, we never even considered the notion that those delights wouldn't be around forever. We could have truly savored that final taste of artificial flavoring as we licked the tips of our fingers covered in colors not found in nature. Sigh.
Let's take a trip down memory lane – minus the bloating and bellyaches – and reminisce about some of those palate-pleasing processed foods that are now "extinct." Sure, new ones have taken their place, but these "oldies but goodies" deserve an encore. They may never return to store shelves, but they certainly deserve a more formal final goodbye.
Jell-O Pudding Pops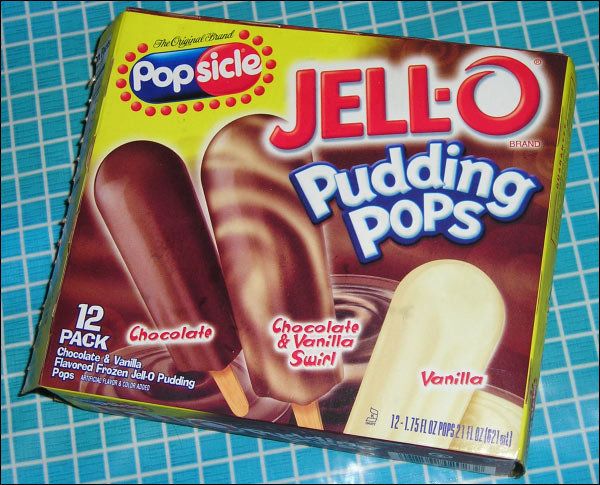 Jell-O Pudding Pops i.pinimg.com
It's hard to separate the thought of Jell-O Pudding Pops from the brand's former ambassador, Bill Cosby, but take the salacious current events out of the picture and try to remember those smooth and creamy frozen treats that made pudding really pop. Cosby helped make them famous, but kids and adults alike would probably would have gobbled them up without a celeb's convincing.

Through the 1990s, the pops were selling in stores across America… 'till they weren't. What happened? As per Culinary Lore, "The Jell-O name was licensed to Popsicle, the same people who make the inferior Fudgesicles, and they began marketing Popsicle brand Jell-O Pudding Pops." The shape and recipe were tweaked, and sales plummeted. Circa 2011, the pops popped off the radar. Alas, we'd have to consume pudding the old-fashioned way once again. Pass a spoon please.
Heinz EZ Squirt Ketchup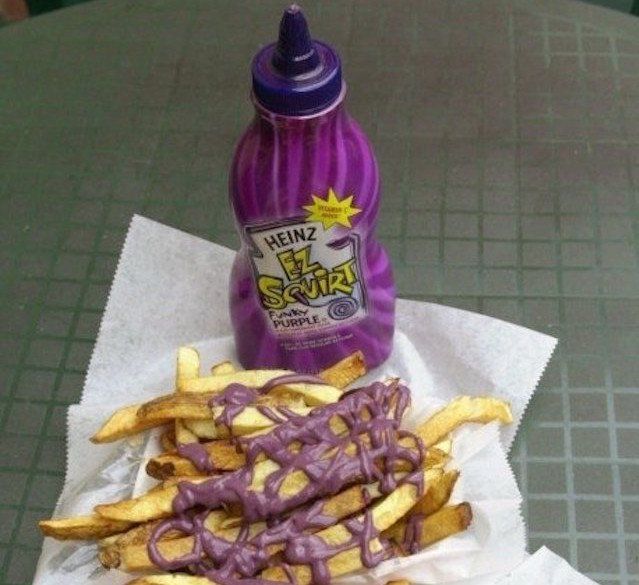 Heinz s15739.pcdn.co
Ketchup that is easy to squirt is something we can jump on board with, but Heinz EZ Squirt Ketchup turned "easy" into "queasy." We all love dipping our French fries into the bright red condiment, but when Heinz went full-prism spectrum on us, the short-lived marketing concept went bust faster than we regretted buying a bottle of the questionable stuff in the first place.

Yes, kids loved the idea of purple or orange ketchup, and when the brand released 'Blastin' Green' to coincide with Shrek, they thought they found liquid gold. But fads are fun for a while until consumers long for food that doesn't resemble unicorn barf. By early 2006, red was the new black, once again.
Gatorgum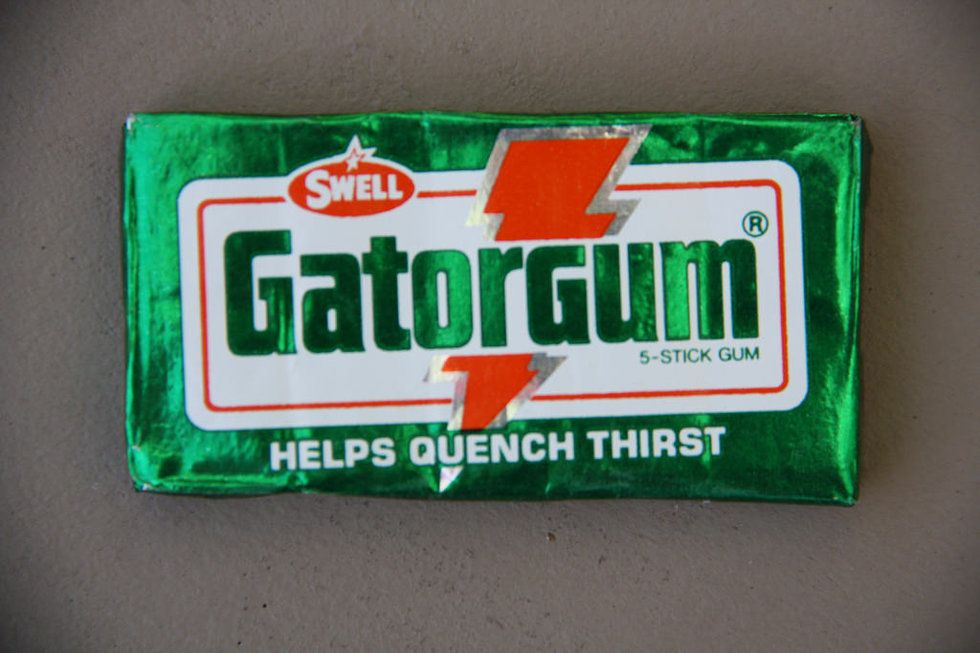 Gatorgum i.imgur.com
We see pro athletes as well as teens who hang out at 7-11 slug back Gatorade like it's going out of style, but what did, in fact, go out of style back in 1989 was the brand's gum… Gatorgum. What sounds like a reptilian dental condition was actually a super-sour chewing "gum for active people" which claimed to quench thirst. If you ever had some yourself, you remember how it made your salivary glands ache as you eagerly unwrapped that first piece from a brand-new pack. The good old days.

Gatorade stopped making the gum, but their beverages are still being sold by the boatloads. We wised up and realized that gum really can't quench thirst very effectively after all.
Pepsi Blue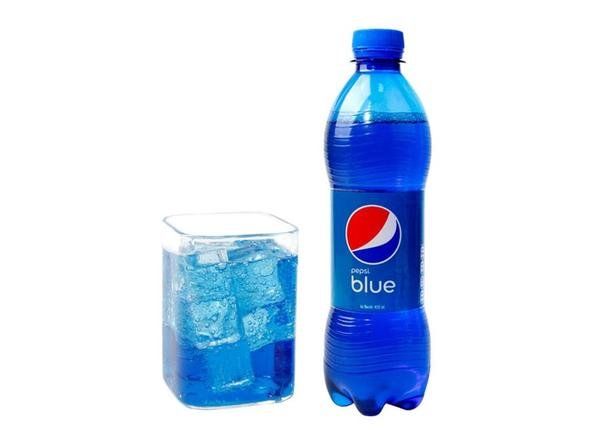 Pepsi cdn.shopify.com
Pepsi is as American as apple pie, but thankfully, apple pie has never been dyed blue, as far as anyone knows anyhow. So, why Pepsi… why did you have to take a good thing and make it a not-so-good thing? Pepsi Blue, a bright blue carbonated berry-flavored beverage was created in 2002 and only lasted in America for two years.

Cloyingly-sweet and extra-sticky, this drink may have made kids bounce off the walls as they marveled at their alien tongues, but parents weren't too pleased to learn that the freaky blue color was made using Blue 1, an "agent banned in numerous countries." Pepsi is unhealthful enough, were they trying to kill us?
Butterfinger BBs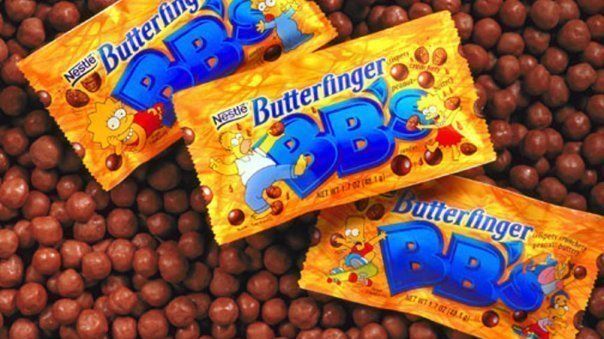 assets.change.org
Surely some dopey kid choked on a delicious Butterfinger BB and caused Nestle to shelve their tasty morsels of the traditional Butterfinger candy bar, ruining the fun for everyone. We all remember how much Bart Simpson loved his Butterfinger bars, so imagine his disappointment when the BBs were discontinued around 2006.

When eating a normal-sized candy bar seemed too daunting, chocolate and peanut butter fans could get a quick fix by popping those crispy BBs into their pie-holes one at a time. And lovers of the canned candy are pissed. There is even a Change.org page set up to petition to bring the candy back. Hey, everyone has a cause that tugs at their heartstrings.
C-3PO's Cereal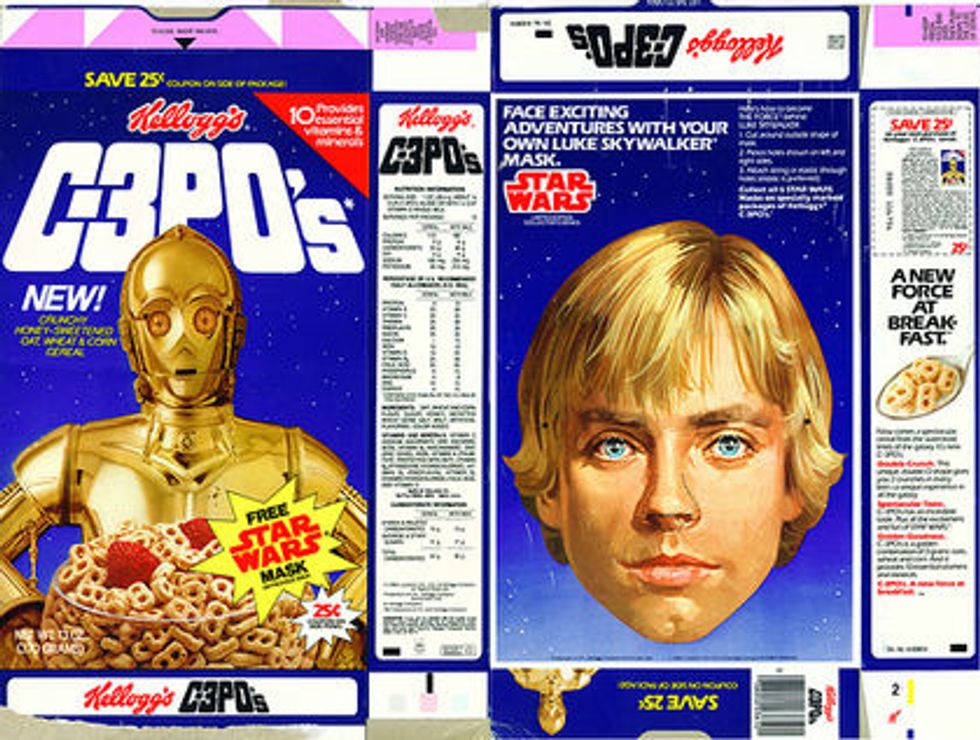 C-3PO's Cerealcereal-graveyard.wikia.com
Star Wars and cereal fans' worlds collided when Kellogg's introduced C-3PO's cereal in the mid-80s. Crunchy and honey-sweetened, the three-grain cereal shaped like little figure-eights was a kid-favorite breakfast treat.
Naturally, each box came with a prize inside, like trading cards and masks, making the eating experience more like a morning at the movies. The cereal had a nice 16-year "shelf life" but was canned in 2000. Maybe the lack of marshmallow bits was its downfall.
Carnation Breakfast Bar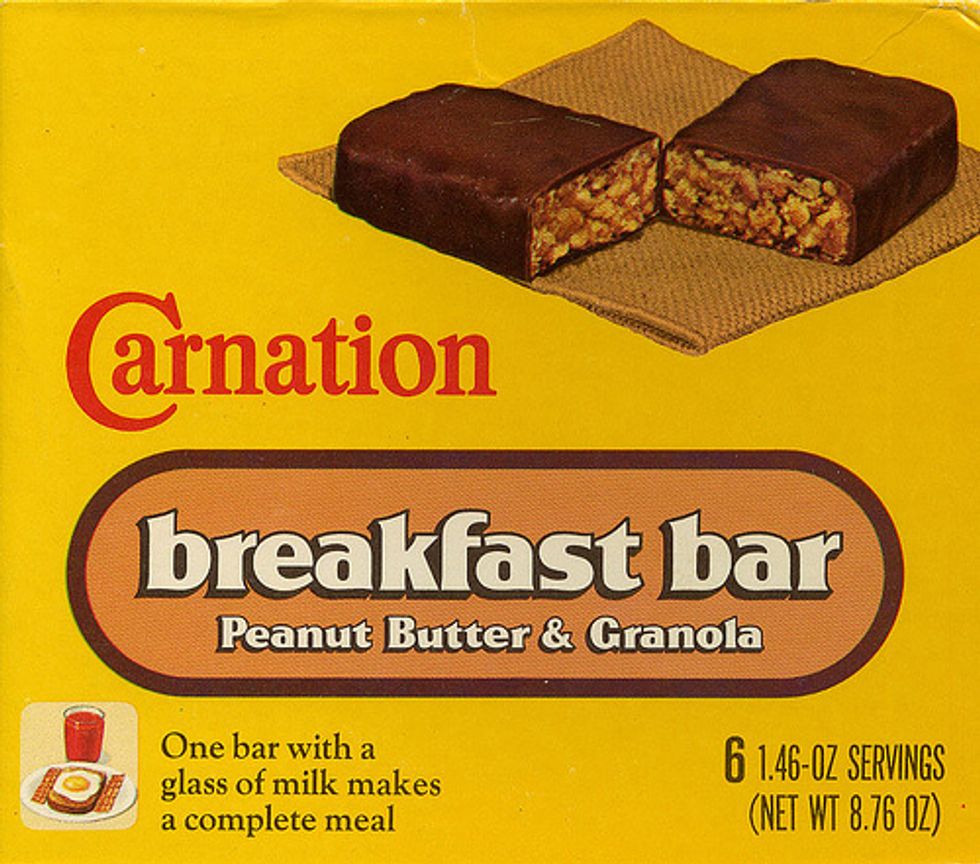 Carnation Breakfast Bargbnfgroceries.blogspot.com
The on-the-go Carnation Breakfast Bar was a fan favorite, bringing great taste, nutrition, and a sweet treat to the breakfast table or lunchbox. Chewy and crunchy, the granola bar/candy bar/energy bar goodie was covered in chocolate and made breakfast fun.
There were various flavors to choose from including chocolate chip, chocolate crumb, granola with peanut butter, and caramel nut crunch. And according to the box, "One bar with a glass of milk (made) a complete meal!" Who needed eggs and sausage when breakfast came from a cardboard box?
From 1975-1993 Carnation Breakfast Bars were in the hands of hungry kids and adults alike, making us wonder what they've been eating since.
What's the treat you miss most? You never know, you may see a resurrection. The McRib rose from the ashes, so anything's possible.
Keep reading...
Show less
It's important to make your workplace a healthy, mentally stimulating environment for yourself.
Some people are lucky enough to work in jobs that keep them fit year-round, like Pilates instructors and Olympic athletes. The rest of us deal with prolonged sitting, donut days and weekly birthday celebrations, and then work on recovering in the after hours. But don't let those 8-hour days sabotage your efforts. Follow these tips to help keep you on the healthy track while at work.

Plan meals and snacks in advance
Men and women who plan their meals are much less likely to be obese than those who don't, according to a 2017 International Journal of Behavioral Nutrition and Physical Activitystudy. The same study also found that people who planned their meals enjoyed better variety and improved diet quality. Depending on your goals and eating habits, improving the quality of your meals may help you lose weight.
Another benefit to meal planning is that it leaves uncertainty off the table. When you know when and what you're going to eat, you're less likely to much on junk food.
Meal planning includes breakfast too. When you've eaten a healthy, fiber-filled breakfast, you'll be satiated for longer and will be less likely to hit the vending machine before lunch.
Eat more Lipotropic foods
While you're planning those work-day meals, consider adding more lipotropic foods to the mix. Lipotropic foods contain organic compounds that break down fat stores, prevent excess fat storage and help cleanse the liver of toxic build-up.
Major lipotropic nutrients include methionine, choline, inositol, betaine and vitamin B12.
Consider packing lunches with the following lipotropic-rich foods:
Vegetables
Broccoli
Eggplant
Spinach
Beets
Beans & nuts
Brazil nuts
Almonds
Flax seeds
Soy beans
Animal proteins
Grains
Quinoa
Oatmeal
Barley
Brown Rice
Hydrate well
Although it can be difficult to track how much water you're drinking at work, you must stay hydrated throughout the day. Dehydration can cause you to be drowsy and sluggish, which aren't desirable conditions at work.
Water has many health benefits, including its ability to help flush out toxins, maintain regularity and improve your complexion.
Try getting between six and eight glasses of water every day and up your intake of fresh, juicy fruits. These offer another great way to help keep you hydrated.
Make a habit of washing your hands
Throughout the work day, we encounter many people and surfaces that carry germs. Germs cause infection and this is how we get sick. To keep yourself healthy, wash your hands periodically throughout the day with soap for a minimum of 10 seconds at a time. Research done by Rutgers University shows that this is the most effective way to remove germs.
How often you wash your hands is up to you, but you should be washing after every time you use the bathroom and before you eat. If you have a cold, wash your hands more often to avoid spreading germs around the office.
Limit caffeine
Caffeine will give you a boost of energy to help start your day, but it can also lead to a mid-afternoon crash when the effect wears off. If you're drinking too much coffee, it can aggravate the nervous system and cause the adrenal gland to release cortisol. This is similar to being in a constant state of stress, and that's not good for your health. Work can be stressful enough. Limit the caffeine to one to two cups of coffee or tea per day to avoid negative consequences.
Continue your healthy habits while at work, and it'll be easier to maintain them at home. A healthy lifestyle includes a balanced diet, regular exercise and good habits. Try to keep these things going regardless of where you are and you'll be on the right track.
Keep reading...
Show less