Time's Up, one of the largest organizations fighting against sexual assault, says they can't help the alleged victim.
Content warning: the following article contains a brief depiction of sexual assault.

For the entirety of his run in the 2020 presidential race (and much of his decades-long career), Joe Biden hasn't had the best track record regarding his treatment of women.
The former vice president, who's earned a shocking lead in the Democratic primaries thus far, has racked up multiple accusations from women who say he was inappropriate towards them. Many of these recounts involve a disregard for personal space, improper comments about appearance, and even some condescending finger-wagging, but none of them explicitly depicted a sexual assault. Until now.
Tara Reade didn't initially go public with her sexual assault story about Joe Biden when it allegedly occurred in 1993. A staff assistant of Biden's at the time, Reade told her brother and close friend but otherwise kept her story silent. But, in an episode recently aired of Katie Halper's podcast, Reade has finally let her story out in the world.
Reade says that she was called to bring a gym bag to Biden, who was Chair of the Senate Judiciary Committee at the time, near the Capitol. Nobody else was around. "We were alone, and it was the strangest thing," Reade said. "There was no exchange, really. He just had me up against the wall." In what seemed like one swift motion, she added, Biden had his hands under her clothes and then began penetrating her digitally. "I pulled back, and he said, 'Come on, man, I heard you liked me'...It's like he implied that I had done this."
Reade tried to come forward with her story in April 2019, but she was halted after her claims of sexual harassment got her doxxed and smeared as a Russian agent. In January of this year, Reade tried again telling her story to Time's Up, the organization that rose as Hollywood's initial #MeToo movement unfolded. However, as Ryan Grim reports in The Intercept, Time's Up couldn't provide assistance "because Biden was a candidate for federal office, and assisting a case against him, Time's Up said, could jeopardize the organization's nonprofit status."
Reade told Grim she was conflicted about coming forward with her sexual assault allegation as the 2020 election carried on because she feared she'd be "help[ing] Trump" win over Biden. But, if our two presidential front-runners are both men accused of sexual assault, and one of the largest organizations intended to help survivors can't help at all, there's a much larger issue than simply defeating Trump: It's how we handle assault at the hands of the world's most powerful men.
Epstein's lifestyle was unimaginably creepy, but it's indicative of a larger problem.
Jeffrey Epstein was found dead in his jail cell on Saturday, having been accused of sexual abuse by nearly 80 women.
He leaves behind a legacy of destructive opulence.
Epstein lived a lifestyle of unchecked consumption. The billionaire possessed a number of extravagant homes. His Manhattan townhouse allegedly cost $77 million and contained disturbing oddities—such as a hall full of fake eyes that were initially created for injured soldiers. It also contained a photorealistic mural that featured Epstein in jail, surrounded by prison guards, as well as a life-sized female mannequin that hung from a chandelier.
His private ranch was even more grandiose. At 10,000 acres, Zorro Ranch is a sprawling stretch of land, to which Epstein allegedly flew young girls, and where he abused them with the help of his supposed madam, Ghislaine Maxwell. The ranch was also a place where he attempted to impregnate hundreds of women in an effort to seed the human race with his DNA. This attempt was inspired by his distorted belief in transhumanism, a theory that the human population can be improved through artificial intelligence and genetic engineering.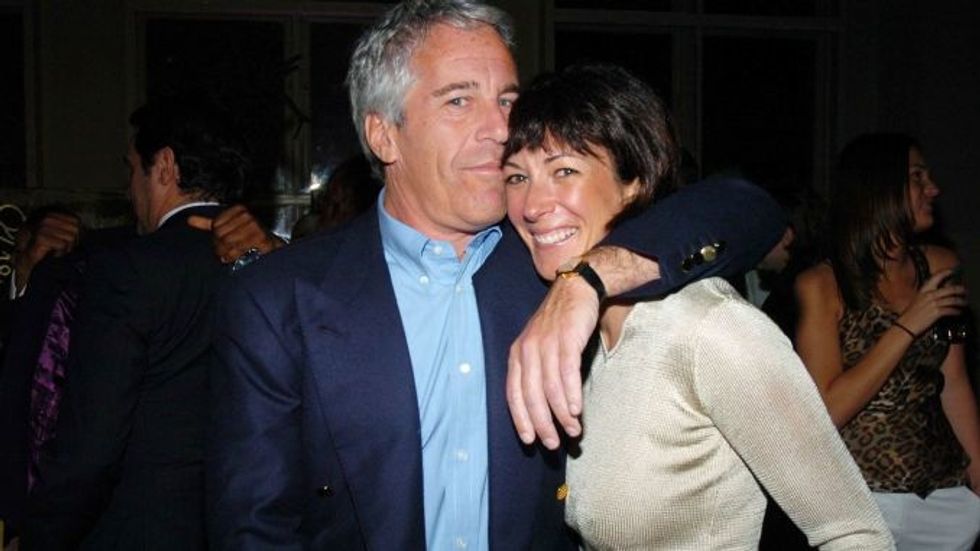 Image via BBC.com
The townhouse and the ranch paled in comparison to his primary place of residence—his private island. St. James Island is located in the U.S. Virgin Islands, and Epstein purchased it in 1998. According to a contractor, Steve Scully, Epstein possessed two private offices on the island, as well as a strange blue-and-white striped temple and a lagoon full of flamingos. The island was, allegedly, the location of a variety of heinous crimes and was casually called the "Island of Sin" and even "Pedophile Island" among some of Epstein's acquaintances.

Epstein had ties to countless businesses and money-making ventures, and he had a particularly fraught relationship with Victoria's Secret, a company that may have funneled models directly to him—and from which he may have embezzled millions. He had a circle of powerful friends that included Donald Trump, Kevin Spacey, Woody Allen, and Bill Clinton. He was also a serial liar, constantly fabricating relationships and insinuating himself into the scientific and political communities, including ingratiating himself with scientists by bankrolling their research. He is an example of the way that money can pave pathways and open doors for people with little to offer other than their purported fortunes and their charisma.
Between the bizarre decor of his homes, his interest in nefarious ideas like eugenics and cryogenics, and the suspicious circumstances of his apparent suicide in a Manhattan jail, Rolling Stone was right when it published the headline, "Conspiracy theories have gone mainstream."

Many of the conspiracy theories currently swirling around the Internet center around Epstein's relationship with Bill Clinton and Donald Trump, with #TrumpBodyCount and #ClintonBodyCount trending on Twitter and Trump himself tweeting about the Clinton conspiracy. Many others believe that Epstein faked the suicide, as the cameras in the jail cell stopped working at the time of his death.
With its tangled web of lies, the Epstein case is "the end of an information ecosystem that at least feints at asking questions before pretending to have the answers," according to Anna Merlan.
Is this the end, or just a step towards chipping away illusions and unearthing the corruption inherent to America's wealthiest class? After all, it's likely that there have been thousands of Epsteins before—billionaires in bed with politicians and scientific communities who abused women without consequence and who've funded false scientific research.
Maybe social media is, in its ugly, distorted way, finally bringing the dark money and covert alliances at the heart of America out into the light. Maybe next, the Internet could come for people like the Koch Brothers, the billionaires who paid millions to shut down climate change research.
Based on the nature of social media, though, it'll be a long time before we arrive at anything like the truth.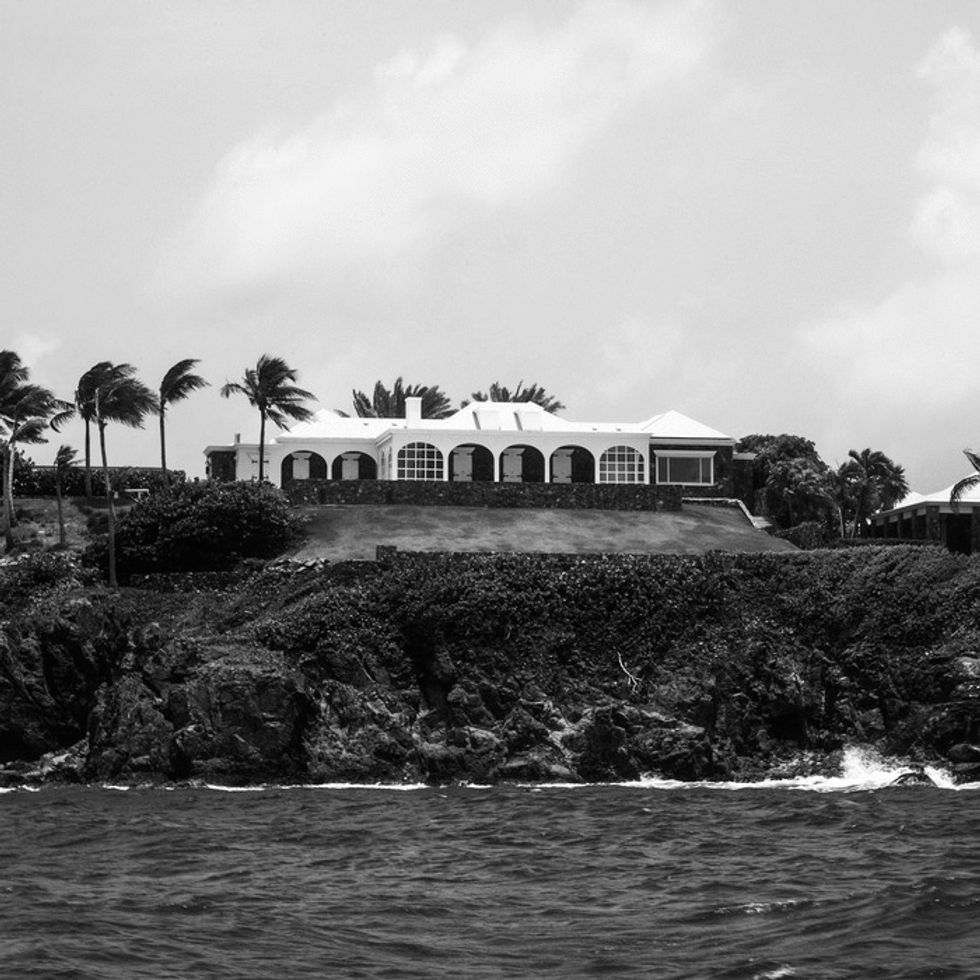 Little Saint James Island. Image via The Cut
This past weekend, registered sex offender #JeffreyEpstein was once again arrested under new charges of sex trafficking dozens of minors as young as 14 years old.
On Monday morning, Jeffrey Epstein, the 66-year-old financier and reported friend of Donald Trump and Bill Clinton, was arraigned in federal court for luring underage young girls to his homes in Manhattan and Palm Beach, Florida and soliciting them for sex.
The billionaire was first arrested in 2005 for engaging in sex with minors. The hedge fund manager pleaded guilty to soliciting an underage prostitute and served only a year in prison—with a condition of work release that permitted him to leave the facility six days a week to continue employment.
This past weekend, the registered sex offender was once again arrested under new charges of sex trafficking dozens of minors as young as 14 years old. In a public statement, the U.S. Attorney's office said that between 2002 and 2005 Epstein lured young girls to his homes under the guise of paying for a "massage": "In this way, Epstein created a vast network of underage victims for him to sexually exploit, often on a daily basis." Indeed, of the nearly 80 young girls thought to be molested by the billionaire, most were from low-income households and particularly vulnerable to his cash-exchange ploy.

If found guilty, Epstein faces up to 45 years in prison for one count of sex trafficking and an additional count of sex trafficking conspiracy. But the prominent figure has been under investigation since last year. When authorities searched the man's Manhattan townhouse, nude photographs of underage girls were seized as evidence of Epstein's exploitation of minors. According to the indictment, which was unsealed on Monday, he not only assaulted young girls in his mansion but recruited them to return for repeated abuse and asked them to bring their friends.
Geoffrey S. Berman, the United States attorney in Manhattan, appealed to any other young women who have been abused by Epstein to come forward. "They deserve their day in court and we are proud to stand up for them by bringing this indictment," he told The New York Times. He said Epstein's "alleged behavior shocks the conscience."
On Monday afternoon, Epstein pleaded not guilty to all charges. Prosecutors are requesting that Epstein be held without bail until his trial.

Brown was sex trafficked as a teen and given a life sentence for murdering the man who paid for her.
Cyntoia Denise Brown was granted clemency after serving 15 years in prison for murdering the sex trafficker who solicited her for sex. Tennessee Governor Bill Haslam granted Brown's early release on Monday after years of lobbying by prison rights' activists, state lawmakers, and high-profile celebrities, including Amy Schumer, Rihanna, Kim Kardashian, and Ashley Judd. In December, Judd posted a message to Governor Haslam on Twitter, "Cyntoia Brown was a victim of child sex trafficking, raped, and forced into paid sexual exploitation to stay alive. She deserves our empathy and your mercy."
I encourage and plead with my Tennessee Governor @BillHaslam to grant #Clemency4Cyntoia. Cyntoia Brown was a victim… https://t.co/f6AUUoZxUG

— ashley judd (@ashley judd) 1545045922.0
In 2004, Brown was a 16-year-old forced into prostitution by her 24-year-old pimp, "Kut Throat." She was solicited for sex in a parking lot by 43-year-old Johnny Allen. Alarmed by the man's behavior, Brown shot Allen with the gun he kept under the bed, later recounting to the police that he was reaching for the gun first.

While Brown was tried as an adult and found guilty for murder and robbery, her case helped to inspire reform in Tennessee's juvenile sentencing. Stacy Case, CNN affiliate and WZTZ anchor, points out, "If Cyntoia Brown were tried today, legal experts say she would not have been tried in the same way. Our courts today would view her as a child sex slave... She would be viewed as a victim."
Brown served over 14 years of her life sentence before Governor Haslam granted her clemency. His office issued the following statement: "This decision comes after careful consideration of what is a tragic and complex case. Cyntoia Brown committed, by her own admission, a horrific crime at the age of 16. Yet, imposing a life sentence on a juvenile that would require her to serve at least 51 years before even being eligible for parole consideration is too harsh, especially in light of the extraordinary steps Ms. Brown has taken to rebuild her life. Transformation should be accompanied by hope."
Brown, now 30 years old, told Haslam, "Thank you for your act of mercy in giving me a second chance. I will do everything I can to justify your faith in me." She continued, "With God's help, I am committed to live the rest of my life helping others, especially young people. My hope is to help other young girls avoid ending up where I have been."
Brown will be released on parole on August 7. Conditions of her release will include regular counseling sessions, 50 hours of community service, and gainful employment. While in prison, Brown has earned her Associate's degree, continues to work towards her Bachelor's, and mentors at-risk youth with plans to begin a nonprofit organization for troubled teens in the future.
Meg Hanson is a Brooklyn-based writer, teacher, and jaywalker. Find Meg at her website and on Twitter @megsoyung.