Dall-E Mini, the AI-powered text-to-image generator has taken over the internet. With its ability to render nearly anything your meme-loving heart desires, anyone can make their dreams come true.
DALL-E 2, a portmanteau of Salvador Dali, the surrealist and Wall-E, the Pixar robot, was created by OpenAI and is not widely available; it creates far cleaner imagery and was recently used to launch Cosmpolitan's first AI-generated cover. The art world has been one of the first industries to truly embrace AI.
The open-sourced miniature version is what's responsible for the memes. Programmer Boris Dayma wants to make AI more accessible; he built the Dall-E Mini program as part of a competition held by Google and an AI community called Hugging Face.
And with great technology, comes great memes. Typing a short phrase into Dall-E Mini will manifest 9 different amalgamations, theoretically shaping into reality the strange images you've conjured. Its popularity leads to too much traffic, often resulting in an error that can be fixed by refreshing the page or trying again later.
If you want to be a part of the creation of AI-powered engines, it all starts with code. CodeAcademy explains that Dall-E Mini is a seq2seq model, "typically used in natural language processing (NLP) for things like translation and conversational modeling." CodeAcademy's Text Generation course will teach you how to utilize seq2seq, but they also offer opportunities to learn 14+ coding languages at your own pace.
You can choose the Machine Learning Specialist career path if you want to become a Data Scientist who develops these types of programs, but you can also choose courses by language, subject (what is cybersecurity?) or even skill - build a website with HTML, CSS, and more.
CodeAcademy offers many classes for free as well as a free trial; it's an invaluable resource for giving people of all experience levels the fundamentals they need to build the world they want to see.
As for Dall-E Mini, while some have opted to create beauty, most have opted for memes. Here are some of the internet's favorites:
There's no looking back now, not once you've seen Pugachu; artificial intelligence is here to stay.
Join the fight to end modern day slavery.
I could have missed it, walked right by, hopped on the train and sped off into my life. Instead, I stopped and read every single word of this Amtrak poster - a warning about human trafficking.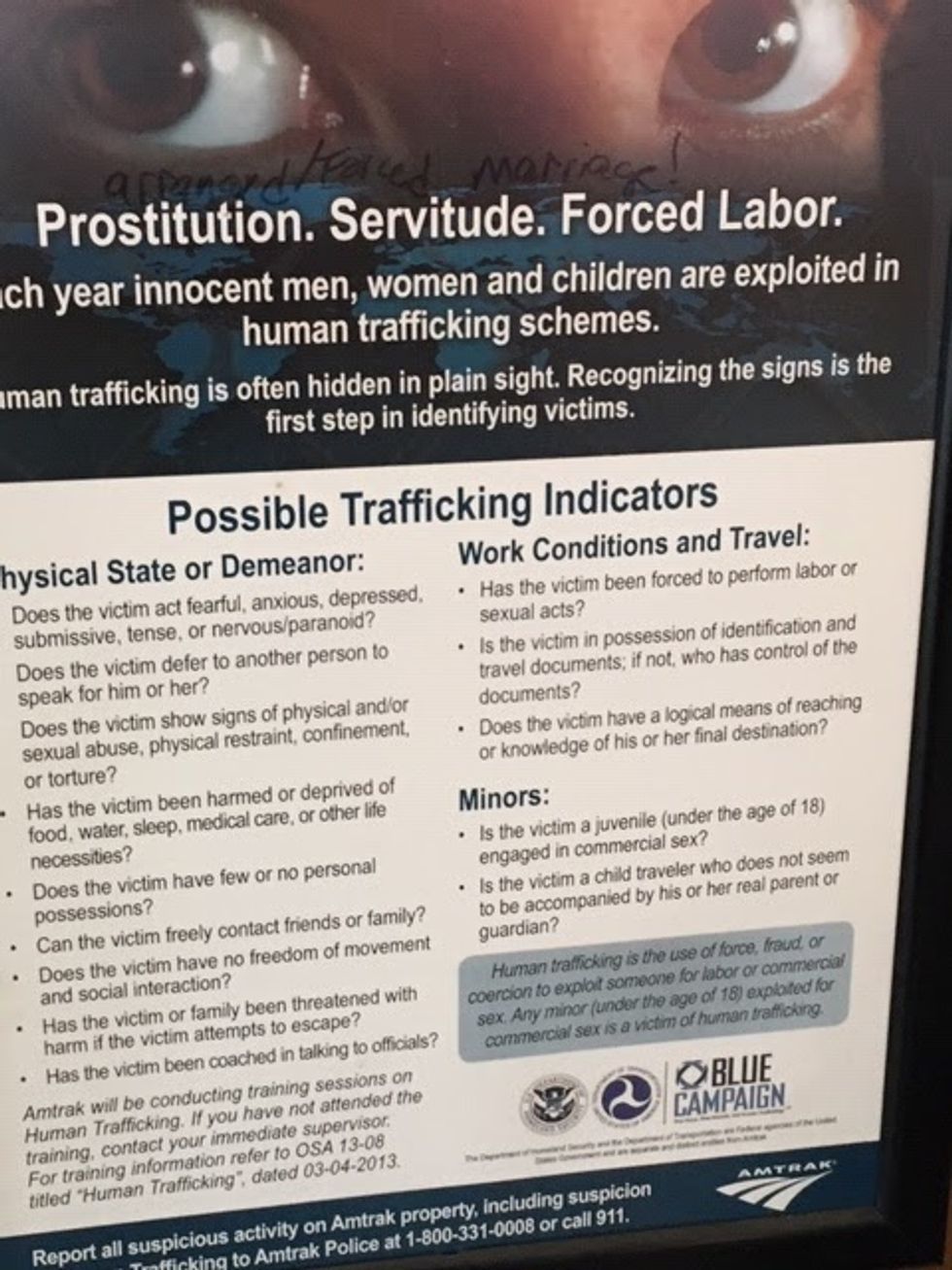 Prostitution. Servitude. Forced Labor.
Each year innocent men, women and children are exploited in human trafficking schemes that include the use of force, fraud, or coercion to exploit them for labor or commercial sex. Any minor (under the age of 18) exploited for labor, or commercial sex is a victim of human trafficking. . . .

As I read, I recalled a conversation I'd had only days before with Kathyann Powell, Founder and CEO of Saving Jane. When I sat down with Kathyann, I was struck by her fierce commitment to her organization which is dedicated to assisting human trafficking survivors and preventing new victims.
Trafficking is a subject that makes us flinch and causes us to turn away. It's ugly, it's threatening. Not in my life, you think. Although it's often hidden in plain sight, human trafficking is real and it is everywhere.
Human trafficking flourishes in Atlanta, DC, Houston, Las Vegas, Miami, NYC, and San Diego. These cities are major hubs for human trafficking because they often host sporting events and conventions, are visited by thousands of tourists, and have large transient populations. The anonymity provided within large urban centers can make the trafficker's job simple.
It's estimated that 1 in 7 missing children are likely victims of child sex trafficking each year. Most of these children are native US citizens from lower and middle class families who were recruited via social media - with the average age being 13 or 14 years old. 68 percent were in the care of social services - a group home, government facility, or foster care - at the time they went missing.
Things have got to change, or these children will be trapped in an endless cycle of exploitation and violence. Kathyann told me about Saving Jane's national education project, which is designed to raise awareness in young people ages 10 through 18. They use graphic novels to illustrate the concept of human trafficking so kids can identify, avoid, and report it to trusted adults.
Saving Jane partners with schools, religious and community organizations, and youth groups to implement prevention initiatives nationwide. They work with the FBI, educators, social workers, and survivors to calibrate their programs and training - with a focus on at-risk demographics such as homeless, LGBTQI, autistic, and disabled youth.
Recognizing the signs is the first step in identifying victims, so Saving Jane offers Workshops where participants learn to identify indicators of human trafficking and red flags:
Hangs out with older men
Has expensive new phone
Ignores her friends
Stops her favorite activities
She's pregnant
Starts using birth control
Has bruises or other injuries
Despondent physical state or demeanor
Acts fearful, anxious, submissive, tense, nervous, or paranoid
Due to the Internet and social media, traffickers have never before had such easy access to children; they can now initiate thousands of recruitment conversations. To leave kids uneducated makes them more vulnerable. The most important thing is to teach them about cyber-predators without scaring them. Saving Jane aims to empower kids to be effective agents in their own protection.
Saving Jane works with national and global organizations to distribute graphic novels that teach students about human trafficking - what it is, what it looks like, what to do when you see it, and how people fall victim to it. So, they go into schools and hold Comic Book Workshops.
Director of Storytelling and Prevention, Thomas Estler, uses comic books, film, music and social media as delivery vehicles. He composes and draws Saving Jane's popular comic book series that was created with the help of the FBI victim specialists, social workers, and anti-human trafficking organizations. His ABOLITIONISTA! Manga books are an image-driven call to action and effectively help kids get smart about social media:
ABOLITIONISTA! #goodgirlgone tells the story of how one girl becomes vulnerable and falls victim to a coercive predator who trafficks her. #goodgirlgone (ages 10 - 14) is accompanied by a teacher / leader version and can be taught in schools.
ABOLITIONISTA! Volume I and II both have female protagonists and are geared toward adolescents between 13 - 19 years old.
Another powerful tool that raises awareness is Saving Jane's Tee Shirts. With Anime-styled graphics that are hand drawn by Ozzyos Da Vyrus, one of these captivating Tees features: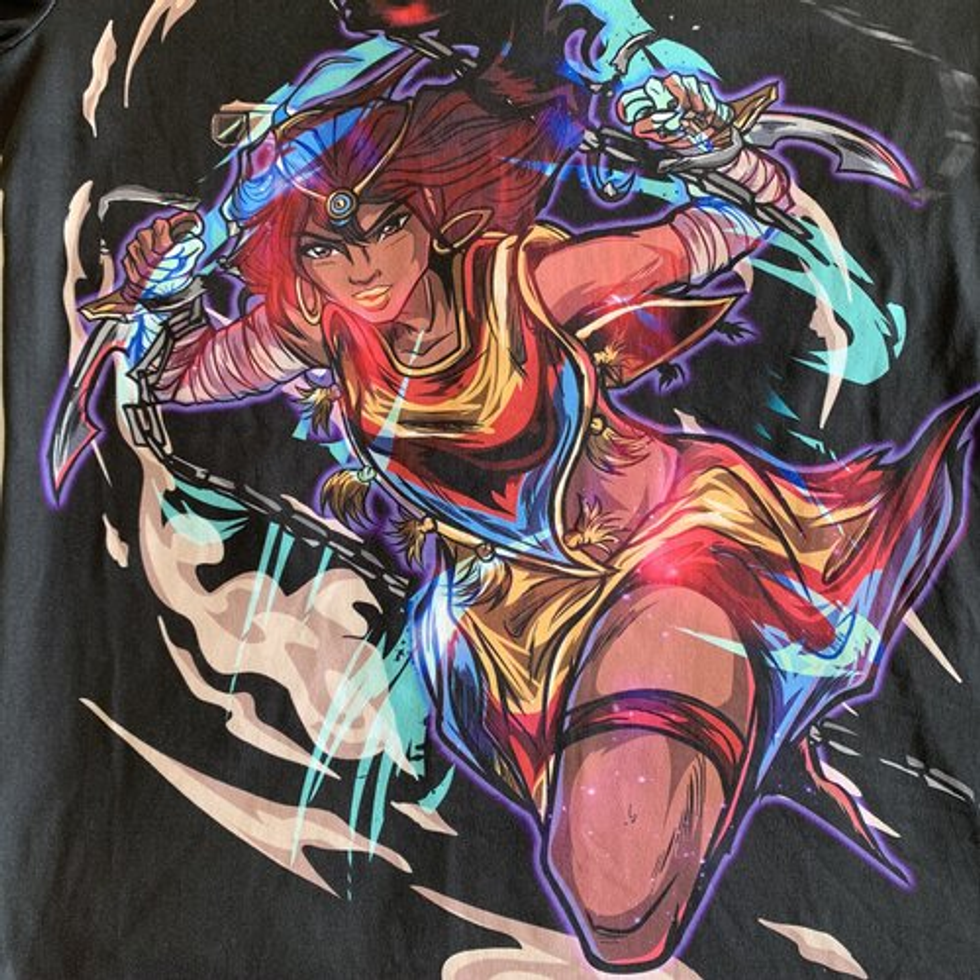 Jada's African Ancestor from ABOLITIONISTA! Volume II
Many people don't realize how widespread and destructive human trafficking is. Raising awareness about human trafficking is essential to ending it. Saving Jane's committed to ending these crimes through education, raising public awareness, and the creation of systems, technology, and policies to prevent the formation of social conditions conducive to trafficking.

So, what's next?
Saving Jane is in the concept and development phase for campus-style facilities dedicated to protecting and empowering formerly trafficked people. These facilities would provide a comprehensive suite of support services, including short term and long term housing, childcare, and healthcare and mental health care resources.
As Survivors continue on their healing journeys, these sites would offer life skills, education, career skills, and economic development opportunities so that they can return to being an integral part of the greater community.
Finally, Saving Jane's long-term mission is to transform survivors into leaders. It's clear that this visionary organization is doing just that.
For More Information and Resources visit www.savingjane.org
This past weekend, registered sex offender #JeffreyEpstein was once again arrested under new charges of sex trafficking dozens of minors as young as 14 years old.
On Monday morning, Jeffrey Epstein, the 66-year-old financier and reported friend of Donald Trump and Bill Clinton, was arraigned in federal court for luring underage young girls to his homes in Manhattan and Palm Beach, Florida and soliciting them for sex.
The billionaire was first arrested in 2005 for engaging in sex with minors. The hedge fund manager pleaded guilty to soliciting an underage prostitute and served only a year in prison—with a condition of work release that permitted him to leave the facility six days a week to continue employment.
This past weekend, the registered sex offender was once again arrested under new charges of sex trafficking dozens of minors as young as 14 years old. In a public statement, the U.S. Attorney's office said that between 2002 and 2005 Epstein lured young girls to his homes under the guise of paying for a "massage": "In this way, Epstein created a vast network of underage victims for him to sexually exploit, often on a daily basis." Indeed, of the nearly 80 young girls thought to be molested by the billionaire, most were from low-income households and particularly vulnerable to his cash-exchange ploy.

If found guilty, Epstein faces up to 45 years in prison for one count of sex trafficking and an additional count of sex trafficking conspiracy. But the prominent figure has been under investigation since last year. When authorities searched the man's Manhattan townhouse, nude photographs of underage girls were seized as evidence of Epstein's exploitation of minors. According to the indictment, which was unsealed on Monday, he not only assaulted young girls in his mansion but recruited them to return for repeated abuse and asked them to bring their friends.
Geoffrey S. Berman, the United States attorney in Manhattan, appealed to any other young women who have been abused by Epstein to come forward. "They deserve their day in court and we are proud to stand up for them by bringing this indictment," he told The New York Times. He said Epstein's "alleged behavior shocks the conscience."
On Monday afternoon, Epstein pleaded not guilty to all charges. Prosecutors are requesting that Epstein be held without bail until his trial.

Brown was sex trafficked as a teen and given a life sentence for murdering the man who paid for her.
Cyntoia Denise Brown was granted clemency after serving 15 years in prison for murdering the sex trafficker who solicited her for sex. Tennessee Governor Bill Haslam granted Brown's early release on Monday after years of lobbying by prison rights' activists, state lawmakers, and high-profile celebrities, including Amy Schumer, Rihanna, Kim Kardashian, and Ashley Judd. In December, Judd posted a message to Governor Haslam on Twitter, "Cyntoia Brown was a victim of child sex trafficking, raped, and forced into paid sexual exploitation to stay alive. She deserves our empathy and your mercy."
I encourage and plead with my Tennessee Governor @BillHaslam to grant #Clemency4Cyntoia. Cyntoia Brown was a victim… https://t.co/f6AUUoZxUG

— ashley judd (@ashley judd) 1545045922.0
In 2004, Brown was a 16-year-old forced into prostitution by her 24-year-old pimp, "Kut Throat." She was solicited for sex in a parking lot by 43-year-old Johnny Allen. Alarmed by the man's behavior, Brown shot Allen with the gun he kept under the bed, later recounting to the police that he was reaching for the gun first.

While Brown was tried as an adult and found guilty for murder and robbery, her case helped to inspire reform in Tennessee's juvenile sentencing. Stacy Case, CNN affiliate and WZTZ anchor, points out, "If Cyntoia Brown were tried today, legal experts say she would not have been tried in the same way. Our courts today would view her as a child sex slave... She would be viewed as a victim."
Brown served over 14 years of her life sentence before Governor Haslam granted her clemency. His office issued the following statement: "This decision comes after careful consideration of what is a tragic and complex case. Cyntoia Brown committed, by her own admission, a horrific crime at the age of 16. Yet, imposing a life sentence on a juvenile that would require her to serve at least 51 years before even being eligible for parole consideration is too harsh, especially in light of the extraordinary steps Ms. Brown has taken to rebuild her life. Transformation should be accompanied by hope."
Brown, now 30 years old, told Haslam, "Thank you for your act of mercy in giving me a second chance. I will do everything I can to justify your faith in me." She continued, "With God's help, I am committed to live the rest of my life helping others, especially young people. My hope is to help other young girls avoid ending up where I have been."
Brown will be released on parole on August 7. Conditions of her release will include regular counseling sessions, 50 hours of community service, and gainful employment. While in prison, Brown has earned her Associate's degree, continues to work towards her Bachelor's, and mentors at-risk youth with plans to begin a nonprofit organization for troubled teens in the future.
Meg Hanson is a Brooklyn-based writer, teacher, and jaywalker. Find Meg at her website and on Twitter @megsoyung.