You must be very concerned about what your favorite companies are doing during this global crisis.
For most Americans, the COVID-19 pandemic has turned life as we know it upside down.
From school and restaurant closures to quarantines and social distancing, the American people are largely waking up to the fragility of our social systems. But for corporations, and especially marketing professionals, a new art form has emerged from amidst the chaos—the COVID-19 e-mail.
The COVID-19 e-mail, as an ideological concept, is quite simple. If major corporations are your friends, as American culture has attempted to establish time and time again, it follows that you must be very concerned about what they're doing during this global crisis. Sure, you might be a bit worried about how to feed your children when your paychecks aren't coming in and the schools are closed, but how could you sleep at night without knowing that Chipotle is safe? And yes, while it sucks that your grandpa might die without you even being able to enter his room for fear of spreading the virus to others, imagine how much more it would suck if GameStop didn't let you know what they were up to during these perilous times?
But fear not. All of your favorite corporations are right there in your e-mail inbox, detailing exactly what they're doing to prevent the coronavirus from spreading (short of shutting down while continuing to properly pay their employees).
Chipotle
While many Chipotle employees were upset that Chipotle was continuing to disregard sick leave laws even after the pandemic had already reached New York, Chipotle kindly assured us that their protocols were already "industry-leading." So even though it's scary that your significant other is coming down with an awful cough, hopefully knowing that Chipotle already supplied Purell sanitizer to their employees can take a hefty weight off your shoulders.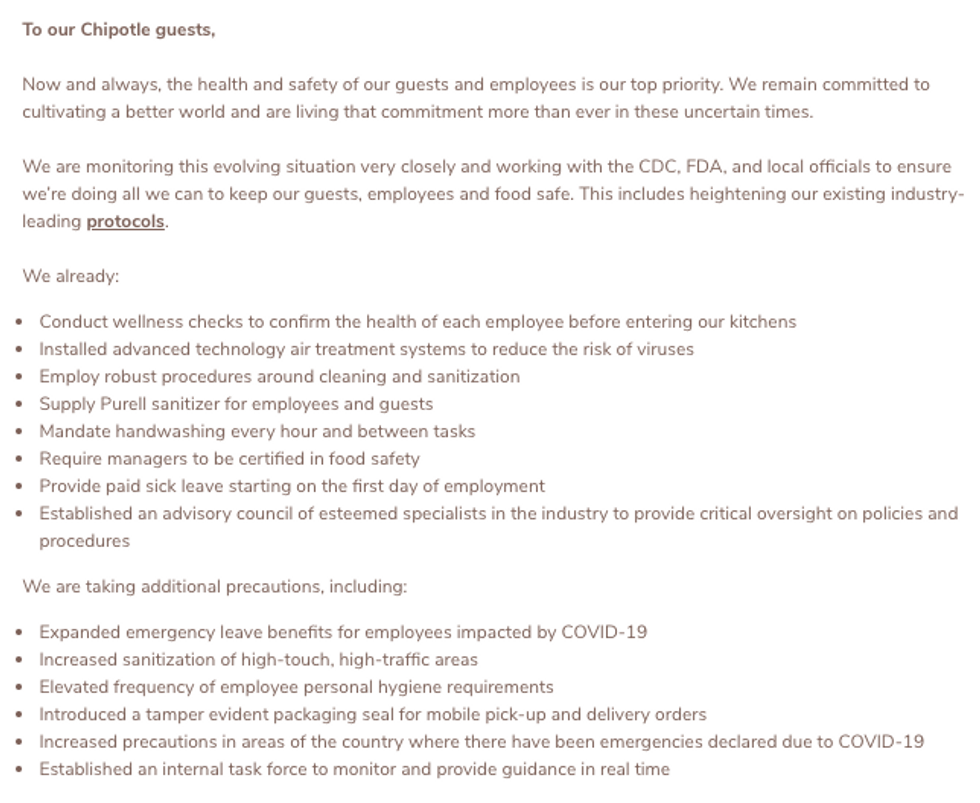 GameStop
As an asthmatic, I think I can speak for all of us when I say that learning about GameStop's newly assembled "internal COVID-19 taskforce dedicated solely to this issue" is like aloe to the lingering burn of realizing that my compromised immune system makes dying a whole lot more likely. There's only so much that we can do to protect ourselves, so it's comforting to know that GameStop's "taskforce" is watching over everyone.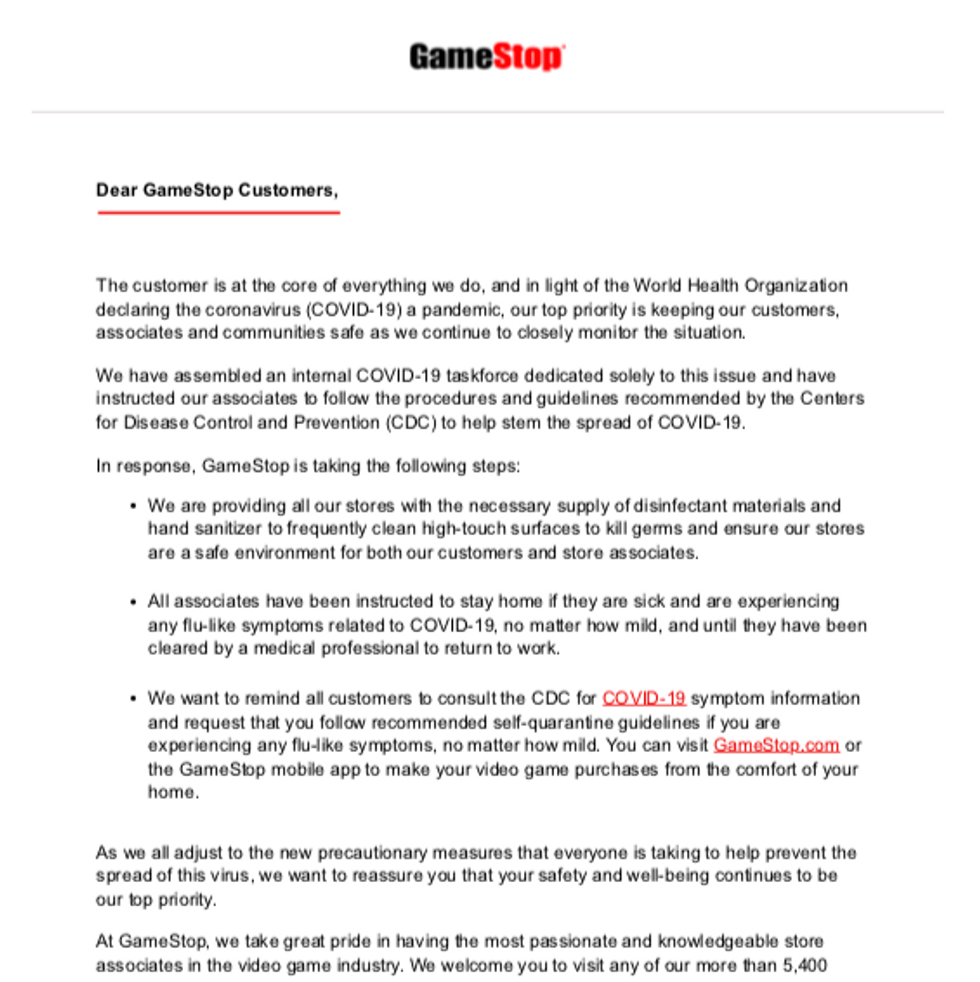 TurboTax
As Benjamin Franklin once said, "In this world nothing can be said to be certain, except death and taxes." Indeed, this deadly pandemic has arrived in the middle of tax season, so it makes sense that many of us have been waiting on pins and needles to hear from our good pal TurboTax. Happily, they are continuing to "closely monitor, assess and respond to this situation" and, by all accounts, are planning to stay functional as a business with products that exist entirely online. I was upset enough about my brother being homeless after his out-of-state college dorm closed down, so it's great to know that at least TurboTax has their sh*t together.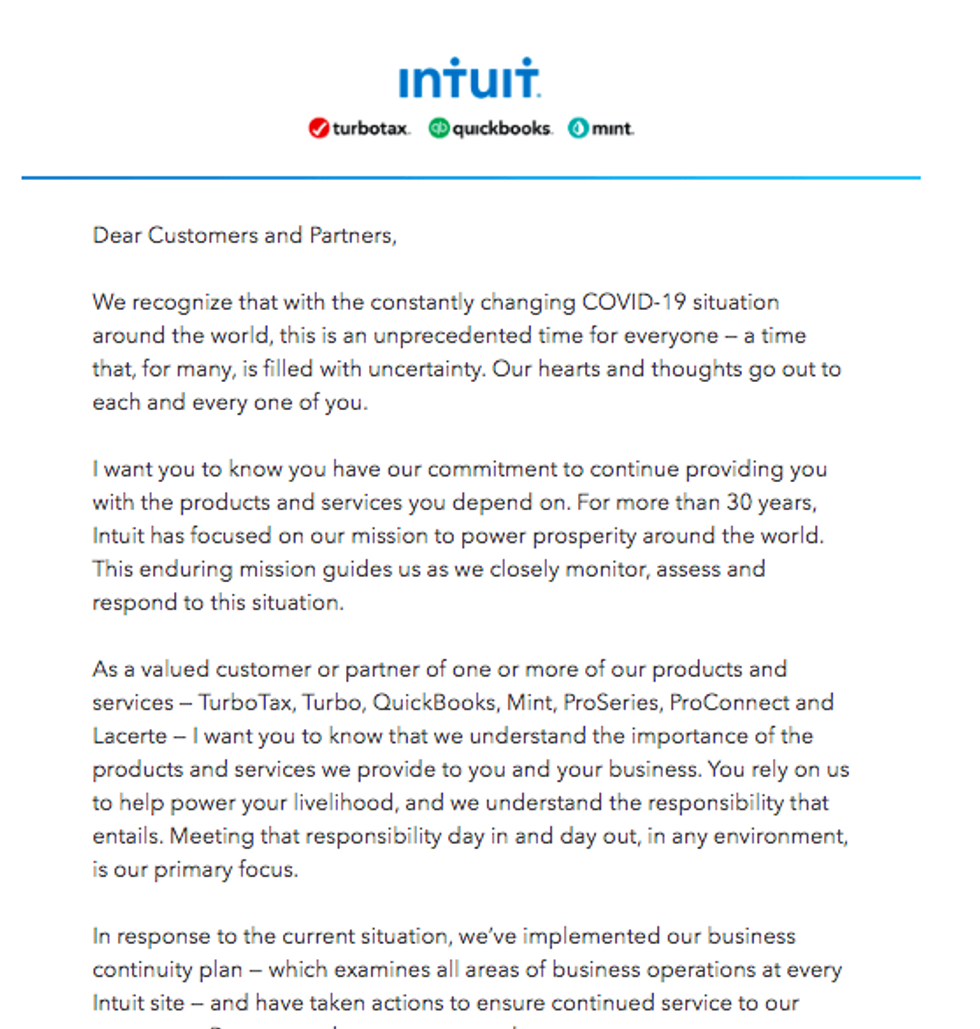 Free People

Even while we're socially isolated, it's incredibly important for us to maintain our sense of community. After all, we're still a social species. Sadly, many of our human friends have been too ill or preoccupied with their lives falling apart to spend hours chatting online. There are few feelings quite as painful as wishing you could help the people you care about but knowing that doing so very well might make everything a whole lot worse. Free People understands this. "Whether you have questions about a pending order or shipment, where to find a coveted dress, or are simply looking for someone to talk to, we are always here for you," they promise. I hope that none of my loved ones die during all of this, but if they do, I'm genuinely grateful to know that Free People is there for me.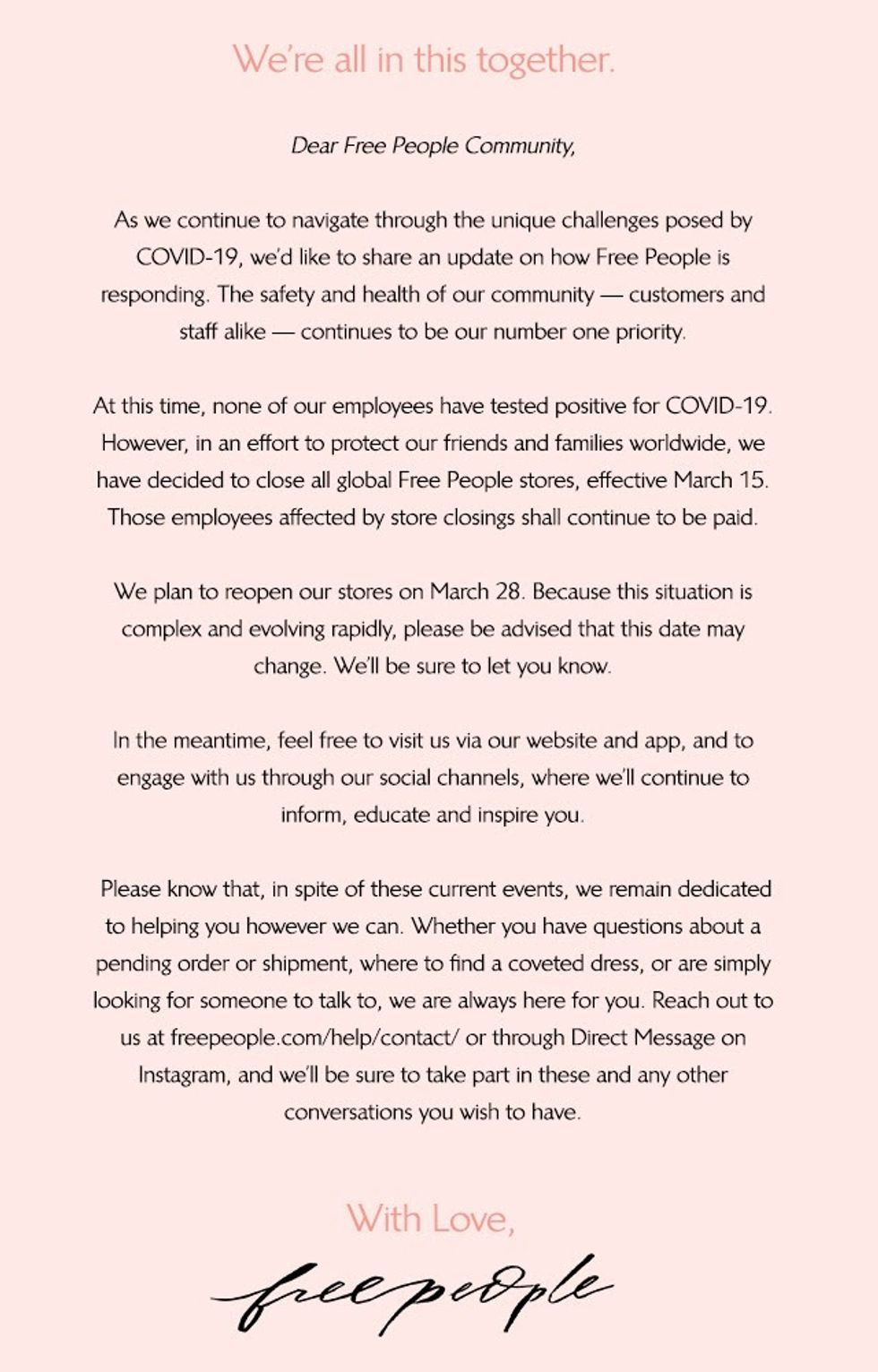 Sephora
There's no reason that being stuck alone in your apartment needs to mean that you can't go all out. That said, if you want to keep your make-up supply stocked through an indefinite period of isolation, you're going to need to hit up Sephora while you still can. Yes, logically a company whose store model revolves around sampling shared display make-up should probably stop that practice for the good of literally everybody at the first sign of a global pandemic. But that's why Sephora wants you to know that they are "cleaning all display testers with disinfectant multiple times per day and replacing as needed." Who would Sephora be if not your fun, trendy friend who lives life on the wild side. If looking good means spreading just a little bit of coronavirus, so be it.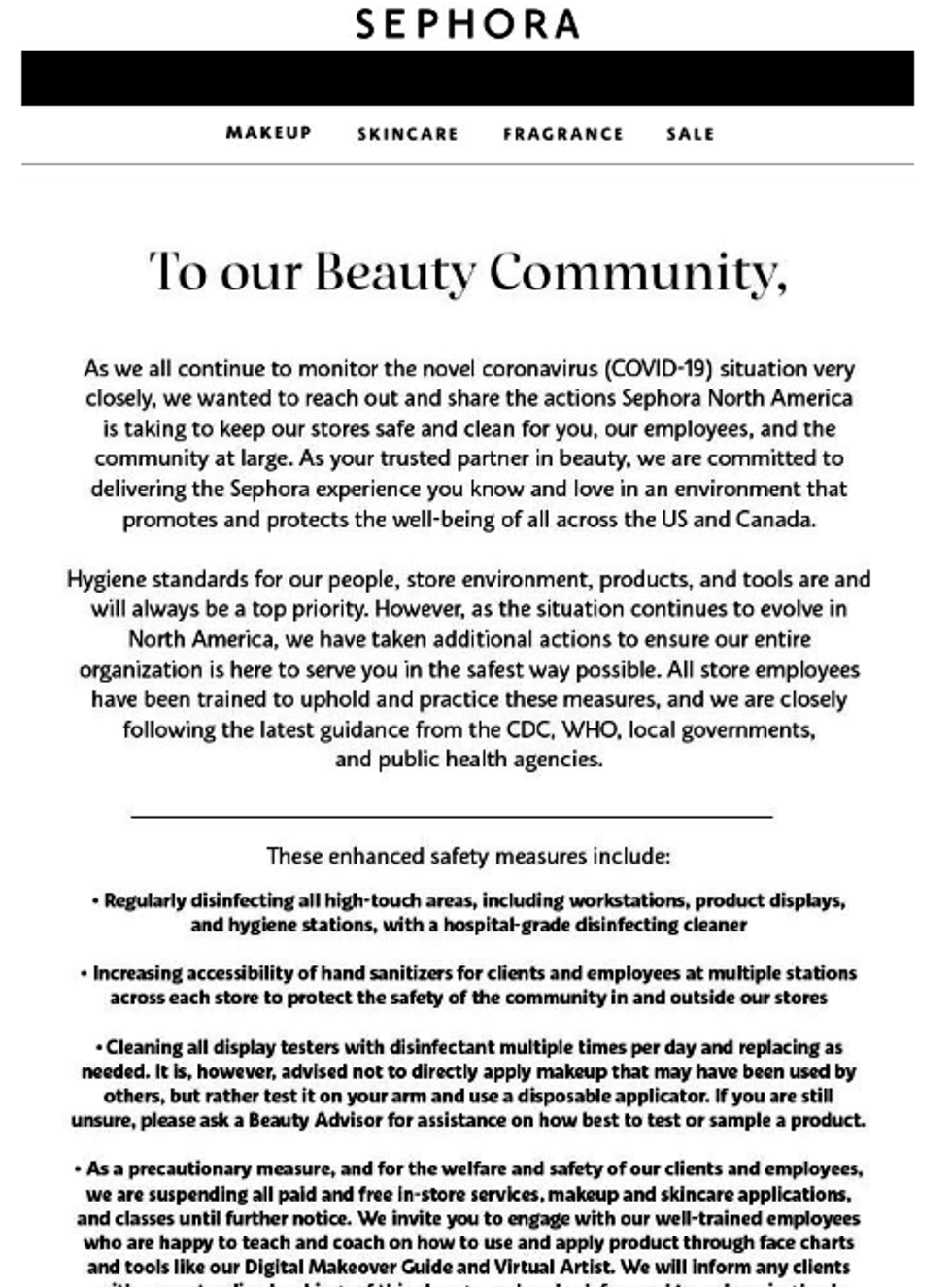 Schmackary's
Personal story: One time before human society started imploding, my girlfriend and I were walking around New York City and had a sudden craving for cookies. A quick Yelp search directed us to a nearby cookie shop called Schmackary's. While checking out, I entered my e-mail for their reward point system or something, thinking that if the cookies were good, I might come back at some point. I do live in New York, after all. In truth, I don't crave cookies often and, in time, I forgot about Schmackary's. But that's the thing about long lost friends; even after years, they were still a part of your life, and sometimes it's nice to have the peace of mind that, while the sky falls down around you, an old friend is doing okay. Even as I run out of food and worry about paying my rent, even as my loved ones fall ill around me, even as paranoia sets in, my heart is filled with joy thinking about how Schmackary's is going "above and beyond in order keep our bakery safe and clean."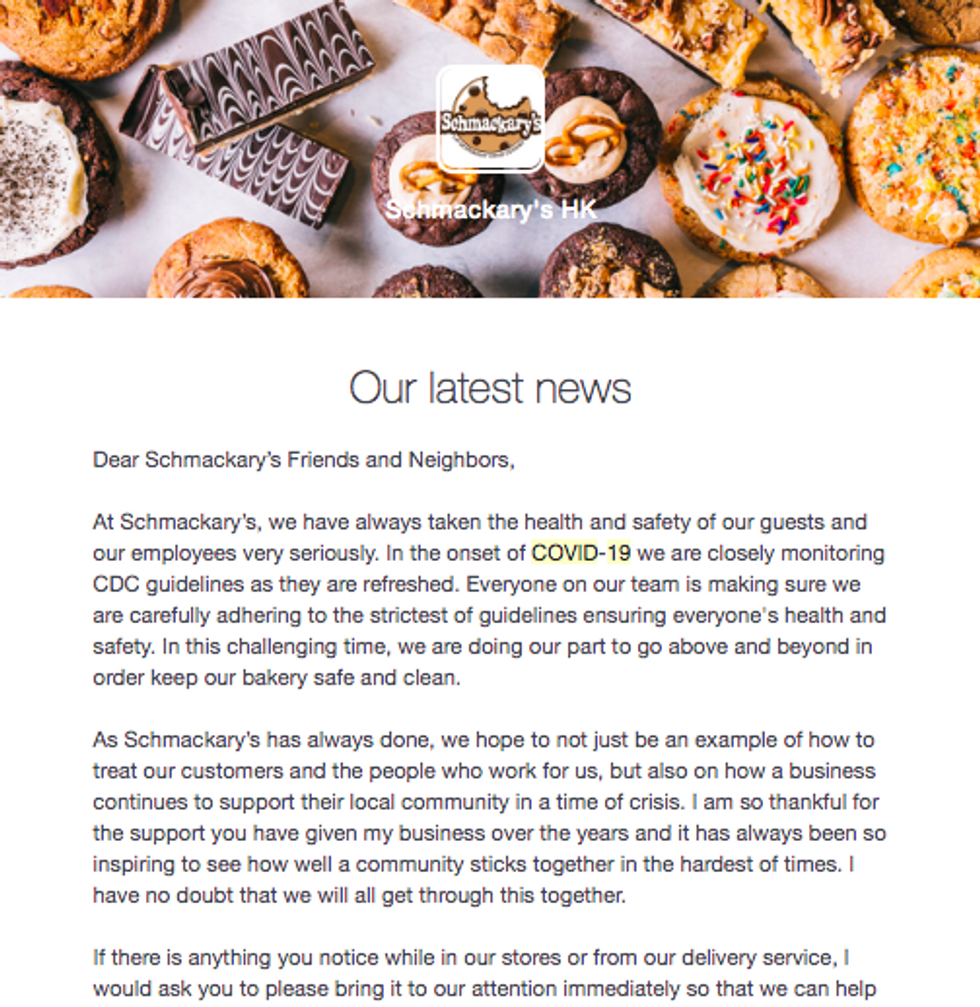 The cosmetics industry is surprisingly under-regulated.
Since the passing of the Federal Food, Drug and Cosmetic Act, the U.S. cosmetics industry–currently valued at $62 billion–has been under the jurisdiction of the Food and Drug Administration (FDA). This Act, a 112-page law passed in 1938, provides exactly one full page detailing the regulation of cosmetics, and according to the Campaign for Safe Cosmetics "provides virtually no power to perform even the most rudimentary functions to ensure the safety" of the enormous industry. While food and pharmaceuticals tend to face stringent regulations–think Taco Bell and their not-allowed-to-call-this-beef mystery sludge–cosmetics have been virtually regulation-free for the past 80 years. Most cosmetics don't even need FDA approval, and are largely self-regulated by the companies that produce them.
While this lack of restrictions may be unsurprising to people familiar with the industry, stranger still are the rules about reporting customer complaints. For example, if a certain chemical in your mascara is causing your eyelashes to fall out and you file a complaint with the manufacturer, the company has no legal obligation to report this to the FDA. It's within the manufacturer's rights to keep that information private and do with it as they see fit. In short, even if a makeup company is poisoning people, there are no laws requiring them to recall their products.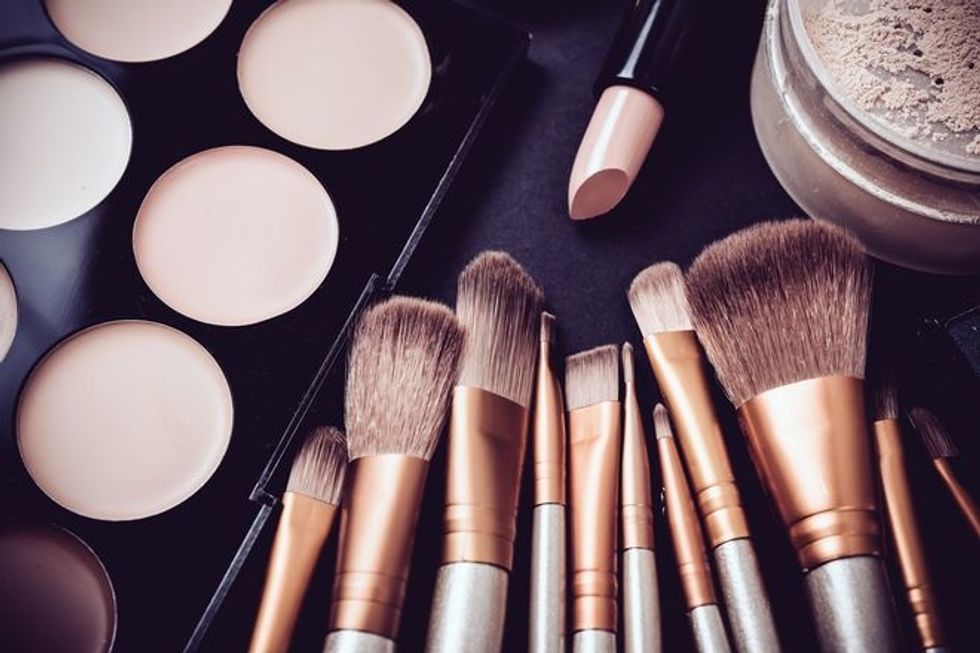 This stuff'll kill ya
A real life example of this, is the scandal surrounding WEN Hair Care, a company founded by celebrity hairstylist Chaz Dean. In 2014, the FDA opened a file on them after receiving 127 customer complaints about WEN's products causing hair loss. The subsequent investigation revealed that more than 21,000 complaints had gone unreported. Years later, the FDA still doesn't know what ingredient caused the alleged hair loss, and following an internal clinical trial by WEN, the company is once again touting their products as safe. Obviously, from a public relations standpoint the damage has been done and no amount of testimonials are going to fix WEN's image. Still, the fact that after a $26 million class-action lawsuit WEN and the FDA don't know what ingredient caused the hair loss borders on absurdity. For reference, try imagining how well that would go over for a company selling anti-inflammatories.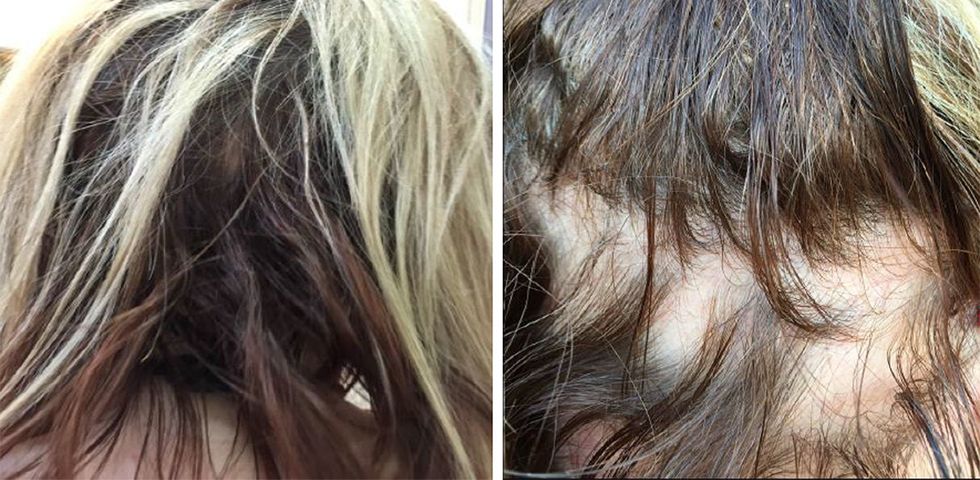 Hair loss from WEN productsPeople Magazine
This isn't the only way in which the beauty industry dodges regulations however. There are certain terms, like organic and hypoallergenic that while not completely devoid of meaning, have very wide parameters governing their use. The word organic as it pertains to foods/cosmetics, isn't regulated by the FDA, but rather the National Organic Program (NOP), a subsection of the U.S. Department of Agriculture (USDA). While the USDA is a federal department, its primary focus, as its name implies, is agriculture. Regarding cosmetics, all the USDA can really do is determine whether or not the plants from which the ingredients are harvested, are organically (meaning pesticide/GMO-free) grown. Since the USDA has no jurisdiction over the process with which makeup and other cosmetics are made, the organic label means very little. The term hypoallergenic definition is even looser, as in the FDA's own website says there are no federal regulations surrounding the use of hypoallergenic on packaging. The word essentially means nothing.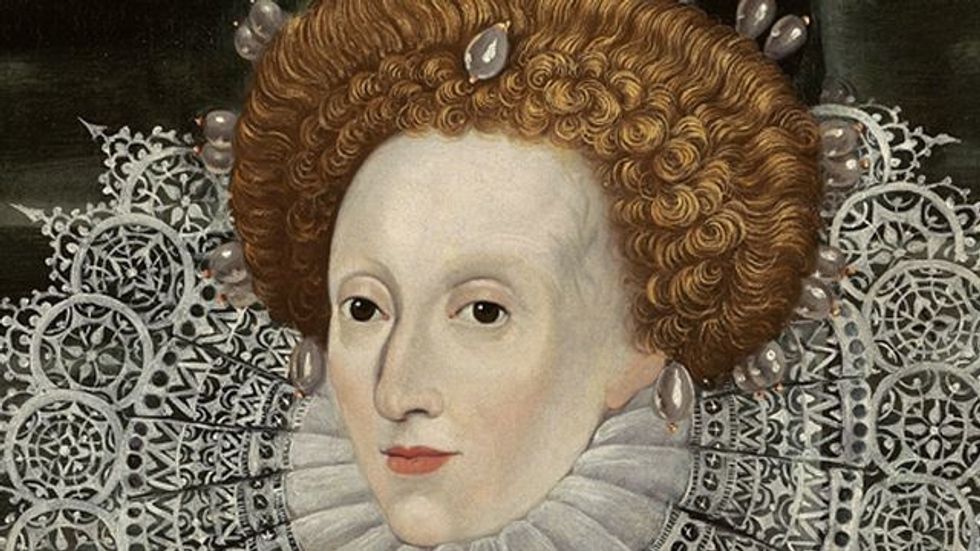 Lead-based makeup was all the rage...like literally, the lead poisoning drove people insane.
When looking back at pre-industrial beauty trends, it's easy to look at the lead-based makeup of the 17th and 18th centuries that poisoned so many royals, and write it off as primitive, but our startling lack of legislation designed to protect present-day makeup consumers might be leave us in a similar predicament. As recently as two months ago, the FDA had been investigating Claire's, under the suspicion that their foundation contains tremolite. Tremolite has been linked to lung cancer, asbestosis and mesothelioma, and is an extremely dangerous poison.
All this said, most makeup and skincare products won't kill you and are perfectly safe to use regularly. The purpose of this article isn't to be unnecessarily alarmist, but rather to illustrate the dangers an unregulated industry can pose to the general public. Unfortunately, barring a major change in legislation, consumers and not the federal government are responsible for ensuring that their cosmetics are safe. So before you go out and buy that new mascara at Sephora or that new face wash from Ulta, do a little research. Check the ingredients and find out if they're dangerous before you buy. It's definitely inconvenient, but most things that are good for you are.
Keep reading...
Show less