Dall-E Mini, the AI-powered text-to-image generator has taken over the internet. With its ability to render nearly anything your meme-loving heart desires, anyone can make their dreams come true.
DALL-E 2, a portmanteau of Salvador Dali, the surrealist and Wall-E, the Pixar robot, was created by OpenAI and is not widely available; it creates far cleaner imagery and was recently used to launch Cosmpolitan's first AI-generated cover. The art world has been one of the first industries to truly embrace AI.
The open-sourced miniature version is what's responsible for the memes. Programmer Boris Dayma wants to make AI more accessible; he built the Dall-E Mini program as part of a competition held by Google and an AI community called Hugging Face.
And with great technology, comes great memes. Typing a short phrase into Dall-E Mini will manifest 9 different amalgamations, theoretically shaping into reality the strange images you've conjured. Its popularity leads to too much traffic, often resulting in an error that can be fixed by refreshing the page or trying again later.
If you want to be a part of the creation of AI-powered engines, it all starts with code. CodeAcademy explains that Dall-E Mini is a seq2seq model, "typically used in natural language processing (NLP) for things like translation and conversational modeling." CodeAcademy's Text Generation course will teach you how to utilize seq2seq, but they also offer opportunities to learn 14+ coding languages at your own pace.
You can choose the Machine Learning Specialist career path if you want to become a Data Scientist who develops these types of programs, but you can also choose courses by language, subject (what is cybersecurity?) or even skill - build a website with HTML, CSS, and more.
CodeAcademy offers many classes for free as well as a free trial; it's an invaluable resource for giving people of all experience levels the fundamentals they need to build the world they want to see.
As for Dall-E Mini, while some have opted to create beauty, most have opted for memes. Here are some of the internet's favorites:
There's no looking back now, not once you've seen Pugachu; artificial intelligence is here to stay.
The coronavirus pandemic provides cover for crass political maneuvering.
April 28th was the original date for New York State's primary election.
Last month Governor Andrew Cuomo announced that it would be postponed until June 23rd, but on Monday the state's Board of Elections removed Bernie Sanders from the ballot, effectively cancelling the presidential primary for New York voters.
Sanders had previously suspended his campaign but was staying on the ballot in remaining elections in order to increase his delegate count and his leverage in shaping the party's platform at the Democratic National Convention this summer. A similar strategy in 2016 helped Sanders to reduce the sway of unelected superdelegates on the party's nominating process. Unfortunately for voters who wanted to support that strategy, a state law signed earlier this year allowed the board to remove Sanders from the ballot.
The official reasoning is that the election process would undermine the state's efforts to combat the coronavirus pandemic, which has hit New York City harder than anywhere else in the country. Given the new infections that resulted from Wisconsin's primary election on April 7th, no one can blame officials for being concerned, but many had assumed that the state would simply shift to an exclusively mail-in ballot process.
Both of these rallies happened in New York City and now none of these people will get to vote in the primary, mysel… https://t.co/SIf3p8Kv82

— Carlo (@Carlo) 1588011358.0
A charitable interpretation would say that there wasn't enough time to coordinate such a large-scale task, but that's not the whole picture. Whatever the logistical challenges of providing safe voting access to the all of New York's voters, state officials have made it clear that this move also served to prevent an embarrassing result for their preferred candidate and to defend the party orthodoxy against the demands of the country's young progressive movement.

"What the Sanders campaign wanted is essentially a beauty contest that, given the situation with the public health emergency, seems to be unnecessary and, indeed, frivolous."
That was what Co-Chair Doug Kellner said during a live stream announcing the board's decision. It's unclear what he might have meant by the "beauty contest" comparison, though perhaps it was a reference to the fact that the candidate he prefers looks really bad right now. With an increasingly credible accusation of sexual assault leading the trending hashtags #DropOutBiden and #BidenDropOut on Twitter in recent days, establishment insiders who favor Joe Biden's candidacy have a vested interest in treating the nomination like it's already decided. Kellner voiced that sentiment bluntly, saying, "I think it's time for us to recognize that the presidential contest is over,"
Breaking: @CNN covers Tara Reade's accusations against @JoeBiden His campaign is over. What is the response from… https://t.co/ZHMFjjuJ8M

— Habiba Choudhury (@Habiba Choudhury) 1587842002.0
But it's not over. It's very rare for a candidate to have clinched the nomination this early in the process. Joe Biden could easily make up a face-saving excuse to drop out and make way for a candidate without his baggage. He is currently several hundred pledged delegates short of a majority, with nearly half the states still waiting to vote—Ohio's mail-in primary is taking place today. But even assuming that he stays in the race, the final delegate count remains a key way to shape the policy conversation at the convention. While Biden has a distinct lead over Sanders—to the point where even a major scandal like the Tara Reade allegations is unlikely to change the outcome—holding the election in some form would have allowed for New York's voter's to be heard.

As senior Sanders campaign advisor Jeff Weaver put it, "While we understood that we did not have the votes to win the Democratic nomination our campaign was suspended, not ended, because people in every state should have the right to express their preference. What the Board of Elections is ignoring is that the primary process not only leads to a nominee but also the selection of delegates which helps determine the platform and rules of the Democratic Party,"
New York, with its young, left-leaning electorate, represented Bernie Sanders' best remaining chance of adding to his delegate count. Now the Board of Election has undermined that chance and ensured that New Yorkers won't get a say at all. With a critical election coming up in November, and the future of our nation resting on our ability to oust Donald Trump, they found a surefire way to reinforce young voters' sense of distrust and dissatisfaction with the Democratic party establishment.
Bernie Sanders is no longer running for president, but he had an indelible impact on American politics.
Bernie Sanders dropped out of the presidential race on Wednesday, April 8th. The news broke at around 11AM ET, and Sanders addressed his supporters in a live-streamed press conference starting at 11:45.
Standing inside his home, flanked by framed photos of bucolic houses, the Brooklyn-born Vermont senator thanked his supporters—specifically mentioning his campaign staff, all the people who called and texted for him, and all the artists and writers who did their best to promote his unprecedented campaign for president.
"The greatest obstacle to social change is the corporate and political establishment," he told the audience as comments flickered down the side of the screen—a Trump 2020 troll, then a Biden supporter, then a disappointed fan calling for him to re-enter.
Sanders, broadcasting from Burlington, Vermont seemed calm, yet focused. He referenced the Nelson Mandela quote, "It always seems impossible until it's done." He reminded his followers that while Medicare for All was a fringe idea in 2016, now multiple democratic candidates supported it in the presidential race, and now progressive ideals have pervaded mainstream American consciousness.
What Bernie Sanders created was a clearing, an opening for ideas that had fallen out of fashion, and for expanding… https://t.co/jJii3DfYo5

— Charles P. Pierce (@Charles P. Pierce) 1586376367.0
"Few would deny...our movement has won the ideological struggle," he said. "A majority of the American people now understand that we must raise the minimum wage...that we must guarantee healthcare as a right...that we must transform our energy system away from fossil fuels...and that higher education must be available to all, regardless of income."

Bernie was always a policy candidate, fixated on the issues at hand, clearly tormented by the idea that people are still sleeping on the streets in the richest nation in the world. The rest of the image surrounding him—the toxic masculinity, the Internet trolls—may have been true in part, and perhaps that played a role in his campaign's demise, but the truth is that Bernie's campaign failed for the same reason it won the support of millions of young people and working class people across the country: It was always about supporting and uplifting the working class.
"A member of Congress for nearly 30 years, Mr. Sanders has been bitingly frank about the way that money strangles American democracy," wrote Elizabeth Bruenig in a rare pro-Bernie New York Times op-ed, published conveniently after Sanders dropped out. "Rich individuals with a vested interest in defanging egalitarian politics donate to campaigns, PACs, universities and think tanks in hopes of purchasing lawmakers' loyalties and rigging the legislative process in their favor. These oligarchs — the Koch brothers, the Mercers and Michael Bloomberg, among others — exert control over our politics that far exceeds the one vote accorded to each citizen."
In a nation that worships wealth above all else, and that's truly led by massive corporations, perhaps this was a doomed endeavor. Sanders certainly invoked ire across political parties; and sometimes, Bernie supporters did exhibit somewhat cult-like behavior—though from personal experience, this cult mostly consisted people who were deeply inspired and committed to healing American society.
For some, that Sanders dropped out in the midst of the coronavirus crisis only adds insult to injury. As Keeanga-Yamahtta Taylor wrote in the brilliant New Yorker article "Reality Has Endorsed Bernie Sanders"—published a week before he dropped out—coronavirus is starkly illuminating the validity of points that Bernie has been making all along. "The class-driven hierarchy of our society will encourage the spread of this virus unless dramatic and previously unthinkable solutions are immediately put on the table," Taylor writes. "As Sanders has counseled, we must think in unprecedented ways… The Sanders campaign...has shown public appetite, even desire, for vast spending and new programs. These desires did not translate into votes because they seemed like a risky endeavor when the consequence was four more years of Trump. But the mushrooming crisis of COVID-19 is changing the calculus. As federal officials announce new trillion-dollar aid packages daily, we can never go back to banal discussions of 'How will we pay for it?' How can we not?"
Though Bernie's acquiescence to Joe Biden is a devastating loss for many of his supporters, particularly those who were never able to even cast a vote for him, in many ways Sanders' decision to drop out was a logical and even ethical choice. As Sanders himself stated in the broadcast, there was no clear path to his election—a crushing Biden victory on Super Tuesday made that clear—and in addition, holding primary elections during the coronavirus crisis poses its own unique health dangers and inevitably would distort the results.
Now, for all intents and purposes, Biden is the Democratic nominee. Though he fell short of actually endorsing Biden, Bernie called the former vice president a "very decent man" and promised to do his best to promote his progressive ideals in the forthcoming campaign.
The road ahead will be long and difficult, regardless of who wins this November. But our Vermont savior, who symbolized such a potent and promising new world, at the very least laid down some seeds. We may not see them this season, but maybe in future years, the ideas Bernie Sanders planted will be able to grow.
"Now is a moment to remake our society anew," Taylor writes. To say Bernie made an indelible impact on American politics is an understatement. In a critical and volatile moment, he inspired a new wave of young progressives to organize, and made millions of voters question the status quo. He prioritized morality in his campaign in an era that seems entirely devoid of it—not morality in terms of tolerance that disguises inaction, but morality defined by what we truly owe to each other.
These ideas will not die out after Sanders exits the primary. If anything, they'll become more local, more grassroots, more rooted in people power. After all, mainstream political parties in America have never been at the forefront of radical people-focused action. That kind of change will always have to come from the actions of everyday folks, organizing and fighting tirelessly for people they don't know.
Can the Democratic establishment get it right this time?
With the first Democratic primary still about eight months away, the Democratic party establishment appears prepared to throw all of their weight behind Joe Biden.

To hear MSNBC or CNN tell the story, Joe Biden has been the Democratic party's frontrunner since before he even declared his candidacy. Whether or not this is entirely true, however, is debatable. Misleading polls are being conducted and then misrepresented by many liberal news outlets as a means of solidifying Uncle Joe's frontrunner status early on in hopes of swaying voters toward the "more electable" candidate in the primaries. If Joe Biden can be made to look like he actually has the best chance of clinching the nomination or winning against Trump in a general election, then, voters will be more likely to vote for him as the safe bet.
IVN, or the Independent Voters Network, self-described as "a platform for unfiltered political news and policy analysis from independent-minded authors," has highlighted the biased nature of many political polls. IVN writer, Rudolpho Cortes Barragan reports:
"FiveThirtyEight, which is owned by ABC/Disney, functions as a sort of gatekeeper for polling, and polls are extremely important for candidacies. The public is told that polls judged as A+ by FiveThirtyEight are to be seen as real bellwethers of popular opinion. In reality, 'the polls' are manufactured to produce the results that the pollsters (and their corporate funders) want to see."
Barragan goes on to cite a recent Mammoth University poll as evidence. "The results showed Biden 9 percentage points ahead of Sanders," he writes, "but if you look closely you will see that more than 70% of the people polled are over the age of 50. Any honest person would be able to tell you that the 2020 electorate will be far younger than 50." The data is seldom presented within its full context on mainstream news outlets like MSNBC or CNN, and instills in voters a false sense of Biden's electability and props him up as the "safe" vote.
If this sounds eerily familiar, it's because the same thing happened in 2016. Hillary Clinton, like Biden, was prematurely propped up as the most electable candidate, even though an anti-establishment candidate like Bernie Sanders may have stood a better chance against Trump's "outsider" persona, which resonated with many voters (particularly across the midwest). This was proven in the wake of Trump's victory when analyses showed that many Bernie supporters either did not vote in the general election or jumped on the Trump ticket, preferring the radical change suggested by Trump's "drain the swamp" narrative over Clinton's years of experience as a politician.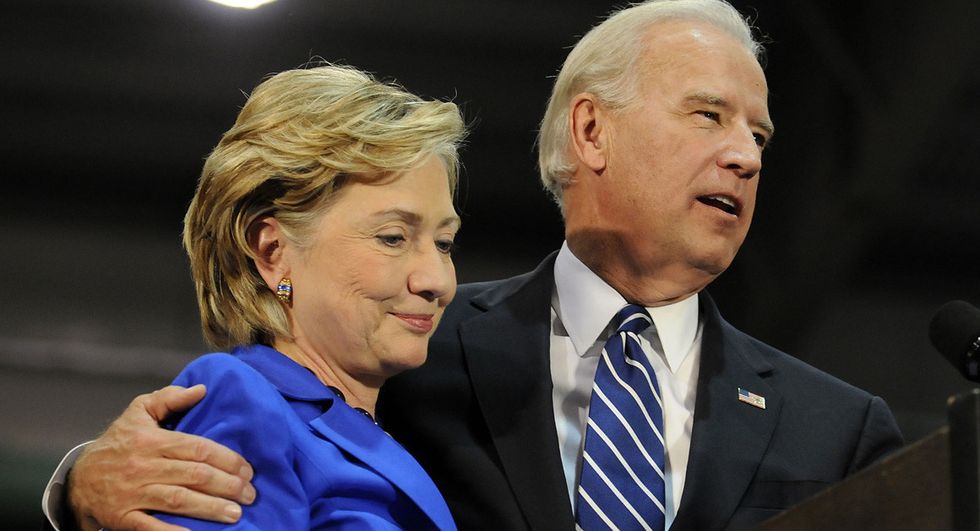 Joe Biden, like Clinton, is firmly rooted in the Democratic establishment. While Trump's approval rating has wavered over the last few years, hitting its low at 35% in 2017, it has remained around 40 to 45% — a number that should be alarming for Democrats going into 2020, as there have been only three single-term presidents since World War II.

Either way, the Democratic party and its voters must avoid making the same mistakes if there is any hope of preventing a Trump reelection. Poll manipulation was not the only issue in the 2016 election. The Democratic National Committee (DNC) was also exposed for unfairly tipping the scales toward Clinton in 2016, effectively rigging the primary against Bernie Sanders.
Donna Brazile, former interim chair of the DNC, revealed in her book, Hacks: The Inside Story of the Break-ins and Breakdowns that Put Donald Trump in the White House, the nefarious– although not technically illegal, according to US District Judge William J. Zloch, who dismissed a class action lawsuit against the DNC – actions of the Committee.
"Hillary would control the party's finances, strategy, and all the money raised," writes Brazile. "Her campaign had the right of refusal of who would be the party communications director, and it would make final decisions on all the other staff. The DNC also was required to consult with the campaign about all other staffing, budgeting, data, analytics, and mailings."
It's unclear whether the DNC's current chair, Tom Perez, will run an honest and fair ship as we approach the 2020 election cycle. Perez held the position of labor secretary during the Obama administration, and Biden publicly threw his support behind Perez during his campaign for DNC chair; whereas Sanders preferred Keith Ellison, who lost by a narrow margin. Only time will tell if Perez will tip the scales in Biden's favor due to their favorable history together, but the Democratic party is no stranger to nepotism, so Perez – especially in light of 2016 – should be watched carefully in the months to come.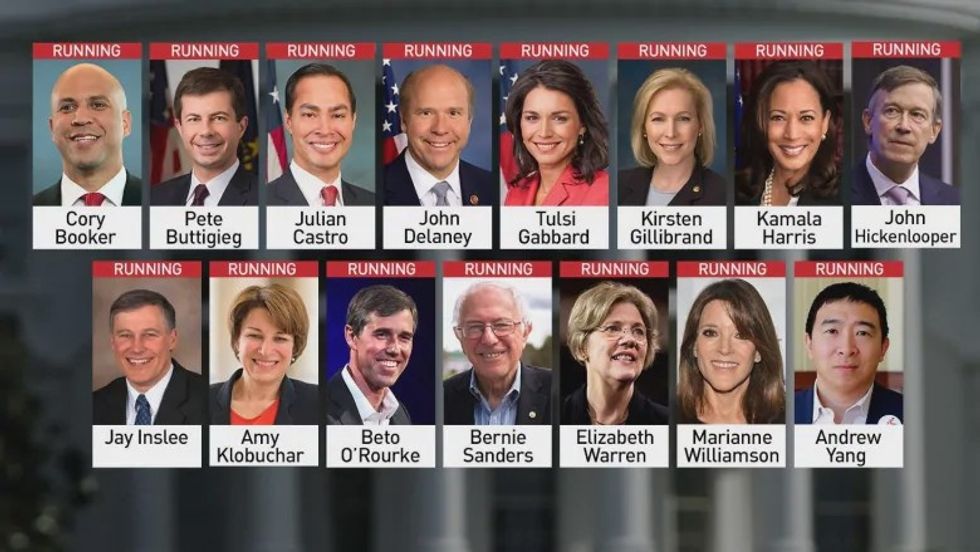 Even if the DNC does run a fair election this time around, electing Joe Biden would be a grave mistake. A mistake that the party already made last time around in the form of gifting the primary to Hillary Clinton. This election will not be one for tepid, center-of-the-road policies. We've already seen how an establishment centrist performs against Donald Trump. The Democratic party must embrace and adopt the progressive push to the left provided by candidates like Sanders and others if they have any hope of winning in 2020. Playing politics as usual will cost the Democratic party, and the nation, another four years of a Donald Trump White House.