Pogues frontman Shane McGowan was an ancient 65 when he died on November 30. Television producer Norman Lear was a youthful 101 when he left this realm on December 5. No doubt his zest for life kept him going for so long – and his zest for controversy.
Norman Lear's work was an integral part of American life in the second half of the 20th Century. Television programs like Maude, Sanford and Son, and The Jeffersons dragged television out of the 1950s and into the real world. As Variety states: "Lear's shows were the first to address the serious political, cultural and social flashpoints of the day – racism, abortion, feminism, homosexuality, the Vietnam war – by working pointed new wrinkles into the standard domestic comedy formula. No subject was taboo: Two 1977 episodes of All in the Family revolved around the attempted rape of lead character Archie Bunker's wife Edith."
All in the Family, which ran on CBS from 1971 to 1979, typified the clash of generations. Middle-aged bigot Archie Bunker – played by Carrol O'Connor – was a right-wing King Lear in Queens, raging at the radical changes in society. Archie didn't let ignorance get in the way of his opinions; once he argued that people who lived in communes were communists. The thing is, the old dog was actually capable of learning new tricks. Archie never evolved into any kind of saint. But over the nine seasons "Family" aired, experience taught Archie the benefits of listening to (and respecting) viewpoints far different from his own.
All in the Family was the jewel in Lear's crown, but don't forget the highly popular shows One Day at a Time (which featured Bonnie Franklin as a divorcee raising two daughters in the Midwest) and Mary Hartman, Mary Hartman (with Louise Lasser as the titular figure in a parody of soap opera conventions). Good or bad, Lear's work was never indifferent.
More recently, you may have heard about Lear's lively activism. His TV shows were themselves arguments for free and unfettered speech, and Lear supported a slate of liberal causes. In 1981 he founded People for the American Way. The organization's website describes the ways that PFAW has "engaged cultural and community leaders and individual activists in campaigns promoting freedom of expression, civic engagement, fair courts, and legal and lived equality for LGBTQ people."
Lear's life was a long and fulfilling one. In 1978 he was given the first of two Peabody Awards, the most prestigious award in television. "To Norman Lear," it reads, "...for giving us comedy with a social conscience. He uses humor to give us a better understanding of social issues. He lets us laugh at our own shortcomings and prejudices, and while doing this, maintains the highest entertainment standards."
A pioneer, a gadfly of the state, a mensch. To paraphrase a lyric from All in the Family's theme song, "Mister, we could use a guy like Norman Lear again."
The coronavirus pandemic provides cover for crass political maneuvering.
April 28th was the original date for New York State's primary election.
Last month Governor Andrew Cuomo announced that it would be postponed until June 23rd, but on Monday the state's Board of Elections removed Bernie Sanders from the ballot, effectively cancelling the presidential primary for New York voters.
Sanders had previously suspended his campaign but was staying on the ballot in remaining elections in order to increase his delegate count and his leverage in shaping the party's platform at the Democratic National Convention this summer. A similar strategy in 2016 helped Sanders to reduce the sway of unelected superdelegates on the party's nominating process. Unfortunately for voters who wanted to support that strategy, a state law signed earlier this year allowed the board to remove Sanders from the ballot.
The official reasoning is that the election process would undermine the state's efforts to combat the coronavirus pandemic, which has hit New York City harder than anywhere else in the country. Given the new infections that resulted from Wisconsin's primary election on April 7th, no one can blame officials for being concerned, but many had assumed that the state would simply shift to an exclusively mail-in ballot process.
Both of these rallies happened in New York City and now none of these people will get to vote in the primary, mysel… https://t.co/SIf3p8Kv82

— Carlo (@Carlo) 1588011358.0
A charitable interpretation would say that there wasn't enough time to coordinate such a large-scale task, but that's not the whole picture. Whatever the logistical challenges of providing safe voting access to the all of New York's voters, state officials have made it clear that this move also served to prevent an embarrassing result for their preferred candidate and to defend the party orthodoxy against the demands of the country's young progressive movement.

"What the Sanders campaign wanted is essentially a beauty contest that, given the situation with the public health emergency, seems to be unnecessary and, indeed, frivolous."
That was what Co-Chair Doug Kellner said during a live stream announcing the board's decision. It's unclear what he might have meant by the "beauty contest" comparison, though perhaps it was a reference to the fact that the candidate he prefers looks really bad right now. With an increasingly credible accusation of sexual assault leading the trending hashtags #DropOutBiden and #BidenDropOut on Twitter in recent days, establishment insiders who favor Joe Biden's candidacy have a vested interest in treating the nomination like it's already decided. Kellner voiced that sentiment bluntly, saying, "I think it's time for us to recognize that the presidential contest is over,"
Breaking: @CNN covers Tara Reade's accusations against @JoeBiden His campaign is over. What is the response from… https://t.co/ZHMFjjuJ8M

— Habiba Choudhury (@Habiba Choudhury) 1587842002.0
But it's not over. It's very rare for a candidate to have clinched the nomination this early in the process. Joe Biden could easily make up a face-saving excuse to drop out and make way for a candidate without his baggage. He is currently several hundred pledged delegates short of a majority, with nearly half the states still waiting to vote—Ohio's mail-in primary is taking place today. But even assuming that he stays in the race, the final delegate count remains a key way to shape the policy conversation at the convention. While Biden has a distinct lead over Sanders—to the point where even a major scandal like the Tara Reade allegations is unlikely to change the outcome—holding the election in some form would have allowed for New York's voter's to be heard.

As senior Sanders campaign advisor Jeff Weaver put it, "While we understood that we did not have the votes to win the Democratic nomination our campaign was suspended, not ended, because people in every state should have the right to express their preference. What the Board of Elections is ignoring is that the primary process not only leads to a nominee but also the selection of delegates which helps determine the platform and rules of the Democratic Party,"
New York, with its young, left-leaning electorate, represented Bernie Sanders' best remaining chance of adding to his delegate count. Now the Board of Election has undermined that chance and ensured that New Yorkers won't get a say at all. With a critical election coming up in November, and the future of our nation resting on our ability to oust Donald Trump, they found a surefire way to reinforce young voters' sense of distrust and dissatisfaction with the Democratic party establishment.
Bernie Sanders is no longer running for president, but he had an indelible impact on American politics.
Bernie Sanders dropped out of the presidential race on Wednesday, April 8th. The news broke at around 11AM ET, and Sanders addressed his supporters in a live-streamed press conference starting at 11:45.
Standing inside his home, flanked by framed photos of bucolic houses, the Brooklyn-born Vermont senator thanked his supporters—specifically mentioning his campaign staff, all the people who called and texted for him, and all the artists and writers who did their best to promote his unprecedented campaign for president.
"The greatest obstacle to social change is the corporate and political establishment," he told the audience as comments flickered down the side of the screen—a Trump 2020 troll, then a Biden supporter, then a disappointed fan calling for him to re-enter.
Sanders, broadcasting from Burlington, Vermont seemed calm, yet focused. He referenced the Nelson Mandela quote, "It always seems impossible until it's done." He reminded his followers that while Medicare for All was a fringe idea in 2016, now multiple democratic candidates supported it in the presidential race, and now progressive ideals have pervaded mainstream American consciousness.
"Few would deny...our movement has won the ideological struggle," he said. "A majority of the American people now understand that we must raise the minimum wage...that we must guarantee healthcare as a right...that we must transform our energy system away from fossil fuels...and that higher education must be available to all, regardless of income."

Bernie was always a policy candidate, fixated on the issues at hand, clearly tormented by the idea that people are still sleeping on the streets in the richest nation in the world. The rest of the image surrounding him—the toxic masculinity, the Internet trolls—may have been true in part, and perhaps that played a role in his campaign's demise, but the truth is that Bernie's campaign failed for the same reason it won the support of millions of young people and working class people across the country: It was always about supporting and uplifting the working class.
"A member of Congress for nearly 30 years, Mr. Sanders has been bitingly frank about the way that money strangles American democracy," wrote Elizabeth Bruenig in a rare pro-Bernie New York Times op-ed, published conveniently after Sanders dropped out. "Rich individuals with a vested interest in defanging egalitarian politics donate to campaigns, PACs, universities and think tanks in hopes of purchasing lawmakers' loyalties and rigging the legislative process in their favor. These oligarchs — the Koch brothers, the Mercers and Michael Bloomberg, among others — exert control over our politics that far exceeds the one vote accorded to each citizen."
In a nation that worships wealth above all else, and that's truly led by massive corporations, perhaps this was a doomed endeavor. Sanders certainly invoked ire across political parties; and sometimes, Bernie supporters did exhibit somewhat cult-like behavior—though from personal experience, this cult mostly consisted people who were deeply inspired and committed to healing American society.
For some, that Sanders dropped out in the midst of the coronavirus crisis only adds insult to injury. As Keeanga-Yamahtta Taylor wrote in the brilliant New Yorker article "Reality Has Endorsed Bernie Sanders"—published a week before he dropped out—coronavirus is starkly illuminating the validity of points that Bernie has been making all along. "The class-driven hierarchy of our society will encourage the spread of this virus unless dramatic and previously unthinkable solutions are immediately put on the table," Taylor writes. "As Sanders has counseled, we must think in unprecedented ways… The Sanders campaign...has shown public appetite, even desire, for vast spending and new programs. These desires did not translate into votes because they seemed like a risky endeavor when the consequence was four more years of Trump. But the mushrooming crisis of COVID-19 is changing the calculus. As federal officials announce new trillion-dollar aid packages daily, we can never go back to banal discussions of 'How will we pay for it?' How can we not?"
Though Bernie's acquiescence to Joe Biden is a devastating loss for many of his supporters, particularly those who were never able to even cast a vote for him, in many ways Sanders' decision to drop out was a logical and even ethical choice. As Sanders himself stated in the broadcast, there was no clear path to his election—a crushing Biden victory on Super Tuesday made that clear—and in addition, holding primary elections during the coronavirus crisis poses its own unique health dangers and inevitably would distort the results.
Now, for all intents and purposes, Biden is the Democratic nominee. Though he fell short of actually endorsing Biden, Bernie called the former vice president a "very decent man" and promised to do his best to promote his progressive ideals in the forthcoming campaign.
The road ahead will be long and difficult, regardless of who wins this November. But our Vermont savior, who symbolized such a potent and promising new world, at the very least laid down some seeds. We may not see them this season, but maybe in future years, the ideas Bernie Sanders planted will be able to grow.
"Now is a moment to remake our society anew," Taylor writes. To say Bernie made an indelible impact on American politics is an understatement. In a critical and volatile moment, he inspired a new wave of young progressives to organize, and made millions of voters question the status quo. He prioritized morality in his campaign in an era that seems entirely devoid of it—not morality in terms of tolerance that disguises inaction, but morality defined by what we truly owe to each other.
These ideas will not die out after Sanders exits the primary. If anything, they'll become more local, more grassroots, more rooted in people power. After all, mainstream political parties in America have never been at the forefront of radical people-focused action. That kind of change will always have to come from the actions of everyday folks, organizing and fighting tirelessly for people they don't know.
Short answer: Everything.
In a small office inside an old theatre in New Hampshire, Bernie Sanders' supporters gathered to share their highlights and challenges after a day of knocking on doors.
"I'm feeling grateful," said one, before relaying a story about a surprisingly friendly interaction with a Trump supporter.
Others said they were feeling energized and inspired, despite a low response rate after hundreds of knocks and hours out in the February drear. "Just talking to one person who thanked me for being out in the field made it all worth it," said another.
The moment one person said they were feeling cold, organizers leapt into action, tossing hand-warmers to the shivering canvasser.
The New Hampshire primary was in one week. Some organizers had been in the small office for months, others had been working steadily since 2016, and still others were canvassing for the first time, but the energy in the room was palpable and warm and beautifully chaotic and fundamentally communal, much like a lot of Bernie Sanders' campaign. That has something to do with its success.
As Sanders has steadily risen in the polls, major media outlets have been forced to examine his campaign and the massive base of supporters—many young, social media-savvy, and passionately fired-up about their 79-year-old patron saint—that have propelled them to this place. Some portray his supporters as a battalion of belligerent young white males; others insist that Bernie's base is the most diverse of all; still others view them as lazy, entitled kids.
Doubters have been forced to interrogate that last opinion, because it's clear that Sanders' campaigners are anything but lazy. Sanders' campaign has garnered the highest number of individual donors of any candidate, amassing $1.3 million after discovering that a super PAC planned to air a negative ad about him. He raised nearly $100 million in 2019, topping Pete Buttigieg by some $25 million without the help of major corporations. His supporters are fervently keyed in, texting, tweeting, and—as it became clear in that New Hampshire room—getting out into the streets, taking the time to talk to people.
So what's behind Sanders' sweeping, grassroots appeal? And who are his supporters, really?
The easiest answer to this question is that there is no single answer. Bernie Sanders' supporters are working-class Americans, disaffected progressives, starry-eyed optimists, frustrated pessimists, devil's advocates, and God-fearing moralists. They are not a monolith. In that way, they might just represent the actuality of the American people—in all their contradictions, devotion, and passion—better than any other base.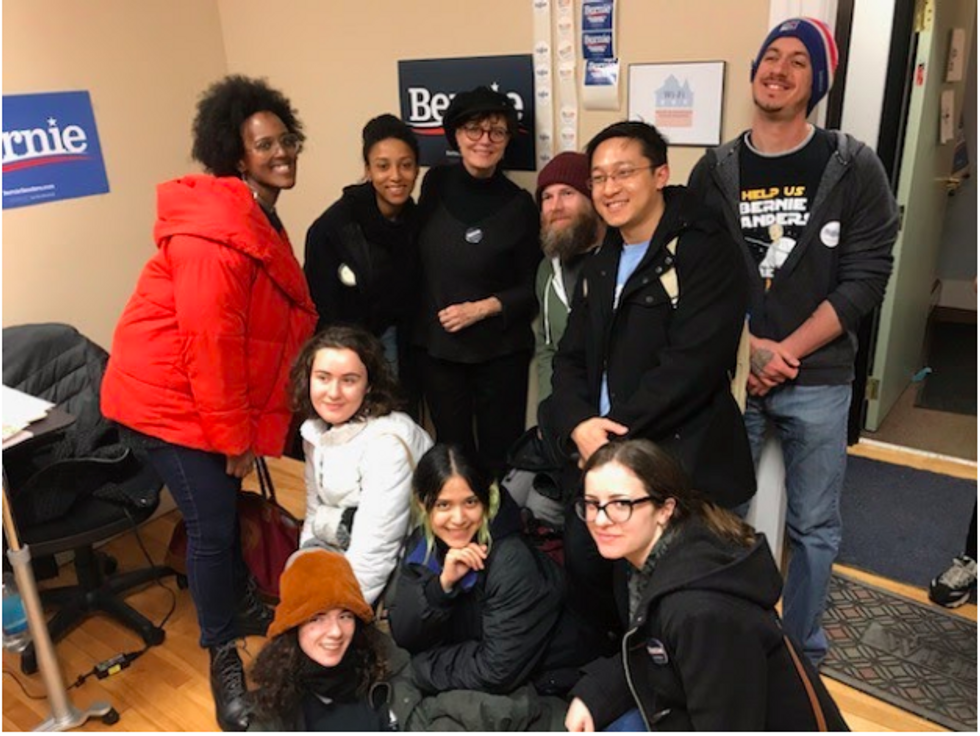 blackgirlnerds.com
"Not Me, Us" and the Fight Against American Hyper-Individualism
Miss Toni took a while to open the door. She was wearing a blue onesie covered in hearts, and her room was filled to the brim with records and posters from the 1980s. When she finally was able to open the door, a flock of birds fluttered away from her porch and took to the sky.
She told us she was already a Bernie supporter and began shakily filling out the sign-up sheet we gave her. She was registered to vote by her deadname (the male name she was given at birth), but she asked us to refer to her as Miss Tami. She had been an activist in the 1960s, she said. Bernie felt like the closest thing to bringing back the spirit of those days.
We also met a gun-owning Republican from Hawaii who, after hearing about Bernie's support for ending student debt and his dedication to ending the spirit of xenophobia in America, pledged to lend his support for Sanders on Tuesday.
Among the Trump supporters we met, their number one reason for supporting him was always the economy. "Me and my daughters are doing well."
"It would be nice if everyone could do as well as you and your family," we said. He shrugged. By the end of the conversation, he was genuinely smiling when he said, "I'm still voting for Trump. But I hope you guys keep going."
If Sanders does win the Democratic nomination, the economy will be paramount to the ensuing debates. While the currently strong American economy mostly exists thanks to Obama-era policies, and while many economists project that we are headed for a recession, it is true that Trump protects the Wall Street interests that continue to ensure cutthroat capitalism's success in America and around the world. These very successes are what have led America's income inequality levels to approach Depression-era extremities.
Sanders represents a synthesis of radicalism, anticapitalism, and a realistic understanding of the threats that America and the world are facing. To many, he also—contrary to the entire Bernie Bro narrative—represents human compassion. His campaign slogan, "Not Me, Us," is a refreshing antidote to the egotistical and self-absorbed nature of politics and neoliberalism in America. It's a reminder that—like the best stories, or the best policies—Sanders is just a vessel for something much greater, a catalyst for a dream.
Good luck to the planet to victims of American imperialism to people with giant student debt to those who want a li… https://t.co/EvaAD4D56p

— 𝐓𝐚𝐧𝐢𝐚 𝐒𝐢𝐧𝐠𝐡 (@𝐓𝐚𝐧𝐢𝐚 𝐒𝐢𝐧𝐠𝐡) 1580738520.0
Sanders' Internet Army and the Limits of Tolerance

It's unfortunate that Bernie's campaign has been plagued by cruelty and disunity—and that these aspects of his base have been so heavily emphasized by the media. It's also true that some of Bernie Sanders' supporters can be cruel, and many need to learn to listen. If Bernie's supporters are serious about his campaign, they need to understand that shutting down discourse and rejecting all contention isn't the way to go about winning support.
But it's also true that in this America, people are dying thanks to medical bills they cannot pay, and students graduate into a world where they pay exorbitant amounts of money each month for years at a time in order to combat their student debt.
In light of this, the rage that many of Sanders' supporters feel at so-called centrists is born out of a deep-rooted desire to see real change instead of more of the same. It's a realization that trusting in the system and tolerating hatred is essentially the same thing as allowing them to continue.
It's also true that we're embroiled in a climate crisis, and kids are being born into a world of increasingly rampant natural disasters and apocalyptic scenarios playing out in real time, all while watching their politicians and parents do nothing. Bernie's Green New Deal is the most ambitious plan to address climate change of any candidate's; it also promises to renew the American economy, refurbishing our crumbling infrastructure by providing millions of new jobs in green, clean manufacturing. The strength of his plan has caused Sanders to gain the support of major environmental organizations across the country.
In a world where families can easily be crushed by a medical bill or a college admissions fee, Sanders' policies read like gospel for the disaffected. The Green New Deal, Medicare for All, free college, immigration reform, and an end to endless wars are plans that promise actual change, packaged in a promise that can be paid for with the money that the United States spends on wars and allows to burn holes in Jeff Bezos's pockets.
The gospel-like, lyrical, and consistent nature of Sanders' policies are at the center of his movement. Like "Make America Great Again," Sanders' policies appeal to the idea that politics is theatre, that the best politicians present a show and offer a vision, a possibility, a roadmap for a movement that will get people out of their homes and into the field.
Lighting the Fire
There's a video of Bernie Sanders in Vermont, teaching his campaign manager, Faiz Shakir, how to use a wood-burning furnace. Sanders is wrapped in a coat, bent over a cast-iron stove. "You want the flames from the small guys—are you recording me?" he says, stopping and then clarifying, "You want the small wood to be able to catch onto the big logs."
A Vermonter tries to teach a Floridian (me) how to properly light a wood-burning furnace. Let the record show he… https://t.co/Y5nLkZlWyS

— Faiz (@Faiz) 1575426269.0
With his thick Brooklyn accent and his dedication to the task at hand, Sanders has intensely grandfatherly energy—but his statement also seems like it could suffice as his campaign slogan. He's a small flame, and when he began as a Vermont senator in 2016, he seemed to face impossible odds.

But every fire starts with a single spark. As the infamous poster that's a fixture in many dorm rooms reads, "Thousands of candles can be lit from a single candle, and the life of the candle will not be shortened. Happiness never decreases from being shared." It's a quote from the Buddha, but it could also apply to the ripple effect that Sanders' campaign has launched.
Change is catching and intoxicating. The spirit of hope and unity and fire that lights Sanders' campaign is a balm against apathy and hopelessness, against racism and xenophobia and economic inequality. It's about what human society can achieve—what we should achieve—what we are morally obligated to achieve.
Still, many of Sanders' supporters are realistic. We are well-aware that even if Sanders is elected, it will still only be the beginning of a long, hard fight against deep-rooted economic inequality, corporate greed, and dangerous capitalism-driven climate disaster in America and around the world. We know that visions and dreams mean nothing if the work isn't put into achieving them—the long, endless nights and the decades spent carving out policies.
But it's impossible to even begin the work if the dream isn't there in the first place, and if the people who believe in the dreams aren't allowed in the rooms where the work is done.
Regardless of what happens in Iowa and on the campaign trail, even the most fervent Bernie Sanders supporters believe that cruel attacks are not the answer. Even Alexandria Ocasio-Cortez—one of Sanders' biggest supporters—has stated that Democrats need to support whoever is elected in order to beat Donald Trump. If anything, we will need more unity and love and compassion for each other in the coming months than ever before.
We shouldn't have to compromise our values and allow people to die while others languish in the shade of the wealth and power they did nothing to earn, save being born in the right place.
Voting in Iowa closes at 7:00 PM CST in Iowa today, February 3rd. Find your caucus site here.

The opportunity to change your party affiliation in New York State closes February 14th.
Find out how to vote for Bernie in the primary in your state here.
We're here at the Ottumwa satellite precinct, which is the first Iowa precinct to caucus today. They'll kick off at… https://t.co/MFBXp2zHfn

— Brianne Pfannenstiel (@Brianne Pfannenstiel) 1580752095.0
The revolution will not be Tweeted, but its agenda can be.
Can a tweet save the world? No. Is it a public record of your intolerance of unjust systems in the world? Sure, if anybody reads it among the white noise of Twitter rage. Protest movements in the digital age are tricky; hacktivism, or hashtag activism, has been critiqued as an ineffective and tokenizing way to virtue signal in the name of social justice while actually being armchair activists. Meanwhile, nonviolent protests like marches, boycotts, and strikes are critiqued for being too passive to ever enact real change. On the other end of the spectrum are volatile reactionaries who want to tear down the system and begin from scratch–even if they have no actionable plans to create a viable replacement.
So what are we supposed to do? More to the point, what are we supposed to believe? A patient and open-minded look at both sides of any issue is guaranteed to point out one commonality: Everybody has the wrong idea about the opposing side. When it comes to social movements that create a better future, there are some basic, prevailing myths that only distract people from the real problems at hand. Ask activists, historians, and political science analysts, and they agree that you shouldn't fall for the following misconceptions when fighting for a better world:
1. Myth: Nonviolence Is Ineffective
Historically speaking, this simply isn't true. When two researchers from the United States Institute of Peace conducted a study of nearly 330 major violent and nonviolent campaigns "targeting incumbent regimes and foreign military occupations," they concluded that "nonviolent efforts were twice as likely to achieve their goals." They wrote, "The majority succeeded against authoritarian governments, when even peaceful protests could have fatal consequences. The ousters of Augusto Pinochet in Chile, Ferdinand Marcos in the Philippines, Zine el-Abidine Ben Ali in Tunisia, Yahya Jammeh in Gambia, Bashir in Sudan and Abdelaziz Bouteflika in Algeria are only a handful of cases in which mass nonviolent force stripped power from despots." Furthermore, another study in 2011 looked at 323 civil resistance campaigns around the world between 1900 and 2006, concluding that nonviolent campaigns were successful in 53% of cases, compared to violent ones' success rate of 26%. Additionally, only 4% of violent revolutions ended up in a "functioning democracy," compared to 42% of non-violent regime changes.
So radical violent action, whether that be in the form of paramilitary groups or self-appointed vigilantes who want to burn down the Establishment, is statistically not as likely to produce change as collective nonviolent protest.
2. Social Media Makes Protests More Effective
With that being said, there is a degree of truth to the allegation that social media creates lazy activists. More specifically, however, social media encourages engagement in social issues (i.e. sharing an article, liking a tweet, and maybe hurling insults at the opposing side), which is different from collective action. While Facebook, Twitter, and Instagram allow people to express their displeasure at existing policies, the most social media can do is mobilize people to agree on a unified agenda and a set of actions.
The problem, of course, is that many online participants don't end up following through with in-person plans, thus there's no unity where it counts: on the ground, at the march, or holding up signs. Furthermore, analysts Maria J. Stephan and Adam Gallagheremphasize the importance of "durable organizations" and "long-term planning," and in the fast-paced, immediate gratification of social media platforms like Twitter, responses can often be reactionary and short-term, which doesn't even begin the work of effective protest.
3. Myth: You Need to Have a Massive Amount of People
This is half-true, but it's mostly misunderstood. Effective nonviolent protests gain traction and grow into massive movements when their tactics get them noticed–even if that doesn't involve a large amount of people. As evidenced by the progression of the Egyptian occupation of Tahrir Square and the Serbian student protest group, Otpor (translated as "Resistance!"), a large following of people don't mark the beginning of a movement but rather it's a sign that a movement's worked. Srdja Popovic, leader of Otpor, reflected on the overthrow of war criminal Slobodan Milošević, "All successful movements come with a very low entry bar. You need to offer people the chance to do something meaningful, and – crucially – to get away with it. In Chile, against Pinochet, they drove at half speed: not illegal, very low risk, pretty funny, nothing the cops can do. It's about doing something neat, and living to tell everyone." He added, "We had to go out and listen. Get the real people, rural people, not so clever-clever people, behind us. Build a movement. We did, but it took us five years." Resistance from within a system is more effective to create change than external opposition.
4. Myth: It's a Business
Popovic coins one of their best tactics "laughtivism." Making people laugh not only gets attention, but it alleviates tension from living within fraught social realities. From graffitiing pictures of the corrupt men in charge to spreading the movement's message through public pranks, nonviolent movements have gained global traction through being human and showing a sense of humor.
They need to put their differences aside if either of them hopes to win
In a recent interview with New York Magazine Alexandria Ocasio-Cortez commented that "in any other country, Joe Biden and I would not be in the same party, but in America we are."
With consistent cries for party unity since before presidential candidates even began announcing their campaigns, it would be tempting to attack Ocasio-Cortez as splitting the party, but she is absolutely right. There is only a unified party to split on paper. America's winner-take-all style of voting forces disparate political interests to share a title and to pool donors—unless they have the ability, like AOC, to source their own funding.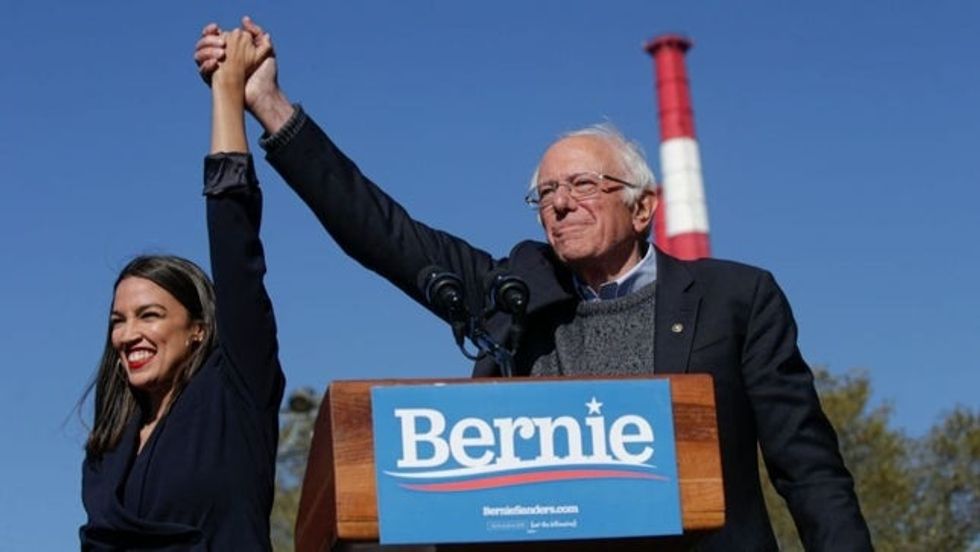 Getty Images
The GOP has used this to their advantage, emphasizing social wedge issues like abortion and immigration to pull working-class white voters away from their economic interests on the left—convincing them to cheer on tax cuts for the ultra-wealthy. For the Democrats, however, the powerful faction of the party that represents professional-class interests—the private-public partnership, means-testing, social-program-cutting wing—has represented a barrier to participation for truly progressive candidates and voters.

That's why it has been heartening, prior to this week, to see Bernie Sanders and Elizabeth Warren avoiding the temptation to attack one another. While many of Bernie's supporters online have adopted toxic attitudes toward anyone other than their preferred candidate, and many Warren supporters have questioned Bernie's feminist bona fides (particularly in light of that toxicity from many "Bernie Bros"), the candidates and their campaigns seemed largely cordial and supportive of one another. It's important, as the marginalized left-wing of the party, to focus on commonalities and mutual aid if there is going to be any hope of overcoming the powerful centrist forces that have ruled the party and served moneyed interests with only moderately less zeal than the Republican party.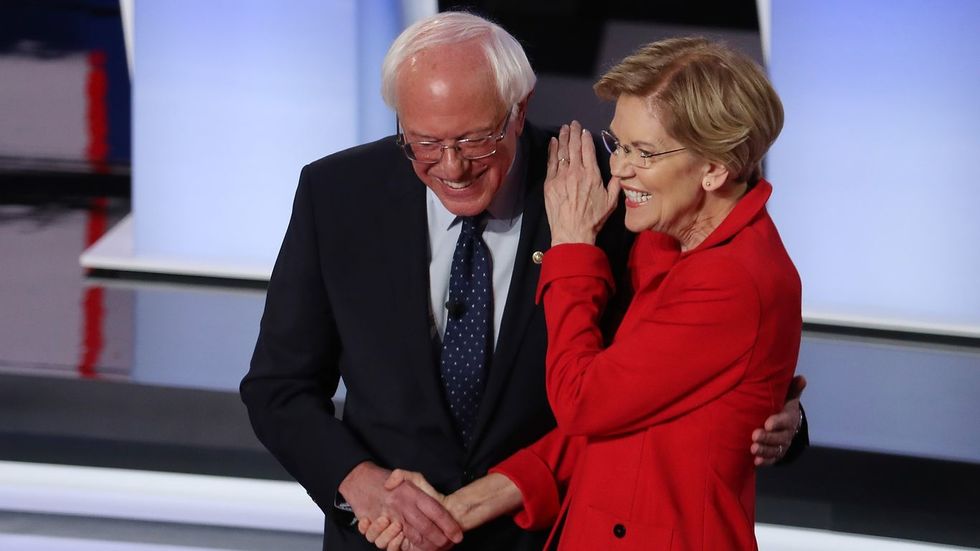 Justin Sullivan/Getty Images
That shared effort began to fall apart on Saturday night whenPolitico ran a story under the headline "Bernie Campaign Slams Warren as Candidate of the Elite." The story included excerpts from a document purported to be circulated within the Sanders campaign, with scripts instructing volunteers how to attack rivals in the Democratic primaries. While criticisms of Joe Biden and Pete Buttigieg are hardly surprising, the attacks on Warren—noting that her supporters are predominantly educated, affluent voters who "who are going to show up and vote Democratic no matter what"—came as a surprise in the context of the candidates' established alliance.

Skepticism in these cases is usually warranted, but the article contained little to suggest that the content was anything less than official and approved by Bernie Sanders himself. By the time Sanders came forward to repudiate the document and deny its official status, the damage was done. The rift was already beginning to widen.
@michelleinbklyn This campaign would NEVER attack supporters. The script, which was not directed by the campaign, p… https://t.co/smcZ6ssrU7

— Briahna Joy Gray (@Briahna Joy Gray) 1578977594.0
Warren responded that she was "disappointed to hear that Bernie is sending his volunteers out to trash me," and she sent out a fundraising email that asked both for donations and for supporters to share personal stories and perspectives to contradict the framing of her base as elitist. If that had been all, then it might have been easy to move on and return to a mutually supportive stance within a few days. But the real damage was done when people close to Warren, perhaps in an effort to retaliate, spoke to CNN about a private conversation the two had in 2018.

Back then, the thought of actual voters making actual choices seemed distant and abstract, and the candidates sat down to discuss strategies against Trump and to establish the general truce that has held until now. Everyone involved seems to agree on those points, but differing reports emerge when it comes to the topic of gender.As CNN reported, Warren laid out her strengths as a candidate: "She could make a robust argument about the economy and earn broad support from female voters." Bernie was not on the same page.
The Bernie cult has been attacking @ewarren for way too long. They've minimized her achievements, called her a copy… https://t.co/9zLobcSgBv

— Joshua Manuel Bonet 🏳️‍🌈 (@Joshua Manuel Bonet 🏳️‍🌈) 1578984471.0
According to anonymous members of Warren's team, Bernie didn't think a woman could win. Bernie shot back with his own version of events, saying, "It is ludicrous to believe that at the same meeting where Elizabeth Warren told me she was going to run for president, I would tell her that a woman couldn't win... What I did say that night was that Donald Trump is a sexist, a racist and a liar who would weaponize whatever he could. Do I believe a woman can win in 2020? Of course! After all, Hillary Clinton beat Donald Trump by 3 million votes in 2016." When Warren herself was finally convinced to weigh in directly, she urged people to move on, claiming that she was more interested in what she and Sanders agree on… But she also confirmed the more inflammatory version of events: "Among the topics that came up was what would happen if Democrats nominated a female candidate. I thought a woman could win; he disagreed."

While there is certainly a conversation to be had about to what extent America remains too sexist to support a female candidate, it seems like a stretch to accept the idea that, in 2018, Bernie would hold such a categorical view against the possibility of a woman being elected president. What makes it particularly questionable is the existence of footage from a C-SPAN appearance three decades earlier, in which Bernie says, "In my view, a woman could be elected president of the United States. The real issue is whose side are you on? Are you on the side of workers and poor people, or are you on the side of big money and the corporations?"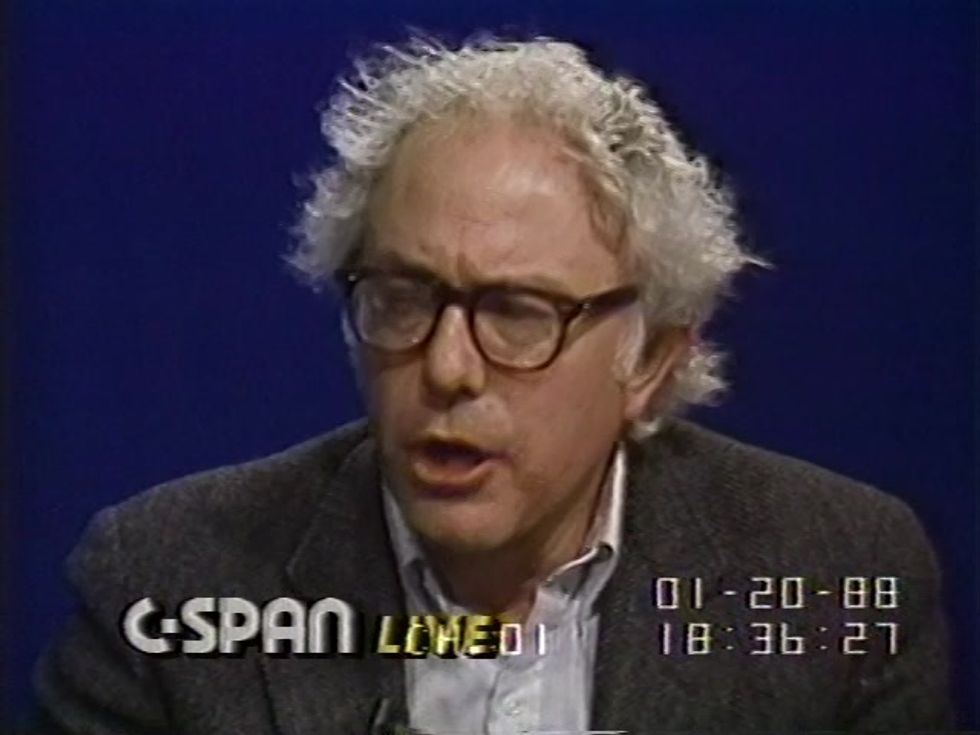 C-SPAN
The suggestion that Bernie's views have become more regressive since 1988 seems far-fetched. The inclusive, forward-thinking persona he has consistently presented to the public for 40+ years doesn't line up with this supposed private view. Then again, the idea that Warren would simply lie about Sanders' comments seems equally unlikely. Who you believe seems to depend largely on who you prefer, and the two camps seem to be moving further from each other as the Iowa Caucuses close in. On one side, Bernie Sanders is a sexist; on the other, Elizabeth Warren is a liar.
Without a recording or a transcript of the conversation, it doesn't seem quite justified to land in either of those camps. Without third-party witnesses, the basic facts of who did and who said what can quickly dissolve. The message that was intended and the message that was received crystallize in each person's mind to the point that they become irreconcilable. Perhaps Bernie did think that a progressive man was better poised than a progressive woman to counter Donald Trump's brand of populism in the 2020 election. Maybe his way of saying so was so clumsy that Warren took it as a broad statement about the viability (or lack of viability) of female candidates, and she recounted it as such to people close to her. Short of calling either of them a liar or worse, that is the best I can muster—a version of events that I prefer to believe in order to maintain my respect for both of these candidates.

Supporters from both sides will no doubt find this middle-ground unsatisfactory. The rift feels real right now, and it's starting to seem like each side is trying to undermine the chances of the other. But while only one candidate can win the nomination in the end, their support draws too much from the same pool of voters to allow this rift to remain. Already Bernie supporters who also donated to Warren are turning against her with the hashtag #RefundWarren. But the sad truth is that neither can win in the general election without support from the other's ardent fans. And who really stands to benefit from continued fighting? The center and the far-right. It can only help Joe Biden and Donald Trump. And Donald Trump seems to know it...
Bernie Sander's volunteers are trashing Elizabeth "Pocahontus" Warren. Everybody knows her campaign is dead and wan… https://t.co/XaRdJ6P3W8

— Donald J. Trump (@Donald J. Trump) 1578929126.0
If Sanders and Warren can't each count on the other's supporters to get behind them as the primaries shake out, then Biden will likely hold onto his narrow lead. And if one of them does manage to get the nomination with this acrimony still hanging in the air between them, no amount of campaigning for one another is going to muster the sort of passion that we can count on to overwhelm Donald Trump in the general. 2016 should have taught us that much.

This feud needs to end now. Warren and Sanders need each other, and our country needs them. They are the only candidates taking America's economic divide seriously, and the only candidates willing to tackle climate change with the resolve and transformative action it requires. If Donald Trump gets reelected, he will continue to make both of these problems far worse, destroying hope for economic justice and a sustainable future. If Joe Biden is our next president, then we will go back to enacting middling, inadequate reforms—one step forward for every two steps back.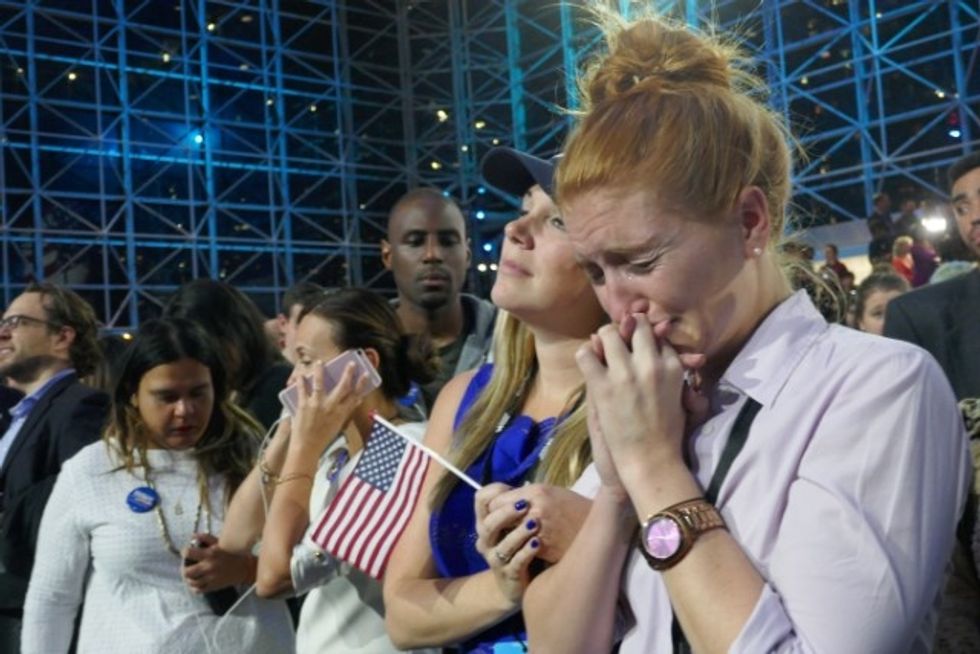 Hillary supporters as 2016 election results came inGetty Images
Warren and Sanders, united, represent our only real hope. Of course, they each believe that they are best suited to the job. They wouldn't be running otherwise. But if either of them is going to win, they need to come together, reaffirm progressive unity with one voice—acknowledging the differing accounts of events and decrying sexist limitations. Either of them can win this election, but neither can do it alone.
We must look at the mass actions that are making life difficult for the powerful in Chile and Lebanon and Hong Kong, and prepare ourselves to make the same kind of trouble at home.
With all the global significance connected to the 2001 attack on the World Trade Center, many people don't realize that September 11th has a very different set of meanings in Chile.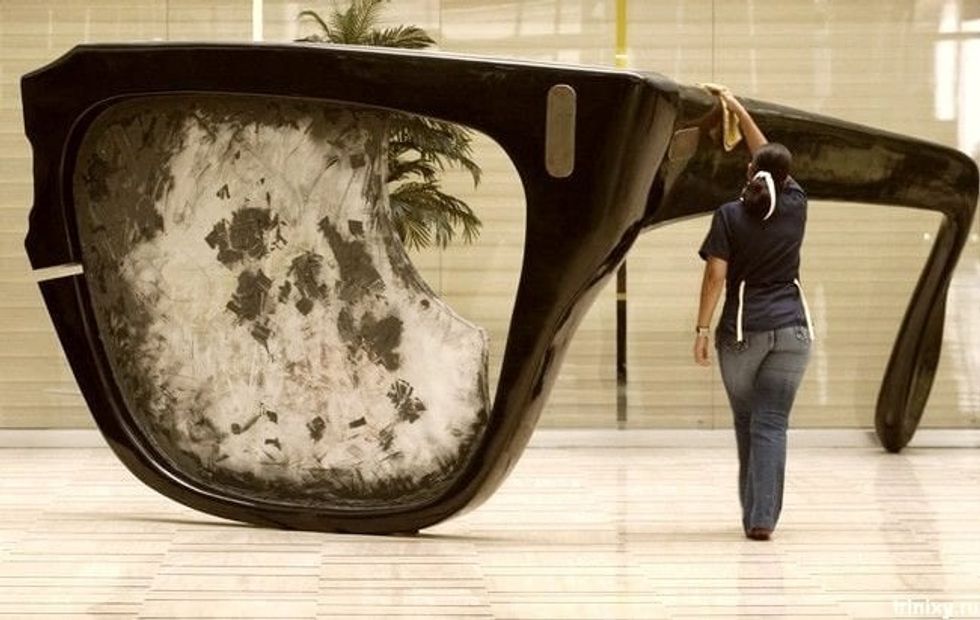 A memorial depicting Allende's broken glasses in the aftermath of the coup
On that day in 1973, the United States backed a coup that killed Chile's democratic socialist president, Salvador Allende, ushering in the brutal era of Pinochet. Chile has never fully recovered from the violence of that period, nor the sudden shift in economic policy that followed. For many Chileans, it has been hard to imagine a world in which the leadership could work for them, rather than the global elite. But now the streets of Santiago and Valparaiso are being taken over by thousands of protesters who've been unwilling to accept piecemeal concessions from President Sebastian Pinera.

In Chile, a billionaire president pushes austerity while the military represses protesters. Thousands have been arrested. Knowing Chile's history, this is very dangerous.

The solution here and across the world is obvious. Put power where it belongs: with working people. https://t.co/s6J7kOtDXs
— Bernie Sanders (@SenSanders) October 30, 2019
So far many of these protests have been peaceful, but there have been instances of arson and of violent clashes between protesters and security forces. At least 20 have already died, but the activists there are not giving up. They are relentless, and they are only interested in substantive change—a fundamental restructuring of the Chilean Government to serve the working people. They want Pinera to resign, and they are calling for changes to the Chilean constitution.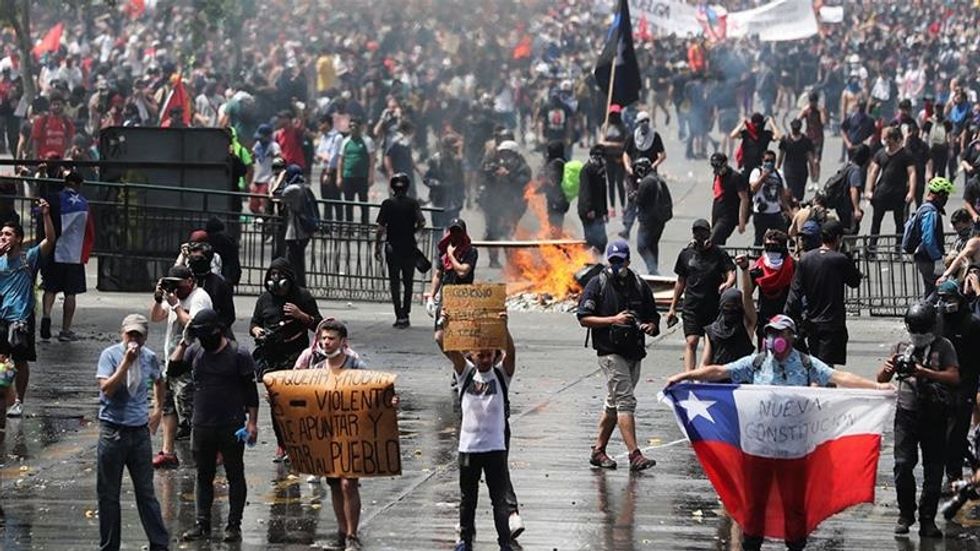 Al Jazeera
For Americans, this kind of protest remains out of the question. Protest in America does not exist to be disruptive or to force action. It only serves as a salve for our powerlessness.
American protest is sanctioned by the system and restricted to its proper time and place. It makes the protesters feel better for a time—makes them feel seen, like they're a part of something—and maybe it raises some awareness for a cause or inspires some phone calls to congress. And if it attempts to do more, it is met with swift and violent crackdowns. It does not—cannot—break down the country's normal functions.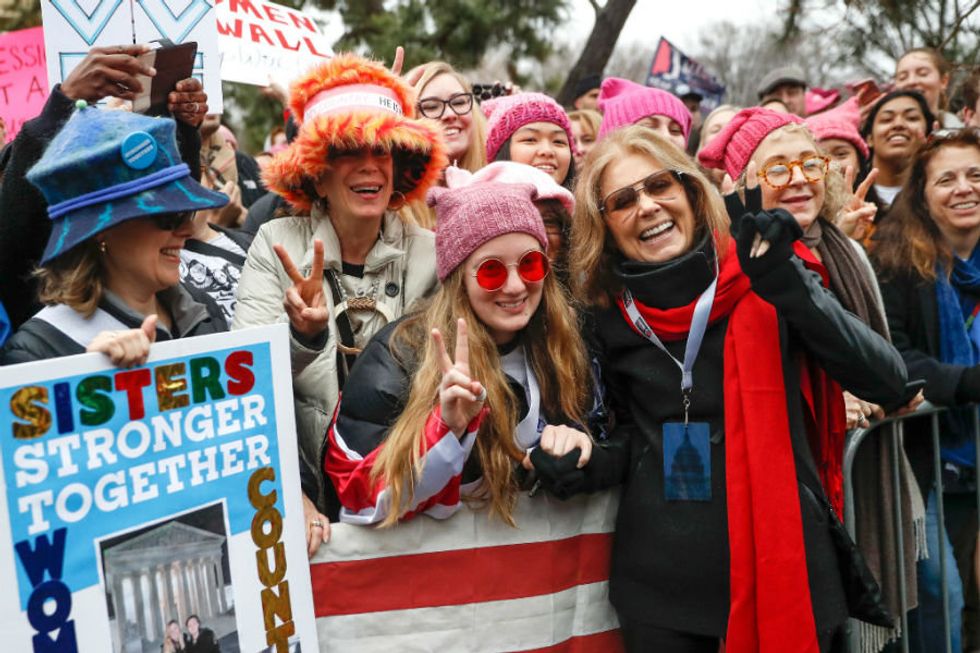 Christian Science Monitor
But what if the normal functions no longer work for the people? What if the interests that led the United States to back coups against Socialist leaders are also fueling mass propaganda campaigns against grass roots movements at home? What if they're defending those in power from the normal avenues of accountability?
The American media has a tight focus right now on the rapidly developing impeachment proceedings, and that makes sense. There is new information coming out of those efforts on a near daily basis, and there is a significant precedent for this kind of procedure to effect change. But it remains to be seen whether all this new evidence will survive the spin and propaganda from the likes of Fox News and One America News. We should not place our faith purely in the institutions of power to regulate power. To achieve anything for the people, the institutions of power must be afraid of the alternative.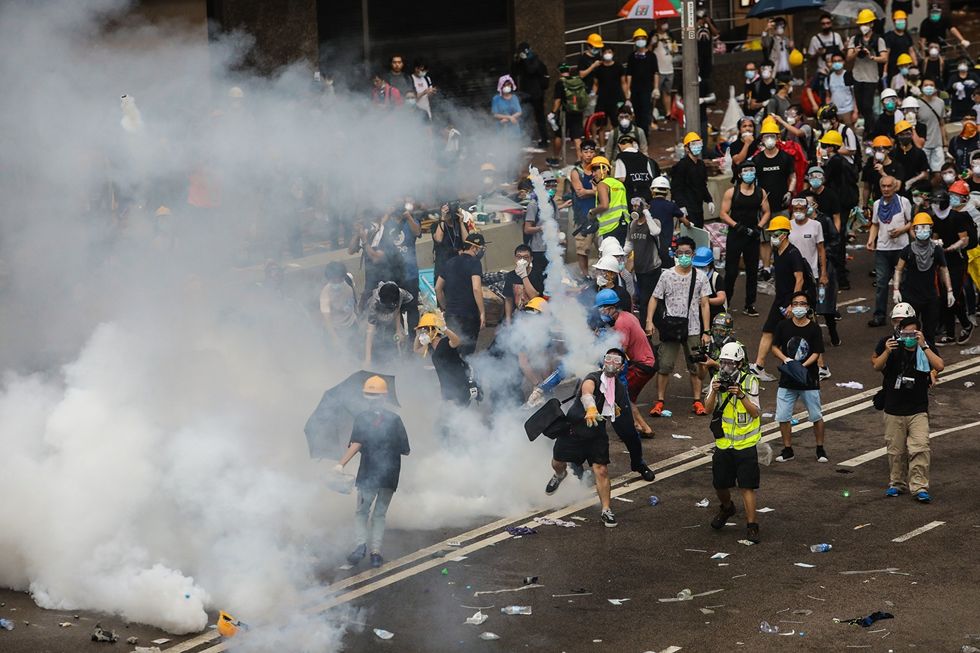 AFP/Getty Images
We must look at the mass actions that are making life difficult for the powerful in Chile and Lebanon and Hong Kong, and prepare ourselves to make the same kind of trouble at home. Even if Trump is forced out of office and the Democrats choose a progressive nominee and the 2020 election fully flips control to the Democrats, the fight will only be getting started. The interests and forces that killed Salvador Allende in Chile will still be doing everything in their power to protect the status quo. We must be willing to upend the normal order if we want to produce real change.