Just don't listen to anything qAnon says.
If there's anything that's spreading faster than COVID-19 is spreading across the globe, it's rumors and misinformation about the virus.
You may have heard any number of things about the new coronavirus that originated in Wuhan, China by now, but odds are that only a fraction of that information is actually accurate. Here are the craziest, falsest, and just plain funniest coronavirus conspiracy theories.
Cocaine cures coronavirus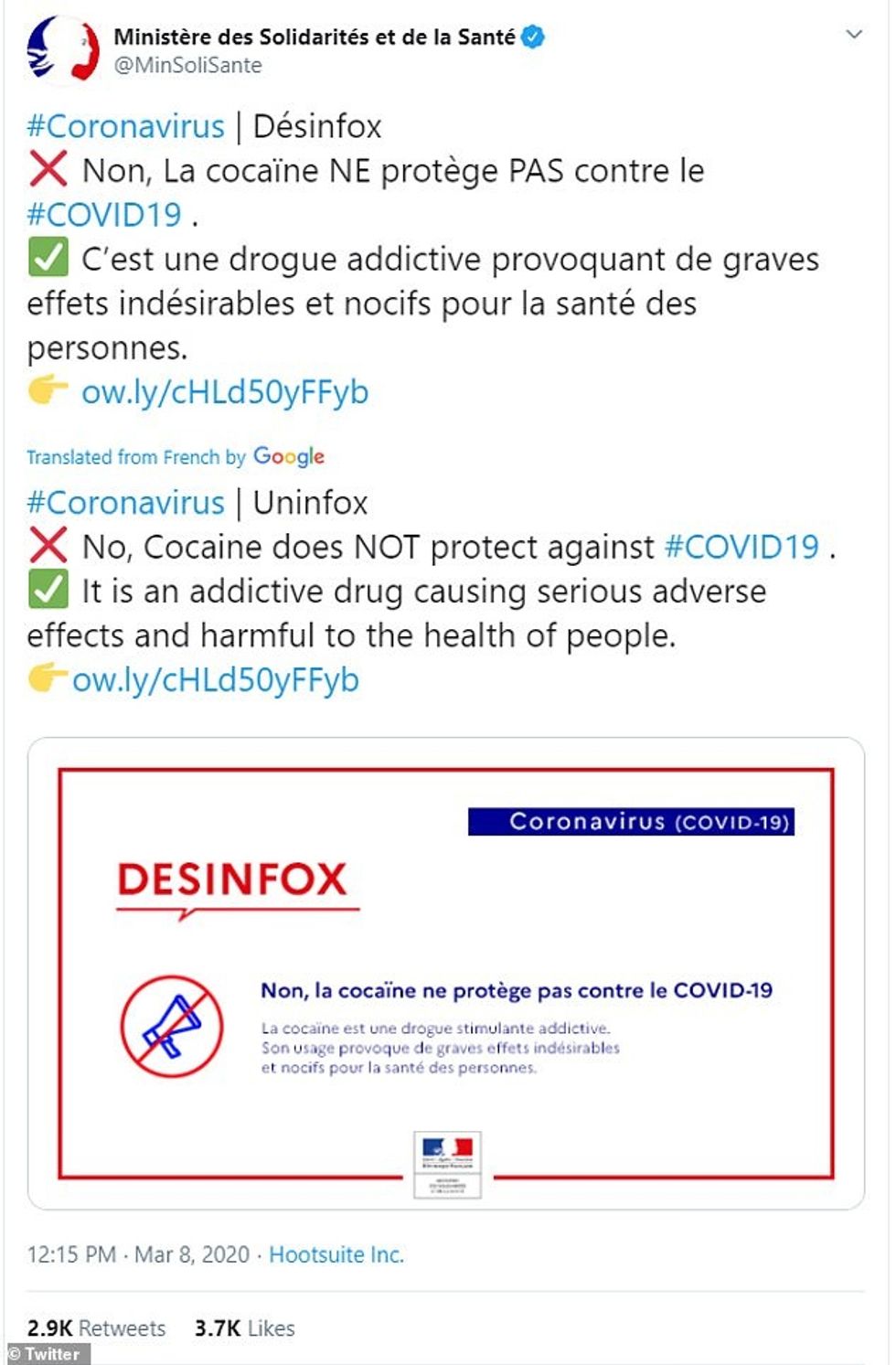 Thanks to a series of viral online posts, many French citizens apparently genuinely believed that snorting cocaine could cure them of COVID-19, forcing the French department of health to post an official notice stating that cocaine does not, in fact, cure anything.
Coronavirus is activated by 5G networks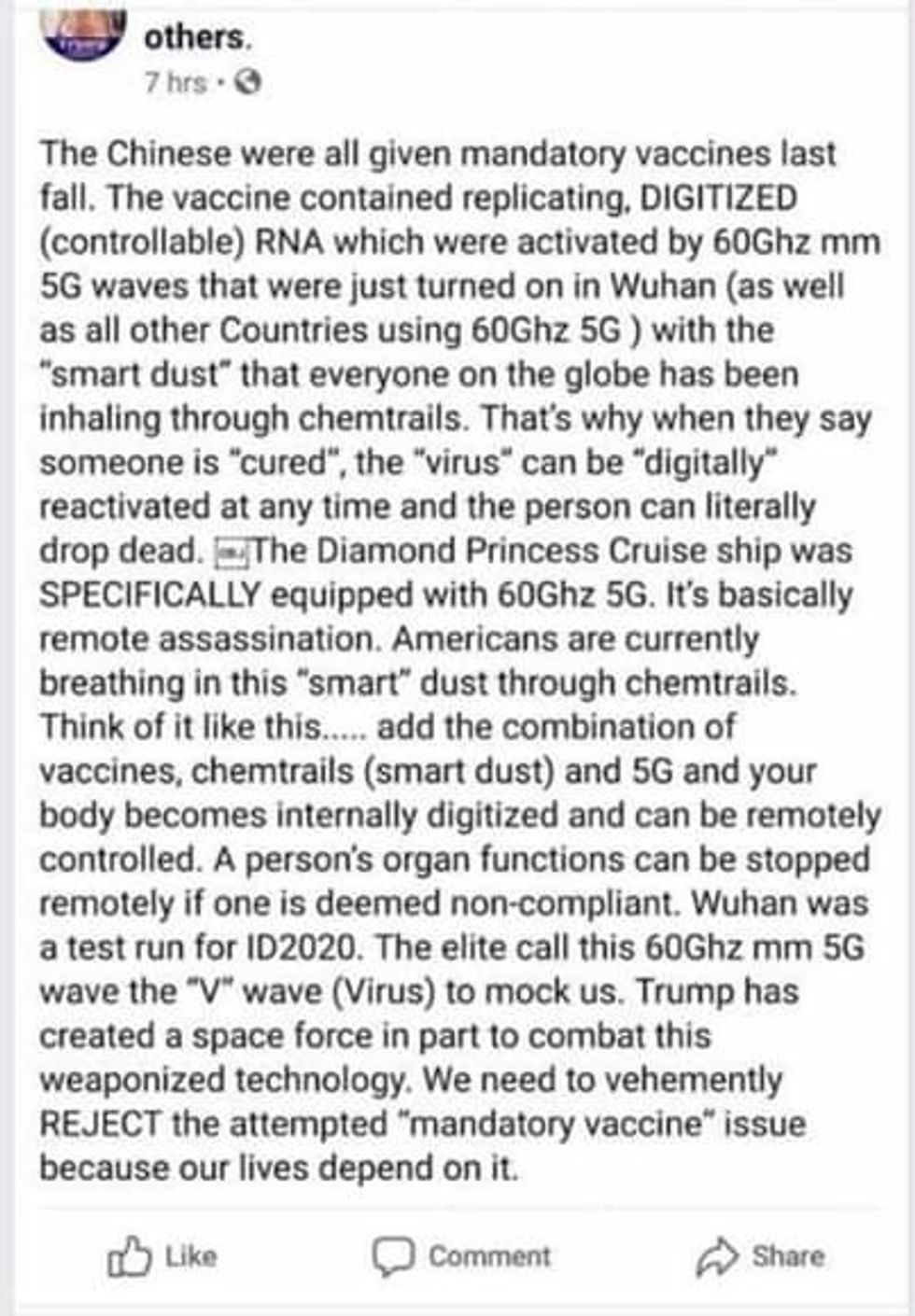 In the deep, dark wells of the Internet, a theory has emerged that claims the Chinese were given a mandatory vaccine last year that contained the coronavirus, which was then "activated" by 5G services in the country. At least Trump's space force is poised to step in.
Bill Gates invented the coronavirus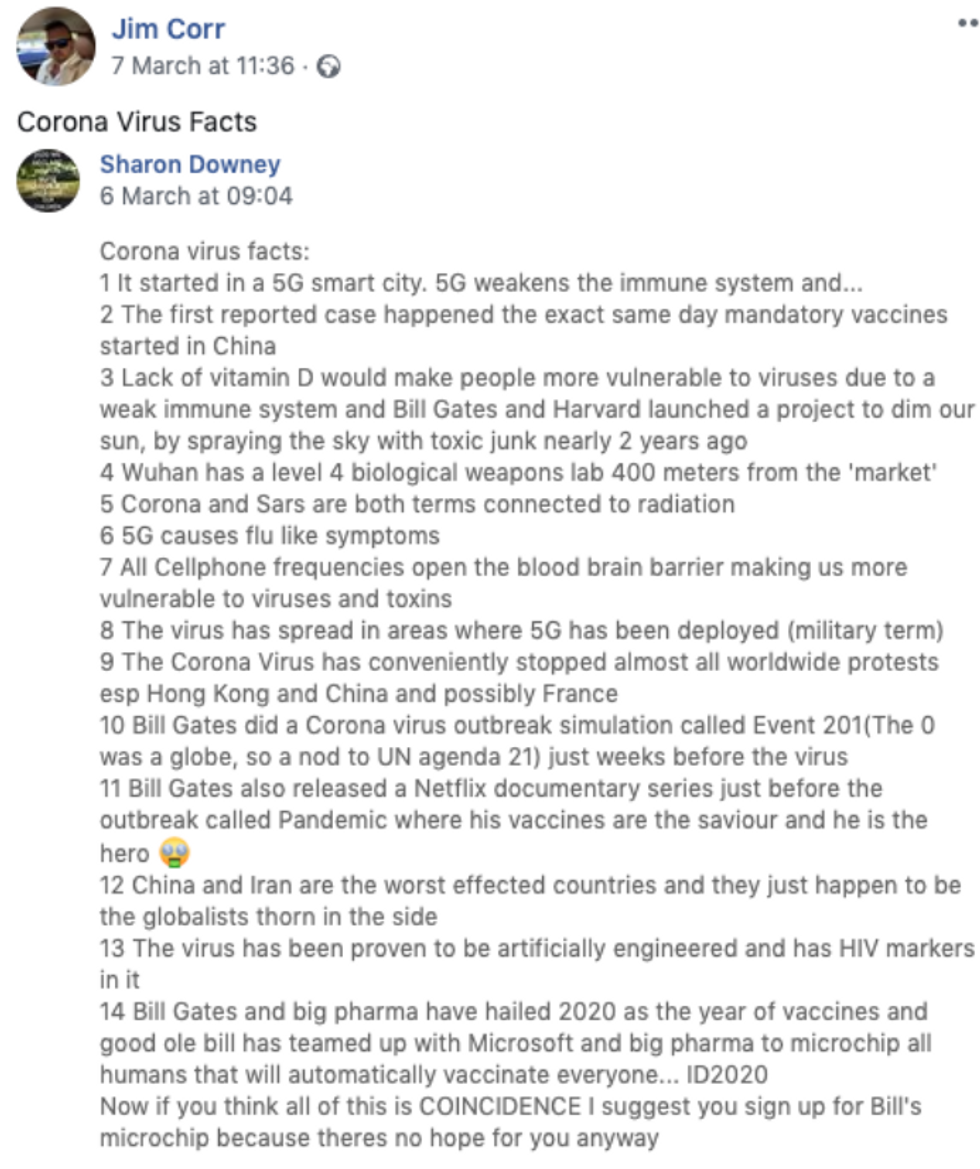 It's actually admirable that this list somehow manages to get crazier as it progresses despite starting with an assertion that Harvard and Bill Gates "weakened the sun". But seriously, people actually think Bill Gates is responsible for the virus.
The coronavirus was patented in 2015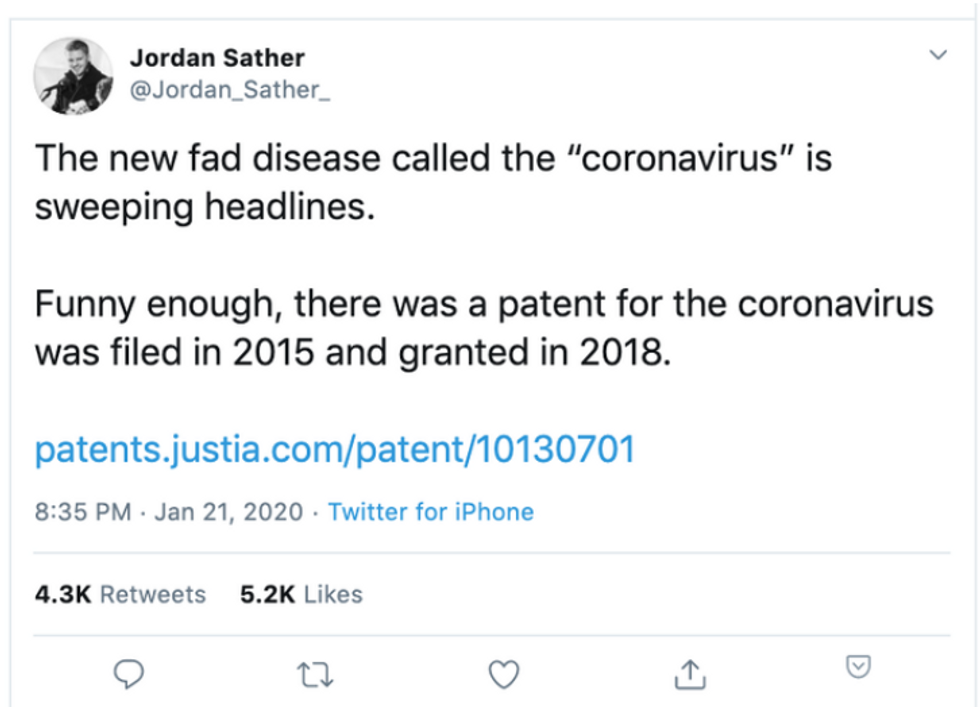 The patent referenced here was for a much weaker version of a coronavirus to be used as a vaccine on birds and other animals, and it has nothing to do with the current pandemic affecting humans. As Dr. Erica Bickerton, who studies avian pathology for Pirbright, told BuzzFeed News, "The name coronavirus is a whole family of viruses," she said. "Each of these viruses has their own characteristics."
American Democrats are responsible for the virus' spread to America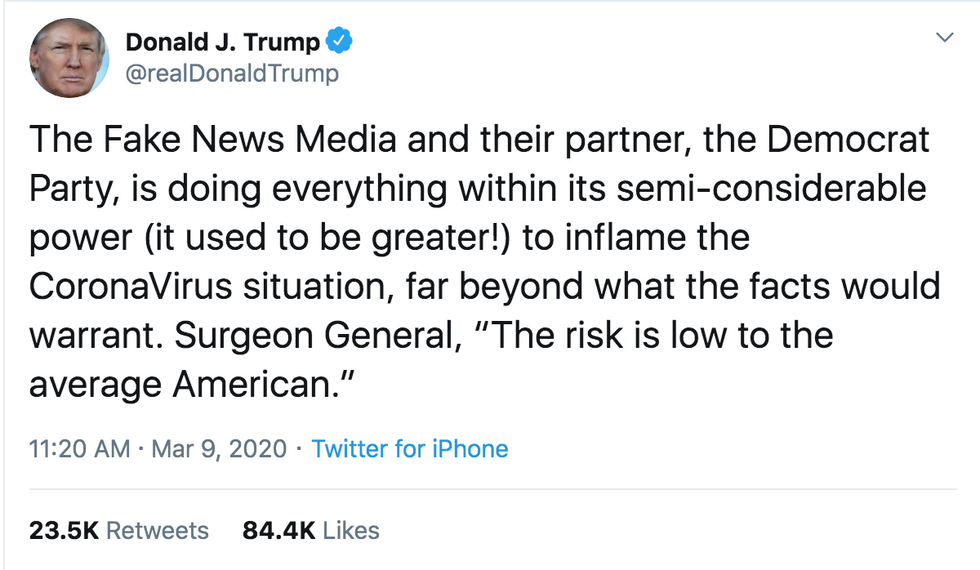 Donald Trump Jr. recently went on Fox and Friends and said, "For [Democrats] to try to take a pandemic and seemingly hope that it comes here and kills millions of people, so that they could end Donald Trump's streak of winning, is a new level of sickness," he said. "You know, I don't know if this is coronavirus or Trump derangement syndrome, but these people are infected badly." The President has jumped aboard his son's disinformation campaign, repeatedly conjecturing that the virus is a hoax by the Democrats to oust him from office.
The coronavirus was created in a lab in Wuhan
This particular theory has been shared widely across the Internet, and despite being utter nonsense, Republican Congressman Tom Cotton even espoused it on live television. As the Telegraph points out, "The coronavirus is just another zoonotic infection - a virus that jumped from animals to humans. The Spanish flu, HIV and Ebola are others."
Eating garlic can protect you from the coronavirus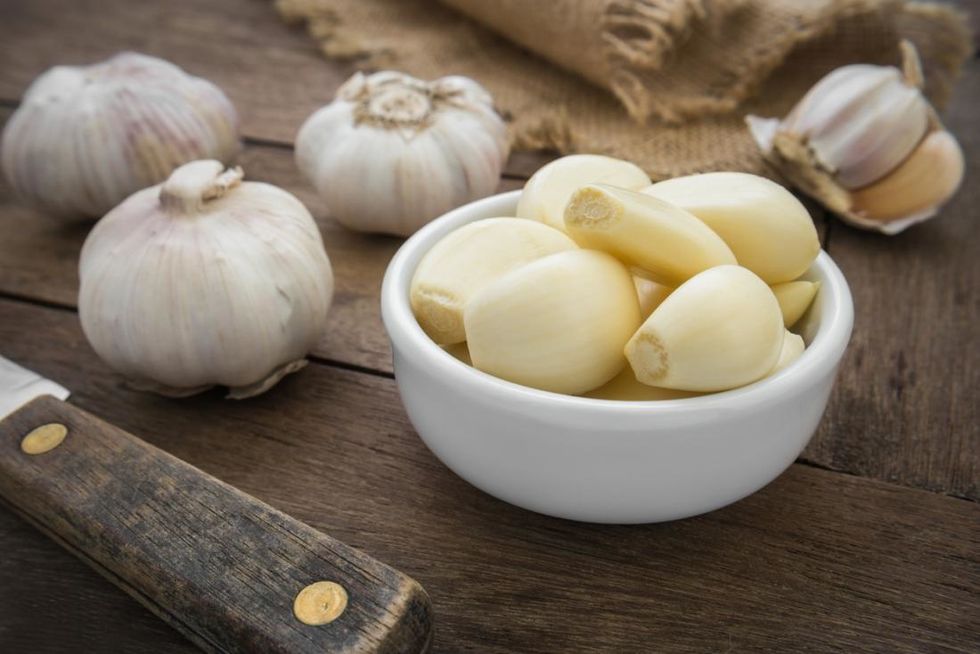 It's unclear where this one originated, but the WHO has been clear that "no evidence from the current outbreak that eating garlic has protected people from the new coronavirus."
Drinking bleach can protect you from the coronavirus

Don't drink bleach. Just don't ever drink bleach, even if someone is calling said bleach a "Miracle Mineral Solution." According to the Daily Beast, a "promoters of the pro-Trump QAnon conspiracy theory were urging their fans to ward off the illness by purchasing and drinking dangerous bleach. The substance—dubbed 'Miracle Mineral Solution' or 'MMS'—has long been promoted by fringe groups as a combination miracle cure and vaccine for everything from autism to cancer and HIV/AIDS."
I've lived in New York City for the past year. About a week ago I moved to London to be with my long term partner. You may be thinking that international travel was a bold decision given the rapid global spread of COVID-19. Truthfully, it barely crossed my mind.
I bought my plane ticket to London about a month ago, when the novel coronavirus was still just a headline, not a reality in my life. I'm 23-years-old, don't have any health problems besides a history of Lyme's disease, and I have access to healthcare. I'm not in the demographic that needs to worry over every flu and cold for fear that it could be fatal; and besides, I've been nowhere near the places where the disease is most rampant.
So I set off from Dulles International Airport in Washington D.C. to Heathrow Airport in London on March 3rd with only the vaguest fears about COVID-19. If anything, I was admittedly pleased to find my flight unexpectedly empty thanks to people's fear of the virus keeping them from traveling. As always, I wiped down my seat with antibacterial wipes as soon as I boarded, used hand sanitizer throughout the uneventful journey, and made sure to wash my hands frequently.
Upon landing at Heathrow, I was met with a bizarrely sparse customs line, something I was also exceedingly grateful for. There were no temperature checks or other indications that the virus had reached London. I got my luggage from the carousel and stacked my bags on a luggage trolley, waiting for my partner to arrive at the airport.
Flash forward a couple of days, and I find myself repeating for the second time that day that I might be coming down with a cold.
I take my temperature to find that it's about 100.5 Fahrenheit. I take nighttime cold medicine and go to bed. The next morning I find the fever has persisted, and with it has come a hacking, wet cough. Assuming it's the flu, my partner calls a doctor and lists my symptoms. They ask about international travel, and upon learning that I passed through Heathrow, they inform us that two baggage handlers at that airport have just been confirmed to have COVID-19. This means that, technically, I've been exposed to the virus. We're told to remain in the house for two weeks at the very least but certainly as long as symptoms persist, and if my illness progresses such that I need medical attention we are to call an ambulance and inform them about my exposure status, so I can be transported safely. Both my partner and I immediately start taking my symptoms a lot more seriously.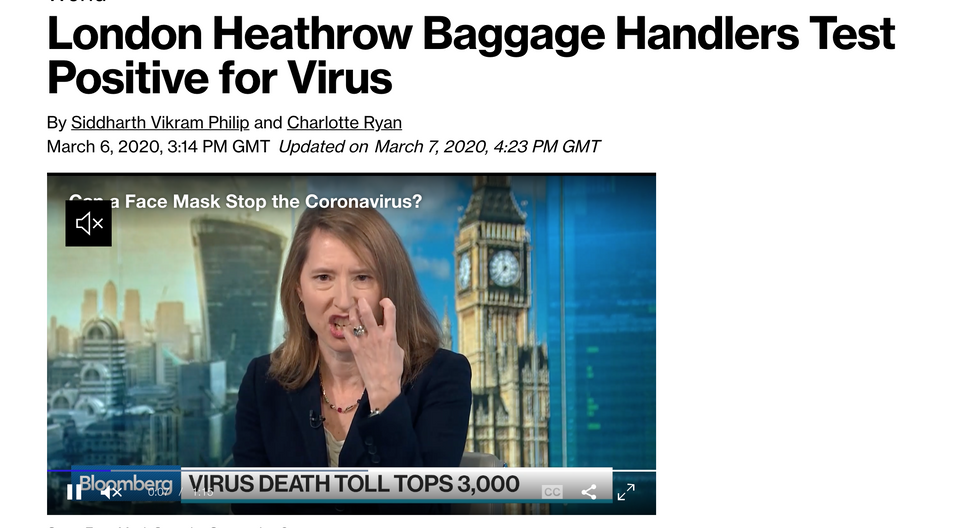 For the first several days, I had a fever on-and-off (pretty effectively suppressed with day time cold medicine and ibuprofen), a sore throat, plugged ears, nasal congestion, and a hacking cough that caused me to feel breathless if stood upright too long. From Friday, March 6th to today, March 9th, I slept essentially 24-hours-a-day, only waking up to eat (my appetite was not as impacted as I would have thought). Today, I woke up without a fever and feeling stronger than I have since arriving in London. My cough persists, but now I just feel like I have a bad cold or a mild case of bronchitis.

Whether or not I have COVID-19 is still unclear, as I have not been definitively tested, but my symptoms fit perfectly with those described on the NHS website, and I know I've been in an infected airport. For the most part, my illness has felt like the flu with a particularly bad cough. Most of all, my illness has caused me to wonder how many people have mild cases like mine and were told, when they contacted a doctor, to recover at home.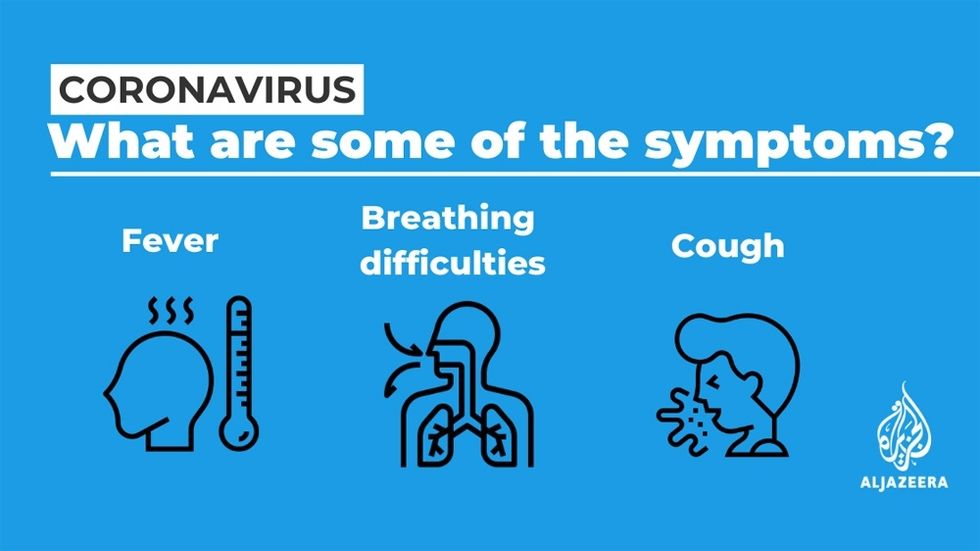 How many cases are governments across the world keeping under wraps because they're discouraging people from seeking medical help? How many people across the world are staying home from work but still going to the grocery store, waiting out what they think is a bad cough? If I am infected with COVID-19, I'm lucky that I seem to be on the path to a relatively swift recovery. I'm also lucky in that I was economically able to take the time to rest and recover. But how many people will feel the relatively common and mild symptoms I felt and still go into work out of economic necessity? How many immunocompromised people will be infected because a doctor wouldn't test some other person because their symptoms were comparatively mild? How many elderly people will die because Trump's strategy to keep American COVID-19 case numbers low is to simply not test?

If I am infected, then I can tell you that COVID-19, for me, felt very similar to the flu or any other run-of-the-mill upper respiratory infection. I can also tell you it absolutely flattened me for several days, and I'm a healthy young adult. I can't imagine how badly I would have felt if I were elderly and immunocompromised. Our governments have to come up with a better strategy for testing, even mild cases, and they have to do it soon. Because, if my experience is any indicator, it's already far more widespread than we think.
It's time we stop acting like the leading Democratic candidate is the only old guy who's ever had a heart attack.
Whoever your pick might be in the 2020 Presidential Election, there's an overarching issue that's been largely prominent: the age of the Democratic front-runner, Bernie Sanders.
At 78, Sanders would be the oldest elected president in the country's history (a title currently held by Trump). The topic of his health became more hotly debated after he suffered a heart attack last October, resulting in him having two stents inserted. Though he bounced back to give one of his best debates yet that very same month, critics have been quick to cite Sanders' declining health as a hindrance to his electability. The backlash is getting even louder as Sanders claims he won't divulge his comprehensive health records. "We have released a detailed medical report, and I'm comfortable on what we have done," he said this week during a CNN town hall.
Sanders' campaign has released letters from three doctors who all asserted the senator is in good health. "I do not see a reason why he would not be able to function effectively in a high stress job," said Dr. Mary Ann McLaughlin, director of cardiovascular health and wellness at Mount Sinai Heart in New York. Why are Sanders' opposers so adamant that his health will fail him in office?
Yes, the senator is the oldest candidate in the race, but not by much: Michael Bloomberg and Joe Biden are 78 and 77 respectively, while Sanders' fellow progressive Elizabeth Warren is 70—the same age as Trump when he was elected. The health of Bloomberg, Biden, and Warren hasn't been scrutinized nearly as much as Sanders'. Sure, he might be the only one of the bunch who's suffered a heart attack, but that alone shouldn't be a disqualifier; notable politicians including President Dwight D. Eisenhower, President Lyndon Johnson, and Vice President Dick Cheney all proceeded with lengthy, successful careers in office despite suffering heart attacks early on.
A heart attack should not render an otherwise healthy candidate unfit for presidency, and Sanders' campaign has offered enough proof of his well-being. Our country's entire history has been predominantly dictated by old white men—why make an exception for someone who can actually instigate radical change?
Join the fight to end modern day slavery.
I could have missed it, walked right by, hopped on the train and sped off into my life. Instead, I stopped and read every single word of this Amtrak poster - a warning about human trafficking.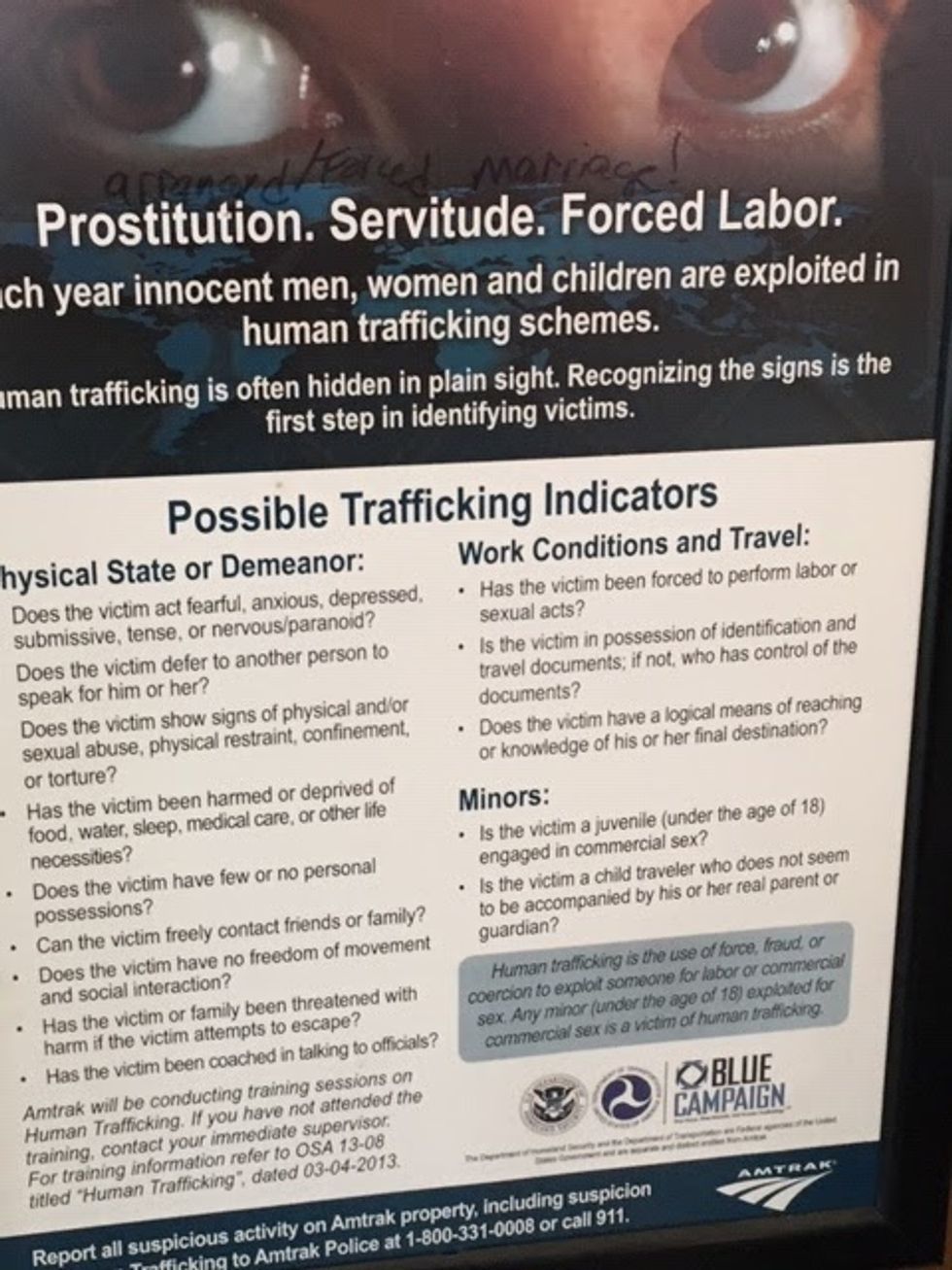 Prostitution. Servitude. Forced Labor.
Each year innocent men, women and children are exploited in human trafficking schemes that include the use of force, fraud, or coercion to exploit them for labor or commercial sex. Any minor (under the age of 18) exploited for labor, or commercial sex is a victim of human trafficking. . . .

As I read, I recalled a conversation I'd had only days before with Kathyann Powell, Founder and CEO of Saving Jane. When I sat down with Kathyann, I was struck by her fierce commitment to her organization which is dedicated to assisting human trafficking survivors and preventing new victims.
Trafficking is a subject that makes us flinch and causes us to turn away. It's ugly, it's threatening. Not in my life, you think. Although it's often hidden in plain sight, human trafficking is real and it is everywhere.
Human trafficking flourishes in Atlanta, DC, Houston, Las Vegas, Miami, NYC, and San Diego. These cities are major hubs for human trafficking because they often host sporting events and conventions, are visited by thousands of tourists, and have large transient populations. The anonymity provided within large urban centers can make the trafficker's job simple.
It's estimated that 1 in 7 missing children are likely victims of child sex trafficking each year. Most of these children are native US citizens from lower and middle class families who were recruited via social media - with the average age being 13 or 14 years old. 68 percent were in the care of social services - a group home, government facility, or foster care - at the time they went missing.
Things have got to change, or these children will be trapped in an endless cycle of exploitation and violence. Kathyann told me about Saving Jane's national education project, which is designed to raise awareness in young people ages 10 through 18. They use graphic novels to illustrate the concept of human trafficking so kids can identify, avoid, and report it to trusted adults.
Saving Jane partners with schools, religious and community organizations, and youth groups to implement prevention initiatives nationwide. They work with the FBI, educators, social workers, and survivors to calibrate their programs and training - with a focus on at-risk demographics such as homeless, LGBTQI, autistic, and disabled youth.
Recognizing the signs is the first step in identifying victims, so Saving Jane offers Workshops where participants learn to identify indicators of human trafficking and red flags:
Hangs out with older men
Has expensive new phone
Ignores her friends
Stops her favorite activities
She's pregnant
Starts using birth control
Has bruises or other injuries
Despondent physical state or demeanor
Acts fearful, anxious, submissive, tense, nervous, or paranoid
Due to the Internet and social media, traffickers have never before had such easy access to children; they can now initiate thousands of recruitment conversations. To leave kids uneducated makes them more vulnerable. The most important thing is to teach them about cyber-predators without scaring them. Saving Jane aims to empower kids to be effective agents in their own protection.
Saving Jane works with national and global organizations to distribute graphic novels that teach students about human trafficking - what it is, what it looks like, what to do when you see it, and how people fall victim to it. So, they go into schools and hold Comic Book Workshops.
Director of Storytelling and Prevention, Thomas Estler, uses comic books, film, music and social media as delivery vehicles. He composes and draws Saving Jane's popular comic book series that was created with the help of the FBI victim specialists, social workers, and anti-human trafficking organizations. His ABOLITIONISTA! Manga books are an image-driven call to action and effectively help kids get smart about social media:
ABOLITIONISTA! #goodgirlgone tells the story of how one girl becomes vulnerable and falls victim to a coercive predator who trafficks her. #goodgirlgone (ages 10 - 14) is accompanied by a teacher / leader version and can be taught in schools.
ABOLITIONISTA! Volume I and II both have female protagonists and are geared toward adolescents between 13 - 19 years old.
Another powerful tool that raises awareness is Saving Jane's Tee Shirts. With Anime-styled graphics that are hand drawn by Ozzyos Da Vyrus, one of these captivating Tees features: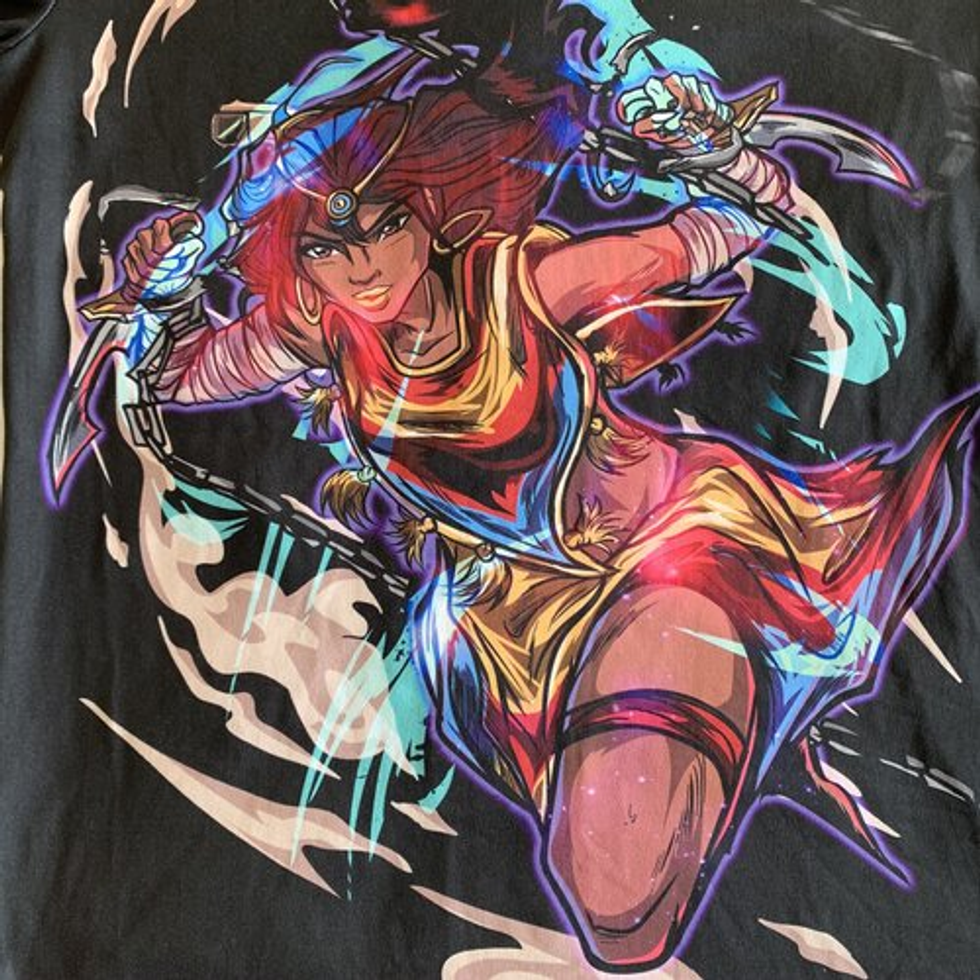 Jada's African Ancestor from ABOLITIONISTA! Volume II
Many people don't realize how widespread and destructive human trafficking is. Raising awareness about human trafficking is essential to ending it. Saving Jane's committed to ending these crimes through education, raising public awareness, and the creation of systems, technology, and policies to prevent the formation of social conditions conducive to trafficking.

So, what's next?
Saving Jane is in the concept and development phase for campus-style facilities dedicated to protecting and empowering formerly trafficked people. These facilities would provide a comprehensive suite of support services, including short term and long term housing, childcare, and healthcare and mental health care resources.
As Survivors continue on their healing journeys, these sites would offer life skills, education, career skills, and economic development opportunities so that they can return to being an integral part of the greater community.
Finally, Saving Jane's long-term mission is to transform survivors into leaders. It's clear that this visionary organization is doing just that.
For More Information and Resources visit www.savingjane.org
And what can be done about it?
A recent document leaked by the Chinese government has proven something that many of China's detained Uighur population and the global human rights community have known for a long time: China's central government is detaining groups of people on the basis of their religion and culture.
The new data leak contains comprehensive information on over 2,000 detainees being kept in China's detention camps, which have locked away almost a million members of ethnic minority groups, mostly Muslims, since 2014. Once again, the database proves that China's authoritarian government has been locking away people not only for religious extremism, but for activities as simple as going to a mosque.
The Chinese Communist Party has vehemently denied accusations that it's imprisoning people as a method of religious persecution, but by now it's clear that's what they're doing. What's less clear is what might be done about it—and what will happen to the nation's prisoners now that the coronavirus poses a serious threat.
Who Are the Uighurs?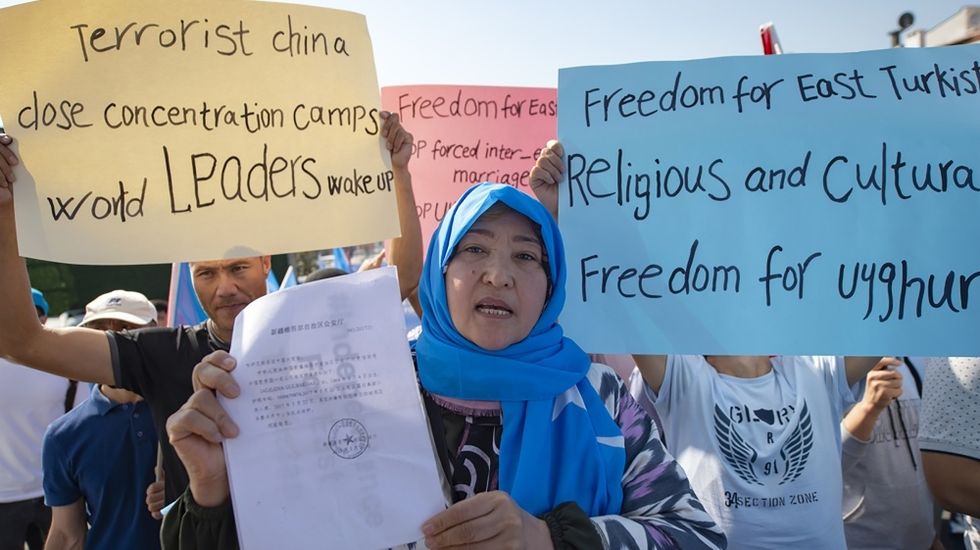 aljazeera.com
The term "Uighur" has a complex history, and its definition is largely contingent on who is defining it. In general, the term refers to a group of Muslims who are indigenous to Central and East Asian nations, according to BBC. They are usually thought of as having descended from the 8th and 9th century Turkish Khaganate empire, but many migrated from present-day Mongolia to present-day Xinjiang, where they joined with an ancient indigenous population and eventually converted to Islam en masse.
According to loose consensus, the term resurfaced in the 20th century when the group—with help from the Soviet Union—declared independence from colonial China in the first half of the 20th century. They were brought under Chinese control in 1949, when the Communist party took hold and ended the Uighur's experiments with independence. Today, like Tibet, Xinjiang is considered an autonomous nation but remains under China's authoritarian control.
According to many activists and spokespeople, Beijing authorities have persecuted the Uighur population for decades, restricting their cultural and religious activities. On the other hand, according to China's central government and its diplomats, the Uighurs are waging a violent campaign for an independent state, and by detaining them, China is acting out of necessity.
What's Happening to the Uighurs?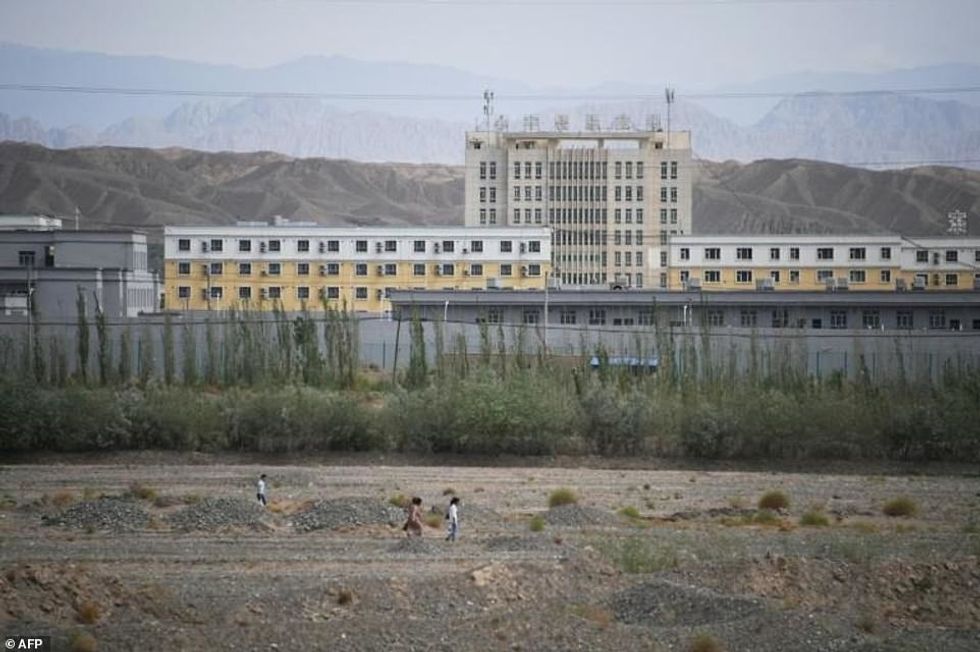 dailymail.co.uk
Today, the worldwide consensus is that the Uighurs are the subject of tremendous persecution in China, a persecution that was fastidiously hidden by the Chinese government for decades.
In November of 2019, The New York Times leaked 400 pages of documents that exposed China's efforts to detain Muslims en masse in the Xinjiang region. "Even as the government presented its efforts in Xinjiang to the public as benevolent and unexceptional, it discussed and organized a ruthless and extraordinary campaign in these internal communications," wrote Austin Ramsey and Chris Buckley for The Times. "Senior party leaders are recorded ordering drastic and urgent action against extremist violence, including the mass detentions, and discussing the consequences with cool detachment. Children saw their parents taken away, students wondered who would pay their tuition and crops could not be planted or harvested for lack of manpower, the reports noted. Yet officials were directed to tell people who complained to be grateful."
In essence, Uighur peoples were taken in massive numbers from their homes and detained in concentration camps, and the story was kept out of the global press for years. Rumors of the existence of China's Uighur prisons began to emerge in global media when Google Earth satellite software captured pictures of massive prisons in the deserts of Xinjiang in 2018. Interviewers and investigators who pressed the matter were told by Chinese diplomats that the camps were "re-education centers," and as news of the camps grew, the Chinese government began to release propaganda about its education initiatives.
Eventually, it became clear that Uighur detainees are subject to highly illegal abuses. They are forced to praise China's ruling party, to learn Mandarin, and to renounce their sins—which might include going to a mosque. People living in the camps have said they were forced to exercise and beaten when they could not follow the proper laws and regulations set by authority officials. "There was a special room to punish those who didn't run fast enough," said 29-year-old Ablet Turson Toti, who was detained in a camp in Hotan, in the south of Xinjiang. "There were two men there, one to beat with a belt, the other just to kick."
Uighur communities have been destroyed by Beijing's imprisonment and conversion initiative. "Every household, every family had three or four people taken away," said Omer Kanat, executive committee chairman of the World Uyghur Congress. "In some villages, you can't see men on the streets anymore—only women and children—all the men have been sent to the camps."
The non-detained also face persecution, forced to surrender passports to CCP government officials and prohibited from practicing Islam and wearing headscarves and subjected to "anti-extremism laws." Subsequently, many Uighurs have fled the country, living as refugees in Turkey and other nations, forced to lose contact with family members.
Why Is This Happening?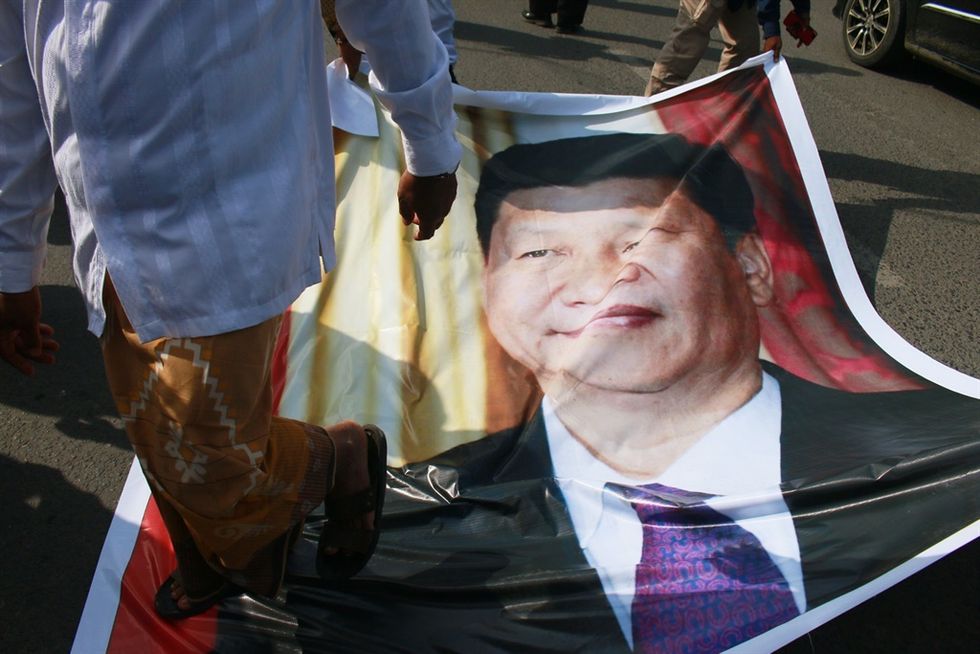 Business Insider
Ostensibly, the ethnic cleansing of the Uighurs is an effort on China's part to unify China, and to transform and deradicalize Muslims.
"Penetration of everyday life is almost really total now...You have ethnic identity, Uighur identity in particular, being singled out as this kind of pathology," said Michael Clarke, an Australian National University professor and expert on Xinjiang.
On another level, it's all about political power. In part, a rise in Islam may have led to the CCP's fears that the Xinjiang peoples could unify and rebel against the Communist government, as they had done in the first half of the 20th century."Why are Uyghur persecuted?" writes Massimo Introvigne for the World Uyghur Congress. "Although fears of 'separatism' may play a role, basically the answer is that they are persecuted because the strong revival of Islam among them scared the regime. The CCP was, and is, afraid that the Muslim revival may expand to other non-Uyghur Muslim groups in China, and join forces with a revival of religion in general that may one day overcome the CCP's rule. The logical conclusion is that, although no persecution is ever purely religious, the Uyghurs are indeed victims of a religious persecution."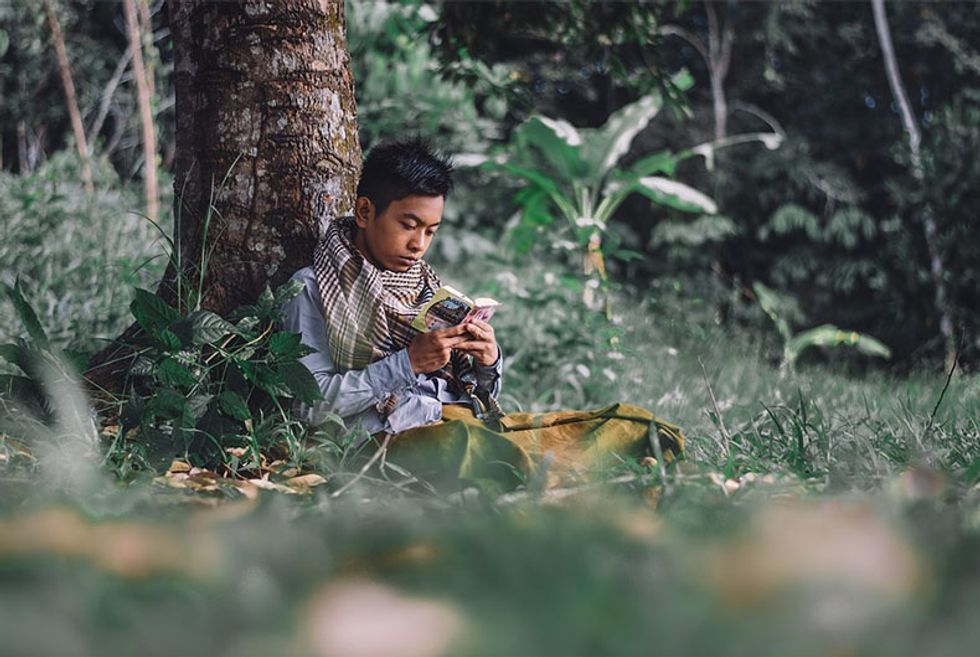 ummid.com
On an even deeper and more complex level, what's happened to the Uighur peoples is inextricably connected to capital and lines of profit, which cross oceans and connect major powers like the United States and China—and leave indigenous populations like the Uighurs in the dust. "The mineral wealth—in particular oil and gas—of a region almost five times the size of Germany has brought huge levels of Chinese investment, rapid economic growth and large waves of Han Chinese settlers," writes John Sudworth for BBC.
Despite the U.S.'s recent determination to denounce the Uighur government, no major power is inculpable. "In today's world, authoritarian politics and predatory commerce cooperate to exploit 'cultural differences.' Nowhere is this point clearer than in the symbiosis in recent decades between Western corporations and the Communist elite in China," argues Ai Weiwei in an op-ed for the Times.
That symbiosis reached a head during the post-9/11 era. In recent years, the United States has joined with the United Nations to denounce abuses of the Uighurs, but actually, the United States was instrumental in revving up early anti-Uighur and anti-Muslim sentiments. After 9/11, many members of the Uighur population were painted as potential allies of Al Qaeda, though little corroborative evidence has surfaced regarding these claims. Some 20 members were detained without charge and possibly tortured in Guantanamo Bay. "For years, the United States has been at the forefront of promoting an abusive counterterrorism architecture at the United Nations and has been allied with China on many of these efforts," says Letta Tayler, a Human Rights Watch expert on counterterrorism.
For their part, Muslim nations have also failed to protect the Uighurs. "Many risk looking like hypocrites over their own records of human rights abuses if they confront China—or risk imperiling lucrative partnerships," writes Joseph Zeballos-Roig for The New Republic. He identifies "deepening economic relationships, coziness with authoritarianism and the allure of a "Confucian-Islamic" alliance against the West" as "[outweighing] the political willingness of Muslim governments to act."
What Can Be Done About All This?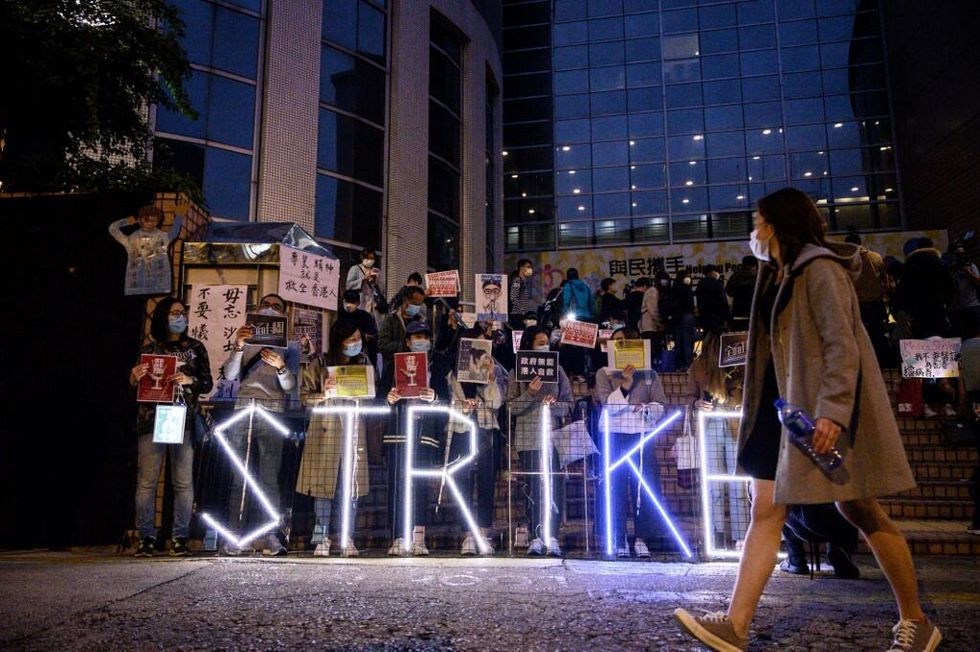 albawawa.com
What can people around the world do about the ethnic cleansing occurring in China? While it's tempting to fall back on an argument that the United States and major global powers should embroil themselves in China's affairs, this impulse has been a historically unproductive and dangerous habit rooted in a white savior mentality which usually leads to further turmoil. Instead, the United States should use its economic power to pressure China and Middle Eastern allies into changing their ways on the basis of human rights violations.
Already, lawmakers in Washington are pushing the Trump Administration to place sanctions on China, many of which enjoy bipartisan support. This is on the right track, for "the most effective resistance to the treatment of Uighurs is increasing the public-relations costs for Beijing," write Daniel Bessner and Isaac Stone Fish for The Nation. "The State Department should publicize this issue in other Muslim countries, particularly influential American allies like Saudi Arabia, and among China's neighbors, especially Pakistan and Kazakhstan, with the hopes of increasing international pressure to end the ethnic cleansing."
Activist groups, they continue, should "pressure groups like the ABA to publicly criticize China while simultaneously compelling universities to embrace their commitment to free inquiry," and specifically, "the left should encourage civil-society groups to use their connections to politicians to push for programs to resettle Uighurs—and dissent-minded Chinese—who desire to move to the United States. And," they conclude, "it goes without saying that this must be done with the active participation—and indeed, leadership—of Uighurs themselves, who understand the needs and interests of their community better than any outsider."
In 2020, due to the onset of the coronavirus, presses around the world are calling for the Beijing authorities to release prisoners. "These camps, where as many as 3 million people are detained, are at risk of becoming death chambers," writes Abdul Majakbid for USA Today. "The World Health Organization declared the coronavirus a public health emergency this month, yet China's government, the WHO and the United Nations are apparently so far silent about the potential danger to the detained Uighurs." In fact, there are rumors that China is sending Uighur citizens to Wuhan, the epicenter of the virus. In light of the Uighur population's vulnerability to the virus, there are calls for the United States to levy sanctions against Chinese authorities unless they comply with global calls to inspect Uighur prisons and protect the detained from the virus.
It's important to remember that in spite of China's undeniable human rights violations, the United States is embroiled in its own human rights abuses, specifically on the U.S. border—so it may be hypocritical to fixate on China without first healing some of the crisis in this nation. Plus, much of the critiques that exist about China and coronavirus have xenophobic aspects of their own.
Still, all of these abuses are interconnected, rooted in xenophobia and racism that stems from neoliberal capitalism and a global reliance on oil.