"A tree is best measured when it is down," the poet Carl Sandburg once observed, "and so it is with people." The recent death of Harry Belafonte at the age of 96 has prompted many assessments of what this pioneering singer-actor-activist accomplished in a long and fruitful life.
Belafonte's career as a ground-breaking entertainer brought him substantial wealth and fame; according to Playbill magazine, "By 1959, he was the highest paid Black entertainer in the industry, appearing in raucously successful engagements in Las Vegas, New York, and Los Angeles." He scored on Broadway, winning a 1954 Tony for Best Featured Actor in a Musical – John Murray Anderson's Almanac. Belafonte was the first Black person to win the prestigious award. A 1960 television special, "Tonight with Belafonte," brought him an Emmy for Outstanding Performance in a Variety or Musical Program or Series, making him the first Black person to win that award. He found equal success in the recording studio, bringing Calypso music to the masses via such hits as "Day-O (The Banana Boat Song)" and "Jamaica Farewell."
Harry Belafonte - Day-O (The Banana Boat Song) (Live)www.youtube.com
Belafonte's blockbuster stardom is all the more remarkable for happening in a world plagued by virulent systemic racism. Though he never stopped performing, by the early 1960s he'd shifted his energies to the nascent Civil Right movement. He was a friend and adviser to the Reverend Doctor Martin Luther King, Jr. and, as the New York Times stated, Belafonte "put up much of the seed money to help start the Student Nonviolent Coordinating Committee and was one of the principal fund-raisers for that organization and Dr. King's Southern Christian Leadership Conference."
The Southern Poverty Law Center notes that "he helped launch one of Mississippi's first voter registration drives and provided funding for the Freedom Riders. His activism extended beyond the U.S. as he fought against apartheid alongside Nelson Mandela and Miriam Makeba, campaigned for Mandela's release from prison, and advocated for famine relief in Africa." And in 1987, he received an appointment to UNICEF as a goodwill ambassador.
Over a career spanning more than seventy years, Belafonte brought joy to millions of people. He also did something that is, perhaps, even greater: he fostered the hope that a better world for all could be created. And, by his example, demonstrated how we might go about bringing that world into existence.
"Times Square," said Andrew Yang in a recent interview with Ziwe. "What's not to like?"
As a New Yorker who once walked through the hellscape that is the Times Square subway station twice a day, I find that question not only abhorrent but stunningly tone deaf. Sure, Times Square has its own kitschy appeal and the subway station is still part of the city I love so much, but also… it's Times Square. Real New Yorkers know that Times Square is a distorted tourist trap, and the subway station bears none of the charm and beauty that so many of the city's other subway stations do.
Take, for example, the Coney Island Stillwell Avenue station, my favorite subway station. Rising out of the ground to the sight of the ocean is an experience I'll never be over. There's Brooklyn's Prospect Avenue station, with its tangles of vines and its mournful yellow lamplight. There's 28th Street Station, with its cherry blossom mosaics… I could go on.
I could possibly forgive Yang's comment if I felt it came from a place of love — perhaps the man has a special adoration for chaos, souvenirs, the smell of things burning, and stations that allow transfers to almost every other part of the city.
But Andrew Yang has been making out-of-touch comments since the beginning of his mayoral candidacy. He confessed that he'd spent most of the pandemic out of the city, saying, "We've spent more time upstate than in the city over the last number of months." He misidentified a food market as a bodega. He complained about life in his two-bedroom Hell's Kitchen apartment, stating, "Can you imagine trying to have two kids in virtual school in a two-bedroom apartment, and then trying to do work yourself?" Why yes, Andrew Yang. (Why yes, many thousands of the New Yorkers you hope to represent have been doing exactly that for over a year now.)
Yang was also criticized for name-dropping LGBTQ+ spots like a tourist looking to explore the gay side of Greenwich Village for the first time. "Well, first, let me say that if I go to Cubbyhole, I think I'm going to be accompanied by at least one of my two campaign managers who are both gay," he said. "So there's like a lot of, you know, familiarity with, with the community, at the head of my campaign leading it." Later on in the same speech, he told a mostly LGBTQ+ audience that their community is "so human and beautiful."
His tweets are a mess as well. He later apologized for a tweet reading, "You know what I hear over and over again - that NYC is not enforcing rules against unlicensed street vendors. I'm for increasing licenses but we should do more for the retailers who are paying rent and trying to survive." But the damage was done. New York City's vibrance comes in large part from its street vendors, many of whom make their living selling food on the sidewalks. Many saw Yang's comments as further evidence that he had no connection to everyday New Yorkers.
He also recently apologized for a blatantly pro-Israel and anti-Arab tweet, which garnered praise from none other than Donald Trump Jr. The tweet read, "The people of NYC will always stand with our brothers and sisters in Israel who face down terrorism and persevere." Yang also said, in a Forward op-ed, that the Boycott, Divest, Sanctions movement was the result of "anti-semitic thought and history."
In another interview, Yang confessed that he has never voted in a single mayoral election in NYC. In a recent press conference, he stated, "One thing that I think would be extraordinarily helpful is to have specific shelters for victims of domestic violence, who are often fleeing from an abusive partner," Yang said during the forum. "It's a distinct population with distinct needs, and they should have separate [facilities]." Others were quick to point out that New York City does, in fact, have these types of shelters, and Yang tried to walk back his claim, but the damage was done.
In yet another fumbled press conference, Yang was asked, "Do you agree with the repeal of 50-a?" He replied, "The repeal of 50-a," prompting the interviewer to ask, "Do you know what 50-a is?" Yang fumbled the reply further by saying, "This is not the — it's not the mandatory interview of the—" prompting another candidate to clarify that 50-a is actually a bill that hides police officers' disciplinary actions from the public. The bill received widespread attention during the George Floyd protests this year.
Later on, Yang was asked about the MTA's debt, and he responded, "The MTA doesn't break its numbers out that cleanly, but you're looking at revenues around eight or nine million dollars and an operating deficit of around three-and-a-half." The MTA's debt is actually in the billions of dollars, which Yang likely meant to say, but he further flubbed the response by mentioning MTA bridges that go out of the city, which there are none of (the Port Authority controls outer-city transit).
Each one of these foibles reveals a candidate who is blatantly out of touch with the extremely complicated everyday realities of New York City. All these little mishaps are arguably easy to forgive on their own — but look at them together and it becomes easier to piece together who Andrew Yang is (and who he is not).
Look deeper at his policies and the practices he hopes to implement as the mayor of the Big Apple — a position he may very well win — and a more ominous picture starts to take shape.
Policy Flaws and a Poor Track Record
For example, Yang — who grew famous during the 2020 election cycle thanks to his promises of Universal Basic Income — has since walked back his promises and has failed to garner critical union and progressive support. He pledged, for example, to offer $1,000 to $2,000 per year to "each family of a student whose family income puts them at the poverty threshold," as well as English language learners and special education students. $1,000 or $2,000, essentially a one-time stimulus check, would, of course, not lift any student or their family out of poverty, especially in a place like New York City, nor would it be anything close to a universal basic income.
Even Yang's original Universal Basic Income proposal, the "Freedom Dividend," would have required families to choose between receiving some public benefits such as Medicare and $1,000 per month.
If you weren't already aware at this point, Yang, though allegedly a Democrat, with wide residual progressive appeal from 2020, has conservative-leaning policies. That's part of what makes him so insidious and competitive as a candidate: He can appeal to progressives who don't do their research, to Democrats looking for an acceptably centrist candidate, to independents looking for a non-establishment politician, and to Republicans who know Yang is probably the closest thing to a conservative mayor they'll find right now.
Rightly so, Yang is facing vehement opposition from many groups, particularly among the powerful coalition of progressive organizations in NYC. "Andrew Yang's pro-cop, anti-public education, anti-union, big business-centric platform is not what New Yorkers need," Senti Sojwal, cofounder of the Asian American Feminist Collective, told Teen Vogue. Sojwal, along with 790 grassroots AAPI organizers and leaders, recently signed a letter opposing Yang's mayoral bid.
Yang is apparently "in talks with Tusk Strategies, the consulting firm that worked on Mike Bloomberg's 2009 mayoral campaign." The CEO of Tusk Strategies is Bradley Tusk, a former consultant for the city's largest police union.
Yang also advocated for putting more police in subway stations and has been a vocal critic of the defund the police movements.
In general, Yang seems to glorify a capitalist free market that many fear would be damaging to NYC's already fragile housing situation. Back in 2019, Yang proclaimed his distaste for zoning laws and seemed to advocate for a kind of wild free-for-all situation based on the premise that the market would work its magic. However, New York City is in the midst of a housing crisis that free market development will certainly not help solve.
A look at Yang's record reveals that he has long been oscillating between progressivism and conservatism.
After working as a test-prep executive, he started a nonprofit called Venture for America, which promised to create 100,000 jobs. It only created around 4,000.
Running New York City is far, far more complicated than running a single nonprofit, and Yang's record is not promising. His policies are chaotic at best; he has promised to bring cryptocurrency to New York despite the potentially devastating environmental impact. He confessed to having never visited one of New York City's public housing developments prior to the mayoral race, and after living in Hell's Kitchen for 25 years, he seemed surprised after visiting Brownsville, Brooklyn, saying, "You saw things that were very, very dark and bleak." Talk about out of touch.
In general, critics say Yang lacks the expertise to address NYC's most pressing problems, including its failing subway systems, its housing crisis, and impending environmental crises such as future hurricanes.
So Why is He a Frontrunner?
In spite of all this, Yang is polling strongly. There are several reasons for this. Yang has the name-factor recognition, and he has leveraged his celebrity status to the max, promising to be a "cheerleader" for a post-COVID New York. Like Trump, his controversial tweets and gaffes tend to bring more attention to him. As The New York Times writes, "Andrew Yang Believes in New York and Himself. Is That Enough?" It may well be, though it seems strange that in a city that prides itself on its no-nonsense, no bullshit ethic, wild optimism could be a winning campaign.
Yang has amassed a coalition that includes Orthodox Jews (Yang promised to take a hands-off approach to yeshivas), some Asian American voters, and some young people still riding the high of the Yang Gang.
In addition, none of his competitors have managed to overtake him in popularity or notoriety. His opponent Scott Stringer, the current comptroller, was recently accused of sexual assault, causing key groups to withdraw their support. Candidate Dianne Morales is a strong progressive champion running on a promise to bring social housing to NYC, but she lacks the name recognition of Yang, and the same goes for fellow candidate Maya Wiley. The fact that Yang seems to be running on a platform based on unearned confidence that is eclipsing the campaigns of two qualified Black women is reason for pause in and of itself.
As of now, Yang's primary opponent seems to be Eric Adams, the Brooklyn borough president who is a former cop who promised to carry a gun if elected. Another major opponent is Kathryn Garcia, the former New York City sanitation commissioner, who came out on top in a recent poll.
So, in spite of all this, it seems that New Yorkers may be stuck with Andrew Yang. Of course, he's probably not the worst man for the job. Yang has big, optimistic visions: invest in the city's failing infrastructure and affordable housing, reinvigorate the city's arts and culture sector, develop education, a People's Bank for the city, address the homelessness crisis and more. After Bloomberg, almost any new energy will feel welcome.
Whether Yang can achieve any of his visions is to be seen. But with New York City on the brink of rebirth, change is coming fast — and it's up to voters to decide what kind of change they ultimately want to see.
Can one small YouTube channel heal the world? Probably not, but at least Climate Town is trying.
Rollie Williams is a lot of things: "dracula apologist," "guy who couldn't find a men's jumpsuit that fit him," "surprisingly big on billiards YouTube," and "happy just to be nominated."
But what he is, most of all, is a graduate student at Columbia University, studying Climate Science. And he's recently started putting his studies to good use, sharing his knowledge of the causes, consequences, and solutions to environmental degradation in an entertaining and informative series of videos on his YouTube channel, Climate Town.
Though he hasn't been working on Climate Town for long — the first of video went up in August of 2020 — his infrequent, high-effort videos, filmed around New York City on a shoestring budget supported by Patreon donations, have already started attracting some big views. Since Williams averages about one video a month, you can watch the entire repertoire in a little over an hour, but you'll come away from that hour with some insights that are likely to stick with you.
2 Minutes Of Fact-Checkable Climate Change Facts For Skeptics | Climate Townwww.youtube.com
Because while jokes about Al Gore ("America's lamest cool guy") and shots of Williams in his underwear — fishing a laptop out of a pond — make Climate Town a lot more palatable and funny, the series is built on a foundation of solid research into the sordid history of environmental research and policy. And if you think you already know the dirty details of climate change, prepare discover entire new layers of filth.

Williams, with the help of "a ragtag team of climate communicators, creatives and comedians," goes deep into the receipts in these videos. He reveals how car companies, politicians, pundits, and oil companies have shaped America to serve their interests — with no regard for the irreversible damage they were doing to the Earth.
And that doesn't just include stuff like lobbying against climate legislation and spreading lies about how wind energy and the Green New Deal somehow caused the catastrophic power outages in Texas. Climate Town also picks apart some of the favorite band-aids a lot of us like to place our hopes in when staring into the gaping wound of humanity's impact on the planet.
Carbon Offsets! Can't we just buy our way out of climate change?www.youtube.com
It turns out that around 85% of carbon offsets don't do anything at all, the majority of your "carbon footprint" has nothing to do with what your individual activity, and most plastic recycling is (mostly) a lie. As nice as all of these concepts are, the reality is that they were all thought up as marketing gimmicks to shift the blame off of major corporations who might otherwise have been held responsible for the destruction of the earth.
It turns out that people don't love it when massively profitable companies ravage the planet, but what are they supposed to do? Be less profitable?
No, it's historically been much cheaper to convince people that individual action like recycling can solve the problem (even though that little recycling symbol doesn't belong on most plastics), or that the corporations involved are already doing enough to fix it (they're not).
So it's all hopeless, right? GM set out to create an America that was built around gas-powered cars, and they succeeded. And Exxon worked to infiltrate the first Bush administration, then undermined our shot at global climate cooperation.
The Time America Almost Stopped Climate Change | Climate Townwww.youtube.com
They won; humanity lost; planet over, right? Well, as unpleasant as it is to hear about how close we've come in the past to avoiding our current problems, it's probably not quite that bad yet, and Climate Town videos always end with a note of optimism — with suggestions for how viewers can push for the kind of radical climate policy we're going to need if we want to save the world.

It remains to be seen if humanity has what it takes to clean up after ourselves, but looking at how we got here and how we can move forward is a necessary part of the massive, all-important struggle ahead of us. In a sane world, this kind of accounting would occupy most of our news and political media, as we prepare to face the defining crisis of our era.
But while the world might not be sane just yet, Climate Town is, and it makes the whole mess a little bit easier to digest.
If you aren't recycling the right way, then you might as well not be recycling.
Everyone knows recycling is important, but how much of the waste in your recycling bin actually ends up being recycled?
Unfortunately, New York City only recycles about one fifth of its garbage: around 8 percent of trash from homes and about 25 percent from businesses, according to the city's Department of Sanitation. While those numbers are discouraging, this makes it all the more important to correctly recycle the things that can actually be recycled. If you've always been a person who just throws anything you think may vaguely be made of paper and plastic into the recycling bin, it's time to step it up.
The below information on recycling correctly is taken from NYC.gov.
Paper and Corrugated Cardboard
"Rules for Recycling Paper
Place mixed paper, newspapers, magazines, catalogs, and phone books out for recycling collection using any one of the following methods:
Tie with twine into bundles no taller than 18 inches
Place in clear, untinted plastic bags between 13 and 55 gallons
Place in bins 32 gallons or less with green labels on both sides and the lid.
The bag or container must weigh no more than 60 pounds when placed out for collection. Bins must be secured with a tight-fitting lid.
The City does not give away green recycling bins.
Rules for Recycling Corrugated Cardboard
Only corrugated cardboard boxes may be recycled as corrugated cardboard. Heavily-soiled or greasy cardboard should be disposed of with regular trash.
Corrugated cardboard must be flattened and tied with sturdy twine into bundles 18 inches tall or smaller. Bundles must not be placed in containers or clear bags unless broken into small pieces.
In buildings with mechanized collection, cardboard must be collapsed and placed into designated dumpsters.
Key Takeaways:
You need to tie your cardboard into bundles.
Greasy or food covered cardboard or paper should go in the regular trash.
Paper needs to be put in a clear bag or tied together with twine.
Always fold up your cardboard
Plastic
"Rules for Recycling Plastic
Rinse plastic containers, beverage cartons, and drink boxes before recycling
Plastic can be mixed with metal and glass recyclables, but never with paper recyclables.
Place plastic items in clear, untinted bags or blue-labeled recycling bins with a tight-fitting lid.
Clear, untinted bags must be between 13 and 55 gallons in size and weigh no more than 60 pounds when placed out for collection.
Containers must be 32 gallons or less and have blue labels on both sides and the lid. Containers must weigh no more than 60 pounds when placed out for collection.
To dispose of a plastic recycling or trash container, all receptacles should be clearly labeled as trash and put at the curb on the proper recycling collection day so that the Department of Sanitation will know that they should be collected.
Plastic Items That Can Be Recycled
Plastic bottles, cups, jars, and jugs (regardless of recycling number on container bottom)
Beverage cartons and drink boxes (juice cartons, juice boxes)
Milk cartons
Plastic cutlery (spoons, forks, knives)
Plastic plates
Plastic hangers
Rigid plastic caps and lids
Rigid plastic food containers (tupperware, yogurt, deli, hummus, dairy tubs, cookie tray inserts, "clamshell" containers, and other plastic takeout containers)
Rigid plastic nonfood containers
Rigid plastic packaging ("blisterpak" and "clamshell" consumer packaging, acetate boxes)
Rigid plastic housewares (flower pots, mixing bowls, plastic appliances, etc.)
Bulk plastic (crates, buckets, pails, furniture, large toys, large appliances, etc.)
Plastic appliances
CDs, DVDs, disks, vinyl records, CD and DVD cases
Satellite dishes
Telephones
Plastic Items That Can't Be Recycled
Styrofoam/plastic foam items (foam cups, foam egg cartons, foam trays, foam packing peanuts, foam sporting equipment, etc.)
Plastic bags, wrappers, shower curtains, and all kinds of plastic "film"
Plastic rings from soda and beer cans
Cell phones
Cassettes, VHS tapes
Sports balls (basketballs, bowling balls, soccer balls, footballs, yoga balls, etc.)
Plastic tubes (toothpaste, lotion, and cosmetics, etc.)
Single-serve food and drink squeezable pouches (juice pouches, baby food squeeze pouches, yogurt-to-go pouches, etc.)
Garden hoses
PVC pipes (must be no longer than 4 feet and placed out as bulk trash)
Containers that held dangerous or corrosive chemicals
Pens and markers
3-ring binders (if separate, the metal rings can be recycled)
Umbrellas
Lighters
Luggage"
Key Takeaways:
Plastic food containers must be rinsed well.
Plastic must be separated from paper recyclables, though it can be mixed with glass.
Use a blue bin for plastics.
Metal
"Rules for Recycling Metal
Metal can be mixed with plastic and glass recyclables, but never with paper recyclables.
Place metal items in clear, untinted bags or blue-labeled recycling bins with a tight-fitting lid.
Clear, untinted bags must be between 13 and 55 gallons in size and weigh no more than 60 pounds when placed out for collection.
Containers must be 32 gallons or less and have blue labels on both sides and the lid. Containers must weigh no more than 60 pounds when placed out for collection.
Large metal items, such as appliances, must be placed at curbside next to the recycling container. For appliances containing CFC gas, a CFC and Freon Removal appointment must be made prior to disposal.
To dispose of a metal recycling or trash container, all receptacles should be clearly labeled as refuse and put at the curb on the proper recycling collection day so that the Department of Sanitation will know that they should be collected.
Metal Items That Can Be Recycled
Aerosol cans (empty)
Aluminum foil wrap and trays
Clean metallic car parts
Dried-out paint cans (metal lid may be recycled separately)
Faucets
Food cans (empty and clean)
Household metal (wire hangers with paper removed)
Irons
Knife blades (Blades of sharp metal knives (such as carving or chef's knives) should be wrapped in cardboard, taped, labeled "CAUTION: SHARP" and placed out with metal/glass/plastic recyclables)
Lighting fixtures
Nuts and bolts
Metal utensils (including forks, spoons, and knives)
Metal caps
Pots and pans
Satellite dish
Small appliances that are mostly metal"
Key Takeaways:
Do not mix your metal recyclables with paper recyclables.
Clearly mark large metal items you intend to recycle.
Bulky Metal Items
Large items that are all metal or mostly metal are recyclable as bulk items. If an item exceeds the listed weight, height, or amount requirements, you must hire a private carter for disposal.
Large items that are all metal or mostly metal and are recyclable as bulk items include:
Air conditioners
Auto parts (containing no hazardous materials or chemicals)
Aluminum lawn furniture with plastic webbing
Barbecue grills
Bedsprings/Metal bed frames
Bicycles
Boilers
Cabinets and appliances
Clothes dryers
Dishwashers
Furniture
Generators (less than 100 pounds)
Lawnmower (empty fuel to be used in new lawnmower or bring to SAFE disposal event)
Ovens
Pipes (no longer than 4 feet)
Porcelain coated metal bathtubs and sinks
Radiators
Snow blowers (less than 100 pounds)
Washing machines
Water heaters (50 gallons or less)
Metal Compressed Gas Tanks
You can put fire extinguishers and helium tanks out for collection or take them back to where you bought them.
If you put them out, first empty them and remove the head. To empty an extinguisher, spray it into a damp paper bag.
Sanitation does not collect used compressed gas tanks such as propane, oxygen, and acetylene because they can explode in the garbage truck. You must take these tanks back to where you bought them.
Glass
"Rules for Recycling Glass
Only glass bottles and jars may be recycled as glass.
Rinse the glass before you recycle it.
Glass can be mixed with metal and plastic recyclables, but never with paper recyclables.
Place glass in clear, untinted bags or blue-labeled recycling bins secured with a tight-fitting lid.
Clear, untinted bags must be between 13 and 55 gallons in size and weigh no more than 60 pounds when placed out for collection.
Containers must be 32 gallons or less and have blue labels on both sides and the lid. Containers must weigh no more than 60 pounds when placed out for collection.
Glass Items That Can't Be Recycled
Drinking glasses and glassware
Eyeglasses
Glass tables
Glass windows
Light bulbs
Mirrors
Broken Glass
To avoid bag punctures, broken glass should be placed into a cardboard box labeled "broken glass." The box should be sealed with tape and placed into a trash can or securely tied trash bag. Small containers of broken glass may be placed directly into a trash can or bag.
Larger, properly sealed, and labeled cardboard boxes that contain broken glass can be placed out for collection next to regular refuse containers/bags.
The broken ends of smaller single pieces of broken glass can sometimes be protected with several pages of newspaper taped around the broken end before being placed into a trash can or bag."
Key Takeaways:
Only glass bottles and jars may be recycled as glass.
Rinse all glass recyclables
If recycling broken glass mark it clearly.
Do not mix glass recyclables with paper recyclables.
COVID-19 updates from a Harvard physician.
By Anthony Lee, MD
Faculty, Harvard Medical School
As we make our way through this pandemic, the large number of cases in the United States has caught our attention and prompted much discussion. In Part 4 of this series, we examine the latest trends in cases and deaths in the 10 locations we've been following.
Much of the media continues to report absolute number of cases by location, which is misleading because a location's population matters in terms of what's known as local severity.
This is better described as case density, or the number of cases per capita. For example, if 10 out of 50 people were infected on a small grass field, the case density would be 20%. If 25 out of 500 people were infected on a larger grass field, the case density would be 5% even though there are more cases.


Therefore, even though 2.5 times more people were infected on a larger grass field, the case density would be 4 times less, and therefore the local severity would be less critical. The same is true for deaths per capita. With that in mind, here are the updated charts.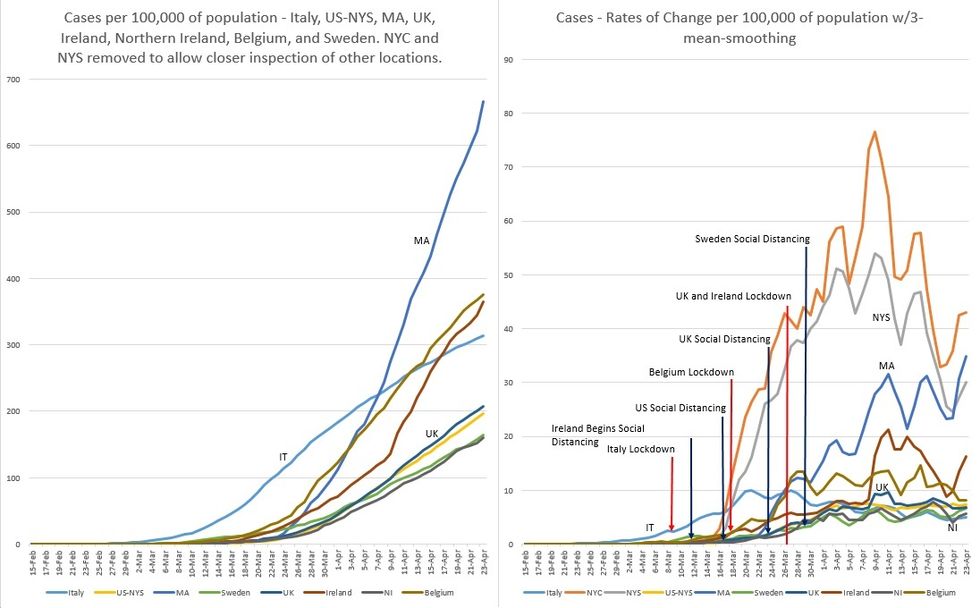 Figure 1: On a per 100,000 population basis, the rises for New York City and New York State are quite steep. When plotted with other locations, the plots of the other locations are squashed significantly and misrepresent the actual condition. Therefore, the plots of NYC and NYS have been removed for the sake of clarity. However, for the rates of change chart, NYC and NYS plots remain as they don't obscure the other plots significantly.
On the left of Figure 1, we see that Massachusetts is experiencing the largest surge in cases so far. It is said that Massachusetts may soon become the new epicenter of case growth in the US.
But to maintain perspective, NYS still carries 31% of all cases in the US and 9.9% of all cases in the world. By contrast, Massachusetts carries 5.2% of all cases in the US and 1.7% of all cases in the world. However, case density in Massachusetts has surpassed that of "The Rest of the US" (US-NYS) by more than a factor of 3, but less than half of NYS.
On the right of Figure 1, the number of daily new cases in Italy peaked on March 21st, 12 days after their lockdown with daily cases continuing to fall over the last 33 days. For NYS and NYC, the number of daily new cases peaked on April 9th, 23 days after social distancing began, and has continued to fall over the last 2 weeks.
For the UK, the number of daily new cases peaked on April 11th, 15 days after lockdown but 19 days since increasingly stringent social distancing began. This downward trend has been ongoing over the last 12 days.
For Ireland, the number of new cases peaked on April 11th but is currently escalating again. Belgium's number of new cases peaked on April 16th, but it's too early to tell if it will increase again. It looked as if Belgium was on a downward trajectory in terms of rates of change, but the country experienced a subsequent surge. The same holds true for Northern Ireland.
Sweden, like Massachusetts, is on a surge, but with much less magnitude.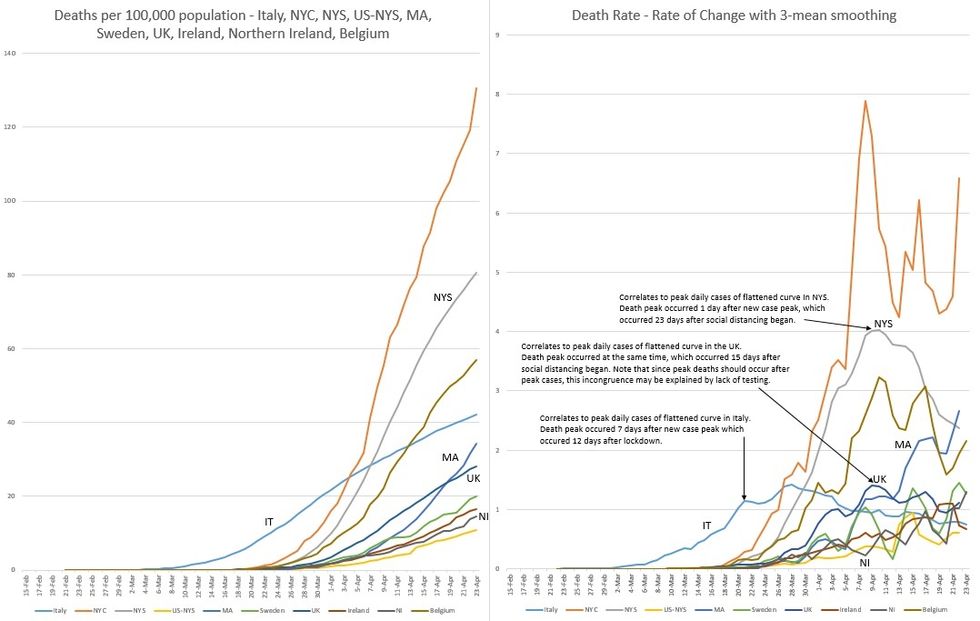 Figure 2 illustrates the relative lag times between the peak of new cases and the peak of daily deaths. The arrows correlate to when the daily peak cases occurred (not the peak of deaths, although they may coincide by chance).
In general, deaths follow cases. One would expect that the peak of daily deaths for any location would arrive after the peak of daily new cases. This is true for Italy, where the peak of daily deaths occurred 7 days after the peak of daily new cases, which in turn occurred 12 days after lockdown. 19 days of lockdown were required to lessen Italy's death rate.
The UK needed 15 days of lockdown to simultaneously reduce both the number of daily new cases and the death rate. This could be because the UK may be under-testing, resulting in a delay of the peak of daily new cases.
It's also conceivable that the peak of new daily cases can arrive after the peak of the daily death rate. Further support for this notion is the fact that Ireland has a higher case density than the UK, yet the UK has a higher number of deaths per capita.
NYS required 24 days of social distancing to reduce the death rate; a reduction which occurred 1 day after the peak of daily new cases. Again, this could be due to the lack of testing. In NYC, deaths are on the rise again but to an unknown extent. The same is true for Massachusetts, Northern Ireland, Belgium, and Sweden. It's too early to tell what will happen in Ireland.
For "The Rest of the US," the death rate peaked 8 days ago, 29 days after social distancing was instigated.
Sources of data: Worldometer.com, Spectrum News NY1, New York State Department of Health, Massachusetts Department of Public Health, HSC Public Health Agency
The very small window of opportunity to close down the country
By Anthony Lee, MD
Faculty, Harvard Medical School
As we make our way through this pandemic, the large number of cases in the United States has caught our attention and prompted much discussion. In Part 3 of this series, we will delineate the events that have thus far unfolded for the United States.
In Parts 1 and 2 of this series, we plotted cases and deaths on a per 100,000 population basis. In Part 2 we added "The rest of the US" as a location, represented by "US-NYS" to illustrate that outside of New York State, the US is doing relatively well compared to NYS and other parts of the world.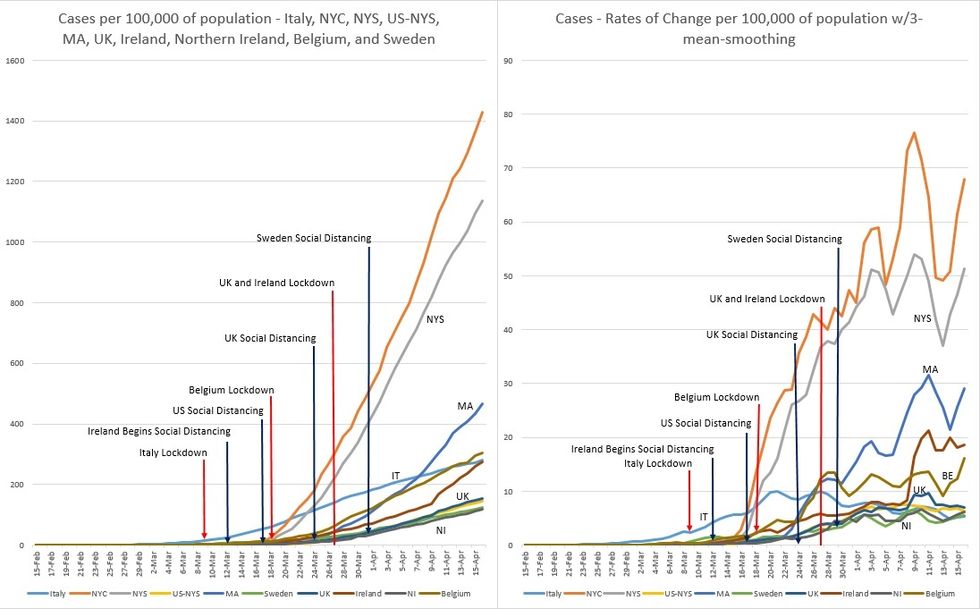 One notices, however, that in Figure 1 for NYC and NYS, a low and flat trajectory is seen from early February and continues until March 16th, when suddenly the trajectory begins to steepen. This is called the inflection point of the curve and will be described in Figure 2.
In Figure 2, locations other than NYC, NYS, and US-NYS (US minus NYS) have been removed. Social distancing began on March 17th. Note that in prior charts, social distancing for the US was lumped with that of the UK. But, after reviewing history, the US actually began social distancing a week earlier. (This has been corrected on subsequent charts.)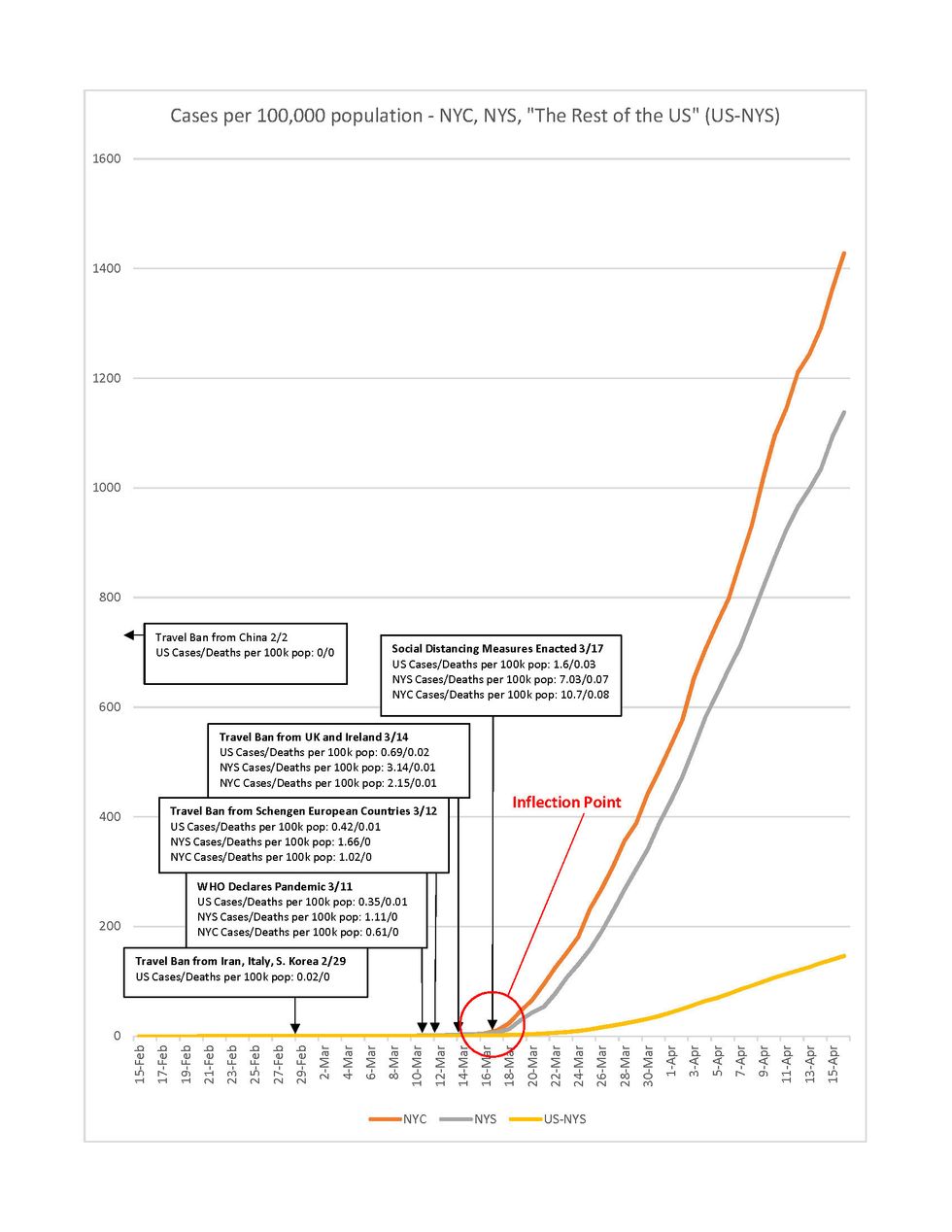 Figure 2 presents milestones that show when certain measures were enacted and what the number of cases and deaths were at that time, on a per 100,000 population basis by location. The inflection point represents a small window of opportunity to make a quick decision on mitigation.

Here are the events leading up to and around the inflection point:
2/2/20: Travel ban from China
2/29/20: Travel ban from Iran, Italy, and South Korea
3/11/20: World Health Organization declares COVID-19 a pandemic
3/12/20: Travel ban from Schengen European Countries*
3/14/20: Travel ban from UK and Ireland
3/17/20: Social distancing and restrictions start
3/19/20: Travel restrictions from Japan (not shown in Figure 2)
3/19/20: Increased testing in New York (not shown in Figure 2)
As far as the other locations seen in Figure 1, we can see that Italy continues to decrease in daily new cases, Ireland and Belgium have seen spikes in new cases. Massachusetts and NY continue to see waves of new cases that overall seem to be increasing in magnitude, while the rest of the locations continue on low and flat trajectories.
New York State continues to be the epicenter of the world, with 33% of all US cases and 10% of all cases globally.
Sources of data: Worldometer.com, Spectrum News NY1, Massachusetts Department of Public Health, HSC Public Health Agency
*The Schengen Area is composed of 26 European states that have officially abolished passports and all other types of border control at their mutual borders.
How do we contextualize an unprecedented moment in American history?
As a healthcare worker with more than three decades of training and clinical work under my belt, I have a few thoughts about this moment in American history:
The Metaphor of War is Inaccurate
This is an undeclared war against the coronavirus. What healthcare workers are going through is war. With such strictly limited resources, we must apply wartime strategies to care for as many people as possible.
As our Mayor, Bill De Blasio, said in today's briefing, "this is a war with many-many fronts. The only way to get through it is to use our military, all HCP (Health Care Personnel). [To create] a national enlistment of all doctors and nurses and move them to areas of need as it arises around the country."
De Blasio is urging the president to enlist all doctors and nurses across America. Indeed, we're not only at war, we are on a battlefield.
In wartime, people hunker down together - especially those most vulnerable. Not so with this virus. Social distancing causes even the sick to care for themselves in isolation, as they check in with others by phone.
The "mask or no mask" question
On the streets and in grocery shops, neighbors in self protection mode aggressively condemn each other for not standing the mandatory 6 feet apart. After close to three weeks of social distancing, why only now are we being asked to wear non-medical masks when going outside.
As a nurse, when I hear the word droplets, I follow precautions, I wear a mask. Any health care worker who doesn't receive the flu vaccine is required by law to wear a mask from the beginning of flu season in October through May or June in all patient areas in the hospital - elevators, patient rooms, hallways, and in clinic.
However, during these perilous times and with supplies stretched thin, the medical field is our first priority. The public has been repeatedly asked to spare PPE (Personal Protective Equipment) for medical people.
Healthcare Workers Are To COVID-19 as Fireman and Police Were To 9/11
Doctors and nurses working frontline without proper PPE is like rushing into a burning building in a tee-shirt, jeans, and bare feet. Are we being asked to do something that was not asked of our firefighters on 9/11?
But every evening at 7pm in NYC, #Clappingforcarers erupts in a massive round of global applause. What a profoundly glorious acknowledgement of Health Care and Essential Workers. Walking home from my ten hour shift at an Upper East Side hospital, I stand on 3rd Ave overwhelmed with this outpouring of gratitude that brings tears to my eyes. I am in awe of how life affirming this is. And how many beautiful people are recognizing our bravery and duty to care.
s3.amazonaws.com
We Don't Know What We Don't Know
We don't know. We don't know how this virus works in the body . . . how long it takes an individual to fully recover and no longer shed it. We don't know when it will be safe to socialize again.
On Monday, the US Navy hospital ship Comfort sailed into the west side docks with 1,000 beds. As of Thursday, they've only filled 20 beds due to a tangle of military protocols and bureaucratic hurdles. Frustration is growing because this isn't relieving our overburdened hospitals at all.
But here's the don't-know-what-we-don't-know of it, the world's top researchers do not fully understand how this pathogen works although we're months into the existence of this virus.
The 16-year-old will take to Foley Square to spearhead a global strike on September 20.
Teen activist Greta Thunberg touched down on the shores of New York today after a two-week journey at sea, but her real journey has just begun.
The Swedish teenager rose to prominence last year with her "School Strikes for Climate," which have since sparked a worldwide movement. She's since become one of the leading faces in climate activism, representing young people's refusal to tolerate the ignorance of their elders.
Sixteen-year-old Thunberg has spent the past two weeks traveling to New York City via solar-powered yacht, which was chosen in order to avoid a carbon-heavy airplane flight. The journey—which was obsessively followed by activists and European media and much-maligned by critics—culminated with a landing on the shores of Coney Island, Brooklyn, and her final destination was a port off Lower Manhattan. She was welcomed by excited crowds of activists and fans.
Day 12. We are getting closer to the North American mainland. Rough conditions, but downwind sailing. https://t.co/n9huwHUSGI

— Greta Thunberg (@Greta Thunberg) 1566746954.0
We have anchored off Coney Island - clearing customs and immigration. We will come ashore at North Cove Marina earl… https://t.co/SItklEhQeK

— Greta Thunberg (@Greta Thunberg) 1566997753.0
Thunberg has a packed itinerary, which includes high-profile meetings with some of the world's most powerful officials. On Friday, September 20, she'll be leading a worldwide Climate Strike, and millions of people will be taking to the streets to call for aggressive global action on climate change. Find your local strike (or start your own) using this website.
Thunberg will be attending New York City's strike, which begins with a march in Foley Square and ends with a rally in Battery Park, where speakers, performers, and Thunberg herself will take the stage. If you want to be more involved in this event, NYC is having an art build on August 30 and 31, and the group Fridays for Future will be organizing other logistical actions in preparation for the strike. Also for NYC folks: Ethical Culture is hosting strike planning meetings every Wednesday from 6-8pm, and Greta herself will be striking each Friday, starting with a strike on Friday, 8/30 at Ralph Bunche Park outside of the United Nations from 11-2pm.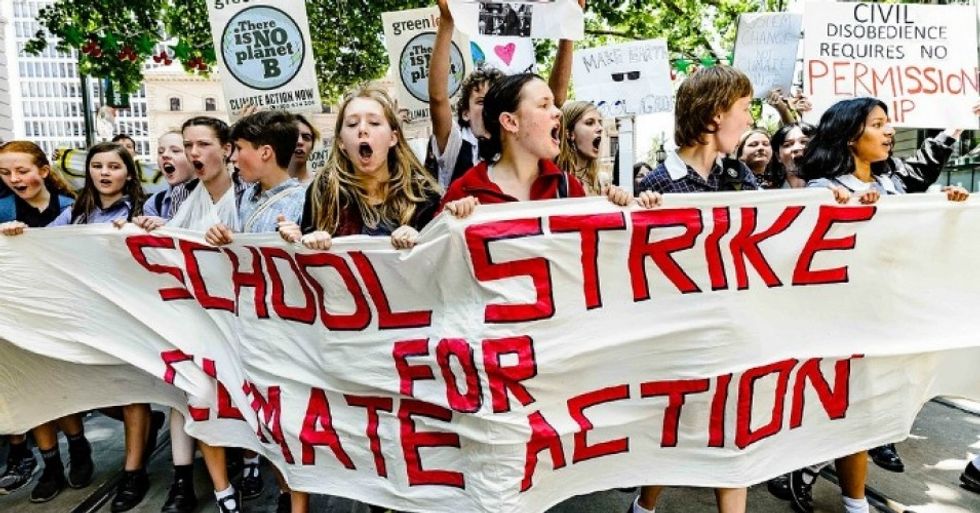 commondreams.org
Participants hope that mass action will influence several important upcoming climate meetings, which will be attended by Thunberg. The first will be the Youth Climate Summit at the United Nations in Manhattan on September 23rd. The next is the COP25 summit in Santiago, Chile, which takes place in December.

The young activist recently announced that she's taking a year-long sabbatical from school to focus on her activism. Her actions manifest the emotions and thoughts of many students who are asking, "What's the point in going to school and working towards our future if there is no future?"
As Thunberg put it in 2018, "We cannot solve the crisis without treating it as a crisis. You say you love your children above all else, and yet you're stealing their future in front of their very eyes."
Yet she's also resolutely hopeful. "It is still not too late to act," she reminded the European Parliament in a recent speech. "It will take a far-reaching vision, it will take courage, it will take fierce, fierce determination to act now, to lay the foundations where we may not know all the details about how to shape the ceiling. In other words, it will take cathedral thinking. I ask you to please wake up and make changes required possible."
Thunberg was nominated for a Nobel Peace Prize in 2018 for her work. She has mobilized millions of strikers around the world, and she's given hope and a sense of urgency to countless others. She also has been heavily criticized, mostly by conservative outlets and European nationalists. One British businessman even went as far as to Tweet, "Freak yachting accidents do happen in August…" She was also described as a "teenage puppet" by a member of Trump's transition team and a "prophetess in shorts" by a conservative French politician.
Freak yachting accidents do happen in August ... https://t.co/6CPePHYLtu

— Arron Banks (@Arron Banks) 1565817064.0
Many of these criticisms have taken on a misogynistic undertone, resembling those lobbed at another young, powerful female activist—Alexandria Ocasio-Cortez. This may not be incidental, since the kind of global structural overhaul that human survival requires necessitates a revamp of many patriarchal and conservative ideas based in traditional ways of doing things. "For climate skeptics … it was not the environment that was threatened, it was a certain kind of modern industrial society built and dominated by their form of masculinity," proposed one study that linked misogynistic comments about Thunberg and Ocasio-Cortez to toxic masculinity.

Thunberg, however, is not advocating for any particular shift in gender dynamics, nor any politician's agenda. Instead, she's all about ensuring human survival by adjusting our actions based on scientific fact.
As the Malitzia II sailed towards the New York City skyline, a banner reading "Unite Behind the Science" waved proudly above it. Unfortunately, the scientific consensus about the dire consequences of climate change hasn't been enough to mobilize humanity into acting. That has required one particularly outspoken teen activist, and New York City is lucky to have her here.
On Valentine's Day, Amazon pulled out of its plan to build a second headquarters in Queens, citing the efforts of citizen protestors and politicians who opposed its imminent arrival.
The moment Amazon announced that it would be building its second headquarters in NYC's Long Island City, people took to the streets.

On November 26th, a coalition of immigrant advocates and anti-HQ2 groups gathered to protest Amazon's involvement with ICE, Paladir, and other organizations responsible for deportations. Citizens marched again on Cyber Monday, launching a " day of action" and flooding an Amazon Bookstore in Manhattan, holding signs aloft and chanting sing-song rhymes about Jeff Bezos. Together, over two dozen community groups organized these protests, including local unions and nonprofits. Following the protests in Manhattan, Amazon workers employed in warehouses in Staten Island made the decision to unionize, citing low pay and impossible performance quotas, and leveraging Amazon's impending move to Queens to draw attention to their case.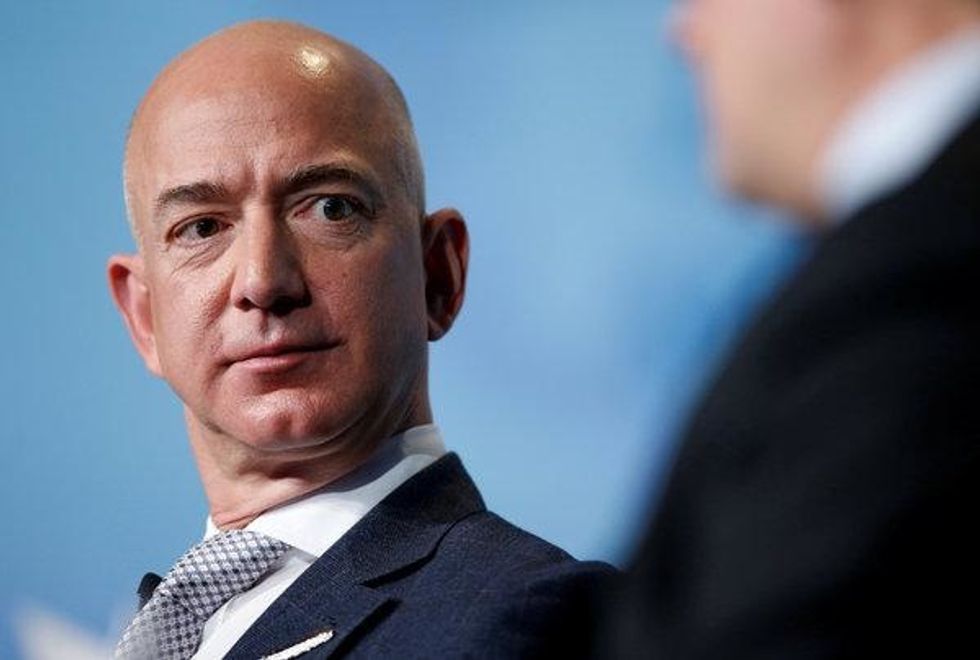 Image via The New York Times
Their protests attracted the attention of some of New York City's political officials, such as City Council Speaker Corey Johnson, who initially supported Amazon's entry but denounced it after learning more about the circumstances surrounding the deal. He began to stand with the protestors, complaining that a general lack of transparency and the fact that Amazon bypassed NYC's standard review process mandated further investigation.

In December, a public hearing was held at City Hall, and protestors gathered outside while council members grilled economists and officials who had been instrumental in making the deal with the world's most profitable corporation. "We are not in the business of corporate welfare here at city council," said Johnson.
It was this so-called corporate welfare—the $3 billion in government and tax incentives that Amazon was promised, in exchange for the 25,000 jobs it promised to create—that became the foundations of the anger stewing around the sales conglomerate's impending arrival, anger which resulted in Amazon's decision to pull out of its promise to develop a huge corporate campus in Queens.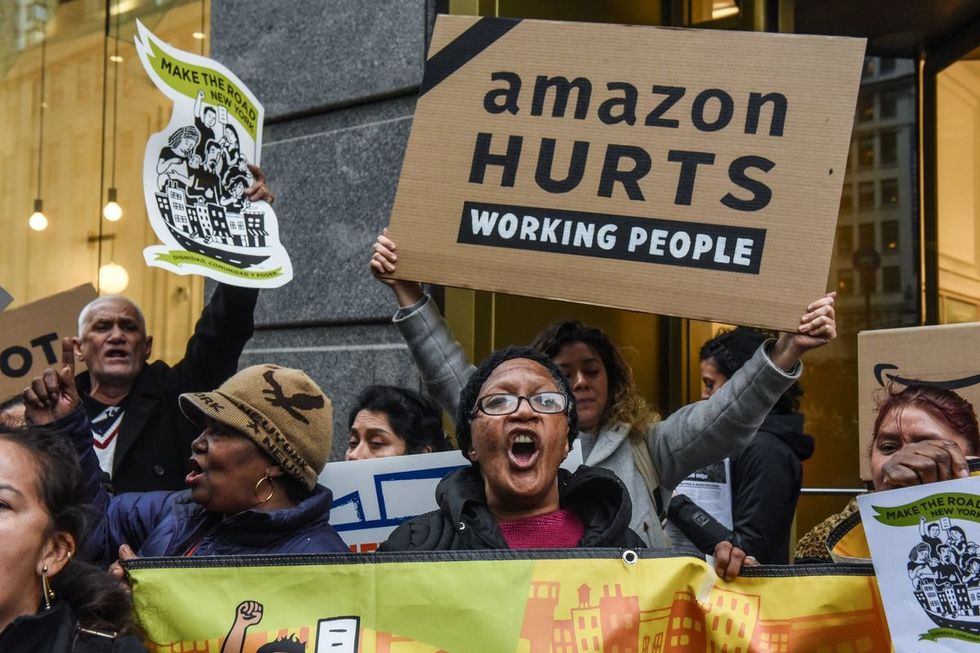 Image via Vox.com
The people's anger came from different places, and their protests were haphazard efforts, but their rage had been brewing for a long time, and Amazon's imminent arrival fed a variety of fears about corporate greed and pervasive gentrification, which opponents feared would tear apart places like Long Island City, sucking it clean of culture and community. Amazon's arrival was predicted to catalyze a wave of homelessness; the announcement that it was setting up shop in Long Island City was instantly followed by dizzying spikes in rent—chilling lower-income residents in a city already plagued by stretches of empty storefronts.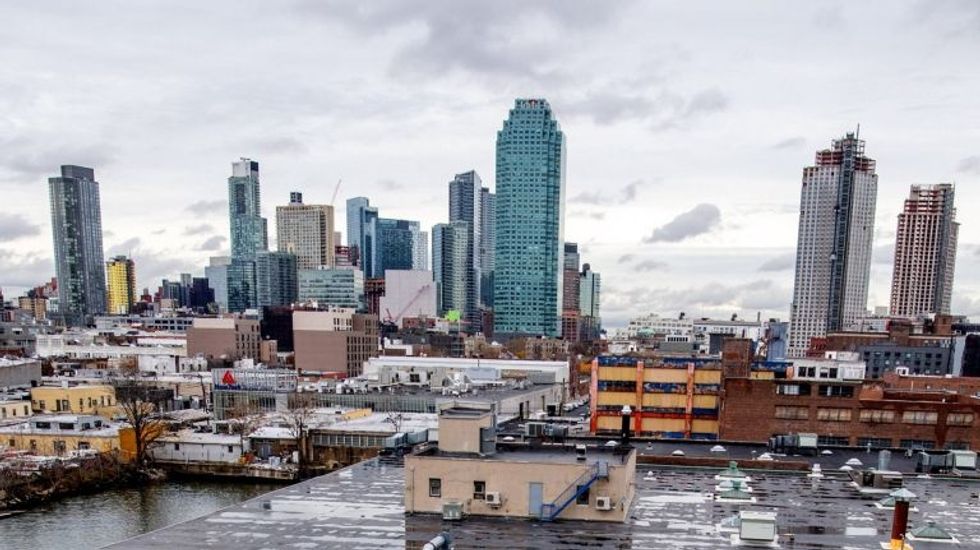 Long Island CityImage via AM NY
Protestors cited Amazon's effects on Seattle, Amazon's first home city, as reasons why the conglomerate shouldn't move on with its plan. Some people argue that Amazon made Seattle into a hull, a kind of paper city that existed only to facilitate its metallic corporate heart; and Seattle's homeless corporation did rise in tandem with rising housing prices, making it home to the third-highest number of homeless people in the country, after New York and Los Angeles.

HQ2 opposition united a great deal of unlikely allies—including an unlikely ally in the Wall Street Journal's Editorial Board, who argued that the deal was "crony capitalism at its worst." Their article continued, "Amazon's case is aboveboard, but it still amounts to a company with a market capitalization of nearly $800 billion getting paid to create jobs it would have created somewhere anyway."
Alexandria Ocasio-Cortez was the most visible face of a group of politicians who protested Amazon's HQ2 establishment, and her resistance might have been one of the central reasons for its decision to abandon ship. "It was that the environment over the course of the past three months had not got any better," said Joni Seth, Amazon's head of policy communications. "There were some local and state elected officials who refused to meet with Amazon and criticized us day in and day out about the plan."
This deal wasn't a simple tax break. It was $3 BILLION dollars. When the community wanted to negotiate, Amazon said… https://t.co/Q9E8zF3tZZ

— Alexandria Ocasio-Cortez (@Alexandria Ocasio-Cortez) 1550243136.0
Ocasio-Cortez had long denounced Amazon's plans to move into Queens, and she celebrated Amazon's retraction on Twitter. So did other political figures, including Cynthia Nixon. Following the company's Valentine's Day breakup announcement, the actress-turned politician triumphantly tweeted, "The fight against Amazon laid bare their union-busting, corporate welfare, ICE-abetting practices and shows why we need to break up monopolies like Amazon."

In addition to its ties to law enforcement giants, Amazon had also been accused of developing facial recognition technologies to gain information about customers without them knowing; and many protests have cropped up among its warehouse workers, especially in Europe, where employees have staged walkouts against low wages and poor working conditions.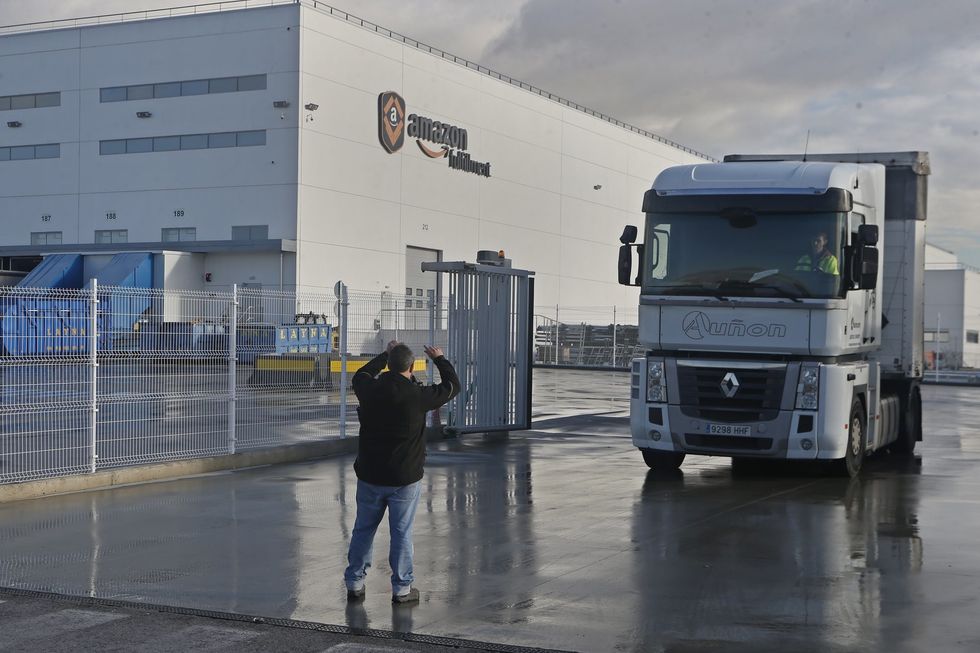 A protestor stops an Amazon truck in Spain.Image via apnews.com
Despite Amazon's shady ethics, many people were not as enthusiastic about the company's foiled New York City dreams, arguing that the demise of HQ2 will compromise what could've been an economic boom for the city, criticizing Ocasio-Cortez's decision to favor ideology over economics. Amazon may have hiked up rents, but rents are high anyway; and its arrival would have created thousands of jobs, including consistent positions for lower-level staff members and service workers.

Plus polls showed that 56% of New Yorkers approved Amazon's arrival, which was initially billed as a triumph by Mayor Bill de Blasio and Governor Andrew Cuomo—both central players in the deal's initial success who believed that the arrival would help NYC solidify its position as a worldwide hub of tech and industry. Bill DeBlasio's tweets following Amazon's decision resembled those of a spurned ex. He also lashed out at Ocasio-Cortez, stating that "a small group of politicians put their own narrow political interests above their community—which poll after poll showed overwhelmingly supported bringing Amazon to Long Island City—the state's economic future and the best interests of the people of this state," the governor said in a statement.
But even so, a great deal of major political figures opposed the deal, including Senator Michael Gianaris of Queens, who initially supported Amazon's arrival but, like Johnson, changed his mind after learning about its policies. Still, Amazon in Long Island City's demise all started with those first street protests, which erupted directly after De Blasio's announcement as politicians remained silent. Ultimately, community members and citizen organizers catalyzed the start of the resistance that led to the downfall of Amazon's Queens campus.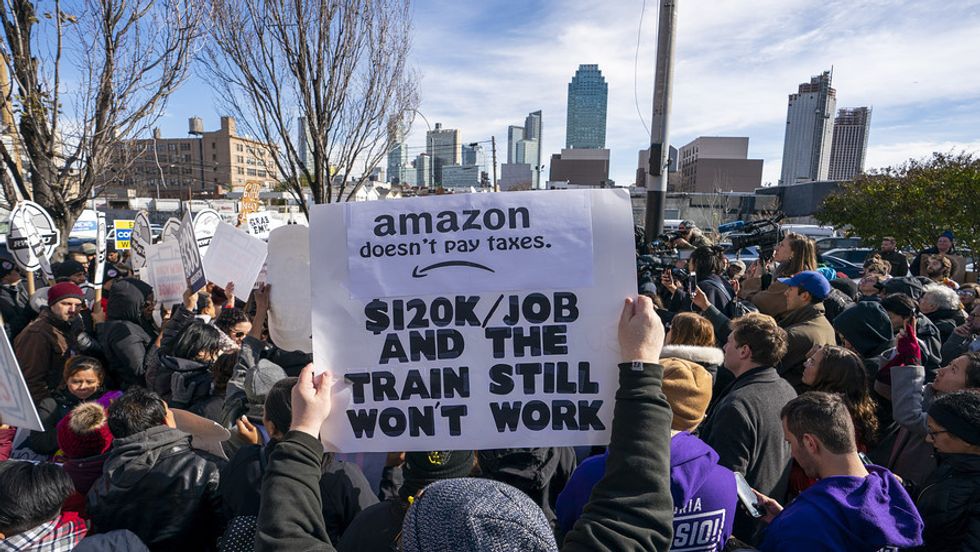 Image via Marketwatch
There's something deeply satisfying about the image of the world's richest man and his behemothic corporation getting kicked out of New York by impassioned Queens residents, ready to unite and fight for the integrity of their home borough. Still, Amazon's departure won't stop gentrification, won't fill up empty stores, and won't bring back the days when young artists could gallivant around Greenwich Village with pennies in their pockets and working-class families could call Manhattan home.
In a way, Amazon's departure is a symbolic victory for its opposition, a tantalizing promise that the people can triumph over corporations. Of course, this move will not deter Amazon from building its global empire, and America's supermassive wealth gap will remain. It just won't be as tangibly visible in New York.
---
Eden Arielle Gordon is a writer and musician from New York. Follow her on Twitter at @edenarielmusic.
A history of stalled construction, deferred maintenance and funding problems have left the subway with a seemingly hopeless future
The subway system, winding beneath, through and over the streets of New York City, moves almost six million people every day. The system stretches over 665 miles of track from Manhattan to Brooklyn, Queens, the Bronx, and Staten Island. The subway opened in 1904 with 28 stations in Manhattan, and though it now connects the five boroughs through 472 stations, many regular riders complain that not much else has changed in the last 114 years. Some trains are more often delayed than not. And while the city's population is, again, rising and overcrowding on subway platforms continues to cause problems, the city has basically stopped building new subways. Why? And why can't the MTA keep its trains running smoothly and on-time?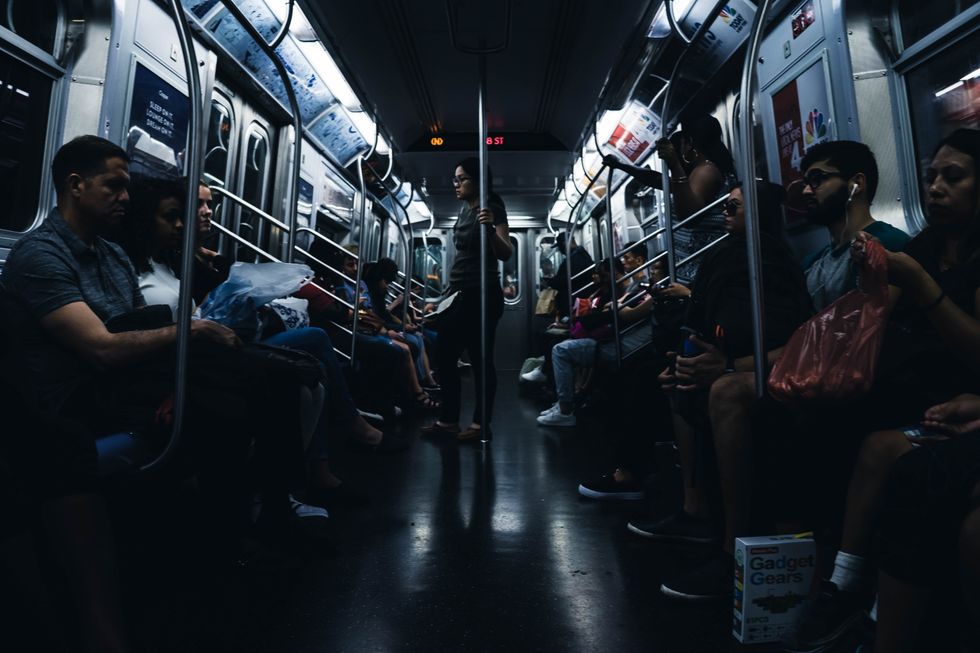 Photo: Raymond Francisco
The New York City subway opened in October 1904, but it was privately built and managed until 1940 when Mayor Fiorello LaGuardia bought and consolidated the two private companies who'd owned it for over $300 million. Yet, ridership was already peaking as the country saw a future of personal automobiles on the horizon. After decades of refusing to raise fares, the city finally doubled the price to a dime per ride. Soon, a statewide referendum approved an exemption from the state's tax limit for the city to continue its subway expansion. Instead, the administration used the money to reduce what had already become a giant deferred maintenance problem. The MTA New Yorkers know today wasn't formed until 1965, by Governor Nelson Rockefeller. Though the subway system was finally under its present state-controlled organization, its problems continued to grow as the city neared bankruptcy.
A history of large problems and inadequate or emergency solutions has defined the aging but essential subway system of today. The cheap and accessible movement of those six million daily riders around New York's boroughs drives the city's economic, innovative and artistic engines. New York City and its surrounding areas create over $1.5 trillion in gross metropolitan product: close to 9% of the country's GDP in 2016. Researchers have estimated that losing the subway for a month due to a Hurricane Sandy-sized storm would cost New York City $60 billion in "lost economic output."
The city's economy—and a large chunk of the U.S. economy—depend on an out-of-date, complex public transportation network that doesn't have enough money to repair itself or to continue expanding. The city's inability to catch up on the long list of repairs only increases the number and severity of the system's problems.
Only 3% of the subway's tracks meet the cleanliness standards required by their own governing body, the MTA. Meanwhile, parts of the signal system that controls train movements are so old and obsolete that they have to be built in-house by the MTA because no company manufactures them today. And almost half of the 6,400 cars running on tracks daily were built between 1960-1989, with half of those due for repairs or replacement. The subway's problems are as old as its parts.
Governor Cuomo introduced an $800 million "NYC Subway Action Plan" to help fix the struggling system. He wants the state to pay for half of the plan and the city to cover the rest, but Mayor De Blasio refuses to add to the huge amount the city already pays in taxes to maintain its subway. Why the governor of a state—in which a significant portion of the population does not live in the city or use its subway—controls the MTA and appoints its chairman is another question.
The New York Times Magazine estimates that the needed repairs to the subway would cost at least $111 billion. This doesn't include the increased flooding and unforeseen damage caused by more powerful storms and rising sea levels. Subway tunnels snake below sea level beneath a city surrounded by water. Alan Weisman's book, The World Without Us, highlights the role workers play in keeping the subways dry. Over 750 electric pumps work ceaselessly to pump 13 million gallons of groundwater (the water already in the ground) uphill every day. At one station in Brooklyn, 650 gallons of water per minute must be pumped out. Half an hour without the pump makes the station impassable. When it rains, the water rushes below ground even more quickly, and when a hurricane floats up the coast, the amount of water is incalculable.
The subway is always under construction because the list of repairs is impossibly backlogged. The city cannot fix the subway's problems quickly enough without great, preventative changes to the way the system operates in the future. That is exactly what the president of New York City Transit, Andy Byford, has proposed. His ambitious 10-year plan, called Fast Forward, promises a modern NYC subway within the decade. The agency will begin installing a modern switching system, replace subway cars, improve stations, and make dozens of them wheelchair accessible. By changing the way the MTA spends money, the plan could complete the most important parts of that $111 billion renovation for about $40 billion.
Why has the city stopped building new lines? That is a simpler question to answer. Too much money must be directed toward repairs to undertake any significant, new building projects. And New York City has become the most expensive tunneling area in the world. The city spent between $100 million and $250 million (in 2017 dollars) per mile, building the original tunnels and tracks in the 1900s and '10s. Last year's long-awaited 2nd Avenue extension cost $2 billion per mile.
If the city and state can agree to fund Byford's plan, the subway might soon receive the upgrades it needs. Any future expansion of the subway will depend on the success of Fast Forward's changes to the MTA's operation and its spending on maintenance, repairs, and construction. The subway is the heart of New York City. How do you perform open-heart surgery on something that doesn't sleep?