Dall-E Mini, the AI-powered text-to-image generator has taken over the internet. With its ability to render nearly anything your meme-loving heart desires, anyone can make their dreams come true.
DALL-E 2, a portmanteau of Salvador Dali, the surrealist and Wall-E, the Pixar robot, was created by OpenAI and is not widely available; it creates far cleaner imagery and was recently used to launch Cosmpolitan's first AI-generated cover. The art world has been one of the first industries to truly embrace AI.
The open-sourced miniature version is what's responsible for the memes. Programmer Boris Dayma wants to make AI more accessible; he built the Dall-E Mini program as part of a competition held by Google and an AI community called Hugging Face.
And with great technology, comes great memes. Typing a short phrase into Dall-E Mini will manifest 9 different amalgamations, theoretically shaping into reality the strange images you've conjured. Its popularity leads to too much traffic, often resulting in an error that can be fixed by refreshing the page or trying again later.
If you want to be a part of the creation of AI-powered engines, it all starts with code. CodeAcademy explains that Dall-E Mini is a seq2seq model, "typically used in natural language processing (NLP) for things like translation and conversational modeling." CodeAcademy's Text Generation course will teach you how to utilize seq2seq, but they also offer opportunities to learn 14+ coding languages at your own pace.
You can choose the Machine Learning Specialist career path if you want to become a Data Scientist who develops these types of programs, but you can also choose courses by language, subject (what is cybersecurity?) or even skill - build a website with HTML, CSS, and more.
CodeAcademy offers many classes for free as well as a free trial; it's an invaluable resource for giving people of all experience levels the fundamentals they need to build the world they want to see.
As for Dall-E Mini, while some have opted to create beauty, most have opted for memes. Here are some of the internet's favorites:
There's no looking back now, not once you've seen Pugachu; artificial intelligence is here to stay.
"We are Americans and we do not do that." Uh, yeah Joe, we do.
After making an appearance at Game 5 of the World Series, Donald Trump got an unexpected surprise––he learned that pretty much everybody at the game hated him.
In a karmic callback to the "lock her up!" chants that continue to arise at every Trump rally, in opposition to Hillary Clinton, baseball fans gleefully chanted "lock him up!" as soon as Donald Trump showed up on the jumbotron. (As an aside, Clinton was fully investigated by the State Department for using a private email, and while investigators agreed that her online behavior was not necessarily safe, they found "no persuasive evidence of systemic, deliberate mishandling of classified information." Trump's family has done the exact same thing while working in the US government, which seems ridiculously hypocritical, but what else is new?)
Here's Trump being publicly jeered during America's favorite pastime:
Nats fans boo Donald Trump after he's shown on the big screen and then chant, "Lock him up." https://t.co/WJvgbyDb4e

— Shannon Watts (@Shannon Watts) 1572226674.0
And here's his face after realizing what's happening. Hilarious:
Look how Trump's face changes when he realizes an entire stadium is booing him https://t.co/E46rzbzmbl

— Arlen Parsa (@Arlen Parsa) 1572225748.0
While everyone who isn't an absolute troglodyte is fine with the American people voicing their disdain for an international mobster and 25-times-accused, alleged-but-pretty-much-self-admitted sex offender occupying the highest political office in the country, one bespectacled termite held tight to his pearls.

MSNBC Morning Joe host, Joe Scarborough––a man who has built a career on his inability to distinguish between a fencepost and a chair––had this to say:
"We are Americans and we do not do that. We do not want the world hearing us chant 'Lock him up' to this president… https://t.co/FXWcfviYtk

— Morning Joe (@Morning Joe) 1572259148.0
"We are Americans and we do not do that. We do not want the world hearing us chant 'Lock him up' to this president or to any president."

Except, here's the thing, Joe: Yeah. We really do do that.
The rest of the world needs to know that the majority of the American people reject Donald Trump. Currently, 54.6% of Americans disapprove of Donald Trump (40.6% approve and the rest, presumably, are in a collective coma). Over half the country currently supports opening an impeachment inquiry. And, while it's been said ad nauseum, it always bears repeating: Trump lost the popular vote by nearly 3 million votes. In short, Trump might represent America as a landmass, but he does not represent the will of the majority American populace.
In America, we should want criminals to be held accountable regardless of whether or not they are the President. We should want criminals held accountable regardless of whether or not they are Democrats or Republicans, or if we agree with their personal views. In the United States, nobody should be above the law. Especially if they're the President.
So, sorry Joe, but you're very, very wrong. Reach up way into your butt and pry out that fence post before it pierces an organ. The American people are speaking, and it's time to listen. Lock him up.
The sordid history of Trump's NatSec advisor.
Picture the most gung-ho Warhawk in modern history, a man who's made a career out of calling for military invasions of foreign countries, forced regime changes, ends to peace treaties.
Do you imagine a hardened war veteran with military accolades who's seen the cost of war and knows its price? Or a nationalist who's fine throwing human life away from the safety of his armchair, despite doing everything in his power to avoid going off to war himself as a youth? If you picture the latter, you've got Trump's former national security advisor John Bolton.
John Bolton did serve in the National Guard and Army Reserve. But he did so in order to avoid being drafted for the Vietnam War, essentially biding his time stateside out of fear of real battle. "I confess I had no desire to die in a Southeast Asian rice paddy. I considered the war in Vietnam already lost," wrote John Bolton in his 25th college reunion book.
Speaking from a position of privilege might be Bolton's greatest asset, though. Those who have seen war generally speak about it in more tempered measures, while Bolton reached his position through pushing extremes.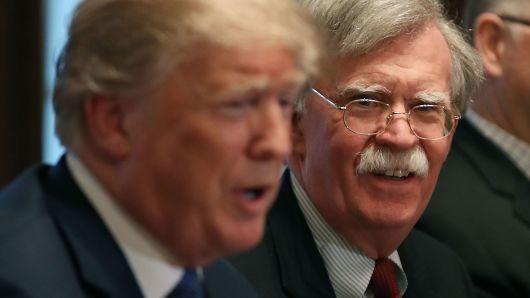 fm.cnbc.com
Throughout his long career, Bolton has worked under multiple right-wing administrations, from Reagan to W. Bush to Trump. During this time, he's advocated again and again for war, pushing for a U.S. invasion of Iraq dating back to shortly after the first Gulf War, calling for the "end of North Korea," and advocating to terminate the Iran Nuclear Deal. He has also expressed strong nationalistic views against the concept of the United Nations, stating, "There is no United Nations. There is an international community that occasionally can be led by the only real power left in the world, and that's the United States, when it suits our interests and when we can get others to go along."
John Bolton's greatest supporters tend to be similarly-minded radicals like Dick Cheney and Donald Trump, while his detractors tend to be anyone more moderate. Even fellow Republicans denounce Bolton. Condoleezza Rice resisted Cheney's efforts to make Bolton her deputy when she was secretary of state, instead passing him off as a UN ambassador. During the nomination hearing for that job, conservative Republican intelligence official Carl Ford described him as a "kiss-up, kick-down sort of guy" who "abuses his authority with little people." Even George W. Bush would later say he regretted Bolton's appointment, allegedly saying he didn't "consider Bolton credible."
And yet Bolton was named the national security advisor to Donald Trump, a fellow draft dodger with a known disregard for human life. To Trump, it didn't matter that Bolton was reviled by the international community. It didn't matter that Bolton was considered radical, largely disrespected even within his own party. For Trump, Bolton was the right man for the job. It remains to be seen whether he will do a better job as a witness.