Dall-E Mini, the AI-powered text-to-image generator has taken over the internet. With its ability to render nearly anything your meme-loving heart desires, anyone can make their dreams come true.
DALL-E 2, a portmanteau of Salvador Dali, the surrealist and Wall-E, the Pixar robot, was created by OpenAI and is not widely available; it creates far cleaner imagery and was recently used to launch Cosmpolitan's first AI-generated cover. The art world has been one of the first industries to truly embrace AI.
The open-sourced miniature version is what's responsible for the memes. Programmer Boris Dayma wants to make AI more accessible; he built the Dall-E Mini program as part of a competition held by Google and an AI community called Hugging Face.
And with great technology, comes great memes. Typing a short phrase into Dall-E Mini will manifest 9 different amalgamations, theoretically shaping into reality the strange images you've conjured. Its popularity leads to too much traffic, often resulting in an error that can be fixed by refreshing the page or trying again later.
If you want to be a part of the creation of AI-powered engines, it all starts with code. CodeAcademy explains that Dall-E Mini is a seq2seq model, "typically used in natural language processing (NLP) for things like translation and conversational modeling." CodeAcademy's Text Generation course will teach you how to utilize seq2seq, but they also offer opportunities to learn 14+ coding languages at your own pace.
You can choose the Machine Learning Specialist career path if you want to become a Data Scientist who develops these types of programs, but you can also choose courses by language, subject (what is cybersecurity?) or even skill - build a website with HTML, CSS, and more.
CodeAcademy offers many classes for free as well as a free trial; it's an invaluable resource for giving people of all experience levels the fundamentals they need to build the world they want to see.
As for Dall-E Mini, while some have opted to create beauty, most have opted for memes. Here are some of the internet's favorites:
There's no looking back now, not once you've seen Pugachu; artificial intelligence is here to stay.
Lately, a lot of conversation has been bubbling up about the Senate filibuster.
It's been called a "Jim Crow relic" by former president Obama, and Mitch McConnell threatened to launch a "nuclear winter" if the Senate attempts to end it. Increasingly, Democrats want to end it completely. So what is it, and why does it matter so much?
What Is the Filibuster?
The filibuster is a political strategy used by the Senate to delay, and often kill, votes on bills. Traditionally, a filibuster would mean that the resisting senator would stand on the floor and speak, sometimes for days, against a certain legislative effort.
When a senator utilizes the filibuster, they can delay a vote as long as they wish to — unless three fifths of senators, currently 60 out of 100, vote to move forward.
Nowadays, senators aren't even required to speak in order to deploy this tactic—they can essentially sign a note and curtail almost any legislation using the filibuster. (There's also currently an exception to this rule called budget reconciliation that fast-tracks bills related to the federal budget and only related to the federal budget).
The Constitution does not include a filibuster. Instead, our founding document states that bills should only require simple majorities to pass, not supermajorities. Exceptions to this are impeachment charges, the expulsion of members of Congress, overriding presidential vetoes, and creating constitutional amendments.
The Founding Fathers were very clear: They did not want a minority party to be able to dictate what should be majority rule —and in fact were fearful of this outcome.
In its first iteration, the U.S. Senate reconciled debates by voting on whether to end debates, thus moving a bill to an actual vote.
This changed when in 1806, Vice President Aaron Burr argued that this process of voting on whether to vote (called the previous-question motion) was redundant, as it was rarely ever used, and so it was ended. Inadvertently, Burr created a loophole that made it theoretically possible for senators to infinitely delay votes — and hence, we have the glacially slow, perpetually blocked governmental body that we know today.
First of all, we have to understand what the filibuster is. It's ANY MEASURE that stops a vote. That's it. That's… https://t.co/x2BwFCig0u

— Michael Harriot (@Michael Harriot) 1616550099.0
What Has the Filibuster Been Used for, and How Has It Evolved?
One thing that stands out about the filibuster: It has consistently been used to curtail the rights of Black Americans.
Once rarely used in policy decisions, the filibuster only came into frequent use during the Civil War era, when Southern states would often deploy it in defense of slavery and while blocking anti-slavery legislation.
John C. Calhoun, sometimes referred to as the "grandfather of the confederacy," was an important figure in developing the modern, common filibuster. "He did it for the express purpose of increasing the power of the slaveholding class," says Adam Jentleson, whose book Kill Switch details the rise of the modern Senate. "What he saw at this time — this was around the 1830s and 1840s — was that slaveholders and slave states were becoming steadily outpowered in Congress. And so, he knew that if majority rule was allowed to continue, slavery was going to end."
The filibuster was a solution to this issue and one of the reasons why the government remained incapable of simply ending slavery through democracy.
The filibuster was used throughout the 1800s and 1900s, with politicians challenging its legitimacy to various degrees without success. Woodrow Wilson edited it during WWI, after the Senate used it to stop him from arming ships against German U-Boats. With the help of public outcry, Wilson established Rule 22, which allows a two-thirds majority vote to invoke "cloture" — a rule that, essentially, limits filibustering to 30 hours.
From then on, the filibuster basically remained the same, though in 1975 the number of votes needed for a supermajority was changed to 60. Because earning a 60-vote majority is still quite difficult, the filibuster has remained an effective way for minority rule to block legislation.
Even after the Civil War, the filibuster was used to codify racial violence; for example, in 1922, the filibuster was used to defeat the Dyer Anti-Lynching Bill. Famously, the filibuster was also used to block civil rights legislation up until 1964. In protest of the Civil Rights Act, lawmakers filibustered for 57 days, until public pressure rose high enough for a supermajority to invoke cloture. Eventually, the supermajority necessary for cloture was changed to 60; but yet again, the filibuster remained firmly in place.
Since then, the filibuster has been used for various purposes on all sides of the political spectrum. It was the reason why George W. Bush couldn't overhaul immigration legislation and why Barack Obama couldn't pass climate legislation (or all that much of anything). It is the reason why bills still go to the Senate to die.
What Would Happen if the Filibuster Ended?
Without the filibuster, the Senate would be much more volatile than it is today. It's possible that massive amounts of legislation could pass — and then be reversed, should the Senate majority's political leanings change.
But Democrats have good reason to end the filibuster now (which is probably why Mitch McConnell is so scared). At the moment, Democrats want to enact a piece of voting rights legislation called the For the People Act. Among other things, the act would increase access to absentee voting, extend early voting, allow for same-day registration, and generally would make it easier for people to vote.
"In the wake of an unprecedented assault on our democracy, a never before seen effort to ignore, undermine, and undo the will of the people, and a newly aggressive attack on voting rights taking place right now all across the country, this landmark legislation is urgently needed to protect the right to vote and the integrity of our elections, and to repair and strengthen American democracy," the White House said in a statement.
Naturally, most Republicans hate the For the People Act as much as they hate the idea of getting rid of the filibuster. Their looming fear: The Democrat's proposed voting rights reforms could make it much easier for Democrats to hold onto power. As of now, the bill passed in the House but of course has no chance of passing in the Senate, thanks to the filibuster.
Without the filibuster, Democrats would also have a shot at passing significant voting rights reforms, climate legislation, stricter gun control laws, and immigration reforms. They would be able to achieve their goals of fighting student debt, taxing the super-wealthy, making healthcare more affordable, and more.
The vast majority of the American people want Washington to act to bring down gun violence. Voters elected a Democr… https://t.co/jraOwNAyGL

— Elizabeth Warren (@Elizabeth Warren) 1616613409.0
Of course, the Democrats have an extremely slim majority in the Senate, and many Democratic senators are more centrist than progressive (see: Joe Manchin), meaning that achieving these goals would still require a serious fight even if the filibuster ended.

How Could the Senate End the Filibuster?
There are two ways the Senate could end the filibuster. 60 out of 100 senators could vote to end it, which will never happen in our current version of reality.
Or, senators could use a complex series of political moves sometimes referred to as the "nuclear option," which basically involves three steps: First, a senator objects to a cloture ruling. Then the presiding officer rules this objection out of order, and a simple majority of senators could then vote to overturn that ruling, thus "blowing up" traditional Senate policies.
This "nuclear option" has already been utilized across party lines. Democrats used it to confirm some of Barack Obama's nominees, and Republicans—led by Mitch McConnell—used it to confirm Donald Trump's Supreme Court nominees. (Yes, McConnell, now the world's biggest filibuster proponent, paused it so he could ram Supreme Court nominees through the system).
Actually ending the filibuster is a long shot, but Democrats know this may be their only chance to pass any significant social and political reforms. For his part, Joe Biden has not advocated for the end of the filibuster, but rather he supports the reinstitution of the "talking filibuster" — the "good old days" version of the filibuster where senators have to actually stand up and talk in order to obstruct the passage of a bill.
"It's getting to the point where, you know, democracy is having a hard time functioning," Biden told ABC.
Democratic senators Joe Manchin and Kyrsten Sinema also said they would not vote to end the filibuster, though Manchin did say he supports making it "more difficult to use," which many centrist-leaning Democrats see as a promising option.
Still, despite the odds, those who support ending the filibuster see it as a life-or-death issue, as it's quite possibly the only way to make true progress on inequality, gun control, healthcare, and other issues.
Currently, it seems that the Senate is hurtling towards a high-stakes battle for the future of the filibuster, with both sides ramping up their efforts to intimidate each other. McConnell's threats to initiate a "scorched-earth Senate" if the filibuster is abolished has only encouraged those who want to end the filibuster, as it's clear he's genuinely afraid and believes there is a chance it could end.
Senate Majority Leader Chuck Schumer has been repeating the phrase, "Everything is on the table" in response to questions about the fate of the tactic. Indeed, everything is on the table, including the state of our present and future. The question is whether or not we can learn from the past.
This year, on January 5th, Georgia voters will participate in a runoff election to select their state senators. But why is this race so important, important enough to make national news and urgent enough that celebrities and activist groups around the nation are rallying to make sure as many voters as possible get out to the polls?
What's at Stake?
The Georgia runoffs will determine Georgia's two Senate seats. This is so important because the outcome of this election will determine whether there is a Republican or Democratic Senate majority.
To win a Democratic Senate majority, both Democratic candidates — Jon Ossoff and Reverend Raphael Warnock — will have to win their seats. If either Republican candidate, Kelly Loeffler or David Perdue, wins, the Republicans will maintain their Senate majority, and Mitch McConnell will remain Senate majority leader; as currently, Republicans hold 50 of the 100 Senate seats and Democrats hold 48, and there are two independents — Angus King of Maine and Bernie Sanders of Vermont — who caucus with the Democrats.
Democrats hold the House with a razor-thin majority, and Joe Biden, a Democrat, also holds the White House. But a Republican Senate can easily negate the efforts of Democratic governing bodies. When he was Senate Majority Leader during Barack Obama's presidency, Mitch McConnell was able to block much of Obama's legislation.
In short, in order to pass a substantial coronavirus relief bill, substantial climate crisis legislation, and many of the other initiatives Biden promised in his campaign, we need a Democratic Senate majority. While Mitch McConnell remains in charge of the Senate, every Democratic-leaning bill will face tremendous roadblocks to actualization.
As Jonathan Chait explains in his Intelligencer article, Only a Democratic Senate Can Produce a Moderate Biden Presidency, "McConnell won't bring a bill to the floor unless most Republicans support it," and, "When Biden takes office, the Republican incentive will lean heavily toward demonizing any Biden-supported initiative as a fiendish socialistic plot, making broad GOP support almost impossible."
That means, to put it bluntly: No $2,000 stimulus check and probably no future thanks to unchecked climate change. The stakes are, in fact, quite high.
In 8 days, Georgia has the opportunity to deliver the U.S. Senate majority by electing @ReverendWarnock and @ossoff… https://t.co/nykdQqPBg2

— Stacey Abrams (@Stacey Abrams) 1609180553.0
What Are Runoffs, and Why Do They Exist?

A runoff occurs when there is no clear winner in an election. Georgia law proclaims that candidates must win over 50% of the total vote to win an election; if this doesn't happen, the race goes to a runoff. In the general election, Warnock won the most votes followed by Loeffler, but neither garnered the 50% needed, and all candidates went to runoffs.
Georgia's runoff elections were created in the 1960s as a way to keep white candidates in power, reports The New York Times, in a majority-white state where Black candidates had better shots at winning a plurality of the vote. Runoffs also typically benefit white candidates whose followers typically vote more frequently.
Who Is Running?
Currently, Senator Kelly Loeffler and Senator David Perdue represent Georgia in the Senate. Kelly Loeffler is a businesswoman and devotee of Donald Trump. The richest US Senator, she made headlines for selling $18 million worth of vulnerable stocks after being briefed on COVID-19, meaning she profited from the coronavirus crisis. (Lawmakers are barred from insider training, but a probe into Loeffler's activity was eventually dropped).
Loeffler's opponent, Rev. Warnock, would be Georgia's first Black senator. He is a pastor at the Atlanta church where Martin Luther King once preached, and he is a strong supporter of Black Lives Matter. For her part, Loeffler has criticized BLM for what she calls its "Marxist" origins.
David Perdue is a Senator and businessman. Similarly to Loeffler, he sold stocks prior to the 2020 stock market crash. He does not believe in climate change, opposes same-sex marriage and wants to slash the Affordable Care Act.
Perdue's opponent, Jon Ossoff, is a 33-year-old former journalist. His campaign made waves when Perdue failed to meet him in their debate, leaving him to speak to an empty room. Ossoff interned for Congressman John Lewis, who passed away earlier this summer, and has painted himself as a youthful idealist and Democratic moderate.
"Both are representing the New South," said Representative Hank Johnson of Warnock and Ossoff. "It's very symbolic. It's providential. I think Georgia and Georgians have changed quite a lot. There are people with old South ideas — but they're fewer and fewer."
What Are the Odds?
Both Democrats and Republicans are pouring millions into the race, and the Republicans have far outspent the Democrats thus far.
Georgia has not seen a Democratic Senator in 20 years. Republicans have far more money and establishment power on their side. The polls aren't looking great for Democratic candidates, though most do show a close race (though who trusts polls anymore, anyway?).
There's also a long and horrifying history of voter suppression in Georgia that is alive and well today. In addition to the racist history of runoffs themselves, Georgia has always fought to make it difficult for anyone not white to vote. After the 15th Amendment allowed Black men to vote, Georgia employed the Ku Klux Klan and other forms of violence and intimidation at the polls.
It has since closed majority-Black polling spaces, creating hours-long waits. It has required "exact match" signatures on voting records, an effort that disqualified thousands — 80% of the disqualified being people of color.
A recent seven-year investigation found that Georgia purged over 200,000 evoters from its rolls, marking them as ineligible when they actually were eligible. These methods disproportionately affected Black voters, voters living in metro areas, and voters who did not speak English. The list of Georgia's effort to suppress its voters' constitutional rights goes on and on and continues to this day.
Democratic candidates, however, are supported by organizers like those at Fair Fight who are on the ground getting people to the polls. Other organizations like New Georgia Project and Southerners on New Ground have been working tirelessly to reach people who have too long been ignored by modern politics, showing them that their vote can help make a tangible difference in their lives. And with the entire country's eyes on Georgia, it's hard to know what the outcome will be.
Either way, it's clear that there's a new organizing infrastructure in Georgia that's here to stay.
What Can We Do?
If you're from Georgia or know people there, contacting family and friends and asking them to contact their family and friends and to ask the same — a technique known as vote tripling — is definitely one of the most effective ways to get out the vote. In addition, many people are going to Georgia to do in-person ballot curing, poll-watching, canvassing, and voter aid such as keeping voters comfortable in line.
If you're not in Georgia, you can join a phonebank or text bank and make calls or send texts to Georgians all throughout the week.
Like texting? How about expanding electoral access? How about the FABULOUS @Peppermint247?

[email protected]

get out the vote… https://t.co/ZxCfnYrkcv

— New Georgia Project (@New Georgia Project) 1609191711.0
And of course, donate to a Georgia organization like Fair Fight, and attend events like Popdust's fundraiser for Fair Fight, which occurs tomorrow night at 6PM EST.

Biden's new website is...nice.
It's been said many times: Leaving Trump behind feels like emerging from an abusive relationship, or perhaps renewing one's relationship with a former BFF (America) after she leaves her sh*tty man.
After all, Trump is a classic abuser. He gaslights, he lies, he cheats, and he is leaving behind an America with 200,000 people dead and more dying every day. He never admits his mistakes, creating a vicious cycle wherein he does something atrocious, gets a tan, and then shows up smiling with flowers (or in his case, a last-minute attempt to curry favor with the Black community by befriending several aging rappers).
Many Americans are still under his spell, and there's not much a lot of us can do about it. People in abusive relationships are often in denial about what's happening to them, and they often won't leave until they decide to. Shaming someone in an abusive relationship is rarely an effective way to get them out of it, as they've likely already been shamed many times.
Concerned friends and family can get into as many Facebook arguments with Trumpets as we want, but until they decide they deserve better and it's time to leave, there's really not too much we can do for them. All we can do is offer a safe place where they can run to, should they choose to escape. (Of course, we must remember that many Trumpers can be abusive as well).
Anyway, all this is to say that now we're finally kicking Trump out. America, we have decided to free ourselves. And we have the next few months to prepare for a new man to move in: Joseph Robinette Biden Jr.
Settling for Joe, Dreaming of Bernie
I know I'm not alone in saying that Joe Biden isn't my dream man. For a long time, I was hoping that Bernie Sanders would sweep me off my feet on an elderly white horse, a joint billowing from his hand. He would take me to the hospital where I would finally get my wisdom teeth removed for free thanks to Medicare For All, and then we would go to Jeff Bezos's house, demand a few billion dollars (just hand it over, Jeff, it'll save you a lot of time in court), and make a couple large donations to community organizers.
But alas, that was always a fantasy—and much like my childhood fantasy of dating Joe Jonas during his Camp Rock years, some things are simply not meant to be.
Now we have Joe Biden. I still don't know all that much about the man, relatively speaking, but I know he's not nearly as dangerous as Donald Trump. When I heard he was the nominee, I thought that if anything, he might just be a do-nothing type of politician who would have to be bullied by mass movements into taking any sort of action at all.
But at least, I hoped, he would clean up some of the mess Trump made during one of his many fits of rage. At least there would be no more 5 AM tweet storms. At least his gang of weird friends from Fox News would stop stealing from my fridge and destroying America's stature in the rest of the world's eyes.
But upon seeing Joe Biden's new website, I'm feeling something strange and unfamiliar. It's not quite butterflies, but it's close—perhaps the faint buzzing of the fly that ended Mike Pence.
The website looks...nice. It's been so long since a political platform showed up wearing a suit and holding flowers instead of brandishing a gun at me and threatening to demolish gay rights.

COVID-19
Scrolling through, I actually agree with most of what the website says. I mean, first of all, there's the COVID-19 plan. A COVID plan. A plan! It's not an Elizabeth Warren-level plan, sure, but it's still an actual plan with steps.

Trump had no plan. If anything, his plan was to keep golfing as he let COVID-19 keep raging across the country. States across the nation probably would've shut down again, over and over again each winter for years, because not every state is willing to just...let everyone catch COVID-19. This disease would have continued for another four years to forever. The death toll, the overcrowded hospitals…The nightmare would have gone on, and on, and on.

It's unclear as to whether Joe Biden will effectively stop COVID-19, but dammit, it's nice to know there is a plan–one that's comprised of actual words, to boot.
It's also incredibly relieving to hear someone say they will "ensure public health decisions are informed by public health professionals." This is like if you were dating some guy who's willing to let you lie on the couch bleeding out because he didn't feel like driving you to the ER, but then Joe Biden popped in and said the Uber is on its way. (Yeah, we can't quite expect affordable ambulances with a Biden healthcare plan, but I'll take what I can get).
Biden has promised to set up a Pandemic Testing Board and a U.S. Public Health Jobs Corps to mobilize community contract tracing. He's going to use the Defense Production Act. He's going to call on Congress to pass an emergency relief package and a "restart package" that helps businesses cover COVID-19 related costs. He's going to build infrastructure to prevent future pandemic threats. He's going to fund schools and small businesses.
And, incredibly, Biden's COVID-19 plan involves science. (How beautiful it is to hear that word: "science"...used correctly…)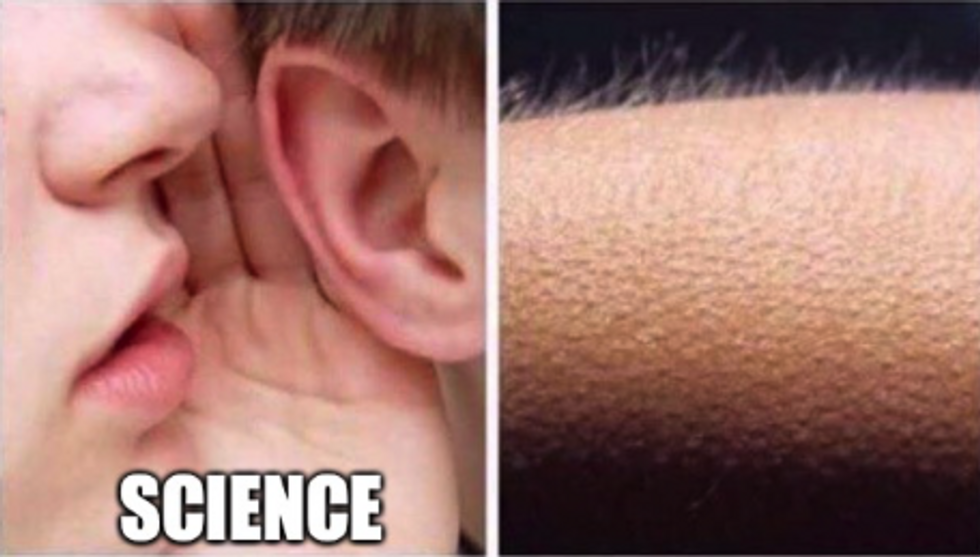 Climate Change
I've always had a type, and that type is musicians and/or climate activists. I didn't think Joe Biden was either, but his climate plan is music to my ears.
Biden knows climate change is an existential threat. He knows that the "current COVID-19 pandemic reminds us how profoundly the energy and environmental policy decisions of the past have failed communities" and "at this moment of profound crisis, we have the opportunity to build a more resilient, sustainable economy—one that will put the United States on an irreversible path to achieve net-zero emissions, economy-wide, by no later than 2050."
An irreversible path to net-zero emissions. Rejoining the Paris Climate Accord—and vamping them up. Creating millions of green jobs. Environmental Justice. Talk. Clean. Energy. To. Me.
True, these are fairly logical, necessary steps to that must be taken if we are to combat climate change, the paramount existential threat of our time, and it will take even more radical action to prevent irreparable destruction. It's sad that we have to celebrate someone doing the bare minimum, using basic logic, and practicing public decency, but here we are.
Maybe I've just gotten so used to preparing for hurricanes and wildfires and being treated like sh*t that I've lowered my expectations to subterranean bunker-levels. And maybe I am too naive.
It's probably naive to believe any of this will be possible or that any real change will happen with Biden. But given that the ex-president mostly communicated through all-caps rage-tweets, this is a nice change.
Economic Recovery
Biden also has an economic recovery plan. "The pandemic has also laid bare some unacceptable truths. Even before COVID-19, too many families were struggling to make ends meet and too many parents were worried about the economic future for their children," writes whoever wrote the copy for Biden's website.
"Laid bare": That's the phrase that every single one of my favorite journalists has used to describe the effects of COVID-19. Biden steals phrases from reputable journalists rather than from cracked-out Floridian moguls paying for rooms at Mar-A-Lago in order to gain favors from the president.
Wow, my expectations are really, really, really low. I mean, goddammit, the ex-president has failed at countless business ventures and has been bailed out time and time again. He's like Pete Davidson in this recent SNL sketch, who claims he's working on a "start-up" only for you to later find out that his "angel investor" is ghosting him.
Visiting Grandma - SNL www.youtube.com
Trump is a criminal who didn't even pay his taxes. He's literally Keith from this other SNL sketch (a not-so-subtle metaphor for Trump), and America is Ego Nwodim, somehow considering actually taking him back (until the cops show up).

Take Me Back - SNL www.youtube.com
Biden's economic plan promises to "provide state, local, and tribal governments with the aid they need so educators, firefighters, and other essential workers aren't being laid off." The plan also promises to "mobilize American talent and heart to build a 21st century caregiving and education workforce." He included carework and education—traditionally undervalued and under-recognized forms of essential work—in his economic plan.

Hopefully, with Jill Biden at the helm rather than Betsy DeVos, America's education and caregiving systems will improve so that more people of all genders have equal opportunities to ascend to the highest office in the land.
At the very, very least, there will be a dog back in the White House.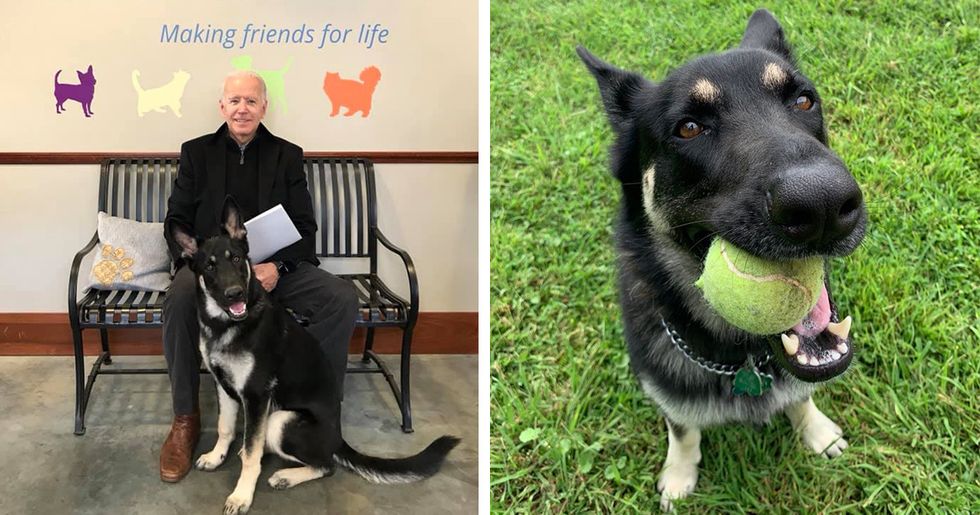 Joe Biden and his shelter dog, Champmymodernmet.com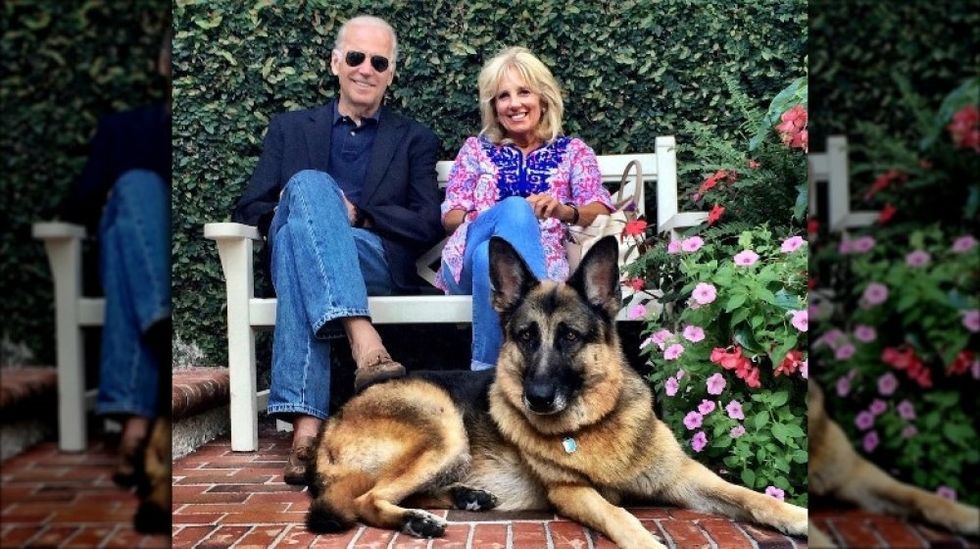 Joe and Jill Biden with their German Shepard, MajorFashion Model Secret
Racial Equality
Biden also has a plan to "mobilize across the board to advance racial equity in America." That's right: No more creepy, covert-but-kind-of-overt white supremacy implicit in the presidential platform.
Now, we have Kamala Harris, a Black and South Asian woman, as our VP! Sure, she might have a background in criminal prosecution, and representation doesn't equal reparations, but you know...it's still way, way better than that really disturbing "stand back and stand by" stuff we dealt with for four years.
There's an entire section on racial equality. There's a plan for police reform. We're doing the bare minimum rather than regressing at an exponential pace.
Let's not forget that racism is deeply ingrained in the fabric of America, and white people overwhelmingly voted for Trump. Also, this kind of change has been promised before, and we have been let down many times. There's a lot of work to do.
We aren't out of the woods yet—far from it. But for this one glowing weekend, the dense pines cleared and we saw a sky full of shooting stars. It didn't actually help anyone pay for their kids' food or clear their astronomical healthcare bills; but it's a promise and a chance to imagine that one day, we might make it out.
America Deserves Better
Joe Biden is not the patron saint of hope, equality, and change. In all honesty, it completely makes sense that a lot of people all along the political spectrum aren't excited about him. He's not exactly the guy of our dreams. And America does deserve better.
But hopefully, Joe Biden will be there over the next few years as we bind our wounds and heal the burns from our terrible spray tans. He'll give us time to get a couple makeovers, a la Tutar in the Borat sequel. He'll help us rebuild, and hopefully next time the election rolls around, we'll have found our footing as a strong, powerful nation that doesn't need a man at all.
Of course, many powerful villains remain. There's America's resident zombie-ghoul, Mitch McConnell, who has long been blocking Democrats' every effort to make real change. Even though the man is rotting from the inside out—perhaps his hatred has at last calcified into a visible plague?—we haven't been able to exorcise that particular demon yet. (Kentucky...we'll be ready to elect Charles Booker when you need us, but we can't help you until you help yourself).
And in truth, we will never heal until we learn to love ourselves, America. We can't rely on another old white man to fix us. We have to turn to our people, our communities, and mass movements. We have to decide what we want our future to look like, and go get it.
It's clear that it will take a lot more than a president-elect to wring out some of America's lingering, ongoing traumas. We'll need therapy, certainly, and a lot of it. Hopefully all those freshly legalized drugs will help with our collective depression.
At some point, we'll actually have to engage with the deep traumas and early childhood wounds that led us into these kinds of relationships in the first place. We have to confront the mistakes of our forefathers and foremothers, the slavery and colonization and colonialism that created the attachment issues and socio-psychological defects that drew us to men like Trump. We have to be the ones that change our lives in order to change our nation.
But that's a tall order, and we're all tired. So for now, I'm just going to keep gazing lovingly at the work of Biden's excellent web designer, who clearly knows how to pick a font and lay out an escape plan. I look forward to being mildly uninspired by Biden's administrative staff picks rather than openly horrified.
It's been a terrible time, America. For many of us, life has always been this way. But it's late-stage 2020; the status quo is no more, and anything is possible. If you told me I'd be writing a thirsty essay about Joe Biden's website in February 2020 I would have thrown my beer in your face then gone back to my awesome free concert (just kidding, I probably would've been right here on the Internet protected by net neutrality, but I digress).
Yes, I am pretty desperate right now, and I don't think I'm alone in that. But I have faith in the organizers that have been working tirelessly to get us here, and I believe if we keep fighting, organizing, and working towards change, we'll see a new world come to be.
For now, love is love, so I will continue to feel vaguely attracted to this website until climate change ends or I finally get my goddamned stimulus check.
Keep reading...
Show less
The economic impact of reopening is unclear, but the goal to keep government "small" is unwavering even in a crisis
In the coming weeks many US states will begin the process of loosening COVID-19 lockdown restrictions and "reopening" their economies.
Other states have already done so.
While the argument for reopening has been unequivocal—it's supposedly what we need to save our flagging economy from a full-blown depression—it's not clear that it will serve that function at all. Recent polling has shown that the vast majority of Americans support social-distancing and stay-at-home measures and are not enthusiastic about the prospect of going back to restaurants and crowded stores while the coronavirus pandemic is ongoing. Which means that the number of customers who return as states drop their restrictions may not be enough to keep small businesses afloat.
Unfortunately that majority opinion has not received as much attention as many of the loudest advocates for reopening—who have argued that a death toll that is likely to more than double current figures is worth it, or that the whole pandemic is just a hoax. Of course it makes sense for small business owners and people who are struggling to make ends meet right now to want to get back to work, but what good will it do?
If cases spike, overwhelming local hospital systems and causing deaths and tremendous medical debt in the process, then restrictions will need to be reinstated, and the economic problems we're currently dealing with will only be prolonged. Right now we lack the widespread testing and the sufficiently improving conditions to support reopening without a vaccine. There are measures we could take at the federal level to improve the situation without such startling risks, but we are ignoring those options—treating reopening like it's the only solution available—for one simple reason: Americans hate "big government."
Last Monday, cases hit their lowest daily total since March. Today, the case number is up a couple thousand cases… https://t.co/NJoLmhZwMZ

— The COVID Tracking Project (@The COVID Tracking Project) 1589839717.0
Since at least the 1980s our society has been flooded with anti-government propaganda. We recite mantras about government mismanagement, waste, incompetence, while ignoring successful programs at home and abroad. One of our two major parties has devoted much of its political willpower to actively sabotaging federal programs and agencies like the US Postal Service to prove their point and push for further privatization (that they, along with their donors and friends, stand to personally profit from). In this context, the kind of aggressive federal spending we would need to keep small businesses and struggling families afloat in current conditions is virtually unthinkable.

Even America's relatively compassionate party is only pushing fairly moderate measures that are likely to be whittled down and paired with massive business subsidies in the Senate—just like what happened with the Cares Act in March. In its current form the Heroes Act includes $175 billion in housing assistance, a second round of $1200 stimulus payments (with children receiving as much as adults this time), $200 billion in hazard pay for essential workers, $1 trillion in funding for states to pay their vital workers, and a six month extension of the $600 unemployment expansion.
Undoubtedly these measures will help a lot—though not as much as more generous proposals—but they ignore some major issues. The biggest problem (apart from the fact that the senate isn't going to let the bill pass as is) is that states are straining to make the basic unemployment payments that the $600 expansion is meant to supplement. As a result, many of the tens of millions of people trying to file for unemployment have been stymied by bureaucratic foot-dragging and red tape, and now states are using reopening as a way to push workers off of unemployment and protect state budgets from possible bankruptcy—an outcome which Senate Majority Leader Mitch McConnell has no interest in preventing. In some states there are even systems being implemented to report workers who refuse to go back to work, regardless of their circumstances or legitimate fears.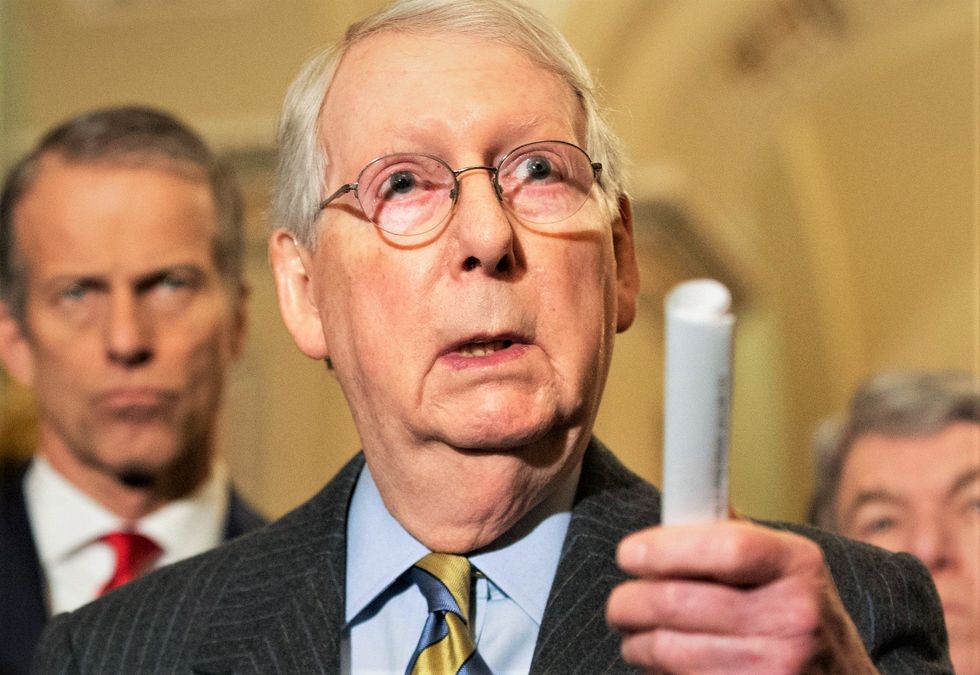 Whether any of this will improve the national economy in the long run remains to be seen. What is clear is that state governments are being understandably cautious with their budgets, and the Republican party is playing their usual political games with lives, health, and livelihoods on the line. The result is that states are reopening, and millions of workers are about to be pushed off unemployment. The next stop is cutting retirement benefits, and fully dissolving any remnant of a social safety net this country has.

As we enter what is likely to be another global depression, it's worth keeping in mind that these programs are among the measures that helped us get through the last one under FDR and that countries that chose a different path were pushed toward a scarier form of politics that has lately been threatening resurgence: outright fascism. Let's try not to repeat the mistakes of the 1930s.
His announcement that he will not be voting to allow witnesses in the impeachment trial has lasting implications for the country and the world.
Behold the arbiter of your future.
This is the Senator who has decided that there is no need to call witnesses in the impeachment trial of Donald Trump—a man who used his powers as president in a deliberate attempt to subvert the electoral process with the assistance of a foreign government. Lamar Alexander, a 79-year-old white man from Tennessee, has unilaterally determined that Donald Trump's crimes are not worthy of punishment from the only body with the capacity to hold him accountable. As a result, by the time you read this, Donald Trump will likely have already been acquitted and the impeachment will be over.
Alexander's claim—according to the statement released Thursday night—is that Trump's misdeeds have already been proven, and there's no need for the public spectacle of witnesses attesting to those misdeeds on national TV. He asserts that, while withholding military aide from Ukraine until they publicly announce an investigation into your political opponent may be a bad look, it doesn't rise to the "Constitution's high bar for an impeachable offense." And it is not the Senate's role "to remove the president from office and ban him from this year's ballot simply for actions that are inappropriate."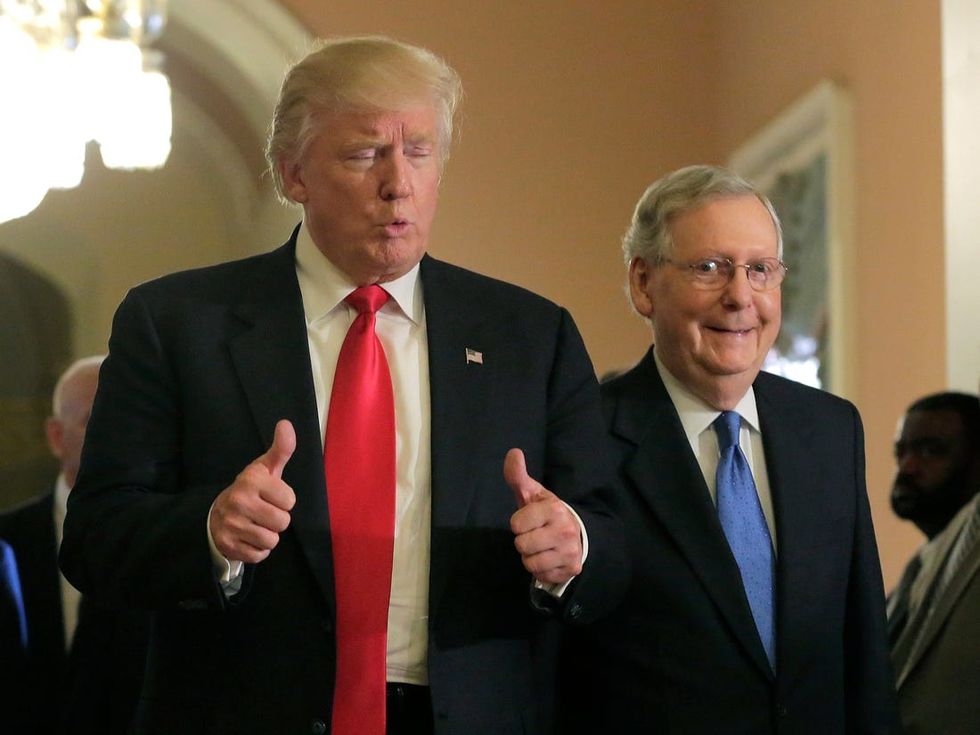 Joshua Roberts/Reuters
There is some truth to this statement, but it's a small truth that helps to conceal a much bigger lie. Granted, there are varying legal opinions on what constitutes "high crimes and misdemeanors," and there was essentially zero chance that the Senate's Republican majority was ever going to vote to remove Donald Trump from office. So why bother going through the motions of a legitimate impeachment trial—allowing new evidence and witness testimony? The answer lies in another portion of Alexander's statement: "Our founding documents provide for duly elected presidents who serve with 'the consent of the governed,' not at the pleasure of the United States Congress. Let the people decide." This, despite the fact that more than 70% of Americans wanted the impeachment trial to include witnesses.

And how should the people decide if there are facts and perspectives being deliberately withheld? That has been the explicit goal in Mitch McConnell's handling of the impeachment trial. Presumably, he knows what the Watergate hearings did to Richard Nixon's approval rating. Nixon resigned because the American people were exposed to who he truly was, and they turned against him. If not for those hearings, he would have remained popular. Likewise, according to a recent poll, 65% of Republicans consider Trump's interactions with Ukraine "normal presidential behavior." Consent is not truly consent if it is not informed.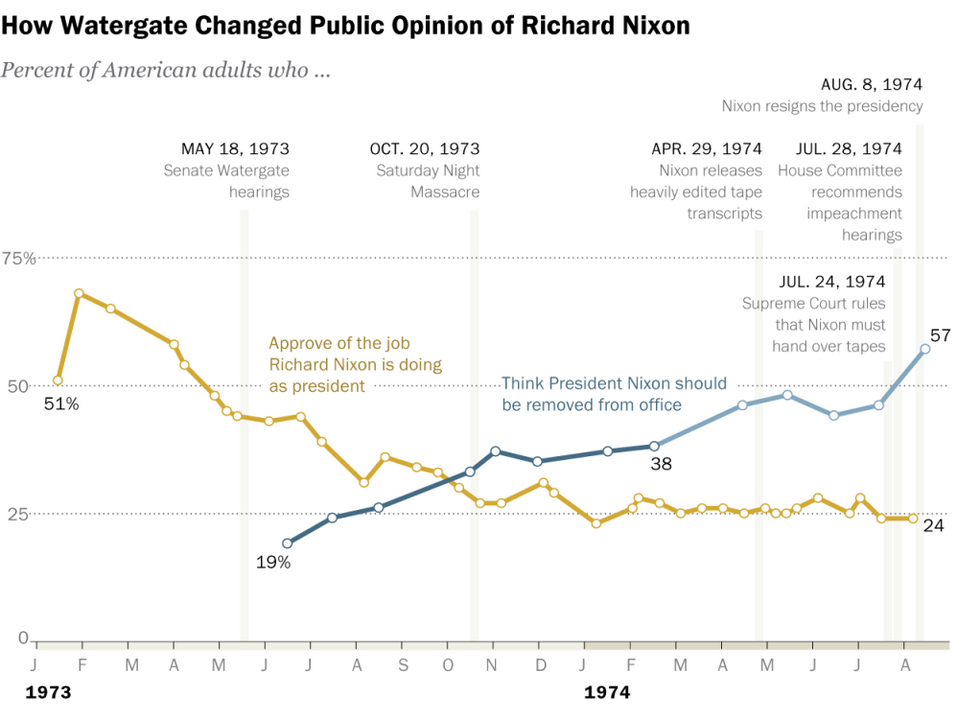 Pew Research Center
So while Lamar Alexander may be convinced that Trump acted inappropriately, without the spectacle of witness testimony, that is not the message many Americans are going to receive. They will hear that Trump has been exonerated. That impeachment was a nothing-burger and a distraction. And they probably won't read John Bolton's damning book. And Lamar Alexander knows that.

On Tuesday, Donald Trump will give his State of the Union address and will have ample opportunity to move the national conversation past his multiple deliberate attempt to interfere with the democratic process and to obstruct the various efforts to expose him—including instructions to "take out" a troublesome diplomat. Normal presidential behavior? He was trying to cheat in the election, and apparently—as long as your political party controls the majority in the senate—that's allowed.
Senator Alexander has cleared the way for the American people to carry on with normal life without truly confronting the corruption that defines Donald Trump's interactions with the world and everyone around him. He has made it increasingly likely that Donald Trump will continue to use the immense powers of the presidency to pursue personal and political ends at the expense of global stability, our democratic institutions, and a sustainable future. Lamar Alexander—along with 50 of his colleagues—will soon have effectively rubber-stamped election rigging.
But in his statement there is no indication that this choice has any significant ramifications. He is willingly obscuring the real stakes, partly out of party loyalty, and partly because his age makes those stakes abstract. He will be dead soon. Maybe not this year or the next, or even twenty years from now, but in comparison to the young membership of the Sunrise Movement—for instance—his thinking is fundamentally and frighteningly short-term.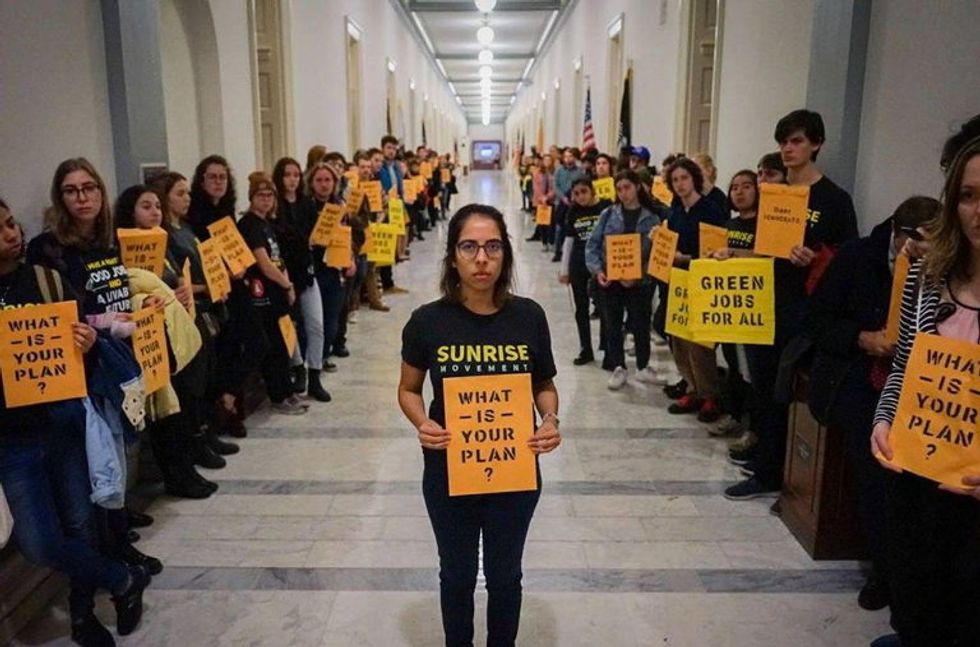 Lissy Romanow
If Donald Trump wins re-election in November, it will likely be the outcome of various efforts to leave Americans misinformed and disenfranchised and will almost certainly result in the United States fully abdicating our duty to address climate change—the "Chinese hoax"—with the urgent and intensive action it requires. And there will be many people to blame, but few who were as well-positioned to alter this horrific course of events as Senator Lamar Alexander.

So congratulations, sir. In your waning years you managed to ensure that American democracy and a livable climate are on their way out too. Way to go.