Lies and cover-ups resulted in failed containment.
As the number of coronavirus cases worldwide rises to nearly 80,000, experts say the renamed COVID-19 is "almost certainly going to be a pandemic," with some saying it already is "in all but name."
But public information about the latest coronavirus, which describes a group of viruses that have crown-like spikes on the surface of the virus, has disseminated slowly considering the novelty of COVID-19. While coronaviruses are common and include SARS and MERS, they commonly cause mild to moderate respiratory infections similar to the common cold. However, COVID-19 is a new form that has caused serious respiratory illness in individuals with compromised immune systems, killing over 2,100 individuals worldwide. That's more than twice the number of deaths caused by SARS and MERS combined.
In China, where the virus originated and the vast majority of cases and nearly all of the casualties have taken place, the government has gone from being commended by the World Health Organization for their swift response to the disease to vilified by the international health community. Despite the government enforcing strict quarantines, the virus has continued to spread. What mistakes were made?
First, the Chinese government's strict media censorship resulted in Chinese citizens remaining unaware of the virus weeks after the government shared the information with the international community. Government officials not only limited the spread of information but downplayed the severity of the virus and its ability to spread from person to person. Writer Youyou Zhou of Quartz details how the doctor who first tried to warn the global community about the dangers of the virus, the late Dr. Li Wenliang, received a warning letter from the Wuhan police. Dr. Wenliang was one of eight doctors who were "reprimanded for [their] illegal activity of publishing false information online." He was forced to sign a statement that admitted he had violated the law and "seriously disrupted social order."
Zhou concludes, "The delayed information disclosure by the government combined with the population migration during the lunar new year caused the virus to spread quickly all over China. By Feb. 13, 1,383 have died from the virus around the world, and all except three took place within mainland China. On the same day, Beijing replaced the top officials of Wuhan and Hubei province with new party officials to contain the outbreak."
Second, when Dr. Wenliang himself was tested to have contracted the virus on January 11, officials should have publicly confirmed that the virus could be transferred from person to person. Instead, they issued straightforward denials that there was "no proof" that human transmission was possible. The Wuhan Health Commission only admitted how quickly the disease was spreading and its severity when confronted with irrefutable proof, with inconsistent numbers given in multiple reprots.
Third, when Dr. Wenliang, age 34, died on February 7 in Wuhan, the Chinese government took steps to suppress news of his death. Once word spread, the Chinese public grieved and expressed widespread frustration and anger at the government's censorship, which had proven to cost people's lives. On China's social media app Weibo, "We want free speech" trended with almost 2 million views before being censored.
Ultimately, the Chinese government's authoritarian censorship, cover-ups, and direct lies to the public resulted in failed containment of the coronavirus at the very outset. Global concerns about the virus have intensified due to doubts about the accuracy of the data released by the Chinese government.
But other global agencies are also being placed under intense scrutiny in regards to their response to the coronavirus. WHO Director-General Tedros Adhanom Ghebreyesus has been criticized for waiting to declare the outbreak a global health emergency.
Now, with a global pandemic "almost certain," government lies and cover ups have irrefutably resulted in an international health risk that may have been preventable if the Chinese government had practiced transparency and put human lives above party lines.
Ecoterrorism is the world's biggest threat.
Extinction Rebellion and other activist groups have been making headlines for disrupting traffic and confronting politicians about the environmental crisis that our planet is facing.
But environmental protests are not new. For a long time, vicious environmental activists have been committing evil actions like standing outside of their governors' offices and hanging banners from tall buildings, asking that someone take action to ensure a livable future. These unforgivable terrorists must be stopped instantly and preferably locked up for life.

It is believed that the term "ecoterrorism" was first coined in 1983, in an article by Ron Arnold that defined it as "a crime committed to save nature." Around the 1990s, a group known as the Earth Liberation Front popularized eco-terrorism and became noteworthy for their aggressive crimes. Though most of the fears about ecoterrorism never materialized, and not one person was ever killed in an ecoterrorism protest, the FBI still cracked down on the cause.
There are a lot of problems with the term "ecoterrorism," which was mostly created to give environmentalists a bad name. Every movement has its radicals, and most environmental activists don't believe in violent crimes. In fact, most of them would rather be growing plants and doing the kind of stuff they'd truly love to be doing if it weren't for the fact that our planet is dying. In fact, law enforcement poses a much larger threat to environmental activists than the other way around: While environmental activism has killed no one, 83 climate activists were killed in 2018, and nearly 200 activists were killed in 2017, with most of the deaths occurring in Brazil and the Philippines.
Recently—especially as humanity's future grows more dire and natural disasters ravage the world—the question of ecoterrorism has come back into the conversation. More than anything, it's a moral concern: How far are we willing to go in the present to determine our future?
While certainly we should all be taking action to combat climate change, almost no activist groups encourage violent crimes. That said, in the past, people have taken things a little too far. Here are five terrifying, violent, unforgivable acts of ecoterrorism, which you should not emulate. Wink.
1. Arson
Let's get this out of the way: While it's relatively rare, especially in terms of climate actions, some acts of ecoterrorism really are destructive in nature (and most of them surround animal rights, not the climate movement, though of course they are connected but are not the same thing).
It appears that in terms of violent ecoterrorism, arson is the most popular choice. In 1987, ALF activists firebombed a University of California-Davis veterinary laboratory, causing damages of $3.5 million. The Earth Liberation Front committed an act of arson in 1992 that cost $12 million in damages and effectively militarized the entire FBI against them. They burned down a ski resort in Vail, Colorado, kicking off a wave of copycat crimes. Most environmental activists don't advocate for this type of work, and in fact, some of these more militant-leaning organizations actually have disturbing connections to white supremacy.
2. The Great Animal Break-in
Now that we've gotten past that, let's get into the truly despicable crimes. One of the most famous and vicious ecoterrorism groups ever, the Animal Liberation Front, is dedicated to ensuring that all animals are safe and not abused or tortured. It is believed that the ALF's first act of ecoterrorism happened in 1979, when vandals broke into New York University and released five imprisoned animals.
2. Whaling in Japan

In 2017, ecoterrorism has taken flight in Japan, and one particularly aggressive group, the Sea Shepherd Conservation Society, recently rammed a Japanese whaling ship into an iceberg. (The whaling ship was fine). Apparently, other whalers in Japan have complained that activists are "harassing" them, filming their activities with cameras and giving them weird looks.
3. Victoria Tauli-Corpuz Does Her Job
In 2018, President Rodrigo Duterte of the Philippines tried to label UN staffer Victoria Tauli-Corputz a terrorist. Tauli-Corpuz's job is to look into abuses against indigenous peoples and present her findings to the UN, and she's also spoken out extensively about climate change. In response, President Duterte filed a petition that attempted to label 600 people (including Tauli-Corpuz) terrorists because of their purported connections to the Communist Party.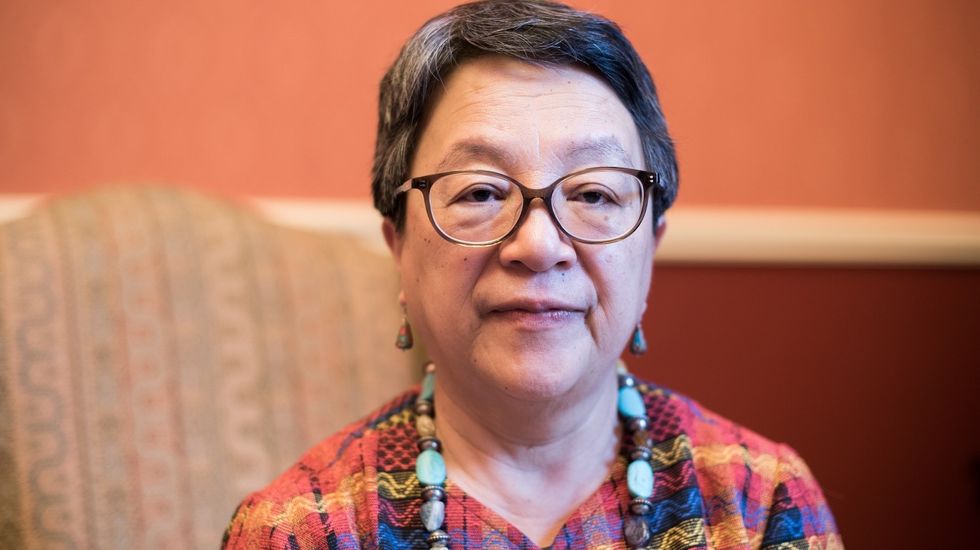 Global Landscape Forum
4. Activists Try to Go to Poland
At the 2018 Cop24 United Nations climate talks in Poland this past year, more than two dozen activists were denied entrance to the country on the basis that they posed national security threats. Poland faced controversy for its anti-terrorism legislation, with many fearing that Poland's national authorities had created a "blacklist" of activists.
5. The Valve Turners
In 2016, protests erupted at the North Dakota land where the Dakota Access Pipeline was to be built. In October, a group of five demonstrators broke into the pipeline's flow stations, cutting through padlocks and ultimately shutting off the pipeline's valves. Two of the protesters were convicted of felonies, and two await trial (the third was convicted of second-degree burglary). Nevermind the fact that the pipeline has already spilled hundreds of thousands of gallons of oil, effectively poisoning the Standing Rock Sioux Tribe's water supply and harming thousands of lives. Cutting those valves was the unforgivable offense.
Standing Rock inspired a generation, failed to stop the pipeline, and kicked off a wave of massive U.S. government panic and military action. Nevermind the fact that gun violence and white supremacy-motivated crimes have killed and harmed far, far more people than any of these environmental actions. Nevermind the fact that wildfires and mudslides have killed hundreds in California, or that climate change is already leading to deaths across the world and could wipe out entire countries. Certainly, it's the ecoterrorists we should be afraid of.