Dall-E Mini, the AI-powered text-to-image generator has taken over the internet. With its ability to render nearly anything your meme-loving heart desires, anyone can make their dreams come true.
DALL-E 2, a portmanteau of Salvador Dali, the surrealist and Wall-E, the Pixar robot, was created by OpenAI and is not widely available; it creates far cleaner imagery and was recently used to launch Cosmpolitan's first AI-generated cover. The art world has been one of the first industries to truly embrace AI.
The open-sourced miniature version is what's responsible for the memes. Programmer Boris Dayma wants to make AI more accessible; he built the Dall-E Mini program as part of a competition held by Google and an AI community called Hugging Face.
And with great technology, comes great memes. Typing a short phrase into Dall-E Mini will manifest 9 different amalgamations, theoretically shaping into reality the strange images you've conjured. Its popularity leads to too much traffic, often resulting in an error that can be fixed by refreshing the page or trying again later.
If you want to be a part of the creation of AI-powered engines, it all starts with code. CodeAcademy explains that Dall-E Mini is a seq2seq model, "typically used in natural language processing (NLP) for things like translation and conversational modeling." CodeAcademy's Text Generation course will teach you how to utilize seq2seq, but they also offer opportunities to learn 14+ coding languages at your own pace.
You can choose the Machine Learning Specialist career path if you want to become a Data Scientist who develops these types of programs, but you can also choose courses by language, subject (what is cybersecurity?) or even skill - build a website with HTML, CSS, and more.
CodeAcademy offers many classes for free as well as a free trial; it's an invaluable resource for giving people of all experience levels the fundamentals they need to build the world they want to see.
As for Dall-E Mini, while some have opted to create beauty, most have opted for memes. Here are some of the internet's favorites:
There's no looking back now, not once you've seen Pugachu; artificial intelligence is here to stay.
A month-by-month review of the best and worst (mostly worst) of 2020.
2020 was a year when time lost all meaning and traditional markers of change — graduations, seasons, parties, holidays — blurred into an indistinguishable slideshow of Zoom calls.
Each month, it seemed, another unavoidable news story exploded onto the headlines, dominating attention, commanding every facet of our collective attention.
This year, each month seemed to have its own color, its own unique tune of horror that required both countless headlines and its own array of memes. As E. Alex Jung writes for Vulture, "Nothing made sense this year — unless you were on the Internet." Each catastrophic event, with its mind-blowing amounts of human suffering and its cataclysmic historical implications, took on new meaning when refracted through the mirror of social media.
So far in 2020 we have: - World War III meme - Australia's fires - Trump impeachment - Prince Harry steps down - K… https://t.co/ZqMmUj9sWB

— Nick Hinton (@Nick Hinton) 1595305835.0
In some ways, this year brought us closer together; in other ways, it tore open the last semblances of any illusion that we're all in the same struggle, instead revealing the brutal inequalities that define our society. When all faced with the same roster of calamities, it became clear that some people could suffer through while losing little save for the opportunity to go bar-hopping on Saturday nights, while others were pushed off the brink into the precipice of disaster (that is, if they hadn't already been swimming through the fetid ruins of the capitalist dream).

So, this list is not meant to be a universal summary of the way 2020 was horrifying. No list could ever summarize what 2020 or what a history of inequality and human greed has done to individuals around the world this year.
Instead, it's my reflections on the ways certain events seemed to dominate our collective consciousness in ways few events ever have before, let alone in such rapid succession.
January
In January, many people I knew seemed buoyed by a strange sort of optimism. The majority of New Years' Resolutions I saw involved some variant of: "In 2020 I'm putting myself first." People were set on growth, and everybody seemed convinced that 2020 would be their year. It would be the era of "2020 vision," the dawn of our own roaring '20s.
Meanwhile, China recorded its first coronavirus death on January 11th. Reports of the coronavirus were crossing the globe in whispers; a text message, a headline here and there about the strange new disease that had erupted in Wuhan.
Donald Trump was first briefed on the virus on January 18th but seemed distracted, apparently stopping the briefing to ask about a ban on vaping products.
Being 2020, the year came in hot with its own special form of chaos. Australia wildfires continued burning, ravaging over 47 million acres of land. On Jan. 3, a U.S. drone strike hit Baghdad's International Airport, killing Iranian general Qasem Soleimani and sparking rumors (and eventually, a flurry of memes) about an impending World War III.
My TikTok feed is entirely World War III memes https://t.co/zyKt9ZdwDs

— Blake Montgomery (@Blake Montgomery) 1578113712.0
Later that month, we tragically lost Kobe Bryant and his daughter. Considering this calamitous beginning, the idea that 2020 was going to be the year of our personal self-growth, a year where we'd prioritize ourselves and evolve into our final forms, feels achingly misguided. None of us knew what was coming next.

February
In February, life was churning full speed ahead. On February 5th, Donald Trump was impeached. Parasite swept the Oscars. JLo and Shakira performed at the Super Bowl.
Shakira & J. Lo's FULL Pepsi Super Bowl LIV Halftime Show www.youtube.com
Yet all around the world, things were falling apart. Coronavirus was spreading around the world at this point; Europe counted its first death, and Africa saw its first case.
Georgia senator Kelly Loeffler and other members of the 1% began selling millions of dollars worth of stocks after becoming aware of COVID-19, a theme that would continue as billionaires would get progressively richer throughout the pandemic. In yet another blitz of foreshadowing, the Iowa caucuses were a complete disaster after a faulty app led to months-long recounts.
March
All of 2020 was surreal, but March may have been the most surreal month of all. Italy saw its "darkest hour" and imposed the world's first lockdown. France prepared for what its prime minister described as an impending "war."
In March, it felt like the ground was dropping out from under our feet. On March 9, the Dow Jones suffered its worst single-day drop ever. By mid-March, the whole world had shut down; citizens were ordered to stay home everywhere from India to Australia. Offices closed. Broadway shut down.
On March 20, Tiger King dropped on Netflix and immediately went incandescently viral. Dua Lipa dropped her album Future Nostalgia. In New York, people started buying beans and hoarding toilet paper. Everyone started baking bread.
Pandemic fads: Tiger King memes, peloton, getting a dog, picnicing, political activism, sourdough bread, tik tok da… https://t.co/3Bj2lc908k

— Ian (@Ian) 1607482964.0
April

By April, it became universally clear that coronavirus was not going anywhere anytime soon. The world went into lockdown and global cases passed 1 million.
April was a blur; we were all in shock. That same month, Quibi dropped and the Pentagon released footage of UFOs, both to almost no reaction.
May
In May, things seemed to reach a brief impasse, and 2020 stood on the precipice of a (somehow even more dramatic) part II.
A plane fell in Pakistan, killing 97. Costa Rica became the first Central American nation to legalize gay marriage. Nasa-SpaceX's shuttle took to the skies. Armed protestors stormed Michigan's state capital demanding haircuts in May. Grimes gave birth to Elon Musk's cyborgian baby.
One story dominated all: At the end of May, the brutal murder of George Floyd at the hands of a police officer took place, sparking immediate protests.
June
In June, America was overcome by racial justice protests in response to George Floyd's murder. The Black Lives Matter movement in the U.S. became the nation's largest movement in its history. Protests spread around the globe, and statues of racists fell.
Meanwhile, coronavirus surged; an oil spill sparked a state of emergency in Russia; temperatures in the Arctic reached their highest points ever; locusts invaded India.
The apocalypse was in full-swing, as were dreams of a much better, radically different world.
Remember that black square you posted on Instagram? They're still killing us, so what's next?

— Natasha Rothwell (@Natasha Rothwell) 1607644189.0
July
The heat, the intensity, the wildness of July is something I'll never forget as long as I live. Brooklyn was rocked by constant fireworks that rang out all night long, sparking conspiracy theories about government plots.
At this point, QAnon was also going mainstream on social media. Protests continued in the streets, with police routinely attacking protestors in the US.
At least there were some good things; namely, Beyonce dropped her feature film Black Is King.
August
August saw another wave of BLM protests after Jacob Blake was shot in Kenosha, Wisconsin and paralyzed from the waist down.
It was also a month of terrible tragedy. We lost Chadwick Boseman. Wildfires exploded across California, turning the sky an apocalyptic orange. A cataclysmic explosion racked Beirut.
That same month, Biden announced that Kamala Harris was his running mate. And Megan Thee Stallion and Cardi B dropped their sexy hit song "WAP," the perfect distraction from it all.
Cardi B - WAP feat. Megan Thee Stallion [Official Music Video] www.youtube.com
September
September, of course, offered no relief. We lost Ruth Bader Ginsburg on September 18th, a devastating loss for Democrats. Then, all of America cringed watching Biden and Trump try to bridge the parallel universes they both existed in at their first debate.
October
In October, all eyes were on yet another world-changing event — the 2020 election. Of course, the road was not smooth. Trump announced he had COVID-19 on October 2nd. Early voting started in mid-October, with record numbers of people turning out to the polls.
Unrest continued, with anti-lockdown protests in Brooklyn and BLM protests continuing across the US. Amy Coney Barrett was announced as Trump's supreme court nominee, a radical departure from RBG's legacy of equality.
November
In November, we held our breath and fixed our attention on Georgia, Nevada, Pennsylvania and other states that seemed to be counting ballots in slow-motion. On the 7th, finally, CNN called Biden's victory. New Yorkers and people around the world erupted into cheers.
But we barely had a moment to catch our breath. Cases began to surge in the US, which started reporting 130,000 cases per day, reaching 200,000 by the end of the month. Much of Europe locked down again. Many suffered from pandemic fatigue.
In November, Pfizer and Moderna announced, in quick succession, that their vaccines were ready for global dissemination (with a little help from Dolly Parton). Weird monoliths began popping up in odd locations. Amidst the terror, there were flashes of hope.
CNN's Van Jones brought to tears as Joe Biden wins US election www.youtube.com
December
Now it's December. Trump continues to contest his loss, and The Proud Boys rally in the streets. In India, 250 million are on strike, forming a labor movement epic in scale.
On December 14th, the Electoral College voted and Joe Biden was officially confirmed (for the millionth time, it seems) as 46th president of the United States.
It's been an unbelievably chaotic year, full of ups and downs. We saw darkness and terror and our fellow citizens and family members in lights we never imagined.
We saw people pushed to the brink. We also saw people gathering together to take care of each other as the government and systems meant to keep us safe collapsed around us. And we saw, sometimes, hints of a new world among the raging fires.
Taylor Swift - Love Story 2020 (Snippet) - Ryan Reynolds Commercial for "Match" www.youtube.com
Let's hope that 2021 is better, that there's a renaissance in art and a resurgence of social programs after this catastrophe. But if 2020 has taught us anything, it's that we can't predict anything — and things can always get worse — but it's always better if we take it on together.

Here's to a happy and safe New Year and a much better 2021.
Let us know what we left out on this list on Twitter @Popdust.
Keep reading...
Show less
Massachusetts senator Ed Markey might look like your average outdated boomer, but make no mistake—Markey is a legend.
Markey may be 74 years old, but he's been fighting the good fight for a long time, serving as one of the most progressive members of Congress for over four decades. He co-sponsored the Green New Deal alongside Alexandria Ocasio-Cortez and Bernies Sanders, strongly advocates for single-payer healthcare, and believes in preserving an open Internet. In short, this dude is the real deal.
But let's face it: Leftists generally skew younger; and as such, we tend to gravitate towards other younger people who share the same progressive ideals and sensibilities that we do. You know: Eat the rich, save the world.
Enter Markey's primary challenger in the battle for Senate: 39-year-old Joe Kennedy, the grandnephew of President John F. Kennedy, with a net worth upwards of 43 million dollars. Wait, what? When we said we wanted younger progressives in congress, we weren't really talking about privileged failsons.
In fairness to Kennedy, his stated policies are actually pretty progressive and he also supports the Green New Deal. At the same time, it's baffling why he would choose to run against Markey when Markey is already one of the most respected, proven progressive voices in the Senate. As such, Markey has picked up endorsements from fellow big-name progressives like AOC, more moderate progressives like Elizabeth Warren, and major progressive organizations like Sunrise Movement.
But age is a big deal for a lot of voters, and in a race between a 39-year-old Kennedy heir and a 74-year-old incumbent, it didn't come as a huge surprise that Kennedy boasted an early double-digit lead.
Except here's the thing: Markey isn't just some boomer. He's an old Boston dad-style boomer, and oh man, this guy can dish it out.
See, Joe Kennedy, in spite of all of his supposedly progressive values, has a good deal of Super PAC money in his corner. That money is largely being used to air a constant stream of attack ads against Markey, and as it turns out, the Super PAC also happens to be run by Joe Kennedy's twin brother, Matthew Kennedy, and potentially funded by his father, Joseph P. Kennedy II.
Markey uses this connection to—there's really no better way to put this—spank the sh!t out of Joe Kennedy in the middle of a debate.
"My question is this: Is your father funding that Super PAC that is attacking me right now?" asks Markey.
"No clue. No idea," replies Kennedy.
"I'm sure your father's watching right now," says Markey. "Tell your father right now that you don't want money to go into a Super PAC that runs negative ads. Just tell your twin brother and tell your father you don't want any money to be spent on negative ads in Massachusetts in 2020 in the era of Donald Trump."
"I've said that multiple times," stammers Kennedy. Markey just keeps going.
"Have you told your father that? Have you said it to your father?" he asks again and again.
Each utterance of "father" might as well be a dagger in Joe Kennedy's heart, as we watch Markey eviscerate his campaign in real-time.
Markey comes off looking like a warrior, and Kennedy a little boy.
And then, shortly after, Markey delivered a death-blow in the form of, quite possibly, one of the best campaign videos ever made.
Ed Markey, playing a slowed down version of the same Nine Inch Nails "34 Ghosts" sample used in "Old Town Road," drums up John F. Kennedy's most famous words: "Ask not what your country can do for you – ask what you can do for your country."
Markey re-contextualizes this sentiment within the era of Trump's administration: "We asked what we could do for our country, they looked for what they could take. But there's a truth written in every history book. If you break the sacred contract, the people make a revolution." Cut to mass protests for Black Lives Matter and the American people demanding a "new deal."
Next, Markey plays old footage of his younger Congressional campaigns—pro-unions, freezing the arms race, and recently, backing the Green New Deal. He's indisputably a man of the people in opposition to the ruling class.
Then comes the clincher: "We asked what we could do for our country. We went out. We did it. With all due respect, it's time to start asking what your country can do for you."
Yes, in a race against a privileged, multi-millionaire Kennedy heir, Markey used JFK's legacy to empower the working class against jingoistic imperialism. Bravo.
Well, Gen Z took notice. Ed Markey is a true, bona fide cool boomer.
Markey's Senate re-election prospects have shifted dramatically since the start of the race. He now boasts a double-digit lead over Kennedy, with vast majority support amongst younger voters and an entire meme campaign behind him. One Esquire article said that he was "Closing the Massachusetts Senate Race Like F*cking Secretariat."
Ed Markey has sneaker game.
Ed Markey has girls Tik Tok dancing for him.
Ed Markey has hot girl energy.
Ed Markey even has some moms certified simping for him.
So, yeah, you could say that Ed Markey is proving that even boomers can be pretty cool. Don't let his efforts go to waste. If you're a boomer in Massachusetts, you can be cool, too.
Keep reading...
Show less
Marianne Williamson enrages some, makes others laugh, and inspires still others to form occult task forces. Could she be the only one who could meet Donald Trump on her own terms?
Objectively, Marianne Williamson had a fantastic night at the latest Democratic debate. She gained the largest number of Twitter followers afterwards, after all, and was the most Googled candidate of the night.
Perhaps this is because Williamson may be the most intriguing character of all the progressive Democratic candidates. With her aura of patchouli and residual dust from the astral plane, detectable even through the TV screen, she's the most memeable candidate (Elizabeth Warren and her plans are a strong second). She's also perhaps the most out-there, even compared to Elizabeth Warren and Bernie Sanders. If Warren and Sanders are marooned on the far left, Williamson has transcended direction, and she intends to bring America with her.
Regardless of how her campaign pans out, Williamson has undeniably made waves. She's the first political candidate to bring non-mainstream spirituality directly into her platform, and she's done it at the perfect time.
Four years ago and earlier, she would've seemed as absurd a candidate as Donald Trump—but we all know how that worked out. Today, qualifications for the presidential office matter less than one's star power and ability to inspire a movement, and Williamson seems to have the star power (if not the ability to commune directly with the stars).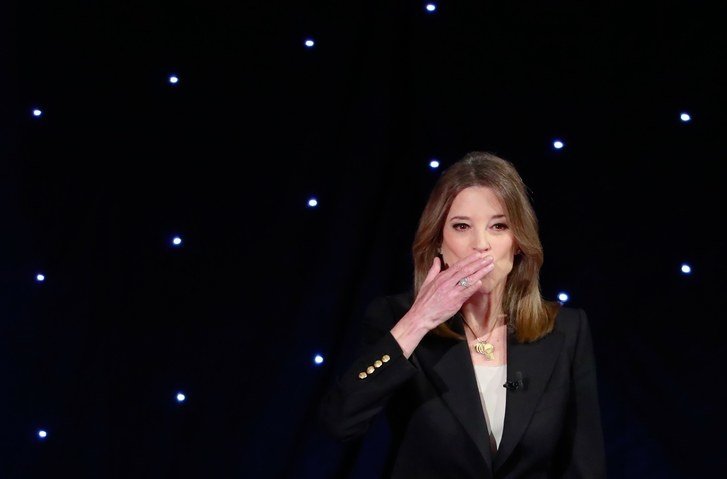 Image via NewYorker.com
In all seriousness, out of all the candidates, she may be the most similar to Donald Trump, in that she exists in the same realm of humorous implausibility as he does. Like Trump, she could be a reality TV fixture. She posts memes, is popular in fringe online forums, inspires occult task forces, and generates massive quantities of loathing and disbelief. She fits into the glitchy landscape of ironic and disillusioned online discourse and is bizarre enough to capture and hold the public's attention.

Like Trump, she's also bringing race directly into the conversation—though for the opposite reasons. Where Trump used racist ideas to win the presidency, Williamson has brought systemic reparations into the discussion. "We need to realize that when it comes to the economic gap between blacks and whites in America, it does come from a great injustice that has never been dealt with," she said. "That great injustice has to do with the fact there were 250 years of slavery followed by another 100 years of domestic terrorism." She followed this statement with some unusually cogent statistics. "If you did the math of the 40 acres and a mule, given that there were 4 to 5 million slaves at the end of the Civil War—they were all promised 40 acres and a mule for a family of four. If you did the math today it would be trillions of dollars."
Her articulate commentary about reparations was a high point in an otherwise discouraging debate that mostly revolved around the same arguments, with moderators and candidates circling around Bernie Sanders and Elizabeth Warren. While the Democratic party ate itself, Williamson—placed as far to the left as could be—stood on the outside.
None of these points are reasons to elect her. She is definitely not an experienced politician—she's a self-help guru, spiritual advisor, and occasional activist. Her platform's main points include a potential Department of Peace "as a first step to dismantling our systemically entrenched perpetuation of violence," movements towards sustainable agriculture in order to reestablish "humanity's spiritual connection to nature," and of course, fighting Donald Trump and his battalion of "dark psychic forces" with love.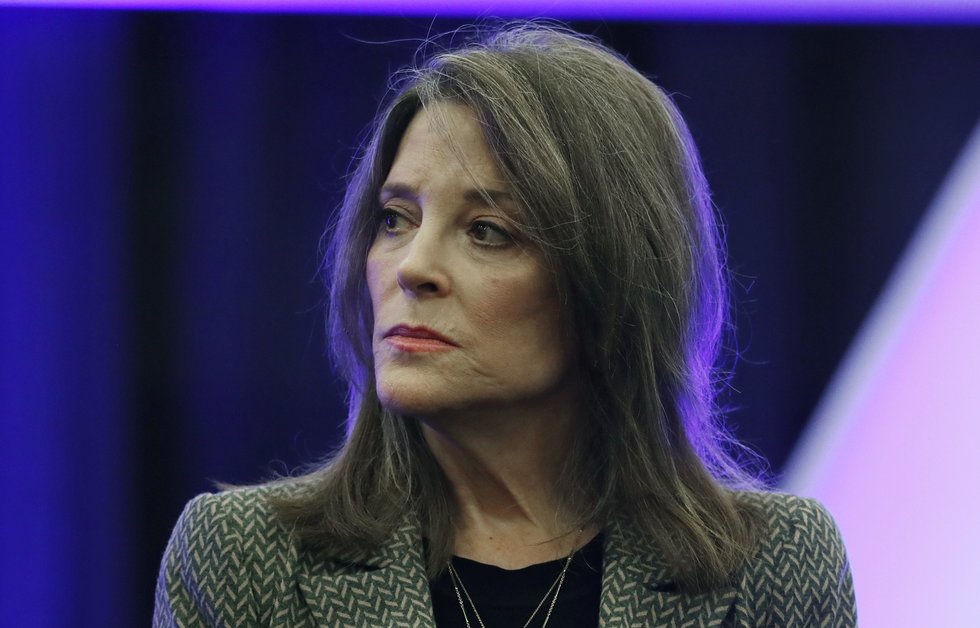 Image via USA Today
Her ideologies are absurd, and not based in (our) reality. She may be promoting an individualistic, dangerous brand of New Age spirituality that promotes an unhealthy fixation on the self. Still, she's arriving at a time when many Americans feel they are already living in an absurd, delusional world, and when they're seeking broader, more creative solutions.
Arguably, Williamson and Bernie Sanders are the only presidential candidates who have proposed changes to the sources of America's problems, not quick fixes that remain within its current, shattered structure. Where Sanders is proposing a revamp of the American economic system, Williamson is wisely proposing a different kind of recalibration—one that cuts to the sources of racial tension, the sources of pollution, the sources of neoliberalism, and the roots of the sicknesses that are costing Americans so much in health care costs.
In her distance from the here-and-now, she is undefinable, without order or direction. In her removal from the real world, she is quintessent: untouchable, and difficult to pin down. Depending on how you see it, she's absurd, enlightened, out of touch, awake, a crackpot, or a witch.
She would probably make a very poor president. But by bringing her messages of spirituality and structural healing to the table, she's changing the rules of the game.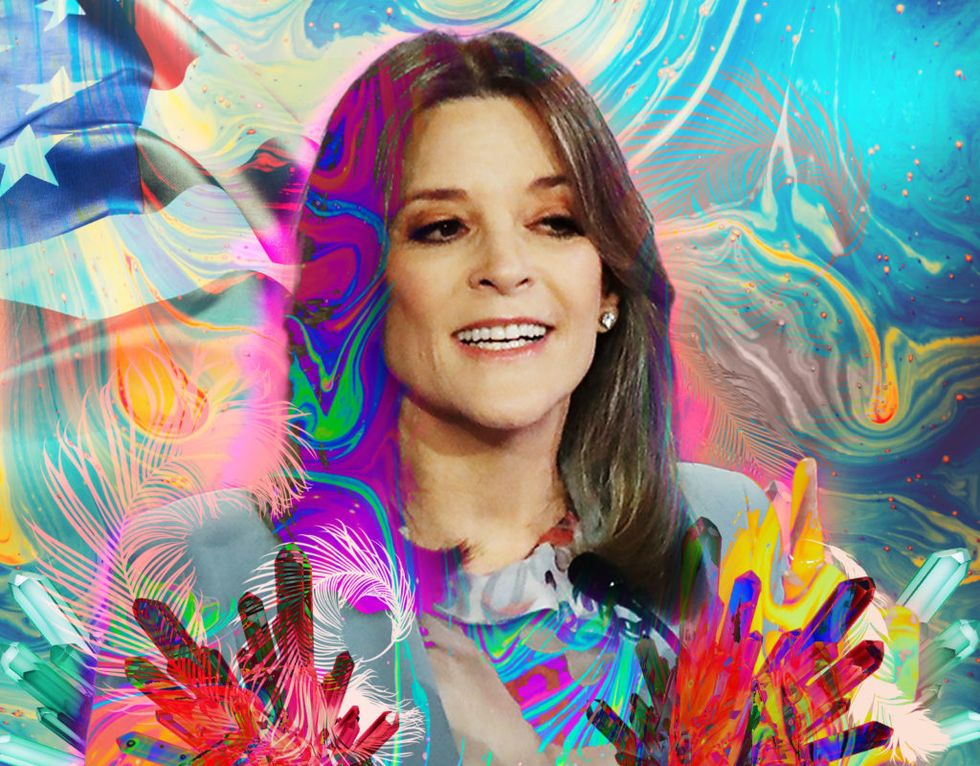 Image via The Bulwark