Dall-E Mini, the AI-powered text-to-image generator has taken over the internet. With its ability to render nearly anything your meme-loving heart desires, anyone can make their dreams come true.
DALL-E 2, a portmanteau of Salvador Dali, the surrealist and Wall-E, the Pixar robot, was created by OpenAI and is not widely available; it creates far cleaner imagery and was recently used to launch Cosmpolitan's first AI-generated cover. The art world has been one of the first industries to truly embrace AI.
The open-sourced miniature version is what's responsible for the memes. Programmer Boris Dayma wants to make AI more accessible; he built the Dall-E Mini program as part of a competition held by Google and an AI community called Hugging Face.
And with great technology, comes great memes. Typing a short phrase into Dall-E Mini will manifest 9 different amalgamations, theoretically shaping into reality the strange images you've conjured. Its popularity leads to too much traffic, often resulting in an error that can be fixed by refreshing the page or trying again later.
If you want to be a part of the creation of AI-powered engines, it all starts with code. CodeAcademy explains that Dall-E Mini is a seq2seq model, "typically used in natural language processing (NLP) for things like translation and conversational modeling." CodeAcademy's Text Generation course will teach you how to utilize seq2seq, but they also offer opportunities to learn 14+ coding languages at your own pace.
You can choose the Machine Learning Specialist career path if you want to become a Data Scientist who develops these types of programs, but you can also choose courses by language, subject (what is cybersecurity?) or even skill - build a website with HTML, CSS, and more.
CodeAcademy offers many classes for free as well as a free trial; it's an invaluable resource for giving people of all experience levels the fundamentals they need to build the world they want to see.
As for Dall-E Mini, while some have opted to create beauty, most have opted for memes. Here are some of the internet's favorites:
There's no looking back now, not once you've seen Pugachu; artificial intelligence is here to stay.
The party of family values has chosen a candidate without family values.
The Republican party has always been the party of strong family values.
Republicans have long championed the idea that families must be built with a strong moral compass at their heart. They must be built on strong marriages and good parenting. They must be built on trust. Donald Trump is an embarrassment to the party of traditional family values. Here's why.
Trump has been divorced–twice.
Donald Trump has been through 3 marriages and 2 very public divorces. Divorce is very common in our current culture, but we generally hold our presidents to a higher standard. (It's worth noting that divorce is technically prohibited in the Bible). In fact, he is only our second ever president to have been divorced.
Trump publicly cheated on his first wife.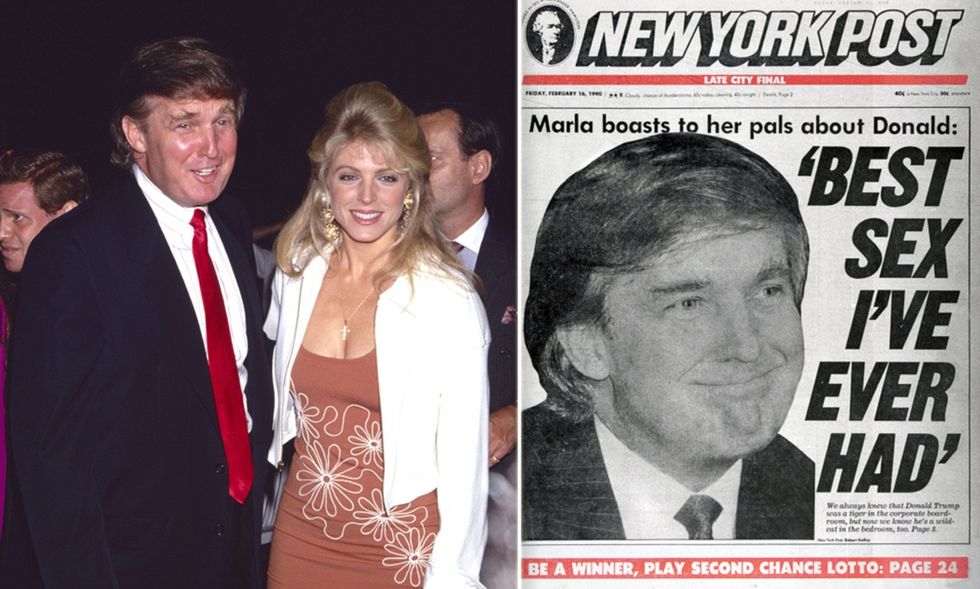 The infamous New York Post headline "Marla boasts to her pals about Donald: 'Best sex I've ever had'" released in 1990.New York Post
Trump's marriage to his first wife, Ivana, fell apart when he began an affair with the model Marla Maples, which dominated the tabloids in the early 1990s. His very public affair even affected his children. "The children are all wrecks," Ivana told gossip columnist Liz Smith. "Ivanka now comes home from school crying, 'Mommy, does it mean I'm not going to be Ivanka Trump anymore?' Little Eric asks me, 'Is it true you are going away and not coming back?'"

Marital fidelity has always been a joke to Donald Trump. In a 1993 interview, Trump and Howard Stern engaged in a conversation about fidelity in marriage, with Stern relaying how Trump was shocked when he told him that he doesn't cheat on his wife. Stern said, "Donald asked me during the commercials — and I don't think you mind me saying it—he says to me, 'So you don't get it on with anybody? I said 'I'm really faithful to my wife' and he goes 'you're kidding? Really? What's that all about?'"
Trump had a child out of wedlock.
Even after his divorce was finalized in 1991, Trump chose not to make an "honest woman" out of his mistress Maples. A spokesperson, who many believe was actually Trump himself, told a People reporter that Trump would never marry Maples, and that he had "three other girlfriends" at the time.
So it's not particularly shocking that when Marla Maples announced to Trump that she was pregnant with Tiffany, his first words to her–as repeated by him on The Howard Stern Show in 2003–were "What are we going to do about this?" Yet despite Trump's possible insinuation that she should abort the child, in 1993 Maples gave birth to Trump's fourth child, born out of wedlock. Shortly after her birth, Maples and Trump finally married, but the marriage was short-lived.
Trump's current marriage is filled with scandal.
The divorce with Maples wasn't finalized until 1999, so Trump was still technically married when he met his next wife, Melania Knauss. The pair met at a party in 1998 and Trump was on a date but, as he recalled later, he was immediately drawn to his future wife, if not immediately in love. "I went crazy. I was actually supposed to meet somebody else," Trump recalled to Larry King on CNN in 2005 shortly after the pair were married. His marriage to Melania has been his longest, but it hasn't been without scandal. He has been accused of having multiple affairs throughout. The most credible allegations include an affair with Playboy model Karen McDougal in June 2006 and another with adult film star Stormy Daniels in July 2006. Both of these affairs allegedly took place only months after the birth of his fifth child, Barron Trump. Trump has denied both allegations, but the latter scandal made headlines when in 2018, The Wall Street Journal revealed that Stormy Daniels received $130,000 for signing a non-disclosure agreement just before the 2016 presidential election about her alleged affair with Trump.
Trump is an absent father.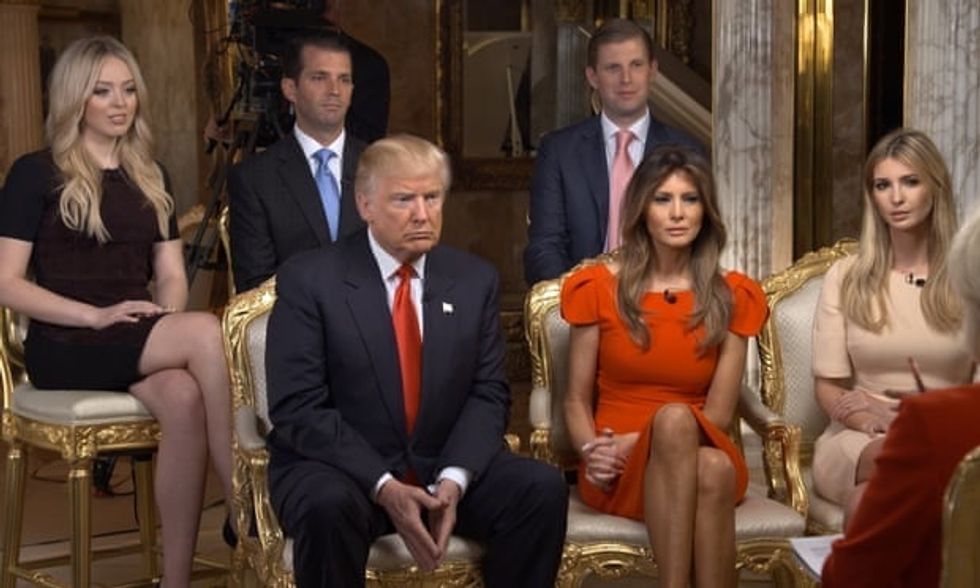 The Trump familyCBS Photo Archive/Getty Images
Trump has 5 kids from his three wives, but wasn't involved much in their upbringing. His first three children were raised mostly by nannies and bodyguards. Don Jr. refers to his nanny as "the woman who raised us" and Eric Trump, the youngest of the three, claims that in a way he was really raised by his brother Don Jr. His fourth child, Tiffany, wasn't raised by Trump at all, but thousands of miles away in Los Angeles with her mother Marla Maples. Trump has openly expressed that he has no interest in the child-rearing aspects of being a father. On the Howard Stern show in 2005, he stated, "I mean, I won't do anything to take care of them... It's not like I'm gonna be walking the kids down Central Park."

Trump speaks very crudely about women.
In September 2005, Trump was caught on tape telling "Access Hollywood" host Billy Bush that he was able to "grab" women "by the p---y" because "when you're a star they let you do it." On the tape Trump also talks about actively pursuing a married woman. "I moved on her like a bitch, but I couldn't get there. And she was married." The tape was recorded just a few months after Melania and Trump were married. While Trump claims that this was simply locker room banter and not proof that he was actively cheating on his new wife, it is certainly not the kind of rhetoric you want to hear from any newlywed father of four, let alone a President.
Trump sexualized his own daughters.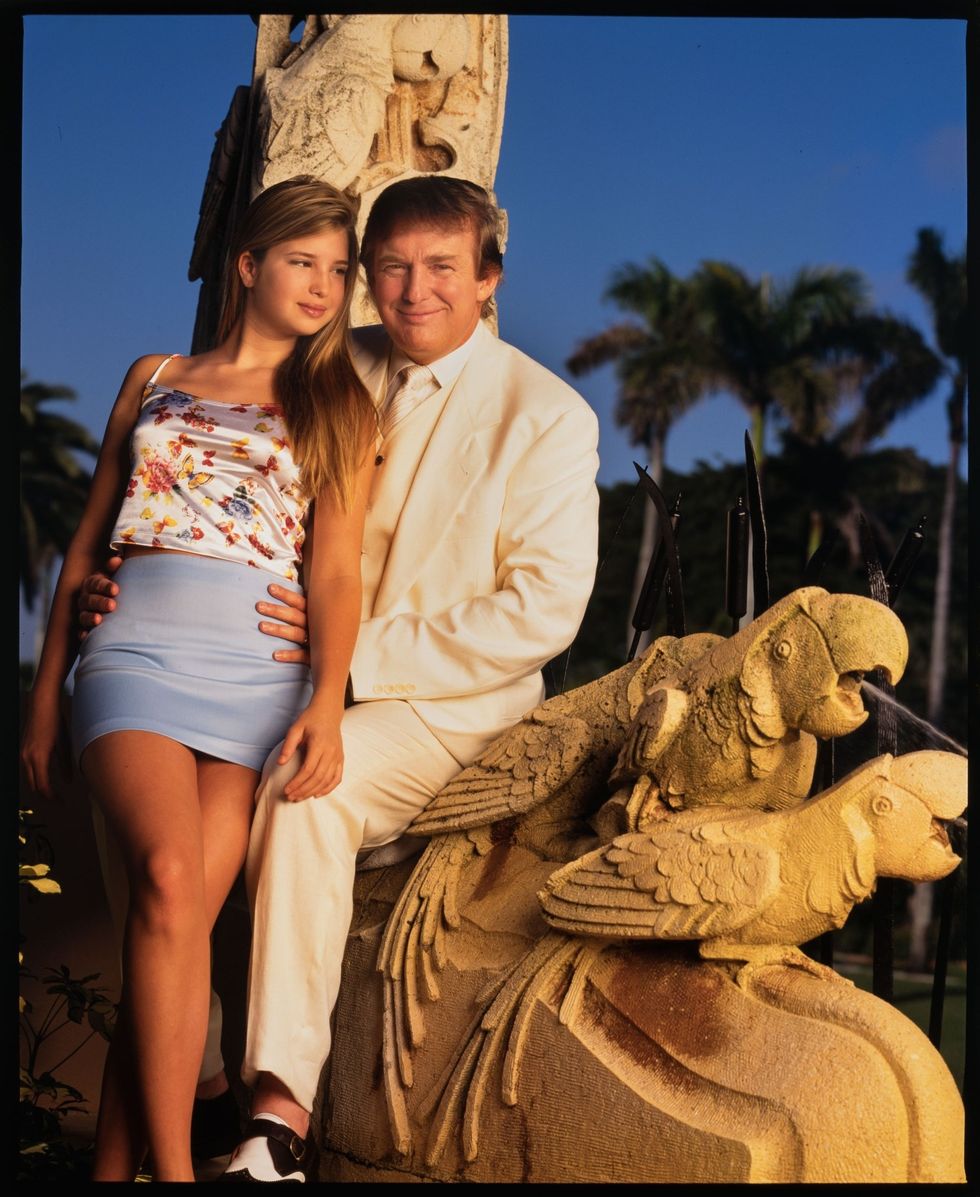 Donald Trump and his daughter Ivanka in Mar-a-Lago, Palm Beach, FL, in 1996. Brian Smith
One of Trump's most notorious quotes about his beautiful and refined daughter Ivanka is that "if Ivanka weren't my daughter, perhaps I'd be dating her." Ivanka was 24 at the time and Trump was 60. But that isn't the only time he has sexualized his daughter. In another interview with Howard Stern in 2003, Trump said his daughter had "the best body." In yet another chat, Trump gave Stern the okay to call Ivanka a "piece of ass." He even sexualized his daughter Tiffany when she was an infant. "I think that she's got a lot of Marla, she's really a beautiful baby," Trump said. "She's got Marla's legs. We don't know whether or not she's got this part yet but time will tell," he added, holding his hands in front of his chest to represent breasts. Because who doesn't want to talk about their infant daughter's future breasts?
Donald Trump is not a family values candidate. His history shows that he has no respect for the institution of family—except when it serves him and his business. Trump doesn't care about the things that make the Republican Party great.

But don't take my word for it. Real Republicans, the ones who care about family values, agree with me:
Republican voters against Trump https://rvat.org/
The Lincoln Project https://lincolnproject.us/
The Bravery Project https://thebraveryproject.com/
Reclaim Our Party https://www.reclaimourparty.org/
Christians Against Trumpism https://christiansagainsttrumpism.com/
43 Alumni For Joe Biden https://43alumniforjoebiden.com/
Republican Political Alliance for Integrity and Reform https://repair45.org/
Republicans for Rule of law https://www.ruleoflawrepublicans.com/
Former Republican National Security Officials for Biden https://www.defendingdemocracytogether.org/national-security/
Keep reading...
Show less
A profile of America's greatest conman.
Despite this apparent obstacle, Trump has managed to win over an overwhelming majority of America's thriving racist community by surrounding himself with white supremacists, refusing to condemn hate groups, dog whistling so loudly Old Yeller can hear it, and putting young children in concentration camps for months while prosecuting their parents for committing a misdemeanor.
How Trump's Family Separation Traumatized Children www.youtube.com
Career

Known for his catchphrases, "You're fired!" and "When you're a star, they let you do it," Trump first captured the attention of federal investigators in 1973 for systemic discrimination against Black prospective tenants at one of his housing developments. Under noted bleeding-heart liberal Richard Nixon, the Justice Department sued Trump and his father for refusing to rent to Black Tenants.
Since that early highlight, Donald Trump has gone on to have an impressive career as the target of numerous federal investigations for everything from tax evasion to insurance fraud to running a sham "university" and (possibly) colluding with a foreign power to undermine American "democracy."
Having inherited a huge portion of his wealth from his real estate mogul father—a sum dramatically increased by dodging estate taxes—the money Donald Trump has "earned" has been based mostly on his reputation as a famous rich guy.
It's that reputation as a brash "billionaire" who can turn s**t to gold that has allowed him to repeatedly turn gold to s**t, accruing numerous bankruptcies, endless scandals, and unfathomable levels of debt, all while building lifelong ties to organized crime, global oligarchs, and the shadiest figures in American politics—from Roy Cohn to Roger Stone.
But, perhaps most importantly, that reputation earned Trump opportunities for media attention, which he craves above all else. That's how he ended up with a place in the WWE hall of fame, a cameo appearance in Home Alone 2: Lost in New York, and a starring role as Biff Tannen in Back to the Future Part II [citation needed].
Was Donald Trump in Back to the Future? www.youtube.com
It's how Donald Trump ended up with his own reality show, where editors worked tirelessly to add an air of business competence to his rich assh**e mystique. And it's why in 2011—amid calls for the government to be "run like a business"—anyone cared to listen to "businessman" Donald Trump's baseless, racist suggestion that Barack Obama wasn't really born in Hawaii.

And it was that birther ordeal that led inevitably to Trump's ascension as a political figure, to the Trump presidency, and to the apocalypse circling overhead as America's pathetic, depleted husk crawls further into the lifeless expanse of the future.
Among Trump's most notable life achievements, apart from becoming the most powerful manchild on Earth, are his failed casino ventures—including the spectacular financial collapse of Trump Taj Mahal—and his charity foundation that was shut down for illegal misuse of funds.
He also has some real estate ventures that involve plastering his name on buildings...until the actual owners decide it's too embarrassing.
Early Life
Trump was raised by his father, Fred Trump, to believe that there were two kinds of people in the world: killers and losers. Despite a lifetime of losing business ventures, disappointing children (with the exception of Ivanka, whom he repeatedly "jokes" about wanting to sleep with), and failed tabloid marriages, Donald Trump finally secured his position as a killer in his 70s by spreading confusion and misinformation about the deadly novel coronavirus pandemic while failing to take necessary precautions, thus contributing to the deaths of tens of thousands of Americans.
As a child, Donald Trump was instructed in "Christianity" by pastor Norman Vincent Peale, who preached that wealth and success are signs of God's love, and both can be achieved through positive thinking. Donald Trump has held onto this idea by banishing negative thoughts like, "You are unqualified," "You don't know what you're talking about," and, "You're not the only person in the world who matters."
Personal Life
As an adult, Donald Trump extended this absence of doubt and self-criticism to his romantic life by not allowing himself to be constrained by vows of commitment, a lack of consent, or basic human decency. In the case of his first wife, Ivana, Donald Trump deliberately spread tabloid stories about his affair with a younger woman (future ex-wife Marla Maples), and—according to Ivana Trump's own court testimony—once raped her as an act of vengeance after an unpleasant experience with a scalp surgery intended to conceal his baldness.
Ex-Playboy model Karen McDougal speaks about alleged affair with Trump www.youtube.com
In addition to dozens of other accusations of sexual misconduct—from unwanted kissing to further allegations of rape—Donald Trump reportedly had affairs with adult film star Stormy Daniels while his third wife, Melania Trump, was pregnant with their son, Barron Trump, and with Playboy model Karen McDougal shortly after Melania gave birth. Donald Trump is also the preferred candidate of Christian, "family values" voters.

International Relations
In late 2013, Donald Trump visited Moscow in connection with the Miss Universe pageant, which he owned at the time. An offer was reportedly made to send five sex workers to Donald Trump's hotel room, but Keith Schiller—Trump's personal bodyguard at the time—claims that he rejected the offer before going to bed with no knowledge about whether anyone entered Donald Trump's hotel room.
The evidence is inconclusive as to whether Donald Trump did in fact have multiple women in his hotel room that night—and instructed them to pee on a mattress that the Obamas slept on during a state visit.
It is also unclear whether Donald Trump—who was actively assisted in 2016 by a Russian disinformation effort and who openly asked Russia to perform a cyberattack against Hillary Clinton's presidential campaign—is actually subject to the whims of his good friend Vladimir Putin, with whom Trump loves to have private meetings.
We may never know if the Russian government is using compromising materials—possibly including a tape of sex workers peeing on a mattress at Trump's behest—to gain leverage over Trump in order to receive a startling series of foreign policy wins.
By contrast, there's a ton of damning evidence that Trump and his associates are tied up in international money laundering schemes involving oligarchs from Russia and elsewhere.
In September of 2020 it was revealed that Donald Trump paid just $750 in income tax in both 2016 and 2017, while claiming jaw-dropping deductions such as $70,000 for hair styling. But as Donald Trump put it in a 2016 debate, when Hillary Clinton confronted him about his tax evasion, "That makes me smart." Less indicative of intelligence are the loans that have him on the hook for over a billion dollars to various international banks who therefore have substantial power to influence the American government.
COVID-19 Diagnosis
In October of 2020 Donald Trump was diagnosed with COVID-19 in an event that was lauded by Popdust.com as "maybe the purest example of karma ever."
Many predicted that Donald Trump was at particular risk from the disease—and was placed on supplemental oxygen as well as an aggressive regime of experimental medicines, suggesting a severe case. However, he soon addressed his supporters—claiming that he was feeling "better than I did 20 years ago," and was not contagious—and said of the virus, "Don't let it dominate your life."
Mad Max Fury Road Immortan Joe Speech www.youtube.com
Reports vary as to whether Trump then added, "Do not, my friends, become addicted to Oxygen. It will take hold of you, and you will resent its absence!"

2020 Reelection Campaign
Donald Trump is running for reelection against Democratic candidate Joe Biden, and considering the resources available to cheat and suppress the vote—and the likelihood that he will face prosecution if he loses—it remains a distinct possibility that he will defy the polls and win.
If he succeeds, opportunities to avert climate disaster or revive any semblance of democracy in America are likely to never return.
Keep reading...
Show less
At his point, anything could be true...
In the early hours of Friday morning, the White House announced that President Donald Trump and first lady Melania Trump had both tested positive for COVID-19.
The news came shortly after it was confirmed that top aide Hope Hicks had tested positive after weeks of travellng with the president to campaign events. As a result, Trump's reelection campaign has canceled a number of upcoming campaign events in battleground states.
The idea of a sitting president contracting a life-threatening virus around a month before the 2020 election seems like the definition of a so-called "October surprise." But honestly, Donald Trump's reckless behavior in recent weeks—holding public rallies around the country, including a crowded indoor event in Henderson Nevada—makes his diagnosis substantially less surprising.
President Donald Trump said to have minor Covid-19 symptoms: New York Times report www.youtube.com
Of course, during Tuesday night's debate, Joe Biden expressed concern about that exact issue, noting that the president has "been totally irresponsible in the way in which he has handled the social distancing ... basically encouraging people not to [wear face masks]" at these events.
Trump, of course, responded by mocking Joe Biden for wearing "the biggest mask I've ever seen" and insisted that—in terms of his rallies and the risk of spreading COVID—"so far we have had no problem whatsoever." Less than 24 hours later, Donald Trump was at yet another rally in Duluth, Minnesota, where unmasked people were standing shoulder to shoulder.
Leaving aside the fact that Trump's "great friend" Herman Cain tested positive for COVID-19 just nine days after attending Donald Trump's Tulsa rally without wearing a face mask—dying soon after—and the fact that the state of Oklahoma saw a massive spike of COVID cases in the weeks following the event, it should finally be impossible for Trump to claim they've had "no problem."
That said, with an incubation period of up to 14 days, it would be unlikely—if Hope Hicks and the president had contracted COVID-19 in Duluth on Wednesday—for a test to come back positive so quickly. But that was the fourth rally the campaign has held in the past two weeks. Either of them might have been exposed in Pennsylvania, Virginia, or Florida.
But all of this ignores one confounding possibility—that this whole story might be just another Trump lie.
The Case Against COVID
Donald Trump has made it a regular practice to introduce some major disruptive news any time a negative story about him is dominating the cycle. Often that includes outright lies.
For the last few days, the story of "the worst debate ever"—mainly the result of Donald Trump constantly interrupting and talking over both his opponent and the debate moderator—has been all cable news wants to talk about. Even Brian Kilmeade—among Tump's biggest fans at Fox News—has expressed some criticism of the president's performance.
'Dumpster fire': See Jake Tapper and Dana Bash's blunt reaction to debate www.youtube.com
With the election so near, Donald Trump and his team have made it clear that no tactic is too deceptive or underhanded for them to employ if they think it will help him win. So if Trump wanted to disrupt the continued analysis of that awful debate, what are the potential advantages of faking a COVID diagnosis?
For a start, now that he is reportedly ill and faces potentially dire health consequences, any criticism of how he has mishandled the pandemic (including this article) will be easy for his defenders to characterize as cruel politicization of the president's health.
It delivers a more or less guaranteed opportunity to demonize the media—one of Donald Trump's favorite methods for energizing his base—while also ensuring more neutral/positive coverage than he has gotten in recent days. If it works well enough, it might even provide enough media cover for the senate to push through Amy Coney Barrett's controversial nomination to the Supreme Court.

It could also rewrite the debate schedule. The second debate was originally planned for October 15th and will almost certainly be postponed or canceled. Maybe president Trump only wants to have one more debate. If he has a plan to come back from the disastrous first performance with some surprising tactics in one final debate—currently scheduled for October 22nd—Joe Biden will have no third round in which to adjust and counter.
Maybe he's planning to pivot—yet again—to a more disciplined and presidential poise, so that if Biden comes looking for a similar fight, he will instead come across as the combative one. If President Trump returns to the debate stage with a subdued performance, as though he's been humbled by a brush with his own mortality, perhaps he can win back some polite suburban voters who may have been turned off by his bullying debate style—though somehow not by every other aspect of his presidency.
Another advantage of faking a COVID diagnosis would be the opportunity to promote a supposed cure. If Trump claims that he took Chloroquine—or some other unproven treatment—after his diagnosis, and thus experienced only mild symptoms, he gets another chance to tout a "cure" that will soon have this global pandemic under control and the economy back on track. Even better, he can "brag" about how mild his illness was for him—painting himself as tough and healthy and affording another opening to attack Biden's fitness.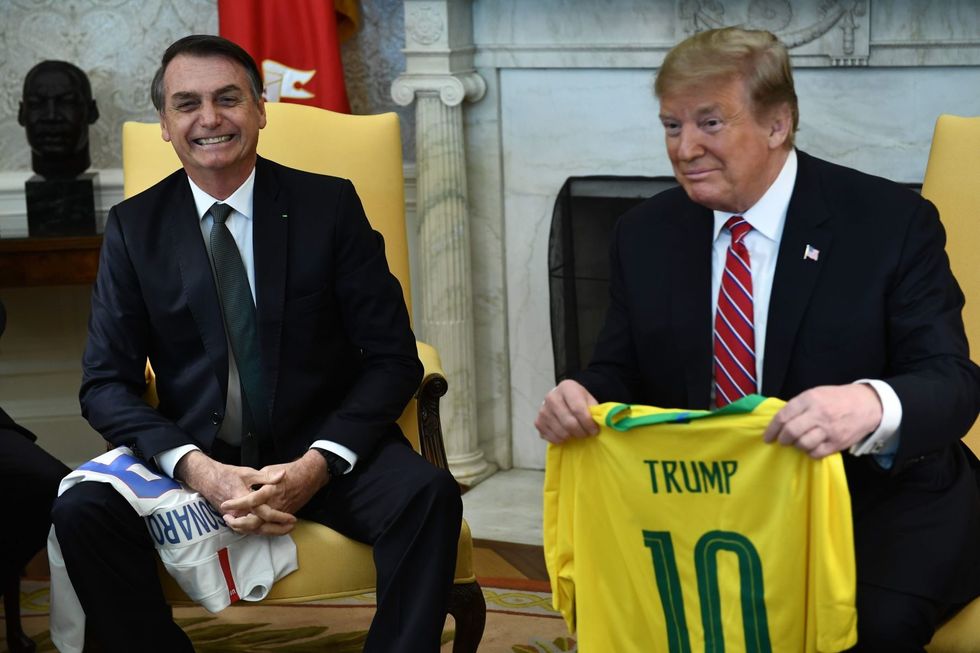 This is roughly the approach that fascist Brazilian president Jair Bolsonaro—one of Trump's closest international allies—took when he (possibly) contracted the coronavirus back in July. He was out shaking his supporters' hands and promoting hydroxychloroquine amid conflicting reports about his diagnosis. Was it all a ruse? Is Trump following the same game plan?

On the Other Hand...
Of course, none of this is to say that President Trump definitely doesn't have COVID. It's a highly contagious virus, and his reckless behavior has put him at significant risk.
While there may be tactical benefits to faking a COVID diagnosis, there's a lot of room for downsides as well—potentially inspiring his base to reconsider the threat of the virus and the value of the kind of strict lockdown procedures that could have prevented much of the pandemic's impact in the US. If they start having those thoughts, maybe it won't make so much sense to demonize liberal politicians for shutting things down while hundreds of thousands of Americans are dying...
That scenario may seem like a stretch—Trump's base is far more likely to attribute this kind of news to a Chinese conspiracy to infect their hero than to any GOP incompetence—but the point remains that news of this magnitude shifts the political narrative in unpredictable ways. Would Trump and his campaign really take the risk of faking something like this, even with the chance that it could turn against them?
Who knows? Whatever the arguments on one side or the other, the biggest reasons to question this story—and invest in all this conspiracy theory-logic—are the same reasons we should have learned by now to doubt nearly everything: We can't trust Trump, and we can't trust 2020.
Keep reading...
Show less