Those already in the U.S. required to marry by end of year or leave the country
The Trump administration began enforcing a new policy on Monday that denies visas to same-sex domestic partners of foreign diplomats.
The restrictions affect staff of U.S.-based international organizations such as the United Nations, the World Bank, and the International Monetary Fund, requiring those currently residing in the country to get married by December 31st or leave within 30 days. Announced earlier this year, the policy is framed by the administration as an effort to equalize visa requirements between straight and gay diplomats.
Officials say they are building off of rules implemented in 2009 by the Obama administration that asks other countries to treat same-sex partners of U.S. Foreign Service employees on a "reciprocal basis" to receive diplomatic visas.
In an August follow-up email to the Washington Blade, a State Department official explained, "This is based on changes to U.S. law recognizing same-sex marriages. Therefore, the Department will likewise require that, as a general matter, officials from other governments and international organizations be married to enjoy the rights and benefits of spouses for purposes of visa issuance and privileges and immunities."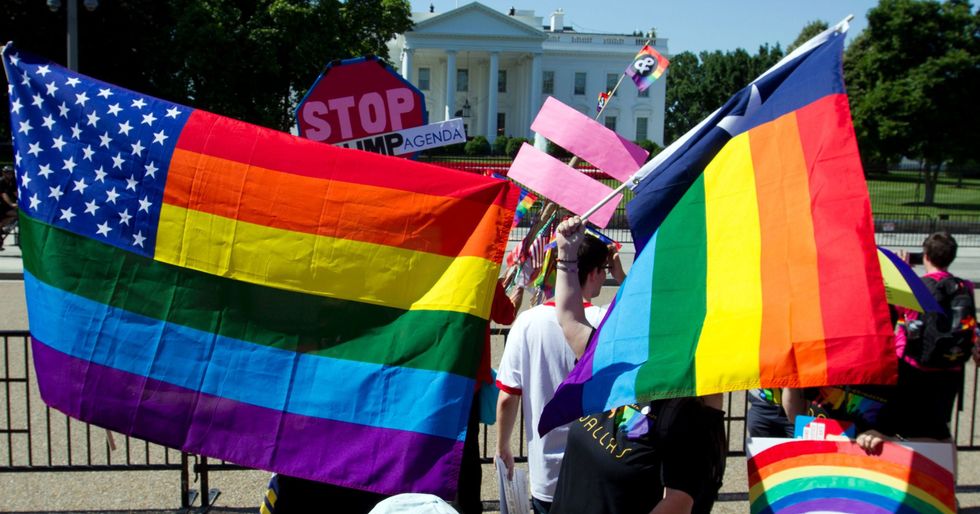 Jose Luis Magana, AFP/Getty Images
LGBT advocates are quick to point out that same-sex marriage is illegal in most countries, and cannot be compared to the rights given to heterosexual couples. Gay people face the death penalty in eight countries including U.N. members Saudi Arabia and Nigeria. Critics say the administration's rules will force LGBT diplomats to choose between breaking up their relationship for a career, or facing potentially life-threatening repercussions at home for entering into an illegal marriage.

Former U.S. Ambassador to the United Nations Samantha Power described the policy as "needlessly cruel & bigoted," tweeting that "only 12% of U.N. member states allow same-sex marriage."
Needlessly cruel & bigoted: State Dept. will no longer let same-sex domestic partners of UN employees get visas unless they are married. But only 12% of UN member states allow same-sex marriage. https://t.co/MjZpRVLYcf
— Samantha Power (@SamanthaJPower) September 28, 2018
Alfonso Nam, president of UN-GLOBE, an organization that advocates for LGBT staff in the U.N. system, told the Blade, "A policy that prioritizes marriages over all other forms of legal unions will have a chilling effect on all couples in the United States under a U.N.-sponsored visa who are in legal unions other than marriage."
"Whether it is an opposite-sex couple who did not get married for philosophical reasons, or a same-sex couple who did not get married because marriage was not a choice available to them, they would all now have to find a way to get married in order to remain in the United States," added Nam.
Currently, there are 10 U.N. employees in the United States who would need to marry by the New Year to have their partners' visas extended.
Joshua Smalley
is a New York-based writer, editor, and playwright. Find Josh at his
website
and on Twitter:
@smalleywrites