ALEC puts people in for-profit jails, prevents gun laws, and stops action against climate change—all from inside locked hotel conference rooms.
In the "corporate bill mill" where corporate leaders and politicians meet, schmooze, and decide the future of the planet, evil is at work.
Georgia Senator Nan Orrick, a former ALEC (American Legislative Exchange Council) member, describes back rooms in Vegas resorts and behind-closed-doors legislative sessions where corporations not only vote on bills—they write them.
ALEC brands itself as an educational charity, she says, but hefty donations (memberships can cost $25,000 a year) fund "education efforts" for legislators, according to a local 11 Alive broadcast—educational efforts led by multi-billion dollar corporations with specific agendas.
The Investigators: ALEC - The Backroom Where Laws Are Born www.youtube.com
In the end, Orrick left ALEC because it was just a bunch of "angry white men," she said.

But these "angry white men" have arguably guided America towards the state it's currently in, making some sort of revolution inevitable.
From the Prison Industrial Complex to Stand Your Ground: ALEC's History of Oppression and Harm
ALEC was partly responsible for the massive spike in prison populations over the last few decades—a 500% increase over the last 40 years, to be exact. In 1995, ALEC's "Truth Sentencing Act" was signed in 25 states. ALEC also pushed for mandatory minimum sentences for nonviolent drug offenders. And ALEC helped privatize the bail bond industry and has worked to pass laws to create for-profit prisons, catalyzing what we now know as the Prison Industrial Complex.
Unsurprisingly, two of ALEC's major sponsors include the Corrections Corporation of America and the Geo Group (formerly Wackenhut Corrections).
"An In These Times investigation last summer revealed that ALEC arranged secret meetings between Arizona's state legislators and CCA to draft what became SB 1070, Arizona's notorious immigration law, to keep CCA prisons flush with immigrant detainees," write Mike Elk and Bob Sloan in The Nation. "ALEC has proven expertly capable of devising endless ways to help private corporations benefit from the country's massive prison population."
In Ava DuVernay's documentary 13th, which tells the story of Black oppression in America from the ratification of the 13th Amendment in 1865 until today, she dives into ALEC and how—building on momentum from the War on Drugs—it resulted in the mass criminalization of Black people, leading to a system of punishment that Michelle Alexander calls "The New Jim Crow."
13TH | FULL FEATURE | Netflix www.youtube.com
ALEC has a long track record of creating racist policies that disenfranchise vulnerable populations. For example, they were an origin point of voter ID laws that successfully prevented many voters from participating in elections. In 2011, the civil rights organization Color of Change launched an investigation into ALEC's political actions in 2011, and reported that for years, "the right wing has been trying to stop Black people, other people of color, young people, and the elderly from voting for partisan gain—and now some of America's biggest companies are helping them do it."

ALEC was also responsible for creating the "Stand Your Ground Laws," which helped George Zimmerman go home free after he shot Trayvon Martin.
Once people began connecting the dots and investigating this law across states, they realized that the bill looked almost identical from state to state—and were able to trace its origins back to ALEC.
A Foundation Built on Disregard For Human Life
Destruction is in ALEC's lifeblood. Two of ALEC's early founders were the Koch brothers, both of whom played a significant role in destroying early government action against climate change. Over recent years, ALEC has doubled down on its efforts to defend fracking and to fight against protestors and whistleblowers, passing bills that threaten to fine and imprison anyone who attempts to vandalize pipelines, and beyond.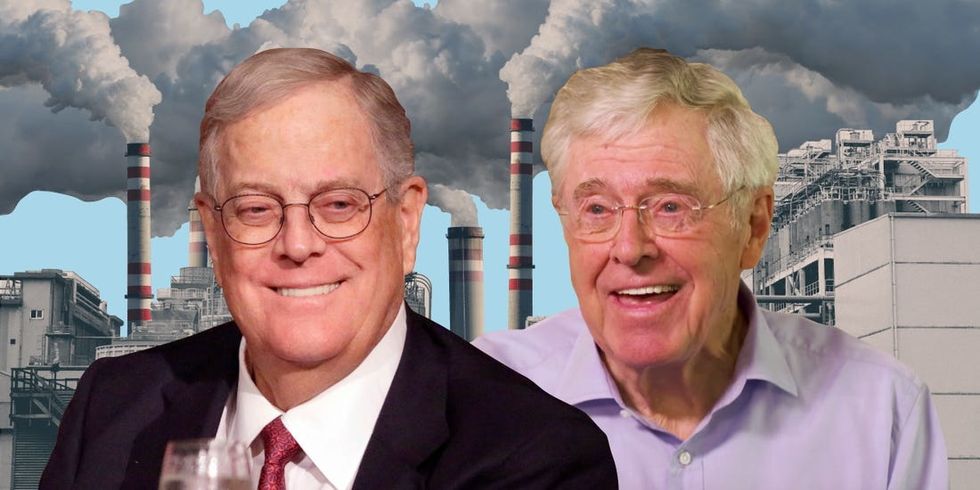 Koch Brothers
Other current corporate sponsors include the tobacco industry, the giant pharmaceutical company Pfizer, the National Rifle Association, Wal-Mart, ExxonMobil, and hundreds of other corporations. That means that these major corporations have a say in what bills are passed where.

ALEC has faced some resistance. After whistleblowers published a database called ALEC Exposed in Wikipedia, corporate sponsors began to face pressure to leave the shadowy lawmaking organization. Coca-Cola, Kraft, Intuit, the Gates Foundation, Google, and other companies pulled out. Hundreds of legislators have cut ties—but ALEC continues to meet year after year.
ALEC Is Still Alive and Well—and Was Fighting to Reopen in Mid-May
ALEC is still alive and well today, if quiet (or very good at diverting attention from it). According to the ALEC Exposed Wikipedia page, ALEC has been "Leading Right-Wing Campaign to Reopen the Economy Despite COVID-19" this May.
The suffering that some of ALEC's bills have caused is literally unimaginable–and genuinely apocalyptic in scale. The number of lives ruined from big pharma, gun violence, climate change, and mass incarceration is absolutely uncountable. Bills like the "No Sanctuary Cities for Illegal Immigrants Act," the "Consistency of Firearm Regulation" Act (which prevents local areas from restricting firearm possession), and many others have each had brutal lived consequences on people's lives—and each was created in an unjust, secretive way.
Yet ALEC still insists that it's a legal organization and that its nay-sayers are simply delusional leftists.
But if ALEC really were a legal organization, wouldn't they open their doors to the media instead of forcibly removing the reporters who try to enter at its annual policy summit?
Of course the fact that corporations are running the show nowadays isn't exactly a surprise, and ALEC is just one of the many corporate lobbyist groups that are "ghostwriting the government," as one Harvard Political Review report put it. The best of these groups are probably so secretive that no one knows exactly what they're called or where they are. Certainly, ALEC is growing alongside the times, figuring out how to further its agenda as more politicians refuse corporate donations, and who knows: It may disappear completely, reforming itself as another slick corporate group in some other identical hotel ballroom, ruining lives with the flick of a few keystrokes.
But at least the people are beginning to wise up to the fact that many of our lawmakers have pledged allegiance not to the people but to corporations.
United States of ALEC: A Follow-Up www.youtube.com
Musings: From two perspectives of tech conglomerate fines, antitrust laws, and the tech world as a whole
Lauren: The EU has given Google a $2.7 billion fine due to alleged antitrust violations. According to EU antitrust regulators, the internet giant is a monopoly. And so Google now has to prove that it has rivals that had made substantial inroads to its businesses, including specialized search categories, mobile phones, and online ad buying. This fine and punishment could also set a precedent for other tech giants. Seems like they're not as unstoppable as many have believed.

Jane: It would set a precedent in Europe. Google has been doing that here forever. But the application of antitrust laws to tech companies interesting. Amazon, Google, Apple, and etc. easily outpace other smaller companies and since they dominate the newer, harder to regulate marketplaces, there is a lack of checks and balances in place
L: The law is definitely slow to catch up in this area. It feels like the second a new law addressing internet companies or online privacy passes, things are updated into something new that needs a whole new framework of regulations. The pace of advancement in technology and regulations just don't match up. Because of this, so much of what is done online is in a legal gray area. That's why it's interesting that Europe is attacking the problem using antitrust law. Those laws are pretty old, but are working in the context of the 21st century.
It feels like the second a new law addressing internet companies or online privacy passes, things are updated into something new that needs a whole new framework of regulations
J: The concept is still the same. Make sure the market is in favor of the consumer. Limiting competition does the exact opposite. Manipulating search results when Google is the primary search engine is shady.
L: This also shows how much the digital world can affect the real one. If you can't Google a business, it might as well not exist. When you think about it, Google has immense power over our lives. So does Facebook or Amazon. These websites and companies are deeply ingrained in our daily lives and our economy.
J: Amazon is trying to be the one-stop shop for everything. They've been trying to get into the grocery business for a long time and buying Whole Foods would cement them in the industry. It could be very successful or they can run the grocery story to the ground since Amazon's model is vastly different from Whole Foods.
L: I think Amazon might use Whole Foods as a testing ground for their new grocery shopping concept Amazon Go. That will be a huge change for the industry.
J: It would definitely blur industry lines even more but Amazon has a history of doing that anyway. Bezos purchased the Washington Post a few years ago. In Whole Foods case, prices might possibly go down. But you never know. There's a lot of unknown as tech companies melded and absorb other traditional companies.
Keep reading...
Show less