Dall-E Mini, the AI-powered text-to-image generator has taken over the internet. With its ability to render nearly anything your meme-loving heart desires, anyone can make their dreams come true.
DALL-E 2, a portmanteau of Salvador Dali, the surrealist and Wall-E, the Pixar robot, was created by OpenAI and is not widely available; it creates far cleaner imagery and was recently used to launch Cosmpolitan's first AI-generated cover. The art world has been one of the first industries to truly embrace AI.
The open-sourced miniature version is what's responsible for the memes. Programmer Boris Dayma wants to make AI more accessible; he built the Dall-E Mini program as part of a competition held by Google and an AI community called Hugging Face.
And with great technology, comes great memes. Typing a short phrase into Dall-E Mini will manifest 9 different amalgamations, theoretically shaping into reality the strange images you've conjured. Its popularity leads to too much traffic, often resulting in an error that can be fixed by refreshing the page or trying again later.
If you want to be a part of the creation of AI-powered engines, it all starts with code. CodeAcademy explains that Dall-E Mini is a seq2seq model, "typically used in natural language processing (NLP) for things like translation and conversational modeling." CodeAcademy's Text Generation course will teach you how to utilize seq2seq, but they also offer opportunities to learn 14+ coding languages at your own pace.
You can choose the Machine Learning Specialist career path if you want to become a Data Scientist who develops these types of programs, but you can also choose courses by language, subject (what is cybersecurity?) or even skill - build a website with HTML, CSS, and more.
CodeAcademy offers many classes for free as well as a free trial; it's an invaluable resource for giving people of all experience levels the fundamentals they need to build the world they want to see.
As for Dall-E Mini, while some have opted to create beauty, most have opted for memes. Here are some of the internet's favorites:
There's no looking back now, not once you've seen Pugachu; artificial intelligence is here to stay.
It's time we stop acting like the leading Democratic candidate is the only old guy who's ever had a heart attack.
Whoever your pick might be in the 2020 Presidential Election, there's an overarching issue that's been largely prominent: the age of the Democratic front-runner, Bernie Sanders.
At 78, Sanders would be the oldest elected president in the country's history (a title currently held by Trump). The topic of his health became more hotly debated after he suffered a heart attack last October, resulting in him having two stents inserted. Though he bounced back to give one of his best debates yet that very same month, critics have been quick to cite Sanders' declining health as a hindrance to his electability. The backlash is getting even louder as Sanders claims he won't divulge his comprehensive health records. "We have released a detailed medical report, and I'm comfortable on what we have done," he said this week during a CNN town hall.
Sanders' campaign has released letters from three doctors who all asserted the senator is in good health. "I do not see a reason why he would not be able to function effectively in a high stress job," said Dr. Mary Ann McLaughlin, director of cardiovascular health and wellness at Mount Sinai Heart in New York. Why are Sanders' opposers so adamant that his health will fail him in office?
Yes, the senator is the oldest candidate in the race, but not by much: Michael Bloomberg and Joe Biden are 78 and 77 respectively, while Sanders' fellow progressive Elizabeth Warren is 70—the same age as Trump when he was elected. The health of Bloomberg, Biden, and Warren hasn't been scrutinized nearly as much as Sanders'. Sure, he might be the only one of the bunch who's suffered a heart attack, but that alone shouldn't be a disqualifier; notable politicians including President Dwight D. Eisenhower, President Lyndon Johnson, and Vice President Dick Cheney all proceeded with lengthy, successful careers in office despite suffering heart attacks early on.
A heart attack should not render an otherwise healthy candidate unfit for presidency, and Sanders' campaign has offered enough proof of his well-being. Our country's entire history has been predominantly dictated by old white men—why make an exception for someone who can actually instigate radical change?
Join the fight to end modern day slavery.
I could have missed it, walked right by, hopped on the train and sped off into my life. Instead, I stopped and read every single word of this Amtrak poster - a warning about human trafficking.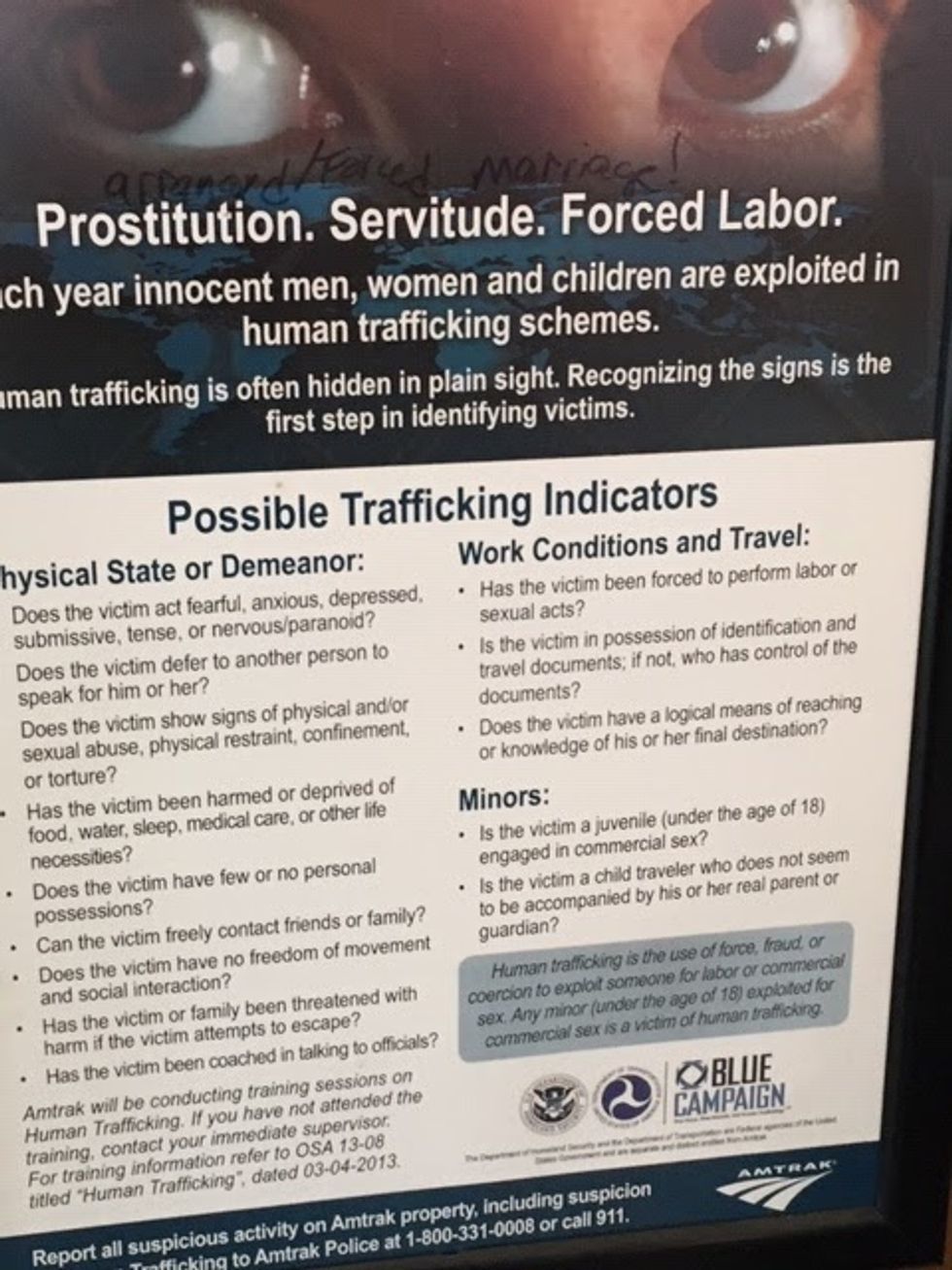 Prostitution. Servitude. Forced Labor.
Each year innocent men, women and children are exploited in human trafficking schemes that include the use of force, fraud, or coercion to exploit them for labor or commercial sex. Any minor (under the age of 18) exploited for labor, or commercial sex is a victim of human trafficking. . . .

As I read, I recalled a conversation I'd had only days before with Kathyann Powell, Founder and CEO of Saving Jane. When I sat down with Kathyann, I was struck by her fierce commitment to her organization which is dedicated to assisting human trafficking survivors and preventing new victims.
Trafficking is a subject that makes us flinch and causes us to turn away. It's ugly, it's threatening. Not in my life, you think. Although it's often hidden in plain sight, human trafficking is real and it is everywhere.
Human trafficking flourishes in Atlanta, DC, Houston, Las Vegas, Miami, NYC, and San Diego. These cities are major hubs for human trafficking because they often host sporting events and conventions, are visited by thousands of tourists, and have large transient populations. The anonymity provided within large urban centers can make the trafficker's job simple.
It's estimated that 1 in 7 missing children are likely victims of child sex trafficking each year. Most of these children are native US citizens from lower and middle class families who were recruited via social media - with the average age being 13 or 14 years old. 68 percent were in the care of social services - a group home, government facility, or foster care - at the time they went missing.
Things have got to change, or these children will be trapped in an endless cycle of exploitation and violence. Kathyann told me about Saving Jane's national education project, which is designed to raise awareness in young people ages 10 through 18. They use graphic novels to illustrate the concept of human trafficking so kids can identify, avoid, and report it to trusted adults.
Saving Jane partners with schools, religious and community organizations, and youth groups to implement prevention initiatives nationwide. They work with the FBI, educators, social workers, and survivors to calibrate their programs and training - with a focus on at-risk demographics such as homeless, LGBTQI, autistic, and disabled youth.
Recognizing the signs is the first step in identifying victims, so Saving Jane offers Workshops where participants learn to identify indicators of human trafficking and red flags:
Hangs out with older men
Has expensive new phone
Ignores her friends
Stops her favorite activities
She's pregnant
Starts using birth control
Has bruises or other injuries
Despondent physical state or demeanor
Acts fearful, anxious, submissive, tense, nervous, or paranoid
Due to the Internet and social media, traffickers have never before had such easy access to children; they can now initiate thousands of recruitment conversations. To leave kids uneducated makes them more vulnerable. The most important thing is to teach them about cyber-predators without scaring them. Saving Jane aims to empower kids to be effective agents in their own protection.
Saving Jane works with national and global organizations to distribute graphic novels that teach students about human trafficking - what it is, what it looks like, what to do when you see it, and how people fall victim to it. So, they go into schools and hold Comic Book Workshops.
Director of Storytelling and Prevention, Thomas Estler, uses comic books, film, music and social media as delivery vehicles. He composes and draws Saving Jane's popular comic book series that was created with the help of the FBI victim specialists, social workers, and anti-human trafficking organizations. His ABOLITIONISTA! Manga books are an image-driven call to action and effectively help kids get smart about social media:
ABOLITIONISTA! #goodgirlgone tells the story of how one girl becomes vulnerable and falls victim to a coercive predator who trafficks her. #goodgirlgone (ages 10 - 14) is accompanied by a teacher / leader version and can be taught in schools.
ABOLITIONISTA! Volume I and II both have female protagonists and are geared toward adolescents between 13 - 19 years old.
Another powerful tool that raises awareness is Saving Jane's Tee Shirts. With Anime-styled graphics that are hand drawn by Ozzyos Da Vyrus, one of these captivating Tees features: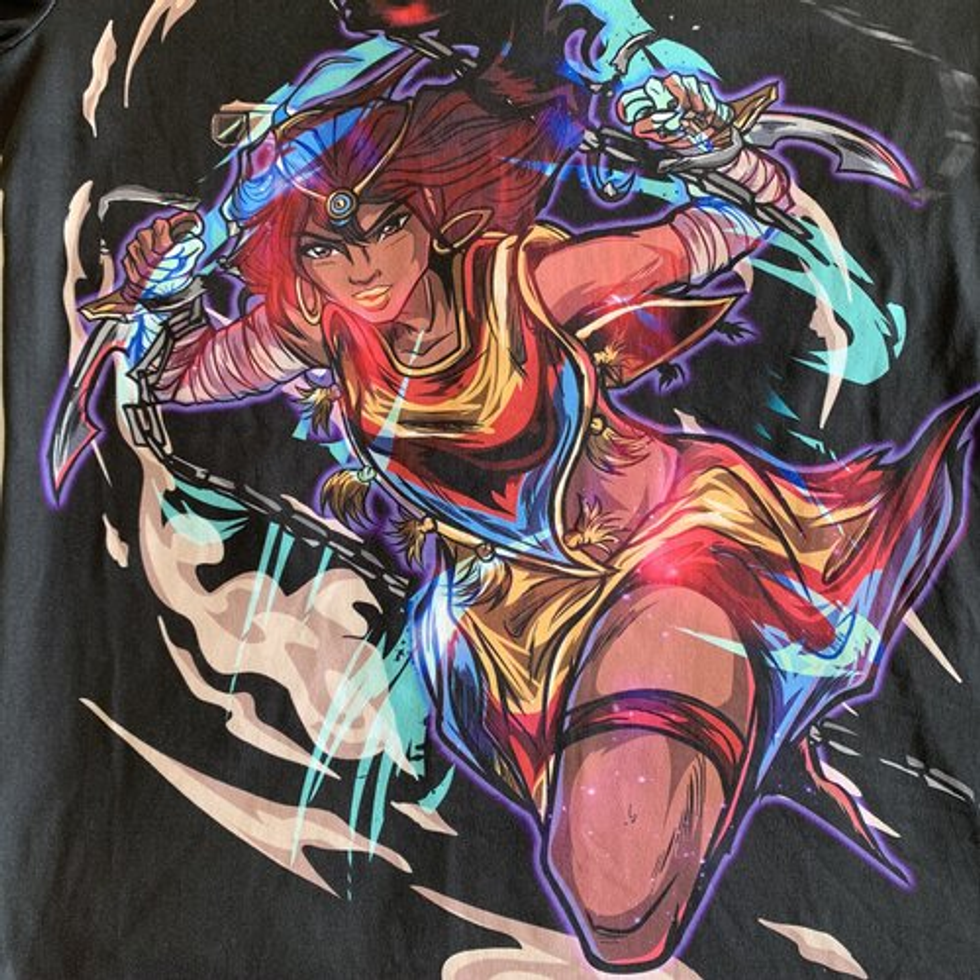 Jada's African Ancestor from ABOLITIONISTA! Volume II
Many people don't realize how widespread and destructive human trafficking is. Raising awareness about human trafficking is essential to ending it. Saving Jane's committed to ending these crimes through education, raising public awareness, and the creation of systems, technology, and policies to prevent the formation of social conditions conducive to trafficking.

So, what's next?
Saving Jane is in the concept and development phase for campus-style facilities dedicated to protecting and empowering formerly trafficked people. These facilities would provide a comprehensive suite of support services, including short term and long term housing, childcare, and healthcare and mental health care resources.
As Survivors continue on their healing journeys, these sites would offer life skills, education, career skills, and economic development opportunities so that they can return to being an integral part of the greater community.
Finally, Saving Jane's long-term mission is to transform survivors into leaders. It's clear that this visionary organization is doing just that.
For More Information and Resources visit www.savingjane.org
Is America finally headed towards real gun reform?
Tonight, the iconic Las Vegas strip will go dark to mark the first anniversary of the mass shooting that killed 58 people.

Fans were gathered on the Strip for the Route 91 Harvest Festival, listening to Jason Aldean close out the night's performances. Meanwhile, Stephen Paddock, equipped with semi-automatic firearms, was in a room on the 32nd floor of the Mandalay Bay hotel. At 10:05 p.m., Paddock opened fire on the crowd. For the following ten minutes, pandemonium ruled as victims fell and survivors scrambled to avoid the spray of bullets. More than 400 people were injured by Paddock's bullets, and hundreds more were hurt trying to flee the scene.
In the wake of the shooting, many legislators pledged to make strides to reform gun laws. Now, a year later, little has changed. An Associated Press review of all the firearms-related legislation that passed this year shows mixed results. In some states, gun control bills did pass, but the "year was not the national game-changer that gun-control advocates had hoped it could be," AP reports.
Many Americans are using the anniversary of the Vegas massacre to remind the public of the need for meaningful gun reform. Zach Elmore, brother of Alicia Elmore, who was a victim of the Vegas shooting, marks the anniversary by asking people to vote in November. In a letter published in the Seattle Times, Elmore says that voters can help to end gun violence "in just a few weeks by electing gun-sense candidates up and down the ballot. It's critical that we elect candidates who will stand up and take action rather than just accepting shootings on our streets, at concerts, at playgrounds and in our homes."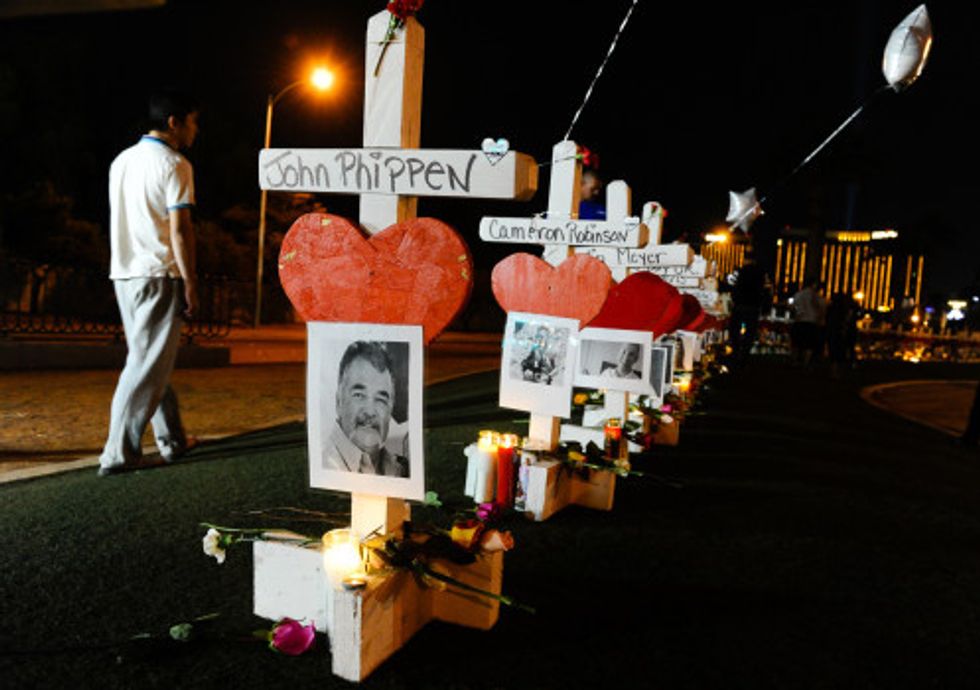 The Press-Enterprise
Elmore is not alone in his sentiment. Students and activists gathered in D.C. Sunday to remember the 58 victims of the massacre and demand national gun reform. Robert Disney, the organizing director of the Brady Campaign To Prevent Gun Violence, attended the protest and said, "I'm here because I'm sick of the way the NRA has a chokehold on Congress, I think for the first time in my lifetime, we have a chance to break the chokehold, and I am doing everything I can to help that to happen."
Law enforcement officials said that at least a dozen of the 23 firearms found in Las Vegas were semi-automatic rifles legally modified to fire like automatic weapons, using an alteration known as a bump fire stock. Nevada law allows the purchase of machine guns and silencers in compliance with federal law and regulations, so Paddock's possession of the guns used in the attack was lawful, but perhaps not for much longer.
This morning President Donald Trump said in a speech addressing the anniversary that rapid-fire devices like those used in the Las Vegas massacre will soon be "ruled out." He stated, "We are knocking out bump stocks. I've told the NRA. Bump stocks are gone."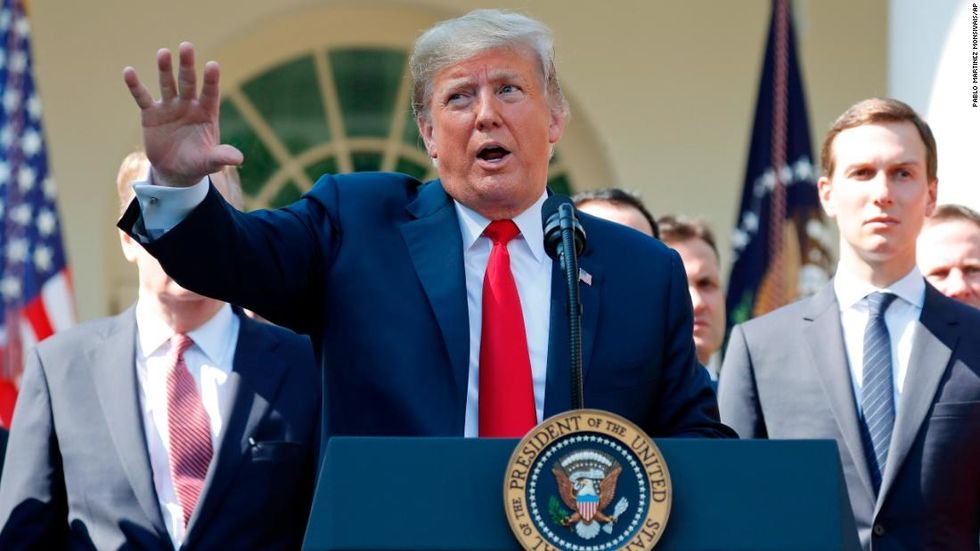 CNN
NBC News reports the Justice Department's confirmation that a proposal to ban bump stocks was sent late last week to the Office of Management and Budget for review. After a review of up to 90 days, the proposal will be published in the Federal Register and made available for public comment. The proposal would ban the manufacture, importation, and possession of bump stocks.
While reforms of this kind have been proposed and shot down multiple times since the Las Vegas massacre, this is the first that's been backed by President Trump.
---
Brooke Ivey Johnson is a Brooklyn based writer, playwright, and human woman. To read more of her work visit her blog or follow her twitter @BrookeIJohnson.
Keep reading...
Show less