The view was actually...interesting?
Donald Trump Jr. appeared on this morning's episode of The View with his partner Kimberly Guilfoyle as part of the promotional tour for Trump Jr.'s new book, Triggered: How the Left Thrives on Hate and Wants to Silence Us.

Meghan McCain Confronts Donald Trump Jr. on His Father's 'Character' | The View www.youtube.com
If the purpose of the interview was to provoke as much drama and incoherent cross-talk as possible, it was a wild success. The insanity opened with Meghan McCain at her passive-aggressive best, insisting that people "miss the soul" of America, and asking if Trump Jr. felt good about his father insulting the gold star Khan family. From there things devolved into defensive accusations of blackface and rape-minimizing, rehashing of the Trump-McCain feud, and Whoopi Goldberg loudly pleading for an unspecified someone to apologize. Meanwhile, whoever runs Trump Jr.'s Twitter account was already on the offensive, digging up the video of Joy Behar discussing her "beautiful African woman" costume from 50 years ago.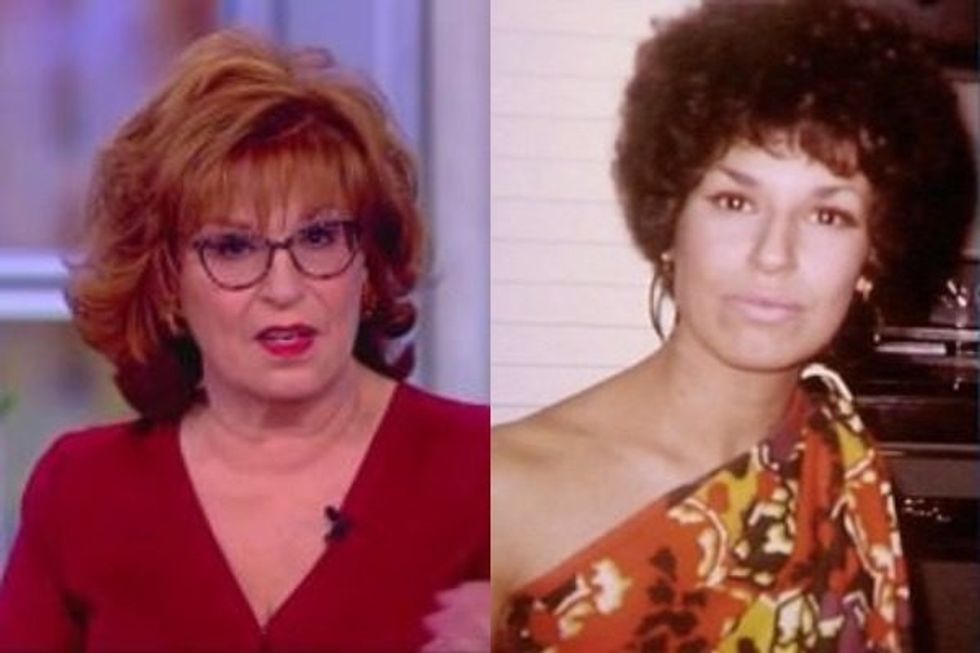 How is it not blackface?
As the interview continued, Trump Jr. deflected questions about Ukraine—and his tweet containing the name of an alleged whistle-blower—by calling out ABC and CBS for cooperating in the reported firing of an employee who recently leaked footage of anchor Amy Robach. The footage in question exposed an apparent top-down effort to bury the Jeffrey Epstein story. Jeffrey Epstein, of course, was the wealthy financier at the center of an elite pedophile ring who didn't kill himself in his cell in the Metropolitan Correctional Center in August.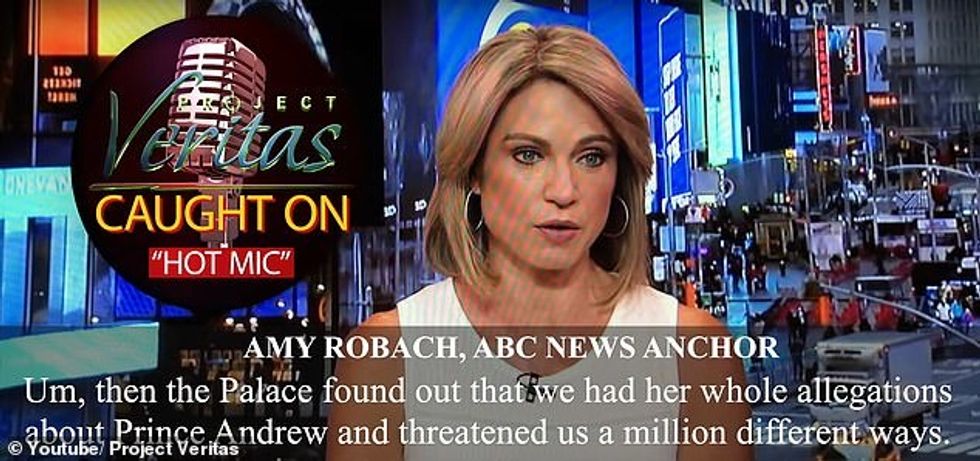 Try to ignore the fact that this was leaked by Project Veritas...
Apart from this public service, the whole interview was a mess. It should have been obvious to anyone watching that it was not going to go well. Along with the extensive history of vitriol passing between the Trump family and the hosts of The View, Trump Jr.'s appearance was a dead giveaway. He looked gaunt and waxen, his forehead slick with a sheen of cold sweat, eyes wild, red, and swollen with exhaustion. It was hard not to be reminded of Kendall Roy in the season two premiere of Succession. The haggard interview where his sister says he's "like a sweaty corpse," and his brother-in-law compares him to "an unshaven candle."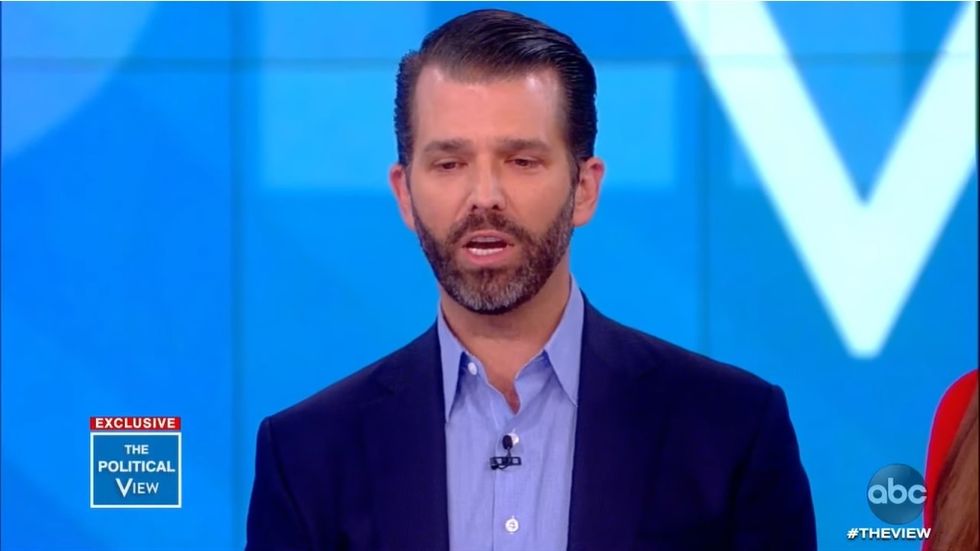 Of course Kendall Roy's rough appearance in that interview is tied closely to his cocaine addiction. While it would be inappropriate to suggest that Donald Trump Jr. has any relationship with stimulants, it would explain his frenzied cadence as he declared that "it is worth it, when I go around the country, and I see people who are affected by these policies, who are getting to live their American dream again," his words tripping over each other in the race to slip past his bleached-white teeth.
Triggered was published on Tuesday and has received rave reviews for containing delightful stories, like the time Donald Trump let Trump Jr. play video games with Michael Jackson and how that means he's not racist. It's available now, wherever awful ghostwritten books are sold.
Epstein's lifestyle was unimaginably creepy, but it's indicative of a larger problem.
Jeffrey Epstein was found dead in his jail cell on Saturday, having been accused of sexual abuse by nearly 80 women.
He leaves behind a legacy of destructive opulence.
Epstein lived a lifestyle of unchecked consumption. The billionaire possessed a number of extravagant homes. His Manhattan townhouse allegedly cost $77 million and contained disturbing oddities—such as a hall full of fake eyes that were initially created for injured soldiers. It also contained a photorealistic mural that featured Epstein in jail, surrounded by prison guards, as well as a life-sized female mannequin that hung from a chandelier.
His private ranch was even more grandiose. At 10,000 acres, Zorro Ranch is a sprawling stretch of land, to which Epstein allegedly flew young girls, and where he abused them with the help of his supposed madam, Ghislaine Maxwell. The ranch was also a place where he attempted to impregnate hundreds of women in an effort to seed the human race with his DNA. This attempt was inspired by his distorted belief in transhumanism, a theory that the human population can be improved through artificial intelligence and genetic engineering.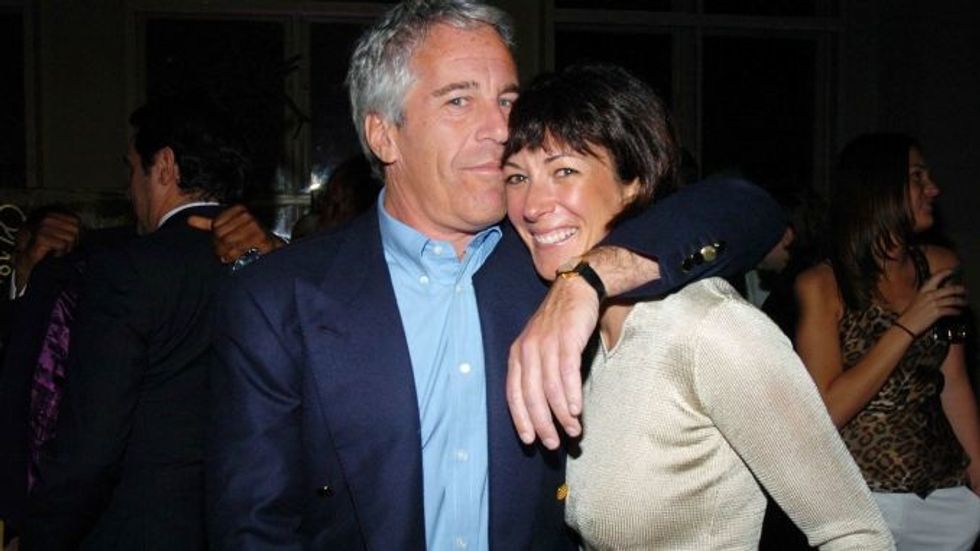 Image via BBC.com
The townhouse and the ranch paled in comparison to his primary place of residence—his private island. St. James Island is located in the U.S. Virgin Islands, and Epstein purchased it in 1998. According to a contractor, Steve Scully, Epstein possessed two private offices on the island, as well as a strange blue-and-white striped temple and a lagoon full of flamingos. The island was, allegedly, the location of a variety of heinous crimes and was casually called the "Island of Sin" and even "Pedophile Island" among some of Epstein's acquaintances.

Epstein had ties to countless businesses and money-making ventures, and he had a particularly fraught relationship with Victoria's Secret, a company that may have funneled models directly to him—and from which he may have embezzled millions. He had a circle of powerful friends that included Donald Trump, Kevin Spacey, Woody Allen, and Bill Clinton. He was also a serial liar, constantly fabricating relationships and insinuating himself into the scientific and political communities, including ingratiating himself with scientists by bankrolling their research. He is an example of the way that money can pave pathways and open doors for people with little to offer other than their purported fortunes and their charisma.
Between the bizarre decor of his homes, his interest in nefarious ideas like eugenics and cryogenics, and the suspicious circumstances of his apparent suicide in a Manhattan jail, Rolling Stone was right when it published the headline, "Conspiracy theories have gone mainstream."

Many of the conspiracy theories currently swirling around the Internet center around Epstein's relationship with Bill Clinton and Donald Trump, with #TrumpBodyCount and #ClintonBodyCount trending on Twitter and Trump himself tweeting about the Clinton conspiracy. Many others believe that Epstein faked the suicide, as the cameras in the jail cell stopped working at the time of his death.
With its tangled web of lies, the Epstein case is "the end of an information ecosystem that at least feints at asking questions before pretending to have the answers," according to Anna Merlan.
Is this the end, or just a step towards chipping away illusions and unearthing the corruption inherent to America's wealthiest class? After all, it's likely that there have been thousands of Epsteins before—billionaires in bed with politicians and scientific communities who abused women without consequence and who've funded false scientific research.
Maybe social media is, in its ugly, distorted way, finally bringing the dark money and covert alliances at the heart of America out into the light. Maybe next, the Internet could come for people like the Koch Brothers, the billionaires who paid millions to shut down climate change research.
Based on the nature of social media, though, it'll be a long time before we arrive at anything like the truth.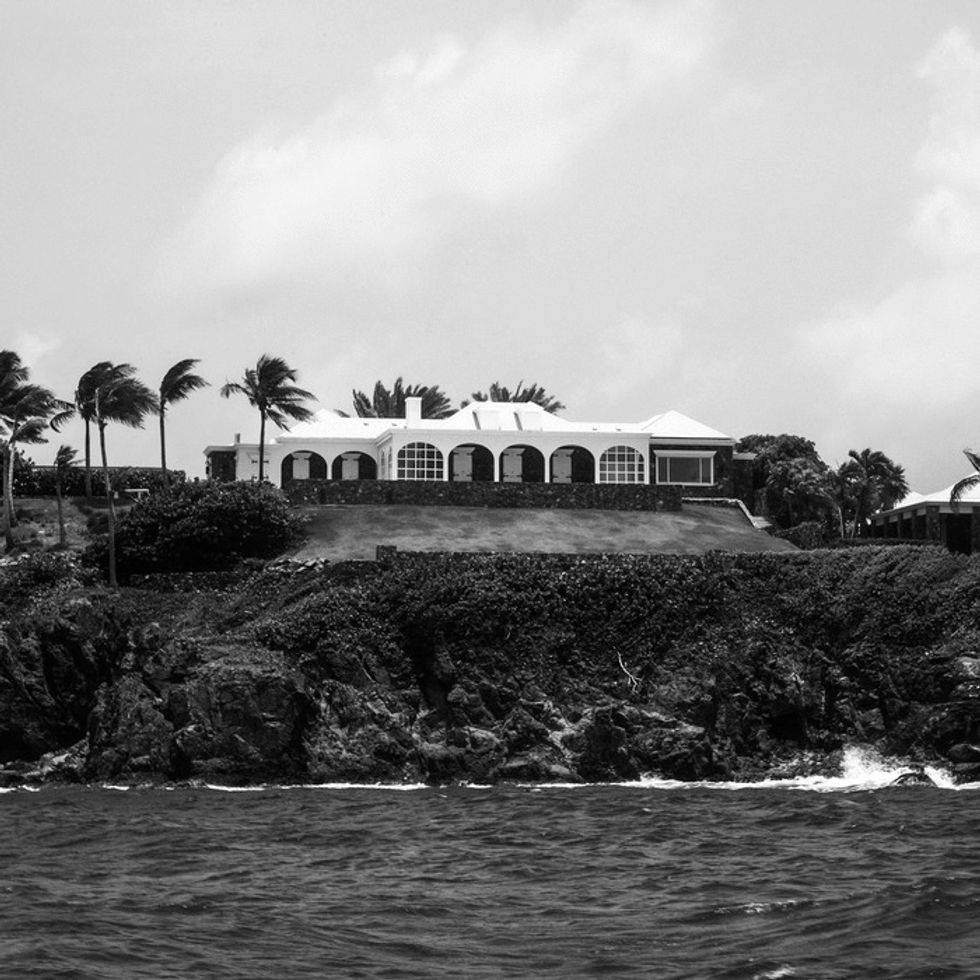 Little Saint James Island. Image via The Cut
This past weekend, registered sex offender #JeffreyEpstein was once again arrested under new charges of sex trafficking dozens of minors as young as 14 years old.
On Monday morning, Jeffrey Epstein, the 66-year-old financier and reported friend of Donald Trump and Bill Clinton, was arraigned in federal court for luring underage young girls to his homes in Manhattan and Palm Beach, Florida and soliciting them for sex.
The billionaire was first arrested in 2005 for engaging in sex with minors. The hedge fund manager pleaded guilty to soliciting an underage prostitute and served only a year in prison—with a condition of work release that permitted him to leave the facility six days a week to continue employment.
This past weekend, the registered sex offender was once again arrested under new charges of sex trafficking dozens of minors as young as 14 years old. In a public statement, the U.S. Attorney's office said that between 2002 and 2005 Epstein lured young girls to his homes under the guise of paying for a "massage": "In this way, Epstein created a vast network of underage victims for him to sexually exploit, often on a daily basis." Indeed, of the nearly 80 young girls thought to be molested by the billionaire, most were from low-income households and particularly vulnerable to his cash-exchange ploy.

If found guilty, Epstein faces up to 45 years in prison for one count of sex trafficking and an additional count of sex trafficking conspiracy. But the prominent figure has been under investigation since last year. When authorities searched the man's Manhattan townhouse, nude photographs of underage girls were seized as evidence of Epstein's exploitation of minors. According to the indictment, which was unsealed on Monday, he not only assaulted young girls in his mansion but recruited them to return for repeated abuse and asked them to bring their friends.
Geoffrey S. Berman, the United States attorney in Manhattan, appealed to any other young women who have been abused by Epstein to come forward. "They deserve their day in court and we are proud to stand up for them by bringing this indictment," he told The New York Times. He said Epstein's "alleged behavior shocks the conscience."
On Monday afternoon, Epstein pleaded not guilty to all charges. Prosecutors are requesting that Epstein be held without bail until his trial.