Dall-E Mini, the AI-powered text-to-image generator has taken over the internet. With its ability to render nearly anything your meme-loving heart desires, anyone can make their dreams come true.
DALL-E 2, a portmanteau of Salvador Dali, the surrealist and Wall-E, the Pixar robot, was created by OpenAI and is not widely available; it creates far cleaner imagery and was recently used to launch Cosmpolitan's first AI-generated cover. The art world has been one of the first industries to truly embrace AI.
The open-sourced miniature version is what's responsible for the memes. Programmer Boris Dayma wants to make AI more accessible; he built the Dall-E Mini program as part of a competition held by Google and an AI community called Hugging Face.
And with great technology, comes great memes. Typing a short phrase into Dall-E Mini will manifest 9 different amalgamations, theoretically shaping into reality the strange images you've conjured. Its popularity leads to too much traffic, often resulting in an error that can be fixed by refreshing the page or trying again later.
If you want to be a part of the creation of AI-powered engines, it all starts with code. CodeAcademy explains that Dall-E Mini is a seq2seq model, "typically used in natural language processing (NLP) for things like translation and conversational modeling." CodeAcademy's Text Generation course will teach you how to utilize seq2seq, but they also offer opportunities to learn 14+ coding languages at your own pace.
You can choose the Machine Learning Specialist career path if you want to become a Data Scientist who develops these types of programs, but you can also choose courses by language, subject (what is cybersecurity?) or even skill - build a website with HTML, CSS, and more.
CodeAcademy offers many classes for free as well as a free trial; it's an invaluable resource for giving people of all experience levels the fundamentals they need to build the world they want to see.
As for Dall-E Mini, while some have opted to create beauty, most have opted for memes. Here are some of the internet's favorites:
There's no looking back now, not once you've seen Pugachu; artificial intelligence is here to stay.
The Nobel Prize committee has the chance to signal a better future for a prize with a fraught past.
I have almost reached the regrettable conclusion that the Negro's great stumbling block in his stride toward freedom is not the White Citizen's Counciler or the Ku Klux Klanner, but the white moderate, who is more devoted to "order" than to justice; who prefers a negative peace which is the absence of tension to a positive peace which is the presence of justice — Dr. Marin Luther King Jr. "Letter From Birmingham Jail" 1963
Nominations have been announced for the 2021 Nobel Peace Prize.
Among notable nominees are Ivanka Trump's husband Jared Kushner, politician and voting rights activist Stacey Abrams, and the Black Lives Matter movement. Depending on your political biases, you likely find at least one of those nominations offensive, though it should be noted that the list of nominees is long, and anyone can be nominated.
In this case, Black Lives Matter was nominated by Petter Eide, a member of Norway's parliament. As for Jared Kushner, he was nominated along with former Special Representative for International Negotiations Avi Berkowitz — the famed Harvard law professor, Trump sycophant, and defense attorney for O.J. Simpson and Jeffrey Epstein. Kushner and Berkowitz played central roles in brokering the Abraham Accords declaring, "Peace, Cooperation, and Constructive Diplomatic and Friendly Relations" between the US, Israel, Bahrain, and the UAE.
The Abraham Accords: The PR of the 'peace deals' | The Listening Post www.youtube.com
At face value many Americans would no doubt see the negotiation of a peace deal as more legitimate grounds for nomination than a protest movement that sparked violent confrontation with police and counter protesters around the country in 2020. And, if we look at the history of the Peace Prize, there is a sense in which they would be right — the prize has often been awarded for superficial diplomatic theater rather than the real and often messy work of addressing injustice.

The Fraught History of the Nobel Peace Prize
In 1928, Secretary of State Frank Kellogg received the prize for getting all the world's major powers to officially, meaninglessly renounce war...shortly before Hitler took power in Germany. Another Secretary of State, Henry Kissinger, was selected by the Nobel Committee for negotiating a cease fire with Vietnam in 1973 — the same year it was revealed that he had masterminded a secret carpet bombing campaign in Cambodia, which is credited with giving rise to the genocidal Khmer Rouge.
More recently, in 2009, Barack Obama was given the Peace Prize just for being elected president — in a move Obama acknowledged as premature. And in 2020, Donald Trump's son-in-law and his buddy Avi were nominated for the award for arranging "peace" between nations that were never at war — with a substantial arms deal thrown in for good measure.
To put it bluntly, it would make nearly as much sense for Jared Kushner to win the Nobel Peace Prize as it did for a number of other recipients with dubious claims to peace work. By contrast, in 1948 the Nobel committee chose not to award anyone — rather than acknowledge Mohandas Gandhi's work in pushing for Indian independence from Britain.
Historically the committee has often erred on the side of the powerful — rewarding hollow and hypocritical displays of diplomacy over the controversy that tends to arise around grassroots struggles. So while it may be unlikely that Kushner and Berkowitz will receive the peace prize, neither would it really be surprising.
But with Black History Month kicking off, it's worth articulating not just why their diplomacy is underwhelming, but why the Black Lives Matter movement deserves recognition for advancing the global fight against injustice.
No Justice, No Peace
While extensive efforts have been made to paint the Black Lives Matter movement as violent, anti-White, and at the political fringes, in reality it is the largest and most racially diverse protest movement in American history. And considering the thousands of demonstrations that have taken place, involving many millions of individuals, the relative lack of violence from the protesters is much more worthy of note than a handful of dramatic scenes.
Compared to the January 6th Trump rally, where a crowd of around 30,000 spawned a violent insurrection — which was handled with kid gloves by the police and led to five deaths — the 15 million plus who participated in BLM marches in 2020 were remarkably peaceful. The same cannot be said for far too many of police who patrolled those marches and gave proof to the brutality that inspired them.
A compilation of videos that captures how police officers incite violence. How are they responding to protests ag… https://t.co/7rBOh3OHMP

— Simran Jeet Singh (@Simran Jeet Singh) 1590893613.0
And though regrettable incidents of arson and violence have undeniably taken place in connection with BLM demonstrations, the alternative was not "peace."

What is often overlooked in discussions of peace is the reality of social and political injustice as among the most prevalent forms of violence on Earth. When millions of people, targeted through no fault of their own, are systemically dehumanized — their lives and their contributions devalued and their opportunities for life, liberty and pursuit of happiness both deliberately and incidentally truncated for centuries — that is violence that destroys lives on another scale altogether.
For Black Americans that obviously means slavery and its aftermath, as well as segregation and the continued legacies of practices like redlining. But it also means a so-called "war on drugs" that treats addiction as a crime rather than an illness and disproportionately targets and locks up Black Americans, depriving too many children of their parents.
It means racist police procedures like Stop and Frisk, as well as the implicit (and often explicit) racial biases of the officers themselves. It means making it nearly impossible for people convicted of felonies within this unjust, racist system to live within the bounds of the law, depriving them — as well as millions of Black Americans who haven't been convicted of anything — of the right to participate in democracy and change the system that treats them so cruelly.
And none of this even covers the immense wealth inequality that makes life harder for almost all Americans — though, again, the harm is leveled disproportionately against Black Americans. All of these ordinary and unacceptable aspects of American life are violence — "the negative peace which is the absence of tension."
They destabilize communities, families, and individual lives. And that violence came to a head in June, following the horrific killing of George Floyd by a Minneapolis police officer over a suspected counterfeit $20 bill.
While far from the only evidence of systemic racism in America, the murder of unarmed Black men, women, and children by police and by racist vigilantes who — more often than not — are allowed to walk free, is perhaps its most blatant and disgusting expression.
And the names of the slain — Ahmaud Arbery, Breonna Taylor, Tamir Rice, Trayvon Martin, Freddie Gray, Philando Castille, too many more to mention — have become rallying cries.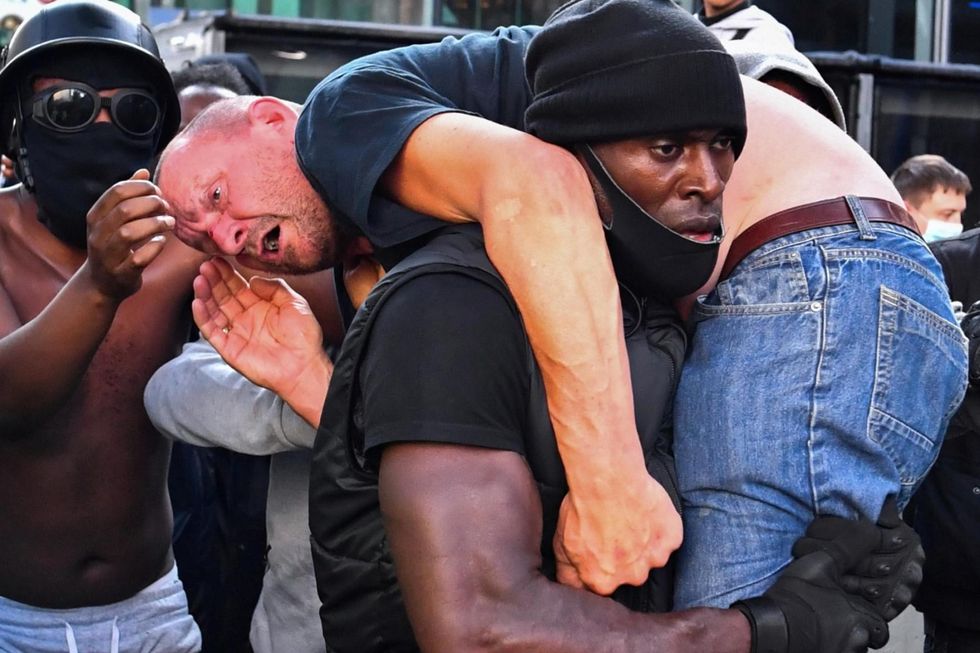 A Black Lives Matter protester carrying a counter protester to safety in London
With all the domestic resistance the protests met from people who insist on spitting "all lives matter!" (as if fighting for the value of Black lives implied otherwise) and "blue lives matter!" (as if the safety of police officers depends on their ability to shoot unarmed Black men, women, and children without consequence), it would be easy to lose sight of how much support the movement has received overseas. While the movement was started in America, the impact has been global.

"Injustice Anywhere Is a Threat to Justice Everywhere"
The reality of living as a dehumanized minority in a bigoted society is sadly all too common in the world. And while not everywhere is as bad in this respect as America, the recognition sparked protests of solidarity and of common cause around the world.
Like the civil rights movement of the 1960s, Black Lives Matter has continued the fight for America to live up to its promise. Because right now "the land of the free" is home to a carceral state where more people are imprisoned than anywhere else on Earth, and citizens are killed by police at a higher rate than in any comparable nation.
Because the systems that were deliberately set up to keep newly freed Black citizens oppressed following the Civil War were never truly purged — have been covertly bolstered and supplemented ever since.
That is not peace. Only a stable form of violence.
A cartoon from the 1960s My father wasn't beloved by America. In 'Letter From Birmingham Jail,' he responded to 8… https://t.co/ygwaqnWoO9

— Be A King (@Be A King) 1611017549.0
In 1964 the Nobel committee opted not to side with power. It was the same year the FBI sent a harassing letter to Dr. Martin Luther King Jr., urging him to commit suicide.

He was considered by FBI director J. Edgar Hoover — and many others in positions of power within the American government — to be an enemy of the state. There is even reason to believe that these forces were directly involved in his 1968 assassination.
His protest movement was disruptive to the normal order of American life that most white Americans were content to maintain. Many balked at the idea that it could be called peaceful. But the Nobel committee selected him for the honor of the Nobel Peace Prize. It was a serious signal that the world was watching how America handled peaceful dissent.
Did that make a difference in passing the voting rights act of 1965? Who can say? But the Nobel committee has a similar opportunity this year.
What Black Lives Matter has been fighting for in recent months is the "positive peace" King spoke of as "the presence of justice." With that in mind — and with some uncertainty remaining as to how a decentralized, leaderless movement of millions can receive an award — the Nobel committee should take seriously the option of selecting Black Lives Matter.
Martin Luther King Jr. Nobel Peace Prize Acceptance Speech www.youtube.com
There are no doubt many nominees whom the committee could select for the Peace Prize — including Jared Kushner. And some who would even be worthy — including Stacey Abrams.

But the significance of acknowledging a grassroots fight for justice that was centuries in the making (in a nation which — for all its flaws — continues to shape culture around the world) is too powerful to deny.
Keep reading...
Show less
Robin Williams would have voted for Joe Biden, point blank.
This weekend, Eric Trump gleefully shared a video of the late Robin Williams making fun of presidential candidate Joe Biden that bore the caption, "Robin Williams Savages Joe Biden."
https://t.co/KiklnDgnE7

— Eric Trump (@Eric Trump) 1596711758.0
Zelda Williams tweeted in response, "While we're 'reminiscing' (to further your political agenda), you should look up what he said about your Dad. I did. Promise you, it's much more 'savage.' Gentle reminder that the dead can't vote, but the living can."
While we're 'reminiscing' (to further your political agenda), you should look up what he said about your Dad. I did… https://t.co/nzXS658s6H

— Zelda Williams (@Zelda Williams) 1596861971.0
Robin Williams, who would have turned 69 last month, had certainly poked fun at Joe Biden. In the clip shared by the younger Trump, Williams quips, "We still have great comedy out there, there's always rambling Joe Biden, what the f***... Joe says s*** that even people with Tourette's go, 'No. What is going on?'" He continued, "Joe is like your uncle who is on a new drug and hasn't got the dosage right...I'm proud to work with Barack America — 'He's not a superhero, you idiot — come here!'"

His comments about the current president were far more incisive and far-reaching. For example, in 2012, he referred to Trump as "a scary man" and "the Wizard of Oz" because "he plays monopoly with real f***ing buildings."
Of course, these jokes are based in very real calamities. Many of Trump's real estate projects and business ventures have notoriously fallen through or crash-landed completely, landing him in massive debt. Yet time and time again he was bailed out by his father, Fred Trump, who paid millions to keep his son's delusions of glory alive. He was also bailed out by a variety of banks (and still owes Deutsche Bank an outstanding $350 million). In some ways, it's no surprise that Trump will leave America sick, in debt, and in crisis.
In the same show, he made fun of Trump's many beauty pageants and his wide range of creepy comments about his daughter. "And he owns all these beauty pageants. Miss America, Miss Universe. Isn't it like Michael Vick owning a series of pet stores? It's a f****** catch and release program for him," Williams continued.
Robin Williams on Donald Trump from 2012 www.youtube.com
"This is a man who says: My Daughter is hot.' Even people in Arkansas said that's f****** wrong," he added.

Trump—a man who many online conspiracy theorists and QAnon followers believe is at the forefront of an effort to break up a number of child sex rings—has made numerous unnerving comments about children, including his own daughter, Ivanka.
Williams also came for Trump's crowning glory: his hair. "'And that f****** hair? I believe the hair is The Donald. The body is a maintenance system for the hair.," he said. "The body is a maintenance system for the hair."
Williams died in 2014, after taking his life shortly after having been diagnosed with Lewy Body Dementia. A staunch lifelong democrat, Williams supported gay marriage and donated over $150,000 to Democratic and left-leaning groups during his life. His daughter, Zelda Williams, 31, is an actor, producer, and artist. She's appeared in Criminal Minds and Jane the Virgin and produced and starred in a short film, Shrimp, in 2018.
Williams has also consistently dedicated herself to carrying on her beloved father's legacy. Two weeks ago, she celebrated what would've been her father's 69th birthday by donating $69.99 to a number of local homeless shelters. "To honor him (& that glorious number), I will be donating $69.69 to as many local homeless shelters as I can," she wrote on Twitter. Later on, she shared screenshots of numerous donations to nearby homeless shelters, many of which provide housing for LGBTQ+ youth. "Join me if you like, but regardless, know I am wishing you all at least one hearty, immature belly laugh on Dad today," she added.
Today would've been Dad's 69th birthday, so to honor him (& that glorious number), I will be donating $69.69 to as… https://t.co/D3ZQWyyabg

— Zelda Williams (@Zelda Williams) 1595357662.0
While Robin Williams wasn't alive to see Trump ascend to the presidency, it's almost certain that he would've hated the man, and he likely would've given us some very necessary comedic gold. After the end of George W. Bush's presidency, Williams said, "It's the end of the reign of George the 2nd. The reign of error is over. America is officially out of rehab…He's a gift to comedy, though, he's a comedy pinata. I'm going to miss him."

We all miss Robin Williams, but at least we have his progeny to keep the Trump administration (somewhat) in check.
Keep reading...
Show less
The gap is growing wider and wider between Trump supporters and those who don't understand them. Here, we peer out across the gap, into the unknown shadowlands of the Trumpian psyche.
Studying the perspectives of Trump supporters can feel like researching the psychology of serial killers. Of course, Americans are naturally fascinated by serial killers—a fact that could potentially tell us something about the people who love Trump.
In today's political environment, it can feel like there are two Americas existing parallel to each other. To dwellers in both, the other side can feel as foreign and sinister as the Upside Down in Stranger Things, inhabited by ghoulish, many-armed monsters, hell-bent on mindless destruction.
This certainly rings true today, in light of recent videos of Trump supporters chanting "Send her back" in Greensboro, North Carolina.
The chant was referring to Representative Ilhan Omar, a freshman Congresswoman and Somali refugee who was the object of a Trump Twitter rant on Saturday, along with three other progressive freshmen congresswomen.
While the other three—Alexandria Ocasio-Cortez, Ayanna Pressley, and Rashida Tlaib—were all U.S.-born, Omar is not; and so she quickly became the primary subject of Trump's ire. At the North Carolina rally, he criticized her for her purported "un-Americanness," repeating the false claim that she has supported Al-Qaeda.
Trump's actions this past week have been widely criticized. Nancy Pelosi described Trump's statements as "racist." On Tuesday, the House voted to officially denounce his tweets, and everyone from the mayor of London to a variety of conservative commentators have expressed their disapproval and shock. The conservative radio commentator Guy Benson said, "I'm very tough on Omar [because] she deserves it, on the merits. I am sickened by the hate-laced 'send her back' chants. Shame on every person who participated. POTUS has a responsibility to put an end to it. He alone has the ability to do so."
Yet Trump's staunchest supporters apparently disagreed. They approved of the president's actions, so much so that they decided to chant, "Send her back."
It's tempting to try to understand what Trump supporters are thinking, if only to locate them in some context that makes them more compatible with reality. This exercise feels similar to attempting to tap into a serial killer's mind, as sometimes the mentality of Trump's followers, particularly the alt-right sect, can seem too utterly depraved to ever comprehend.
In some ways, trying to analyze the Trump supporters squeezed together at his rallies feels reminiscent of trying to understand all the women that filed in to attend Ted Bundy's final trial. There's a similar relentless ignorance of truth, a similarly toxic sense of spectacle and groupthink implicit in their love for him.
Still, it's undeniably fascinating to try to understand serial killers and the people who love them.
Always, there's that burning question: how could this happen? What were they thinking?
In terms of Trump supporters, all roads lead to one ideology in particular—but race has always played a major part along the way.
White Supremacy, Veiled by a Misunderstanding of Racism
Hiding behind illusory ideas like "reverse racism," Trump supporters tend to believe that "whiteness" is somehow under attack. Nevermind that on average, white households have 6.5 times the wealth of black households, or that black and Latino applicants are still 60% more likely to be turned down for a loan than white families, or any of the other statistics that prove that whiteness is still very much in power in America. Trump supporters tend to take measures like affirmative action and phenomenons like political correctness on campuses as proof that white liberty is under siege.
On the other hand, many Trump supporters will insist that they are "not racist" and that Trump himself is "not racist"—nevermind the fact that his comments were explicitly reminiscent of 19th century racial politics. "In many ways, this is the most insidious kind of racial demagoguery," said Douglas A. Blackmon, the author of Slavery by Another Name, a history of racial attitudes in America in the late 18th and early 19th century. "The president has moved beyond invoking the obvious racial slanders of 50 years ago — clichés like black neighborhoods 'on fire' — and is now invoking the white supremacist mentality of the early 1900s, when anyone who looked 'not white' could be labeled as unwelcome in America."
But for Trump supporters, all this talk is just overly aggressive.
Mitch McConnell, who said that the President is "onto something" with his comments against the congresswomen, added that he thinks Trump is "not a racist" and it's "about time we lowered the temperature across the board."
This statement—that it's "about time we lowered the temperature across the board"—is telling. In some ways, it's a form of gaslighting, a way of minimizing people's righteous anger at Trump's actions by framing their anger as a weakness or character flaw. Similar to the "special snowflake" diatribes thrown at online social justice warriors, this is a tactic that's worked well for Trump since the beginning of his campaign.
From many Trump supporters' perspectives, it seems that they just want America to calm down.
Of course, what they really want is for people of color to calm down, for poor people to calm down, for everyone except all-American upper and middle class white people to calm down. Gaslighting is ultimately a power play, and by its Trumpian logic, only people who have always been in power have the right to make policy and protest change.
Few will admit this, though; instead, supporters hide behind the delusion that those who dislike Trump are merely overreacting, blowing his actions out of proportion in order to facilitate a liberal agenda. This creates a loop that effectively insulates Trump supporters against any hope of hearing the other side.
Many of them do, however, hear the other side. The truth is that many simply don't care.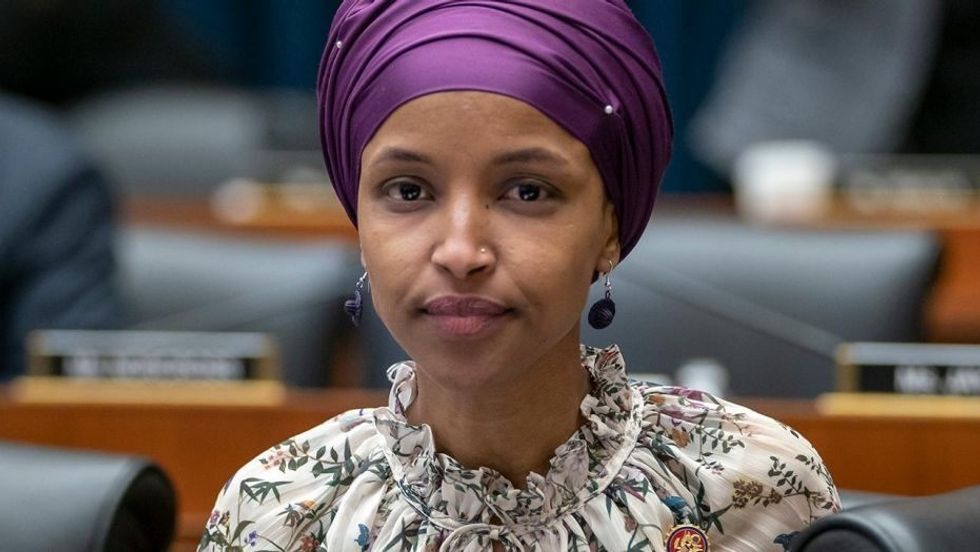 Image via Fox News
Inflammatory Rhetoric, Blatant Lies, Corruption: They Just Don't Care
Many Trump supporters see the flaws in Trump's rhetoric and policies. Many recognize that he's racist. Many of them admit that they themselves are racist. And they don't care.
They don't care that he lies constantly. One study presented Trump supporters with a false statement of his and then corrected it. Though people largely accepted the corrections, this didn't change their views about Trump. "People were willing to say Trump was wrong, but it didn't have much of an effect on what they felt about him," said one of the researchers. Apparently, sometimes fact checks can even backfire, somehow making people even more convinced of a false story; but even when the evidence is irrefutable, it seems that Trump supporters simply could care less.
They don't care about the way Trump tweets or conducts himself. They don't mind his attitudes towards women or minorities. This is the reason that summits like Women for Trump occur; this is the reason why people of color and queer people have supported Trump. Either they refuse to see who he really is, or they don't care about his conduct. Regardless, there is nothing that anyone could say or do that could change this.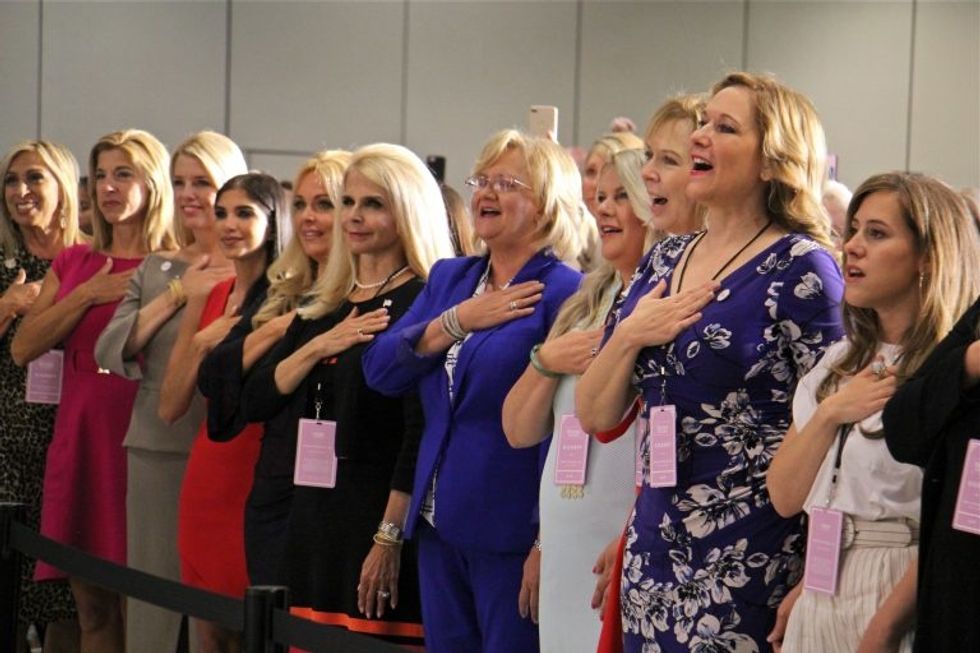 Image via WHYY.org
All this may stem from the bulletproof cult mentality Trump has built around himself. "What might look like corruption or cronyism to neutral observers is seen by the supporters of populists as doing the right thing for the right people, the "real people," said political theorist Jan-Werner Müller. "This is why the tribal appeal of populism is so crucial. Populist leaders thrive on distinctions between 'us' and 'them,' between 'the people' and 'the establishment.'"
On the other hand, some people don't even care that Trump has built a cult around himself, just like they don't care that Trump is a racist cult leader, just like they don't care that he's breeding hatred and distrust and fear.
What do they care about?
The answer is surprisingly simple.
Money, Money, Money
The number one thing that Trump has going for him, right now, is the U.S. economy. Unemployment is at its lowest in years, and this alone is the reason that many of his supporters have resolutely stuck by him. Nevermind that the seeds for this economic growth were planted by the Obama presidency—or that we are at risk of another recession—or that Trump has threatened to cut life-saving benefits, like welfare for poor people—or that climate change threatens to present the largest economic catastrophe in the history of the world—or that 2.2 million Americans are making minimum wage or less ($7.25 per hour), and only 0.1% of those 2.2 million can afford housing.
All that matters is that Americans are working their 9 to 5's, right?
Not exactly. Under Trump, the U.S.'s five largest banks earned tens of billions of dollars in the first half of 2019. Nevermind that Trump's policies led Rand Paul to block a funding bill for 9/11 victims and first responders—though Paul supported Trump's 2017 tax bill, which cut taxes drastically for mega-corporations. Nevermind that the number of corporations paying no taxes has increased from 30 to 60 percent since Trump's tax bill, which has been widely panned as a bust. Nevermind that Trump is still planning more tax cuts for the 1%.
At least he's not threatening us with socialism, right?
Why Are We So Obsessed With Money?
At the core of the division between Trump supporters and everyone else is that Trump supporters are married to a fundamental ideology of Republicanism, which recoils from any semblance of government interference. This division stems from the age-old battle between freedom and control that defines the Democratic-Republican split. This is the same divide that separates communism and capitalism and that stems from the division between collectivism and individualism.
Naturally, each side has positive points; neither is implicitly ill-intentioned. Each can be blown out of proportion, however, particularly when they're implemented by a demagogue.
And at the core of Republican free market values is an individualist mentality, one that proclaims that every person should be left alone to fend and fight for his or herself. This mentality has been so successfully drilled into the American psyche that it is successfully drowning out cries of racism, corruption, and evil. It's why Trump supporters are calling for Rep. Ilhan Omar to be shipped back home: her presence, and the rising prominence of progressive Democrats, represents a fundamental and very real threat to this ideology.
Nevermind that Trump is facilitating this ideology through cultish tactics, is warping America's legacy beyond belief, is imprisoning children, is threatening the world's future, is deepening economic divides, is spreading hatred, is an overt racist. The "right" to own guns—and what it symbolizes—overshadows all of this.
This is the truth: An archaic construct of "liberty" is more important to Trump supporters than any and everything else. It's more important than equality. It's more important than reality. It's more important than taxing the massive corporations and banks that rake in billions each month. It appears that this form of "liberty" is more important than life itself.
If you're not a Trump supporter, then looking out into this alternate reality feels like peering over the edge of another dimension. And it should remain that way. We should not try to empathize with Trump supporters, should not humanize or normalize his actions, should not ever apologize for standing up for human decency, compassion, and the true meaning of American freedom, which is supposed to mean that everyone has the right to the same opportunities.
What we can do is deepen our understanding of this construct of "liberty," so we can effectively identify the holes in it. The gaps and cracks in this terrible freedom are visible, if you know where to look—trace the tapestry of time, trace modern income inequality to slavery to Columbus's genocidal attack on indigenous Americans, and you'll see that America has never been the land of the free. Perhaps it was the land of the free for upper and middle class white people, once upon a time..Perhaps the ideology that fostered that era has been twisted out of shape by relentless corporate greed, twisted into some strange, gilded god, lording over an America where the wealthy are able to grow wealthier and the poor are kept poor, where hatred reigns supreme, where the government is a smiling mask over the ugly corporate bone structure that really runs this nation.
Perhaps the only thing that most of us can agree on is a hatred of corporations and Wall Street companies. (Of course, Trump took $72 million from superPACs during the 2016 election, against his word).
But for Trump supporters, none of this matters.
Similarly, people who love serial killers will often make excuses for their murderous beloveds until the bitter end. They'll insist on the killer's innocence, even if the confession has already been delivered and the footage of the crime scene has been discovered.
The blood has been tested; the fingerprints are there for all to see. And yet, just like hundreds of girls who showed up at Ted Bundy's trial, Trump supporters will keep on flocking to the rallies—and the polls—just to see their star.