An aging naturalist got to a million followers faster than America's A-list sweetheart.
How many 94-year-olds do you follow on Instagram?
If the answer is less than one, then you are not one of the 4.7 million people who have already followed David Attenborough since he joined the platform last week.
Even more impressive, it took the acclaimed naturalist and television presented just 4 hours and 44 minutes to reach 1 million followers. That's the fastest anyone has gotten that many followers—a full 32 minutes faster than Jennifer Aniston achieved the same feat back in October of 2019—and she inaugurated her account with a full reunion photo of the Friends cast.
So how did a British broadcaster who has been stoically narrating nature documentaries for the entirety of recorded history manage to beat an A-list celebrity at what he calls "this new way of communication?" The answer is surprisingly simple: 1) By being David Attenborough and 2) By having something important to say.
The first part is just that everyone who knows who David Attenborough is loves David Attenborough. He may not be nearly as famous or recognizable as Jennifer Aniston, and he doesn't make headlines every time he comes within 10 miles of Brad Pitt, but there may not be another living figure who inspires as much warm devotion as David Attenborough—don't be surprised if he laps Bella Thorne's OnlyFans record next.

In the UK he is widely considered a national treasure—and with good reason. the rich tones of his soothing baritone have become synonymous with the natural world for millions who have watched the canonical versions of BBC's Life (Oprah who?) and Planet Earth (Sigourney what?) among countless other classic documentaries.
He has been working in broadcasting for more than 60 years—traveling the world to document its natural splendor. But as interesting as that work is, if you wouldn't gladly listen to him reading oatmeal recipes for at least that long, you need to have your ears checked.
His voice, along with his regal bearing when he appears on screen—bobbing majestically along with his words—lend him a tremendous talent for making information about the natural world both engaging and digestible. While his older brother, Richard Attenborough, won two Academy awards for his 1982 film Ghandi, in terms of legacy even that achievement can't compete with the refined power of David Attenborough's voice.
But—as Spider-Man's uncle famously said, "With great power comes great responsibility," and David Attenborough is doing his best to put his talents to good use with the time he has left. He joined Instagram not to invite his devoted fans to flock to him but to raise alarms about the state of our world.
Because with all his travels—to all seven continents on this little blue marble—he has witnessed the devastation that's already taking place: a devastation which will only accelerate unless we act quickly and painfully to stop it. Rather than continuing to deny that our gangrenous limb is killing us, it's past time to cut it off and begin the healing process.

If we don't take that kind of drastic measure to counter the political power of industry to continue destroying our planet, what we face is a world of rapidly worsening wildfires (yes, even worse than this year), droughts, hurricanes, crop failures, species extinctions, migrant crises, infectious disease events (again, even worse than this year), and resource wars.
While it's unlikely that Attenborough will live to see the worst of what's coming, he recognizes the existential threat that man-made climate change represents to the natural world, our civilization, and even our species, and he doesn't want to let any opportunity to address that problem go to waste.
That's why he got on Instagram in the days before the premiere of his new documentary, A Life on Our Planet. He has an important message to share. It's a message he recently delivered to Prince William, and it turns out it's a message that millions of others want to hear—as dark as it is.
David Attenborough: A Life on Our Planet | Official Trailer | Netflix www.youtube.com
David Attenborough has seen the horrifying ravages that human industry is wreaking on the natural world—the world that sustains us. He knows where our current trajectory leads—disaster—and he believes that he can see another path. In A Life on Our Planet, which will premiere on Netflix on October 4th, he lays everything out for us.

He's offering us his "vision for the future." All we need to do is listen and act. Sadly, if we continue voting for nationalist, pro-industry leaders like Donald Trump, Boris Johnson, Xi Jinping, and Jair Bolsonaro, we will never achieve the will to act on the global scale necessary to avoid a climate cataclysm that will cripple every nation on Earth.
So, after you watch Life on Our Planet—and allow Attenborough's soothing tones to make the whole disastrous mess seem a lot more real and little less overwhelming—please don't forget to vote.
Keep reading...
Show less
"In a racist society it is not enough to be non racist. We must be anti-racist." - Angela Davis
Yesterday, Tony McDade was shot in cold blood by a white cop.
On Wednesday, George Floyd was murdered by a policeman.

Last week we lost Breonna Taylor and Ahmaud Arbery to police violence.
These racist killings of innocent people—reminiscent of lynchings, indicative of the systems of oppression of people of color and particularly Black people that have only morphed and grown more insidious over the years—have many people feeling motivated to join the ongoing fight against police brutality and racism in America, while others are feeling the call to deepen their involvement and join in protests.
Wherever you are, the best place to start is always with education, and the Internet is full of resources carefully compiled by people trained in anti-oppression, people who are sharing free resources in the hopes that they might help mobilize movements in the fight for justice.
Here are just ten social media accounts to start with. These are only jumping-off points—places to start the journey. White people in particular need to be careful and thoughtful while beginning this work. Please don't steal these activists' work or message them asking for help—the Internet has more than enough resources that you can digest on your own without asking for more labor from people of color.
Don't let this be the end of your advocacy. Don't let injustice continue to fester while you remain silent. Donate, read, protest if you're able, and get ready to stand in solidarity for the long haul.
1. Rachel Cargle
Rachel Cargle is an incredible writer and activist whose platform offers a selection of invaluable resources. Her Patreon course, "The Great Unlearn," is dedicated to sharing information, helping people unlearn systemic racism, and sparking action. Her personal accounts are also full of valuable, carefully crafted guides and actionable steps.
Part memes and TikToks, part information and political education, @urdoinggreat has a reel full of highlights on Instagram that are worth scrolling through as well as a Patreon full of useful content. Whether you're looking to understand why riots work or wanting to learn more about the radical Black history of mutual aid, Gem's account is full of enlightening and easily digestible tools for anyone looking to join the revolution.
3. We Are Malikah
Malikah is a "global grassroots movement, a network of active and engaged women leaders."
4. The Equal Justice Initiative
The Equal Justice Initiative works to end racial inequality and mass incarceration. Their Twitter feed is full of informative articles about the history of race and racism and the way it manifests in modern acts of racist violence.
4. Black Visions Collective
Black Visions Collective "believes in a future where all Black people have autonomy, safety is community-led, and we are in right relationship within our ecosystems." Focusing on systemic transformation through collective power, it's a Minnesota-based campaign with a global vision for racial justice and for a world where Black lives matter.
5. The Conscious Kid
This account is meant to help parents raise anti-racist children, but let's face it: We could all use a brush up on the basic facts, because we were all raised in education systems that prioritized whiteness.
6. @ckyourprivilege
Founded by Myisha T. Hill, @ckyourprivilege offers many resources for anyone interested in dismantling white supremacy and unlearning their complicity in these systems.
7. Austin Channing
The author of "I'm Still Here: Black Dignity in a World Made for Whiteness" has an incredibly comprehensive social media and online presence, full of resources and books and web series and based in collaborative learning and collective action.
8. Showing Up For Racial Justice (SURJ)
SURJ fights for collective liberation. With chapters across the country and an established theory of change, and with an emphasis on creating accountability for white folks, they are a great place to donate to or join.
9. Layla F. Saad
Layla F. Saad is a writer who frequently shares events and observations about allyship and racial justice. The author of White Supremacy and Me and the co-host of the Good Ancestor podcast, her account and work is a no-nonsense direct challenge to white supremacy.
10. Matt McGorry and We Inspire Justice
Actor Matt McGorry's account is a treasure trove of anti-racist resources (as well as ani fat-phobia, intersectional feminism and more). He's also the co-founder of We Inspire Justice alongside JLove Calderón, and all are worth following and paying close attention to.
This is by no means a comprehensive list. It's just a starting point, a place to gather bearings and to develop an understanding of basic rules before plunging into the work of fighting for justice and for human rights, which is really just doing the bare minimum to prevent cold-blooded racist violence. While posting and reading on social media is more important, it's much more valuable to protest, to donate, and to join movements with pre-established visions and commitments to deep work. It's up to each of us to fight this f*cked up racist policing system.
Keep reading...
Show less
Clothing companies have found a brand new way to market their wares.
In the years since Instagram's founding, the site has slowly transformed from a forum where users post pictures instead of status updates into a whirlwind of native advertising. Influencers jostle for space on cluttered timelines, repping the newest clothing or gadgets, showing off luxurious lifestyles to their many followers. While celebrity endorsements aren't anything new, the way in which advertisers and PR wonks have found an avenue through which to manufacture celebrity definitely is. It's a new spin on direct marketing, giving consumers a glimpse into the interior lives of the well-manicured and put together characters one might see in a commercial. It's also incredibly effective, and has that magical effect which used to be a monopoly held by Super Bowl sponsors; people actually look at the native advertising on influencers' pages voluntarily.
Still, there are certain associated costs that go along with giving influencers free merchandise. Sending products out is never a guarantee either, since influencers are inundated with packages from various marketing teams. Worst of all however, if this person is a reviewer, there's always the chance they publicly criticize the very thing they were meant to advertise. Recently, a Los Angeles-based startup called Brud came up with an innovative solution, simultaneously eliminating every problem one might associate with dealing with influencers. They built one in house using CGI technology. They even gave it a name. She's called Lil Miquela.
While it's relatively clear how advertisers benefit from CGI influencers, a reasonable question for someone unacquainted with Lil Miquela's account is: what's the appeal for the audience?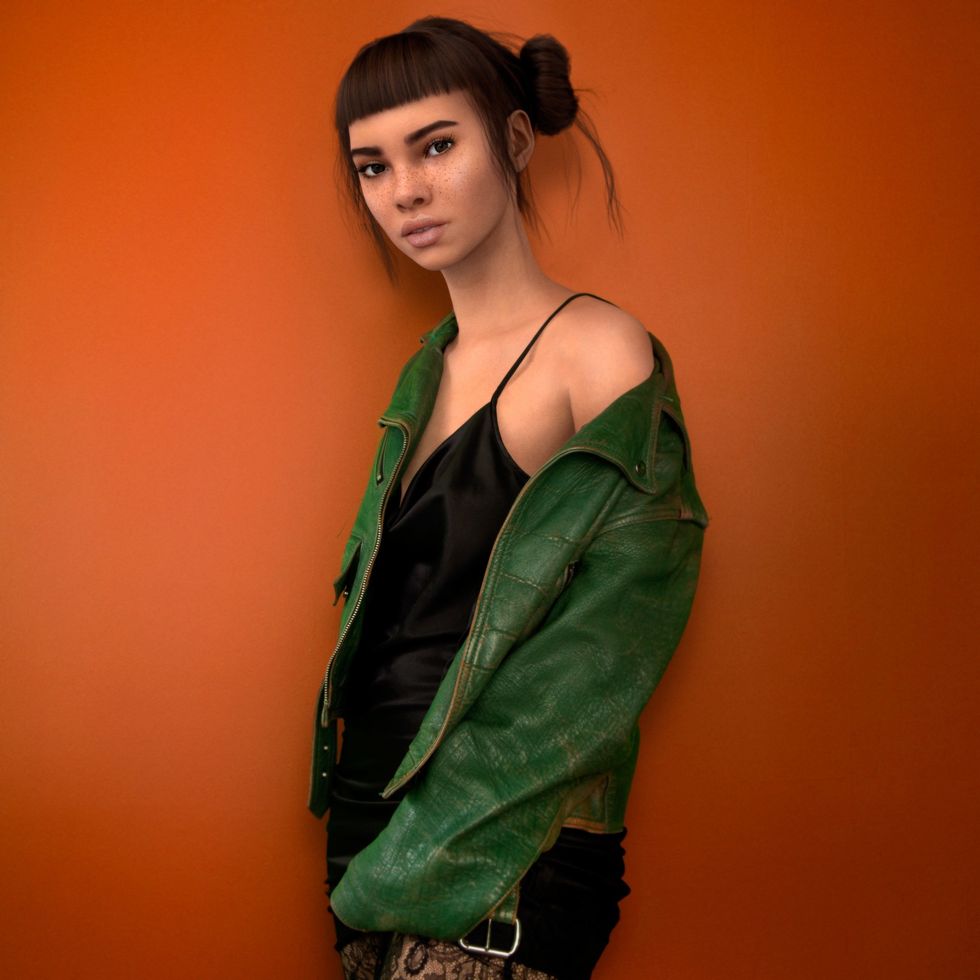 Lil Miquela
Brud was careful in their cultivation of Lil Miquela's "interests" and use the account to voice support for various social causes such as Black Lives Matter and LGBT rights, gathering followers through the use of popular hashtags and social movements. They also spend a lot of time writing convincing copy that accurately mimics the style of many Instagram photo captions. That said, for all of her realistic qualities, Lil Miquela is distinctly not human, and from a consumer standpoint this presents certain issues. For one, it's fairly difficult for some to trust a computer generated image's testimonials on fabric softness or style. There's something decidedly inauthentic about taking fashion advice from something that's never really worn clothing. That said, this hasn't stopped brands such as Fenty, Diesel, and Moncler from allowing various CGI influencers to rep their wares.
Secondly, CGI influencers, by virtue of not actually existing, occupy a nebulous legal space. Last year, the Federal Trade Commissions updated their guidelines surrounding influencers, requiring Instagrammers and other social media users to indicate whether or not their posts have been paid for, typically with the hashtags #sponsored or #ad. It's still unclear whether or not CGI influencers will be bound by these same rules.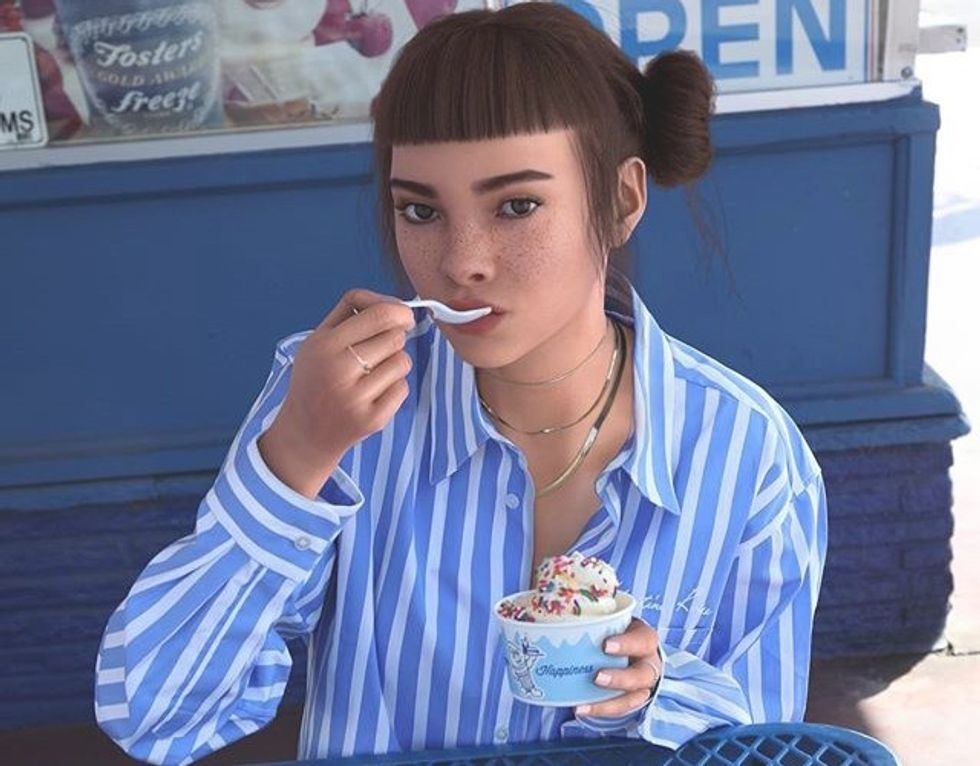 As companies begin to catch onto this growing trend, many are expecting this niche to explode, with individual influencers being crafted to tout certain brands. If this happens however, advertisers risk over-saturating social media with manufactured accounts. CGI influencers could turn into glorified wrapping paper for what would essentially be very expensive and carefully designed banner ads.
That said,
improvements in CGI technology
offer companies a different means of advertising their products: licensing the CGI rights to various celebrities for use in online marketing. While Morgan Young, CEO of Quantum Capture,
thinks
certain questions regarding rights management will have to be answered before this occurs, it could be only a matter of time before a cartoon version of Reese Witherspoon appears on your Instagram feed and discusses the various merits of buying a Fossil™ watch. This technology is still in its infancy, but the development of CGI in the advertising space is certainly interesting. Depending on how the FTC chooses to regulate CGI influencers and whether these influencers are accepted into the mainstream, we could be witnessing the birth of an entirely new industry.
Keep reading...
Show less