"A tree is best measured when it is down," the poet Carl Sandburg once observed, "and so it is with people." The recent death of Harry Belafonte at the age of 96 has prompted many assessments of what this pioneering singer-actor-activist accomplished in a long and fruitful life.
Belafonte's career as a ground-breaking entertainer brought him substantial wealth and fame; according to Playbill magazine, "By 1959, he was the highest paid Black entertainer in the industry, appearing in raucously successful engagements in Las Vegas, New York, and Los Angeles." He scored on Broadway, winning a 1954 Tony for Best Featured Actor in a Musical – John Murray Anderson's Almanac. Belafonte was the first Black person to win the prestigious award. A 1960 television special, "Tonight with Belafonte," brought him an Emmy for Outstanding Performance in a Variety or Musical Program or Series, making him the first Black person to win that award. He found equal success in the recording studio, bringing Calypso music to the masses via such hits as "Day-O (The Banana Boat Song)" and "Jamaica Farewell."
Harry Belafonte - Day-O (The Banana Boat Song) (Live)www.youtube.com
Belafonte's blockbuster stardom is all the more remarkable for happening in a world plagued by virulent systemic racism. Though he never stopped performing, by the early 1960s he'd shifted his energies to the nascent Civil Right movement. He was a friend and adviser to the Reverend Doctor Martin Luther King, Jr. and, as the New York Times stated, Belafonte "put up much of the seed money to help start the Student Nonviolent Coordinating Committee and was one of the principal fund-raisers for that organization and Dr. King's Southern Christian Leadership Conference."
The Southern Poverty Law Center notes that "he helped launch one of Mississippi's first voter registration drives and provided funding for the Freedom Riders. His activism extended beyond the U.S. as he fought against apartheid alongside Nelson Mandela and Miriam Makeba, campaigned for Mandela's release from prison, and advocated for famine relief in Africa." And in 1987, he received an appointment to UNICEF as a goodwill ambassador.
Over a career spanning more than seventy years, Belafonte brought joy to millions of people. He also did something that is, perhaps, even greater: he fostered the hope that a better world for all could be created. And, by his example, demonstrated how we might go about bringing that world into existence.
Bronx native Alexandria Ocasio-Cortez first burst onto the political scene in the summer of 2018 with an incredible underdog win against 10-year incumbent Democrat Caucus Chair Joe Crowley.
Since then she's become an overnight celebrity, that infamous win being just the first of many historic moments to follow in her wake. During her short two years in office, she's done a lot, including authoring both the Green New Deal and the COVID-19 Funeral Assistance Act and introducing them to Congress.
(Seriously, when I say she's done a lot, I mean it — here's just some of her incredible political accomplishments, straight from the icon herself.)
Representative Cortez has proven that she's pretty amazing at a lot of things, but her most impressive skill of them all may just be her flawless social media game.
AOC is a trailblazer when it comes to the intersection of politics and social media. She has mastered the art of using her digital platforms (particularly Instagram and Twitter) to connect with her constituents and educate them on current political issues, legislation, votes, and world events. She breaks complex topics down into bite-sized pieces, answers public questions, and includes links to helpful infographics and resources.
Her down-to-Earth-ness is making politics much more accessible for young people who may otherwise find these topics too confusing or intimidating to research on their own. Her stories, livestreams, Q&As, and easy-to-digest explanations have brought an entire generation of voters into the loop when, for so many years, the ultimate goal of politicians was to keep us as far out of it as possible.

Livestreams
AOC has done quite a few Instagram Lives where she utilizes some of her spare time (it's hard to believe she has any) to talk with and answer her followers' questions.
She's even gone live on Twitch where a record-breaking 435,000 people watched her play Among Us with her fellow Congresswoman Minnesota Representative Ilhan Omar, as well as some popular streamers like Hasan Piker (Twitch user HasanAbi), Imane Anys (Twitch user Pokimane), Benjamin Lupo (Twitch user Dr Lupo), and Jeremy Wang (Twitch user Disguised Toast), among others. As of this writing, the archived video now has more than 5.6 million views.
AOC Among Us FULL STREAM with Ilhan Omar and Twitch Streamers #IWillVote | 10/20/20www.youtube.com
In a completely unprecedented move, she posted an hour-long livestream where she broke down each part of the upcoming COVID relief bill and addressed questions and concerns from her followers in regards to exactly what this would mean for them and how it would affect them.
What Happened at the Capitol Instagram Live | Alexandria Ocasio-Cortezwww.youtube.com
Never in American history have we had a politician that has taken the time to so closely and accurately explain what is in a piece of legislation to constituents. And especially during the pandemic — a time for so many people that was confusing, overwhelming, and frankly, pretty terrifying — having a politician be completely transparent about details surrounding relief was an incredible show of how politicians should serve the people.
"We are now in the era of receipts. People now want to see the actual clips of legislation. They want to hear less about our stances." - AOC
Although she's done many, her two most-watched lives are unsurprisingly both about the January 6th insurrection. In her first live addressing the situation, she explained what happened at the Capitol and answered some questions before stating that she wasn't quite ready to go into detail about her personal experience yet. A few weeks later, she revisited the topic in a second live where she finally dug a little bit deeper and got more personal about her experience, revealing the trauma she had endured and had been enduring ever since the violent attack on the capital.
Behind the Scenes and Q&As
Recently, in another never-before-seen political display of transparency, she's been taking her followers behind the scenes on her Instagram stories to see what she does in a week as a government employee. When most politicians would probably rather die (or have you die) than let you see what they're up to in a week, AOC wants to make sure you know that your tax dollars aren't wasted on her salary by showing you exactly what's in her work agenda: helping the people every single day.
During the COVID-19 pandemic (and the discourse surrounding the safety and legitimacy of vaccines), her Q&As have been an indispensable resource for a lot of people. She was very vocal about her COVID vaccination process and took her Instagram followers with her through the entire process via her stories, keeping them updated on her symptoms and side effects. (You can see all of this in a highlight she has pinned on her Instagram profile.)
Recently for Pride Month, she posted this Instagram story putting some companies on blast for using pride logos when they're funding anti-LGBTQ+ politicians behind the scenes. (We love an ally with receipts!)
Just @AOC using political social media flawlessly once again https://t.co/45LSkVLvev

— 🐉Samwise✨ (@🐉Samwise✨) 1623285306.0
The Relatability Factor

I know the term "relatable" has been completely overplayed by internet culture, but a certain air of relatability is such an important tool for politicians to have. People want to know real people, and the way Representative Cortez uses her social media to connect on a relatable level not just with young people, but constituents of all ages, is ingenious when it comes to breaking down the walls of secrecy surrounding political literacy.
Ocasio-Cortez comes from a lower-middle-class background, and before becoming a politician, she worked in the restaurant industry as a bartender. The fact that she comes from a "normal" background where she held a "normal" job gives her the distinct advantage of really knowing what it's like to live in the shoes of the people she represents. (As a former restaurant worker myself, it hits really close to home.) She knows what the most important issues are because she's lived them. She knows how to speak to people in vulnerable positions because she's been in them. And she knows how to connect with her audience because she understands the importance of accessibility.
AOC utilizing social media doesn't just make her relatable, it makes her accessible. There are so many people across America that don't have access to proper education or resources about things like politics, vaccines, laws, legislations, and voter rights — but many of them do have access to Instagram.
Representative Ocasio-Cortez has set a very high standard in terms of digital literacy for the next generation of politicians. She's setting a new precedent in terms of their responsibility to use their platforms as an opportunity to be open, honest, and engaging with their constituents. With the internet and social media increasingly becoming more ingrained in our everyday lives, it's more important than ever that politicians pivot to utilizing the platforms that will connect them the most efficiently with the people they represent. And to get started, it's easy: All they have to do is take the Masterclass from AOC herself.
Clothing companies have found a brand new way to market their wares.
In the years since Instagram's founding, the site has slowly transformed from a forum where users post pictures instead of status updates into a whirlwind of native advertising. Influencers jostle for space on cluttered timelines, repping the newest clothing or gadgets, showing off luxurious lifestyles to their many followers. While celebrity endorsements aren't anything new, the way in which advertisers and PR wonks have found an avenue through which to manufacture celebrity definitely is. It's a new spin on direct marketing, giving consumers a glimpse into the interior lives of the well-manicured and put together characters one might see in a commercial. It's also incredibly effective, and has that magical effect which used to be a monopoly held by Super Bowl sponsors; people actually look at the native advertising on influencers' pages voluntarily.
Still, there are certain associated costs that go along with giving influencers free merchandise. Sending products out is never a guarantee either, since influencers are inundated with packages from various marketing teams. Worst of all however, if this person is a reviewer, there's always the chance they publicly criticize the very thing they were meant to advertise. Recently, a Los Angeles-based startup called Brud came up with an innovative solution, simultaneously eliminating every problem one might associate with dealing with influencers. They built one in house using CGI technology. They even gave it a name. She's called Lil Miquela.
While it's relatively clear how advertisers benefit from CGI influencers, a reasonable question for someone unacquainted with Lil Miquela's account is: what's the appeal for the audience?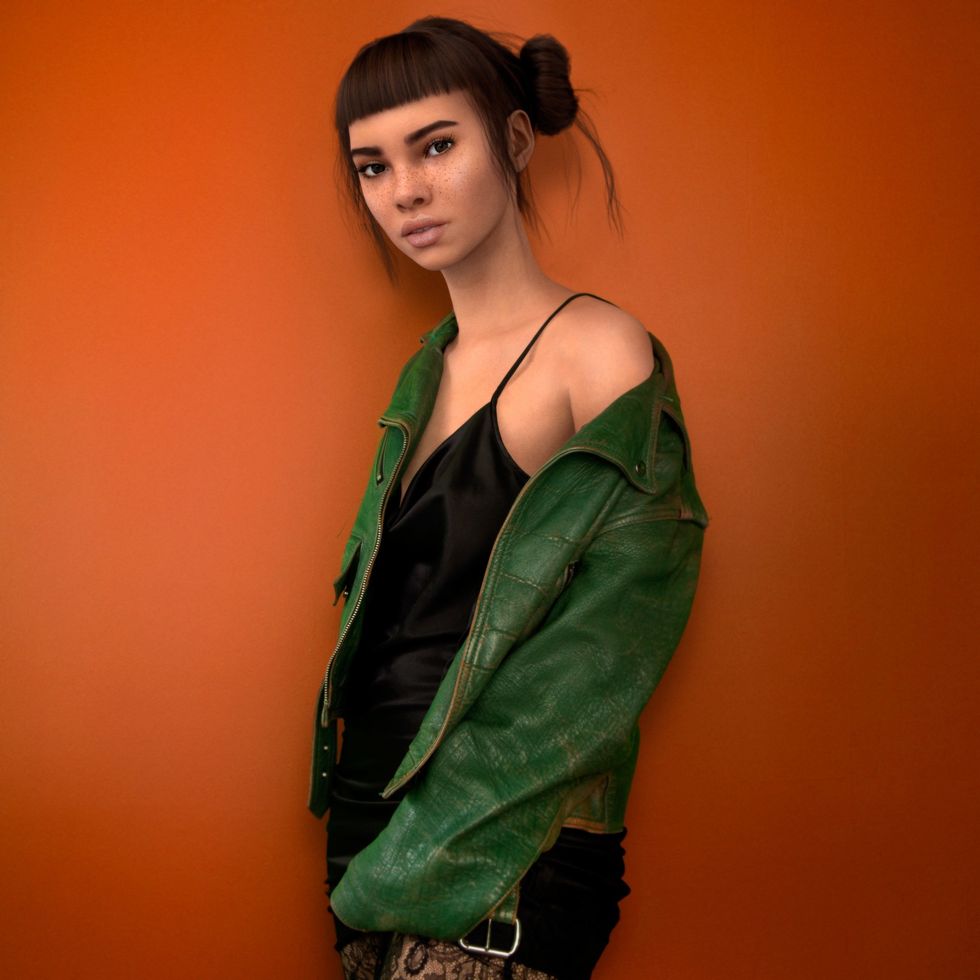 Lil Miquela
Brud was careful in their cultivation of Lil Miquela's "interests" and use the account to voice support for various social causes such as Black Lives Matter and LGBT rights, gathering followers through the use of popular hashtags and social movements. They also spend a lot of time writing convincing copy that accurately mimics the style of many Instagram photo captions. That said, for all of her realistic qualities, Lil Miquela is distinctly not human, and from a consumer standpoint this presents certain issues. For one, it's fairly difficult for some to trust a computer generated image's testimonials on fabric softness or style. There's something decidedly inauthentic about taking fashion advice from something that's never really worn clothing. That said, this hasn't stopped brands such as Fenty, Diesel, and Moncler from allowing various CGI influencers to rep their wares.
Secondly, CGI influencers, by virtue of not actually existing, occupy a nebulous legal space. Last year, the Federal Trade Commissions updated their guidelines surrounding influencers, requiring Instagrammers and other social media users to indicate whether or not their posts have been paid for, typically with the hashtags #sponsored or #ad. It's still unclear whether or not CGI influencers will be bound by these same rules.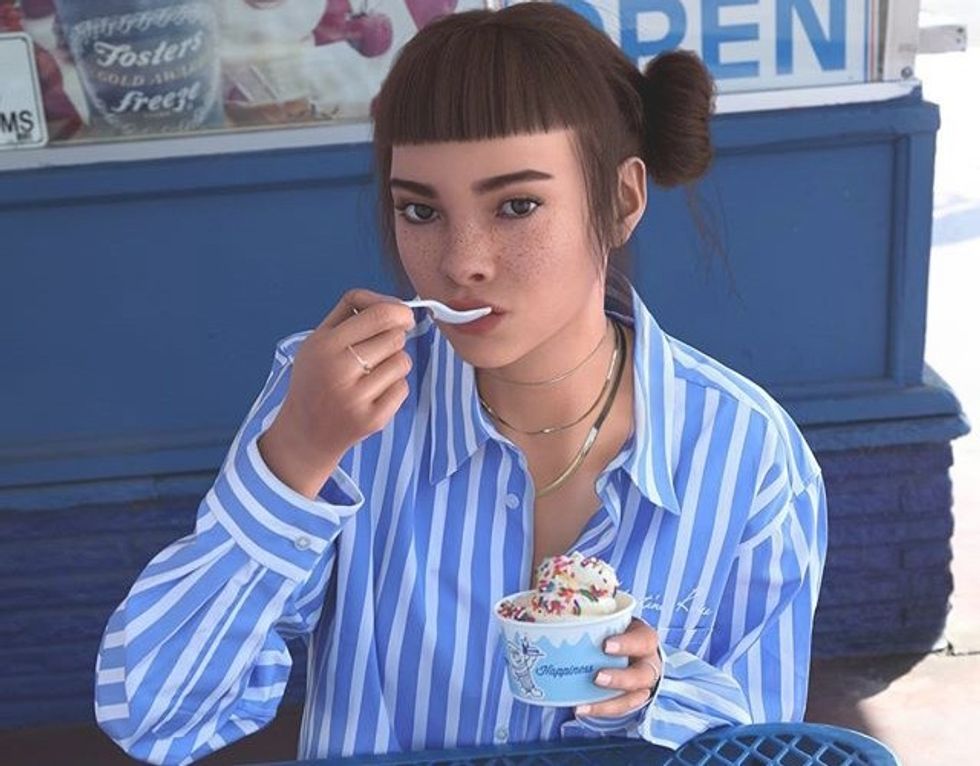 As companies begin to catch onto this growing trend, many are expecting this niche to explode, with individual influencers being crafted to tout certain brands. If this happens however, advertisers risk over-saturating social media with manufactured accounts. CGI influencers could turn into glorified wrapping paper for what would essentially be very expensive and carefully designed banner ads.
That said,
improvements in CGI technology
offer companies a different means of advertising their products: licensing the CGI rights to various celebrities for use in online marketing. While Morgan Young, CEO of Quantum Capture,
thinks
certain questions regarding rights management will have to be answered before this occurs, it could be only a matter of time before a cartoon version of Reese Witherspoon appears on your Instagram feed and discusses the various merits of buying a Fossil™ watch. This technology is still in its infancy, but the development of CGI in the advertising space is certainly interesting. Depending on how the FTC chooses to regulate CGI influencers and whether these influencers are accepted into the mainstream, we could be witnessing the birth of an entirely new industry.