The Trump Administration's new regulation would affect legal immigrants on welfare programs such as food stamps.
A new rule proposed over the weekend by the Trump Administration seeks to limit green cards to those who legally use food stamps, Medicaid, and other public benefits.
Pro-immigrant groups quickly condemned the regulation, saying that it creates additional barriers for legal immigrants in the U.S.
The National Immigration Law Center's executive director Marielena Hincapié said in a statement: "The Trump administration is using this regulatory backdoor approach because it attempted to enact its draconian agenda of restricting legal immigration through Congress — and failed. This rule change is radical and extreme, and it leaves the door wide open for potential abuse. All of us, regardless of where we were born, suffer when immigrants are penalized for trying to have their basic needs met."
There's longstanding precedent in federal law for denying resident status to immigrants deemed a "public charge," meaning they are a potential threat to the economy. The new proposal is the first time healthcare and other non-monetary benefits are being targeted. Previously, limitations were only placed on those receiving cash benefits.
"Under long-standing federal law, those seeking to immigrate to the United States must show they can support themselves financially," said Department of Homeland Security Secretary Kirstjen Nielsen in a statement. "This proposed rule will implement a law passed by Congress intended to promote immigrant self-sufficiency and protect finite resources by ensuring that they are not likely to become burdens on American taxpayers."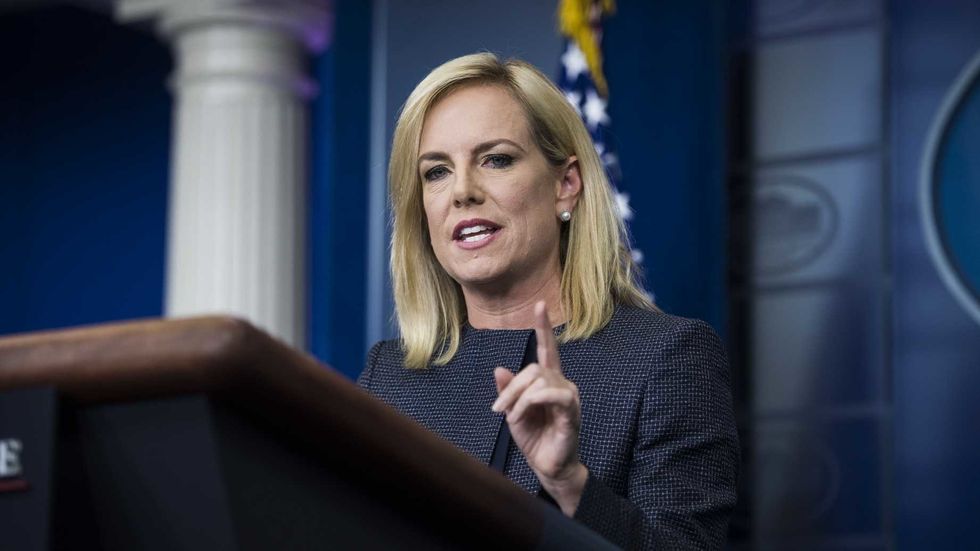 Department of Homeland Security Secretary Kirstjen NielsenJabin Botsford/The Washington Post via Getty Images
Millions of immigrants rely on public assistance for necessities such as food and shelter, and the updated rules could force a difficult decision between accepting help and applying for a permit to work and live in the U.S. legally. Older immigrants who rely on low-cost prescription drugs provided by Medicare may be particularly vulnerable, according to the New York Times.
Trump's administration reports that the regulation is not intended to target those already with green cards and will only affect 382,000 people per year. Advocates worry legal immigrants will stop using public benefits to protect themselves.
In response to the news, the American Civil Liberties Union tweeted:
This move by the Trump administration is a new attempt to kick and keep immigrants out of our country and attack people with disabilities, including people with HIV and those who are enrolled in the Medicaid program.https://t.co/SsKkQNC9Qu
— ACLU (@ACLU) September 23, 2018
The proposed regulation comes less than six weeks before the U.S. midterm elections and must undergo a public comment period before it can be implemented.

Joshua Smalley is a New York-based writer, editor, and playwright. Find Josh at his website and on Twitter: @smalleywrites.
Keep reading...
Show less