Pogues frontman Shane McGowan was an ancient 65 when he died on November 30. Television producer Norman Lear was a youthful 101 when he left this realm on December 5. No doubt his zest for life kept him going for so long – and his zest for controversy.
Norman Lear's work was an integral part of American life in the second half of the 20th Century. Television programs like Maude, Sanford and Son, and The Jeffersons dragged television out of the 1950s and into the real world. As Variety states: "Lear's shows were the first to address the serious political, cultural and social flashpoints of the day – racism, abortion, feminism, homosexuality, the Vietnam war – by working pointed new wrinkles into the standard domestic comedy formula. No subject was taboo: Two 1977 episodes of All in the Family revolved around the attempted rape of lead character Archie Bunker's wife Edith."
All in the Family, which ran on CBS from 1971 to 1979, typified the clash of generations. Middle-aged bigot Archie Bunker – played by Carrol O'Connor – was a right-wing King Lear in Queens, raging at the radical changes in society. Archie didn't let ignorance get in the way of his opinions; once he argued that people who lived in communes were communists. The thing is, the old dog was actually capable of learning new tricks. Archie never evolved into any kind of saint. But over the nine seasons "Family" aired, experience taught Archie the benefits of listening to (and respecting) viewpoints far different from his own.
All in the Family was the jewel in Lear's crown, but don't forget the highly popular shows One Day at a Time (which featured Bonnie Franklin as a divorcee raising two daughters in the Midwest) and Mary Hartman, Mary Hartman (with Louise Lasser as the titular figure in a parody of soap opera conventions). Good or bad, Lear's work was never indifferent.
More recently, you may have heard about Lear's lively activism. His TV shows were themselves arguments for free and unfettered speech, and Lear supported a slate of liberal causes. In 1981 he founded People for the American Way. The organization's website describes the ways that PFAW has "engaged cultural and community leaders and individual activists in campaigns promoting freedom of expression, civic engagement, fair courts, and legal and lived equality for LGBTQ people."
Lear's life was a long and fulfilling one. In 1978 he was given the first of two Peabody Awards, the most prestigious award in television. "To Norman Lear," it reads, "...for giving us comedy with a social conscience. He uses humor to give us a better understanding of social issues. He lets us laugh at our own shortcomings and prejudices, and while doing this, maintains the highest entertainment standards."
A pioneer, a gadfly of the state, a mensch. To paraphrase a lyric from All in the Family's theme song, "Mister, we could use a guy like Norman Lear again."
The term is typically used to refer to a whole person, not a person's legal status, and so it therefore implies that the person themselves is not a viable human being, thus not entitled to any human rights protections.
The word "illegal" has become a buzzword in modern immigration discourse, a common way of describing someone who has crossed the border into America without papers.
The term is typically used to refer to a whole person, not a person's legal status, and so it therefore implies that the person themselves is not a viable human being, thus not entitled to any human rights protections.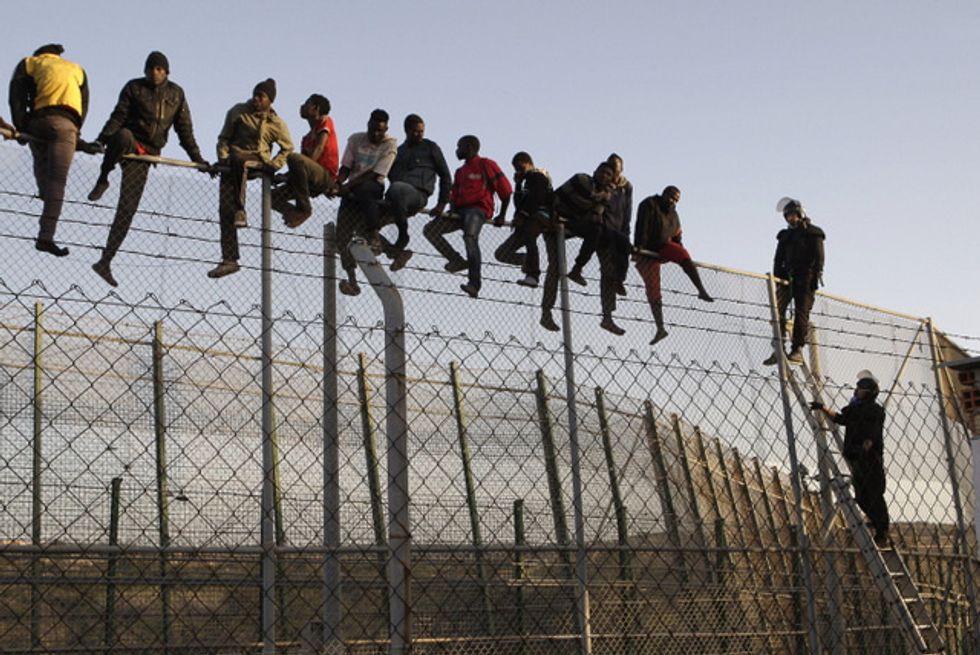 Image via thoughtco.com
The term "illegal immigrant" was first coined to describe Jews fleeing during the second world war. "How can a human being be illegal?" asked the writer and Holocaust survivor Elie Wiesel, pinpointing the contradictory nature of the term. In 2017, journalist Maria Hinojosa riffed on Elie Wiesel's description of illegality, stating that "Because once you label a people 'illegal,' that is exactly what the Nazis did to Jews.' You do not label a people 'illegal.' They have committed an illegal act. They are immigrants who crossed illegally. But they are not an illegal people."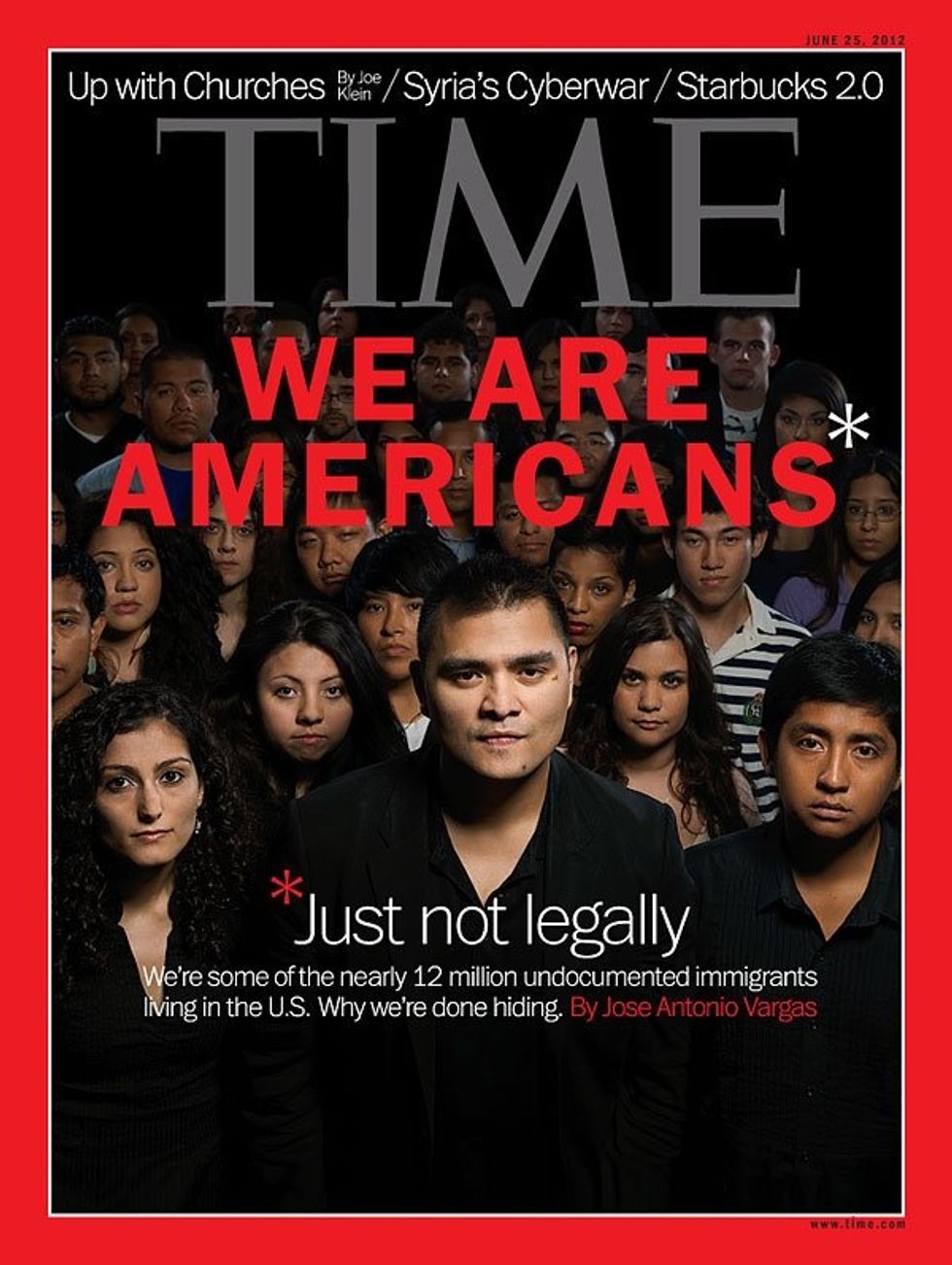 Image from Time
Being labeled as illegal has severe consequences for those who fall under the term's shadow. An "illegal" immigrant cannot demand raises or report human rights abuses at work. Undocumented immigrants face the double pressure of fear of being sent back to where they came from and fear of being 'found out' in their new nation.

The majority of migrants labeled as "illegal" are actually doing work for low wages, and provide services while demanding nothing in return. In practice, their work is similar to mass incarceration, which keeps whole segments of the population out of sight while they perform unpaid labor and are unable to exercise their civil rights.
In the novel Dear America: Notes from an Undocumented Citizen, the Filipino journalist Jose Antonio Vargas outlines the unique stresses and pains that come with living as an undocumented civilian. "This book is about homelessness," he writes, "not in a traditional sense, but the unsettled, unmoored psychological state that undocumented immigrants like me find ourselves in. This book is about lying and being forced to lie to get by; about passing as an American and as a contributing citizen; about families, keeping them together and having to make new ones when you can't. This book is about constantly hiding from the government and, in the process, hiding from ourselves."
Vargas, a successful reporter, came to the US at eight and discovered he was undocumented at age 11; what followed were decades of trying to hide his status until he finally spoke out and became one of the most famous undocumented citizens in the public eye.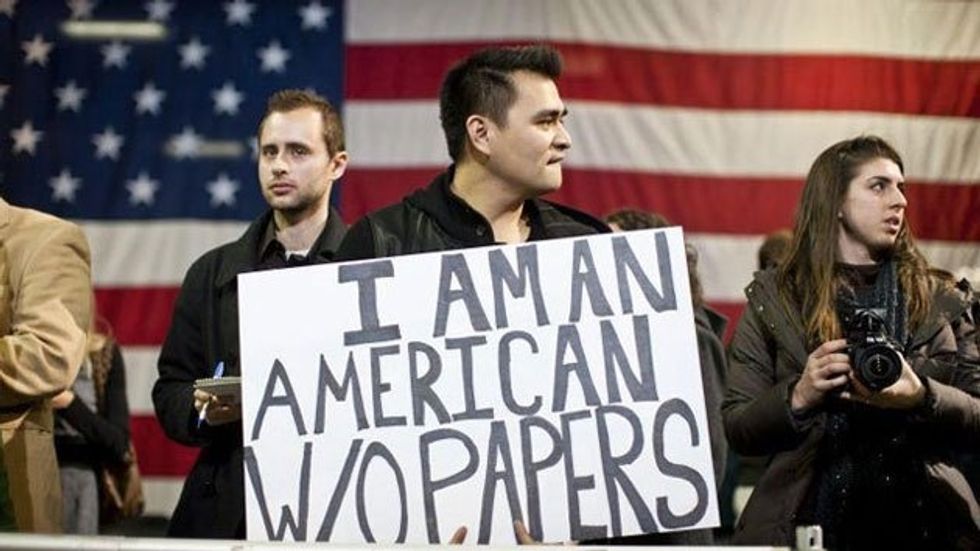 Image via Mother Jones
Every single migrant's story is different, and for many people, speaking out is not an option. Many people have to work, to support families or relatives at home, and cannot risk "coming out" as illegal like Vargas.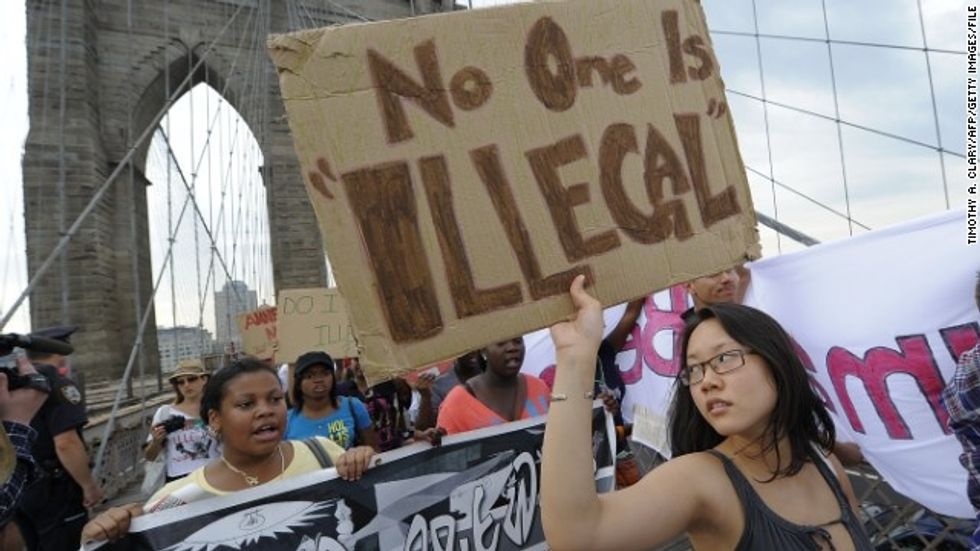 Image via CNN.com
Studies have found that undocumented immigrants—especially those of Latinx descent—are especially at risk of mental health disorders due to the unique combination of trauma and secrecy that often plagues their journeys to the United States. As Warsan Shire writes in her stunning poemHome, "how do the words / the dirty looks / roll off your backs / maybe because the blow is softer / than a limb torn off." Although living in an America that calls them "illegal" is preferable to remaining in their native countries, many migrants have written about the psychological impacts of living in constant fear, and of being "found out" on American soil.

Bigotry and xenophobia may be better alternatives than the violence that many migrants faced at home, but defining groups of people as "illegal" is a convenient way to strip human beings of their humanity, the very thing that lies at the heart of the United Nations' Declaration of Human Rights. Peoples who are in flux are especially at risk of getting lost, as official laws refuse to help them; outside of the light of official regulations, people are quite literally disappearing, slipping into the cracks between policy and legal protection.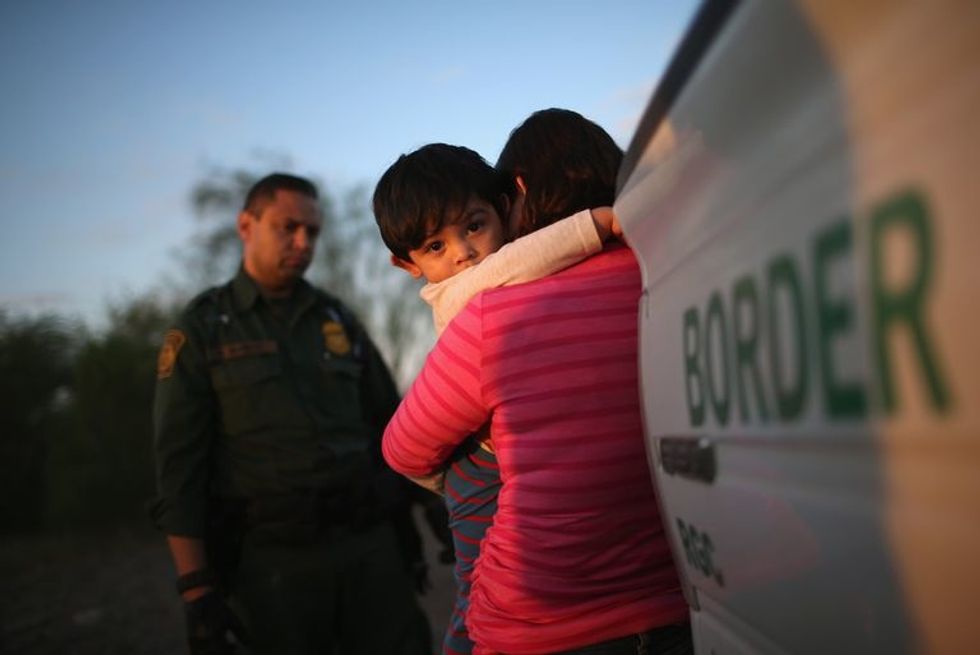 Image via thoughtco.com
Keeping people in the subterranean realms of the criminal justice system or beneath the umbrella term of "illegal," is the result of a cycle that relies on many elements that work to perpetuate it. Xenophobia is one of the important steps that keep this cycle in place. A pervasive distrust of foreigners is a way of creating divisions and continuing cycles of disadvantage. Human rights abuses happen when human beings become faceless, anonymous, and stripped of recognition and legal protection. Rejecting and silencing people because they are so-called "illegal" even if it is not consciously spoken, is a way of selectively subjugating certain voices.
Of course, America has never been open to all migrants. This nation has a history of drawing non-white migrants to it when it needed labor—such as with the Chinese in California during the building of the railroads in the 19th century—and sending them home via acts like the Chinese Exclusion Act once the work was completed. This nation has a history of silencing certain groups, making it so they have no chance to even take a crack at the American dream.
Everyone is allowed to use language to express their beliefs—that's one foundational premise of the American experiment that everyone can agree on (though of course in practice it gets more complicated). Language is always political, and the word "illegal" carries powerful implications that it should at least be understood, not thrown around as an abstract umbrella term.
---
Eden Arielle Gordon is a writer and musician from New York City. Follow her on Twitter at @edenarielmusic.