Federal land is diminishing at a frightening pace under Trump.
Much of Alaska has long been protected from oil drilling by laws intended to preserve the natural beauty of one of America's least populous states. But for as long as people have fought to keep parts of Alaska free from human interference, others have fought to profit from the land. Now, the Arctic National Wildlife Refuge is under threat of oil drilling. Unfortunately for the protected land, a GOP tax law passed by Congress a year ago and introduced by Sen. Lisa Murkowski (R-Alaska) requires the Secretary of the Interior "to approve at least two lease sales for drilling — each covering no less than 400,000 acres."
Ryan Zinke, the outgoing interior secretary, has openly lauded the development, saying, "An energy-dominant America starts with an energy-dominant Alaska, and among the scores of accomplishments we have had at Interior under President Donald J. Trump, taking these steps toward opening the 1002 section of Alaska's North Slope stands out among the most impactful toward bolstering America's economic strength and security."

This move is in line with other initiatives by the Trump administration to alter Obama era regulations and expand fossil-fuel acquisition all over the country. According to The Chicago Tribune, the interior is also "trying to scrap wildlife management plans for the Mojave Desert in California and for sagebrush habitat through much of the rest of the western United States."

Mark Salvo, vice president of landscape conservation at the Defenders of Wildlife, emphasized how reckless these decisions are. "These are examples of the Trump administration stealing defeat from the jaws of victory," he said. "These plans took years to produce and tens of millions of dollars of taxpayer resources to arrive at these carefully crafted compromises to conserve public lands."
Trump is far and away the US President who has most significantly shrunk the size of protected land, notably reducing Bear Ears National Monument by 85% — a loss of 1.1 million acres. This was a part of a major push in 2017 by interior secretary Ryan Zinke to shrink the size of 10 different areas of federal land or open them up to things like oil drilling, lumber farming, and commercial fishing.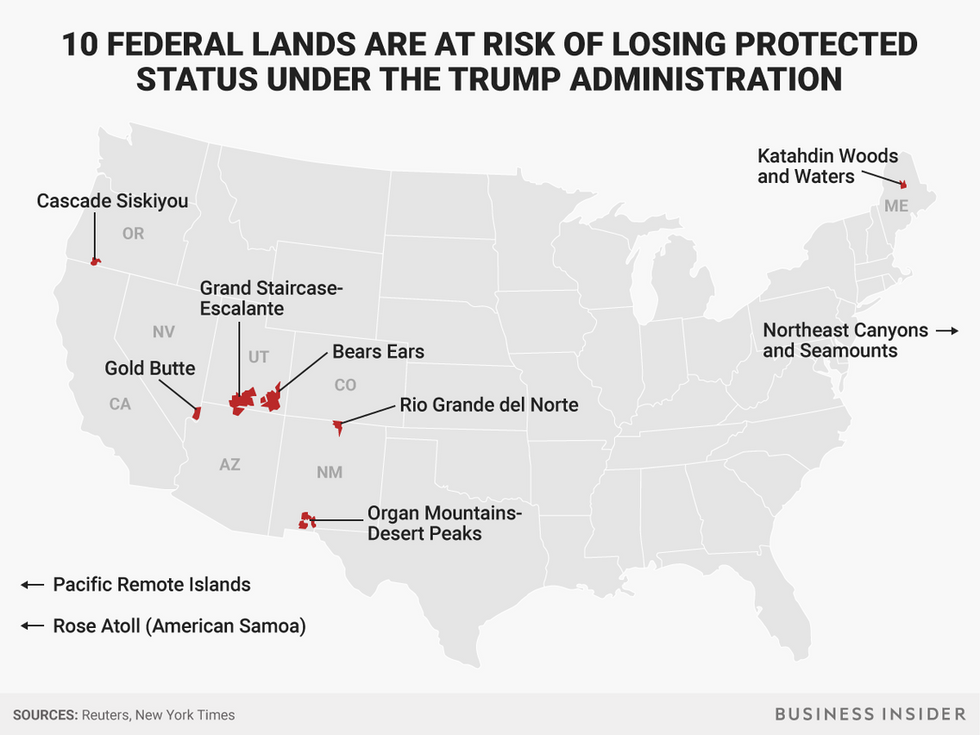 So just how much protected land have we lost under Trump? According to a study conducted by the Wilderness Society — a not-for-profit organization advocating for the protection of public lands — shared with The Guardian, the tally is as follows:

"13.6m acres onshore have been made available for leasing by the Trump administration, far more than in any two-year period under the Obama administration."
"More than 153m acres of ecologically sensitive habitats – from the California desert to the Arctic national wildlife refuge – have seen conservation protections rolled back in some form."
"More than 280m acres have been made available for offshore leasing in the Gulf of Mexico and along nearly 90% of the US coastline."
Cumulatively, that is approximately 433 million acres of land that is no longer protected under US law. What this will mean for the ecosystems and tourism that exists in these places remains to be seen.
It's much easier to certify the free-range, grass-fed provenance of a hamburger than it is to guarantee that tourmaline gemstone is conflict-free.
"Knowing the lineage of a crystal is somewhat akin to knowing where the meat you're eating came from," LA-based energy healer Colleen McCann told Goop in an article on the eight crystals every follower of the new New Age should know.
But there's a hitch. It's much easier to certify the free-range, grass-fed provenance of a hamburger than it is to guarantee that tourmaline gemstone is conflict-free. Crystals aren't just shrouded in mysticism; often their source is shrouded in straight-up mystery, as the New Republic recently reported.
"Imagine if someone who owned a burger joint had to figure out the entire agriculture meatpacking industry," Julie Abouzelof, owner of Hawaii's Moonrise Crystals, told the magazine. "Except there's 1,000 different meats, and nobody's farm is listed online, and even when you meet the farmer in person, they don't want to talk to you."
Crystals and gemstones are mined on every continent on Earth, and the process isn't universally bad news. In the U.S., you can dig-your-own crystals, just as you can pick-your-own strawberries. There are also small family- and state-owned mines with environmentally friendly operations. Among crystal sellers online, some are transparent about where their rocks are from.
Others just don't know.
"It's not like this is some big conspiracy cover up," Abouzelof told the New Republic. "The sellers just don't always know."
What they don't know could hurt many people. Some crystals come from large-scale industrial gold, copper and cobalt mine; the crystals aren't what miners are after, they're the profitable byproduct on the hunt for gold. In the US, these mines have had a deleterious effect on the environment, including groundwater contamination. In New Mexico, both the State and U.S. Department of Justice have filed natural resource claims against the Tyrone Copper Mine for damages to water and wildlife. It's the same mine that produced this large blue chrysocolla—a "supportive goddess energy stone," reported The New Republic,
And that's in the United States where the industry is regulated. In the Democratic Republic of Congo, children as young as seven work the cobalt and copper mines in the country's Katanga region that contain deposits of minerals like tourmaline, amethyst, citrine, blue and smoky quartz.
At the annual Gem, Mineral and Fossil Showcase in Tucson, Arizona, Abouzelof chose not to buy a relatively cheap supply of jade when she learned it had been mined in Myanmar. The New York Times has compared Myanmar jade to blood diamonds; its extraction has "helped finance a bloody ethnic conflict and unleashed an epidemic of heroin use and H.I.V. infection among the Kachin minority who work the mines."
Those are the kind of bad vibes that can't be cleansed from a gemstone bathing in the light of the full moon.
But should the murky provenance of crystals keep you from getting your goddess on with the stones? If it's human rights your worried about, your cell phone is probably a bigger ethical dilemma than your crystal collection, writes crystal healer and seller Hibiscus Moon. The so-called "conflict minerals" in our electronics fund human atrocities in the Democratic Republic of Congo, she writes, and "are the ones we need to concern ourselves with." Tony Nikischer, president of Excalibur Mineral Corporation, told Emily Atkin at the New Republic that crystal mining "certainly is not a 'despoiler of the earth' activity as some large scale mining operations in foreign countries may be."
Maybe your rose quartz really will help usher in true love. But if you can't be sure you're not causing suffering of another human spirit to praise something pretty in pink on your altar, it might not be worth it.
"You could give up the habit and leave those pretty rocks where they belong," writes Katie Herzog at The Stranger, "in the earth."