Reduce your carbon footprint for Thanksgiving and beyond
Are you worried about your carbon footprint this holiday season? There's a limit to how much the responsibility for climate change individuals can take when industry is the true locus of the damage, and governmental regulation is necessary to reign it in. Still, with all the travel and the piles of food piled on top of other piles of food, it's easy to see why some people are taking note of the waste and pollution that results from these annual occasions. Does that mean we should give up these rare chances to celebrate and share with far-flung relatives?
Most of us aren't interested in that option, so how do we balance all the positivity of the holidays against the shocking environmental impact they bring? There's a number of methods you can add to your holiday traditions to help minimize your carbon footprint. Hopefully some of these options will fit into your holiday plans and reduce any stress about your carbon footprint.
Travel Less or Travel Better

Whether you're celebrating Thanksgiving, Christmas, New Year's, or Hanukkah, travel is likely the biggest factor contributing to your carbon footprint, but there are a lot of ways you can minimize your impact. Obviously the best way to cut down is to stay local for some or all of the holidays. Many young people prefer to celebrate "Friendsgiving" in their transplant cities and set aside time for video calls with family, rather than trekking back to their hometowns. And if you just don't like your family, pointing to environmental concerns is a perfectly legitimate excuse.
If that's not an option for you—or if you really love your family for whatever reason—choosing buses and trains over cars and planes is always a plus, and selecting a location that is convenient to the greatest number of attendees can make a huge difference. And if you're thinking of travelling to New York City for the Christmas tree lighting or the New Year's Eve ball drop, don't. They're awful.
Get Cozy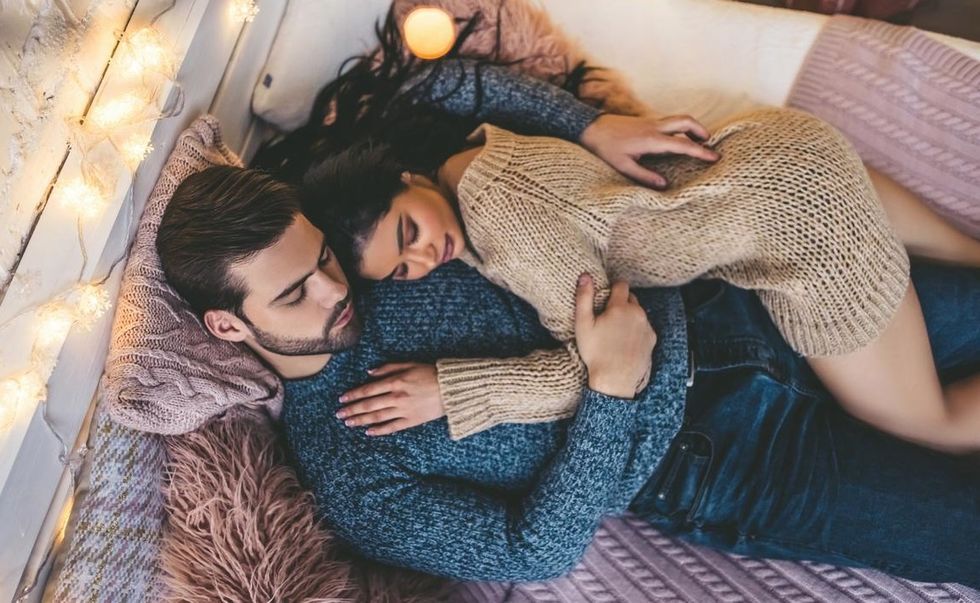 Winter heating is hugely wasteful. Any time you see icicles hanging off the side of a house or building, that's a clear sign of heat seeping out into the world. Insulation can go a long way to cutting down on both waste and costs, and signing up with an alternative energy provider like Green Mountain Energy can do a lot to minimize your impact, but there are other strategies that can help you do more while getting you into the holiday spirit, all of which can be summed up with two beautiful words: Get cozy.
Bundle up in your warmest sweater and a pair of thick socks. Share a blanket and some cocoa on the couch with your loved ones. Keep each other warm in one cozy room, rather than heating the whole house. A space heater can be a great way to cut down on your emissions and encourage your whole family to get a little closer.
Get Creative with Your Gifts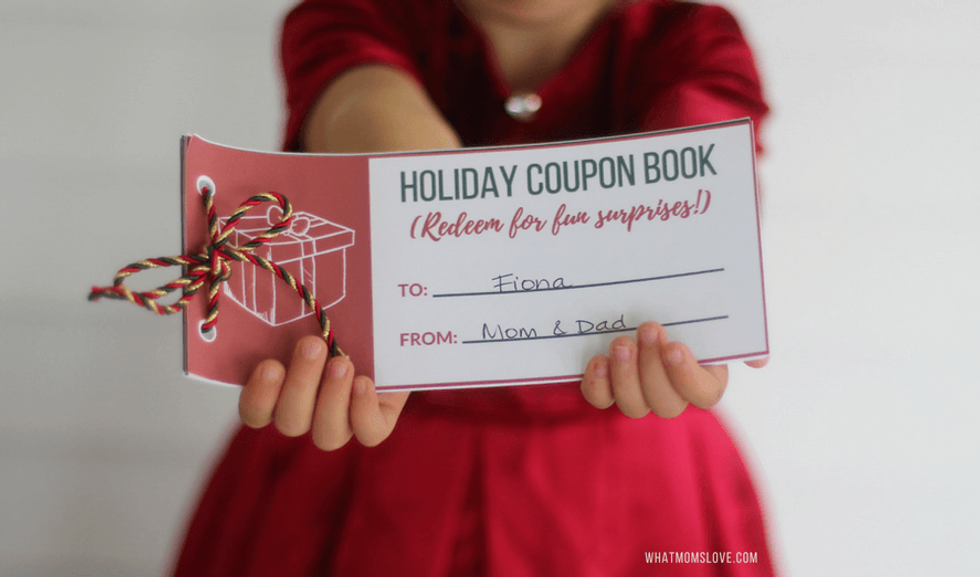 Green and eco-friendly gifts are a nice idea and can be really great if they're taking the place of a more wasteful purchase, but there is no ethical consumption under capitalism, and the waste that goes into the manufacture, shipping, and packaging of green-branded goods generally outweighs their benefits.
The greenest option is probably the one you haven't gotten away with since you were ten. A book of coupons for chores and favors doesn't cost you or the environment anything. But if you lack the courage to try pulling off a scam like that, there are some pricier experience-gifts that are a lot more eco-friendly—and a lot more memorable—than an solar-powered phone charger or a pair of pants made from bamboo. A gift card to a farm-to-table restaurant, a voucher for a massage, or just a donation to the Human Fund (or, you know, a real charity) are all great options that don't require wasteful wrapping. Alternatively, if you can make a gift yourself, you'll be a real hero.
Cut Down on Your Meat and Dairy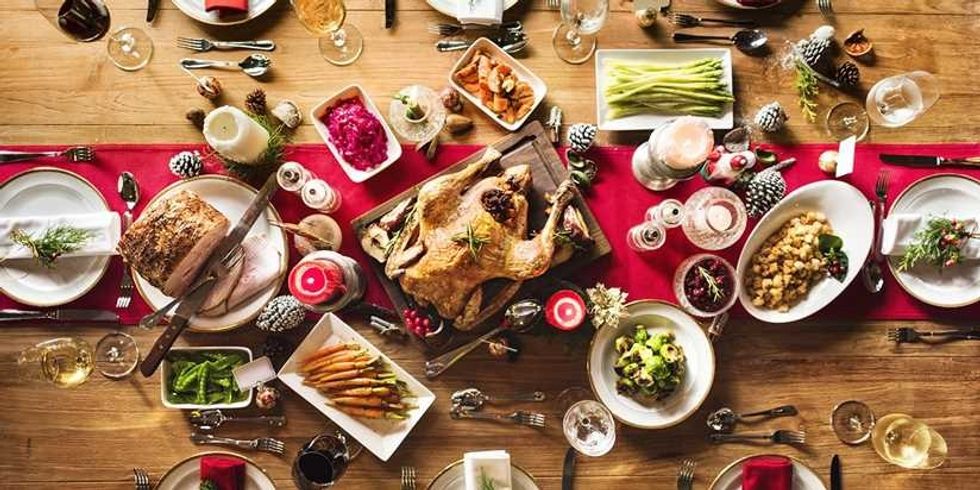 Okay, this is a big one. After travel, the food that we eat—and the food we throw away—are responsible for the largest portion of our carbon output. Meat is generally the biggest contributor, but red meat is particularly bad. So if you usually have a ham or a roast beside your turkey, cutting that out is a good move. And if you can cut out the turkey itself—or even just choose a smaller turkey—that's even better.
There are obviously other factors to consider, like the distance your food has to travel, and the amount of water that goes into its production, but you may not want to get your PhD before your next meal, in which case, cutting out meat is a simple and effective way to drastically reduce your carbon footprint. Meatless Mondays are an easy step that more people are taking these days, but if you're really concerned about your impact this holiday season, you can offset the added emissions from travel by cutting out meat for a few days, a week, or a month at a time.
If we made that kind of practice a part of our holiday traditions—cutting out meats for some portion of December—we could go a long way toward pairing back holiday emissions. With recent advances in meat alternatives from Beyond Meat and Impossible Foods, you might find the change easier than you would think. And if enough of us pick up the habit, the agricultural industry will have no choice but to shift toward more sustainable foods.
From bonfires to bicentennials, the history of America's birthday tells the story of a changing nation
The 4th of July is one of those rare days where everyone knows what to expect –– a hot summer's day off spent with family, friends, fireworks, food, and patriotically-branded cans of beer. Yet, all the common rituals of our national day are the product of almost two-hundred and fifty years of chaotic, challenging, and occasionally calamitous celebration; the lesser-known parts of which offer us an interesting view of a constantly changing America. So, here are some things you may not know about Independence Day.
Independence Day Isn't the Day the U.S. Became Independent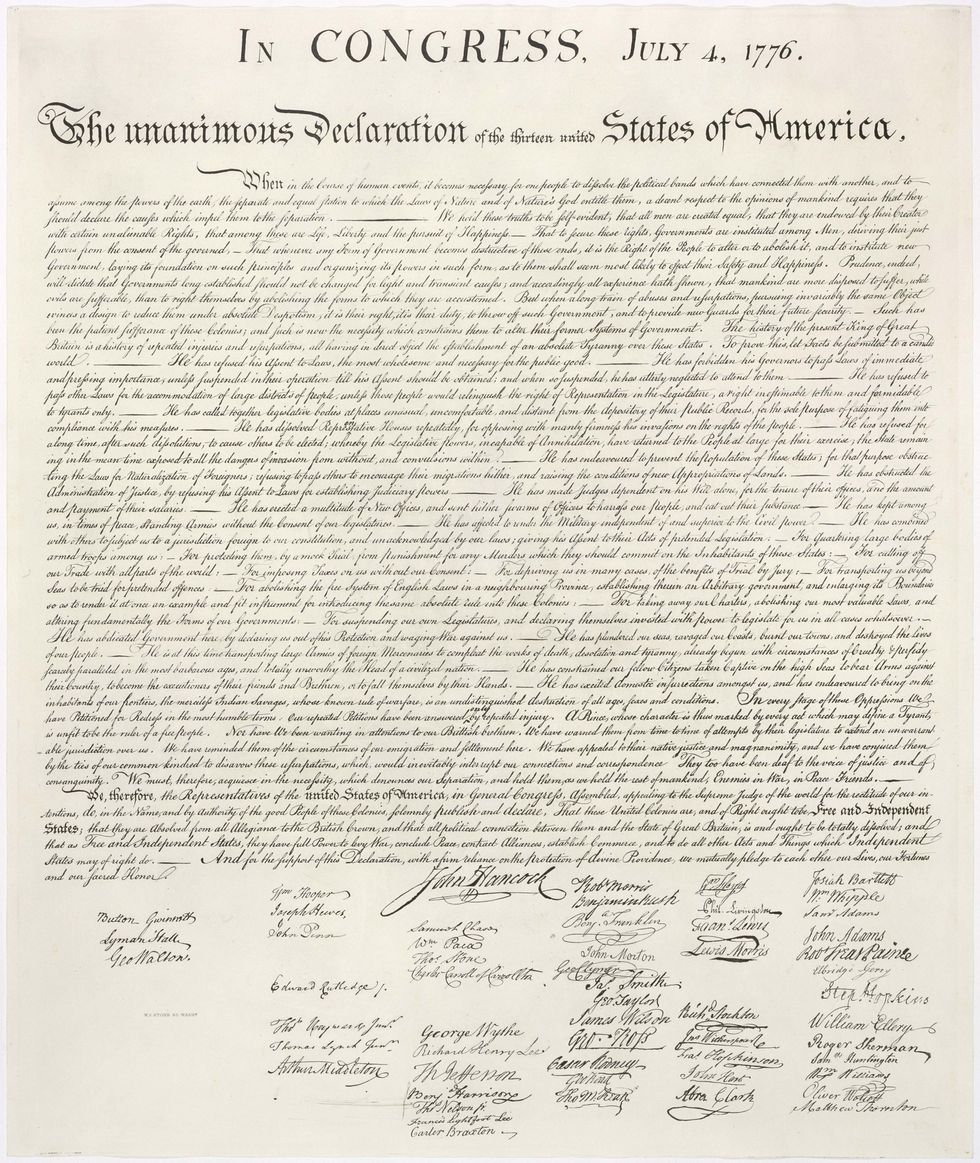 "Let's just go with the big date at the top..." –– Americans, 1776, probably...
That's right; although we celebrate the 4th of July in commemoration of the anniversary of America gaining its independence in 1776, the reality is a little more complex. Legally, the original thirteen colonies separated from the British crown two days earlier on the 2nd, as this is when the Second Continental Congress passed the resolution that declared the United States to be independent from the rule of Great Britain. Yet, from the very beginning, Americans celebrated the anniversary of their independence on the 4th; simply because it was the date written at the top of the incredibly popular Declaration of Independence. If you want to go further, it could be argued that the US didn't truly become an independent nation on any date in 1776, because it was still largely occupied by hostile British forces. The Revolutionary War would would not end, and Britain would not renounce its claim to the colonies until the signing of the Treaty of Paris on September 3rd, 1783. So, if you want to rebel against the red-white and blue holiday, or just love it so much you want to celebrate it twice, consider September 3rd as a candidate for 'alternate Independence Day'.
The Way the 4th Was Originally Celebrated Might Shock You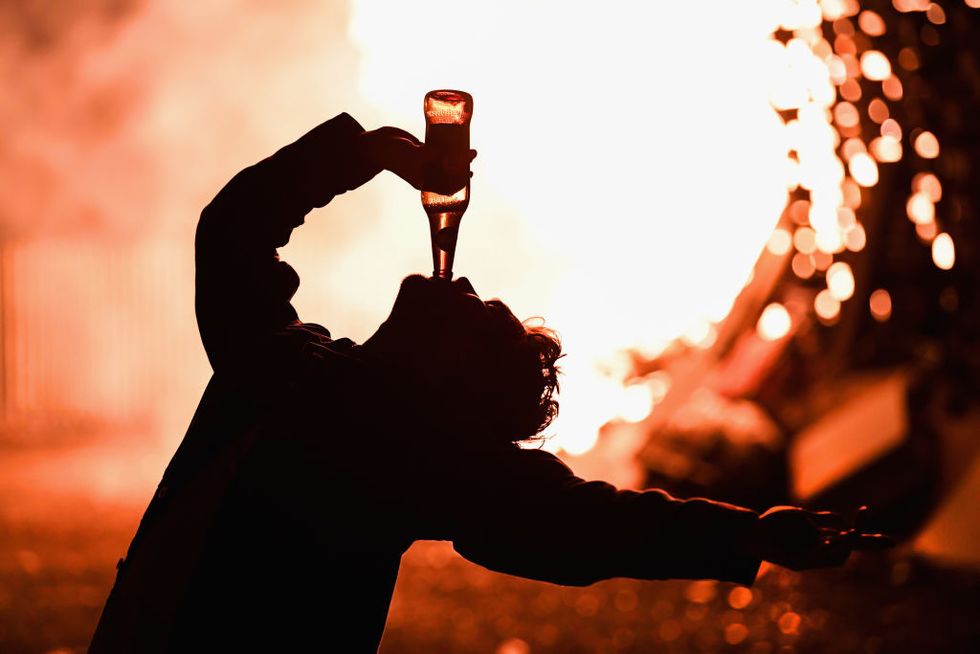 History teaches us that nothing goes wrong when you combine liquor and pyrotechnics.
(Photo: Jeff J Mitchell/Getty Images)
In many ways, the early celebrations of the 4th of July were not that different from our own. Fireworks were present at the very first anniversary, in an elaborate display sanctioned by Congress itself, in which, according to an account of the time: "rockets...ascended to an amazing height in the air, burst, and displayed thirteen stars". Other traditions were not so familiar. In 1779, July 4th fell on a Sunday for the first time. As most Americans at the time strictly observed the christian Sabbath, the celebrations were held the next day instead. That's not to say that their staunch Protestantism prevented them from indulging in the same feasting and drinking that we enjoy today; in fact, it allowed them to justify adding a whole extra night to the festivities of the "Glorious Fourth". In a tradition that somehow survived well into the 20th century in many parts of America, the night of the 3rd would see ginormous pyramids of barrels and crates set alight in a call-back to the rituals of the anti-Catholic 'Pope-Day', a celebration that originated in England and often included the burning of the Pope in effigy. While this is one practice (thankfully) relegated to our past, the institution survives elsewhere in the form of "the Glorious Twelfth". Take a trip to certain parts of the North of Ireland on the night of 12 July and you can still see huge wooden pyramids with anti-Catholic imagery being set alight to mark the anniversary of the Battle of the Boyne. History is just the past happening over and over, etc.
Independence Day was the Subject of One of the Greatest Abolitionist Speeches

"Right is of no sex, Truth is of no color, God is the Father of us all, and we are all Brethren."
(Photo: George Warren/Wikimedia Commons)
Another ritual of the 4th that has waned in popularity is the practice of prominent figures in public life delivering speeches celebrating the nation and the struggle for independence. However, perhaps the most notable of these speeches was far from an ode to America. Delivered by the famous abolitionist and former slave Frederick Douglass on July 5th, 1852, the speech known as, "What to a slave is the 4th of July?" was one of the most powerful and moving arguments against America's original sin of slavery. In the speech, Douglass, speaking to an audience of white abolitionists, examines the hypocrisy of a celebration of freedom in a nation that still permitted the ownership of human beings, and frames the struggle for emancipation in parallel to the fight for independence:
"They [the Founding Fathers] were statesmen, patriots, and heroes… with them justice, liberty, and humanity were final; not slavery and oppression."
The checkered history of America can often be obscured by a fog of red, white, and blue on the 4th; and, while there's nothing wrong with throwing on your favorite starred-and-striped bandana and enjoying a deserved holiday, Douglass remind us that, even today, the dream of a nation where everyone is born free remains far from fulfilled. So, perhaps we should revive an old tradition of the 4th and read some of Douglass' historic speech; or, even better, hear them brought to life by the legendary James Earl Jones.
The 4th Was a Pivotal Date in Deciding the Outcome of the Civil War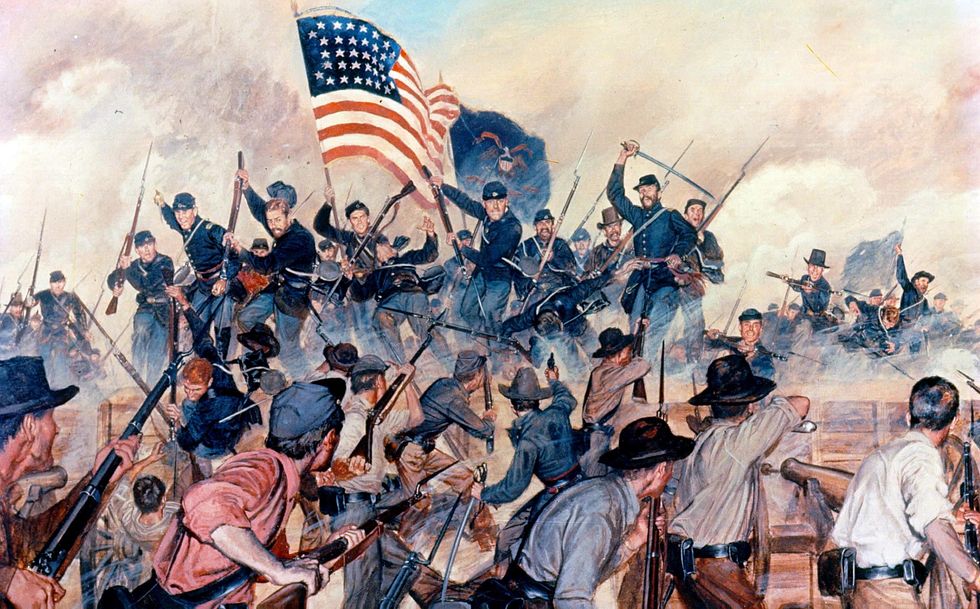 Confederates and the terrible, horrible, no good, very bad day
As with the question of America's independence, the question of slavery was not one that would be answered peacefully. Nine years after Douglass' speech, the nation was plunged into a bloody civil war that, during its first months, appeared to be headed toward a stalemate. However, on the 4th of July 1863, two events made it clear that the tide of war was turning in favor of the Union and emancipation. Firstly, after three days of the bloodiest battle ever raged on American soil, General Robert E. Lee was forced to retreat from Gettysburg back to Virginia, suffering his first major defeat. Gettysburg would mark the furthest advance of the Confederacy, and they would not mount a single significant assault into Union territory for the remainder of the war. As Lee's army began their flight south, the Confederacy suffered another devastating loss. The city of Vicksburg, Mississippi; which had been besieged by the forces of Ulysses S Grant for nearly two months, surrendered on the 4th of July, splitting the Confederacy in two and denying them access to the critical supply line of the Mississippi River. Within two years, Lee had surrendered to Grant and the war was over, yet the town of Vicksburg would prohibit the celebration of Independence Day until 1907.
Some Independence Days Are More Important Than Others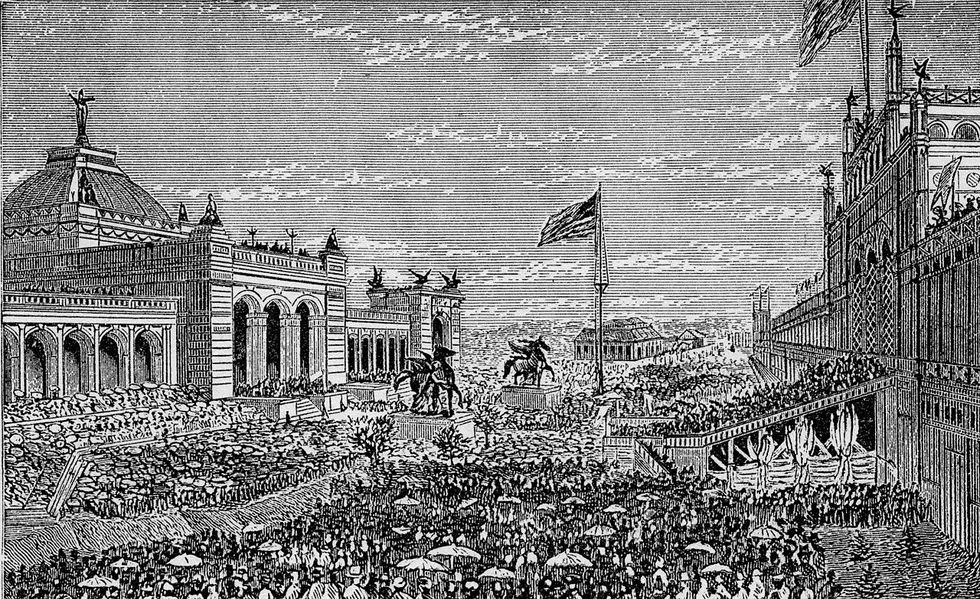 Philly, partying like it's 1876
(James McCabe/Wikimedia Commons)
The 4th of July is often called 'America's birthday', and, like your sweet sixteen and twenty-first, some of those birthdays have been celebrated in extra special ways. To celebrate the nation's 100th birthday (which fell little over a decade after the end of the Civil War), the nation threw a massive party in Philadelphia to celebrate. Over ten million people visited the 'Centennial Exhibition', the first World's Fair to be held in the United States, which featured exhibits from thirty-seven countries. Attendees at this seven month long festival got to see (and taste) some rather spectacular things, including the first public unveilings of the telephone, typewriter, Heinz ketchup, and root beer. Also on display were the hand and torch of the Statue of Liberty, itself a gift from France to celebrate the centennial. On America's two-hundredth birthday, which fell a year after the withdrawal from Vietnam, the whole nation was swept up in a celebration that leant heavily on themes of revival through a kind of patriotic nostalgia. The iconic bicentennial logo could be seen everywhere; from NFL uniforms to NASA launch vehicles. In fact, NASA had planned for an even more ostentatious celebration –– the televised landing of the first spacecraft on Mars. However, the proposed landing site ended up being too risky, so the landing had to be delayed. If you weren't around for America's 100th or 200th birthdays, you don't have to worry about missing out. Legislation has already been passed to begin plans for big celebrations of the nation's 250th birthday in 2026, with events taking place in Boston, Philadelphia, Charleston and New York City. Time to start learning how to spell 'semiquincentennial'...
This Fireworks Display on the 4th is Mind-Blowingly Large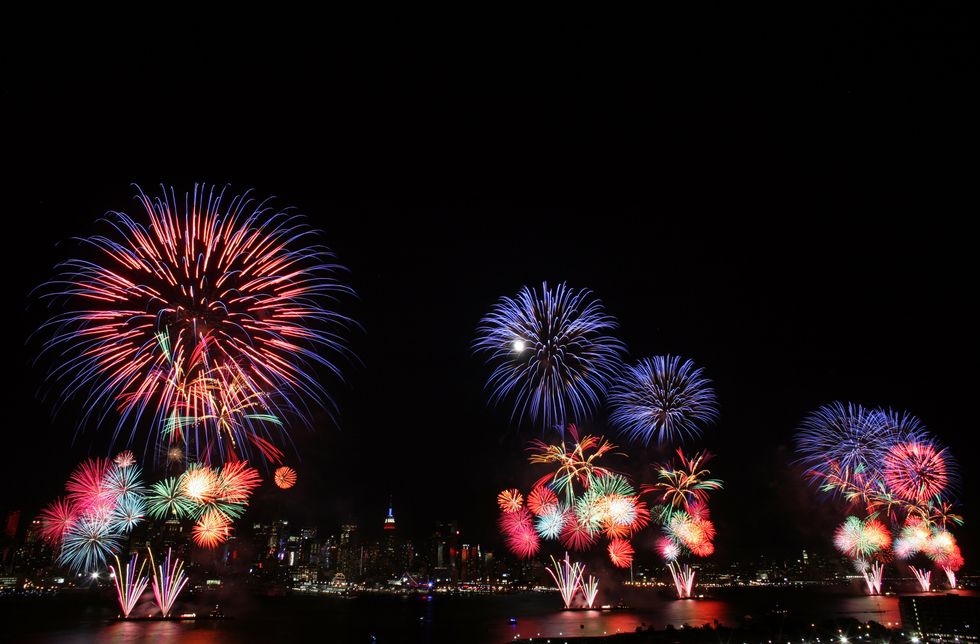 *U-S-A! U-S-A! chanting intensifies*
(Photo: Yana Paskova/Getty Images)
Is there anything more American than the appreciation of ginormous explosions? How about the appreciation of three-thousand ginormous explosions every minute? That's exactly what the centerpiece of New York City's 4th of July celebrations, Macy's 'Fireworks on the East River', has been about ever since its inaugural show in 1958. This display of patriotic combustion is so elaborate that it takes one whole year of man hours to plan, load, and ignite each twenty-five minute show. Some of the pyrotechnics used are so powerful that they can fly one-thousand feet in the air –– that's three times the height of America's most famous birthday present, the Statue of Liberty. Perhaps the French should just have sent a really big rocket instead.