Food labels boasting "organic" ingredients don't guarantee protection from unwholesome ingredients, preservatives, or manufacturing processes.
With food blogs and news outlets continually reporting conflicting information about the safety of GMOs, organic and raw foods, and even infected lettuce, it's all to easy to become confused as to what's healthful and what's harmful. While some food producers find it within their best interest to provide healthier options, many companies unwilling to change their product methods have resorted to changing their marketing. As a result, misleading labels regarding "organic" foods are meant to confuse consumers.
To be clear, truly organic foods in the U.S. have been certified as such by the U.S. Department of Agriculture. Their requirements are as follows:
Produced without excluded methods, (e.g., genetic engineering, ionizing radiation, or sewage sludge).
Produced using allowed substances.
Overseen by a USDA National Organic Program-authorized certifying agent, following all USDA organic regulations.
Thus, any food can technically be "organic," from produce and milk to deli meats and seasoning. However, the limitations of the definition lead some companies to advertise their products as "organic" while still using unwholesome ingredients, preservatives, or manufacturing processes.
Here are five tips to decode organic labeling jargon:
1. "All natural" doesn't mean it's organic
In truth, many products are technically "natural," due to government regulations that forbid food producers from adding hormones or steroids to many animals. In terms of poultry and their eggs, for instance, "natural" only means that the birds are are not given hormones or steroids. In contrast, "organic" poultry denotes that birds are raised with more space than in traditional poultry farms, they only consume on organic (vegetarian) food, and no animal byproducts are allowed.
Thus, "organic" eggs are from uncaged birds who haven't been fed any chemicals. It's important to note that even an "organic" certification doesn't guarantee that the animals were raised in cruelty-free environments. Even "organic" birds are raised on factory farms, and they're still subject to beak cutting and forced molting through starvation.
2. There are different degrees of "organic"
If a label says it's "made with organic ingredients," then the product is composed of 70% organic ingredients. The remaining, non-organic ingredients may still be closely monitored (for example, GMOs aren't allowed), but they don't qualify for certification. Likewise, an "organic" label still gives leeway, as only 95% of the ingredients must be organic to qualify. In reality, only a label that says "100% Organic" can guarantee that a food product is comprised of completely organic ingredients.
3. Are there still nitrites?
Sodium nitrite is a preservative often used in meats. You can sometimes recognize the use of nitrites in deli meat that has a distinctly pink coloration. However, some studies suggest that too many nitrites can damage cells or cause cancer. As The New York Times reports, "Some products that claim to be 'natural' or 'organic' may say they are processed without nitrites or nitrates, and the label may say the item has 'no artificial preservatives' or is 'uncured.' But nutritionists warn that food manufacturers may still add vegetable powders or juices such as celery juice or beetroot juice that contain naturally occurring nitrates, which are converted to nitrites either in the food itself or when they interact with bacteria in our bodies."
4. Look for other certifications
The healthiest animal products come from the healthiest animals. As such, look for certifications from animal wellness groups. For example, Animal Welfare Approved is a credible label considered to be "the gold standard." The United Egg Producers' label certifies egg-laying hens have been treated well, and the Fair-Trade label indicates that workers' rights were seen to during the production process.
5. Larger companies are more likely to be organic
Unfortunately, some companies will not only label their products misleadingly, but forge the Organic certification. Larger companies cannot commit such fraud without quickly being noticed, but smaller companies, like those that earn less than $5,000 a year, are often too insignificant to be noticed. As The Washington Post describes, "The official USDA certificates guaranteeing that a product is organic are relatively easy to forge. And because the organic rules are designed for larger-scale commercial operations, mom-and-pop farmstands may be exempt from inspections if they yield no more than $5,000 a year in sales. So, whether food really meets organic standards is more a matter of trusting purveyors than trusting the organic label."
Mark Kastel is co-founder of the organic watchdog group The Cornucopia Institute. He notes, "There's a higher authority on these issues than the USDA. And that's the consumer." Demand is everything; the more consumers choose "organic" and hold companies accountable for inaccurate labeling, the tighter regulations can become.
Meg Hanson is a Brooklyn-based writer, teacher, and jaywalker. Find Meg at her website and on Twitter @megsoyung.
We love coffee. Does it love you?
In New York City, the Health Department makes restaurants display cleanliness and safety grades in their windows; anything less than an "A" is usually mounted behind a potted fern or hung near ground level. Visiting San Francisco last March, I noticed something similar when I bought my afternoon latte at a Starbucks. Tucked behind the half 'n' half jug and napkin dispensers was a 4x6 inch notification that acrylamide, a chemical byproduct of the roasting process, may cause cancer.
This assertion isn't new. A number of years ago, my husband pushed his morning cup away after a bout of insomnia led him to watch anti-coffee crusader and New Age nutritionist Gary Null preach it's evils on the 2 am segment of a PBS fund drive. While I scoffed at the notion that a drink consumed by millions over centuries was essentially poison, this latest alert, ordered by a judge in California, a state which tends to be on the cutting edge of of regulating toxins, made me wonder.
The warning labels on coffee stem from Prop 65, an 1986 law that that requires companies to inform consumers if their products contain potentially hazardous chemicals. Since California's economy is so far-reaching, the law has had a positive impact on people across the country. It's pushed manufacturers to remove substances like lead and formaldehyde from their formulas. But, according to Nathan A. Schachtman, a product liability defense lawyer and a Columbia Law School lecturer, it's also created "a cottage industry of lawyers roaming around looking for violators."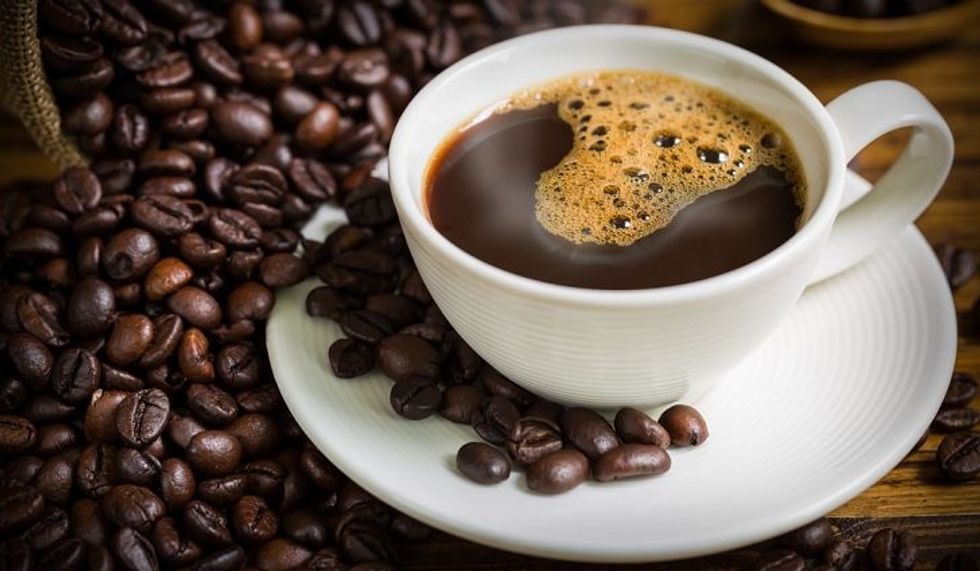 Recently, California's Office of Environmental Health Hazard Assessment (OEHHA) recommended that coffee be exempt from the law because the health risks have been overblown. While acrylamide does cause an increase in tumors in rodents who are fed high doses, the agency says that the minuscule amount found in a cup of coffee poses no health risks to humans and that the antioxidants and micro-nutrients in coffee may even be good for you. (FYI: According the the FDA, acrylamide is also found in higher levels in french fries, prunes, some cereals and breads, toasted nuts, and canned olives). A public hearing on the issue was held on Thursday, August 16. Sixty-four percent of American adults drink coffee every morning—can we all breathe a collective sigh of relief?
According to the American Cancer Society, "Coffee drinking is associated with a lower risk of dying from all causes of death." They add the caveat that an international study investigating the link between coffee and cancer said the results were "unclear." However, the same researchers found that drinking coffee was "not a cause of female breast, pancreas, and prostate cancers, [and] may reduce the risk of uterine endometrium and liver cancers." They also noted that drinking coffee is associated with a lower risk of insulin resistance and type 2 diabetes. In 2016, the World Health Organization took coffee off it's list of possible carcinogens.
The real risk in drinking coffee is overdoing the caffeine. People with anxiety disorders and those who take certain medications may be advised against drinking coffee by their physicians. Teenagers and pregnant women shouldn't drink more than one cup a day. More than 400 mg of caffeine a day, the amount in four average cups of brewed coffee, can cause stomach aches, irritability, insomnia, tremors, headaches, and other unpleasant side effects. For the rest of us who aren't guzzling buckets of cold brew or making hourly forays to the office percolator, it's fine to continue drinking coffee.
Keep reading...
Show less
Healthy food is in, and it's not as pricey as it used to be.
Farm-to-table is a growing food trend that emphasizes the use of locally grown produce in restaurants and school cafeterias. Whether accomplished via a direct sales partnership, restaurateurs shopping at local farmers markets, or some sort of community-based program, farm-to-table has become an important staple in the broader societal push towards healthier food. This movement isn't just about paying local farms however. It's real purpose is to give consumers firsthand knowledge of how the produce and livestock that end up in their food are raised, and there's often an implied (but not guaranteed) commitment to keeping these products pesticide and hormone free. Essentially, the farm-to-table movement is designed to provide healthier food options by cutting out commercial vendors.
Farm-to-table dining, unlike grocery store items labeled "organic," has a pretty good track record with regard to authenticity. There have been some issues with fraud, but for the most part, restaurants that claim to be farm-to-table are pretty reputable. When it does happen, fraud typically occurs when new owners change their supply chain without updating their menus. In certain cases, restaurants brazenly claim that they're buying from a supplier that they've never even made contact with. This however, is rare and can often result in lawsuits. In order to verify restaurants' farm-to-table claims, Slow Food USA has created a set of standards surrounding freshness, quality of ingredients, and overall taste. Restaurants that qualify, get stamped with what Slow Food USA calls the Snail of Approval. Any restaurant that has a snail sticker is considered certified. It needs to be said that, even with certification, the precise definition of farm-to-table is still elusive. It's not as if Slow Food USA has a monopoly on the term. As it is, farm-to-table functions as a catch-all for sustainability and a commitment to providing fresh, locally-sourced food.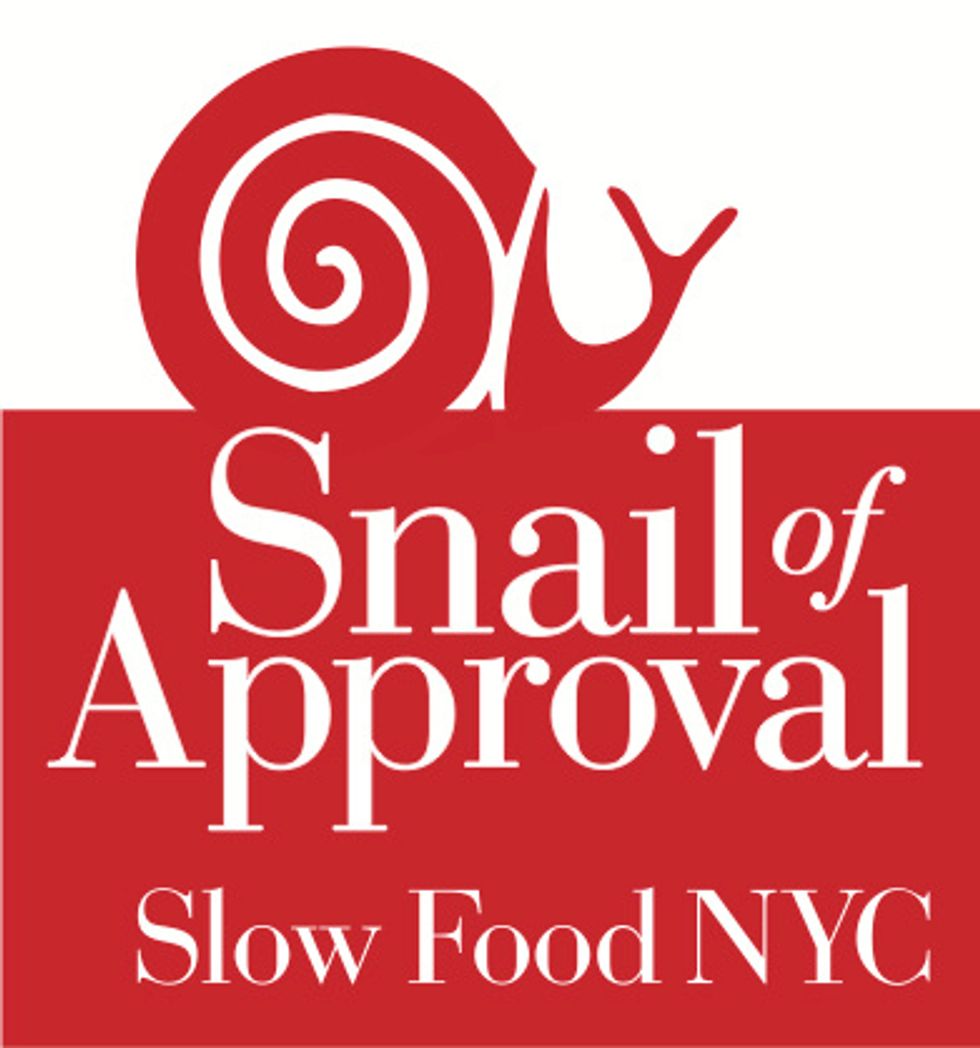 The coveted Snail of Approval
Understandably, relying on local vendors can put strain on well-meaning restaurateurs who want to provide healthy meals for their guests. For example, a restaurant owner doesn't have to put much effort into the relationship they have with large commercial vendors. They simply pay a predetermined price for whatever goods they want and that's that. In order to find a good local farmer, chefs have to seek them out, build relationships with them, and negotiate prices. On top of this, chefs who are really committed will probably have to inspect the farms they buy from to ensure the produce their buying is being grown in a method that comports to their restaurant's mission. The opportunity cost of building these important relationships invariably gets passed down to the consumer, making farm-to-table dining much more expensive. It's so expensive in fact, that many have questioned whether or not farm-to-table restaurants are viable business models, as some restaurants shell out millions of dollars for their food every year.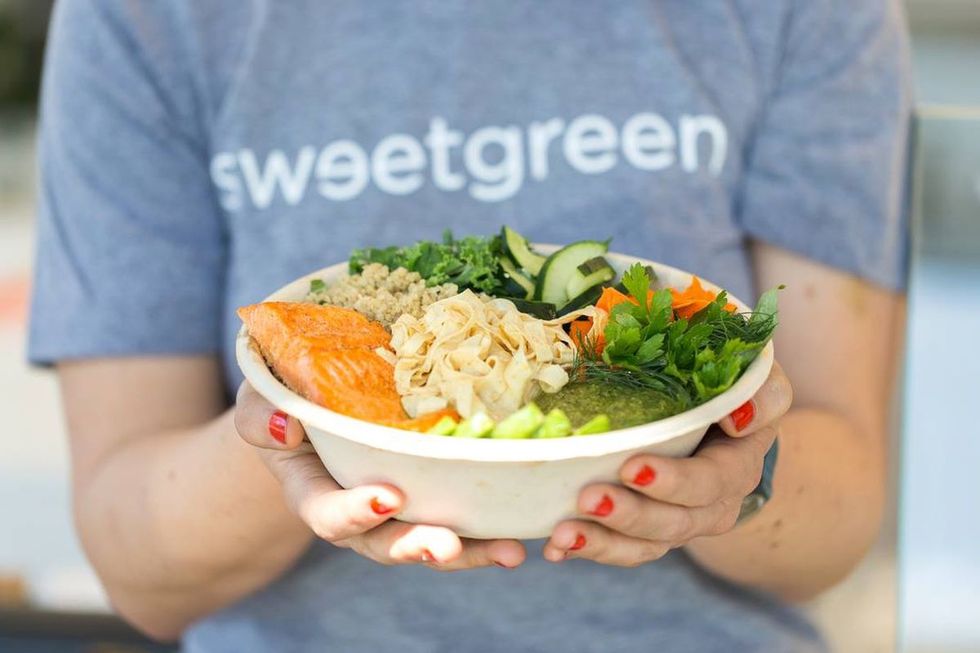 Sweet green combines fast-casual with farm-to-table
In response to this, some enthusiasts have taken to buying up farms of their own, simultaneously cooking the food and tilling the soil its grown in. Blenheim Hills, a 2016 Michelin-rated restaurant in the West Village is doing just that, but there are obvious difficulties associated with running a farm on top of running a restaurant. While initial purchase of the farm, as well as training cost Blenheim Hills a decent chunk of change, buying a farm has allowed them to keep their prices competitive. Outside of the world of fine dining, popular fast-casual restaurants like the wildly popular Sweetgreen are embracing the farm-to-table model as well. On top of this, New York-based fast-casual chain Dig Inn is planning to purchase its own farm just like Blenheim Hills, as a means of cutting costs also.
Whether or not the farm-to-table model is economically viable remains to be seen, but there isn't much doubt that American diners are gravitating towards healthier eating habits. There have been some hiccups–and as with all food crazes consumers should be skeptical and do their research before buying into this growing trend–but the fact that fast casual restaurants are adopting this style of food prep is definitely a net positive. As more and more companies get involved and as
warehouse cultivation
and other urban farming techniques improve, the price of farm-to-table dining should drop significantly. Even the most cynical foodies have to look at America's shifting culture and smile a bit.
Keep reading...
Show less