It's time we stop acting like the leading Democratic candidate is the only old guy who's ever had a heart attack.
Whoever your pick might be in the 2020 Presidential Election, there's an overarching issue that's been largely prominent: the age of the Democratic front-runner, Bernie Sanders.
At 78, Sanders would be the oldest elected president in the country's history (a title currently held by Trump). The topic of his health became more hotly debated after he suffered a heart attack last October, resulting in him having two stents inserted. Though he bounced back to give one of his best debates yet that very same month, critics have been quick to cite Sanders' declining health as a hindrance to his electability. The backlash is getting even louder as Sanders claims he won't divulge his comprehensive health records. "We have released a detailed medical report, and I'm comfortable on what we have done," he said this week during a CNN town hall.
Sanders' campaign has released letters from three doctors who all asserted the senator is in good health. "I do not see a reason why he would not be able to function effectively in a high stress job," said Dr. Mary Ann McLaughlin, director of cardiovascular health and wellness at Mount Sinai Heart in New York. Why are Sanders' opposers so adamant that his health will fail him in office?
Yes, the senator is the oldest candidate in the race, but not by much: Michael Bloomberg and Joe Biden are 78 and 77 respectively, while Sanders' fellow progressive Elizabeth Warren is 70—the same age as Trump when he was elected. The health of Bloomberg, Biden, and Warren hasn't been scrutinized nearly as much as Sanders'. Sure, he might be the only one of the bunch who's suffered a heart attack, but that alone shouldn't be a disqualifier; notable politicians including President Dwight D. Eisenhower, President Lyndon Johnson, and Vice President Dick Cheney all proceeded with lengthy, successful careers in office despite suffering heart attacks early on.
A heart attack should not render an otherwise healthy candidate unfit for presidency, and Sanders' campaign has offered enough proof of his well-being. Our country's entire history has been predominantly dictated by old white men—why make an exception for someone who can actually instigate radical change?
This year's flu virus is still slated to be a bigger threat.
It's believed that Chinese officials have not exactly been forthcoming about the true extent and severity of the coronavirus, a respiratory illness whose death toll in mainland China has now exceeded that of S.A.R.S. The Chinese foreign ministry has criticized the U.S.'s response of temporarily banning foreign individuals who had traveled in China from entering the country. Chinese officials initially said that U.S. health officials "inappropriately overreacted" and spread unnecessary fear. However, on Monday (February 3) China's elite Politburo Standing Committee admitted that there were "shortcomings and difficulties in the response to the epidemic," according to China's Xinhua news agency. The government said it "urgently" needed medical supplies, such as protective suits and masks.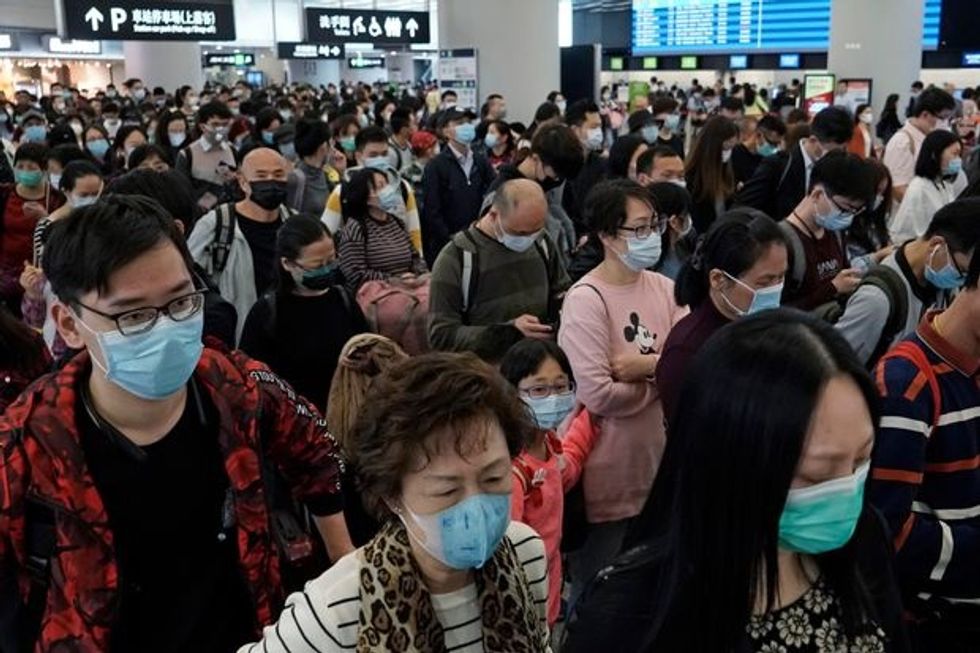 When the World Health Organization (W.H.O) declared the virus a "public health emergency of international concern," they said its organization "continues to have confidence in China's capacity to control the outbreak." They stated that their concern is about the virus' potential to reach countries with poor health care. In such an environment, the disease could spread rapidly, "infecting millions of people and killing thousands," according to The New York Times.
With over 20,000 cases reported in China and 170 more reported in over 25 other countries, the Centers for Disease Control and Prevention (C.D.C.) has been rapidly updating their findings on the respiratory disease. 11 cases have been confirmed in the U.S. (including 3 in California, 2 in Illinois, 1 in Arizona, 1 in Massachusetts, and 1 in Washington). More cases are currently under review. As of this writing, three New York cases have been sent to the Center for Disease Control and Prevention Laboratory in Atlanta, which is currently the only facility that can confirm a case of coronavirus. The New York City health commissioner has called the virus's presence in the city "inevitable."
But what does that really mean?
The coronavirus is distinct in a few ways, originating in animals in Wuhan, China but demonstrating the ability to spread from person to person once someone is infected. Symptoms present as common flu symptoms, including fever, dry cough, shortness of breath, aching muscles, and fatigue. There have been indications to suggest that individuals infected with the coronavirus are contagious before they show symptoms, but that has not been widely confirmed.
Out of over 20,000 confirmed cases spread across more than two dozen countries, there have been fewer than 500 deaths, with two deaths occurring outside of China so far. Most people infected have been elderly or those with compromised immune systems, and there have been full recoveries from the virus.
In fact, the first American patient confirmed to have the coronavirus has been released from the hospital and is staying in isolation in his home. "I am at home and continuing to get better," the nameless man said in a statement, "I ask that the media please respect my privacy and my desire not to be in the public eye. I would like to thank the doctors, nurses, and entire team at Providence who cared for me. I appreciate all of the concern expressed by members of the public, and I look forward to returning to my normal life."
The flu is more dangerous.
Meanwhile, public health officials underline that the coronavirus presents a low health risk to Americans. More dangerous is influenza B, or the common flu. The C.D.C. reports that 68 children have died of the flu this year, along with an estimated 10,000 adults! Todd Ellerin, the director of infectious diseases at South Shore Health in Massachusetts, told Mother Jones that the flu is "massively outstripping" the spread of the coronavirus in the U.S. He added in a a blog post for Harvard Medical School, "In the US, the average person is at extremely low risk of catching this novel coronavirus. This winter, in fact, we are much more likely to get influenza B—the flu—than any other virus: one in 10 people have influenza each flu season."