"A tree is best measured when it is down," the poet Carl Sandburg once observed, "and so it is with people." The recent death of Harry Belafonte at the age of 96 has prompted many assessments of what this pioneering singer-actor-activist accomplished in a long and fruitful life.
Belafonte's career as a ground-breaking entertainer brought him substantial wealth and fame; according to Playbill magazine, "By 1959, he was the highest paid Black entertainer in the industry, appearing in raucously successful engagements in Las Vegas, New York, and Los Angeles." He scored on Broadway, winning a 1954 Tony for Best Featured Actor in a Musical – John Murray Anderson's Almanac. Belafonte was the first Black person to win the prestigious award. A 1960 television special, "Tonight with Belafonte," brought him an Emmy for Outstanding Performance in a Variety or Musical Program or Series, making him the first Black person to win that award. He found equal success in the recording studio, bringing Calypso music to the masses via such hits as "Day-O (The Banana Boat Song)" and "Jamaica Farewell."
Harry Belafonte - Day-O (The Banana Boat Song) (Live)www.youtube.com
Belafonte's blockbuster stardom is all the more remarkable for happening in a world plagued by virulent systemic racism. Though he never stopped performing, by the early 1960s he'd shifted his energies to the nascent Civil Right movement. He was a friend and adviser to the Reverend Doctor Martin Luther King, Jr. and, as the New York Times stated, Belafonte "put up much of the seed money to help start the Student Nonviolent Coordinating Committee and was one of the principal fund-raisers for that organization and Dr. King's Southern Christian Leadership Conference."
The Southern Poverty Law Center notes that "he helped launch one of Mississippi's first voter registration drives and provided funding for the Freedom Riders. His activism extended beyond the U.S. as he fought against apartheid alongside Nelson Mandela and Miriam Makeba, campaigned for Mandela's release from prison, and advocated for famine relief in Africa." And in 1987, he received an appointment to UNICEF as a goodwill ambassador.
Over a career spanning more than seventy years, Belafonte brought joy to millions of people. He also did something that is, perhaps, even greater: he fostered the hope that a better world for all could be created. And, by his example, demonstrated how we might go about bringing that world into existence.
If companies like Amazon, Google, or Facebook fail to provide adequate protections, they could face lawsuits and government crackdowns over their technology
Alexa, Google Home, and Apple's Homepod are the convenient smart speakers that do our bidding within our homes, but who has access to the data we provide? Concerns over surveillance and data breaches have generated alarm over the amount of personal information we store in home technology, including our location, our home layout, and our voice. Such wariness is understandable, with Google Home Mini initially listening to its owners in the bathroom and uploading the data to Google's servers. After it was exposed as a glitch, the fault was quickly corrected, but the tech's capability of listening in when deactivated is proven.
However, Jake Williams, founder and president of cybersecurity firm Rendition Infoseek, says the average user isn't likely to be targeted by hackers. "Would-be attackers] don't care what you're talking about at home, they're looking to monetize data." He adds, "The level of effort to do it is too high in the vast majority of cases. Your average American just isn't that interesting."
In order to steal data from a home device, a would-be hacker would need "undetectable audio commands, eavesdropping software and targeting devices connected on a network." Since home tech doesn't store information as sensitive as credit card information, social security numbers, or passwords, it's simply not worth the effort. Of course, there are exceptions, as hackers could opt to target individuals in order to extort ransom payments for the data, but these instances are unlikely and rare.
Of greater concern is a massive data breach at one of the company clouds where customers' information is stored. While individual users can set up two-factor authentication and limit the number of external services they link to their home devices, once the information is collected and stored it's up to the company to provide protection. If companies like Amazon, Google, or Facebook fail to provide adequate protections, they could face lawsuits and government crackdowns over their technology, according to Bloomberg Law. Class action lawsuits, regulatory enforcement, and publicity damage could obviously harm company revenues if a data hack were not prevented.
Melissa Kern, piracy and information security law partner at FrostBrown Todd LLC,said, "If there is a security breach that results in unauthorized access to the personal data they have collected, whether due to a security flaw or not." As a result, Amazon and Google run product security tests to check for major flaws. Large tech companies also test the data transfer between personal devices and the cloud, in order to curb vulnerabilities to hacking.
Of course, there are steps consumers can take to protect their information. The straight forward protections include the smart user management. As consultants advise, "For those who are concerned that Google Bots are listening to everything you say, you might find some comfort in knowing that Google Home listens and even processes who is talking locally. It uploads information to the cloud when the wake word, 'OK, Google' or 'Hey, Google,' is spoken or when you long press the touch interface at the top of the device (except for Mini)." Google Home also has indicators that alert you when the device is listening in.
Ultimately, it's up to the consumer to make smart and secure choices with their data. Limiting how many devices are linked to private accounts is an easy but powerful first step. The data clouds hold all the information the device interprets, whether insignificant, unintentional, or highly sensitive.
Meg Hanson is a Brooklyn-based writer, teacher, and jaywalker. Find Meg at her website and on Twitter @megsoyung.

You know the old saying — an ounce of prevention is worth a pound of cure. Doubly so on the internet.
Having one's digital life hacked is a little like death: We walk through daily life, blissfully unaware of its possibility, while all the while it dangles over our heads like the Sword of Damocles.
Rather than be caught unawares, surrendering bank account information and sexy selfies to nefarious, faceless internet criminals, follow these steps now to protect yourself. You know the old saying — an ounce of prevention is worth a pound of cure. Doubly so on the internet.
Use better passwords
That means no pet names, no birthdays, no kid names. Get creative with a complex string of upper and lowercase letters, numbers, and symbols. You might even think of this as an opportunity to give yourself a motivational phrase like, "Youarebrilliantin2019!" Set up passwords — and different ones! — on your voicemail, Wi-Fi, and individual apps for banking and email.
...and use a password manager
Password managers like 1Password and LastPass make logging into websites simple without leaving yourself vulnerable to problematic browser autofill. One master password gains access to all the others, so you want it to be long and complex with numbers and special characters so not even the most determined hacker can guess it. From there, the password manager takes care of all your other password.
Employ multi-factor authentication
Sheera Frenkel, who writes about cybersecurity for The New York Times, says that a password manager and multifactor authentication "are the bare minimum of what we should all be doing. And even with all that, I just assume I'm going to be hacked any day." Here's how to set up multi-factor authentication on Apple, Google, Instagram, and more.
Keep your operating systems up-to-date
Most successful hacks exploit vulnerabilities of out-of-date operating systems. When Apple or Android tells you an update is ready, download and install it. Ditto with apps. Keep them up-to-date to protect against data breaches, and be mindful which ones you download. No longer using Shazam or Tinder? Delete 'em.
Use "Find My Phone"
You can set your phone to automatically erase itself after a certain number of incorrect passcode attempts. You can also use Apple and Google's "find my device" services, which can locate your phone on a map, remotely lock it, make it ring or the nuclear option — delete it entirely.
Beware open wifi
The danger isn't in your local Intelligentsia — though you shouldn't log into your bank accounts on any open networks — but if you're ever unsure about a wireless network, stick with your phone's mobile internet connection or use a VPN, which routes your activity through a private encrypted connection. Here's a recent rating of VPN services by PC Mag to help you choose.
There's no such thing as 100% security but following these steps will keep your digital data as safe as a citadel.
Is it even worth changing your password?
As threats to personal cybersecurity become more and more acute, many websites have created mandatory password update policies, forcing users to switch their login info every few months. This is true of most universities and certain brands of operating systems–Microsoft is notorious for regular prompting password changes. The theory as to how this helps keep you secure is simple. By regularly changing your passwords, you limit the amount of time other people who've stolen your password can access your account. Unfortunately, there does not seem to be much evidence that repeatedly changing your passwords actually works to make your accounts more secure.
According to a 2010 study conducted by Microsoft, mandatory password changes costs billions of dollars in productivity for the companies that enforce them. These changes usually force workers to comport to stringent requirements, such as using a specific number of capitalized letters and special characters. According to the study, all this does is make remembering one's password harder. Most people just make a slight variation to their already existing password, and In some cases they even put their new password on a sticky note near their computer, for anyone walking by to see. On top of this, password changes to high-risk accounts are largely ineffective. This is because when a hacker gets the login information to, say, your online bank account, they aren't going to sit around constantly logging on to spy on your finances. They're going to transfer your money as quickly as possible, and unless you change your password at the exact instant in which they're accessing your account, all the mandatory updates in the world won't help you. Essentially, mandatory password changing on most accounts is at best a meaningless headache and at worst a huge time waster.
There are certain types of accounts in which hackers may linger to gather certain information about you. If a hacker gets into your Facebook account, they may stick around for a few months, impersonating you or trying to use the things you've posted as a means of gaining access to your other accounts by determining the answers to your security questions. In this case, it may be worth changing your account regularly as a preventative measure. That said, the methods that today's hackers use are usually advanced enough to crack most passwords.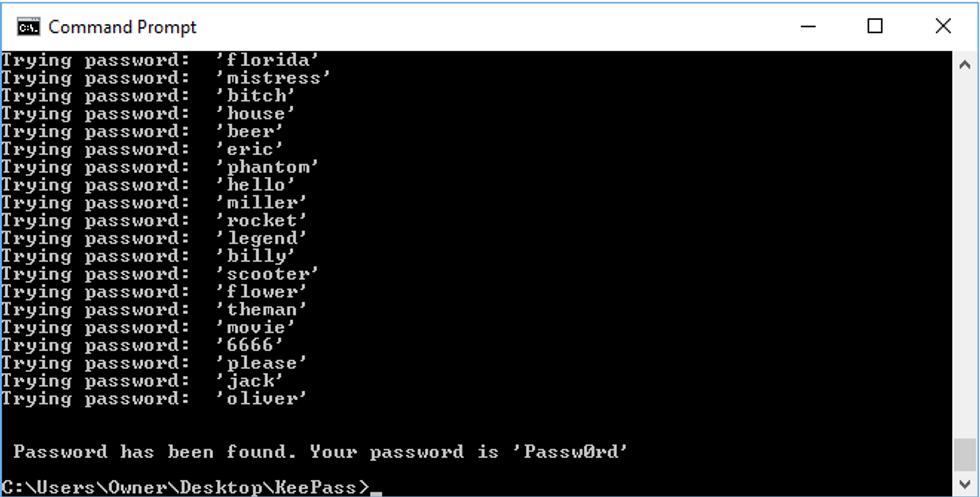 Dictionary attack
Dictionary attacks as their name implies, use a program that randomly combines and words from the dictionary, quickly guessing any password that doesn't contain proper nouns,numbers or special keys.
Brute force attacks take a serious amount of computing power but have the potential to guess any password if given enough time. They simply guess, very quickly, every possible password variation. The longer your password, the safer it is.
Rainbow table attacks are an advanced method of breaking a website's encryptions after stealing its password database. These databases are easily accessible but most are protected by cryptographic hash functions. These are functions that encrypt passwords, with minute changes in input drastically affecting the function's output. Rainbow tables often provide a more feasible means of attack than using brute force, as the passwords contained in them are already hashed, making comparisons much easier.
Even if the websites you use salt (attach random data to) their passwords and encryption hashes as a preventative measure, this may not be enough. When the passwords, usernames and personal information of Ashley Madison users were leaked, Ashley Madison–probably due to the nature of the site's information–was using an advanced function called bcrypt to salt all of their hashes. Unfortunately, they also used the antiquated but still very popular MD5 encryption function for certain portions of their database. Hackers didn't even need to attack the bcrypt in order to get the data they wanted. They just hit the MD5 tokens and were able to reveal most of the information on the site.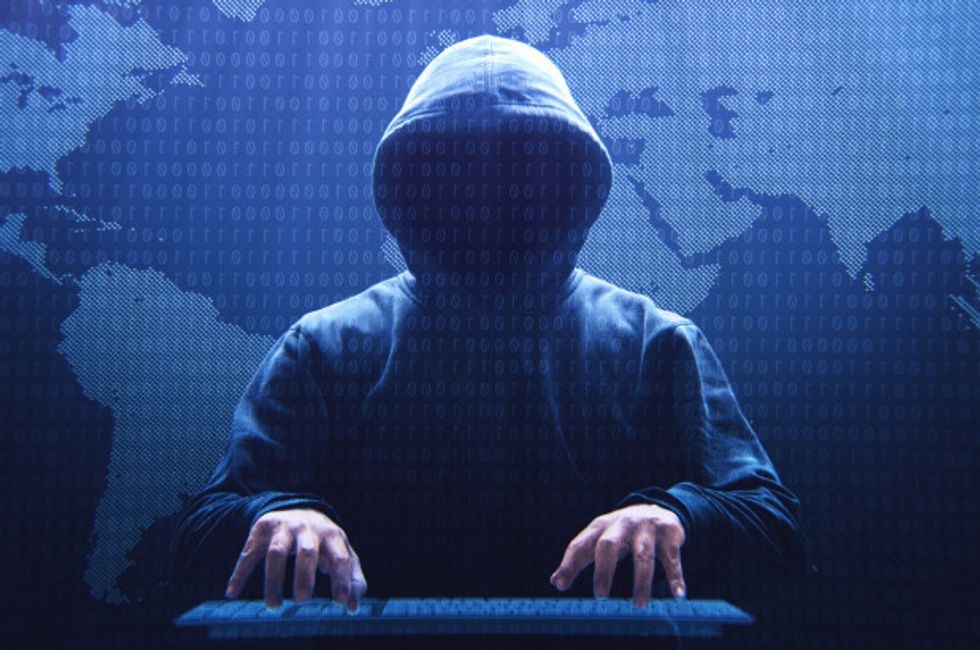 This idea of a hacker is a bit cartoonish
Unfortunately, these vulnerabilities are more or less systemic. There's no way to convince the owners of the websites you frequent to update their encryption functions or any concrete way for you to protect your passwords. In reality, your passwords are never truly safe, unless they're protected by bcrypt, which is really only safe until some cracks it. Your chances of being hacked, regardless of your password's sophistication, is virtually 100%. Hackers have programmed bots to do the heavy lifting and most attempts at hacking occur automatically. To make matters worse, there are large swaths of web that aren't even encrypted, and the areas that are, have been proven susceptible to attack. This means the answer to the question of how often you should change your passwords is relatively simple. You only need to change them if you think someone else has direct access to your account specifically. An angry ex or someone spying over your shoulder on the bus is a much more pressing danger than some anonymous hacker online. The truth is, changing your password won't do much to stop people who know what they're doing. Passwords only protect you because it takes effort to hack them, not because they're impenetrable.

With high tech security measures becoming the norm, you'd think we'd be a lot safer.
From smartphones to smart cars to smart hotels, the market for interconnectivity has never been higher. The ability to control the majority of one's home from an app– everything from the thermostat to the alarm system– is ubiquitous. There are definitely benefits to this tech; speed, comfort etc.- but are our attempts to make everything smart leaving us vulnerable?
When it comes to smart homes, the technologies involved can vary, but more often than not they're centered on security. Some using motion-sensing technology to automatically turn on cameras. Others contain sensors for all types of issues including flood water, burglary, smoke, and carbon monoxide. The requisite paranoia required to purchase one of these systems aside, there is a growing concern that these security programs can be hacked and easily monitored by would-be burglars. While self-driving cars are still a work in progress (Uber just killed a woman with one of theirs), hackers were able to shut down security features on a Jeep and prove how connected utilities are just as easy to hack as anything else connected to the Internet. The same principle can applied smart homes.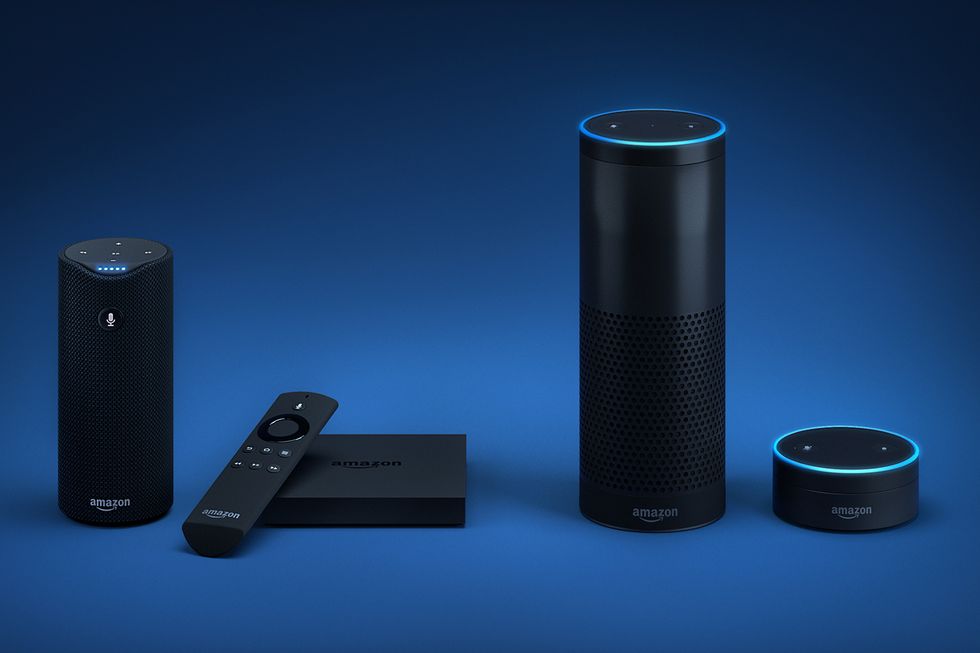 Alexa and her hackable friends
On one end of the hacking spectrum, you have a previous home's owner. There are currently no standards in place to prevent a seller from having access to their old home's smart features. This means the flickering of your lights and the constant opening and closing of your home's garage door could be part of a prank by the last person living in your house. This can also leave home owners vulnerable to burglary, though the police would probably have an easy time cracking that case. Burglary is more likely to occur from an outside force, one that you haven't met and agreed to purchase a house from. That said, tech savvy burglars could have just as easy a time robbing you while you're at work or on a vacation.
Direct denial of service (DDoS) attacks have been used to disrupt the Internet connection for entire corporations, and can now, via the Internet of Things (IoT), be accomplished with ordinary devices such as TVs and washing machines. When these devices were designed, many of the companies hectically released them without putting much thought into their (the devices) security. There are now over six billion everyday items connected to the Internet, with IoT spending to hit around 1.7 trillion by 2020. But how and why would burglars perform cyber attacks on smart homes, when it'd be just as easy to break a window wearing facemasks and steal as much as they can carry before the police arrive? While burglars could perform DDoS attacks on homes and shutdown security systems, this could raise suspicions, as homeowners might notice that their cameras and motion sensors aren't working. Burglars can however, hack into less obvious devices and use them as a means of surveillance, casing their target at a safe distance. Recently, it was discovered that the MyQ garage door system could be hacked and used to spy on homeowners, alerting hackers when the door opens and closes, and giving them the ability to reopen the door after residents leave. This sort of thing is much more useful to burglars performing smash and grab robberies and makes it far too easy for robbers to keep track of a homeowner's schedule.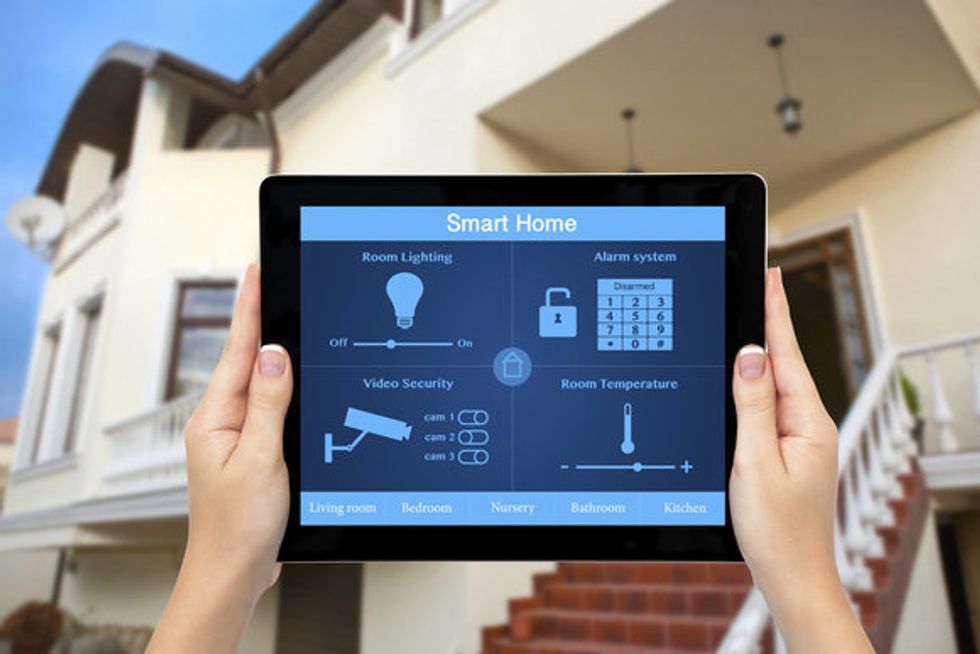 New security systems are at risk.
So, what can you do?
The fact of the matter is, smart homes are no more or less secure than regular homes. If someone is dedicated to robbing your house, they're going to find a way to get the job done. That said, smart homes do provide a baseline of coverage against standard, non-tech savvy burglars and having visible cameras on the outside of your house can be a serious deterrent. If none of the devices in your house are
smart
though, it might be worth it to wait until cyber-security measures become standard before buying that new app-controlled washer. As for alarm systems, at this point the
old school systems
that alert the police department via a landline rather than the Internet are far safer and effective. Like anything though, it's important to do your research before buying.