We've all been there. You were gifted a dumb present that you'll never in a million-zillion years ever use and you're too polite to tell anyone any differently. It sits at the bottom of your drawer for months, then years. And when you finally feel like enough time has passed, you can throw it out in good conscience.
A return is almost always out of the question. Plus, gift givers don't often include a return receipt, and we all know we wouldn't dare ask for one. I'd rather admit to a crime than confess I don't like a gift - how insulting to the gifter's sense of aesthetics.
And-hey, I have limited drawer space. Who can keep these unwanted gifts for six months when there isn't any space for them? I hate clutter, and unwanted gifts are just that.
This year, I am making an effort to swiftly remove any unwanted gifts from my house without hurting anyone's feelings…and potentially benefiting others. As the old saying goes, one man's trash is another man's treasure. And thank goodness for that.
From the The Guardian:
"According to research published this week by the consumer body, one in four people (24%) received an unwanted or unsuitable gift for the Christmas of 2021. Meanwhile, a separate study by the personal finance comparison site Finder said £1.2bn was wasted on unwanted Christmas gifts each year."
Come to terms with the fact that you will never use that gift and follow these quick tips to offload those unwanted gifts:
Donate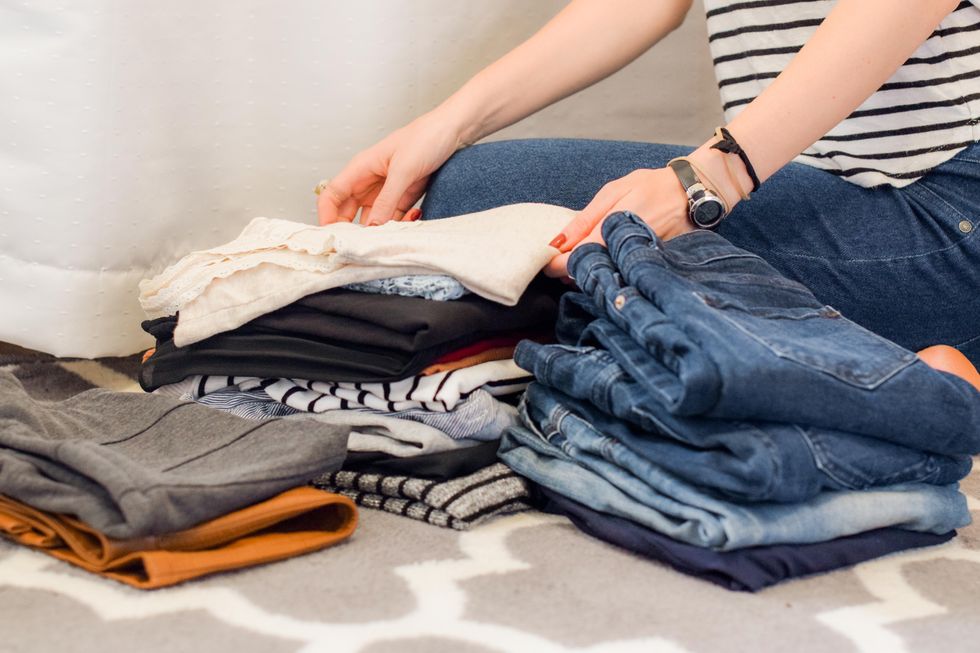 Sarah Brown via Unsplash
The most obvious choice for those unwanted pairs of mud-green sweat socks and that same fluffy robe you get every year from your Aunt Judy is to donate them. Just round up everything you don't want and Google the donation center closest to you.
This is also a fantastic excuse to purge your closet of that pile of stuff you've been meaning to get rid of. A few bags of give-away-clothes will get your spring cleaning out of the way early.
Sell Them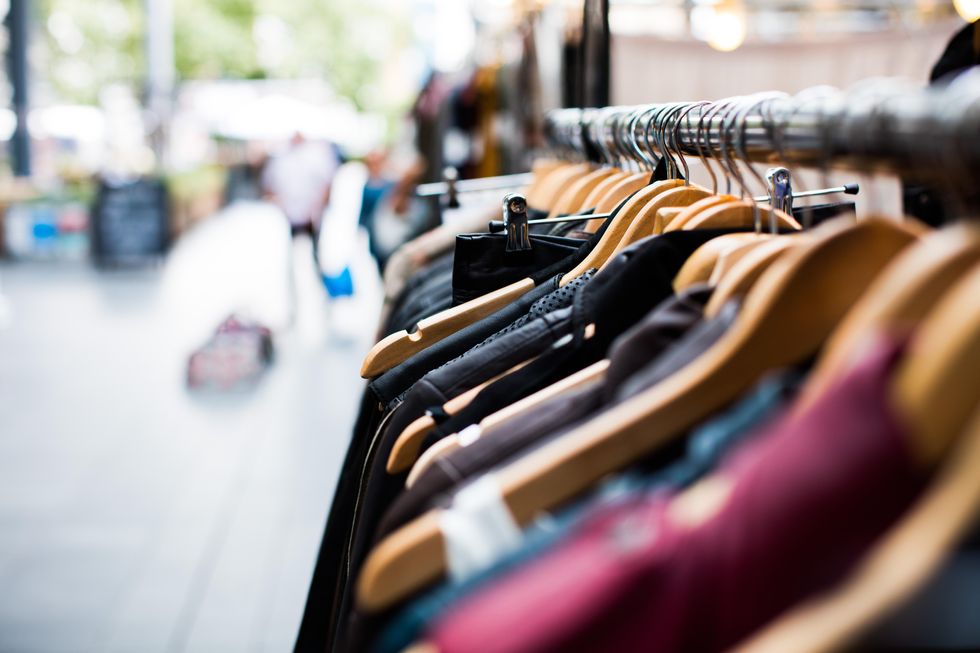 Artificial Photography via Unsplash
Resale websites are all the rage right now. If you got a pair of pants that don't fit or a sweater that isn't your style, resell them on a website dedicated to just that. Sites like Poshmark, Mercari, and DePop are known for selling those trendy pieces of clothing you barely used.
Thrifting has never been hotter. Hop on the trend while people are constantly perusing sites for the hottest deal. Then reward yourself for being so virtuous, by dropping the cash on some fabulous things you'll actually wear!
Re-Gift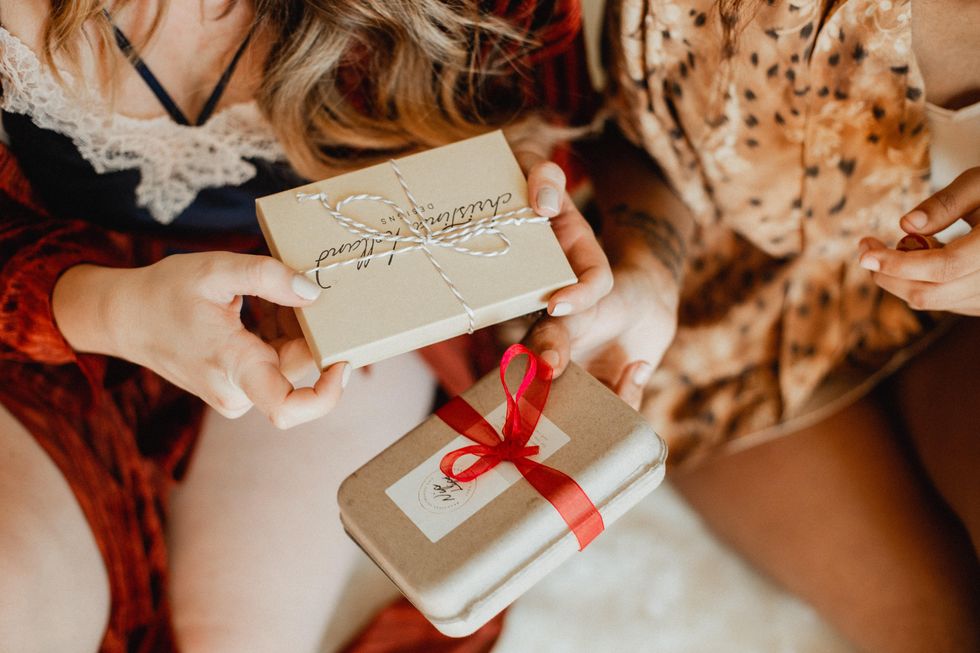 Jackie S via Unsplash
If you got something that you think one of your friends or family can benefit from, why not give it to them? There's no shame in revealing that it was a gift and you don't want it anymore…as long as you aren't re-gifting to the person who gave it to you!
Or, keep the gifts to re-gift at a later date. You never know when you're going to need a last minute gift. You'll thank yourself later.
Attempt a Return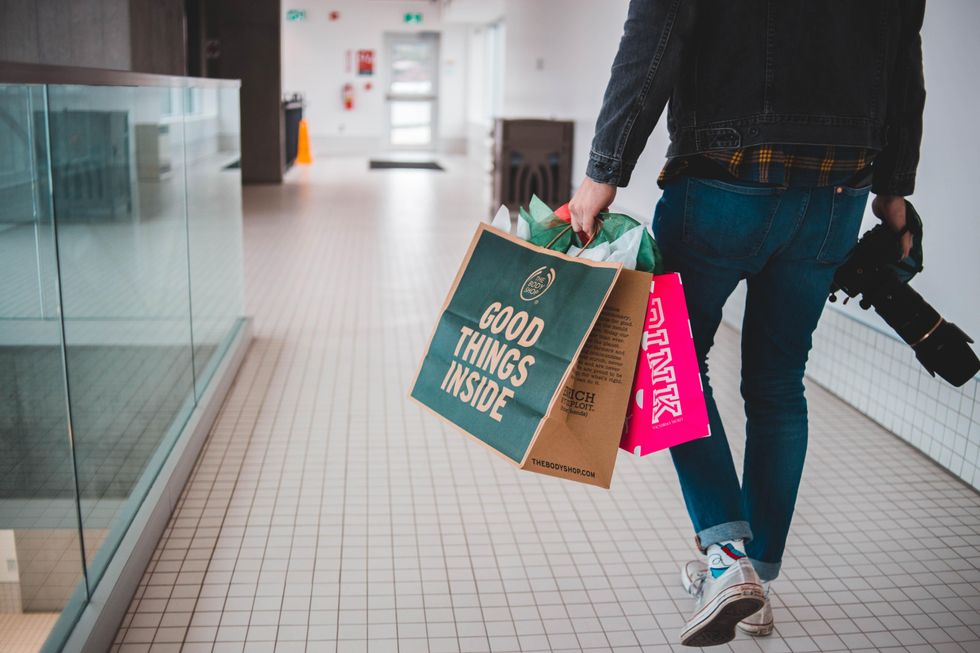 Erik McLean via Unsplash
If your item still has a tag, you can make a valiant effort to return to the store. If you can make your case, many stores won't want to fight you on it. They may be forgiving and grant you store credit at the very least.
For too long we've been told that "Black" politics would scare away moderates
First thing's first: I need white people to stop treating Stacey Abrams like their savior.
Deification, a form of dehumanization, strips a person of their humanity and turns them into a symbol. By overhyping Stacey Abrams, white people assert their goodness on the back of a Black woman, trying to be woke by association.
While Abrams deserves much praise, we cannot continue to place superhuman expectations upon her. We also cannot act like she was solely responsible for discovering a secret to turning Georgia blue. The reality is that Stacey Abrams worked tirelessly alongside other dedicated organizers to address the voter suppression Black people have been fighting in Georgia for decades.
So why haven't democratic politicians done this before? Obama did, campaigning at a grass roots level and counting on disenfranchised voters. But he was Obama, people might say, of course Black people will vote for him. The "Black vote" in political discourse is treated as an ineffable mystery and often discarded as impossible to count on. Black people just don't vote, politicians say, then focus their attention elsewhere.
So when the Black vote (alongside other BIPOC demographics such as the historic voter turnout of Indigenous populations in Arizona) undoubtedly delivered the 2020 election to the Democrats, then did the same for the House in the Georgia run-offs, everyone was talking about Stacey Abrams in a way a little too reminiscent of how the dad talked in Get Out.
But the election results revealed that Black voters are in fact the key to the Democratic Party's success. When is the Party going to start acting like it?
All through the election year, Democrats were convinced that playing it safe was the key to defeating Trump.
By electing Biden as the nominee instead of more "radical" Democratic candidates like Bernie Sanders or Elizabeth Warren, the DNC were adamant that the game plan was to appeal to white moderates — which meant not scaring them away.
So while Biden picked Harris, a biracial Black and Indian woman, as his Vice President, their campaign strategy was to hover around the center and appeal to white voters who somehow just weren't sure who to vote for yet.
Meanwhile, the country was going through a period of major racial protest. Black Lives Matter protesters spent the summer appealing for an end to police brutality, for legislative protection, for defunding the police and reexamining the carceral system in light of its racist roots.
And though there were some tweets and statements from major Democratic politicians in response to the murder of George Floyd, as well as that super embarrassing thing with the Kinte cloths, the sentiment remained that actually addressing the demands of protestors would be too risky and scare away the nice white voters.
Well, the nice white voters went for Trump.

Exit polls showed that 58% of white voters voted for Trump — an increase from the 2016 election. And while Trump made percentage gains with Black men, Black people overwhelmingly voted for Biden. And in key cities in key states, Black voters having the agency to vote in the presidential election and in the Georgia Senate races was instrumental in the Democratic wins.
The numbers speak for themselves. In his election speech, Biden even thanked Black voters for being instrumental to his victory. But Biden's main message was one of healing — not for marginalized groups who suffered most under the Trump presidency, but for … "the soul of America"?

Biden's speech seemed to focus on restoring party communication, going back to his comfortable place in the center and telling us (while invoking Langston Hughes in his references to "dreams deferred") to join him.
For many Black voters, moving to the center looks like regression. Again, the Democratic rhetoric was one that appealed to white moderates, to appease their concerns and placate their nerves after a year of proverbially "difficult" conversations and "reckoning."
But for Black Americans, the most difficult thing is being constantly gaslit — being told by a party which claims to care about us that fighting for our concerns (read: our lives) is too much, too difficult, too frightening.
In response to the calls to defund the police, many major Democrats were quick to dismiss the movement. Biden himself said that he did not want to defund the police. "I support conditioning federal aid to police based on whether or not they meet certain basic standards of decency and honorableness," he said instead, again appealing to vague notions of morality rather than actionable policy.
Even Black politicians took up this rhetoric. South Carolina Representative and major Civil Rights activist James Clyburn said that "nobody is going to defund the police," and that "police have a role to play." His plea was against "sloganeering," claiming that pleas like "Defund the Police'' would undermine the movement and lose the election.
Barack Obama said something similar (thanks, Obama): "If you believe, as I do, that we should be able to reform the criminal justice system so that it's not biased and treats everybody fairly, I guess you can use a snappy slogan, like Defund the Police, but, you know, you lost a big audience the minute you say it."
These sentiments are the work of years of conditioning that expects Black people to acquiesce to white audiences, to settle for banal "reform" and "slow, steady change" instead of radical action. They are examples of respectability politics and tone policing that reinforce the idea that Black folks are a liability, harming our own progress by scaring away potential allies.
But we're tired of it.
In the wake of the dismissal of BLM slogans, many major progressives also spoke out. Representative Ilhan Omar responded to Obama's comment in a tweet, saying: "We lose people in the hands of police. It's not a slogan but a policy demand. And centering the demand for equitable investments and budgets for communities across the country gets us progress and safety."
We lose people in the hands of police. It's not a slogan but a policy demand. And centering the demand for equitabl… https://t.co/fh8ftnTR7t

— Ilhan Omar (@Ilhan Omar) 1606872699
Her response points out the danger in the quick dismissal by these politicians: too focused on how the slogan sounds, they fail to address the policy changes it calls to action and continue to support a system of policing which currently exists in a fundamentally oppressive structure. Reform is not enough, complete restructuring and radical change is the only answer.

Most Black Americans do not have the privilege of not understanding this. And, after delivering the election to Biden and the Senate, we want recognition.
We want to no longer be the big scary thing that Democrats are afraid of. We want to be taken seriously, and we want our demands to be met, our communities to be prioritized, and our people to stop dying at the hands of the state.
Black voters do not appear magically to deliver democracy if white people click their heels, repost an infographic, and say, "Stacey Abrams" in the mirror three times. The Black Vote is a collection of diverse, real people who are tired of being treated like a liability, a threat to the party they have always been loyal to.
It's time the party returned the favor — pointing out the obvious transgressions of the (soon) past administration will not be enough. With a blue senate, Biden has the opportunity to be bold, to enact real change for the communities who showed up for him, despite his own flaws and a year spent turning his back to us for the sake of white voters who did not.
This year, on January 5th, Georgia voters will participate in a runoff election to select their state senators. But why is this race so important, important enough to make national news and urgent enough that celebrities and activist groups around the nation are rallying to make sure as many voters as possible get out to the polls?
What's at Stake?
The Georgia runoffs will determine Georgia's two Senate seats. This is so important because the outcome of this election will determine whether there is a Republican or Democratic Senate majority.
To win a Democratic Senate majority, both Democratic candidates — Jon Ossoff and Reverend Raphael Warnock — will have to win their seats. If either Republican candidate, Kelly Loeffler or David Perdue, wins, the Republicans will maintain their Senate majority, and Mitch McConnell will remain Senate majority leader; as currently, Republicans hold 50 of the 100 Senate seats and Democrats hold 48, and there are two independents — Angus King of Maine and Bernie Sanders of Vermont — who caucus with the Democrats.
Democrats hold the House with a razor-thin majority, and Joe Biden, a Democrat, also holds the White House. But a Republican Senate can easily negate the efforts of Democratic governing bodies. When he was Senate Majority Leader during Barack Obama's presidency, Mitch McConnell was able to block much of Obama's legislation.
In short, in order to pass a substantial coronavirus relief bill, substantial climate crisis legislation, and many of the other initiatives Biden promised in his campaign, we need a Democratic Senate majority. While Mitch McConnell remains in charge of the Senate, every Democratic-leaning bill will face tremendous roadblocks to actualization.
As Jonathan Chait explains in his Intelligencer article, Only a Democratic Senate Can Produce a Moderate Biden Presidency, "McConnell won't bring a bill to the floor unless most Republicans support it," and, "When Biden takes office, the Republican incentive will lean heavily toward demonizing any Biden-supported initiative as a fiendish socialistic plot, making broad GOP support almost impossible."
That means, to put it bluntly: No $2,000 stimulus check and probably no future thanks to unchecked climate change. The stakes are, in fact, quite high.
In 8 days, Georgia has the opportunity to deliver the U.S. Senate majority by electing @ReverendWarnock and @ossoff… https://t.co/nykdQqPBg2

— Stacey Abrams (@Stacey Abrams) 1609180553.0
What Are Runoffs, and Why Do They Exist?

A runoff occurs when there is no clear winner in an election. Georgia law proclaims that candidates must win over 50% of the total vote to win an election; if this doesn't happen, the race goes to a runoff. In the general election, Warnock won the most votes followed by Loeffler, but neither garnered the 50% needed, and all candidates went to runoffs.
Georgia's runoff elections were created in the 1960s as a way to keep white candidates in power, reports The New York Times, in a majority-white state where Black candidates had better shots at winning a plurality of the vote. Runoffs also typically benefit white candidates whose followers typically vote more frequently.
Who Is Running?
Currently, Senator Kelly Loeffler and Senator David Perdue represent Georgia in the Senate. Kelly Loeffler is a businesswoman and devotee of Donald Trump. The richest US Senator, she made headlines for selling $18 million worth of vulnerable stocks after being briefed on COVID-19, meaning she profited from the coronavirus crisis. (Lawmakers are barred from insider training, but a probe into Loeffler's activity was eventually dropped).
Loeffler's opponent, Rev. Warnock, would be Georgia's first Black senator. He is a pastor at the Atlanta church where Martin Luther King once preached, and he is a strong supporter of Black Lives Matter. For her part, Loeffler has criticized BLM for what she calls its "Marxist" origins.
David Perdue is a Senator and businessman. Similarly to Loeffler, he sold stocks prior to the 2020 stock market crash. He does not believe in climate change, opposes same-sex marriage and wants to slash the Affordable Care Act.
Perdue's opponent, Jon Ossoff, is a 33-year-old former journalist. His campaign made waves when Perdue failed to meet him in their debate, leaving him to speak to an empty room. Ossoff interned for Congressman John Lewis, who passed away earlier this summer, and has painted himself as a youthful idealist and Democratic moderate.
"Both are representing the New South," said Representative Hank Johnson of Warnock and Ossoff. "It's very symbolic. It's providential. I think Georgia and Georgians have changed quite a lot. There are people with old South ideas — but they're fewer and fewer."
What Are the Odds?
Both Democrats and Republicans are pouring millions into the race, and the Republicans have far outspent the Democrats thus far.
Georgia has not seen a Democratic Senator in 20 years. Republicans have far more money and establishment power on their side. The polls aren't looking great for Democratic candidates, though most do show a close race (though who trusts polls anymore, anyway?).
There's also a long and horrifying history of voter suppression in Georgia that is alive and well today. In addition to the racist history of runoffs themselves, Georgia has always fought to make it difficult for anyone not white to vote. After the 15th Amendment allowed Black men to vote, Georgia employed the Ku Klux Klan and other forms of violence and intimidation at the polls.
It has since closed majority-Black polling spaces, creating hours-long waits. It has required "exact match" signatures on voting records, an effort that disqualified thousands — 80% of the disqualified being people of color.
A recent seven-year investigation found that Georgia purged over 200,000 evoters from its rolls, marking them as ineligible when they actually were eligible. These methods disproportionately affected Black voters, voters living in metro areas, and voters who did not speak English. The list of Georgia's effort to suppress its voters' constitutional rights goes on and on and continues to this day.
Democratic candidates, however, are supported by organizers like those at Fair Fight who are on the ground getting people to the polls. Other organizations like New Georgia Project and Southerners on New Ground have been working tirelessly to reach people who have too long been ignored by modern politics, showing them that their vote can help make a tangible difference in their lives. And with the entire country's eyes on Georgia, it's hard to know what the outcome will be.
Either way, it's clear that there's a new organizing infrastructure in Georgia that's here to stay.
What Can We Do?
If you're from Georgia or know people there, contacting family and friends and asking them to contact their family and friends and to ask the same — a technique known as vote tripling — is definitely one of the most effective ways to get out the vote. In addition, many people are going to Georgia to do in-person ballot curing, poll-watching, canvassing, and voter aid such as keeping voters comfortable in line.
If you're not in Georgia, you can join a phonebank or text bank and make calls or send texts to Georgians all throughout the week.
Like texting? How about expanding electoral access? How about the FABULOUS @Peppermint247?

[email protected]

get out the vote… https://t.co/ZxCfnYrkcv

— New Georgia Project (@New Georgia Project) 1609191711.0
And of course, donate to a Georgia organization like Fair Fight, and attend events like Popdust's fundraiser for Fair Fight, which occurs tomorrow night at 6PM EST.